What is Greek Chicken Souvlaki skewers?
Greek chicken Souvlaki skewers with pita bread is a delicious street food dish consisting of juicy chicken cubes skewered and grilled to perfection served with grilled fluffy pita bread. Chicken skewers or Greek chicken kabobs are traditionally served on a wooden skewer with vegetables such as onion, green or red bell peppers.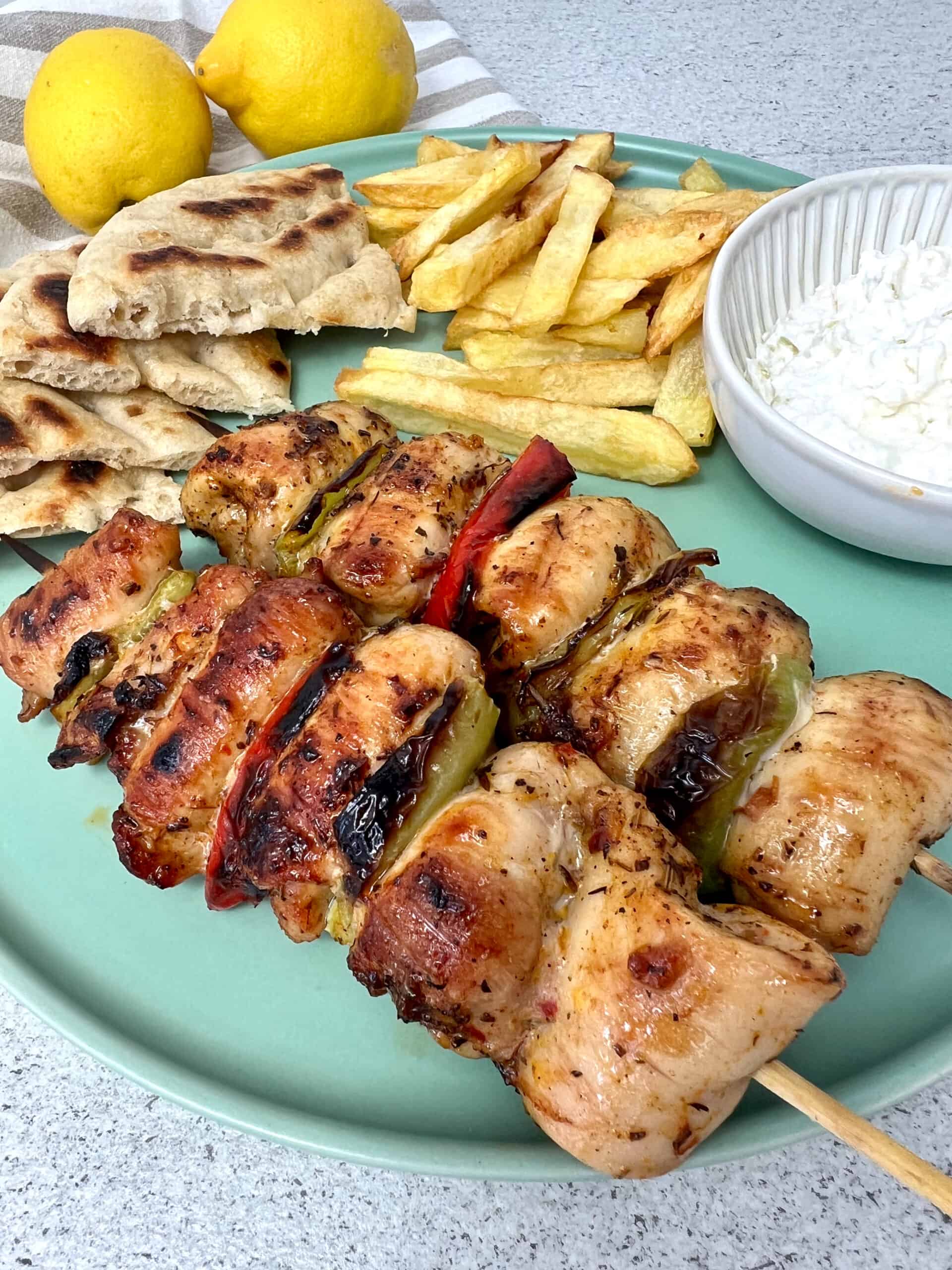 What is Greek Souvlaki?
Souvlaki or Oveliskos are essentially meat cubes on skewers. They resemble Kabobs or Kebabs with the only difference being the spices.  Souvlaki can be pork, chicken, octopus, prawn or cheese, nevertheless the most popular ones are the pork and chicken ones.
Souvlaki skewer is  undeniable The Greek street food! It is most usually consumed on its on in a skewers, however, it can be served with sides such as pita bread, chips, dips or even salads.
'Souvlaki' is the term used for meat skewers in Northern Greece whilst 'Kalamaki' is the term used in Southern Greece. The story goes that souvlaki skewers resemble a drinking straw and thus  the word 'Kalamaki' ( drinking straw in Greek), thus beware when ordering one of this delicious juicy meat skewers on your next holiday abroad in Greece!
Why make this Greek Chicken Souvlaki Skewers with pita bread recipe?
There is no need to wait for your next summer holidays in Greece to taste juicy chicken souvlaki skewers with pita. With this easy recipe you can prepare and enjoy all the Greek flavors at the comfort of your home.
This Greek chicken souvlaki recipe is so easy and uses the simplest of ingredients that you will be amazed. This recipe requires only a few spices and calls for a simple and quick souvlaki marinade, yet the chicken meat is so juicy. The secret? Olive oil!!!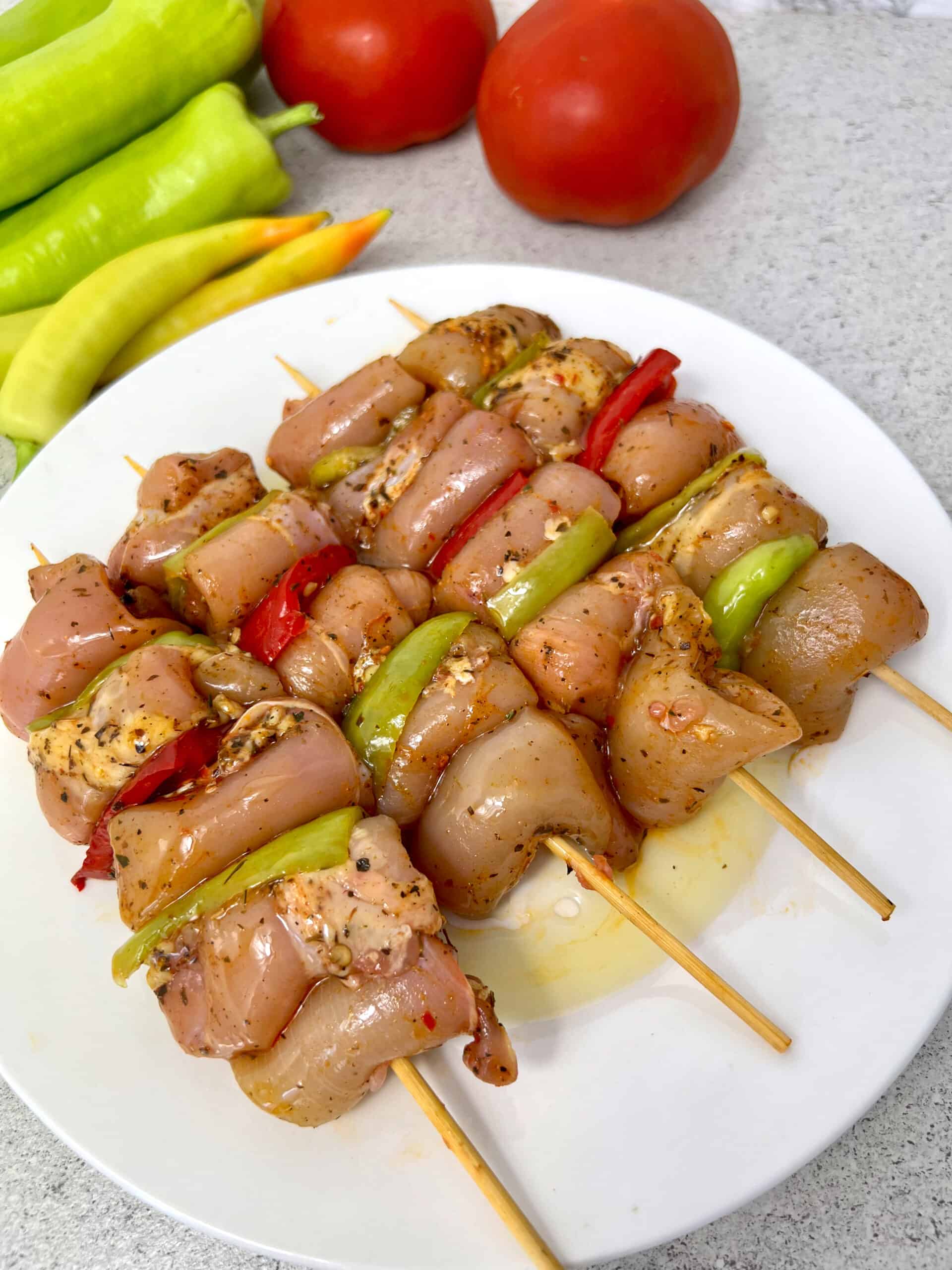 What is in Greek chicken Souvlaki skewers with pita bread?
The ingredients are only a handful and include strips of chicken breast, olive oil and seasoning with salt, black pepper, red pepper and coriander.
Chicken breast versus chicken drums
Chicken souvlaki skewers are traditionally made of chicken breast meat rather than chicken thighs as the former is more tender and cooks quicker.
Seasoning
The spices for this chicken souvlaki skewers recipe are a few yet provide to much taste. These are salt, ground black pepper, ground red pepper ( we love paprika in Northern Greece) and coriander.
Olive oil
Drizzles of olive oil render the chicken souvlaki meat more tender.
Tips for the juiciest chicken Souvlaki skewers
To prepare and enjoy the juiciest chicken souvlaki skewers is to select the best chicken meat. Opt for chicken breast rather than leg or drum.
Secondly, once the chicken skewered meat is seasoned, drizzle it with extra virgin olive oil. This renders the meat more tender. Thirdly rest the chicken breast meat for 30 minutes in the fridge, just as long as needed to light up the barbie!

What to serve with Greek chicken Souvlaki skewers with pita bread?
Even though chicken souvlaki skewers can be served on their own, they are mostly served with pita bread.They can also be served with grilled vegetables, chips, lemon rice, dips, fresh lemon wedges or Greek salads. I prefer to add a few vegetables in my chicken skewers.
My all time favourite side dish for these skewers with pita bread is Tirokafteri, but of course nothing can top a fresh Horiatiki salad or a block of Feta cheese!
Greek chicken Souvlaki skewers wrapped in pita bread
Should you wish to make sandwhiches with these juicy souvlaki skewers, then wrap them in pita bread. Brush the pitta with olive oil and season with oregano ( optional). Grill them on both sides for a couple of minutes or even pan fry them lightly. Cut a rectangular piece of baking sheet paper and rest on a plate. Place the grilled pita bread on top. Spread 1-2 teaspoons of your favourite dip, mine is Tirokafteri, and then place the souvlaki on top (remove wooden skewer). Add a handful of chips along with slices of fresh tomato and red onion. Fold the pita bread and secure wrap the souvlaki sandwich with the baking sheet paper. You have just made a homemade chicken souvlaki wrap.
You will find this wrap named as Gyros in Southern Greece but not in Northern Greece. In Northern Greece we use the term Gyros for cuts of grilled meat in pita bread, so souvlaki skewers wrapped in pita bread are called Souvlaki wraps.
Storing Greek chicken souvlaki skewers with pita bread
Once cooked, the chicken souvlaki skewers can be stored in airtight containers up to 2 days in the fridge.
Other Souvlaki recipes you will like
Other Taverna recipes you will love: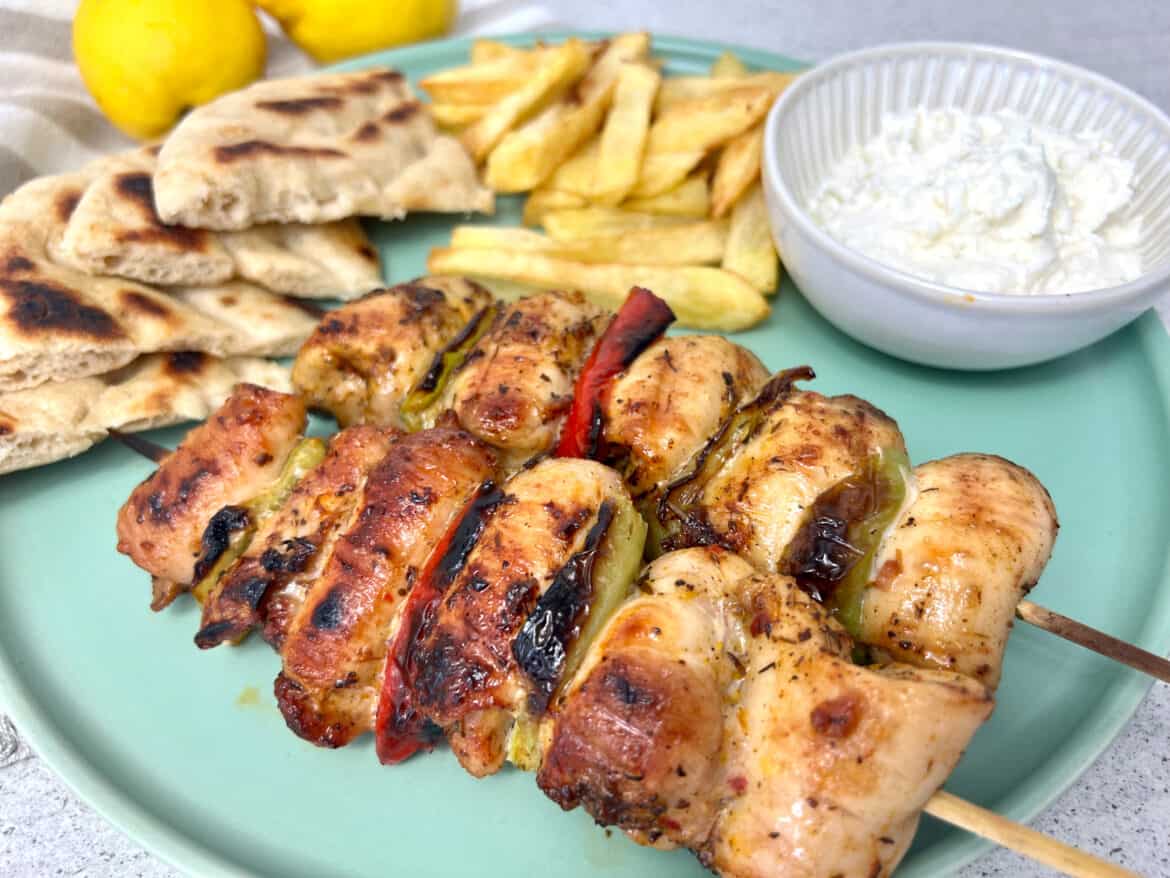 Greek chicken Souvlaki skewers with pita bread
Ingredients
2 chicken breasts,  ( 1-2 inches strips)
3-4 pita breads
1 green and 1 red bell pepper
2-3 tablespoons olive oil (extra virgin)
1 teaspoon kosher salt
1 heaved teaspoon red pepper (paprika)
 1/2 teaspoon ground black pepper
1/2 teaspoon coriander
fresh oregano (optional)
Instructions
To prepare this juicy Greek chicken souvlaki skewers with pita bread start by slicing the chicken breast into strips of even thickness. Strips of meat with eve thickness will require the same amount of cooking time and thus you will avoid undercooked cuts of meat.
Wash and slice the green bell pepper or any other vegetable you wish to incorporate into the skewers.
Season the chicken pieces with salt, ground black pepper, ground red pepper (paprika) and coriander.
Fold the chicken strips and thread them onto skewers by alternating a meat to a vegetable piece.
Once you have assembled the chicken souvlaki skewers, place them on plate and drizzle with extra virgin olive oil.
Refrigerate the meat and light up the barbie! By the time the barbecue is ready, the chicken meat will be ready.
Cook the chicken souvlaki skewers on an outdoor grill (or indoor grill) on all sides for 8 minutes.
Brush the pita breads with olive oil and grill on both sides for a couple of minutes.
Drizzle souvlaki with fresh lemon juice  (or serve with lemon wedges) and serve with warm pita bread triangles, chips and dips! Enjoy!