Spicy Greek Feta Dip (Tirokafteri) is one of the most common dips in Greece and my daughter's favourite on!
It belongs to the category go 'aloifes' which in Greek stands for spreadable dips.
What is the recipe for this Spicy Greek Feta Dip (Tirokafteri)?
The recipe for Tirokafteri is very easy to follow and extremely quick to do. All you require is a green pepper, Feta cheese, olive oil and black pepper to season. Start by either roasting or grilling the green pepper. Continue by removing its stem, outer skinned and inner seeds. Meanwhile, place the diced Feta cheese in a bowl. Break the Feta cheese up in smaller pieces and smoothen it with the use of a fork. Now, add the green pepper and incorporate the green pepper with the fork. Gradually add olive oil until you reach the desired consistency of Tirokafteri. Season with peppercorns.
A much easier and quicker way to make Spicy Greek Feta Dip is by adding all the ingredients into a food processor. Process the mixture until smooth.
What can I serve with this Spicy Greek Feta Dip (Tirokafteri)?
Tirokafteri dip is so versatile that it can be served with almost anything. It is a favourite BBQ dip and so it goes extremely well with meat such as pork ribs, Greek pork skewers (Souvlaki), chicken skewers, meatballs. Spread Tirokafteri on pitta bread and wrap the pork  or chicken skewers for a delicious home made treat.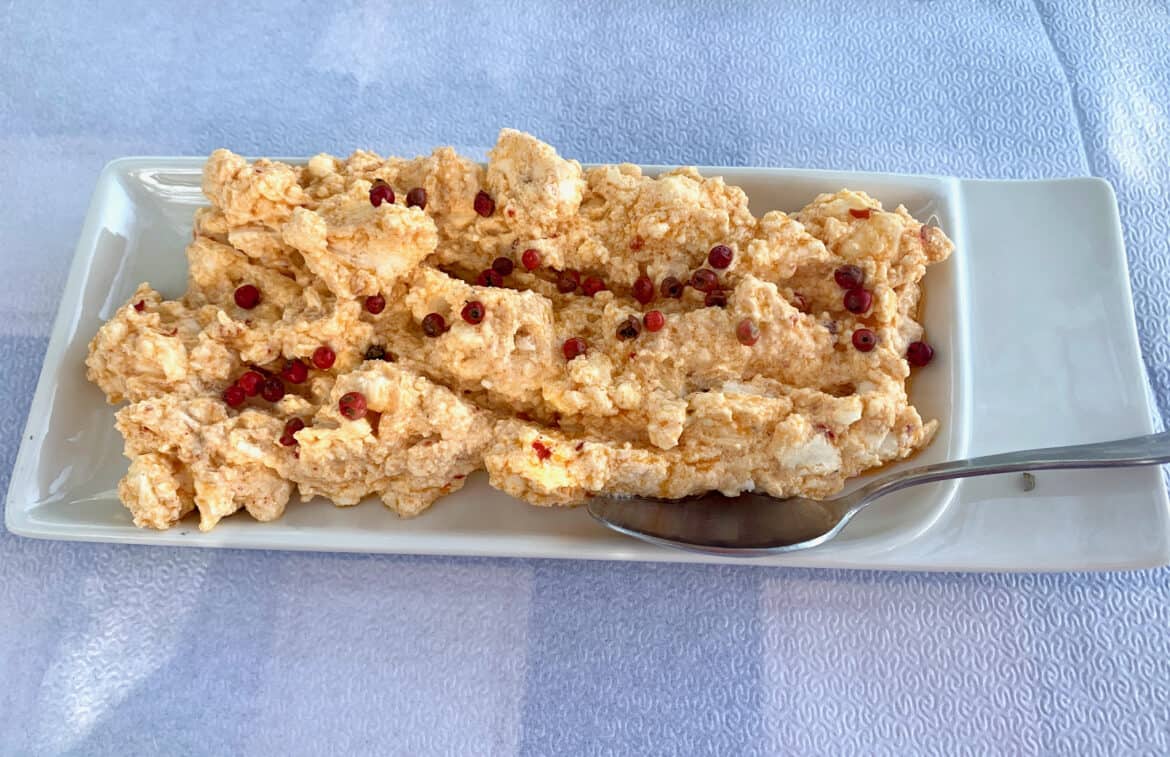 Spicy Greek Feta Dip (Tirokafteri)
Ingredients
400g Feta cheese
1 green chilli pepper
50ml olive oil
pepper to season
Instructions
Wash the green pepper under running water. Y
Bake the pepper either in an oven dish or grill it.
 Remove the outer skin of the pepper. To do so, place the pepper in a sealed bag for a couple of minutes. This allow the outer skin of the pepper to peel off easier. Ready to peel the outer skin.
Continue by cutting the stem of the pepper and taking out the seeds.
Place the Feta cheese on a plate and start cutting into small pieces.  Smoothen it with a fork.
Add the pepper and small amounts of oil gradually until all the ingredients have been equally incorporated and the mixture becomes homogenised.
An easier and quicker alternative is to place the Feta cheese, pepper and oil in a food processor and mix them.
Garnish with peppercorns.
If your dip becomes too thick,  then you can add one teaspoon of Greek yogurt and mix again until you reach the desirable consistency.