This Greek Sweet Pumpkin Pie with Phyllo Pastry is my grandmother's recipe and is by far my favourite amongst pumpkin pie recipes.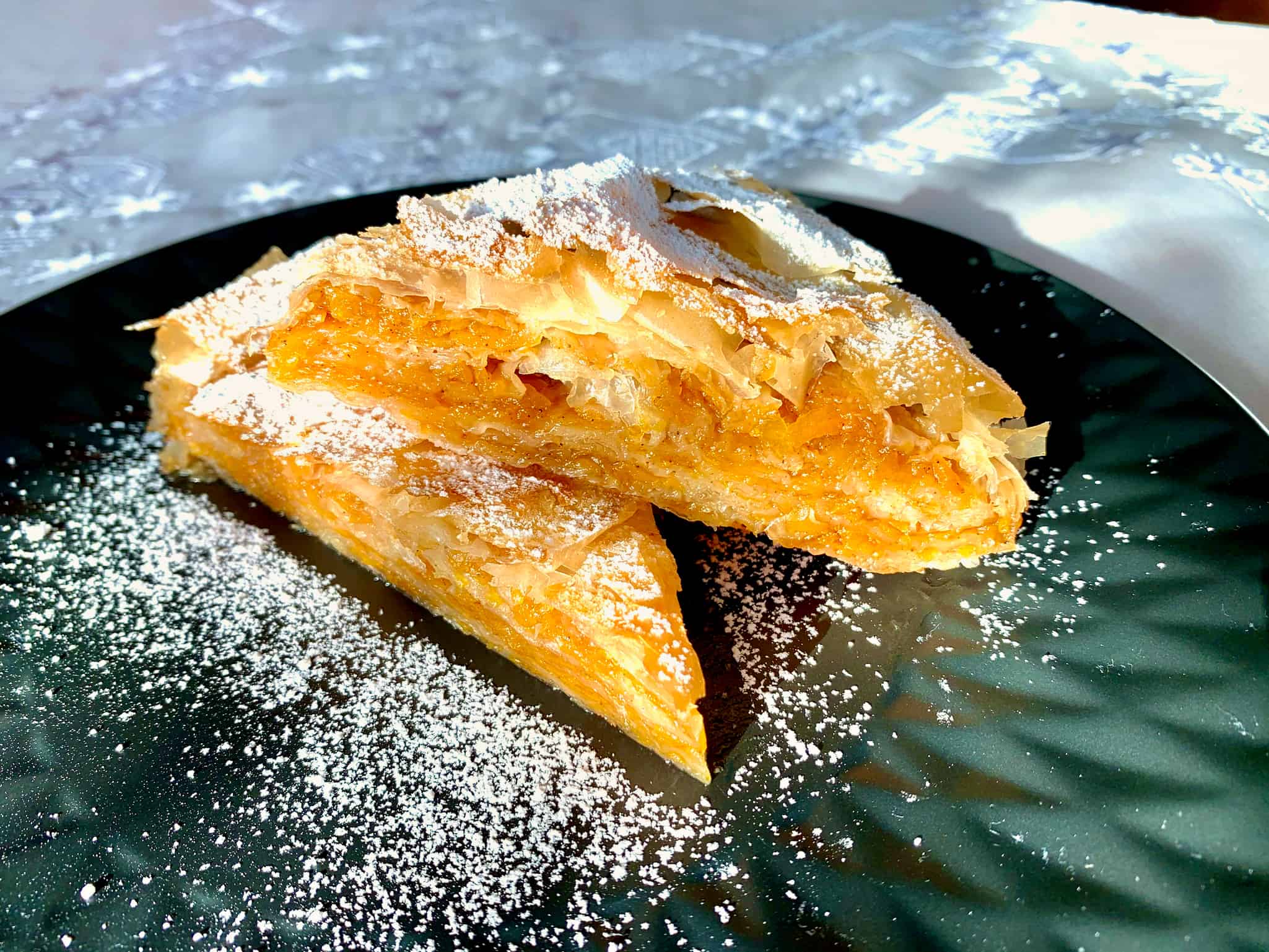 This recipe calls for sugar pumpkin (butternut squash) and not your average round pumpkin you carve on Halloween. Sugar pumpkin or pie pumpkin is a much smaller pumpkin, with sweeter taste and  enough flesh for you to cook. In contrast, a round pumpkin is larger with thin outer layer and less flesh, thus making it easier to carve. You can find a sweet pumpkin also known as butternut squash in every grocery store.
This recipe is traditionally made of homemade Phyllo or Fillo pastry, however sometimes I cheat and use ready made phyllo pastry from the local market.
What is different in this Greek Sweet Pumpkin Pie with Phyllo pastry ?
First and foremost this Greek Sweet Pumpkin Pie with Phyllo pastry (Sweet Kolokythopita) recipe is made of Phyllo or Fillo pastry and not from shortcrust pastry. This is a sweet crunchy phyllo pumpkin pie (dessert) and not a tart with a tough outer shell. This sweet pumpkin pie has alternating layers of crispy Phyllo pastry and the sweet pumpkin filling.
Whilst other pie recipes require you to use raw pumpkin, drain the grated pumpkin flesh and remove its water, my pumpkin filling uses the natural pumpkin sweetness and water content to make a caramelised pumpkin filling.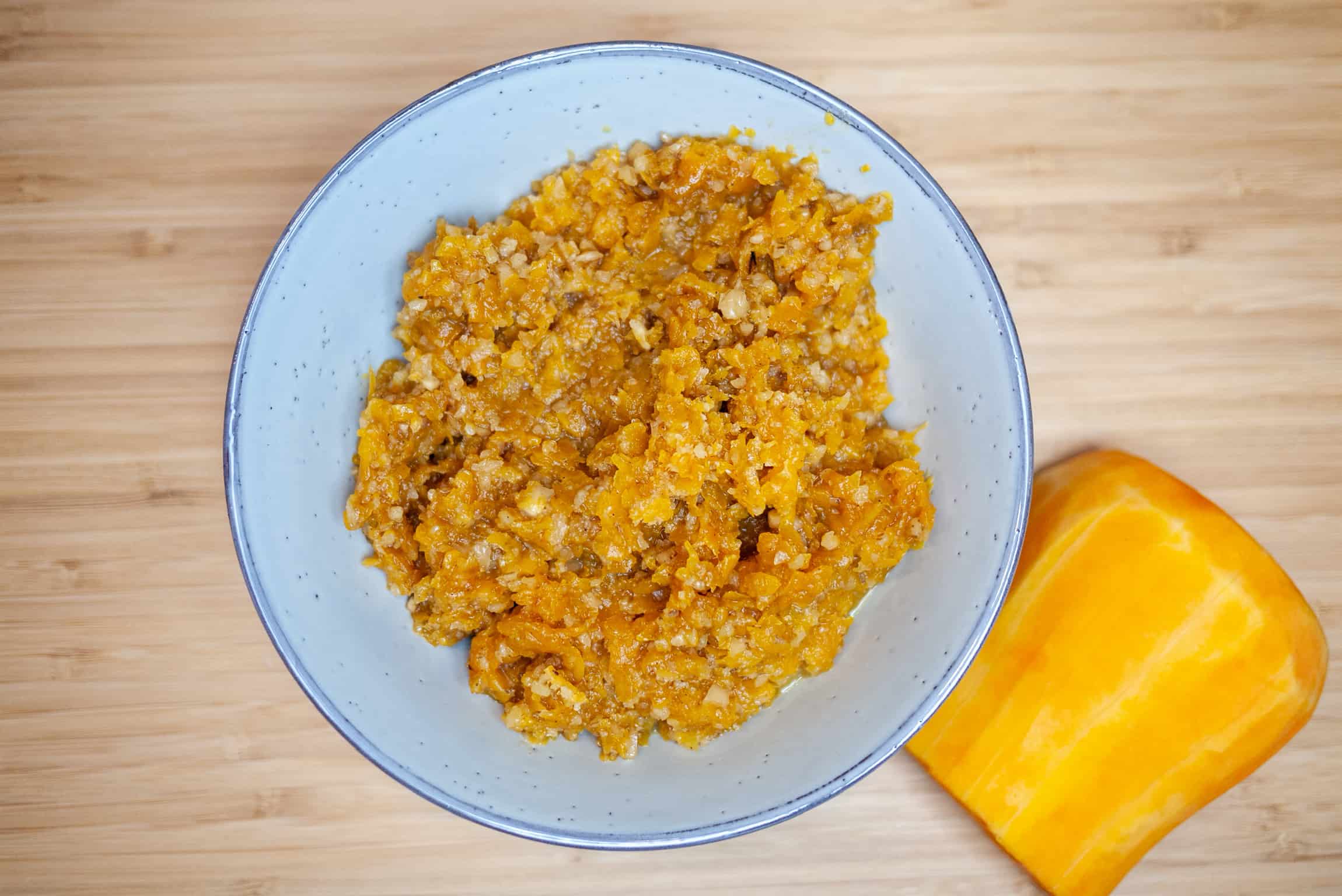 How do I make the pumpkin pie filling?
Start by peeling the pumpkin pie with a peeler. Continue by slicing the pumpkin in half and removing the seeds. Then get your grater and grate the pumpkin flesh using the thick cutting section. Add the grated pumpkin flesh in a medium sized pot over medium to high heat and stir continuously. The fresh pumpkin flesh will start releasing its natural water content and sugars. With time, the pumpkin flesh will turn soft and caramelised. This will take approximately 6-8 minutes. When the pumpkin flesh reaches this soft consistency, add sugar and honey. This will make your filling caramelise further and soften even more! Once you have finished making the pumpkin filling, set it aside and let it cool completely. The shredded pumpkin filling needs to be at room temperature!
This caramelised pumpkin filling is moisture free (no excess water) and will not soak the phyllo pastry. A wet phyllo pastry will never turn crispy.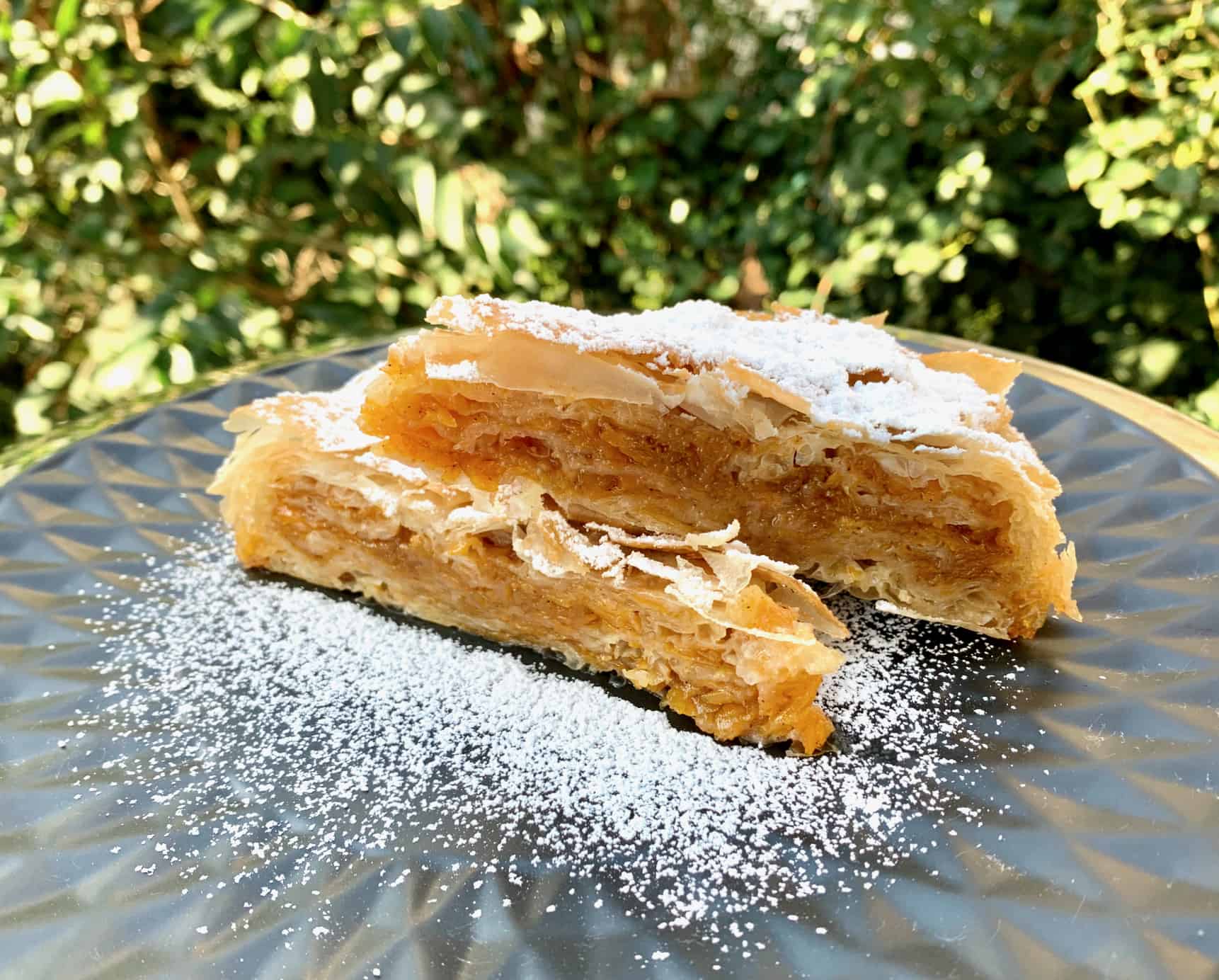 Can I toast the walnuts?
Even though you do not need to toast the chopped walnuts for this Greek Sweet Pumpkin Pie with Phyllo Pastry recipe , you can do so if you wish. Toasting the walnuts will definitely enhance their flavour and texture. Line a baking tray with parchment paper and You can toast them on a baking sheet and toast walnuts at 160C or 320F for 10 minutes.
Serving suggestions for this Greek Sweet Pumpkin Pie with Phyllo Pastry
This pumpkin pie is great on its own! If you have a sweet tooth, you can always pair it with a nice large scoop of ice cream!
Other sweet phyllo pastry desserts
An undoubtedly famous Greek sweet phyllo dessert is Galaktoboureko. I have further elevated the recipe making a chocolate version of it. Find my chocolate Galaktoboureko recipe here.
A less well known, but equally delicious is Gianniotiko, a marriage of baklava and Kataifi. Rolled  phyllo and Kataifi pastry with walnuts soaked in aromatic syrup. Find my Gianniotiko recipe here.
.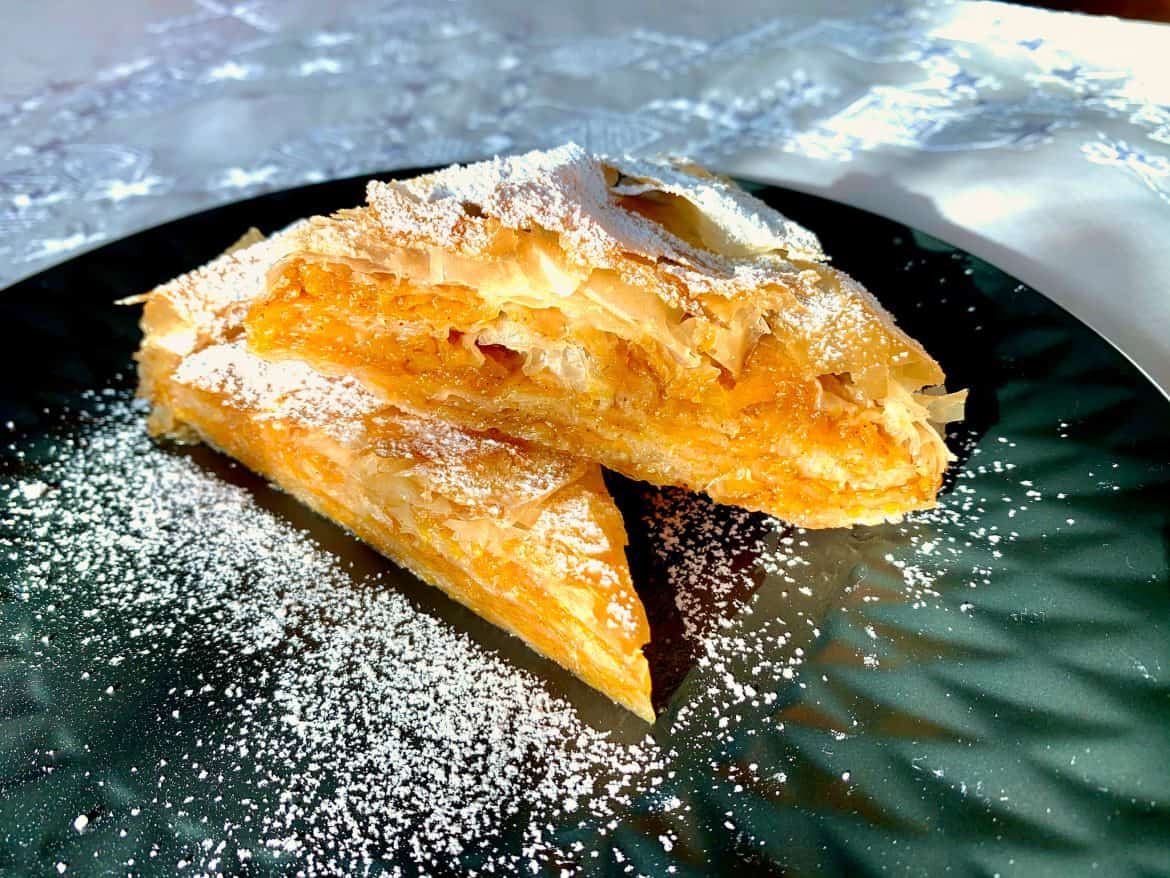 Greek Sweet Pumpkin Pie with Phyllo Pastry
Ingredients
250 gr Phyllo or Fillo Pastry
500 gr sugar pumpkin or butternut squash
200 gr sugar
100 gr walnuts
100 gr sunflower oil
1 tablespoon honey
1 teaspoon cinnamon
caster sugar (optional)
For this recipe you will need : a kitchen scale, peeler, grater, medium sized pot, small bowl, 20cm cake tin, a silicon brush and kitchen foil.
Instructions
Start by assembling all the kitchen appliances and ingredients in the kitchen counter.
Wash the pumpkin under running water. Pat it dry with a towel, peel the pumpkin skin and continue by slicing  the pumpkin in half.  Remove the seeds from the pumpkin.
Grate the pumpkin flesh with a kitchen grater.
Chop the walnuts into small pieces. I tend to add the chopped walnuts raw in this recipe, though you can if you wish to bake them for 10 minutes at 160 Celsius or 320 Fahrenheit.
Add the grated pumpkin in a medium sized pot over medium to high heat. Stir continuously the grated pumpkin flesh with a wooden spoon over making sure it does not stick to the pot. The pumpkin will stick to the bottom of the pot slightly but not completely so do not be alarmed when this happens.
Stir continuously for approximately 6-8 minutes the pumpkin tunes soft.
At this point add the sugar and stir. When the sugar starts to dissolve, remove the pot from the heat. If you leave the pot over the heat, the sugar will evaporate.
Add the honey, cinnamon and chopped walnuts to the above pumpkin mix and set it aside to cool.
I usually allow for at least 10-20 minutes as the pumpkin mix needs to be of room temperature and by no means hot when you add it on the Phyllo pastry.
Preheat the oven to 175 Celsius or 347 Fahrenheit.
Pour the oil in a bowl and continue this pie recipe by oiling the entire cake tin with a silicon brush.  Make sure you oil enough both the bottom and the sides of the cake tin as this will deter the Phyllo form sticking to it.
Set aside two Fillo or Phyllo for the bottom of the pie. Oil them with a silicon brush and lay them almost side by side on the bottom of the cake tin. There will be portions the Phyllo sticking out of the cake tin which we will use in the end to cover the pie with.
 Take approximately 2 table spoons worth of the cool caramelised pumpkin mix and lay it evenly on the Phyllo.
Continue by oiling another Phyllo, laying in on top of the pumpkin mix and so on and so forth until you have one phyllo left. You can lightly wrinkle the oiled Phyllo before you lay it in the cake tin.
Alternate between an oiled phyllo and mixture until you have one Fillo or Phyllo left.
Using the ends of the two bottom Phyllo layers , fold them and cover the pumpkin pie.
Oil the last Phyllo or Fillo with a silicon brush and cover the pumpkin pie. With the use of a spooned spoon and dexterity try to cover the small spaces between the cake tin and the Phyllo.
 Bake the pumpkin pie at 175 Celsius or 347 Fahrenheit for  45 mins.
At approximately 15 minutes, cover the pumpkin pie with kitchen foil and continue to bake until it is ready.