Gianniotiko / Giannotiko -Syrupy Rolled Phyllo and Kataifi Pastry with Walnuts is a traditional Greek dessert. Bite sized baklava rolls made of crispy pastry with flavoursome nutty filling. Giannotiko is enjoyed all year round. Should you wish to enjoy these individually wrapped baklava rolls during the Lenten period, simply substitute butter for oil.
Gianniotiko closely resembles Saragli, the rolled version of baklava with the addition of Kataifi pastry!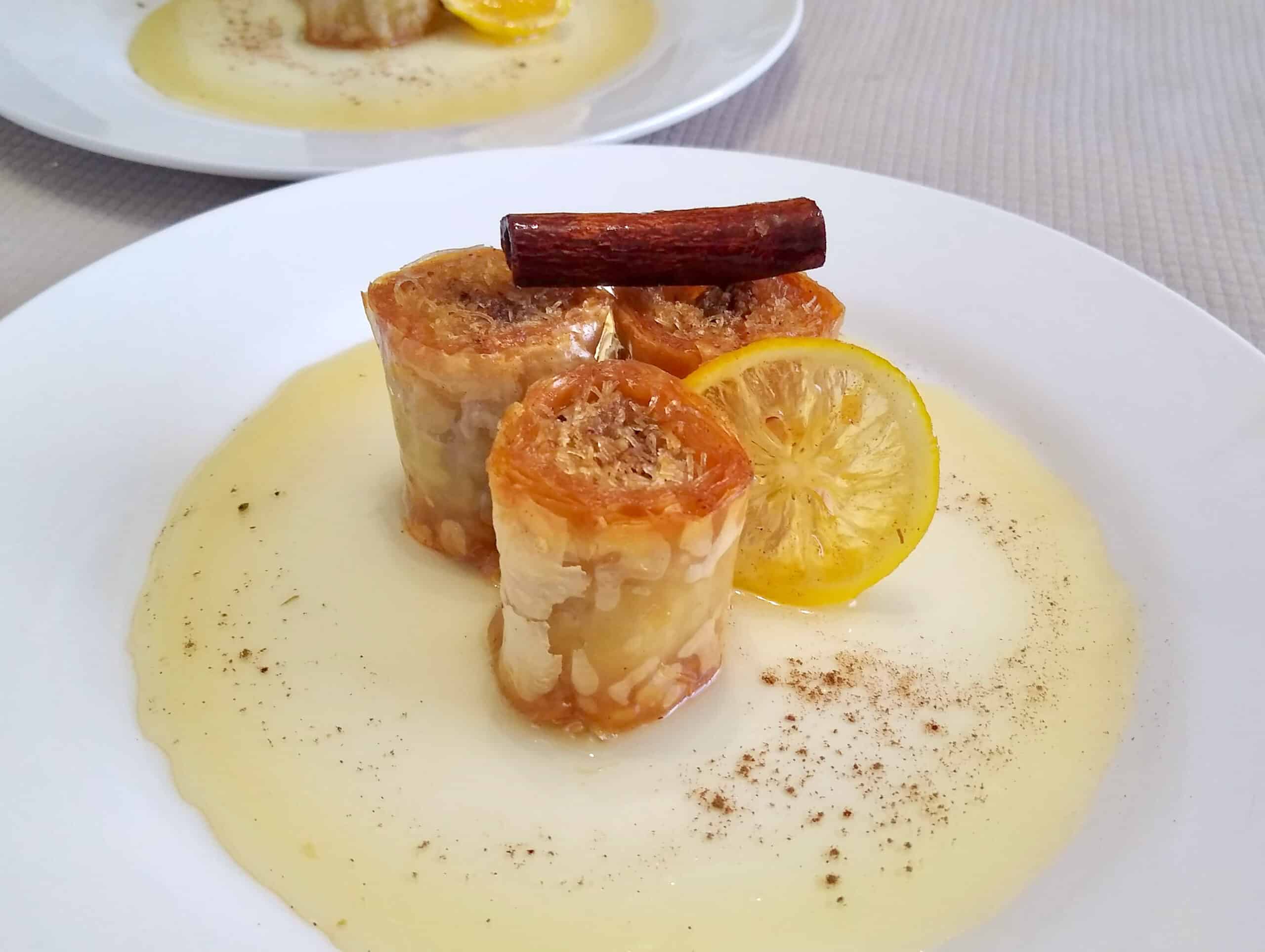 What is Gianniotiko / Giannotiko (Syrupy Rolled Pastry with Walnuts)?
Gianniotiko, Gianniotiko or Yanniotiko, are small individually wrapped baklava and Kataifi rolls made of Phyllo and Kataifi pastry with a nutty filling which are then soaked in aromatic syrup. These syrupy bite sized individually wrapped baklava rolls combine the delicious baklava phyllo and filling with Kataifi pastry.
This traditional delicious crispy and syrupy dessert, Giannotiko or Yannotiko, was initially produced in a Greek city called Ioannina or Giannena. Ioannina or Giannenna, is a city in the Epirus province.  The story goes that housewives used to end up with leftovers of Phyllo /Fillo and Kataifi pastry after making other traditional Greek desserts such as Baclava or Baklava, Saragli and Kataifi. Instead of throwing away the left over pastry and the sweet filling,  they decided to combine the two pastries with the filling. Thus, they created a new flavoursome bite sized sweet dessert, the famous Gianniotiko.
In other words  Gianniotiko, is a combination of two beloved syrupy based Greek desserts, Baclava (Baklava) and Kataifi.  
You will be aware of Phyllo or Fillo pastry, but you may ask what Kataifi or Kadaifi is? These syrupy Kataifi rolls are made of a special kind of pastry called Kataifi. Kataifi or Kadaifi is a threadlike pastry which is used in many Greek and Mediterranean desserts. You may also know it as shredded phyllo, simply phyllo that has been shredded in threads.
What makes Gianniotiko ( Syrupy Rolled Pastry with Walnuts) so special?
This bite sized dessert is super crispy as it combines baked Phyllo and Kataifi pastry. Kataifi pastry is a special type eof dough that has a thread like structure. In this dessert, the inner Kataifi pastry absorbs and holds on the syrup. Thus, you end up with a crispy out texture with an inner portion oozing in syrup as you bite into them.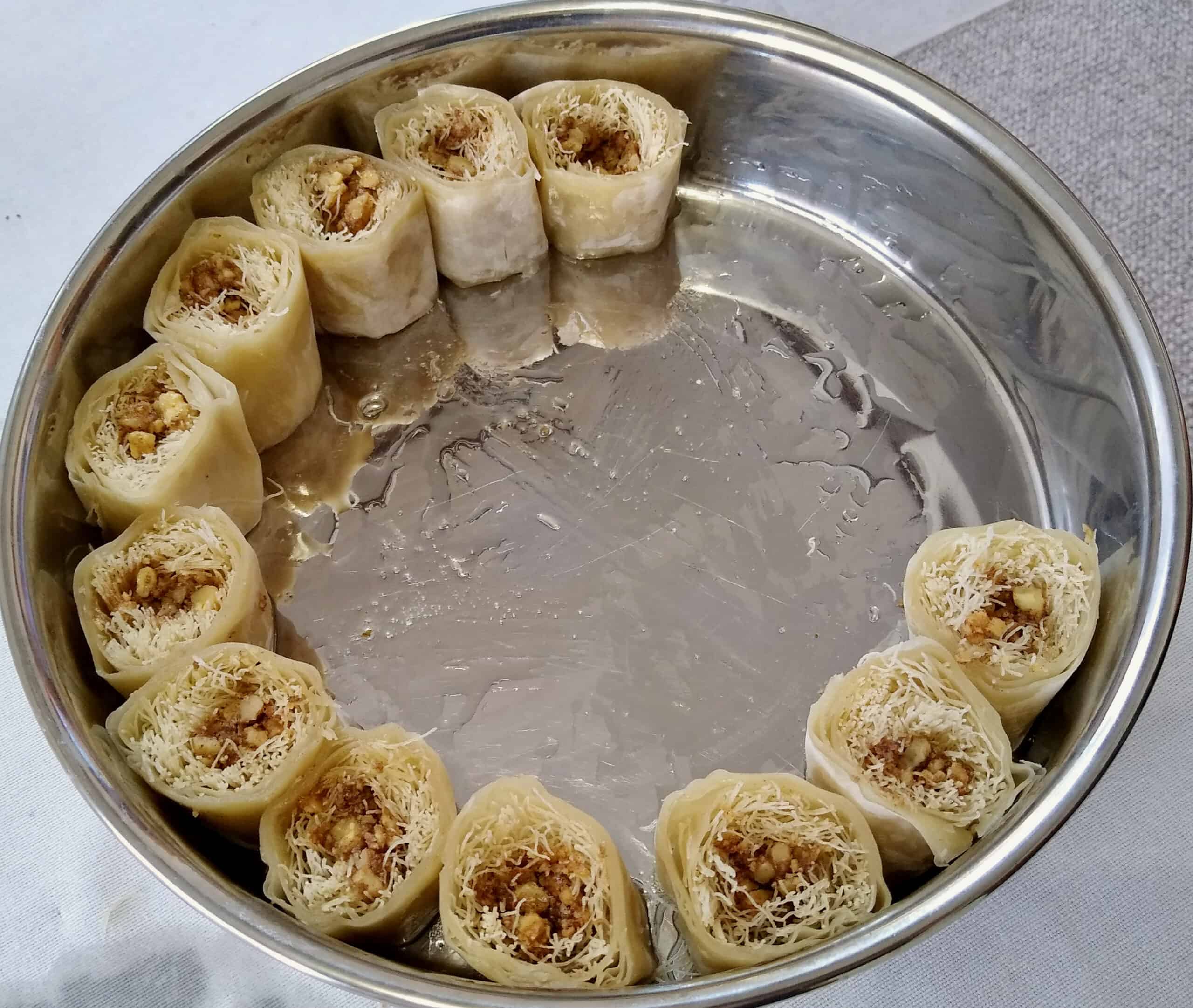 How can I prepare Giannotiko (Syrupy Rolled Phyllo and Kataifi Pastry with Walnuts)?
Preparing Giannotiko is indeed very easy, all you have to do is simply follow the steps in my recipe and you won't be disappointed.
When making traditional pastry based sweets always start by preparing the syrup. The syrup needs to be  cold when poured over the warm rolled pastry bites so that it can be absorbed.
To make the syrup add water, sugar, cinnamon stick ,lemon juice, lemon zest, star anise and vanilla essence in a saucepan. Add one or two slices of oranges to get that lovely orangy flavour and aroma. My secret when making the syrup is to add a tablespoon of pure Greek honey for that extra sweetness at the end, just as the syrup rests.
Bring the syrup to boil and let it for 5 minutes until it thickens. Remove the saucepan form the hob and add honey. Stir lightly and set it aside to cool. The syrup needs to be cold when you pour it over the Giannotiko rolls.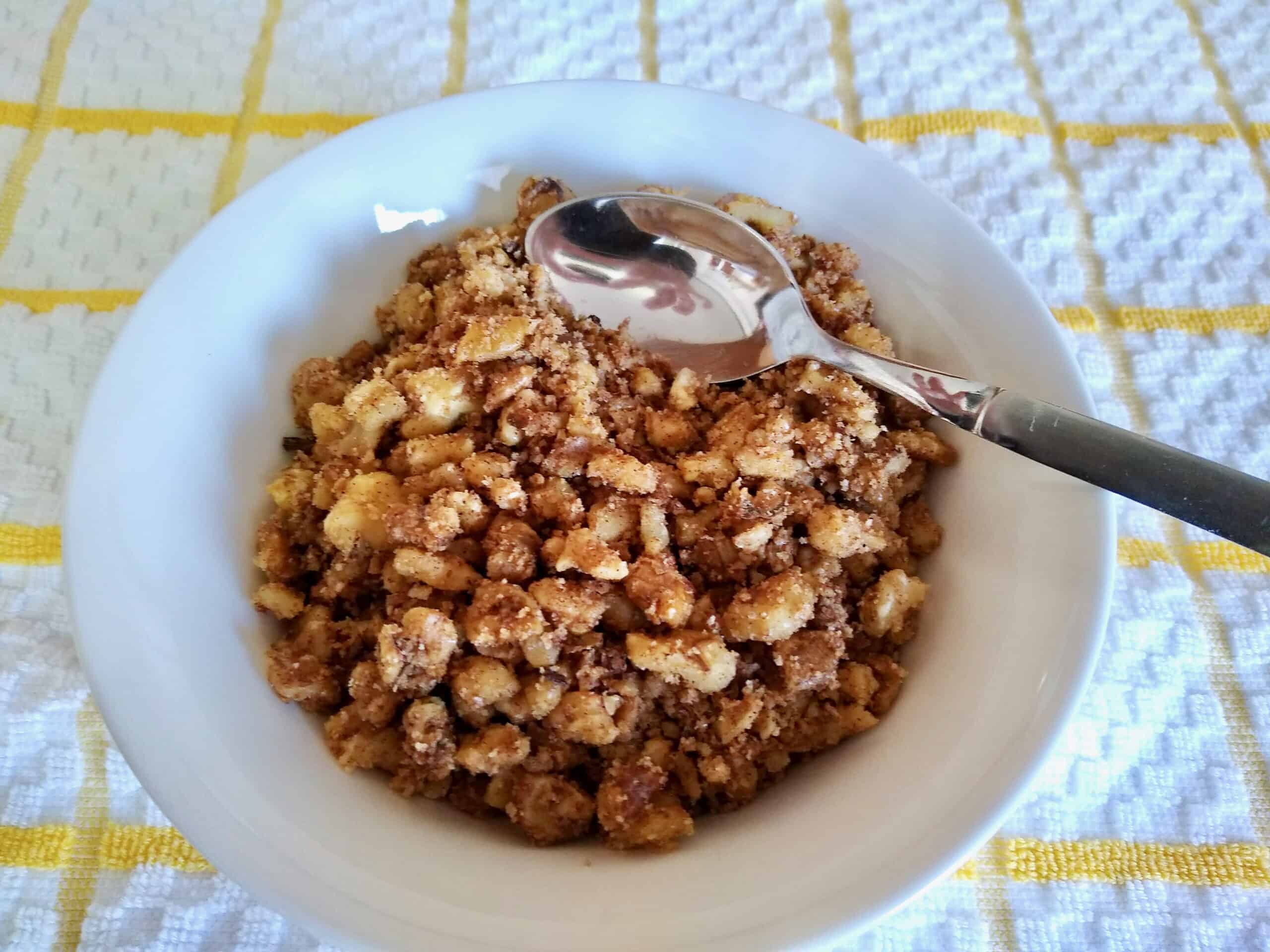 How do I prepare the filling?
Giannotiko (Rolled Pastry with walnuts infused with syrup) filling is very easy to make and does not require many ingredients. Chop walnuts coarsely and mix with cinnamon, Jacquet French toast or breadcrumps or melba toast (crushed) and vanilla (optional). Adding crushed Jacquet French toast or melba toast  will help the dessert soak even more of the sweet syrup. Please be careful, Jacquet French toast is a brand of dry crispy toast and not French toast! Simply click on the word to see the product and how you can get it.
For the  Giannotiko filling start by chop the walnuts coarsely. You can achieve that with a mortar and pestle or in food processor. I prefer the walnuts chopped coarsely to finely for that extra crunch. Continue by combing walnuts, cinnamon.
How do I combine the two kinds of pastry for Gianniotiko rolls?
Preheat the oven to 160C or 320F and continue by preparing the pastry. Lay one sheet of Phyllo pastry and brush it with oil (or melted butter) all over with the use of a silicone spatula. This will help create the crispy texture. If the Phyllo pastry is not covered with either oil or butter it will dry out. Place another sheet of Phyllo pastry on top of the previous one and brush it again with oil or melted butter. I find the Phyllo pastry sheet sold outside of Greece on the thin side so I would recommend using 3 sheets of Fillo Pastry.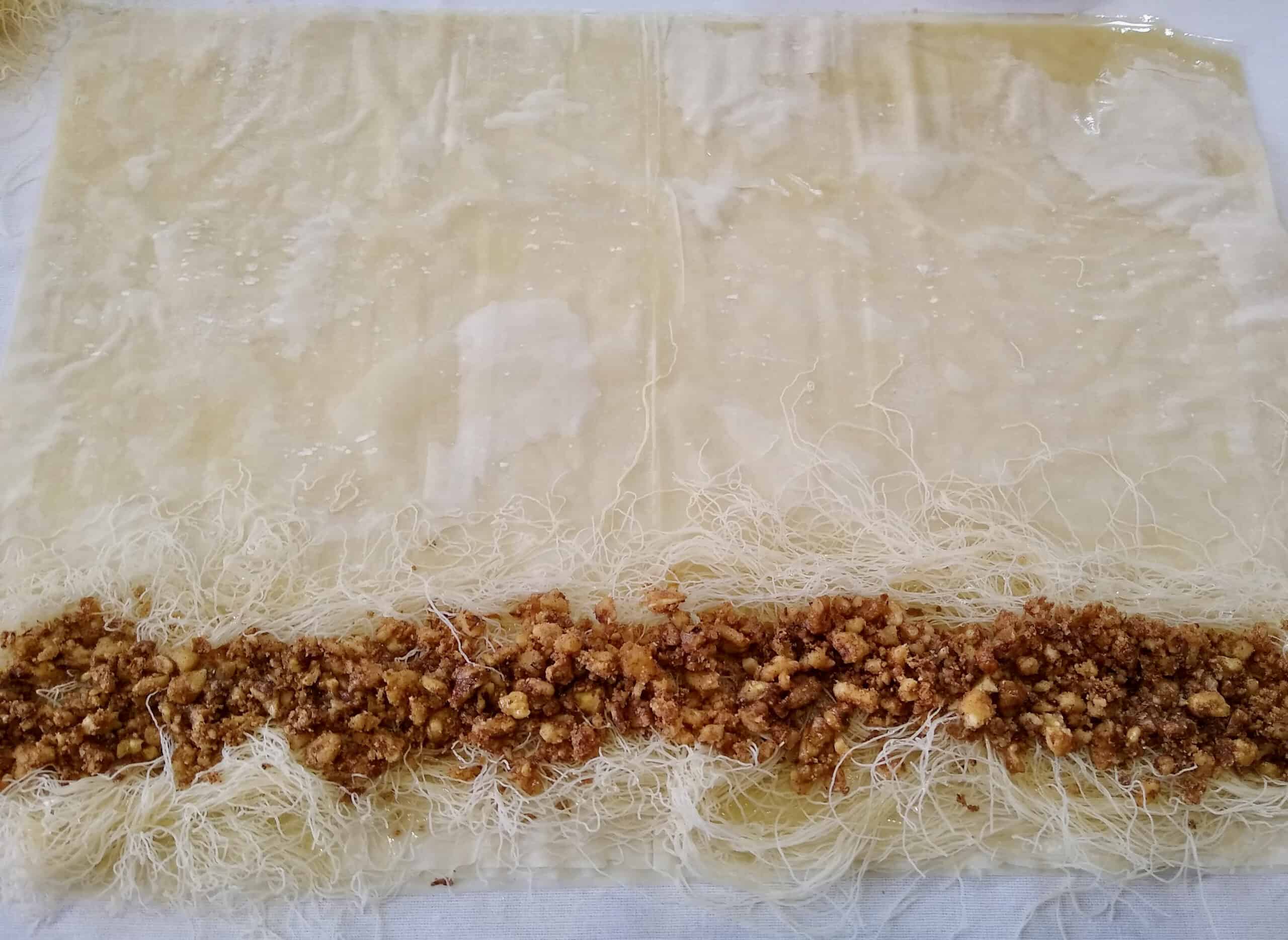 Take a handful of the Kataifi pastry and sprinkle it over the Phyllo pastry along its length. The secret to making Giannotiko is to add Kataifi pastry in part of the Phyllo pastry. Sprinkle now the filling on top of the Kataifi pastry and start rolling the Phyllo pastry.
How do I bake the pastry rolls?
Slice the rolled pastry into 4cm portions and lay the rolls vertically on a baking tray. Bake at 160C or 320F for 35 minutes in the middle shelf of the oven.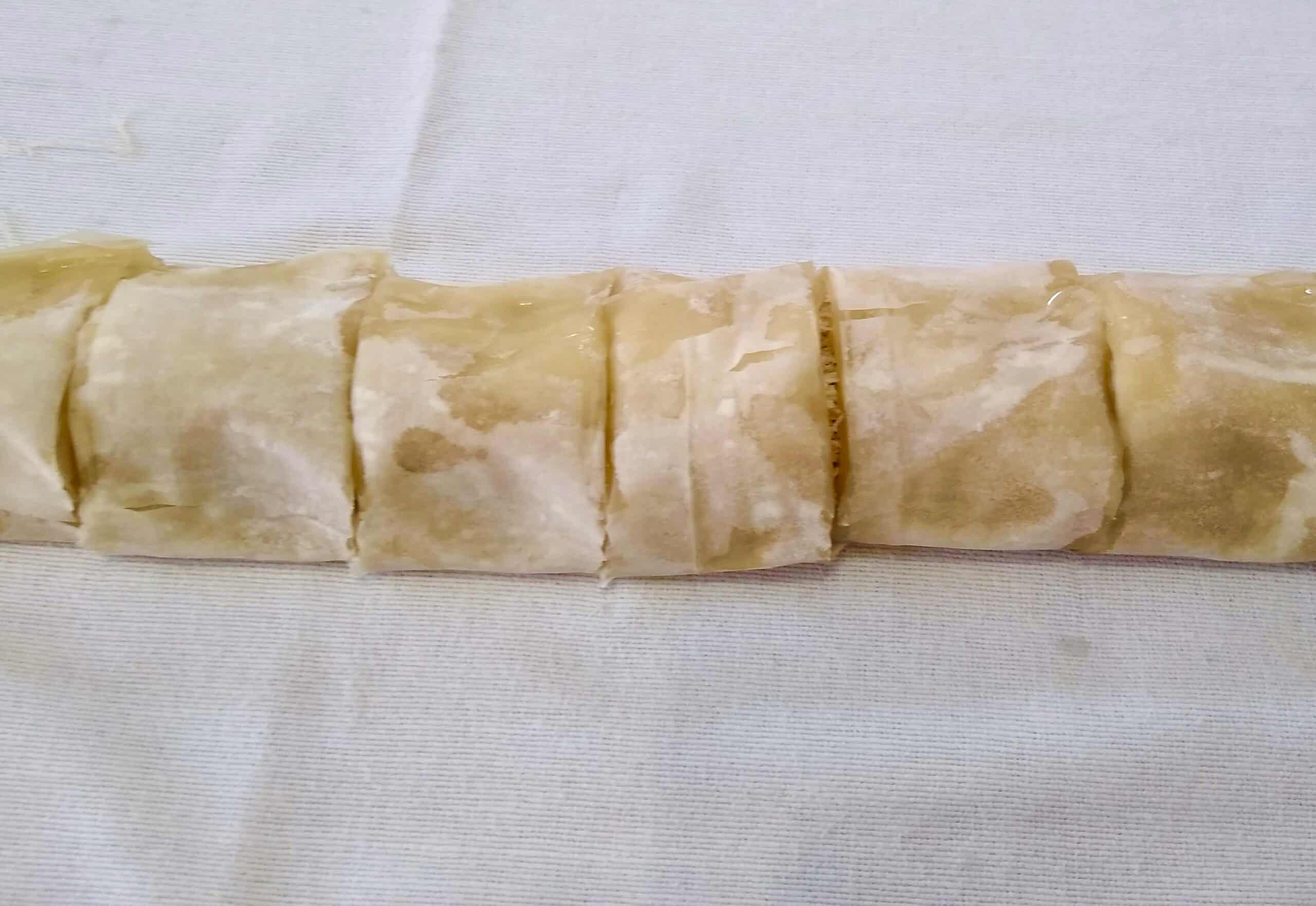 When the Giannotiko pastry rolls are ready and warm soak them in cold syrup. Let them rest in syrup for approximately 15 minutes. Turn them upside down after the 15 minutes and let the rolls further soaked in syrup.
If you love nutty syrupy dessert, then try my two delicious karidopites: Karidopita with breadcrumbs (walnut cake with breadcrumbs) and Walnut cake recipe (Karidopita).
Another flavoursome walnut based cake combing aromatic oranges with sultanas (and cognac if you wish ) is Fanouropita (Phanouropita) cake. This Lenten walnut cake is very simple to make!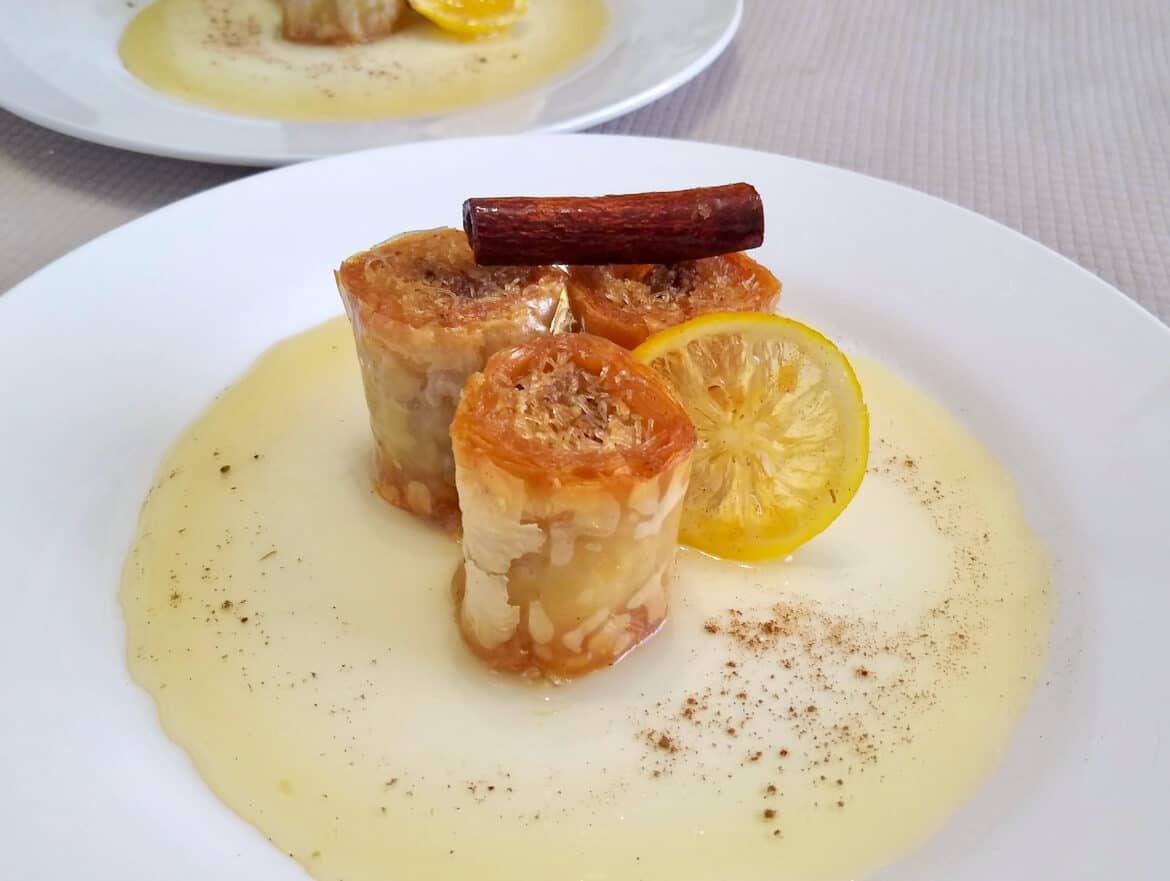 Gianniotiko / Giannotiko - Syrupy Rolled Phyllo and Kataifi Pastry with Walnuts
Ingredients
Basic ingredients: 
200gr Phyllo or Fillo pastry
120gr Kataifi pastry
120mls sunflower oil (or 120gr butter)
Syrup:
450ml water
550gr sugar
¼ lemon juice
one lemon zest
1 cinnamon stick
2-3 drops vanilla essence
1 star anise
2 orange slices (optional)
1 tablespoon honey (optional)
Giannotiko Filling:
250gr walnuts
1 teaspoon cinnamon
2 tablespoons  melba toast (crushed), bread crumps or Jacquet French toast (crushed)
1 vanilla (powder form) (optional)
Instructions
To prepare these Kataifi rolls, Giannotiko, pour water, sugar, cinnamon stick, lemon juice, lemon zest, vanilla. Add two slices of orange juice for an aromatic syrup. Bring this to boil and let it boil for 5 minutes.Set the syrup aside and add a tablespoon of honey. Stir gently and let the syrup cool.
Continue by preparing the Giannotiko or baklava filling. Crush the walnuts coarsely with a mortar and pestle or blitz them in a food processor. Blitz the French toast in a food processor finely separately to make Breadcrumps. The breadcrumps will soak even more of the syrup. Add the walnuts, the finely crushed French toast (Breadcrumps) along with cinnamon and vanilla (optional).
Lay a sheet of Phyllo pastry on the kitchen counter and brush it with either oil or melted butter.Make sure you brush the entire sheet of Phyllo pastry to ensure it does not dry out.  Once you have done this, place another sheet of Phyllo pastry on top and brush that with oil or butter.  I use three sheets of Phyllo pastry for an extra crispy texture.
Take a handful of the Kataifi pastry (threadlike pastry) and lay it on the sheets of Phyllo pastry along its length. Make sure you cover the first 10cm or so of the Phyllo pastry sheets. Now,  sprinkle 1 ½ tablespoon of the filling on the Kataifi pastry.
Roll the the Phyllo and Kataifi pastry along with the filling. Repeat this until you have used all the Phyllo pastry sheets.
Slice each rolled pastry into 4cm rolls and place them vertically, evenly spaced out in an oiled baking tray. Make sure there is ample space inbetween the rolls so that they can bake evenly.
Bake the Kataifi rolls at 160C or 320F for 35 minutes until golden. If you notice that the pastry rolls browning, cover them with aluminium foil.
Pour the cold syrup over the warm baklava rolls and let them soak the syrup for approximately 15 minutes. Continue by turning them upside down so that they can be evenly soaked.