Greek Gemista (Yemista) with rice and mince is one of the most popular and traditional family Greek dishes and certainly my mother's favourite one. Nutritious yet vibrant and colourful dish to brighten every family table. You will find this Greek Recipe in every taverna!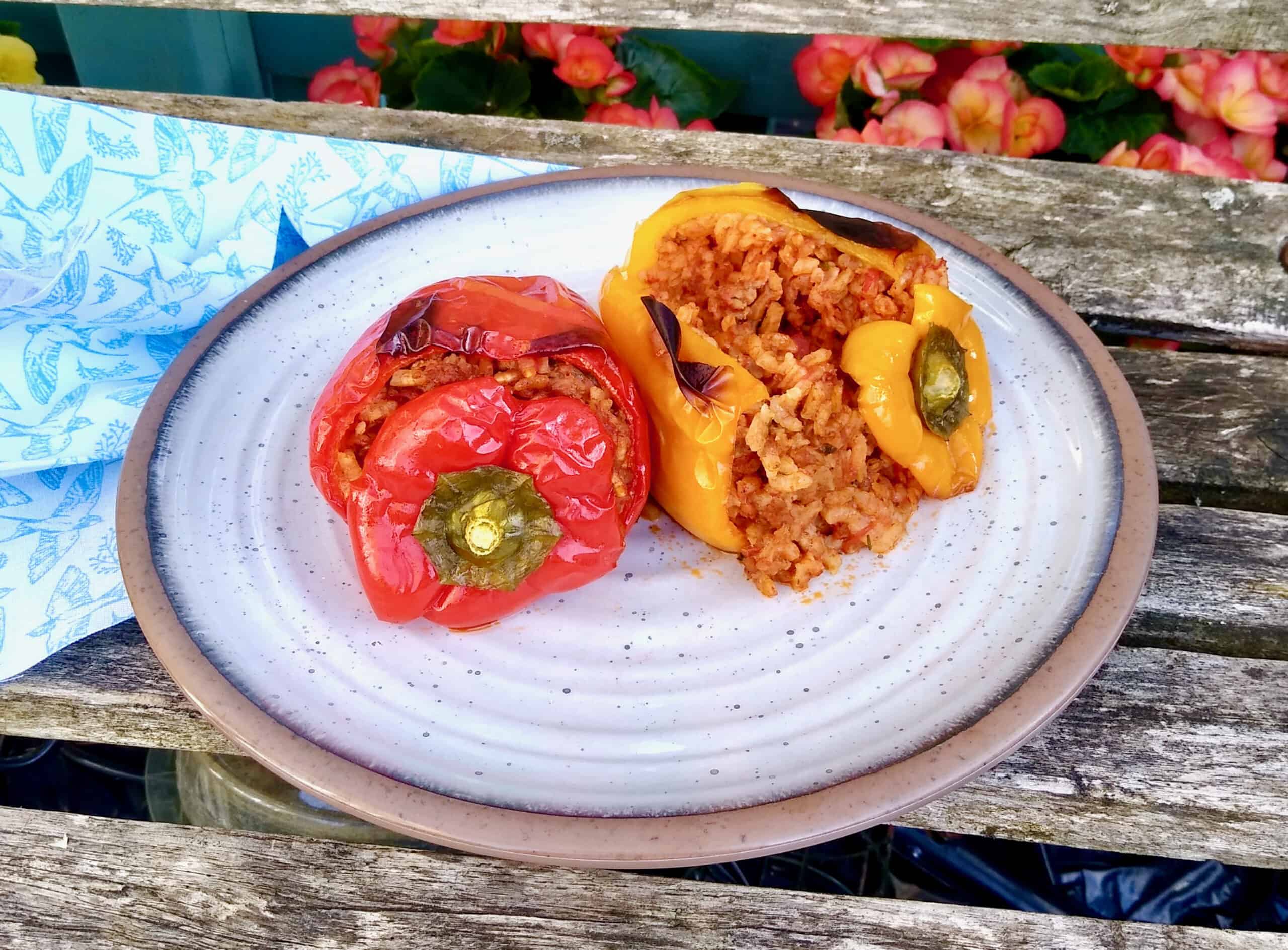 What is Gemista or Yemista?
The dishes name derives from the verb 'gemizo' which means to fill / stuff. Gemista or Yemista are stuffed vegetables with rice and most often mince. It is a rather summery dish when all the lovely seasonal vegetables are in season, such as peppers, zucchinis and aubergines. Thankfully tomatoes are available all year round.
Gemista Health benefits
Vitamin A boosts our immune system to fight infection and is good for your vision. Vitamin C or ascorbic acid helps wound healing and maintain healthy skin, bones, cartilage and blood vessels. Potassium is a mineral essential for cellular function and nerve conduction.
Ways to prepare Greek Gemista (Yemista) with rice and mince
The most widely known way of preparing Greek Yemista (Stuffed vegetables) is in the oven but this is by far not the only way you can prepare them!
Hob/ pot Gemista
Yes you read right! In fact my mother-in-law prepared Greek Yemista in a pot. I still remember the day we visited her and she had prepared this flavoursome dish for us. Older generation housewives used to prepare a lot of traditional dishes on the hob. Greek Gemista prepared in the pot still retain their juicy earthy flavour just like the oven baked ones.
Food steamer Gemista
Nowadays, with steam cookers in our life, why not try my Greek Gemista recipe in the steam cooker? I assure you, you will not be disappointed. Greek Gemista prepared both in the hob are partly boiled and partly steamed, whereas Greek Gemista in a steam cooker are steamed. Preparation of Greek Gemista (Stuffed Vegetables) is the same no matter how you decide to finish off their cooking.
Which vegetables can I use in this Greek Gemista (Yemista) with rice and mince recipe?
Gemista or Yemista recipe varies between regions. The dish was originally made with any garden vegetables that can be stuffed. Nowadays the most popular Gemista are made of green bell peppers and tomatoes.
Why not create though an equally beautiful but also delicious Greek Gemista recipe with the other colourful peppers? I love using red, orange and yellow ones as not only are they sweeter than the green ones, they also make a beautiful plate! Other vegetables to consider for Yemista include: zucchini (courgettes) and aubergines (eggplants).
When choosing bell peppers for Greek Gemista choose medium sized ones and not large ones. Large bell peppers have tough, thick walls which will not soften during cooking whereas medium sized ones cook perfectly.
In contrast, when choosing tomatoes, choose large ones. Tomatoes have soft walls and will require less cooking time.
You can stuff any vegetable you like! In the summer, when courgettes (zucchinis) and aubergines are in abundance, use these for a summery Gemista dish.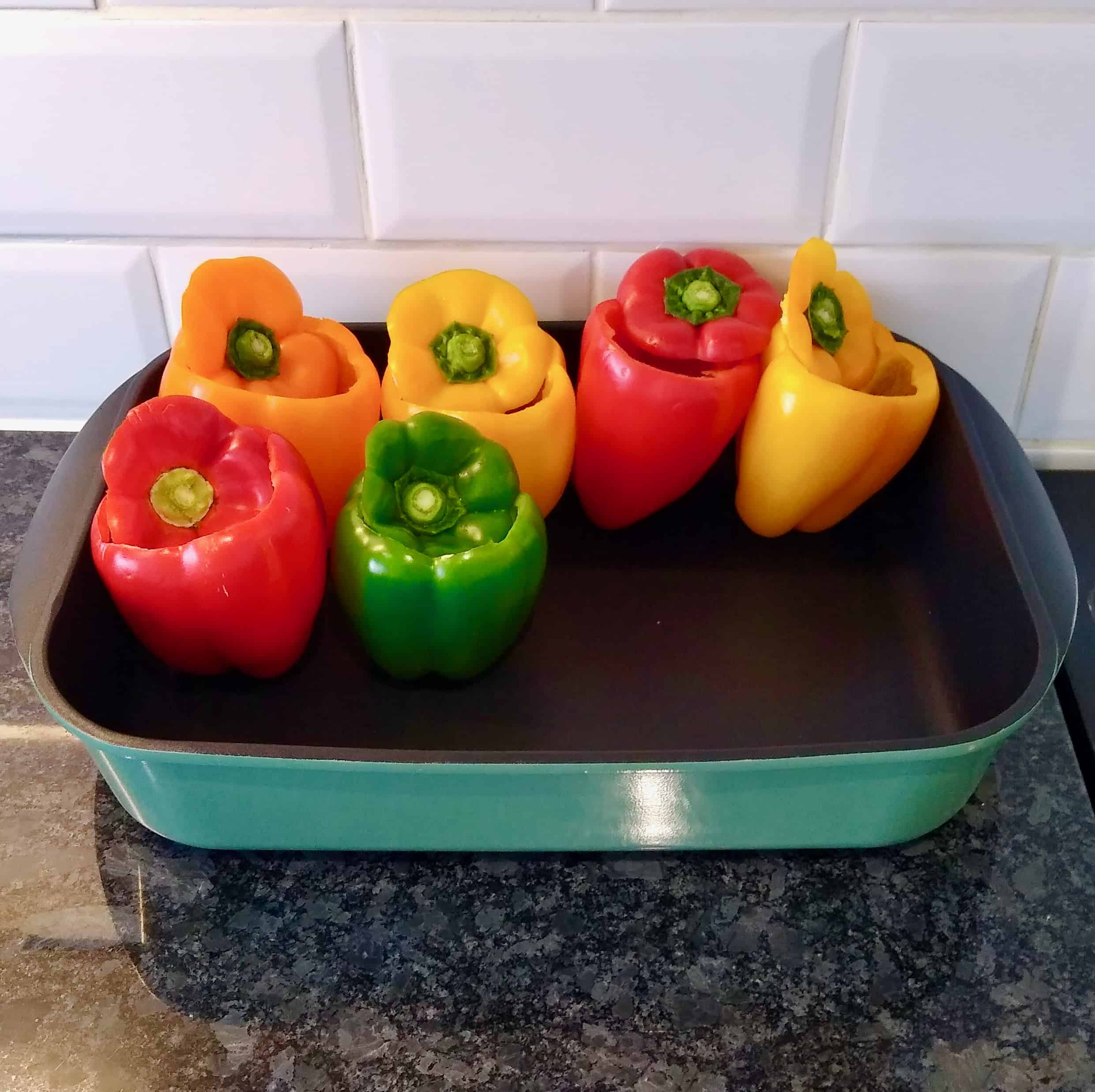 How do I prepare Greek Gemista (Yemista) with rice and mince?
Preparing vegetables
To make this Gemista or Yemista recipe start by preparing the vegetables. Wash them under running water. Dry them with a towel and slice the upper parts of the vegetables. Keep that part aside as a lid. Remove the seeds from the the peppers and the tomato flesh from the tomato. Set aside the tomato flesh you as you will use it later in the recipe.
Similarly, if you are using eggplants or zucchinis for Gemista, slice their top off and set it aside. Keep the flesh to use it in the gemista filling.

Gemista or Yemista filling
Slice the onion finely. Pour oil in a frying pan and caramelise the onions. Season with paprika, black pepper and coriander. Continue by adding rice and stir well. Continue by adding ground or mince meat and break into small pieces with the use of a fork. Carry on by adding tomatoes, tomato paste, sugar and salt.
Add water in small increments just like you do when you prepare risotto. Once water is absorbed add some more water. I add parsley, just like my mother, at the end of the cooking preparation so that Gemista filling can have an earthy lovely flavour. Cook the gemista filling until rice is half cooked.
Assemble Gemista or Yemista
With a spoon fill up the peppers and tomatoes with and lastly cover them with their 'lids'. From this point onwards it is your choice as to how you will cook Gemista.
Greek Gemista in the hob/or pot
Pour water in a pot and place the stuffed vegetables inside. Pour approximately 350-400ml of hot water, just enough to steam your Greek Gemista (Yemista) with rice and mince. Water in the pot should reach just below halfway of the pepper's height. Now, place the filled peppers in the bottom of the pot, as they have tougher exteriors, and lay the tomatoes on top. Cover the pot with the lid and let them cook for approximately 25 minutes.
Greek Gemista in a food steamer
In order to prepare Greek Gemista in a steam cooker, follow the recipes steps and prepare the Gemista filing. Spoon the hollow vegetables and place them in the food steamer. Follow the device's instructions and steam them to perfection!
For medium sized peppers 15-20 minutes in the food steamer is enough. The larger your vegetables are, the more time they require in the steam cooker. Bear in mind that tomatoes need less time as their wall is softer. Steam them for 10-15 minutes.
Health benefits of steamed and boiled Greek Gemista
Steamed and boiled food is healthier as is preserves more nutrients than any other form of cooking. Important nutrients and vitamins are lost in the conventional cooking process. Steaming and boiling also allows vegetables to retain their original flavours. Taste the fresh vegetables in these steamed Greek Gemista. Another great time saving advantage is that of preparation of multiple dishes at the same time. Simply fill up the other compartments of a steamer with vegetables or protein and let it steam away!!
What can I serve Greek Gemista (Yemista) with rice and mince with?
Greek Gemista go very well with a Traditional Greek Feta Salad (Horiatiki), tzatziki (yogurt dip) and sourdough bread. You can also sprinkle a few chunks of Feta cheese on top of them.
 Vegetarian Gemista
To prepare a vegetarian version of Gemista, simply omit the ground meat from the recipe.
Greek Gemista (Stuffed Vegetables with Rice and Mince)

Ingredients

10 vegetables ( mixture of peppers and tomatoes)
250gr mince meat ( veal, beef, pork, turkey or combination of)
300gr Carolina rice (or paella rice)
500gr water
80gr olive oil
200gr fresh tomatoes or canned chopped tomatoes
1 large onion
1 tbsp tomato paste
1 1/2 tsp paprika
1/2 tsp black ground pepper
1/2 tsp coriander
1 1/2 tsp salt
1/2 tsp sugar
5-6 sprigs fresh parsley
1 chicken stock (optional)

You will need: 1 frying pan, 1 oven dish or steamer or large pot

Instructions

Gemista filling:

To prepare this family meal, start by washing the seasonal vegetables. Slice off the upper portions of the peppers and tomatoes and remove their seeds and flesh. Make sure to set aside these upper portions so that you use them later in the recipe as 'lids'. Set aside the tomato flesh as well so that you can use it in the gemista filling, ie rice filling.
Slice the onion and fresh parsley finely.
Pour olive oil on a frying pan and sauté the onions for a couple of minutes (2-3 minutes) until they caramelise. Season with paprika, ground black pepper, coriander and stir until the spices are evenly incorporated.
Continue by adding the rice and stir until all the rice is smeared with oil . Carry on with adding the mince or ground meat. Break the mince meat with the help of fork into small pieces and mix with the onions and spices. Continue by adding tomatoes, tomatopaste, sugar, salt and stir. Once the rice-mince-tomato has cooked for a bit, add small amounts of hot water just like you do when you prepare risotto. Once water is absorbed ,add more, until the rice is half cooked.
Cook until the rice is half cooked. Add the chopped fresh parsley and cook for 1-2 minutes more. The Yemista filling should be juicy enough as it will be further cooked in the oven, steamer or pot.Bear in mind, that if you are using arborio rice, cooking time is less.
Fill up the peppers and tomatoes (or other seasonal vegetables) with the use of a spoon and cover them with their 'lids'.

Oven baked Gemista:

Pour 400mls of water in a baking dish and place the stuffed vegetables in. At this point you can add potato wedges or chunks in the baking dish. Bake Gemista or Yemista at 190C or 375F for 35-40 minutes in the middle rack of the oven.

Steam cooker Gemista:

Place the stuffed vegetables in the steam cooker and steam away. Steam for approximately 15-20 minutes for peppers and 10-15 minutes for tomatoes.

Gemista in the hob or pot:

Pour 250mls of hot water in a large pot and place the stuffed vegetables inside the pot (or saucepan). Place the peppers first , on the bottom of the pot, with the tomatoes ( more fragile) resting on top of the peppers. Cover the pot with the lid and cook for 20-25 minutes.