Feta cheese is simply a type of cheese we adore in Greece. That is why you will encounter numerous many recipes with it. Here I will share with you my homemade Feta Cheese Ball Recipe. A super easy and quick recipe with only a few ingredients.
Assemble them in 10-15mins and simply refrigerate.
Go on, amaze your guests with this Greek Feta Cheese Ball Recipe. Greek Feta Cheeses Ball are perfect as appetisers for parties and any festive celebrations or any gatherings.
No baking or frying is required! Simply combine the ingredients below and chill in the fridge. Completely Hassle free!
What is Feta cheese?
Feta cheese is a Greek type of white cheese made of sheep's milk.It can also be made from a combination of sheep and goat's milk. Greeks either use or eat Feta with most of their meals.
How do I make Feta Cheese Balls?
It is very easy and quick to make these homemade Feta Cheese Ball recipe. The only ingredients you require are Feta cheese, cream cheese , black and green peppercorns. I cover these Greek cheese balls with walnuts and sesame seeds for extra flavour. You can of course enjoy them plain, ie without walnuts and sesame seeds.
Preparation
Assemble your kitchen utensils (bowls, mortar and pestle, baking tin) and let's start. Line a baking tray with parchment paper and place sesame seeds on one side and walnuts on the other side of the baking tray. Roast them for 10 minutes at 160C or 320F. Once they are roasted, place the sesame seeds in a bowl. Chop the walnuts in a food processor. Be careful not to chop walnuts too finely. Once you have done this, place the walnuts in a separate bowl.
With the use of a mortar and pestle crush the black and green peppercorns. I use peppercorns as they taste way better than already grounded green or black pepper. In another, larger bowl, combine Feta cheese, cream cheese and the crushed peppercorns. Combine the ingredients with your hands or with a wooden spoon to combine the cheese mixture.
Take a tablespoon worth of mixture and start shaping the mixture into cream cheese balls. Your hands will be sticky so make sure you wipe them frequently with kitchen paper. Place 3-4 cheese balls in the chopped walnuts bowl and shake the bowl until they are evenly covered. Repeat the same process in the sesame seed bowl.
Chill these appetisers in the fridge for at least 30 minutes before serving.
You can make these Greek Feta cream cheese balls without walnuts or sesame seeds. They will still taste fantastic.
Make ahead Feta cheese ball recipe
You can make this easy appetiser in advance and store it in the fridge. Roast walnuts, sesame seeds or finely chop herbs and cover just prior to serving for a fresh taste!
Other ingredients for this Feta cheese ball recipe
Herbs
There are a number of herbs you can use in this recipe. I would recommend fresh mint, fresh parsley and chilli flakes.
Cheese
You can prepare these cheesy balls with Gervais cheese, ricotta cheese, goat cheese or cottage cheese.
Helpful tips
To avoid having sticky hands, simply wipe your hands in between shaping the Feta cheese balls with kitchen or paper towels. You can oil your hands with vegetable oil so they won't be sticky in between shaping. Beware though, not to overdo it with the vegetable oil and turn this cheeseball appetisers oily as the chopped walnuts and sesame seeds will not stick to the cheese balls. That is of course, if you'd rather prefer plain cheese ball appetisers.
Vegan cheese balls
Did you know you can make these delicious party nibbles vegan? You can simply substitute Feta and cream cheese with vegan cashew cream cheese.Believe me thy still taste divine and can impress your vegan friends!
What can I serve this Feta Cheese Ball Recipe with ?
These Greek homemade little Feta and cream cheese balls are perfect as appetiser for any parties and gatherings. They are super quick thus saving you time to get on with the rest of the cooking.
You can serve them along with Ouzo or Retsina as well as fluffy pita bread or a selection of crackers.
Other Feta cheese recipes
The undoubtedly most famous Feta cheese recipe is Tiropita, aka Greek Feta cheese pie with phyllo. It is a perfect crowd pleaser and can be be in advance, baked when needed and even stored frozen. You can find the recipe here.
Tiropitakia, mini triangle shaped Feta cheese appetisers with phyllo are also great for any gathering. You can find the recipe here.
Running out of ideas for packed school lunches? Why not try these Greek yoghurt and Feta cheese muffins?
Looking for a bit more unusual Feta cheese recipes? Then look not further!
My savoury Tsoureki loaf with Feta cheese, spinach and leek is a definite showstopper! You can find the recipe here.
My savoury Feta cheese cake is a Greek style cheesecake sure to impress anyone. Find the recipe here.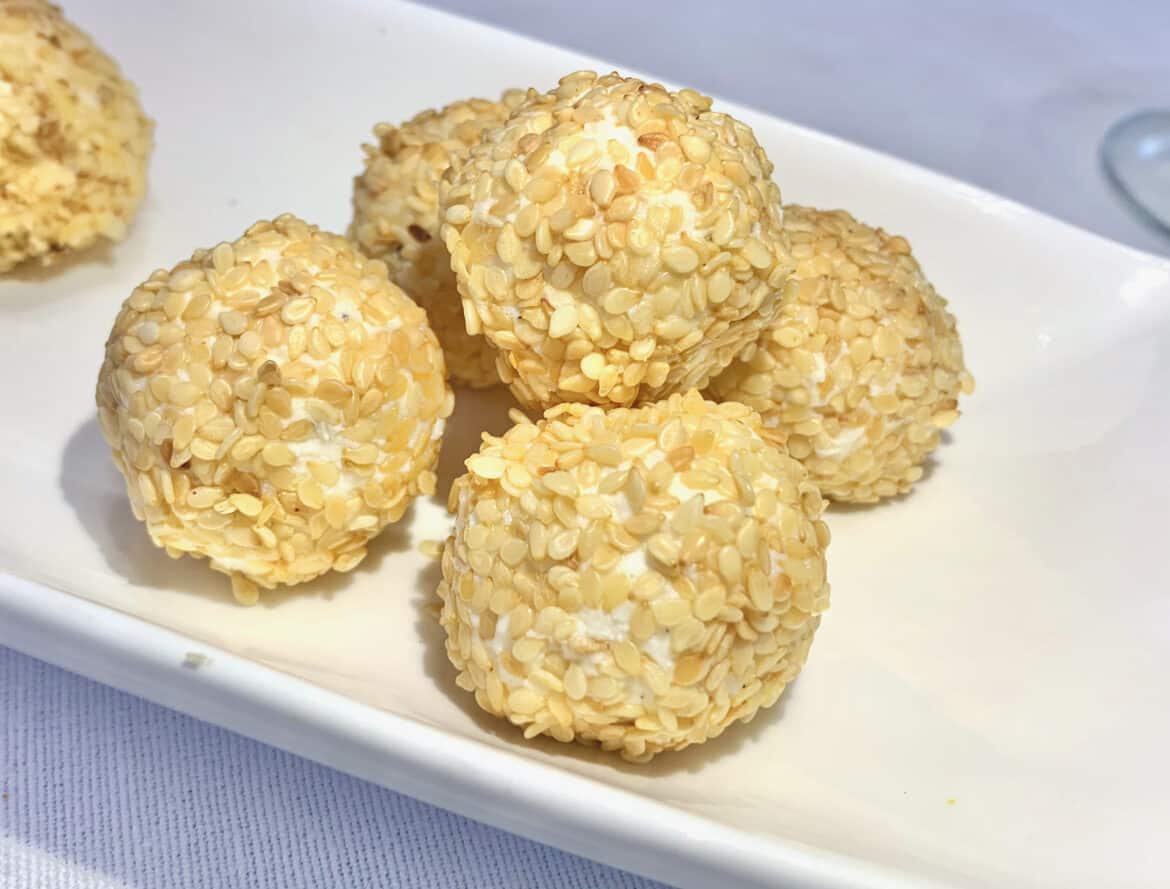 Feta Cheese Ball Recipe
Ingredients
250gr Feta cheese ( 9 ounces Feta cheese)
2 tablespoons cream cheese
15 black peppercorns
15 green peppercorns
120gr sesame seeds (optional)
100gr walnuts ( optional)
For this recipe you will require:
3 mixing bowls, 1 baking tray, parchment paper, mortar and pestle  and a food processor
Instructions
To prepare these mini Feta cheese balls start by assembling the ingredients and kitchen utensils.
Line a baking tray with parchment paper and place the walnuts and sesame seeds. Bake them for 10 minutes at 160Cor 320F in the middle shelf of the oven.
Chop the walnuts in a food processor (not to finely though, avoid powder form).
Add the chopped walnuts in one mixing bowl and the sesame seeds in another one.
Crush the black and green peppercorns in a mortar. I prefer to crush the peppercorns instead of using ground pepper as they are more flavoursome.
In a third, separate bowl, add the crumbled Feta cheese, crushed peppercorns and cream cheese. Combine ingredients either with your hands or with a wooden spoon.
Take a tablespoon worth of mixture and shape into a ball. At this point you have the choice to either dust the cream cheese balls with walnuts and sesame seeds as I do or you can simply chill them as they are. They will taste fantastic either way.
Helpful tip: Your hand are bound to be sticky in-between shaping the cheese balls. I will share with you a helpful tip. If you are going to cover the cream cheese balls with walnuts and sesame seeds then simply wipe your hands with kitchen roll, if not, then oil your hands in between shaping.
Now, place 3-4 cheese balls in the walnut bowl and shake it until the cheese balls are evenly covered by walnuts. Repeat the same process with the sesame seed bowl.
Chill them in the fridge for at least 30 minutes to an  hour.
Enjoy!
This recipe will make approximately 25 delicious homemade Feta Cheese Balls