Try my easy and quick Greek Yogurt and Feta Cheese Muffins recipe. These savoury little treats are perfect for breakfast, lunch and dinner. You can enjoy them in the mornings with Greek coffee, you can pair them with main dishes, add them in pack lunches or simply enjoy them as snacks.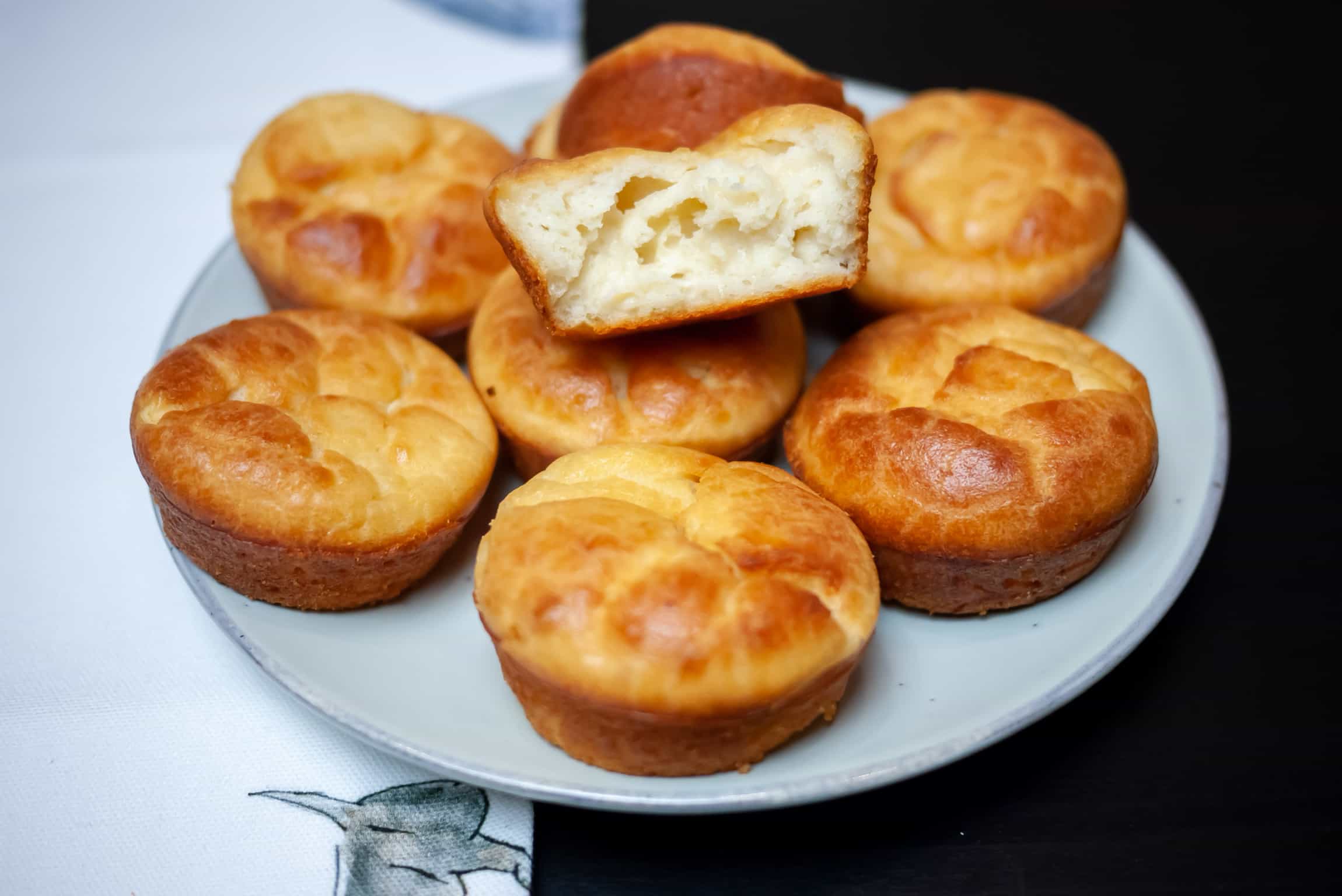 Taste the thick Greek yogurt  in these savoury puffs.
Greek yogurt is strained and it has thus a thicker consistency compared to other yogurts in the market and is perfect for these savoury muffins.
Can I substitute Greek yogurt for another yogurt?
For these Greek Yogurt and Feta Cheese muffins I always use Greek yogurt. Greek yogurt is made of all the ingredients all other yoghurts are also made of, though it lacks whey. Whey is the liquid that contains lactose and Greek yogurt being  strained lacks whey as it is removed in the straining process. As a result,  Greek yogurt has all the delicious nutrients all other yogurts have but less sugar.
Thankfully, Greek yogurt is readily available in supermarkets so it will not be difficult to get your hands on a pot for this recipe. Should you find that you cannot get your hands on a Greek yogurt , you may substitute it with a Greek style yogurt. The recipes calls for a thick, strained  yogurt.
Greek Yogurt and Feta Cheese Muffins
Ingredients
2 cups self raising flour
1 cup sunflower oil
400g Greek yogurt
6 eggs
2 cups Feta cheese
butter (for the baking trays)
You will need a hand mixer, a large bowl and two muffin baking trays. You can use non stick muffin baking trays or silicone ones.
Instructions
Start by assembling all the ingredients in the kitchen counter.
Take a small piece of butter and start buttering the muffin moulds. You can also melt the butter and brush the melted butter into the muffin moulds.  Butter is the best greasing agent so that your Yogurt and Feta cheese muffins won't stick to the moulds. I never stop at just greasing the muffin moulds, I also dust them with a little bit of flour.
You will find that most Feta cheese products are either in small cubes or large blocks.  For this Yogurt and Feta cheese Muffin recipe, place the Feta cheese in a bowl and with the use of a fork start breaking the Feta cheese into very very small pieces.  You can by no means add the Feta cheese in large chunks, bear in mind though that large chunks of Feta cheese will not mix well with the rest of the ingredients.
Preheat your oven to 180 C/ 356 Fahrenheit.
In a large bowl add the eggs and whisk them for approximately 3 minutes.
At this point add the yogurt and continue whisking for another minute.
Continue by adding the sunflower oil and the flour.
Mix the ingredients with the hand mixer.
Continue by adding the Feta cheese and mix all the ingredients together.
Scoop the mix into the muffin moulds. Make sure you do not add too much mix into the muffin moulds as your muffins will rise during baking. I fill approximately half of the muffin moulds.
Bake the muffins at 180 C/356 Fahrenheit for 20 minutes.
Notes
This recipe will give you 24 delicious Yogurt and Feta Cheese Muffins.