Indulge in the taste of Greek summer with this irresistible Greek watermelon pie (Karpouzopita) recipe. This refreshing dessert is the epitome of Greek hot summer days!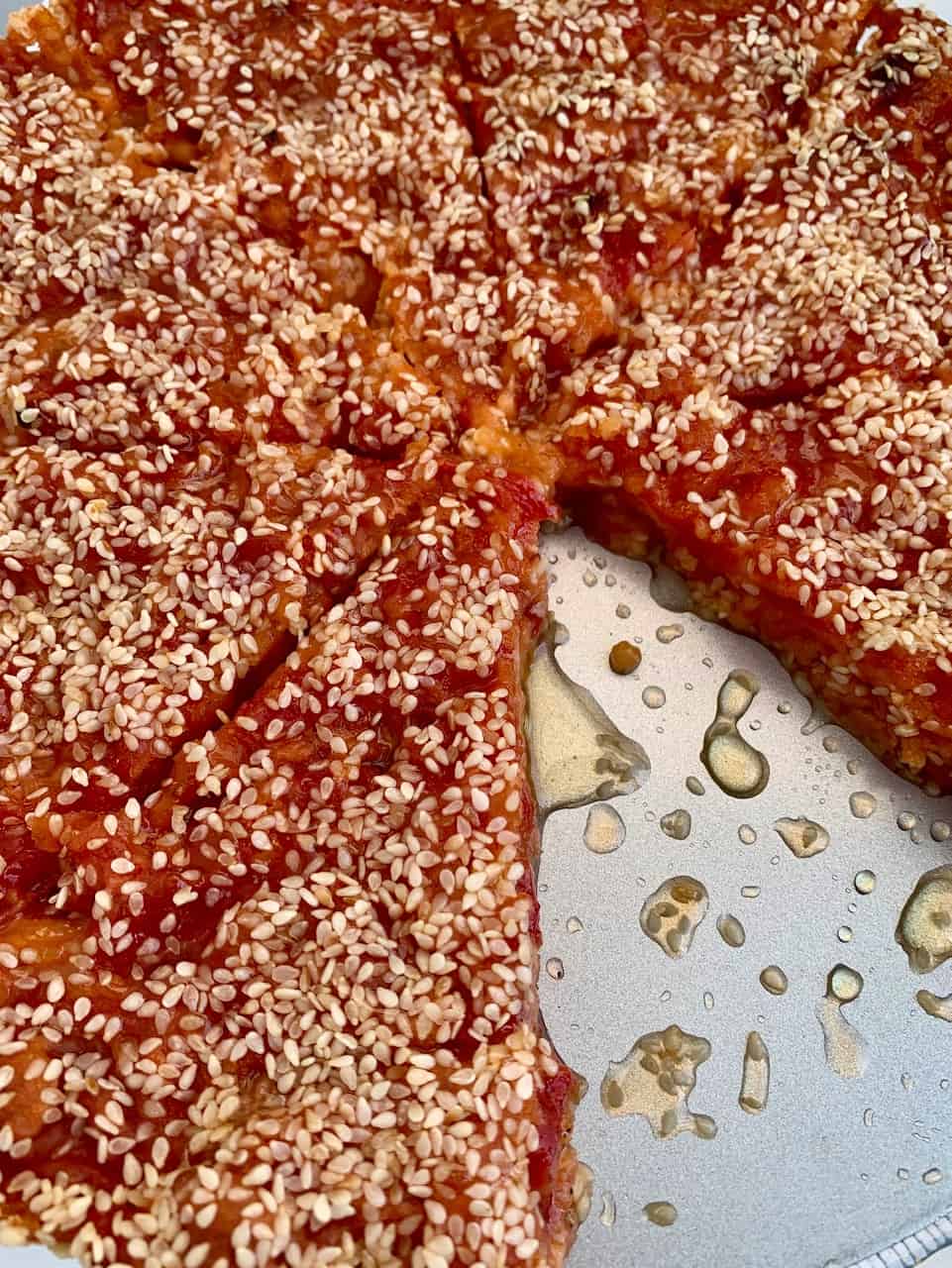 What is Greek Watermelon Pie (Karpouzopita)?
Greek Watermelon Pie (Karpouzopita), is a unique and refreshing dessert that perfectly captures the essence of hot summer days in the Greek Cyclades islands. This delicious pie is made with a watermelon mixture that is combined with a blend of authentic Greek honey, extra virgin olive oil, flour and heavenly cinnamon spice. The pie is then baked to a golden brown perfection, creating a delightful contrast between the juicy watermelon and the crispy crust.
Served in generous slices, this pie is a favorite among locals and tourists alike, offering a balance of watermelon juice sweetness and the aromatic aroma of cinnamon.Whether enjoyed as a sweet treat after a meal or served with a cup of Greek yogurt for a delightful breakfast, Karpouzopita remains a cherished dessert that perfectly encapsulates the flavors of the Greek islands.
Does a watermelon pie exist?
Greek watermelon pie does exist and originates from the island of Milos.
Origins of Greek watermelon pie
The history of Karpouzopita, also known as Greek watermelon pie, dates back to the beautiful island of Milos, nestled among the picturesque Cycladic islands of Greece. Originating from this serene fishing village, Karpouzopita has since become a beloved dessert throughout the country.
Karpouzopita is a traditional Greek pie that captures the essence of hot summer days with its refreshing watermelon flavor. The pie is characterized by its thin and crispy exterior, which encases a soft, luscious middle made with a mixture of watermelon flesh, sugar, raisins and fragrant cinnamon. Karpouzopita's popularity has spread beyond the shores of Milos, captivating the taste buds of Greeks and foreigners alike.
Greek watermelon pie ( Karpouzopita) ingredients
The key ingredients used in Karpouzopita are carefully selected to achieve the perfect balance of flavours.
Watermelon flesh: With its juicy, sweet and refreshingly crisp flavour, watermelon flesh is the star of this summery pie.
Sugar: Sugar adds not only an extra sweetness but also creates a golden-brown crust to Karpouzopita.
Sunflower olive oil: The use of olive oil not only adds a rich, savory note but also helps create the desired texture.
All purpose flour: All purpose flour will combine all the wet ingredients.
Sesame seeds: Sesame seeds add a delightful crunch to every bite.They also prevent the watermelon pie from sticking to the base of the baking dish.
Greek honey: Honey drizzled over the pie imparts a hint of sweetness.
Cinnamon: Cinnamon further enhances the taste profile, turning this simple pie into a true Greek delicacy.
Sultanas: Sultanas are optional, but believe me they add an extra sweetness to the pie. Soak them in cognac or rum and then add the juicy sultanas in the watermelon pie.
Walnuts: Walnuts are also optional and bring a crunchy and sweet note to the pie.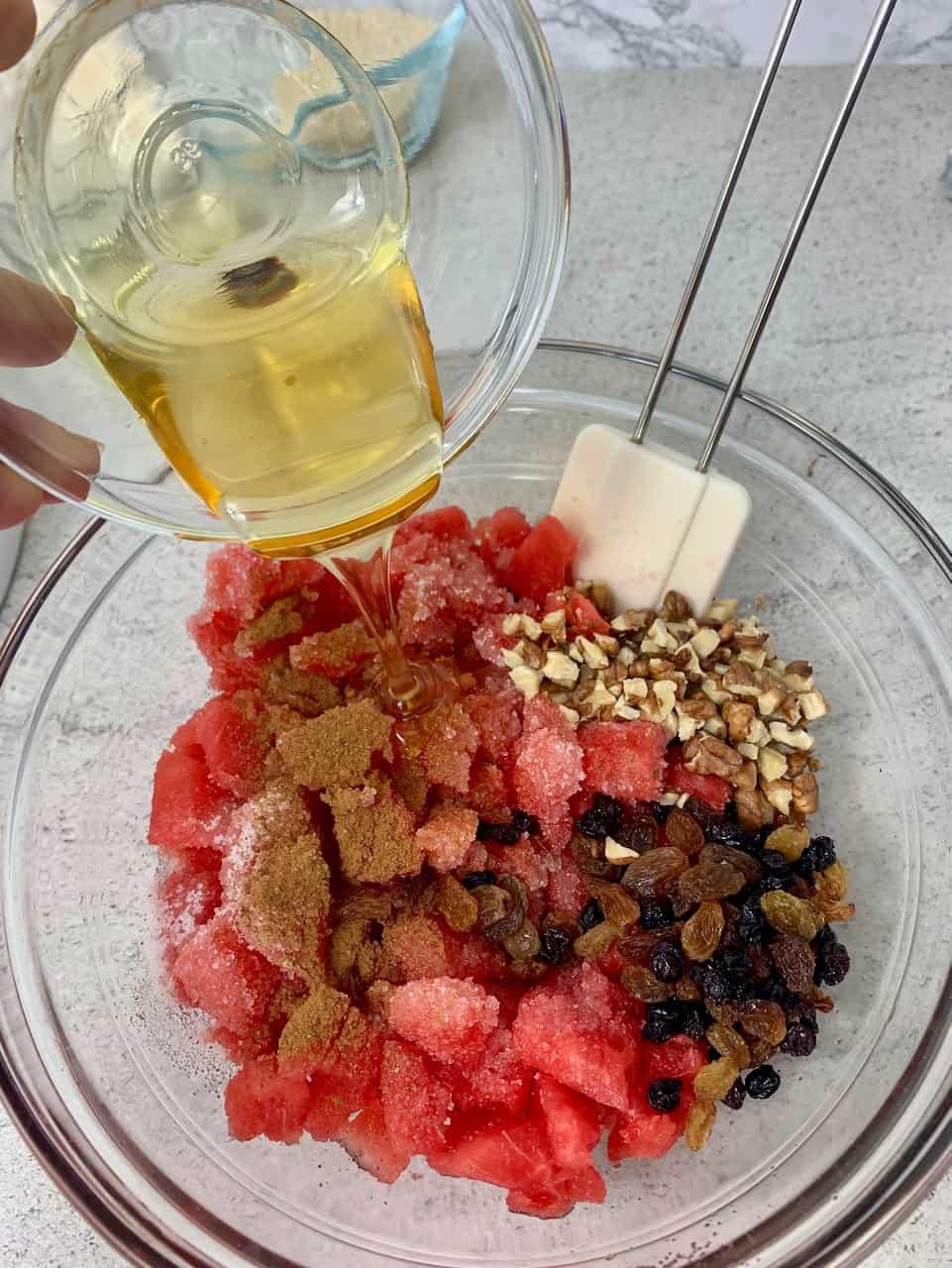 Milos Watermelon Pie Preparation& Tips
Preparing the baking dish
To prepare the baking dish for Karpouzopita, start by greasing the inside of the dish with sunflower oil or cooking spray. This will prevent Karpouzopita from sticking to the sides and bottom of the dish as it bakes.
Next, sprinkle sesame seeds to add an extra layer or protection against the pie sticking to the dish. Make sure you evenly coat the entire surface of the baking dish.
How to prepare the pie
Preparing Karpouzopita, a this Greek watermelon pie, involves several steps that come together to create a delightful dessert.
Watermelon flesh
To begin, gather fresh and ripe watermelon flesh, removing any seeds and either chopping it into small pieces or crumbling it with your hands.Remove any excess moisture by gently squeezing the watermelon flesh. Place the watermelon flesh in a colander and drain for approximately 15 minutes.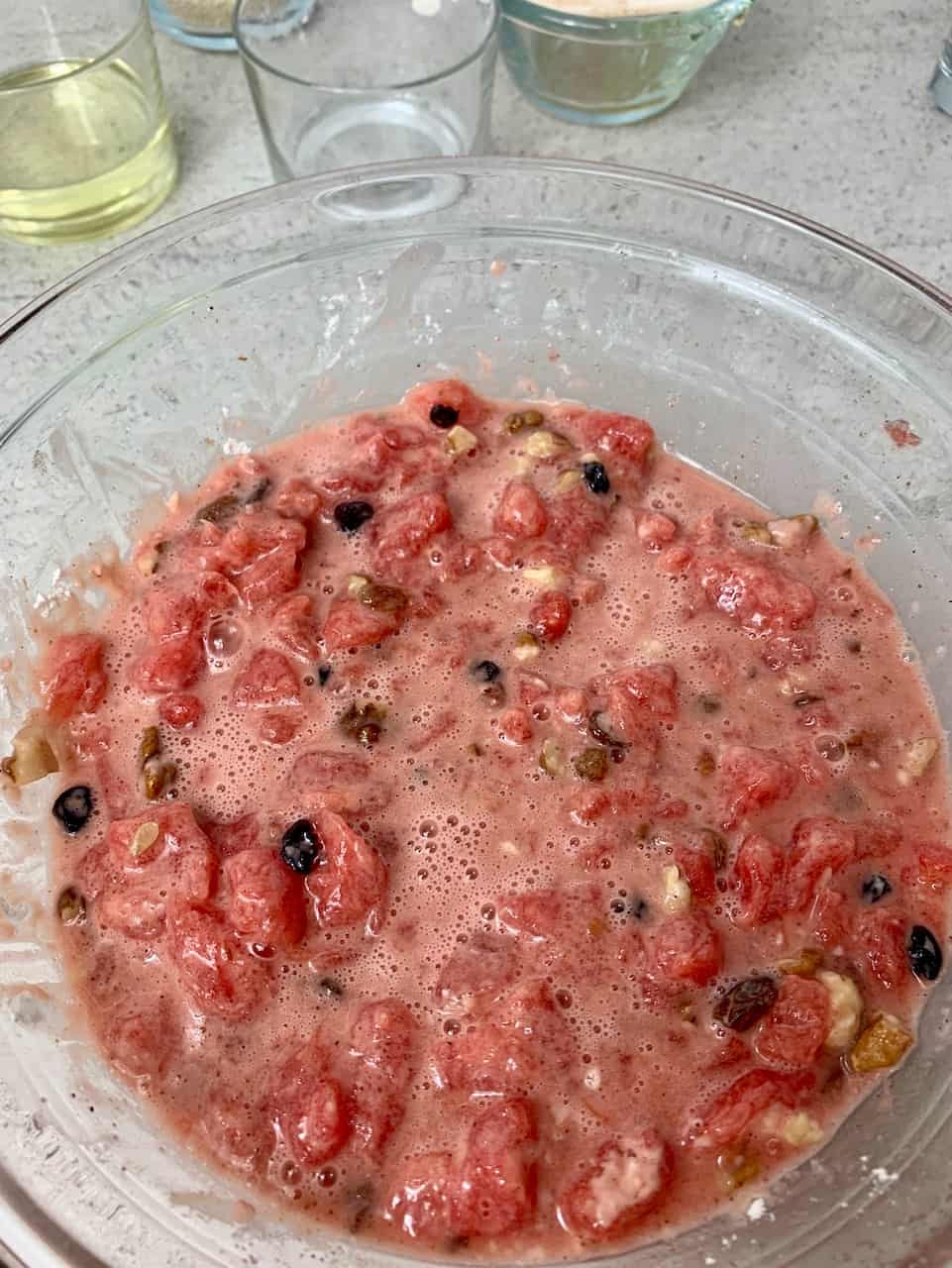 Watermelon pie mixture
In a mixing bowl, combine the watermelon pieces with all purpose flour, honey, sunflower oil, sultanas, crushed walnuts, sesame seeds,  cinnamon and vanilla essence.
It is best to add flour in increments, rather than all at once and mix. The ideal Karpouzopita consistency is neither too runny nor too solid. Pour the watermelon pie mixture in the baking dish. Sprinkle with sesame seeds if you wish.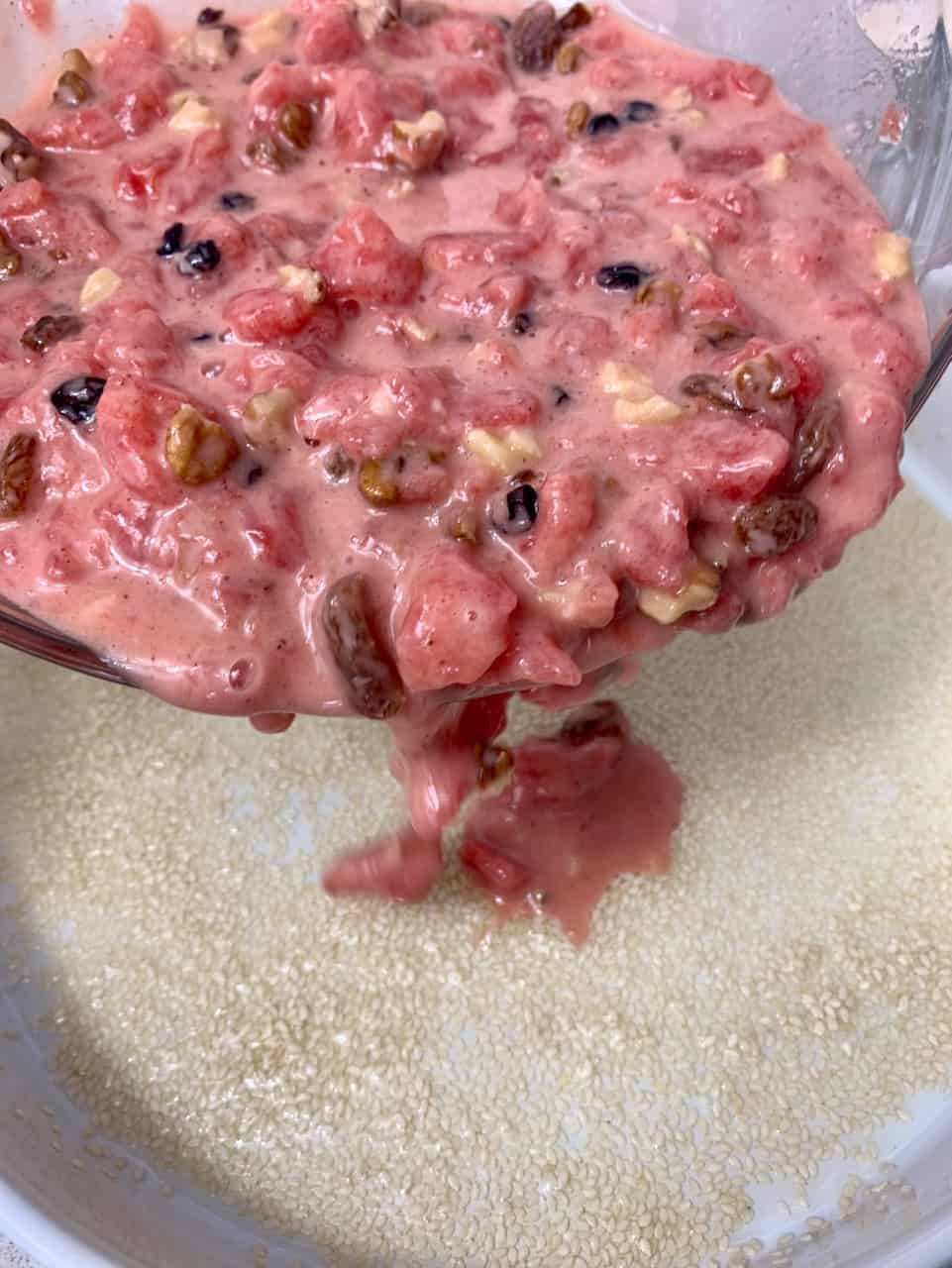 Baking the pie
Bake for 40-45 minutes at 180C or 360F.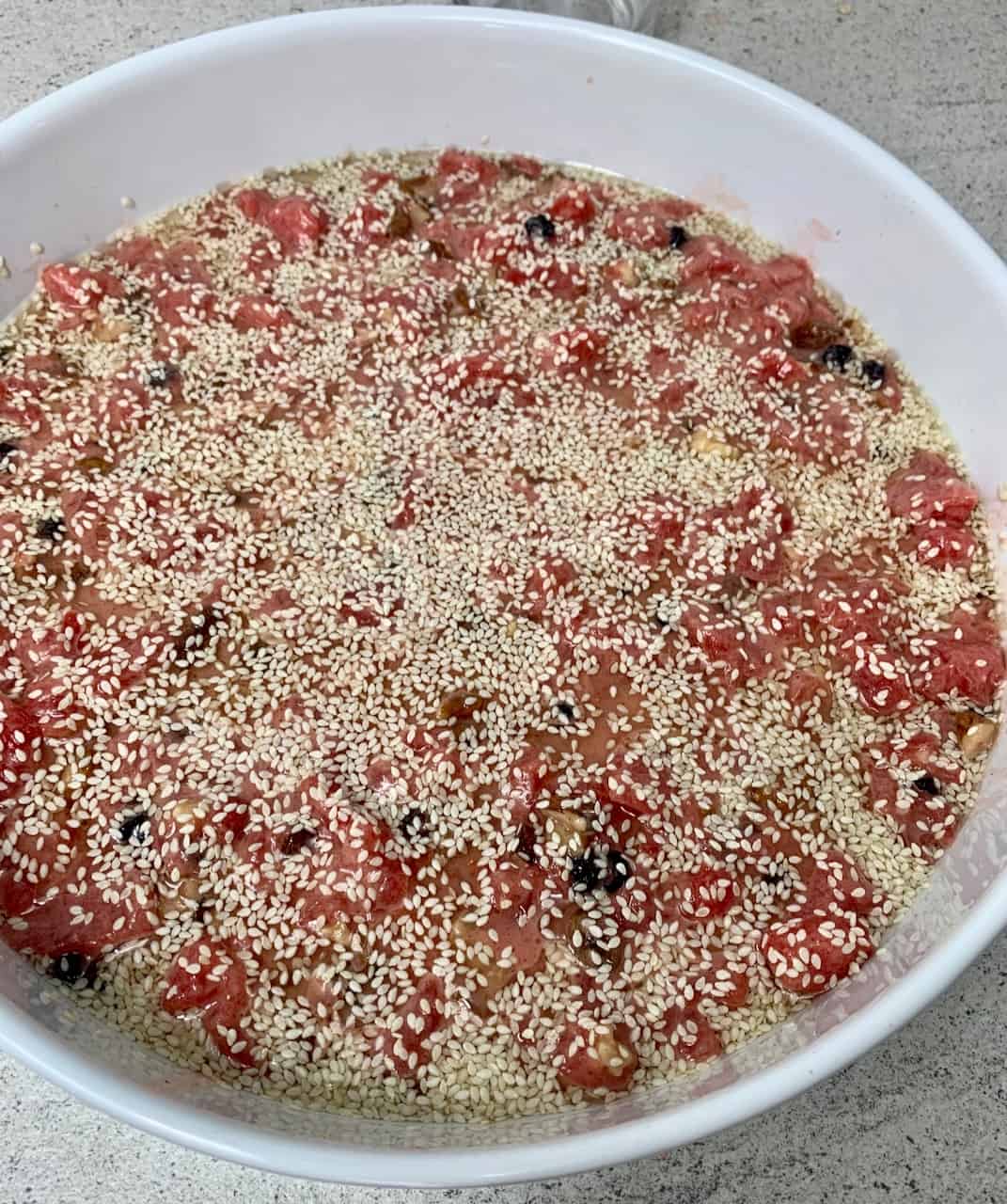 How to serve your watermelon pie
Karpouzopita can be served on its with just a mere dusting of powdered / icing sugar. To add an extra layer of indulgence, you could serve Karpouzopita with a dollop of whipped cream or a scoop of vanilla ice cream. Another option is to serve Karpouzopita with a drizzle of Greek honey.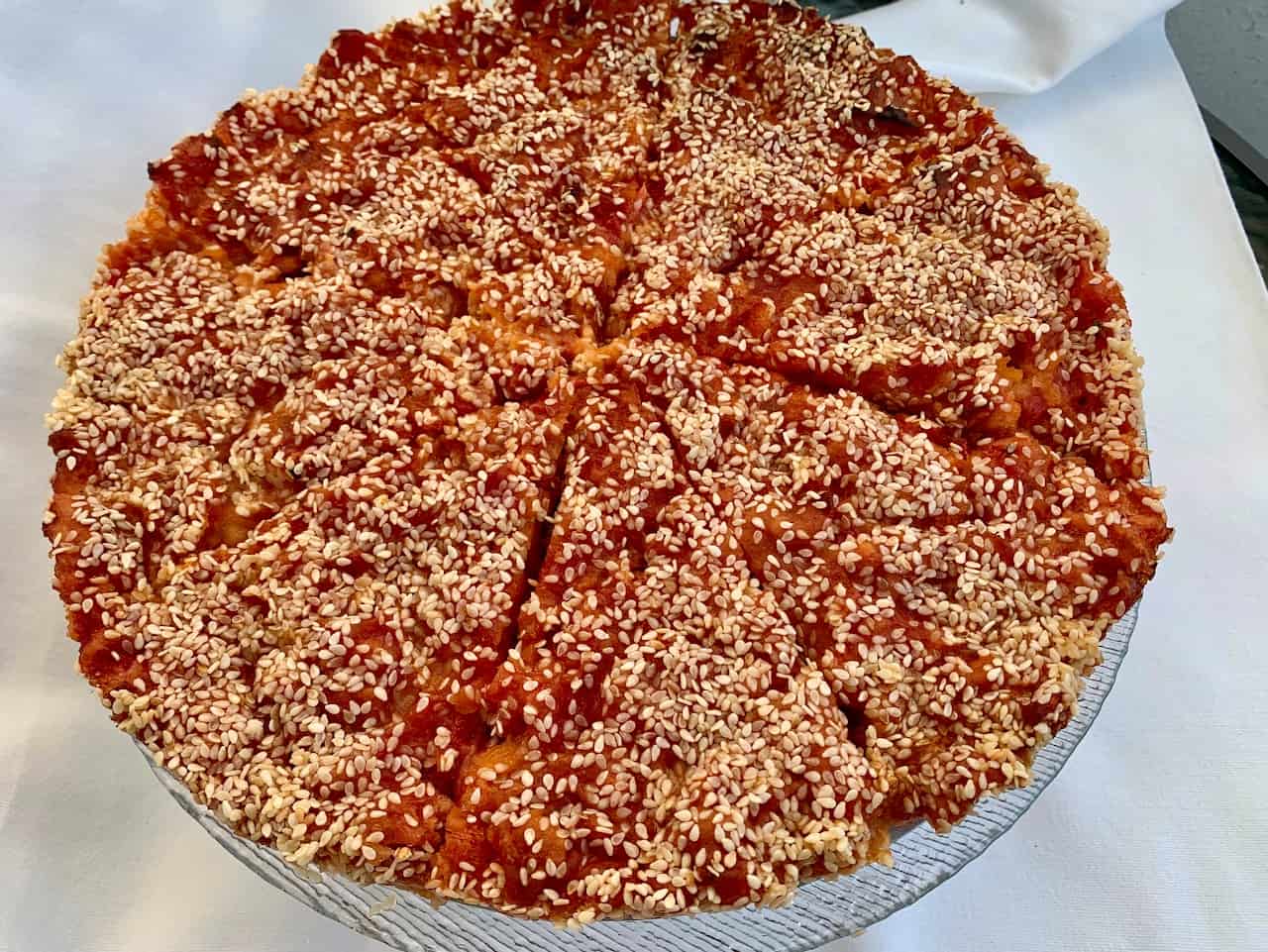 How to store this pie
Place Karpouzopita slices in an airtight container and store in the fridge for up to 3 days.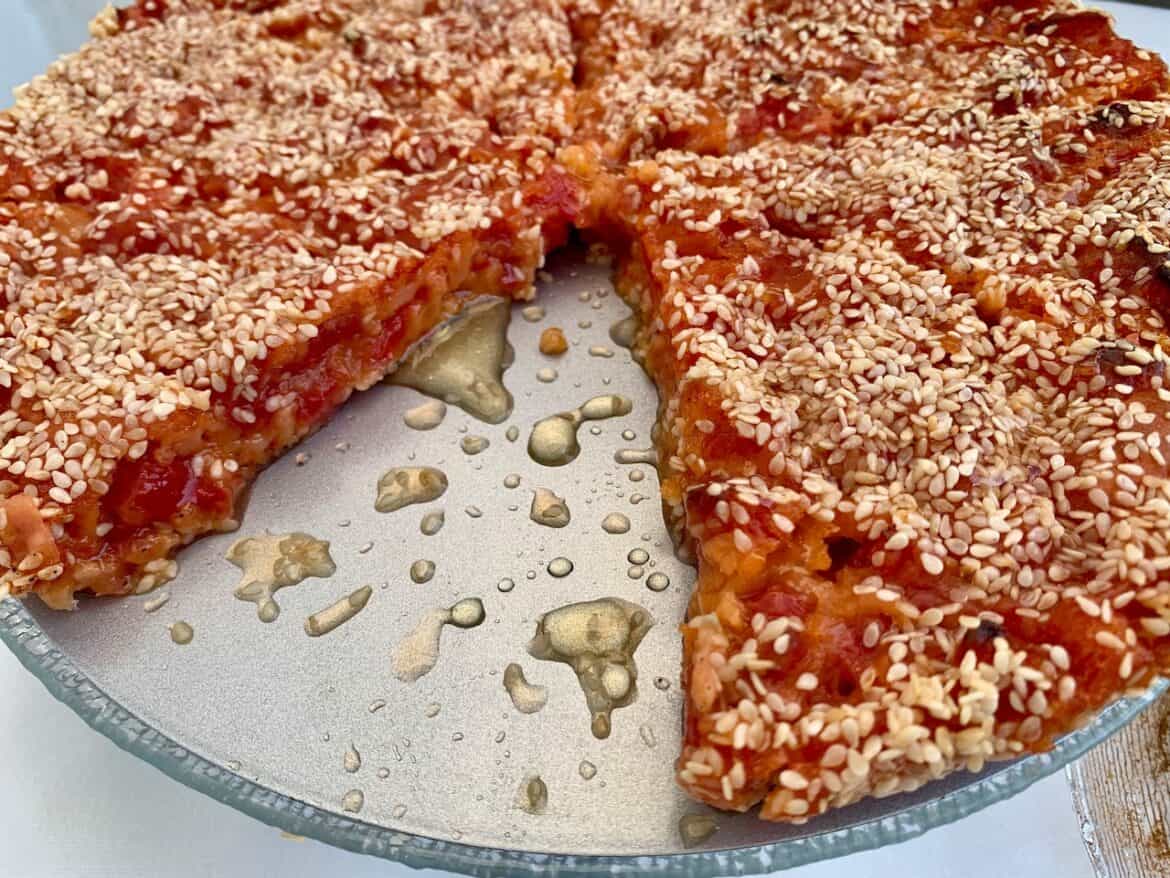 Greek watermelon pie (Karpouzopita)
Ingredients
1.300kg fresh watermelon
1/2 cup all purpose flour
100mls sunflower oil
3-4 tablespoons sugar
1 tablespoon Greek honey
1 teaspoon cinnamon
100gr sesame seeds
3 tablespoons sultanas (optional)
vanilla essence
Instructions
To prepare this Greek watermelon pie (Karpouzopita) start by assembling all your ingredients.
Cut out watermelon flesh from a fresh and ripe watermelon and remove seeds. Cut the watermelon flesh or cut it into small pieces.
Gently squeeze the watermelon flesh and place in a colander to drain for excess moisture. Let the watermelon flesh drain for 15 minutes.
Preheat the oven to 180C or 360F.
Grease a 35cm or 13-inch baking dish with oil and sprinkle the bottom of the backing dish with with sesame seeds. Make sure you grease thoroughly the baking dish and cover all areas.
In a mixing bowl ,combine watermelon flesh with sunflower oil, flour, sesame seeds, honey, sultanas, crushed walnuts and add a few drips of vanilla essence. Mix to combine.
Pour the watermelon mixture into the baking dish and sprinkle with extra sesame if desired.
Bake for 40-45 minutes at 180C or 360F.
Once cooled, serve with a sprinkle of cinnamon and a drizzle of Greek honey.