Which better dish to try on a cold winter's day? Nothing better that a Greek Veal Stew with Tomato Sauce. It is traditionally known as 'Kokkinisto' in Greece due to its rich red tomato sauce.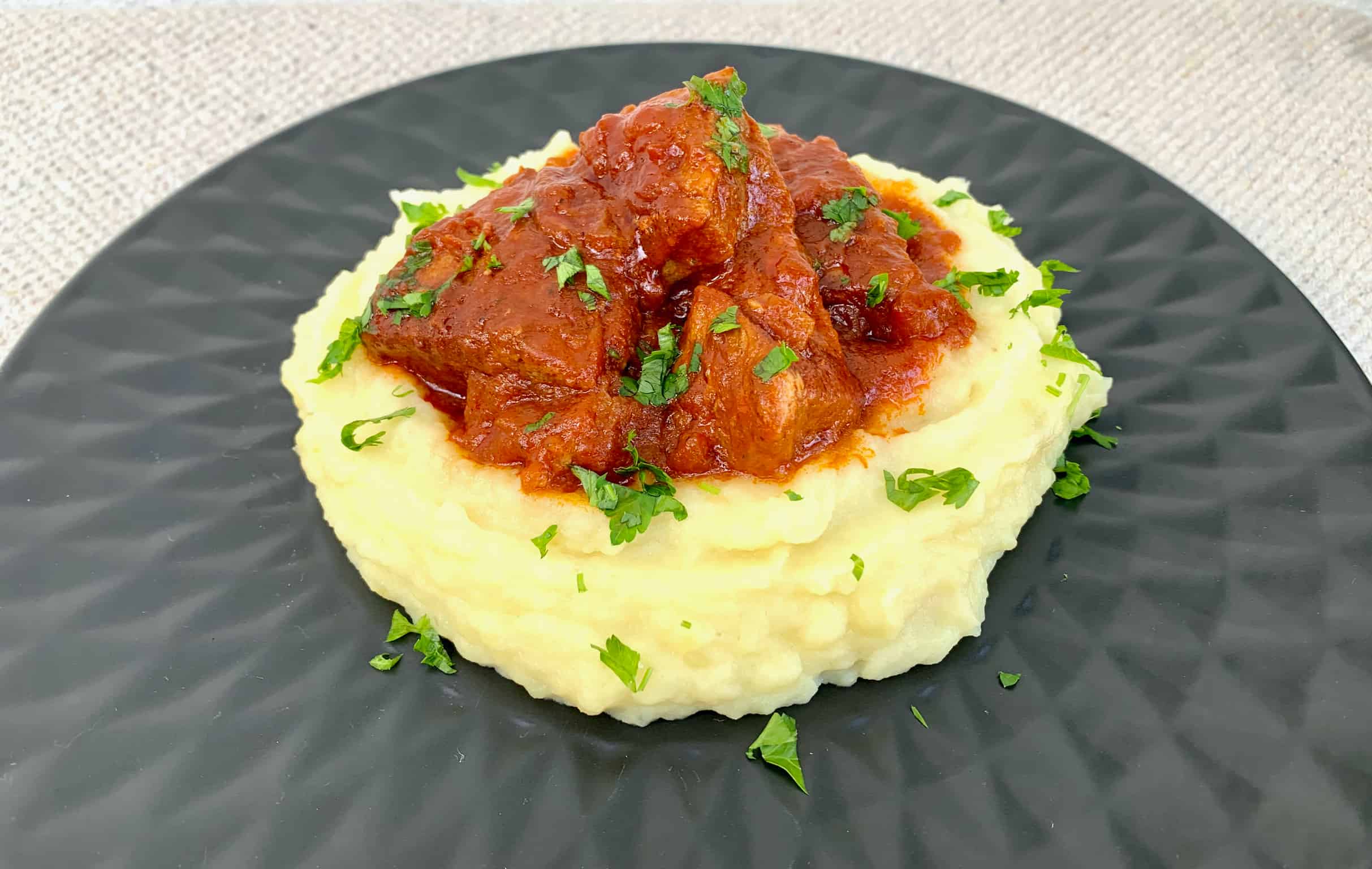 The secrets to the perfect Greek Veal Stew with Tomato Sauce recipe (Kokkinisto)
After years of experimenting to make the perfect kokkinisto, I've discovered the following secrets that really make it stand out. The first one being its spices. My favourite spices to use with this recipe are sweet paprika, all-spice and black pepper. What I love about paprika is that it gives this stew a deliciously rich but also sweet flavour. Just be careful to buy the right kind of paprika though, the recipe requires sweet paprika and not the spicy or smoked ones.  All-spice works really well with red meat as it gives it a sweet aromatic flavour . All-spice closely resembles a mix of cloves, nutmeg and cinammon. Use all-spice in your stew but do remember to remove it at the end of the stew.
The secret to making this Greek Veal Stew with Tomato Sauce ( Kokkinisto) is to add the spices the right time and cook them the right way. Start the stew by preparing the onions. The secret to getting most of the sweetness out of the onions is to chop them finely and sautee them in pre-heated olive oil for a few minutes at medium heat. Once they start turning translucent, reduce the heat to low and allow them to caramelise for about 5 minutes. Once the onions are ready add your aromatic spices – paprika, all-spice and black pepper and continue by stirring the onions with the spices.  Let them simmer for 2-3 minutes until you can smell the aromas coming out from your pot.
The second secret lays in the meat. This Greek Veal Stew with Tomato Sauce requires soft and tender meat. You can achieve this by allowing the meat to cook for a long time.  There is no substitute for allowing the meat to cook well for at least one and a half to two hours at low heat. This will allow the meat to tenderise by converting its stringy and chewy collagen to gel.
Can you substitute veal with beef for this Greek Veal stew with Tomato Sauce?
When making this Greek Veal Stew with Tomato sauce make sure you buy the best organic meat. This stew is traditional made in Greece with veal. Veal is meat from young cattle and is thus soft and tender making it perfect for stews.
Can't find any at your local butchers?
Do not worry! You can substitute veal with beef.  Remember though, to adjust the cooking time accordingly. Veal meat being softer and tender will require less cooking time than beef, being more mature and less tender meat. Beef will require more than 2 hours of slow cooking.  In addition, remember to add salt in the beginning of the stew if you are using beef. Add the salt along with the other spices. In contrast, if you are making this dish with veal make sure you add the salt towards the end of the stew.
I always perform the fork test to check the meat. If the meat falls apart when I pierce it with the fork then it is ready. If it does not, the meat requires a little bit of more cooking.
Can you add wine in this stew recipe?
This traditional Greek Veal Stew with Tomato Sauce does not require wine.   This veal stew recipe has  all-spice and sweet paprika which produce strong aromas and taste. By adding wine to this dish you will simply be diluting all the wonderful aromatic spices.
A big misconception by many  is that wine adds favour to the dish. This is not entirely correct. Wine helps other  ingredients release their flavours but does not itself add flavour to the dish. If you do wish though to add wine in this traditional recipe, I would recommend adding 100mls of a good red wine. I would recommend adding the wine after you have added the tomatoes. By adding the wine in the relative beginning of the dish, the alcohol will evaporate and you will avoid an alcoholic 'boozy' taste.
What can you serve with this Greek Veal Stew with Tomato sauce recipe?
There is a plethora of side dishes you can serve with this tasty veal stew.  I love serving this stew with rice.  The rich tomato sauce goes very well with rice. You can also  serve this casserole with pasta; I personally like penne. Lastly you can pair this dish wth potatoes, such as potato puree, roast potatoes and/or  chips.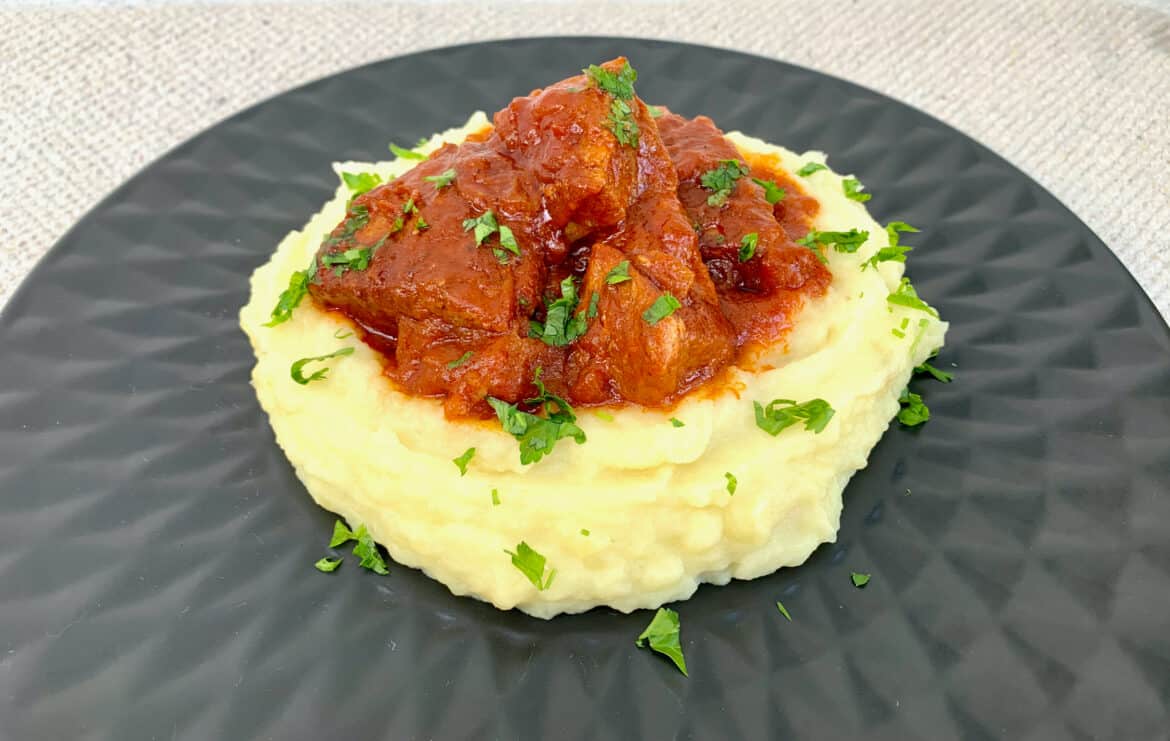 Greek Veal Stew with Tomato Sauce (Kokkinisto)
Ingredients
1 kg veal or beef
2 onions
1 can of chopped tomato  or 3 fresh tomatoes
1 tablespoon of tomato puree
1/4 cup of olive oil
500mls beef or chicken stock
1 tsp paprika
1/2 tsp allspice
salt and pepper
pinch of sugar
Instructions
Start this delicious stew by gathering all your ingredients and pots in the kitchen counter.
 Wash and dice the veal or beef into large chunks. I dice the meat into pieces of  approximate size of  2 eggs. Now, set the meat aside.
Continue by chopping the onions finely. Meanwhile heat oil in a pot at high heat. As soon as the oil starts sizzling , reduce the heat to medium and add the onions.  Sauté  the onions until they become translucent.
It is now time to add  the spices to the sautéed onions. Add sweet paprika, black pepper and all-spice. Stir continuously until the spices mix with the onions and the onions turn golden yellow; for approximately 1 min.
At this point, add the can  of chopped tomatoes (or fresh chopped tomatoes) along with tomato puree and sugar. Sautee the tomatoes  for approximately 3-5minutes.
You can now add now the veal or beef. Saute the meat approximately 3-5 minutes and stir continuously.
Continue by adding  the beef stock and let the boil over medium heat for approximately 35mins.
Add salt ; when cooking veal salt is added later in the recipe in contrast to beef ,where salt is added at the start along  with the other spices.
Let the stew boil for another 35-45 minutes. Pierce the meat with a fork and check if it is ready. If not, let it boil for a little longer.