Greek Feta cheese pie (Tiropita) with phyllo pastry is the most well known pie in Greece! This traditional cheese pie is packed with a delicious feta cheese and Greek yoghurt filling, layered in-between crunchy phyllo pastry.
There are many recipes on the internet and every region in Greece has its own. This is my traditional Greek Feta cheese pie recipe as my grandmother in the northern region of Thrace used to make it!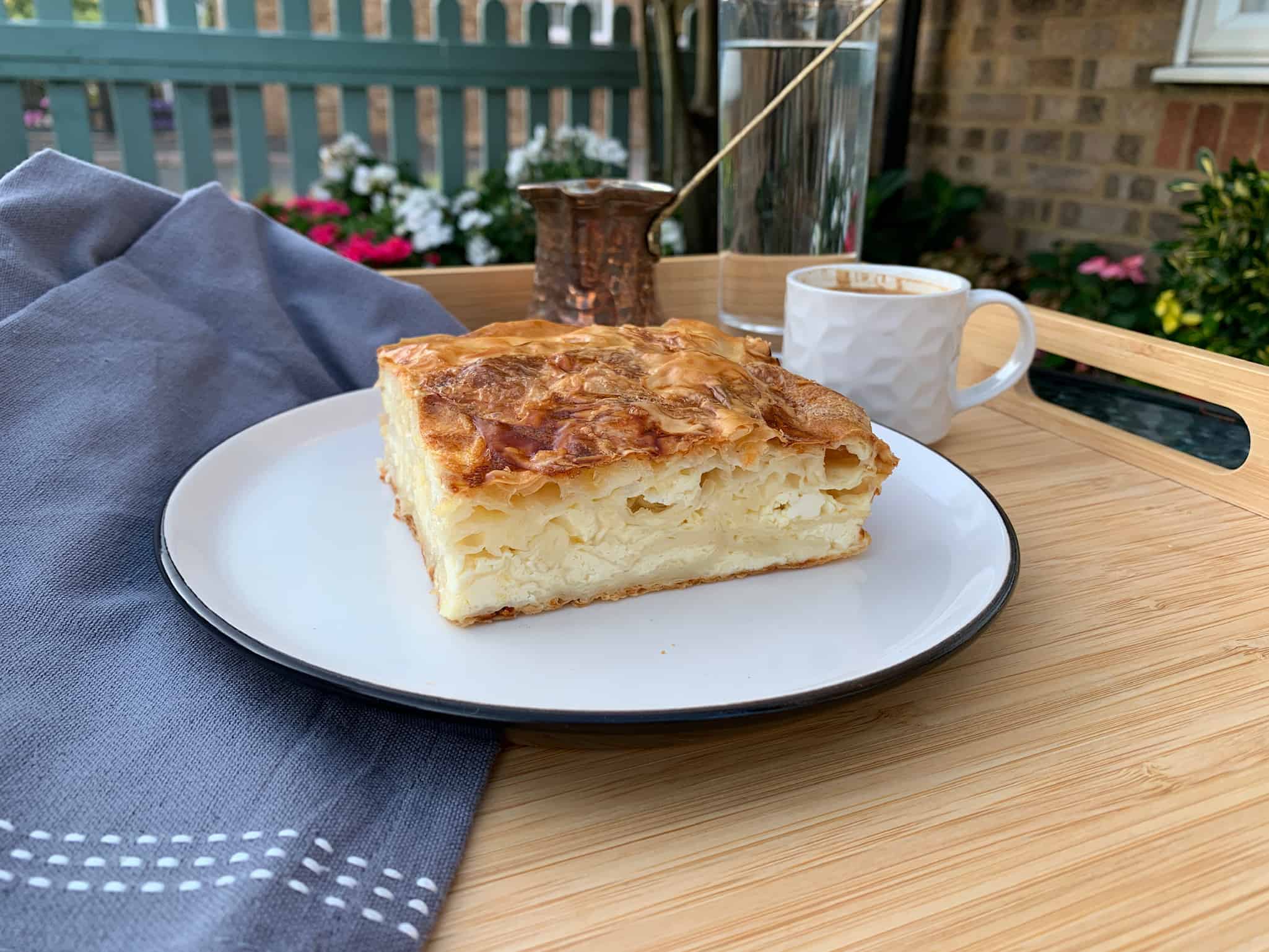 So what makes this Greek Feta cheese pie (Tiropita) with phyllo pastry different from the rest? There are three things that make my tiropita recipe unique. Its all about how the filling is made, how the phyllo sheets are layered and finally how it is finished!
How to make the Greek Feta Cheese Pie (Tiropita) filling
My Greek cheese pie filling is unlike any you've tried before. Most recipes in southern Greece use cream and ricotta or mizithra to supplement the crumbled feta. However my tiropita filling relies on one simple Greek ingredient – Greek yoghurt. Greek yoghurt is both lighter than cream but also more flavourful than ricotta. I find that yoghurt perfectly complements the tangy feta and also gives that much needed moisture in the pie.
The second secret ingredient is butter. While most recipes call to brush the Fillo sheets with butter, I have found that adding melted butter in the filling itself perfectly distributes it evenly across the whole pie without making the phyllo sheets too oily or soggy. If you've ever had an oily cheese pie, now you know why!
How to layer the Greek Cheese Pie phyllo sheets?
There are two ways to layer the phyllo sheets. You can either layer a large bunch of them in the base and top, with all the filling in the middle or, as I prefer, alternate between phyllo, filling and more phyllo until the filling has all been used.
Start by layering 3-4 sheets, enough to layer the base of your baking tin and the sides. Then using a spoon take 4-5 table spoons of filling and spread it all over the phyllo. Don't worry if its not perfectly even – the next layer will make up for it!
Then layer 2 sheets of phyllo on top, folding them to form "pleats". This will make the phyllo crispy when cooked! Spread some more filling and repeat until all the filling is used. Finally top with 2-3 sheets of phyllo and tuck it around the baking tin to form a pie. Using a knife poke some holes all the way through.
How to top your Greek Feta cheese pie (Tiropita) with phyllo?
There are two ways to finish your Greek cheese pie – spread some butter on top with a pastry brush or, as I prefer, make an egg wash, pour it over your pie and sprinkle some cubed butter on top!
I have found that the butter only version tends to make the phyllo way too oily, but when used together with the egg wash, the butter soaks through the pie making it moist and succulent while the egg wash gives it a delicious brown color!
How to season your Tiropita?
Seasoning your tiropita can be a bit tricky as Feta cheese can greatly vary in its salt content. To make sure your feta cheese pie is not too salty but also not bland, add all the feta filling ingredients in a bowl, except for the eggs. This will allow you to taste the filling and season it to perfection! Add half a teaspoon of salt and a good sprinkle of black pepper and taste. If it feels too bland, add another half teaspoon of salt and taste again until it is just right. Once seasoned, add in the eggs and mix it one last time to combine.
Preparing your Greek Feta cheese pie (Tiropita) with phyllo in advance
You can prepare your tiropita in advance and either freeze it unbaked or bake it and store it in the fridge. If you are planning to eat it more than a couple of days later, I prefer to prepare it and store it in the freezer wrapped in cling film. When I'm ready to bake it, I add the egg wash and butter and bake.
However if you plan to eat it a day later then it is much simpler to bake it, allow it to cool down, cut it up in pieces and store them in airtight containers in the fridge. When you're ready to serve, simply reheat them on sheet pans in the oven for 10-15 minutes.
Tiropita serving suggestions
Tiropita, Greek Feta cheese pie, is a versatile dish as it can be served either as a starter or as a main. Pair Tiropita with a refreshing  Greek salad such as Horiatiki (Greek Feta salad) or Politiki or simply a cup of coffee.
More authentic Greek pies
If you love traditional Greek pies with crispy phyllo and savoury fillings, then try my
If you want an authentic  meaty pie, then try my
If you want a sweet pie, then look no further than my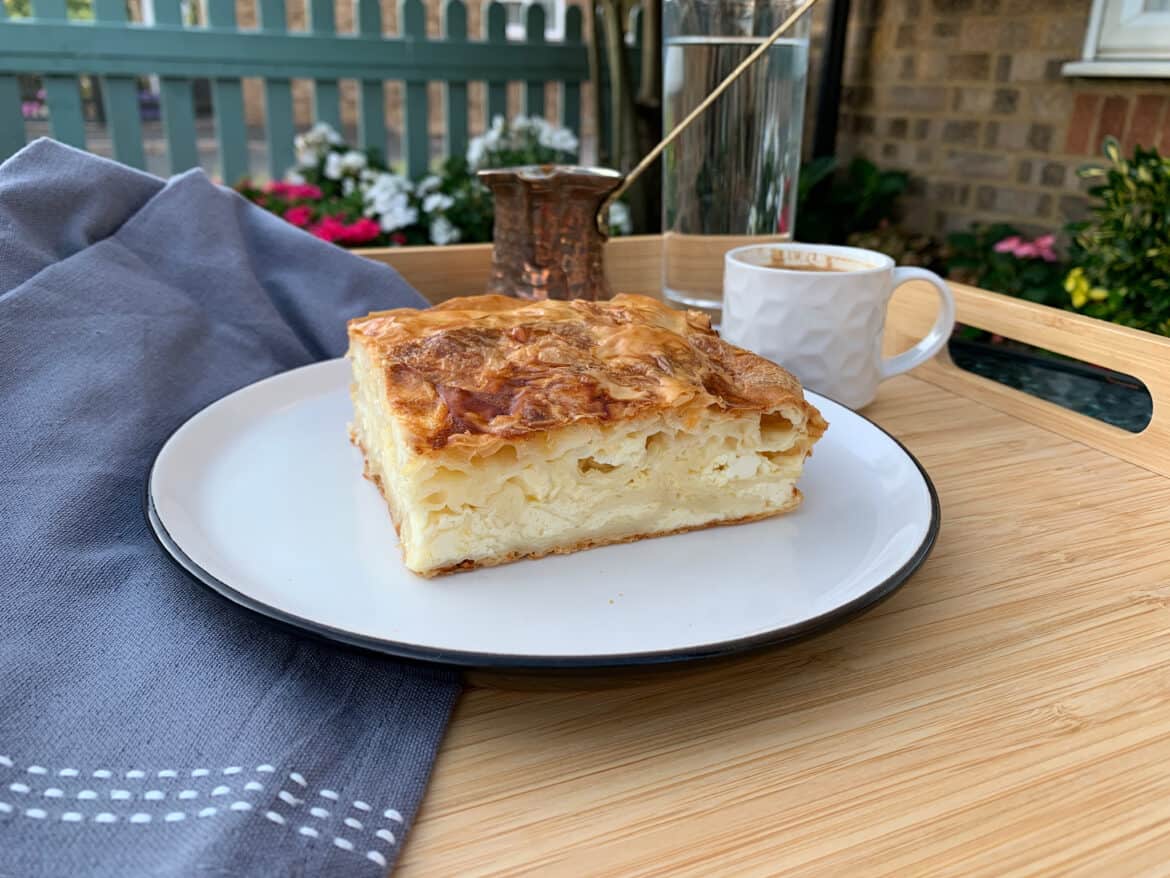 Greek Feta cheese pie (tiropita) with phyllo
Ingredients
250gr (1/2 lb) phyllo pastry, crumbled
350gr ( 0.7 lb) Feta cheese
150gr (0.3 lb) Greek yoghurt
3-4 eggs
80gr (0.2 lb)unsalted butter
30gr ( 0.1 lb) diced butter
30gr sunflower
1/2 tsp salt
1/2 tsp black pepper (optional)
Egg wash:
For this recipe you will need a 35x25cm or 9.9x13.7 inches baking dish.
Instructions
To prepare this Greek Feta cheese pie (Tiropita) with phyllo start by buttering the baking dish and preheating the oven to 180c or 356F. Melt the butter and set it aside. Whisk three eggs and set them aside too.
To prepare the filling, in a mixing bowl, combine crumbled Feta cheese, greek strained yoghurt, melted butter, sunflower oil, whisked eggs and seasoning. Should you wish to taste the seasoning on the filling, do so prior to adding the whisked eggs. Remember that tanginess of Feta differs between brands, and you may wish to add more salt. Mix the ingredients until combined.
Lay two phyllo sheets on the bottom on the baking dish side by side making sure the bottom and the sides of the baking dish are covered. Set aside one phyllo sheet for the outermost pie layer. Take a couple of tablespoons worth of filling and spread it evenly all over the phyllo sheet. Repeat the process until you have run out of either filling or phyllo pastry sheets. Lay the last phyllo sheet on the pie tucking in the corners.
Prepare the egg wash by whisking an egg with one tablespoon of water. Pierce the pie evenly and brush with the egg wash. Lay evenly the diced butter on the top phyllo. Bake the Greek Feta cheese pie (Tiropita) with phyllo at 180C (360F) for 55-60 minutes. Cover with foil at around 35 minutes to  achieve a nice golden   colour.
Kali Orexi!