Greek ground meat phyllo pie (Kimadopita) is a traditional meat pie that closely resembles Shepherd's or Cottage pie.Imagine meatloaf sandwich by crispy phyllo pastry. Flaky and crispy phyllo covering juicy ground meat filing.
'Kimadopita' as its name suggests is a pie (-pita) with mince meat (ground meat ) filling (- kimas).This kimadopita recipe is an easy one and contains only a handful of simple ingredients.Once you get the hang of it you will be making it on repeat I am sure.
Pies are very common in Greece and can be served as appetisers or as main meals with a side salad.This meat pie is also perfect for packed school or office lunches.
Greek ground meat phyllo pie (Kimadopita) ingredients
Ground meat
The delicious filling lays on good quality ground meat so make sure you get your hands on some. Kimadopita is traditionally made of ground beef mince, though a combination of pork and beef mince meat works very well. Moreover,  this meat pie can be made with a combination of beef, pork and chicken/ turkey ground meat. In fact, I find a combination of three types mince meat makes the pie both lighter and tastier.
If you are after a rich meaty pie, then prepare it with lamb mince meat. Lamb mince meat has a richer and stronger gamey flavour when compared to beef mince meat. Experiment on seasoning a ground lamb pie with chilli flakes, cumin and coriander.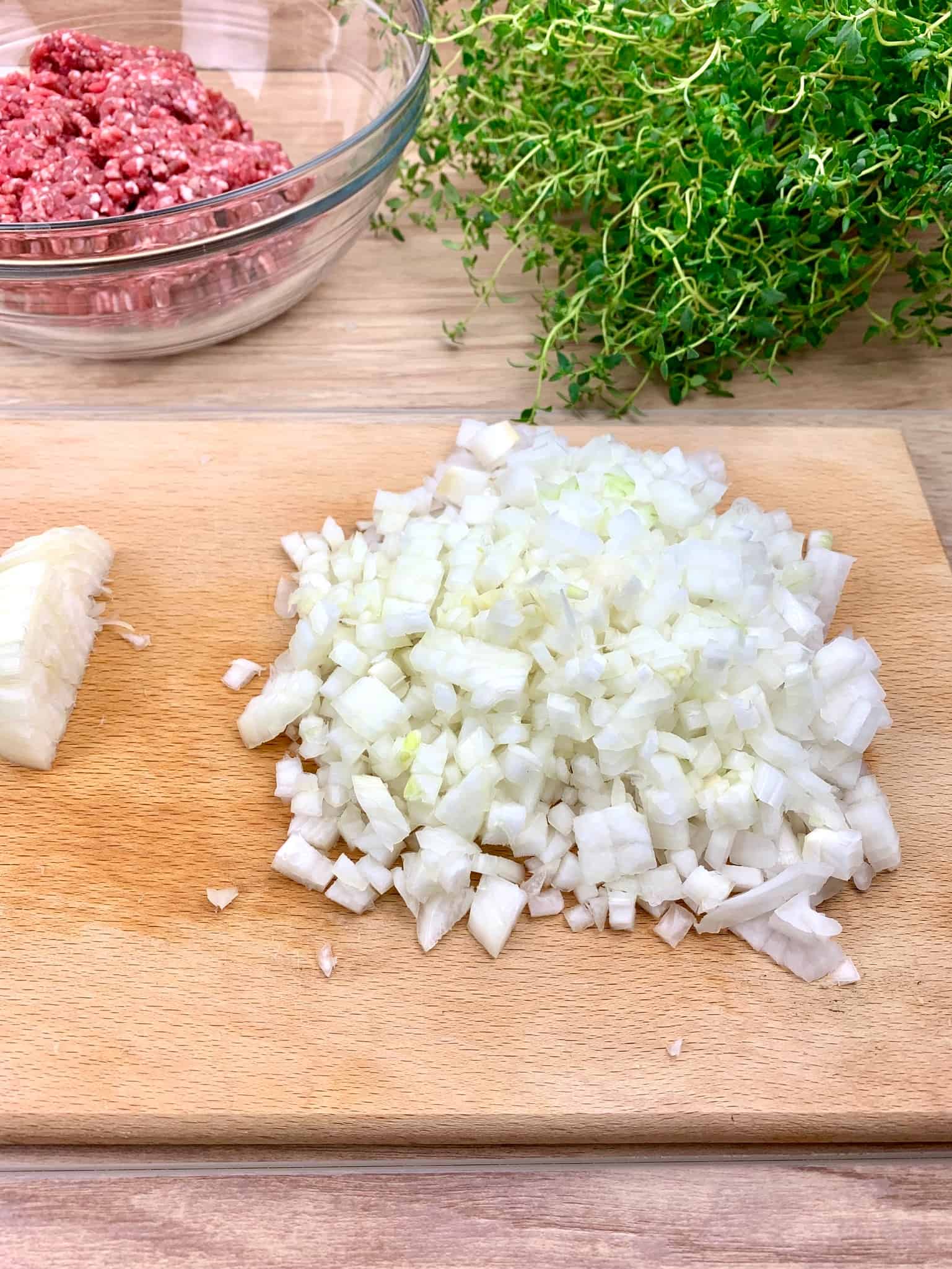 Phyllo pastry
Traditional minced meat pie is made with phyllo sheets. Lay two lightly oiled phyllo sheets on the bottom of the baking dish. Make sure you cover the base and the sides of the baking dish. I lay two phyllo sheets side by side so that parts of each phyllo are overhanging over the baking dish. Continue by alternating phyllo sheets with spoonfuls of minced meat filling , evenly spread across the phyllo sheets. Cover the pie with  lightly oiled phyllo sheets an bring in the overhanging bits of phyllo.
This kimadopita recipe is a versatile one as it can be made with puff pastry. When preparing kimadopita with puff pastry, lay one puff pastry sheet on the base of the baking dish and making sure you cover the sides of the baking dish. Lay the juicy meaty filling in the middle and cover with another puff pastry sheet. There is no need to sprinkle puff pastry sheets with sunflower oil as the puff pastry dough  contains enough oil already. In fact, in Northern Greece, this minced meat puff pasty pie version is extremely popular for breakfast.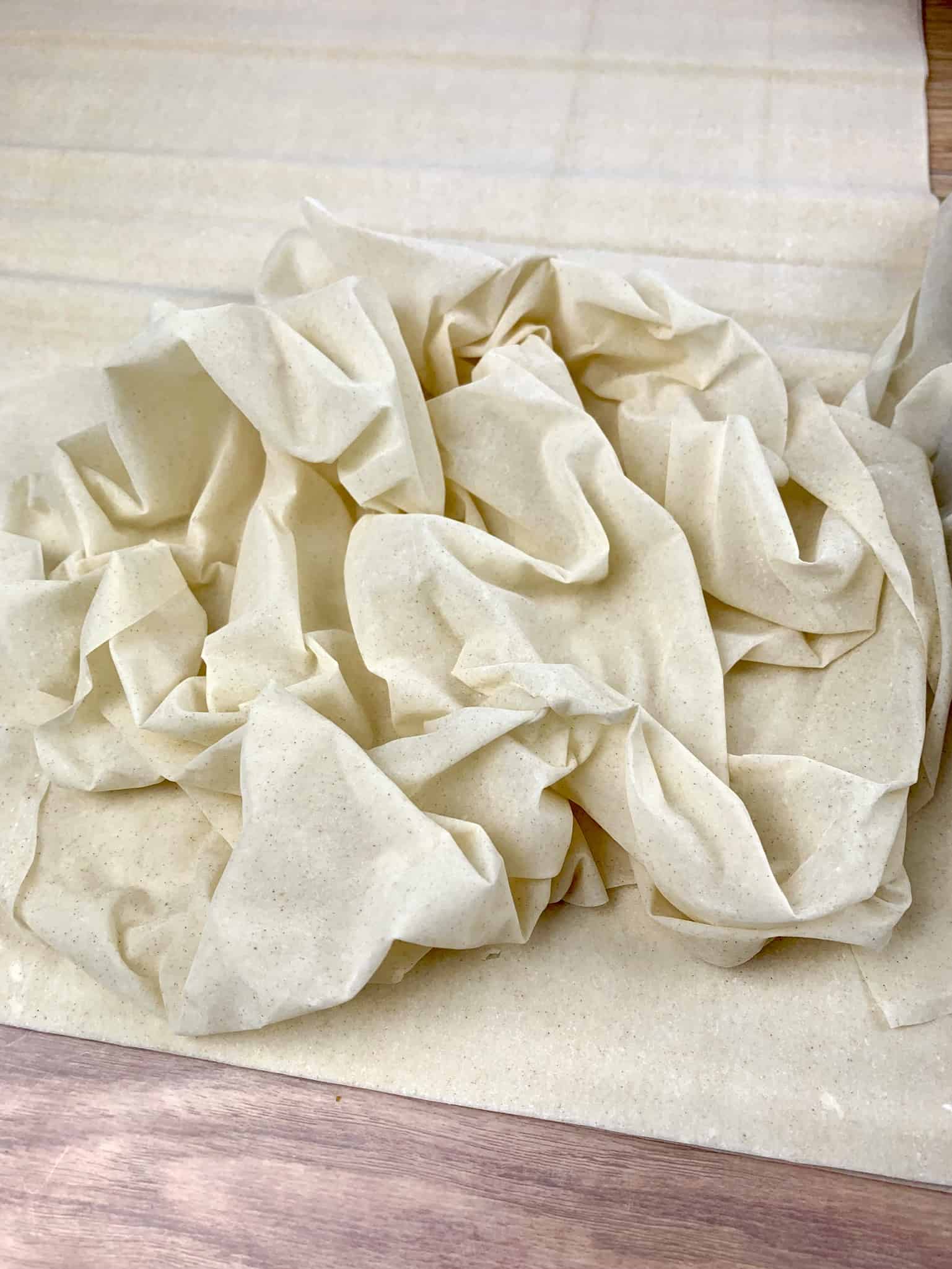 Other pie filling ingredients to consider
Vegetables
I have deliberately not added many vegetables (apart from onions ) in this recipe as I like a 'meaty' pie. Nevertheless, you can still make a delicious kimadopita with the addition of a few vegetables. Red or green peppers (bell peppers) as well carrots and celery would go very well with this minced meat pie.
For a moussaka style pie, add diced aubergine to the minced meat mixture. To recreate bechamel or white sauce you can add grated hard cheese in the filling.
Cheese
A few regions in Greece prepare this Greek ground meat phyllo pie (Kimadopita) with grated yellow cheese. Simply add a cup of grated cheese such as kefalograviera or any other cheese of choice in the minced meat filling.Do so after you have cooked the meat filing.  Mix cheese to the meaty filling and continue as per recipe.
Undoubtedly, Feta cheese is the perfect addition to any meaty pie.You can replace Feta cheese with Ricotta or cottage cheese.
Yoghurt
You can also add Greek Style Yoghurt to the minced meat filling. Do so after you have browned the meat.
Greek style Shepherd's or Cottage pie
This Greek ground meat phyllo pie (Kimadopita) closely resembles the well known Shepherd's or Cottage pie. Even though this meat pie does contain mashed potato, there is a juicy meaty filling sandwiched between layers of phyllo pastry.
To create a Greek style Shepherd's' or Cottage pie, add peas and diced carrots in the onion-ground meat mixture whilst browning the minced meat.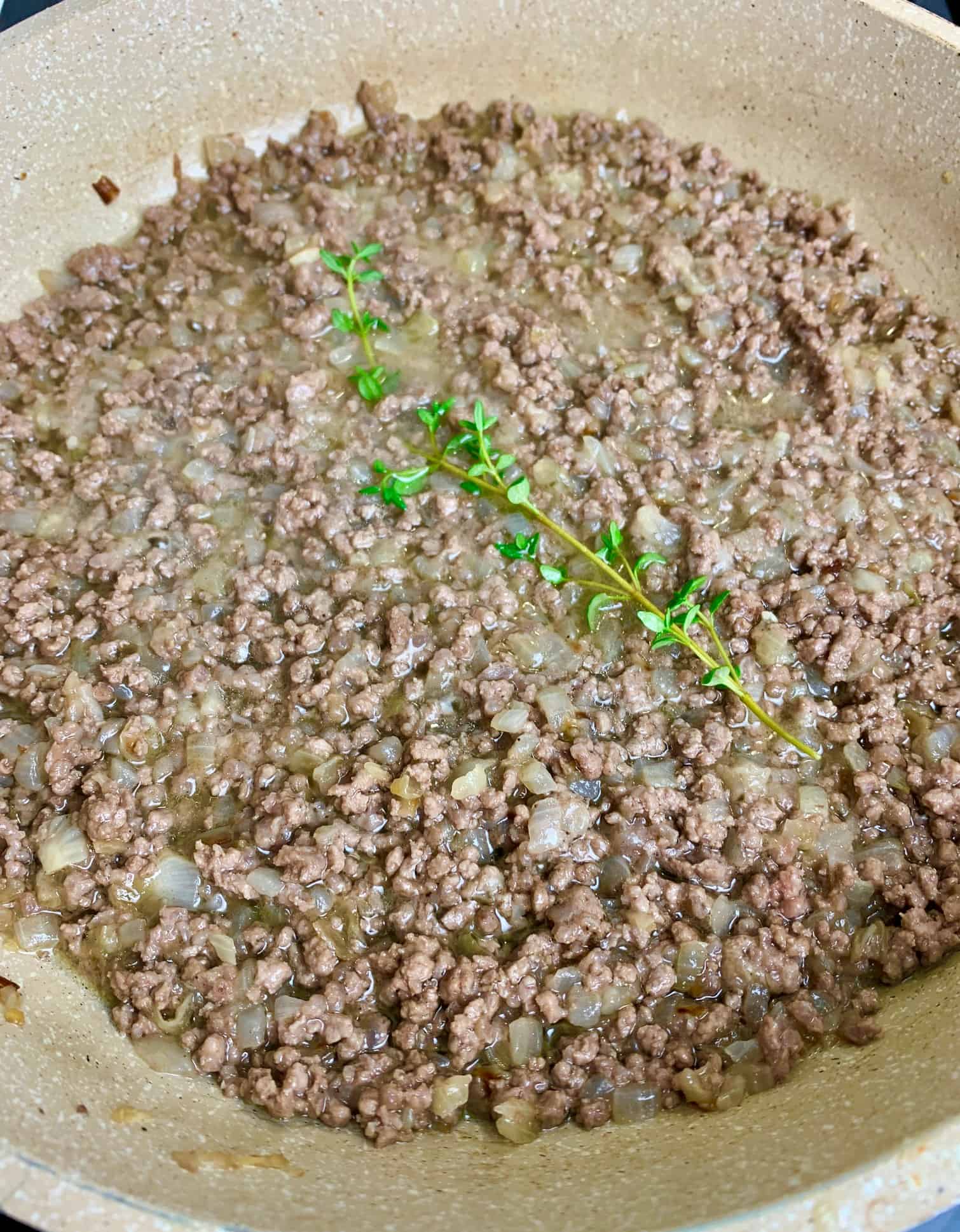 Tips for preparing Greek ground meat phyllo pie (Kimadopita)
Ground meat filling
The secret to making a delicious ground meat pie is to have a juicy meaty filling. Make sure you do not overcook the ground meat and render it dry. Phyllo sheets need moisture and will absorb all the lovely juices from the meaty filling.
Stock cube
If you wish to enhance and make a super  'meaty' pie, dissolve a beef stock cube into water and add in while browning the ground meat.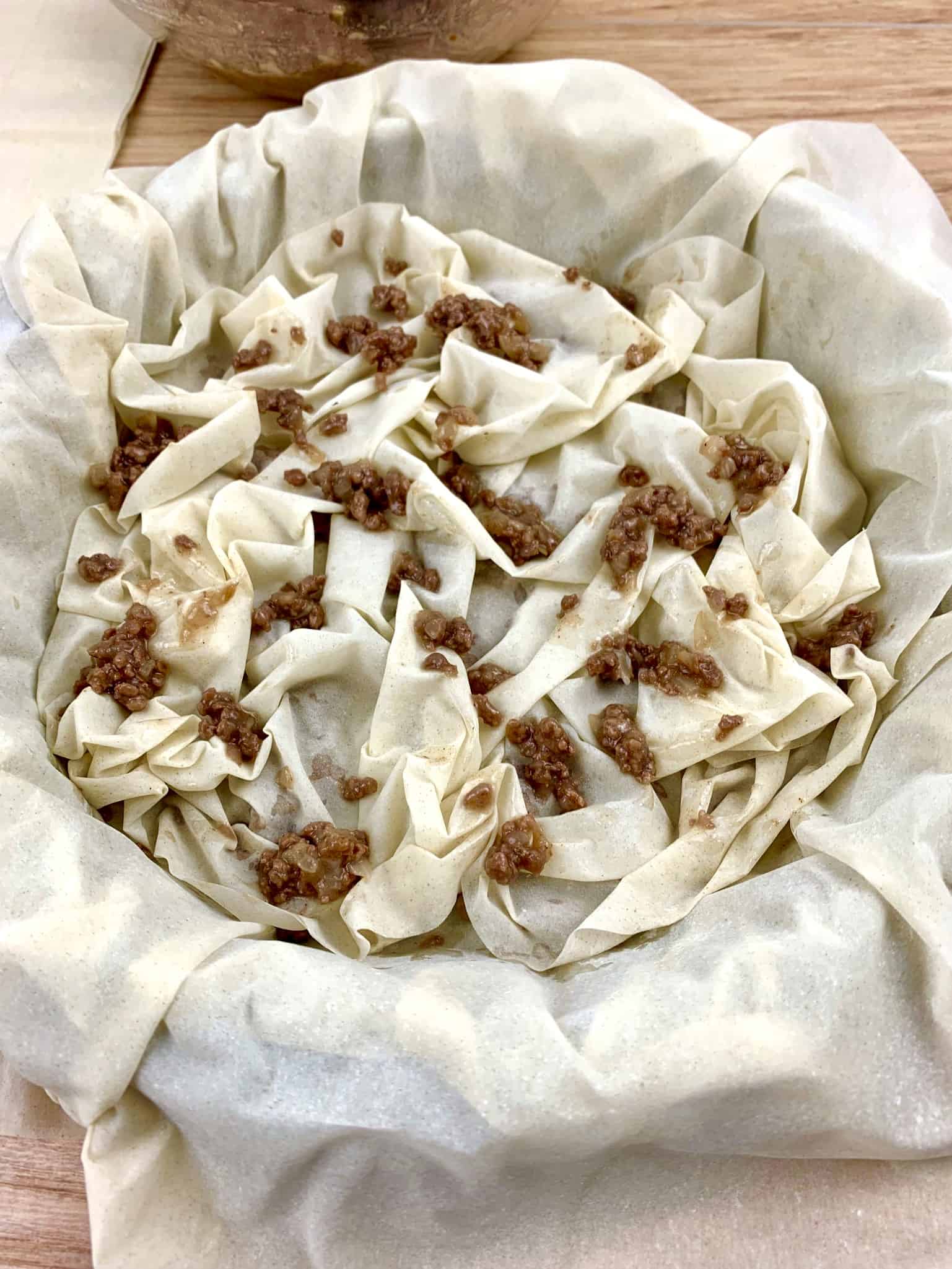 Tips when working with phyllo pastry (Fillo pastry)
When using frozen phyllo sheets make sure you defrost them completely prior to using them in the pie. You can either defrost them overnight in the fridge or for 1-2 hrs in room temperature. When defrosting phyllo pastry in fridge, let it reach room temperature and then use.
Phyllo sheets dry out quickly so make sure you cover them with a damp kitchen towel whilst assembling the pie. Always remove the phyllo sheets from the packaging just before assemble the pie to prevent then from drying out.
Phyllo sheets thrive on moisture and turn even crispier with moisture. To get a perfect crispy phyllo in any pie, the filling has to have some moisture, so make sure you do not overcook the mince meat and render it dry. If you do, no need to worry, simply brush each phyllo with sunflower oil.
My trick to a crispy meat pie lays on lathering the phyllo with moisture. In a  bowl, mix equal amounts of sunflower oil and water and brush each phyllo sheet with it. This will provide the extra moisture the phyllo sheets crave.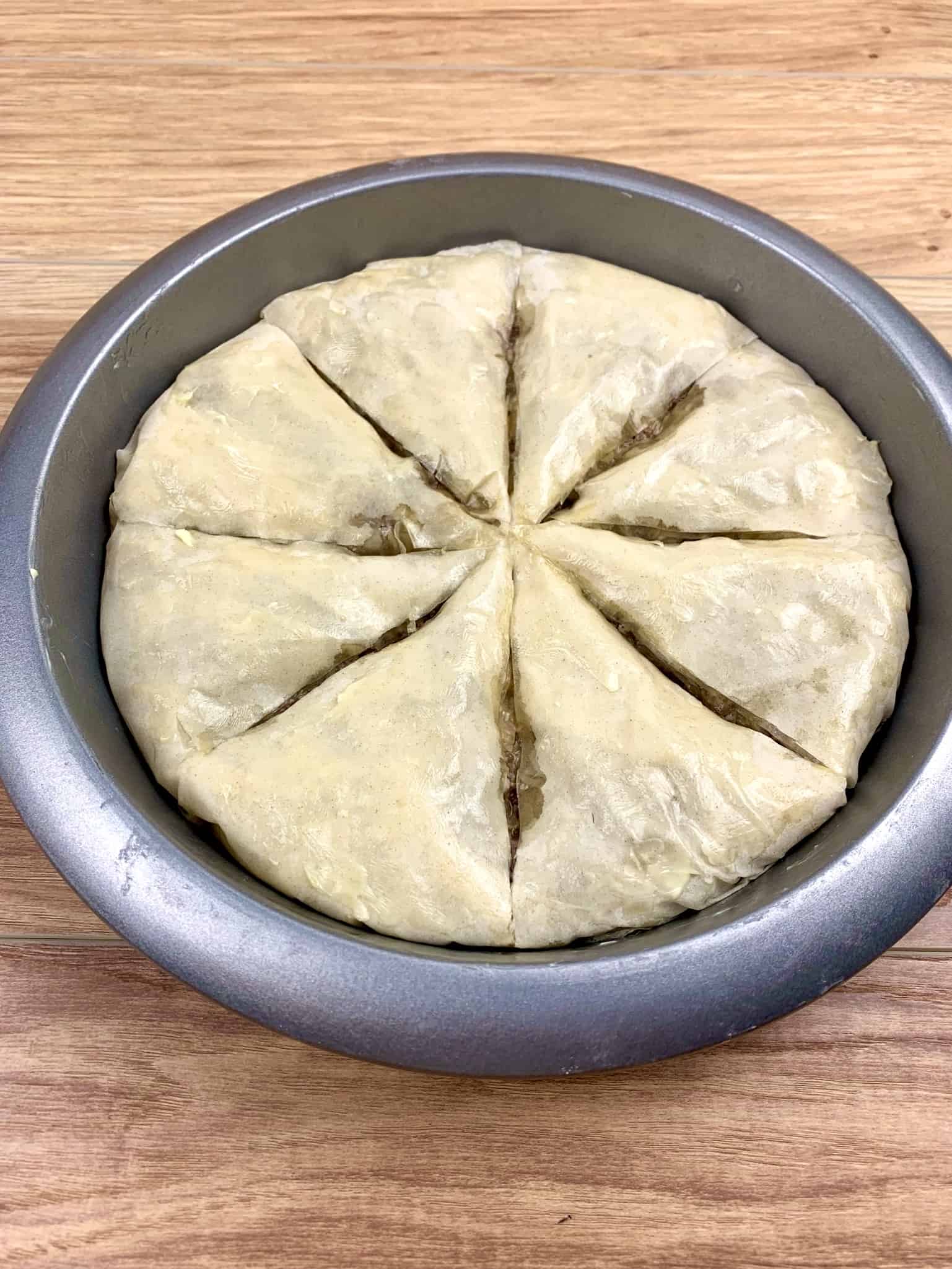 Vegan Kimadopita
Can you have vegan  Kimadopita? You can by substituting ground mince with a plant based one.
Pairing suggestions
Pair this meaty pie with a light refreshing salad like Horiatiki with Feta cheese and tomatoes or a cabbage salad.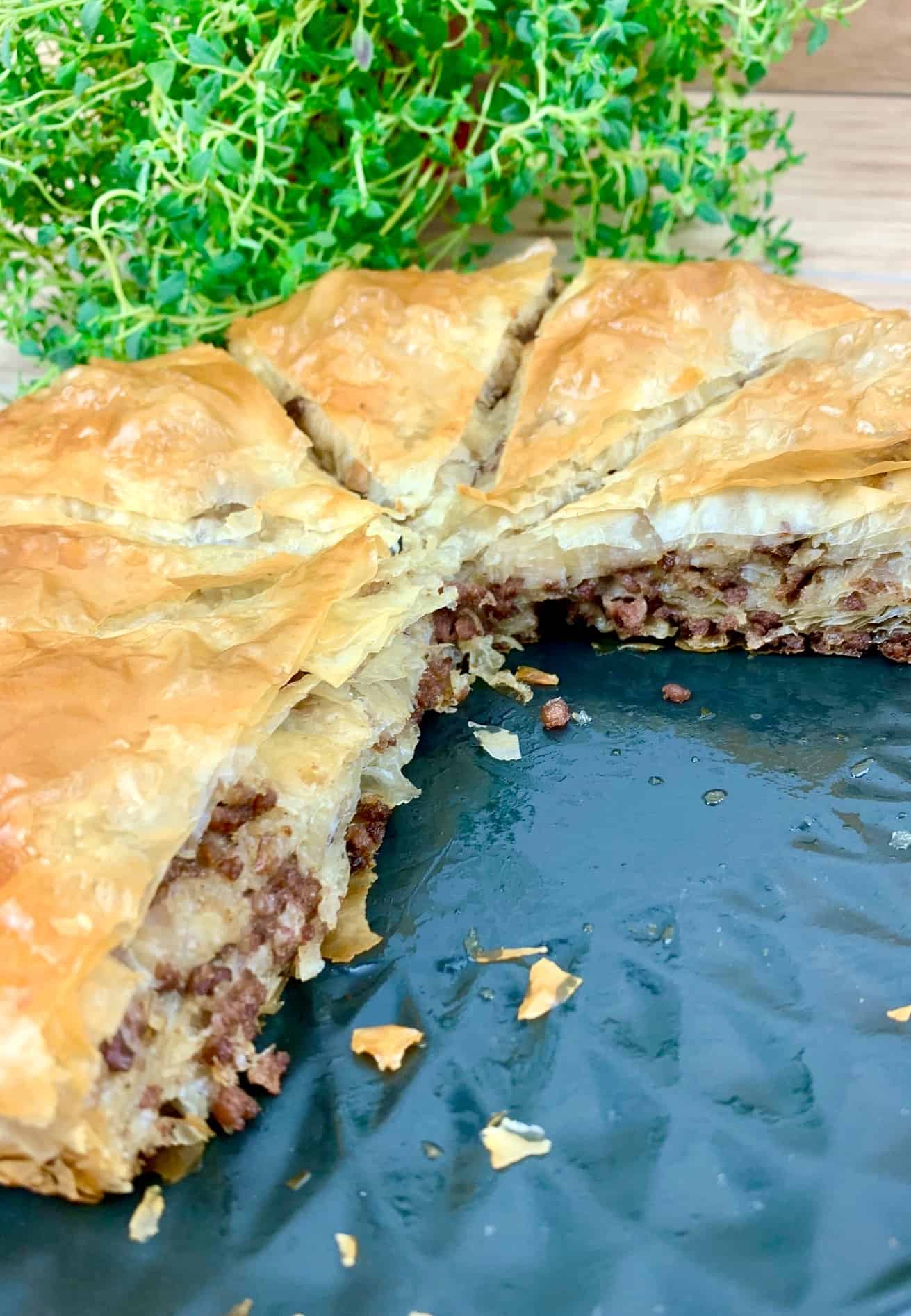 Other Greek pies you will love
If you love Feta cheese then have a look at my homemade pie recipes below:
For bite sized phyllo-based pies,  try out my
For a summery Greek pie, try out this refreshing
For meaty pies, then look no further than:
For a savoury pie, try this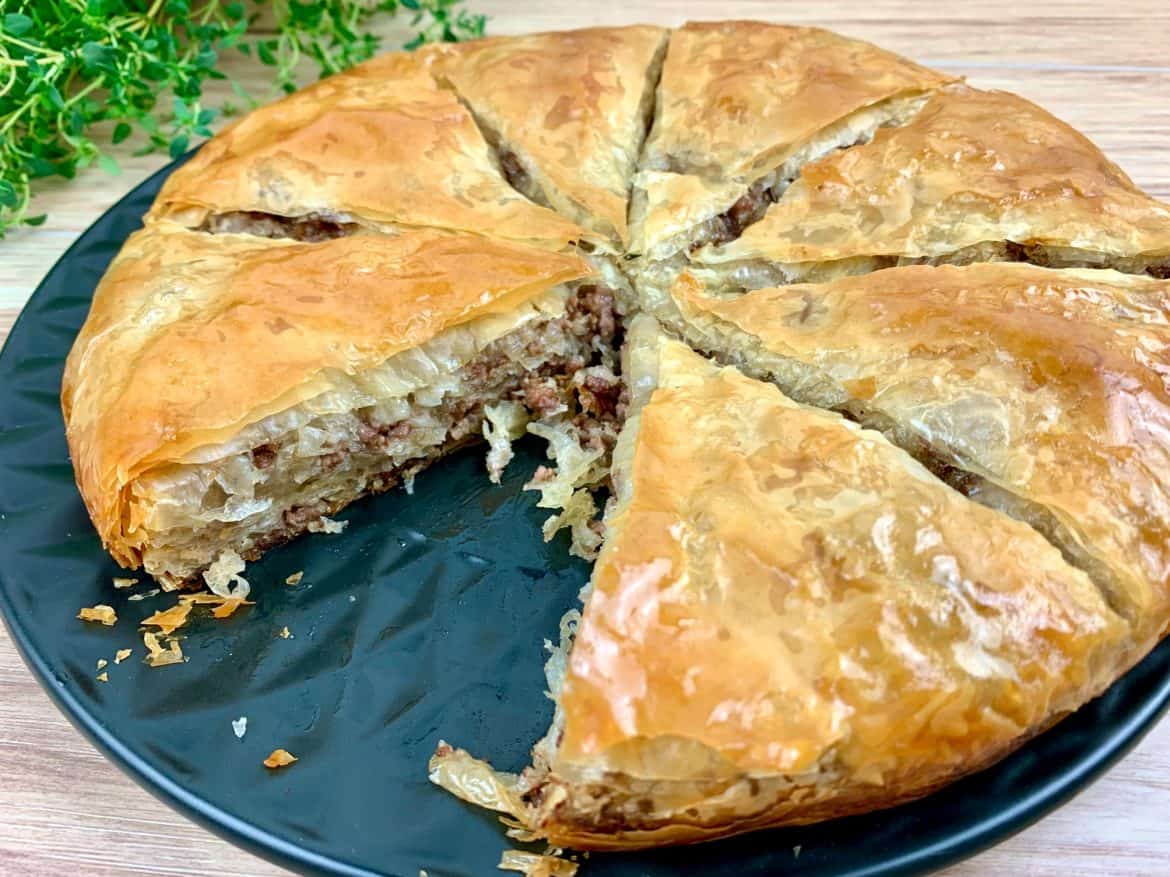 Greek mince meat phyllo pie (Kimadopita)
Ingredients
300-350gr phyllo pastry
350gr ground or minced meat
1 medium onion ( 150gr onions)
80mls olive oil (2.8 oz)
100mls water (3.5oz)
1 tsp salt
1/2 tsp black pepper
2 sprigs thyme (optional)
Instructions
Preheat the oven to 180C or 360F. Lightly oil or butter a baking tin.
To make this delicious Greek mince meat phyllo pie (Kimadopita) start by preparing its filling with ground beef ( or any other ground meat to your linking). Heat a couple of tablespoons olive oil in a saucepan and start by sautéing the onions for 1-2 minutes until golden brown. If you are including leek in the recipe, sautee chopped leek with the onions. Continue by adding ground meat and sautee ground meat for 15 minutes at least.
Pour water into the saucepan, season the meat-onion mixture with salt, ground black pepper and coriander. Cook for 15- 20 minutes.  The ground meat filling should be juicy enough so that the phyllo sheets can absorb the moisture.
In an oiled baking tin, place two  phyllo sheets on the bottom. Make sure the entire base of the baking tin and its sides are covered with phyllo.
Spread two tablespoons worth of ground meat filling and spread evenly over the phyllo sheet. Lay another sheet of phyllo sheet on top of the filling and repeat the process. Alternate ground meat filling with a phyllo sheet.
Bring in the overhanging bits of phyllo sheets over the pie and lay the last two phyllo sheets on top. Pierce and score the meat.
Bake at 180C or 360F for 50-60 minutes.