Everybody loves Feta cheese in Greece, and why wouldn't they? I sure you will too if you tasted it. Homemade authentic Mini Tiropitakia (Greek Baked Feta Cheese Triangles)  with crispy Phyllo and soft savoury filling.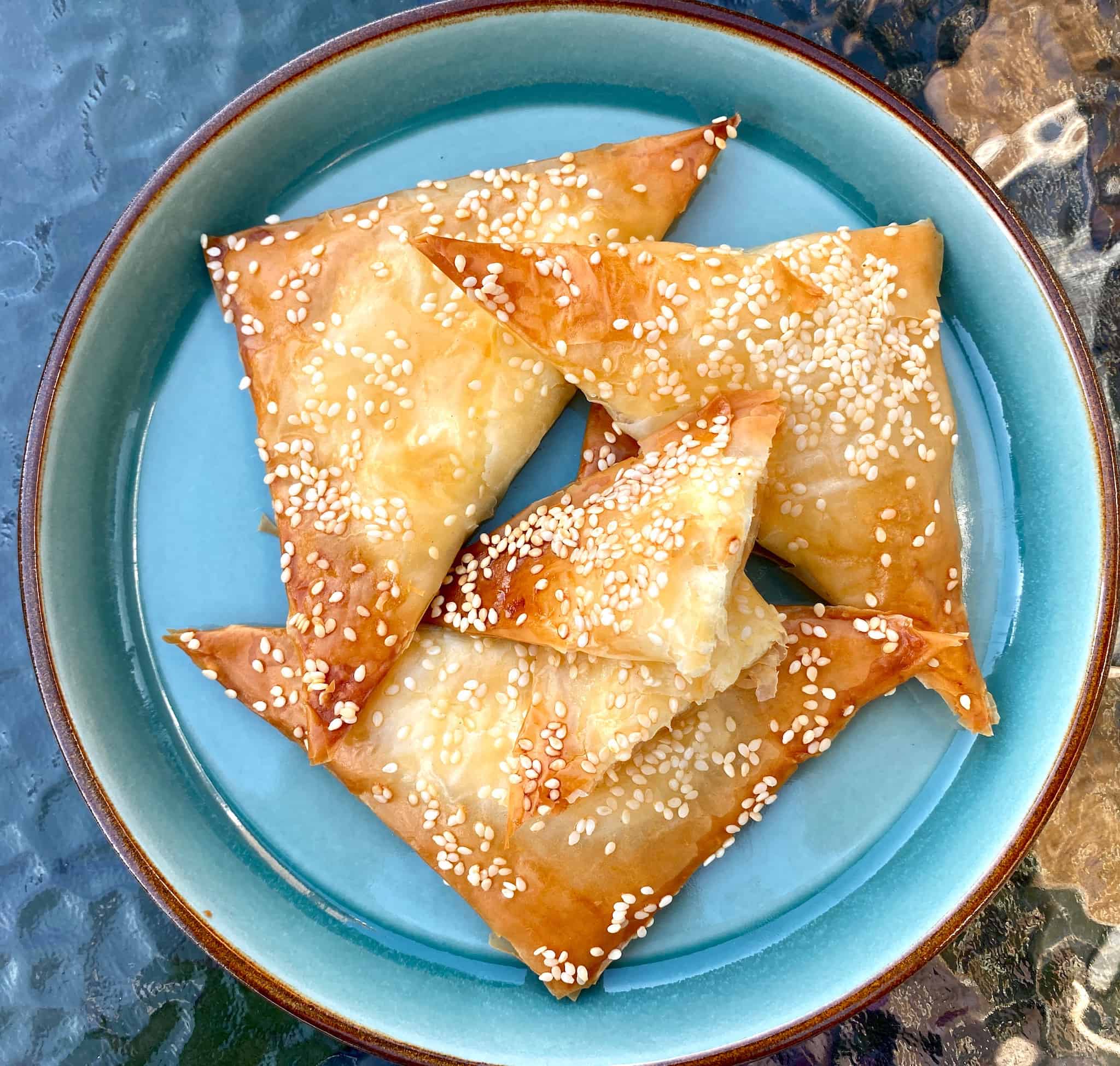 The most commonly pie made in Greece is  'Tiropita', ie Feta cheese pie with Phyllo or Fillo pastry. Tiropita stands though for a rather substantial pie that can be served as a main dish.
Why not enjoy crispy Phyllo or Fillo with savoury Feta cheese filling in smaller, bite sized portions?
Here I will share my quick and easy recipe for Mini Tiropitakia (Greek Baked Feta Cheese Triangles). These are so easy to make and are perfect for at any time of the day. These mini Tiropitakia are so versatile, you can enjoy them in the mornings with a cup of Greek coffee, sneak them into children's lunch boxes, serve them as appetisers or simply enjoy them as snacks.
Tiropitakia Ingredients
The ingredients for these traditional little Greek Baked Feta cheese pie parcels are Phyllo pastry, Feta cheese, eggs and salt alone! You will also need butter and sunflower oil to brush the Phyllo or Fillo pastry. These are really standard cup board ingredients, with the exception of Phyllo pastry. So get down to your local Greek shop and get some.
How can I can Mini Tiropitakia (Greek Baked Feta Cheese Triangles)?
These Feta Cheese pie triangles are very easy to make with only a few ingredients.
Start by laying the Phyllo pastry on parchment paper or silicone and cut it into 3 or 4 strips of 10cm width, ie cut the Fillo pastry along its length. To prevent the Phyllo pastry from drying out cover it with a slightly wet kitchen towel. If Phyllo pastry dries out, it would be impossible to make these little pie parcels. Once you have cut the Phyllo pastry move on to making the savoury mix.
In a mixing bowl combine Feta cheese with egg and a little bit of salt. Combine until smooth consistency. If the mix is runny then add a little bit more of Feta cheese. Melt butter and combine with sunflower oil.
Brush each Phyllo pastry strip with oil and butter. Carry on by adding the savoury mix to each strip and roll into a triangle. After you have filled each Fillo pastry strip, whisk one egg with a little bit of water in another mixing bowl.
Brush the tops of the Feta cheese parcels and bake the parcels at 175C or 347F for 20-25 minutes on the middle shelf of the oven.
Feta pies recipes:
If you love Feta cheese as much as I do, then try out the more substantial version of tiropitakia, the Greek Feta cheese pie (Tiropita). Perfect for those large family gatherings!
Spanakopita combines delicious Feta cheese with spinach, a classic beloved combination. in this version I have added a little bit of leek to flavour the pie even more.
Kolokithopita is yet another very famous Greek Feta cheese savoury pie combining zucchinis or courgettes with tangy Feta cheese.
Should you wish to prepare mini-spinach  or zucchini (courgette) pies like tiropitakia, simply prepare then. savoury mix as per recipe and fold phyllo in  mini-triangles ( as in this recipe).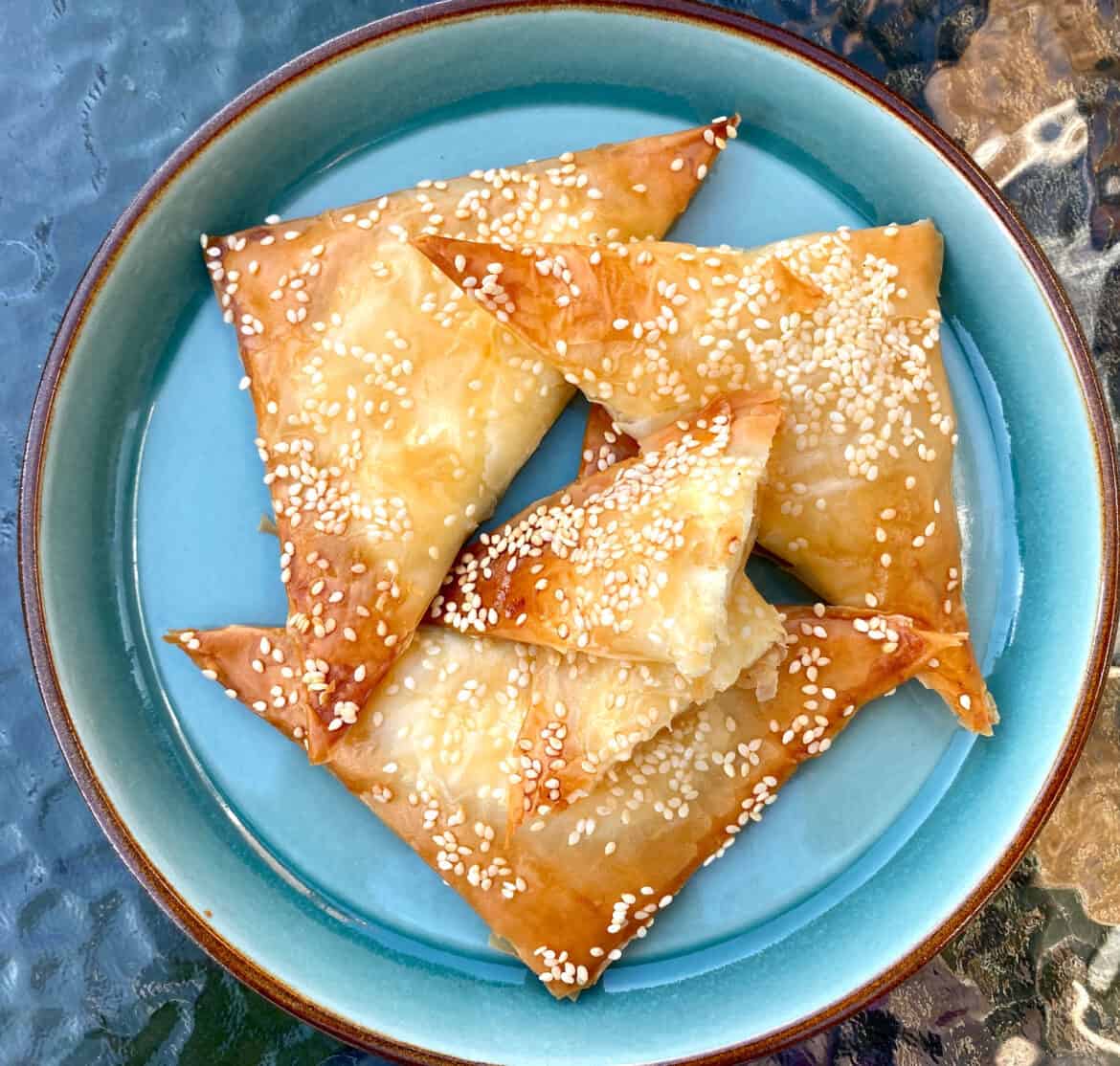 Mini Tiropitakia (Greek Baked Feta Cheese Triangles)
Ingredients
Phyllo pastry (450g)
200gr Feta cheese
2 eggs
80gr butter
80gr sunflower oil
1 pinch of salt
Instructions
Start this recipe by assembling all the ingredients and kitchen equipment.
In a mixing bowl add Feta cheese, one egg and salt and mix them until smooth. If the mix is runny simply add more Feta cheese.
Preheat the oven to 175C or 347F.
Line a baking tray with parchment paper.
Lay the Phyllo or Fillo pastry on parchment paper in the kitchen counter and cut into 3-4 strips of approximate 10cm each width. To prevent the Phyllo Pastry from drying out, cover them with a clean lightly wet kitchen towel.
Melt butter and combine it with sunflower oil. Brush each Phyllo pastry strip with butter and oil. Make sure you cover the entire Phyllo as it is these that make the Phyllo/ Fillo pastry extra crunchy!
Lay the Feta cheese on Fillo pastry strip and start folding the pastry into triangles.
In a separate bowl whisk an egg with one teaspoon of water.
 Brush each Feta cheese pie triangle with the whisked egg and place them in the baking tray.
Bake at 175C or 345F for 20-25 minutes on the middle shelf of the oven.
If you find that the mini pies are turning brown but not yet baked, cover them with kitchen foil and continue to bake them.
Enjoy.