Baked Greek omelette with zucchini (Sfougato) is an egg-based summery Greek dish that closely resembles a Spanish omelette or a crustless quiche. Some have compared it to the Italian frittata but it is lighter as it is not pan fried. Sfougato is a characteristic summer recipe with only a few simple steps to make. So, cook like a Greek and make your house smell like summer!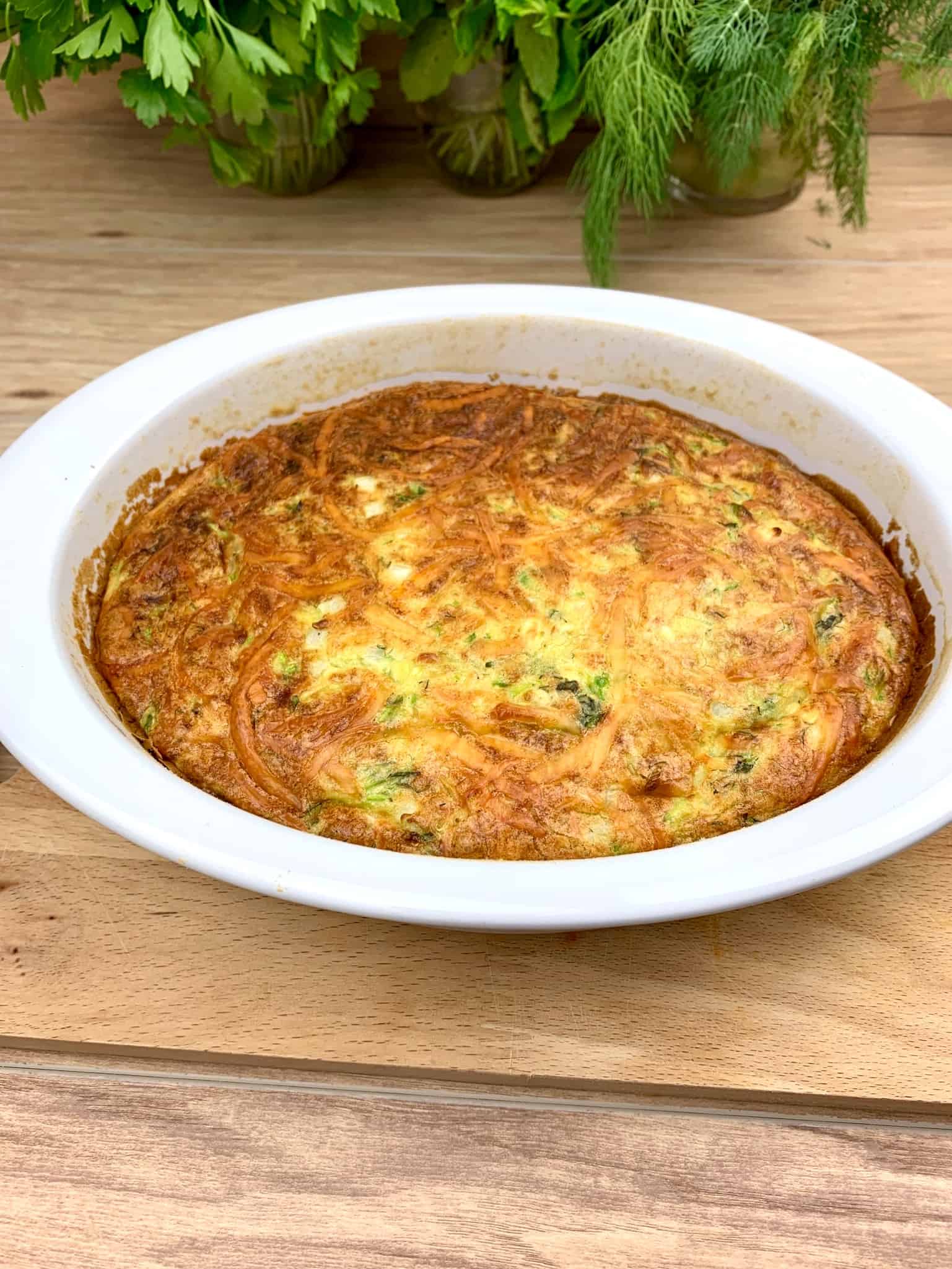 What is this Baked Greek omelette with zucchini (Sfougato)?
Its name, 'Sfougato', is derived from the Greek word 'sfougari' which means a sponge. This light egg-based dish has an airy, sponge like consistency with numerous holes which are created by the cooked eggs.
This traditional Greek dish originates from the island of Lesvos and more specifically from the town of Mytilini.  Numerous versions of this airy omelette exist throughout Greece with the most famous one combining eggs, zucchini and of course Graviera or Feta cheese!
You can find it in any Greek Taverna menu either as Sfougato or as Mytilini sponge. This fluffy baked Greek omelette (Sfougato) is perfect for breakfast, light lunch, dinner, meze and those summery picnics or beach excursions.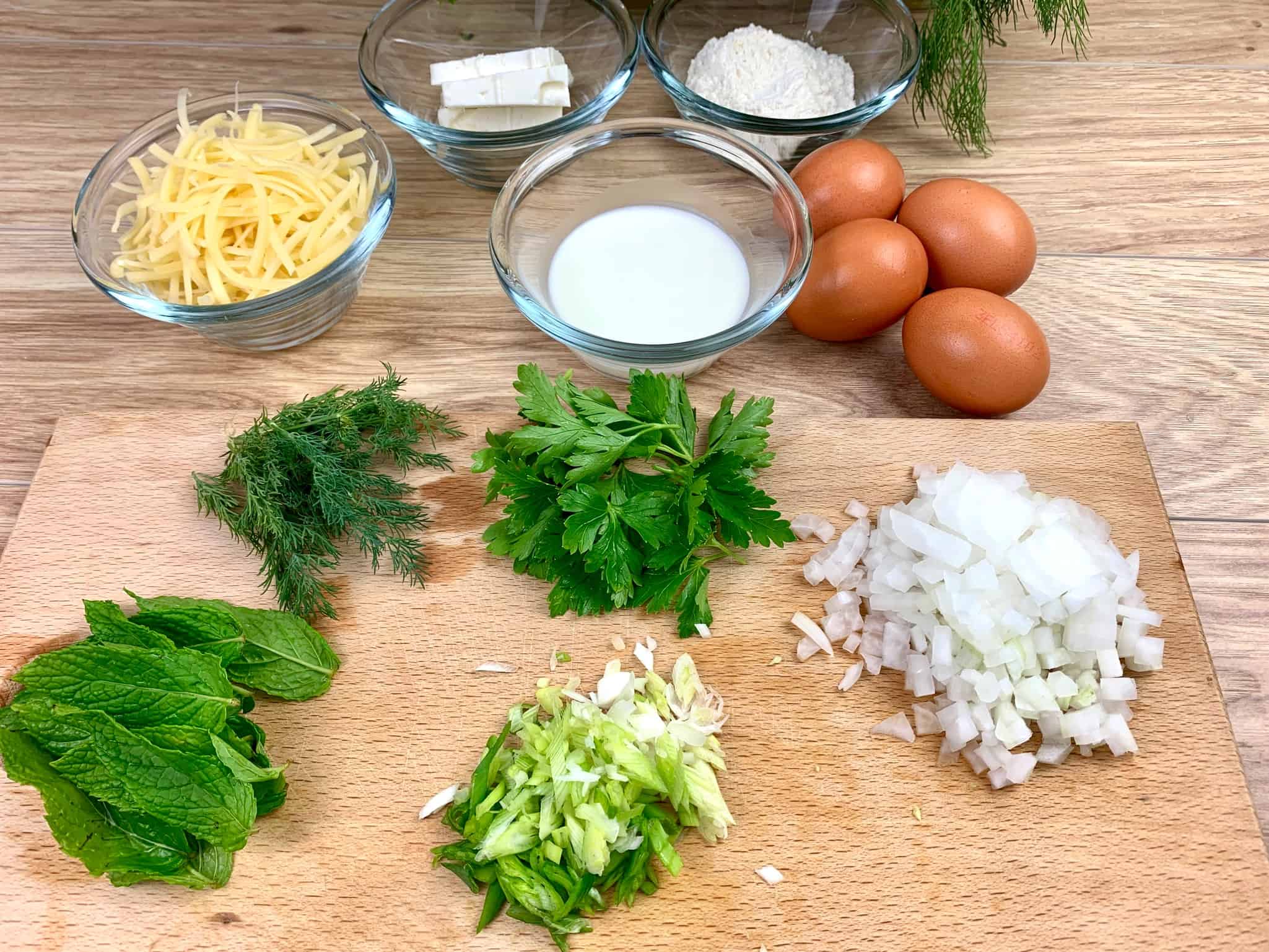 Sfougato ingredients
Zucchini or courgette: You will only need 1 medium sized zucchini for this recipe Make sure you buy fresh one. Fresh zucchini will hold their shape, firm and shiny.
Eggs: This recipe uses 4 medium sized eggs. Allow the eggs to reach room temperature prior to cooking.
Onions: This recipe uses one medium sized brown onion as they are perfect for omelettes. Fresh or spring onions are also great for this recipe.
Olive oil: Use extra virgin olive oil for Sfougato due to its healthy unsaturated fats.
Cheese: This Sfougato recipe calls for Graviera, an all time favourite hard Greek cheese! In particular, in Lesvos, Sfougato is made of 'ladotyri' or Mytlini cheese. You can also substitute Graviera  cheese for Kefalotyri, Feta cheese, parmesan or even cheddar cheese. For my recipe I used Feta cheese and Kefalotyri. Finally, avoid cheeses with a high liquid content like mozzarella as the omelette will turn soggy.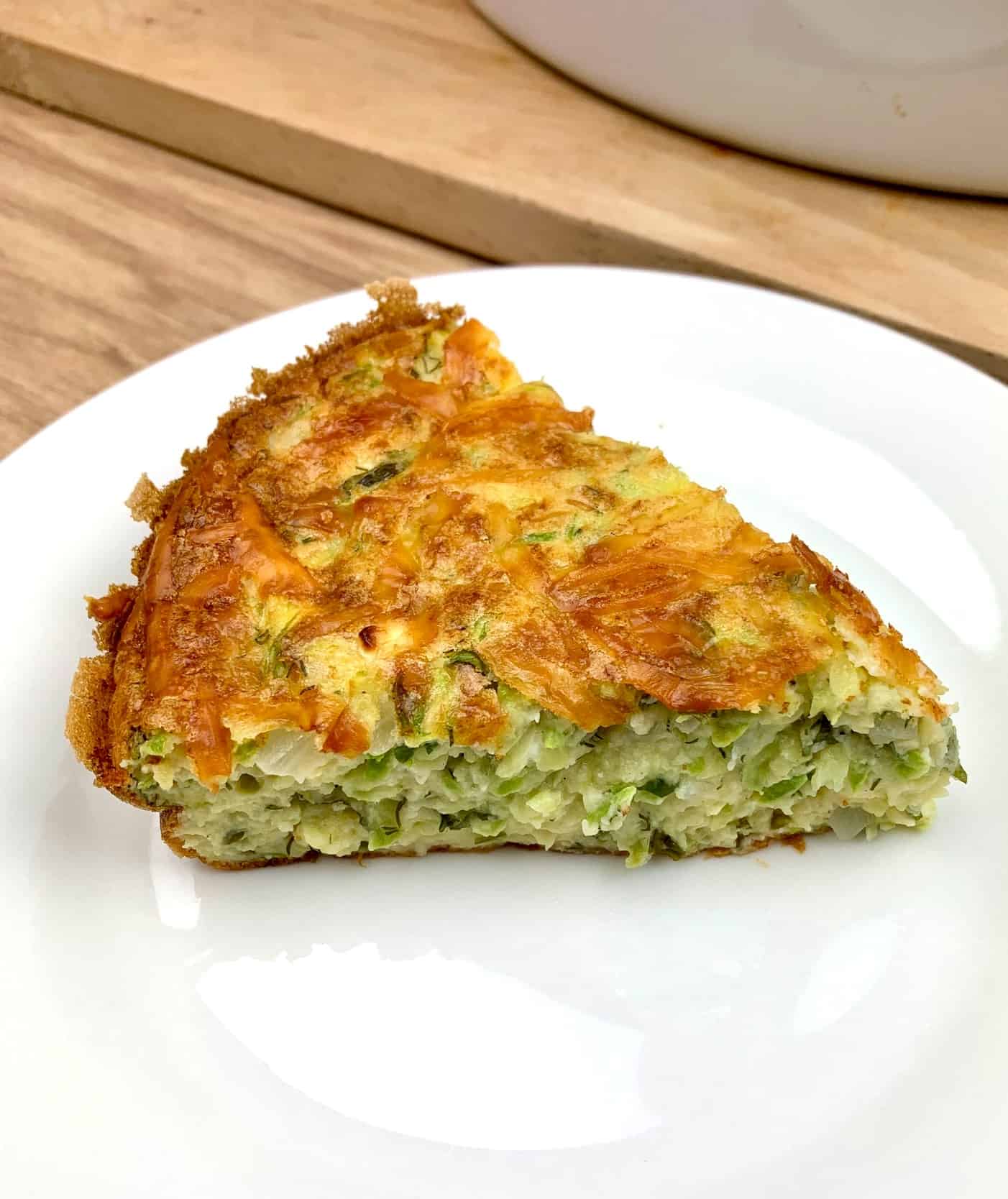 Spices and herbs: This Sfougato recipe calls for simple seasoning with salt and ground black pepper. Should you wish to experiment , then why not try chilli flakes. Herbs give this Greek baked omelette with zucchini (Sfougato) a refreshing taste. I prepare Sfougato with parsley, dill and mint which I find is the perfect refreshing pairing. Other herbs to consider include thyme, rosemary and oregano.
Flour: Use self raising flour in this Greek omelette as it both combines the ingredients but also helps it become fluffy. When using plain flour don't forget to add baking powder.
Single cream: A little cream does wonders in this Greek zucchini omelette.
How to make this baked Greek omelette with zucchini (Sfougato) 
Start by grating the zucchini using a grater and the side with the larger shredder holes. Place the grated zucchini in a colander and season with 1teaspoon of salt and toss. Zucchini has lots of moisture (water), so let it strain for 30mins.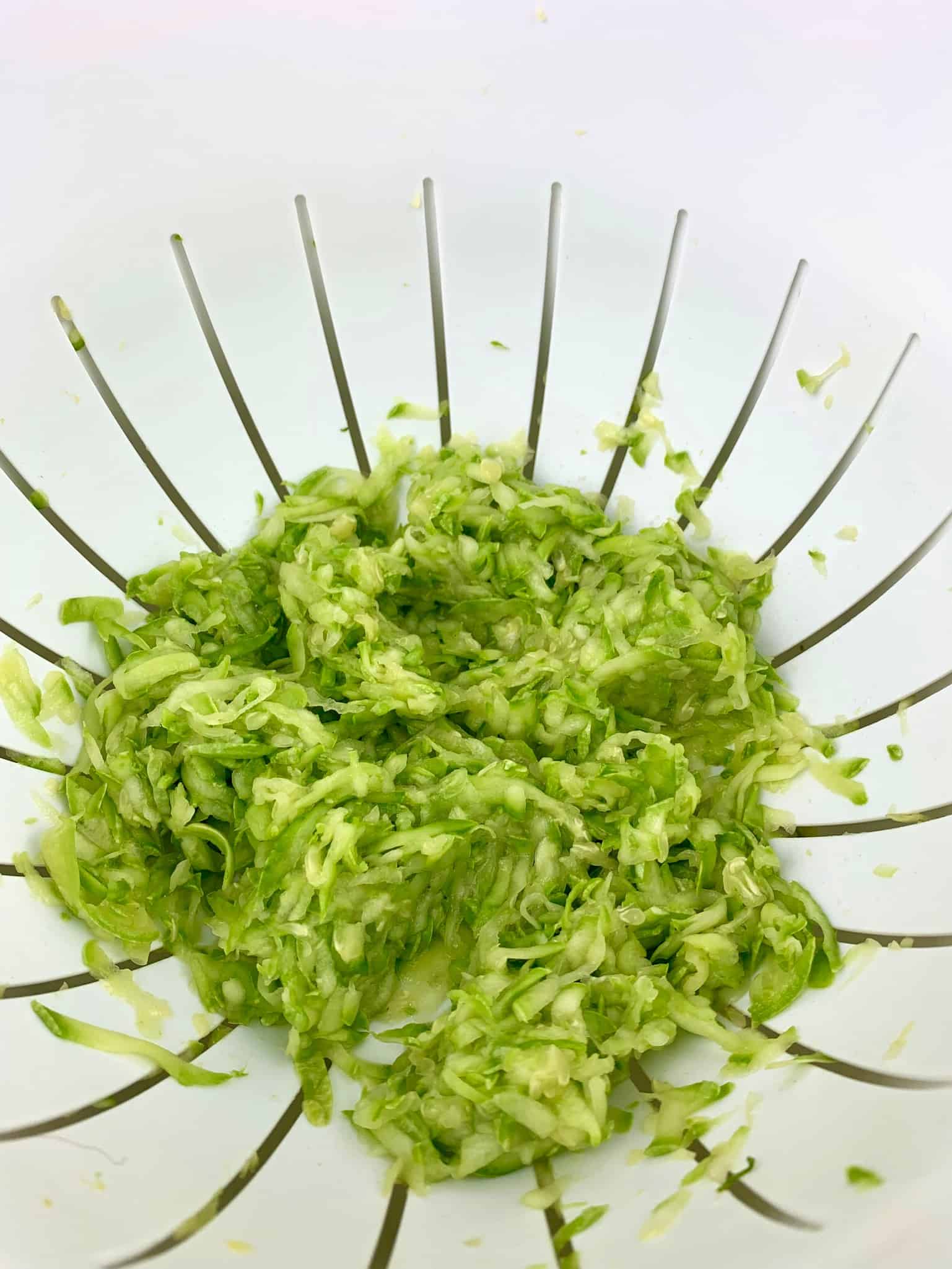 Meanwhile, slice finely the onion, spring onion, parsley, dill and mint. Whisk the eggs until fluffy in a large mixing bowl. This will add volume to the omelette.
Next, remove any moisture from the zucchini by squeezing it with your hands. In another mixing bowl, add the grated and drained zucchini with half of the grated Graviera.  For this recipe I love the combination of Graveria and Feta cheese. Continue by adding half of the flour, herbs and seasoning.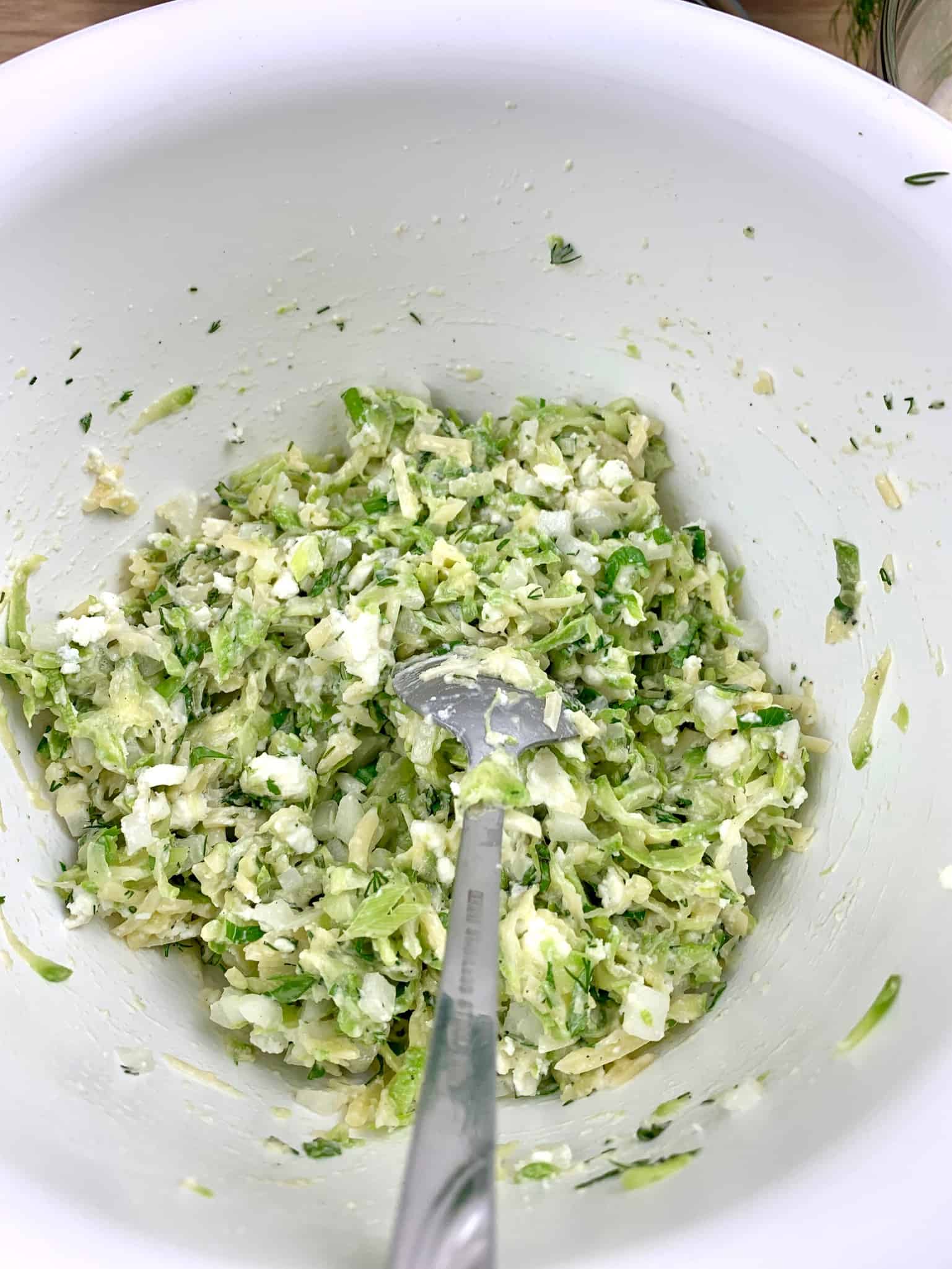 Now add whisked eggs in the zucchini- cheese-herbs mixture.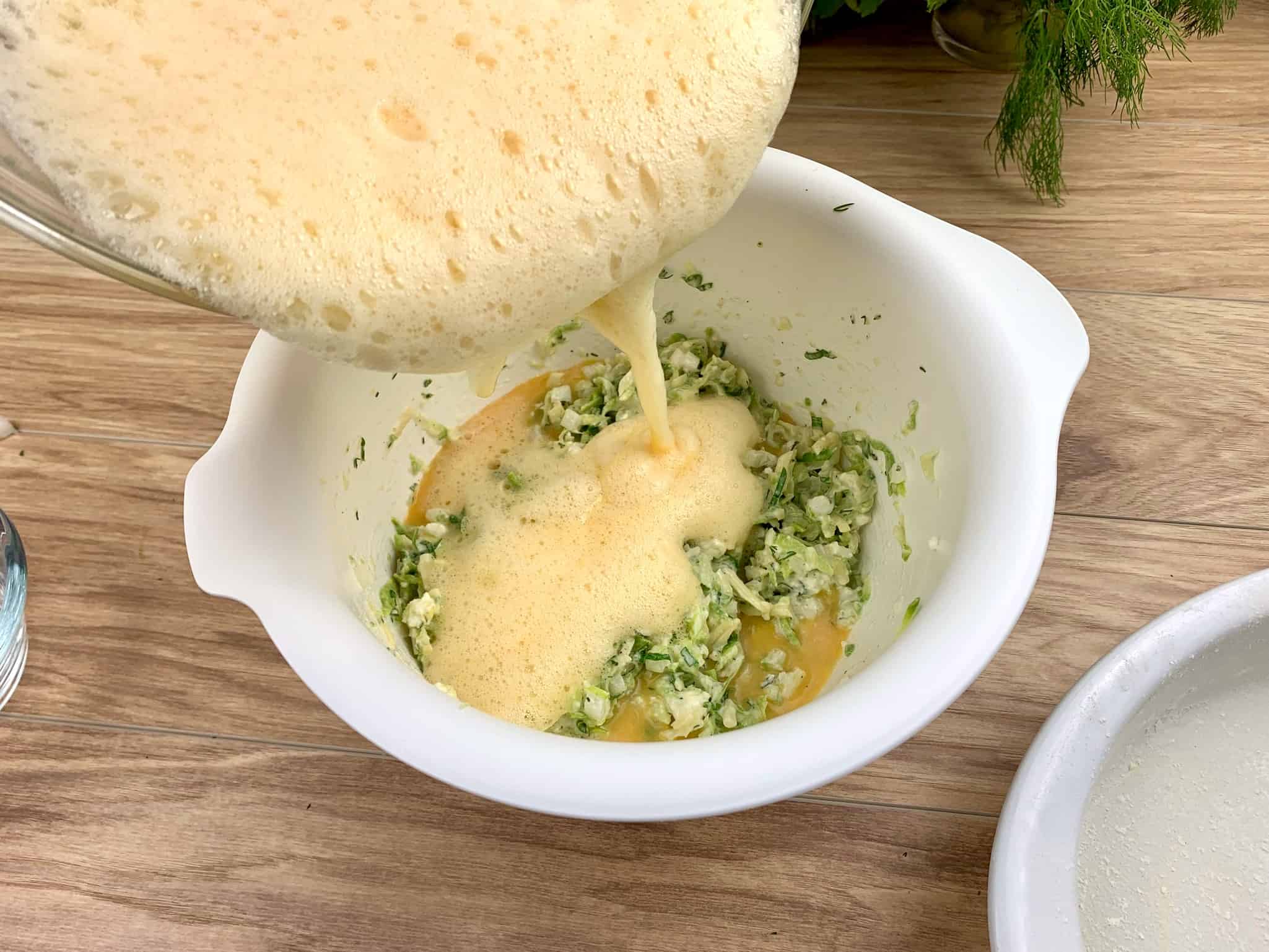 Finally oil a baking dish and dust it with the remaining flour. Pour the egg mixture and sprinkle with the remaining grated cheese. Bake at 180C or 360F for 35-40mins. It may require a further 10 minutes depending on how wet your zucchini was.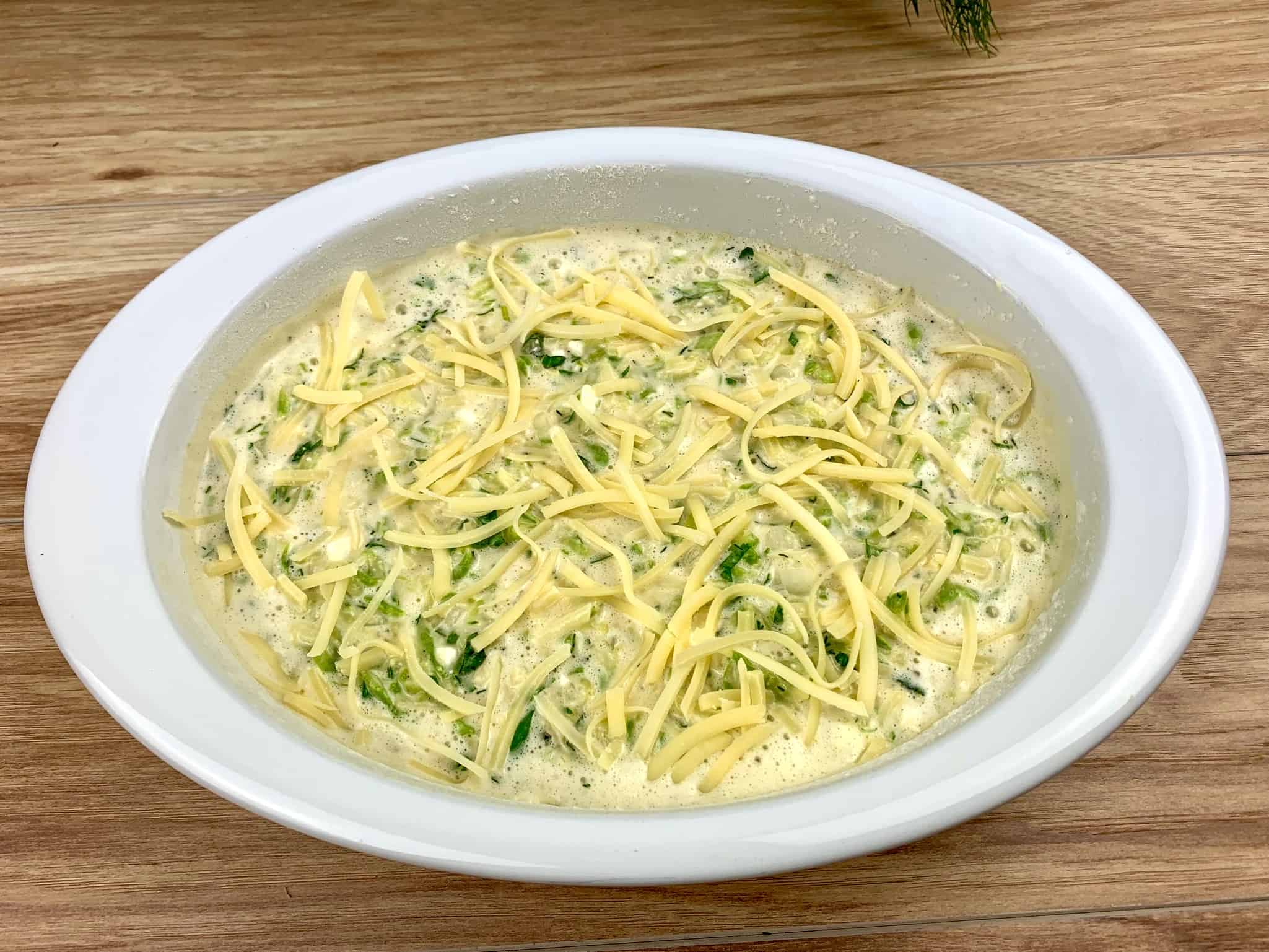 Other ingredients
There are so many vegetables to choose from. The most common addition used in this Greek omelette are potatoes. In contrast to the Spanish omelette, grate the potato and add it in the egg mixture along with half a teaspoon of salt. Continue the recipe as described.
In addition, bell peppers go very well with this airy omelette so create your own colourful omelette! Mushrooms, asparagus, leeks, artichokes (can be found all year round) go really well with this zucchini Sfougato.
Pairing suggestions
You can pair this airy omelette with a summery Greek Horiatiki salad,  a yoghurt dip and even meat, such as souvlaki or mini-sausages.
Tips 
How to handle zucchinis for a perfect omelette
Zucchinis have a high water content and need to be seasoned prior to cooking. Make sure you add just enough salt to the zucchinis, so grate them and season with 1/2 teaspoon salt . Place themi in a colander and let them strain. The salt will draw out the moisture from the zucchini and also season them
Secondly, allow enough time of the zucchini to drain. 10-15mins may not be enough. I let the zucchini strain for approximately 30 mins and lastly, squeeze them with your hands to remove all the excess moisture.
Secret to fluffy restaurant-like omelette
The secret to creating a super fluffy omelette is to whisk the eggs until fluffy. Whisked eggs will bring this airy quality to the omelette.
Storing Sfougato 
Place the fluffy omelette in an airtight container and store for 2-3 days in the fridge. You can freeze Sfougato , in a freezer bag, for up to 3 months. Simply defrost in the fridge and enjoy.
Other zucchini recipes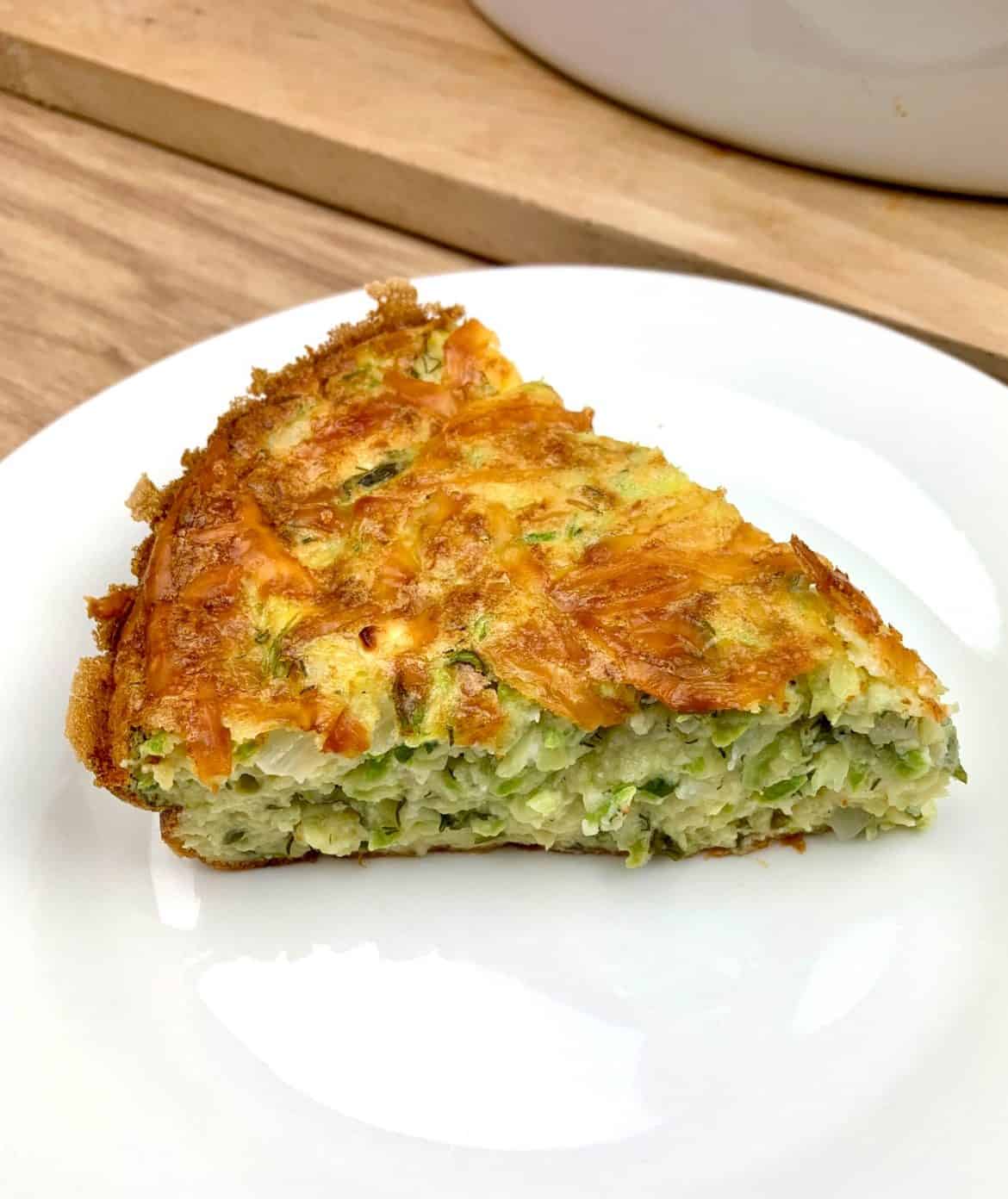 Baked Greek omelette with zucchini (Sfougato)
Ingredients
300g zucchini (courgettes) ( 1 zucchini)
4 eggs
4 spring or fresh onions
1 brown onion (medium)
 70gr Graviera or any hard cheese
 50gr self-raising flour
5 sprigs fresh dill
5 sprigs parsley
6 fresh mint leaves
1 1/2 teaspoon salt
 1 teaspoon fresh ground pepper (black pepper)
 1 1/2 tablespoons virgin Olive oil
 4 tablespoons single cream (optional)
Instructions
Start by grating the zucchini or courgette using the larger shredding holes. Place the grated zucchini in a mixing bowl and season them will salt. Gently toss them in the bowl so the salt is spread evenly. Continue by placing them in a colander to drain.  Allow 30mins for the zucchini to drain.
Finely slice the onion, spring onion, dill, parsley and set aside.
Preheat the oven to 180C or 360F.
In a large mixing bowl whisk the eggs until fluffy and set aside.
Squeeze the grated zucchini to remove any excess moisture
In another mixing bowl, add half of grated Graviera, feta cheese (I find this combination absolutely delicious), half of the flour, onions, parsley, dill, mint and seasoning. If you are using double cream add at this point. Mix until combined.
Continue by adding whisked eggs in the above zucchini-herbs- cheese mixture and stir until combined.
Oil and flour a  25cm baking dish and pour the omelette in it. Sprinkle with the rest of the hard cheese.
Bake at 180C or 360F for 35-40mins until golden.
Serve when cool and enjoy. Kali Orexi!