Greek Feta wrapped in phyllo is one of the most famous addictive Greek appetisers you will encounter in any Greek taverna!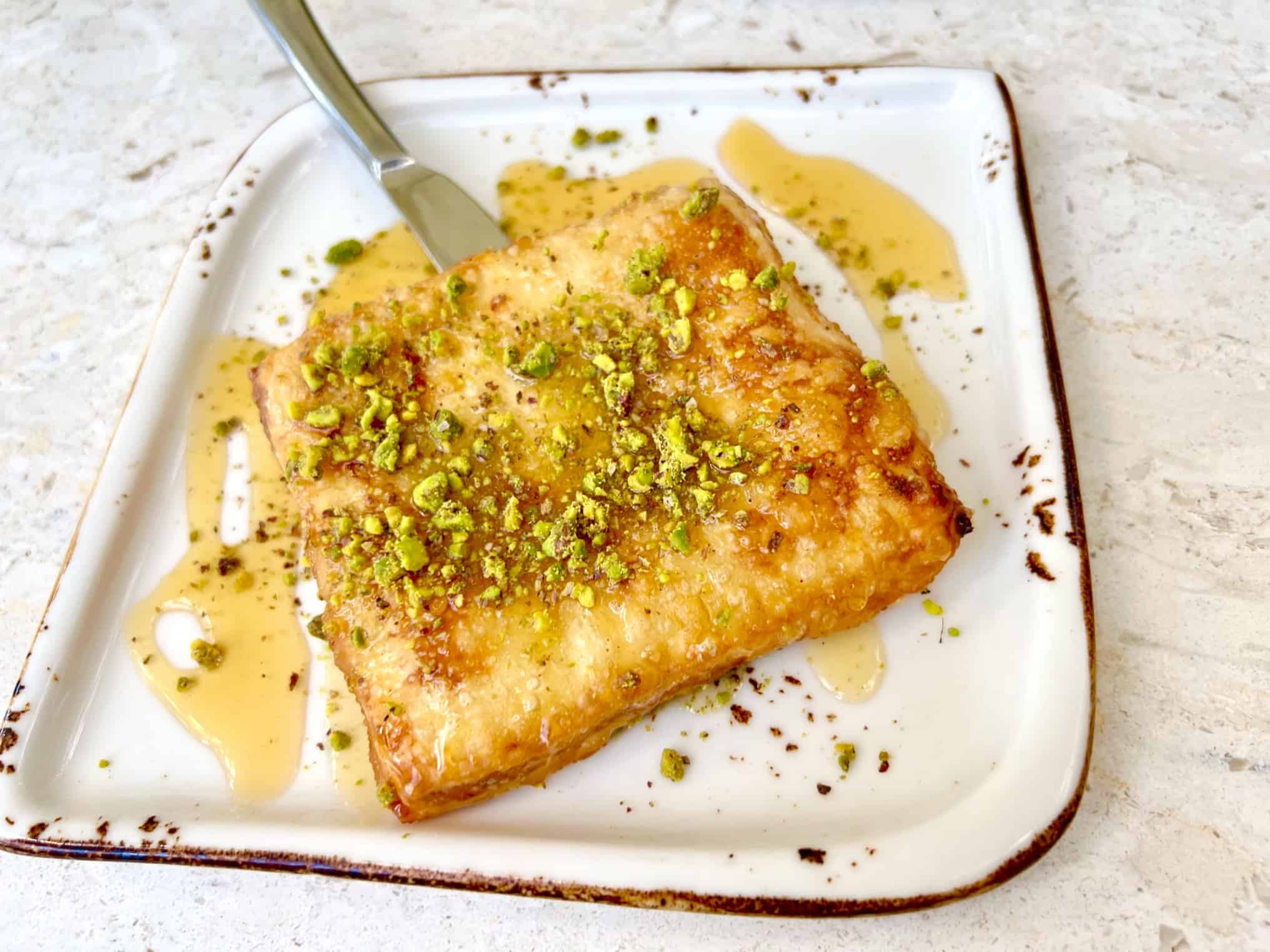 Crispy phyllo drizzled with honey with a delicious cheesy interior! It is the perfect blend of savoury and sweet flavours and looks simply amazing! This delicious starter is a decadent treat worth returning to again and again. Fortunately, it only requires about five minutes of active effort!
Ingredients
This simple Greek Feta wrapped in phyllo recipe requires only 4 ingredients!
Good quality Feta cheese
The best Feta to use is a barrel aged one in brine. Brine intensifies Feta's flavour so prefer this to vacuum packaged ones. Always prefer feta cheeseblocks rather cubed feta as they will not hold in phyllo. Feta cheese melts when pan fried and baked and never becomes runny, giving this starter its delicious tangy and soft bite.
Depending on the taste you are after, choose a Feta cheese variety made of a combination of sheep's and goat's milk for a sharper taste and a Feta cheese made of cow's milk for a milder taste. Taste the Feta cheese and if not salty enough, season it with salt. Finally, for a vegan starter simply opt for vegan Feta!
Phyllo or Filo sheets
Two phyllo sheets are only needed for the recipe. No need to worry about phyllo leftovers. I have some ideas for you!
Greek Honey
Any honey will do although, why not choose a Greek one to make this starter 100 Greek!
Olive oil
Use a few tablespoons of extra virgin olive oil to brush the phyllo sheets for that golden brown colour. An alternative to olive oil would be butter. Simply melt unsalted butter and brush the phyllo sheets.
Pistachios or Sesame Seeds
The most famous garnish for your feta wrapped in phyllo are black sesame seeds, though pistachios taste equally superb!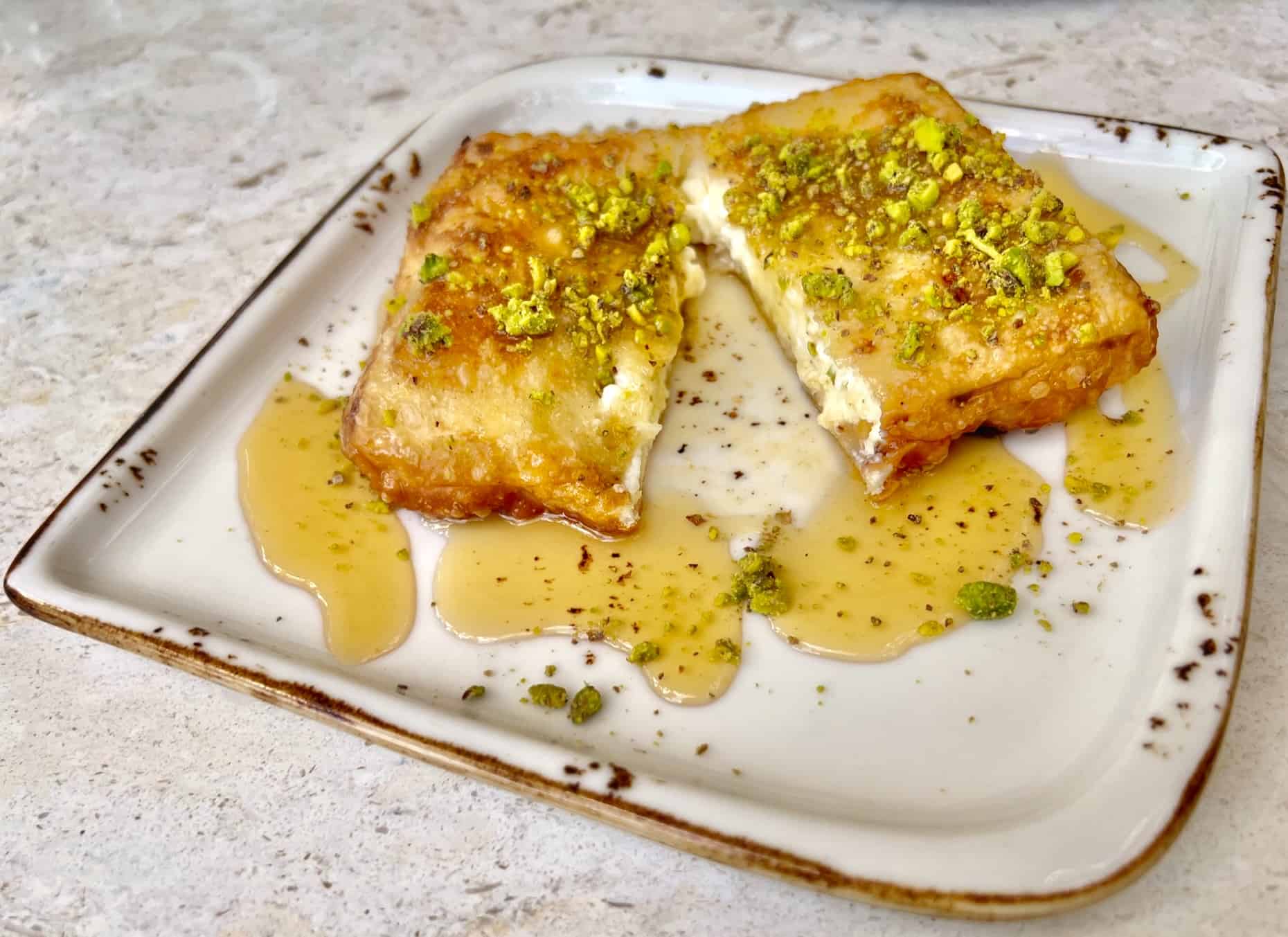 How to make your Greek Feta wrapped in phyllo
Start by preheating the oven to 180°C or 360°F. In the kitchen counter lay two phyllo sheets. Brush each phyllo sheet with olive oil and stack them up. Take a block of feta cheese and place it at the short end of the phyllo, close to you, and wrap the Feta.
Place your feta on a baking tray and bake for 20-25 mins. When out of the oven, drizzle with honey and sprinkle with pistachios. Remember, it is best served warm!
Can I prepare in this Greek Feta wrapped in phyllo starter in advance?
Yes you can prepare this delicious starter in advance! Wrap the feta cheese slice with your phyllo sheets and store in the fridge in an airtight container. You can also store it in the freezer to make later.
Leftover Phyllo (Filo) ideas
Savoury
This delicious starter only requires a few phyllo sheets so you may be wondering what to do with the remaining filo sheets. Firstly, you can always wrap the sheets in cling film and freeze them for up to 3 months. If you want to be creative, then no need to worry, there are plenty of delicious recipes you can use them in.
For example, my super easy mini tiropitakia ie, feta cheese triangles? You can prepare them, store them in the freezer and bake them when you feel like it. Check out the recipe here.
You can also make a variety of feel good Greek pies such as Tiropita, Spanakopita (Spinach and Feta cheese pie), Zucchini and Feta cheese pie, Kotopita ( chicken pie) or Kimadopita (mince meat pie).
Sweet
Least but not last, you can always use them in deserts! Galaktoboureko, hands down, has to be one of the most popular Greek desserts with my favourite being this chocolate Galaktoboureko recipe.
If you wish to be more creative, then combine phyllo with Kataifi and create Gianniotiko, the perfect blend between baklava and Kataifi!!!
Serving suggestions
This delicious Greek appetizer goes really well with a traditional Greek salad (Horiatiki), juicy meatballs, chips and a shot of ouzo!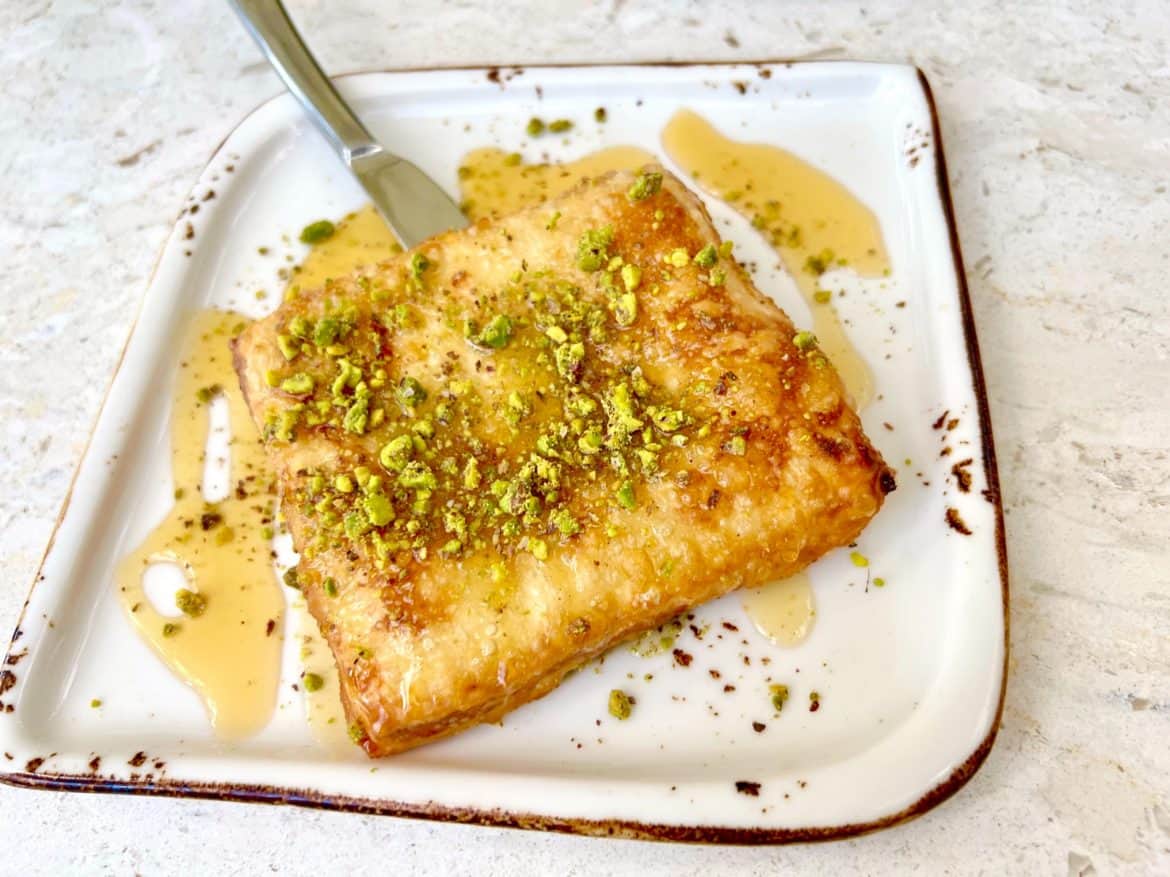 Greek Feta wrapped in phyllo
Ingredients
175-200 grams Greek feta, rectangular or square piece, approximately 1/2 inch thick, approximately 6 ounces
2 phyllo sheets (or filo)
2 tablespoons olive oil, for brushing
4 tablespoons honey, for drizzling
20-30gr pistachio
1 tablespoon toasted sesame seeds or pistachios
Instructions
To prepare this addictive phyllo wrapped starter start by preheat the oven to 180°C or 360°F.
Lay one intact phyllo sheet in the kitchen counter and brush it with either olive oil or melted butter. Place a second phyllo sheet on top and brush with olive oil or melted butter.
Place an even piece of Feta cheese at the bottom of the phyllo sheets and roll the Feta in the phyllo.
Bake for  20-25mins at 180°C or 360°F.
When ready, remove from the oven and place on a serving plate. Drizzle or brush with honey and sprinkle the top with pistachios.
Kali Orexi!