Greek style rosemary roasted potatoes and carrots
These Greek style rosemary roasted potatoes and carrots are one of my favourite side dishes. It can transform any humble dinner to an amazing family dinner. Simply prepare the veggies and place them in the oven. Fuss free deliciousness. Let them roast in their wonderful juices. In the meantime you can prepare any other dish your heart desires.
The dish is versatile, easy to make and goes well with any chicken, Turkey, pork or lamb (meat) dish! It can also stand alone as main dish during fasting in Lent.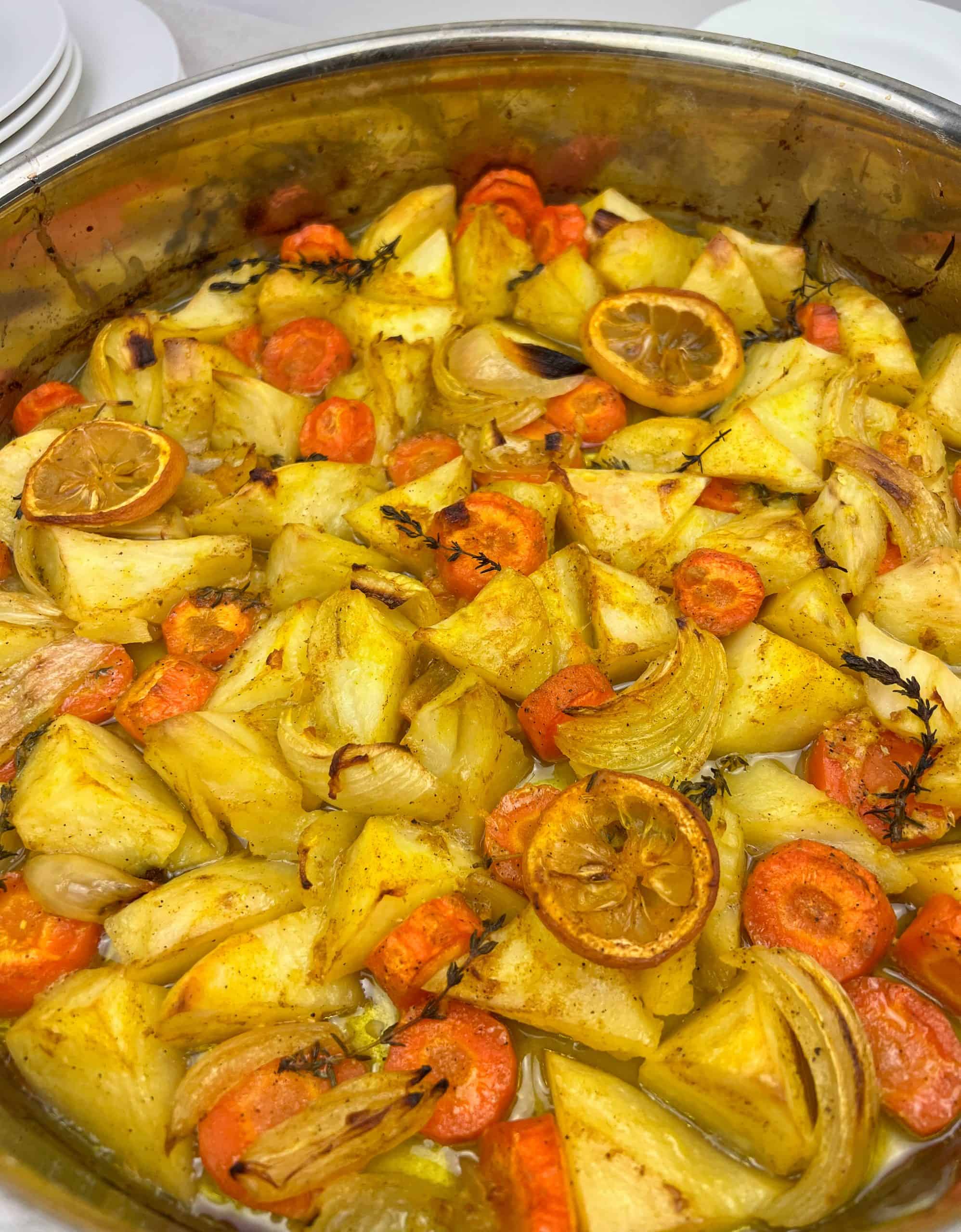 Greek style rosemary roasted potatoes and carrots
Which potatoes to use
The most well known potatoes are those from Naxos island (patata Naxou) and from Kato Nevrokopi ( patata Kato Nevrokopiou ; Thrace province in Greece). These potatoes have a thin skin, starchy interior, hold their shape and have an earthy-mildly sweet flavour.
As you might not be able to get hold of these potato varieties outside Greece, any humble potato ideal for roasting will do.
You can have your pick from Russets, Rooster, King Edward and even New potatoes.
Why add onions to the dish
Roast onions add a sharp yet spicy-sweet flavour to the dish. The best onions to use are yellow onions as they are perfect for roasting dishes.
Bold Rosemary flavour to the dish
This vegetable dish uses the simplest of seasoning with kosher salt and ground black pepper.  Fresh rosemary adds a bold flavour to the dish. It has a lemony-peppery flavour that is a perfect addition to any simple dish.
Due to its bold flavor, makes sure you add just the right amount of rosemary as in large quantities it can have the opposite effect. For this dish I add, a couple of rosemary sprigs.
Rosemary sprigs are not edible and thus are removed when served. If you do not happen to the have fresh rosemary you can substitute it for ground rosemary which retains its cold flavor with the added advantage of it being edible.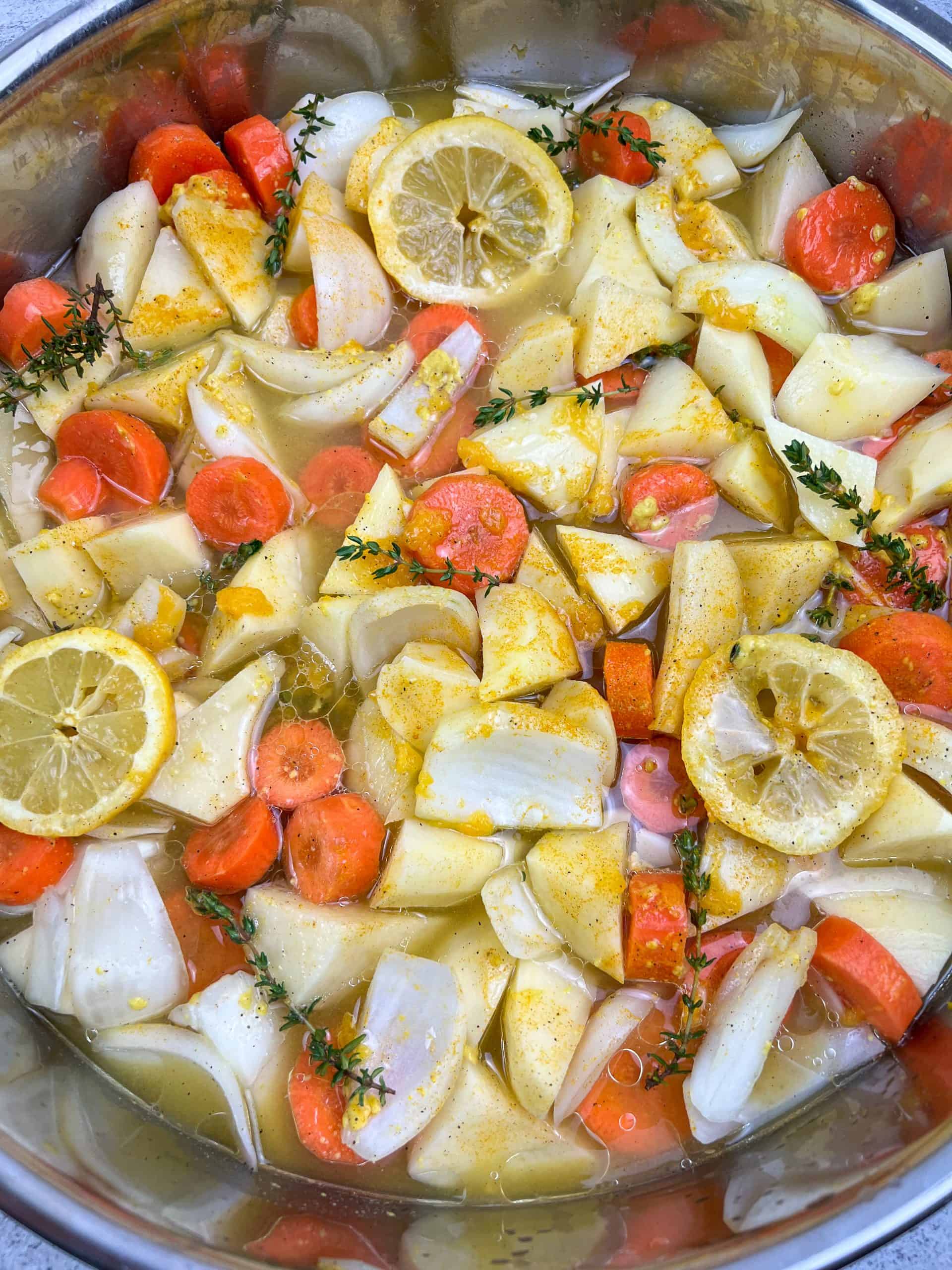 Lemon
I prefer  adding lemons slices than lemon juice in these roasted vegetables recipe.
Orange juice
Make sure you use fresh orange juice rather store bought orange juice. Orange juice pairs really well with mustard.
Squeeze a medium sized orange and pour it in a glass. Add a couple of table spoons of yellow mustard, stir and add in the baking dish with the vegetables.
Mustard
To make these perfect cripsy potatoes and vegetable use any yellow mustard you like. If you are after a spicy flavour use Dijon mustard. Mustard had a horseradish like flavour that compliments greatly orange juice and is in fact a a very well popular salad dressing that also compliments roasted vegetables.
There is no need to add water or any broth to the vegetables as the orange juice- mustard mix along with rosemary will give the humble potatoes and carrots a lovely taste.
How to make the perfect Greek style rosemary roasted optatoes and carrots
This Greek style rosemary roasted potatoes and carrots is so simple to make. and uses the simplest of ingredients.  Start by preheat the oven to 200C or 390F.  Continue by washing the potatoes and carrots. Make sure you wash them thoroughly so to avoid any dirt in the food.
Peel the potatoes and the carrots. Slice the potatoes in equal pieces or chunks. Should you be using baby potatoes, there is no need to peel them or slice them. You can add them in the baking dish as they are.
Contrary to other recipes you will inevitably encounter in the intranet, you do not need to part boil the potatoes for this dish. Simply slice them in equal chunks to ensure even roasting.
Peel the carrots and slice them. You can either slice them length wise or in moons.
Peel and slice the onions in large chunks, halved or quartered.
Pour extra virgin olive oil in a baking dish and place the potato wedges, onions and carrots evenly. If you decide to add garlic cloves, add them as whole as they can easily be identified and removed upon serving. There is no need to add unsalted butter in the dish. Season with salt, ground black pepper and add rosemary stems.
Roast the vegetables at  200C or 390F for 35-40 minutes.  Halfway through roast, have a quick peek at them and toss them around. I also cover them with aluminium foil at this point. The dish is ready when the potatoes get a bit of colour, golden colour and a crispy exterior.
What can you add in these Greek Style rosemary roasted potatoes and carrots
Should you wish to make this delicious vegetable dish more exciting you can add small pieces of chicken, pork or lamb. Do not add large pieces of meat as these will take longer to be ready compared to the vegetables. For example, oil adding chicken, use either drumsticks (chicken legs) or wings.
What to serve with these roasted vegetables
This versatile vegetable dish can either enjoyed as a savory side dish or on its own. It pairs perfectly with any meat dish such as roast chicken, turkey, pork, lamb or a juicy steak!
Check out my Roast chicken in Dutch oven recipe here and my Greek style roasted leg of lamb with thyme here.
It also goes very well with meat ie pork or chicken souvlaki portions and sauasages.Do not confuse souvlaki portions for these takeaway grilled meat wrapped in pita bread rolls. Souvlaki portions are larger, restaurant served portion served with a side dish, most notably with roasted potatoes.
You can also garnish these roasted vegetables with Feta cheese chunks.
How Long do these Greek style Rosemary roasted potatoes and carrots last?
Store this delicious side dish in an airtight container in the fridge. It can last put to 3 days in the fridge.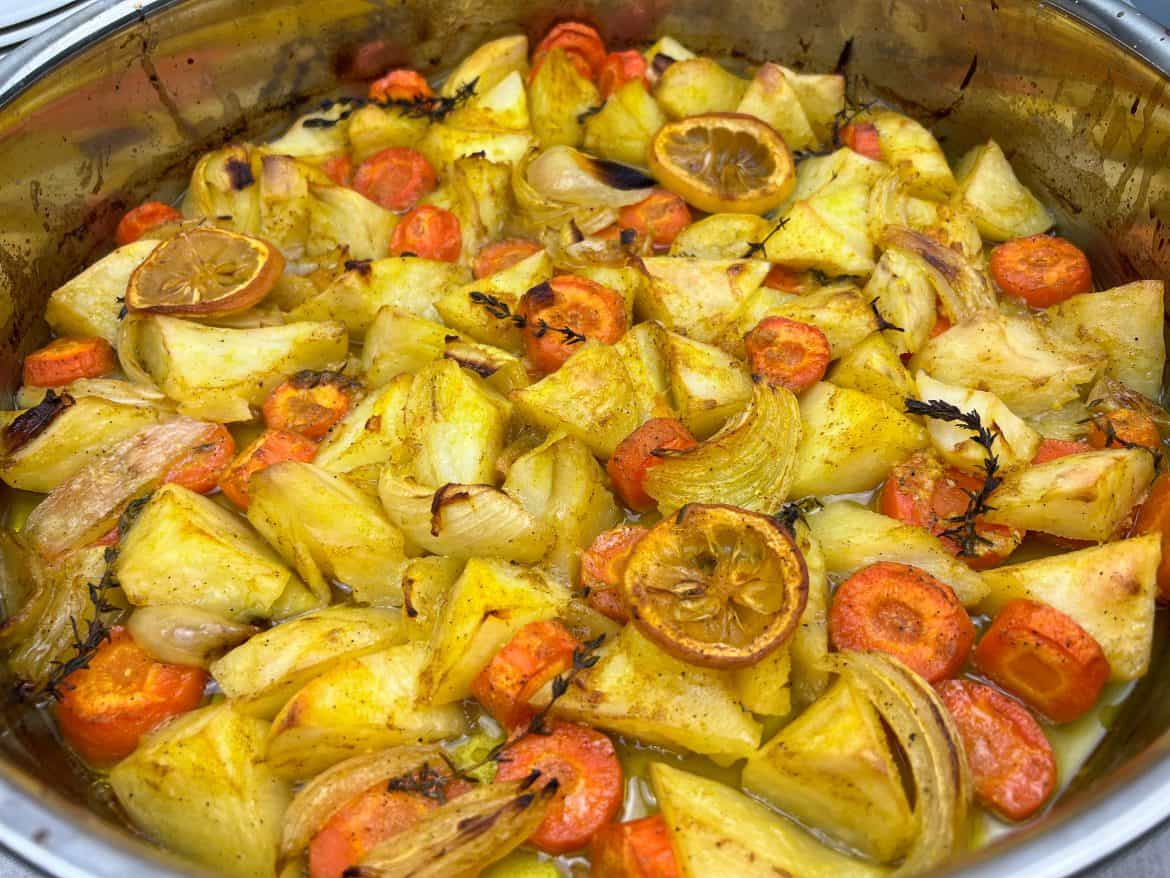 Greek style rosemary roasted potatoes and carrots
Ingredients
1kg potatoes (preferably yellow potatoes)
5-6 large carrots
2 large yellow onions
1 lemon, in slices
orange juice (1 orange)
2-3 tablespoons mustard
200-250mls water (1 cup or 8 oz water)
55mls or 1/4 cup or 2fl oz or 3-4 tablespoons extra virgin olive oil
1-2 cloves garlic (optional)
1tsp kosher salt
1tsp ground pepper
2 fresh rosemary stems
Instructions
To prepare these roasted vegetables dish start my preheating the oven to 20OC or 390F. Continue by washing the potatoes and carrots. Peel the potatoes and cut in equal sized chunks. Peel the carrots and slice them in moons or length wise.
Slice the onions into halves or quarters. Slice the lemon.
Squeeze an orange and pour the juice in a cup. Add 2-3 tablespoons of mustard to it, stir and set aside.
Drizzle olive oil in the baking dish and place the sliced potatoes, carrots, onions and lemons. Season the vegetables and pour the orange-mustard mix and water.
Toss the vegetables so that the spices and orange-mustard mix is evenly distributed.
Place the baking dish in the middle rack of the oven and roast them for 35-40mins at 200C/ gas mark 6/390F.
Check the vegetables halfway, toss and cover them with aluminum in oil.
Serve when ready. Pair them with any meat dish or enjoy as part of a main. For any extra tangy flavour, add Feta cheese crumbles or chunks to them.
Enjoy! kali Orexi!