This roast chicken in Dutch oven recipe is easy to prepare. Juicy and tender chicken with a crispy and crackling skin. The secret to this roast chicken recipe lays on its aromatic marinade. The marinade consists of aromatic spices, herbs, citrus fruit and red wine that all blend together perfectly.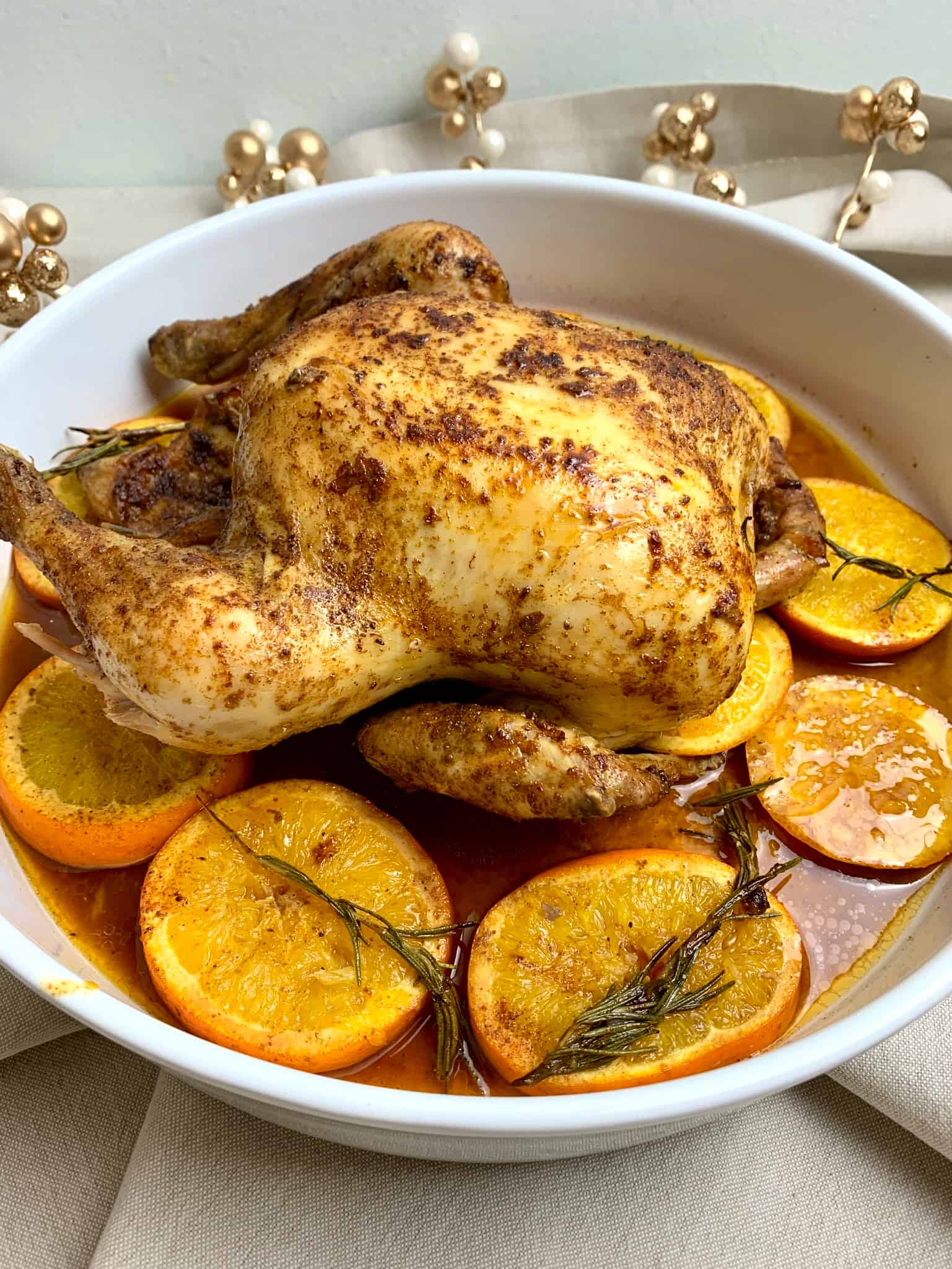 Allspice pairs perfectly with black pepper and provides a pungent heat to the dish.Cloves, in turn, pairs perfectly with allspice, black pepper and bay leaves for a savoury citrusy flavour.  Thyme, bay leaves and rosemary give off an incredible aroma and taste.Lastly, white wine in marinade combines perfectly with citrus fruit.
Why Roast Chicken in a Dutch Oven
Preparing roast chicken in a Dutch oven is easier than you think. Invest on a good quality Dutch oven and cook away.
Roasting a whole chicken or chicken portions in a Dutch oven will render the chicken flesh juicy and tender while creating a crispy golden brown skin. The reason for that being , is that the Dutch oven retains and distribute heat evenly. In addition, the dutch oven lid seals the heat. On the contrary, roasting chicken in a simple baking dish will render the chicken dry.
In addition, vegetables can be cooked at the same time with the chicken resulting in one pot dinner or lunch.
The same applies for casserole dishes so do not despair if you down have a Dutch oven.
Roasting a Whole Chicken in your Dutch Oven
Preparing the perfect roast chicken is not rocket science. There are a few little tricks to follow which with turn the chicken more flavoursome.
First and foremost, wash the chicken thoroughly inside the chicken cavity and outside. Make sure you have removed any remnants from the chicken cavity. If you are going to marinade the chicken then place it in a bowl with the marinade. If not, then simply place the chicken in the fridge.
Secondly. make sure you remove the chicken from the fridge at least 30 minutes prior to roasting. If the chicken is cold it will be difficult to calculate roasting time. Preheat the oven at that point. The oven temperature should be 200C or 392F when you place the chicken so that it can cook faster and tastier.
There are many misconceptions with regards to stitching the chicken cavity. When there is no meat filling in the chicken cavity, then stitches with string are not advised. For example, if you add oranges and lemons in the chicken cavity, you do not need to stitch it.
A further misconception is that one needs to pierce the chicken meat at places so that it can cook better. This will apply to large pieces of meat such as lamb, pork but not chicken as the meat has a different consistency.
Moreover, there is no need to tie the wings or thighs. By doing so, volnureble areas such as joints and inside of thighs will take longer to cook. By increasing roasting time, the chicken breast will turn dry.
Pour the chicken marinade and lay the onions, orange and lemon slices in the bottom and rest the chicken on top.  You can also add any other vegetables you like, for example potatoes and carrots. In this way, all the vegetables will soak up the lovely juices.  By laying down the vegetables, these will act as an 'air rack' which will allow hot air to circulate during roasting.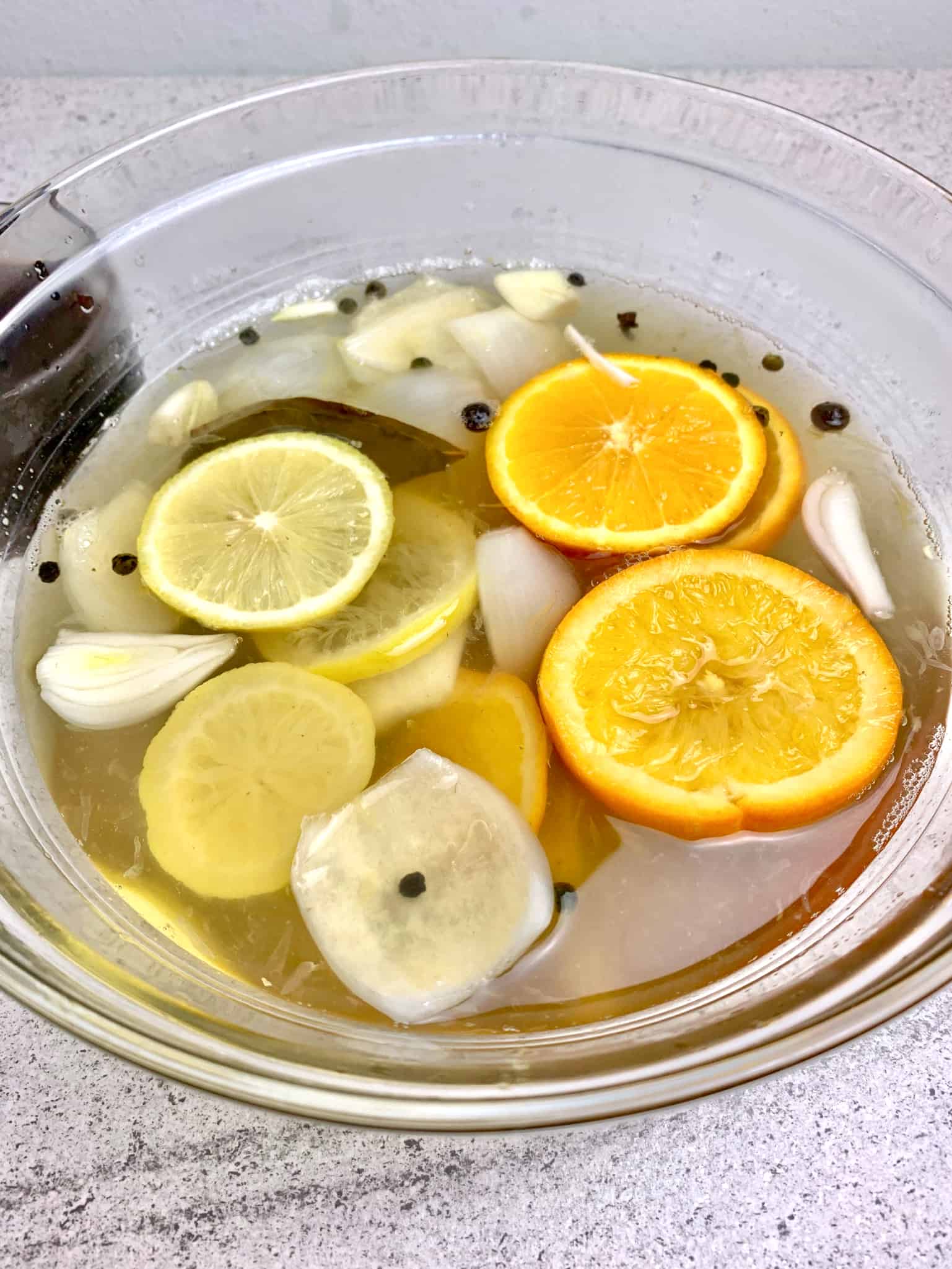 A little trick to make the entire chicken aromatic if time is of an essence, then you can simply rub the chicken with dry herbs and fill the chicken cavity with oranges, lemons and garlic cloves.This also known as 'quick marinade'. This will work, nevertheless, even a small amount of time for an example an hour in my aromatic marinade will do wonders for the chicken. In addition, as the entire chicken is roasted with its aromatic marinade and fruits, it will turn even tastier.
To ensure the roasted chicken has an extra crispy and golden brown skin colour, remove the dutch oven lid 20 minutes prior to the end.
Finally, let the chicken rest in the oven (switched off) with the oven door open for approximately 15 minutes. This will allow the chicken juices to redistribute in the meat.
How long to roast a chicken
A chicken of this size will require approximately 1 hour to cook at 200C or 392F.
To make sure the entire chicken is roasted, check its internal temperature with a kitchen or meat thermometer. A roast chicken should have an internal temperature of 165C or 329F and 175C or 347F at the thigh.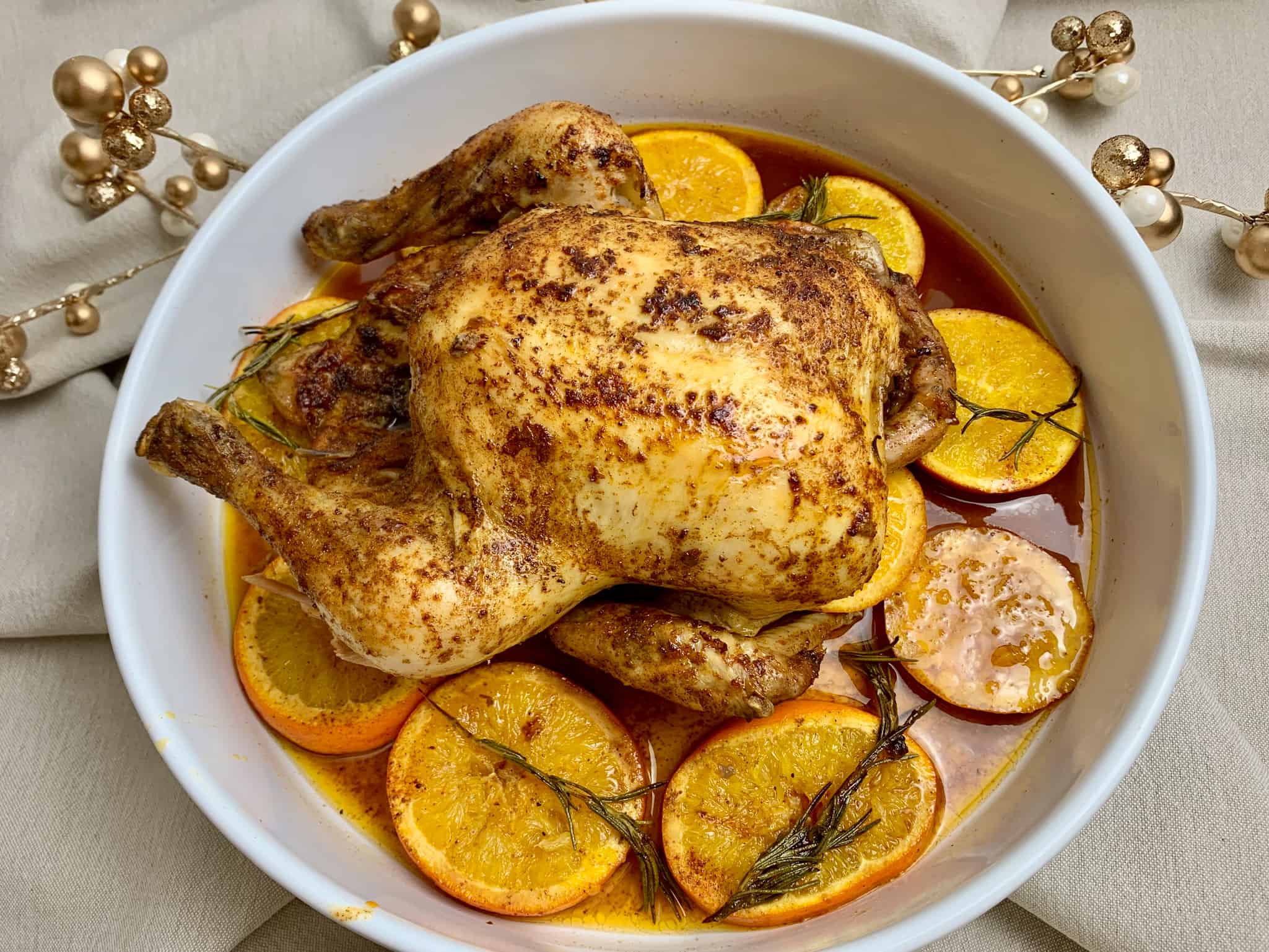 What Size Dutch Oven to Use
Make sure you roast the entire chicken in a big enough dutch oven or casserole dish so that there is more than enough space for the chicken and the vegetables. If they are cramped, the chances are they will not cook to perfection.
If you don't have a Dutch Oven
Do not despair, you can still prepare this juicy and aromatic chicken in a casserole dish, a baking dish or even a slow cooker.
The casserole dish will give you a juicy chicken with a crispy skin, though a baking dish will still give you the amazing chicken flavour but slightly drier. The slow cooker on the other hand, will give you a juicy aromatic chicken but not a crispy skin.
When roasting an entire chicken in a baking dish, pour the marinade in the baking dish, lay the vegetables on the bottom of the dish. Add a teaspoon of unsalted melted butter in the marinade. Season the chicken with kosher salt and black pepper.  An entire chicken (1.5-2Kg) will require an hour of roasting in the oven at 180C or 356F. If you notice the chicken over-browning, cover with an aluminium foil.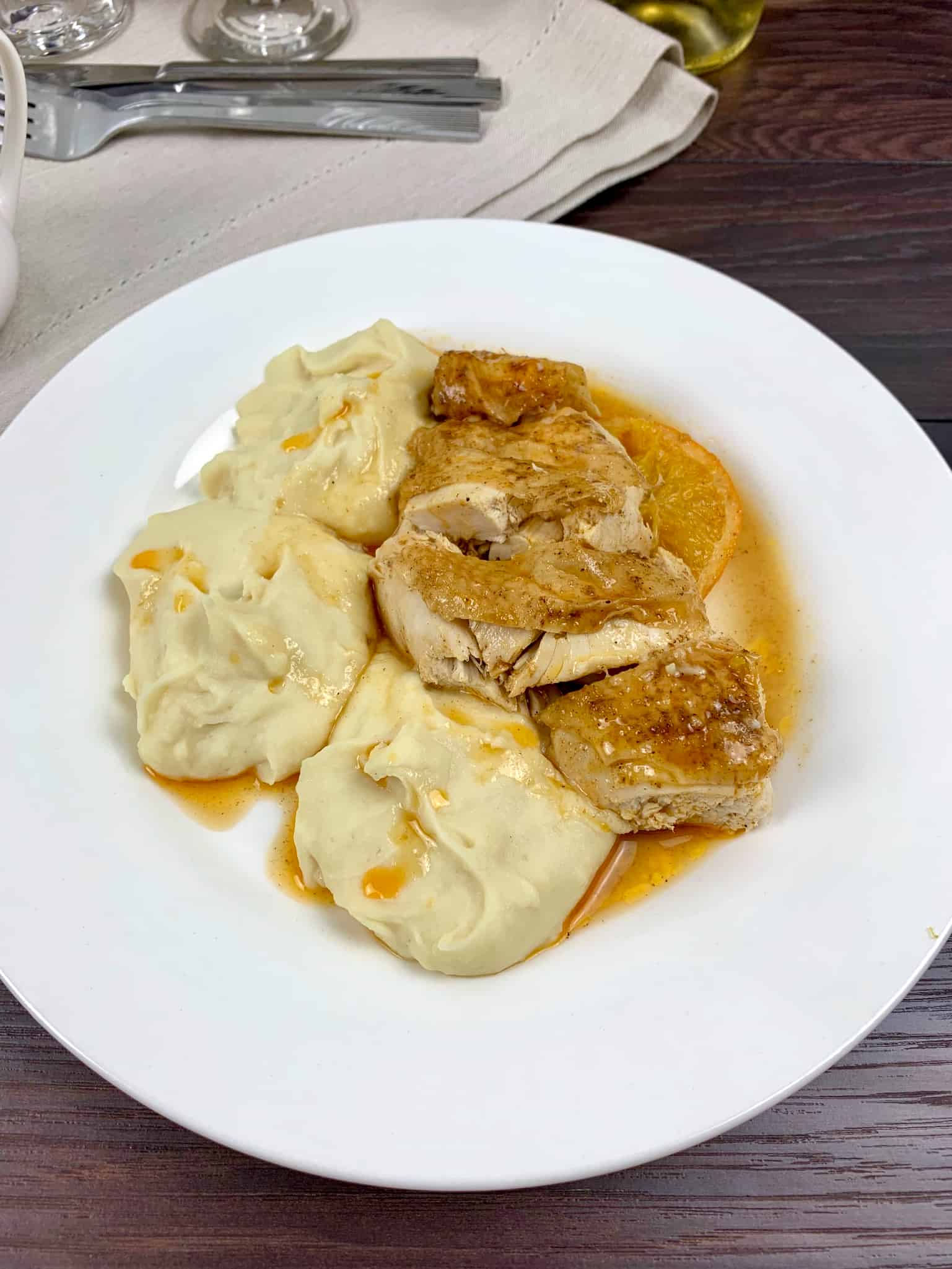 What should I serve with Dutch oven chicken?
This roast chicken in Dutch oven recipe is versatile and can be paired with a variety of vegetables. Pair this chicken with roast potatoes, mash, sweet  potatoes or carrots, ie root veggies.
What to do with leftover roast chicken?
Leftover chicken can utilised to its maximum. Slice the chicken into thin pieces, combine to with a tangy salad and wrap it in a pitta bread.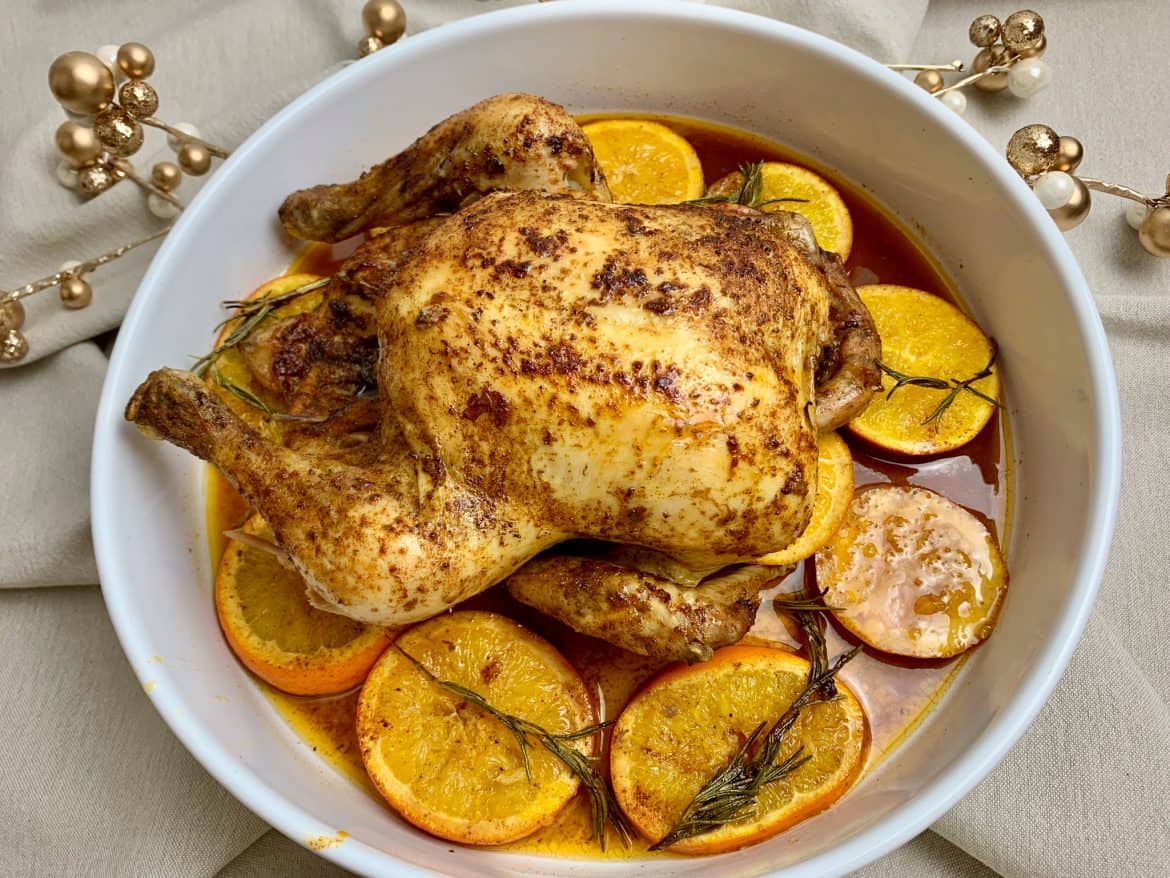 Roast chicken in Dutch oven recipe
Ingredients
Chicken Marinade:
1 sprig rosemary
1-2 sprigs thyme
5-6 grains allspice
8-10 peppercorns
 2 teaspoons salt
1 teaspoon sugar
3-4 cloves
1 onion
4-5 cloves of garlic
1 orange
1 lemon
200ml white wine (optional); substitute with juice from one lemon and one orange
400ml water
Chicken spices:
1 teaspoon black pepper
1/2 teaspoon salt
1 teaspoon unsalted melted butter
Instructions
To prepare this roast chicken in dutch oven start by inspecting the whole chicken for any dirt. Consider washing it carefully if you notice any dirt or feathers and always remember to clean the entire nearby working surface afterwards.  Remove any feathers that may be present. Inspect the chicken cavity for any remnants.
To prepare the marinade, in a large bowl pour white wine, bay leaves, rosemary, thyme, allspice, cloves, peppercorn, sliced orange and lemon along with onion and cloves of garlic. Season with salt and add a little bit of sugar.
Let the chicken marinade for at least one hour so that it can absorb all the aromatic herbs and spices. For better results, let the chicken marinade overnight.
Remove the chicken from the fridge at least 30 minutes prior to roasting.
Preheat the oven to 200C or 392F.
Once the chicken has marinated, pour the marinade on the Dutch oven, lay the onions, sliced orange and lemon. Add a teaspoon of melted unsalted butter in the marinade. Season the entire chicken , inside out with salt and pepper.  Lay the whole chicken on top of the vegetables and citrus fruits.
Roast the chicken for 1 hour. Halfway through roasting, turn the chicken upside down.At around 40 minutes or so, remove the dutch oven lid and let the chicken cook.
Let the chicken rest in the switched of oven with the oven for open for a further 15 minutes.
Serve this roast chicken in dutch oven with potatoes, mash, sweet potatoes or carrots. Drizzle the vegetables with the marinade juices and serve.