Vasilopita is a traditional Greek New Years' bread or cake that holds a hidden lucky coin inside and consumed on New Year's Day in celebration of Saint Basil. It can be either an aromatic cake or Tsoureki (sweet brioche type bread). Vasilopita Tsoureki originates form Asia Minor and became more popular in Greece in 1920s after Greeks fled Asia Minor. Also check out my Vasilopita Tsoureki recipe here.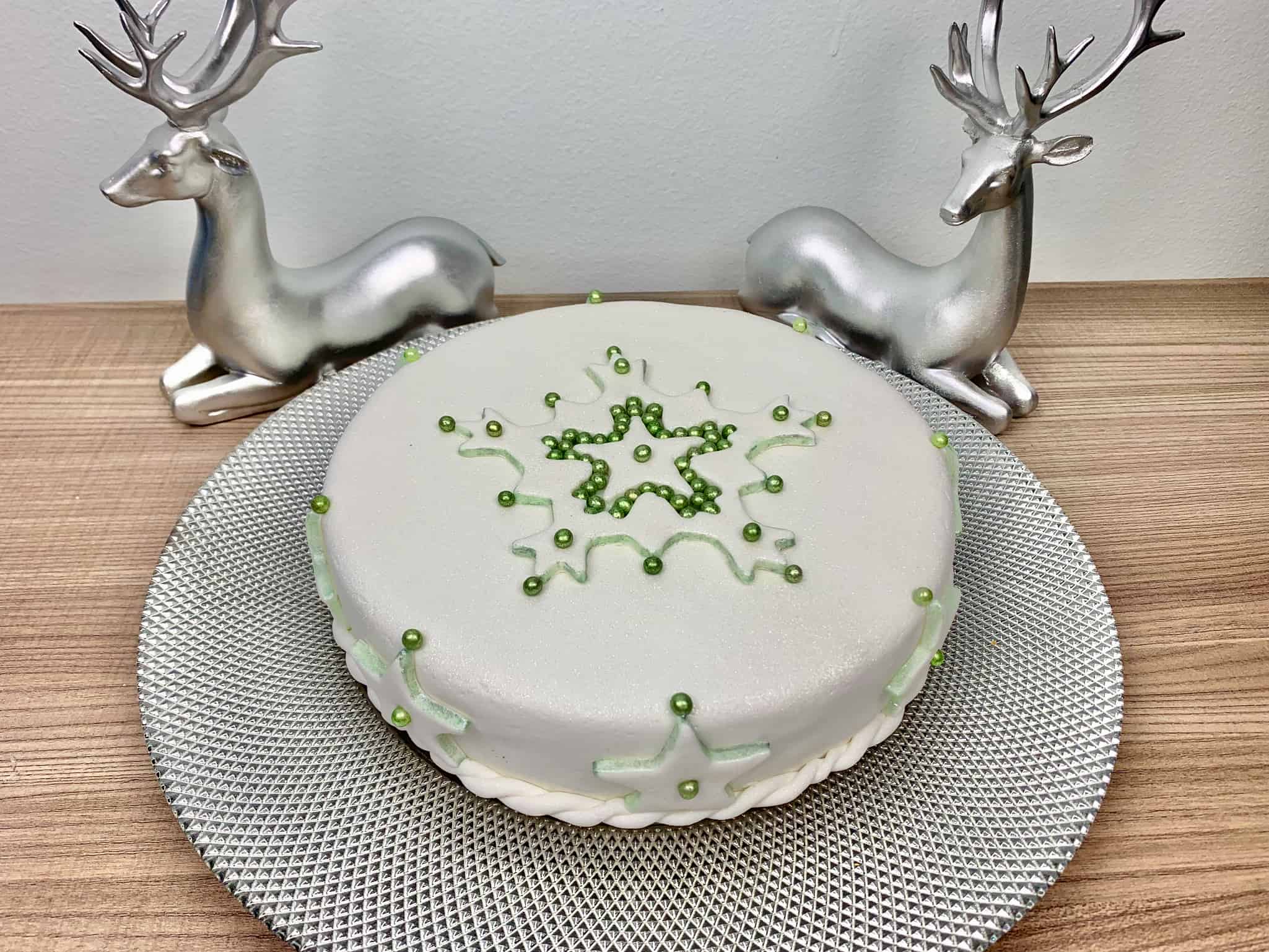 Vasilopita cake, on the other hand, is a quick and easy aromatic yet flavoursome cake that comes together quickly.
A clean coin is hidden inside the Vasilopita cake.  Whoever finds the lucky coin in their piece of cake is considered blessed for the year.
Decoration
There is no set decoration for this Greek cake, Vasilopita Cake, so let your imagination run wild. You can decorate your Greek New Year's cake with the simplest of ingredients. For example, you can use nuts, candies or chocolate buttons to create shapes, letters or numbers.
Alternatively you can cover the cake with a simple yet delicious orange flavoured  icing. To make this orange flavoured icing, simply combine 300gr icing sugar with 60ml water and juice from half an orange. Add orange zest for extra orange flavour and decoration.
Decorating Vasilopita cake with powdered or icing sugar is also quite easy. Cut out any shape from a piece of paper. Cover the Vasilopita Cake with that piece of paper and cover the cake with icing sugar. Remove carefully the piece of paper revealing the desired design.
Another option would be to dust the cake with cacao powder.
You can also add your own personal touch by decorating the top of the cake with coloured sugar paste or fondant icing. This will give the cake more personality. You can find sugar paste in any supermarket in the baking isle. There are so many colours to choose from. Sugar paste is so easy to use and you can start shaping it straight out of the packet. Thus it is great way to get kids involved!
Roll out the sugar paste with a rolling pin and cut out any shapes you like with cookie cutters. Set these aside. Roll out the rest of the sugar paste or fondant icing into a circle of 38cm or 15inches making sure the sugar paste thickness is around 5mm.  Spread a layer of jam of your choice on the cake. I love apricots and thus chose an apricot jam. The jam will help the sugar paste stick to the cake plus it will give the cake an extra tasty flavour.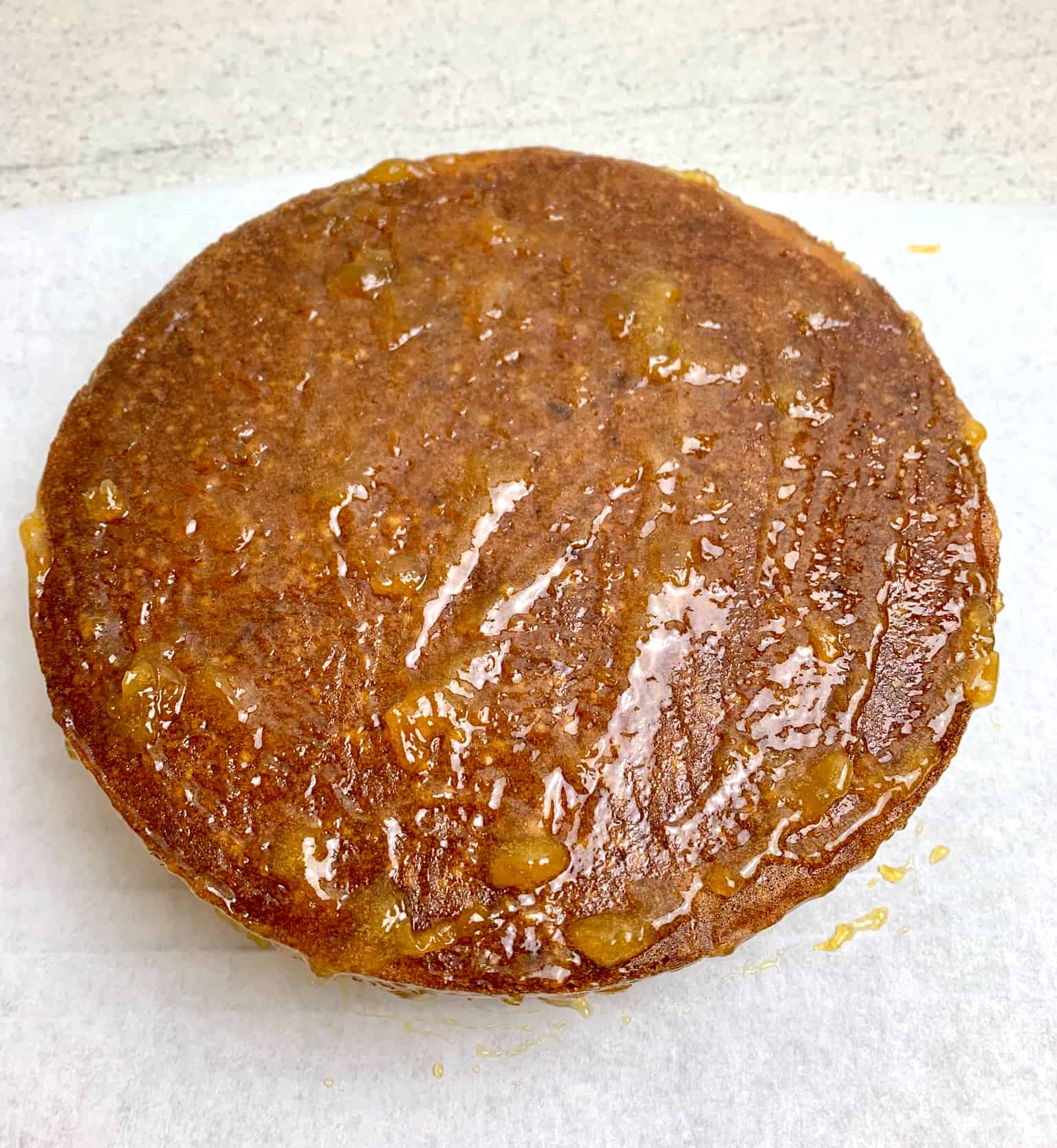 Carefully roll half of the sugar paste into the rolling pin and cover the Vasilopita cake evenly. Use a smoother to remove any air bubbles or uneven surfaces.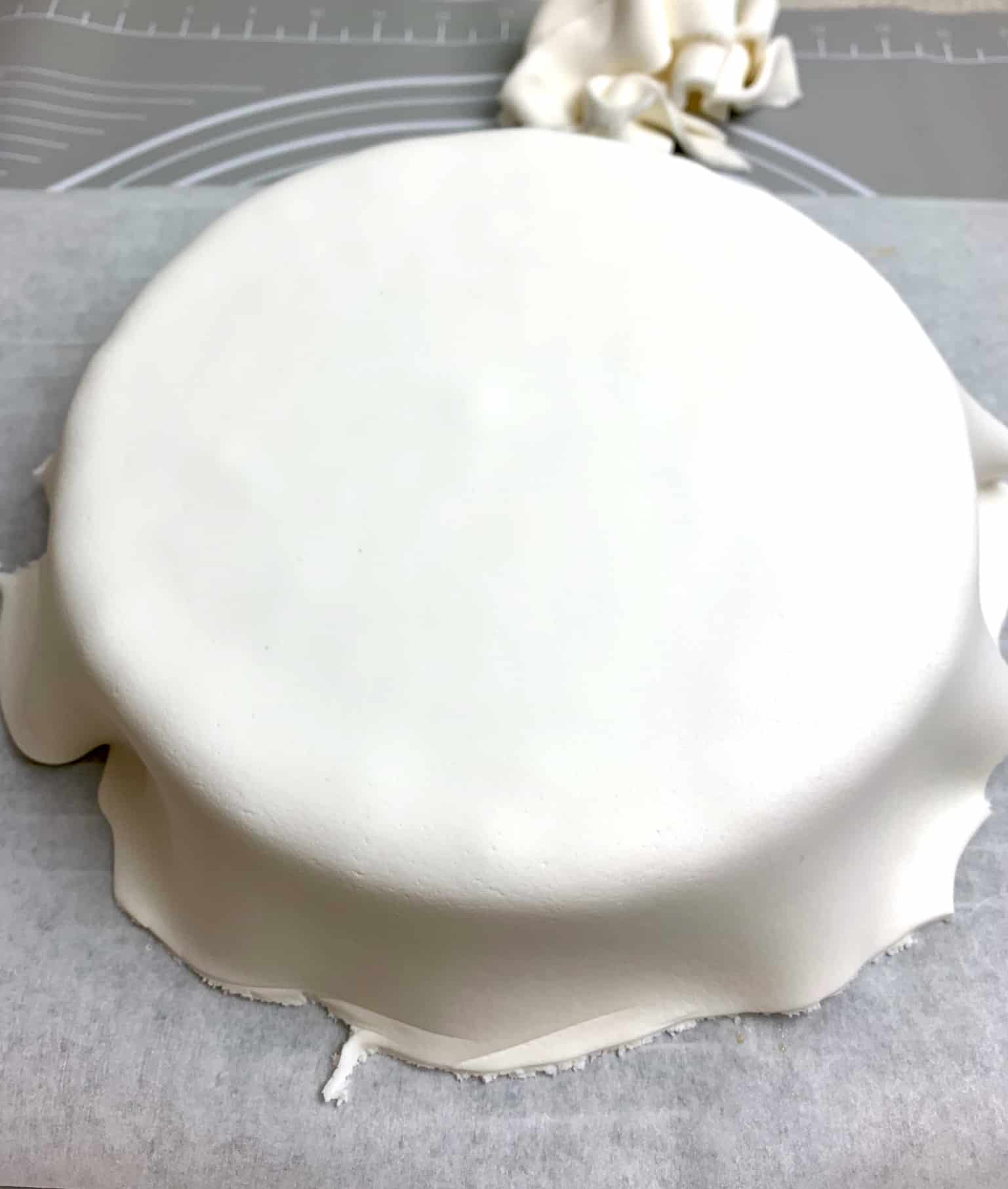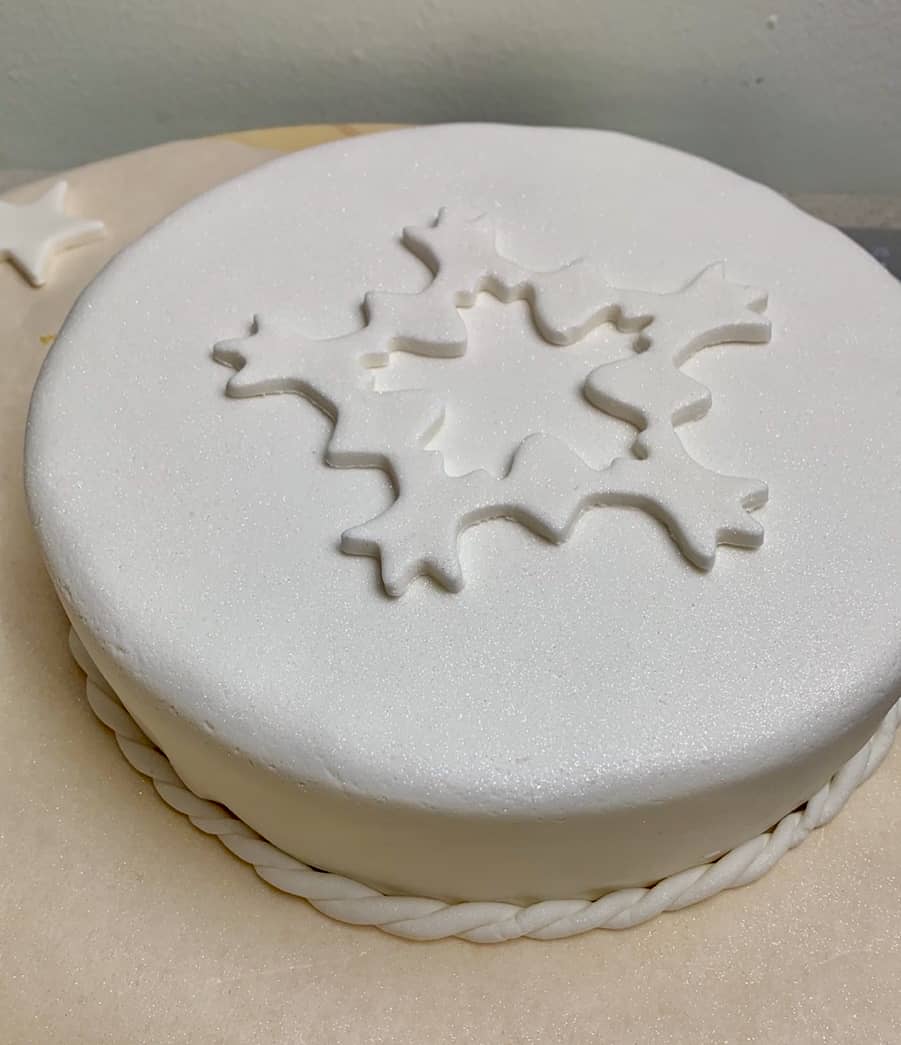 How to Cut a Vasilopita
Traditionally, the Vasilopita Cake is cut on New Year Day in celebration of Saint Basil. Families, gather around the festive table, bless the cake and cut it in a traditional religious way. The  first slice of the cake is always reserved for Christ, the second for Virgin Mary, the third for the house. From then onwards, each slice is for family members from oldest to youngest. We always include relatives that may not be present at the time of cutting the Vasilopita Cake. In addition, we cut and name slices for any other maters that are on our minds.For example, we reserve a slice for education, college or university studies, career or business.
Whoever gets the lucky coin in their slice is considered blessed for that year and they also get a present from the hosting family. Traditionally, this lucky coin is handed to the church.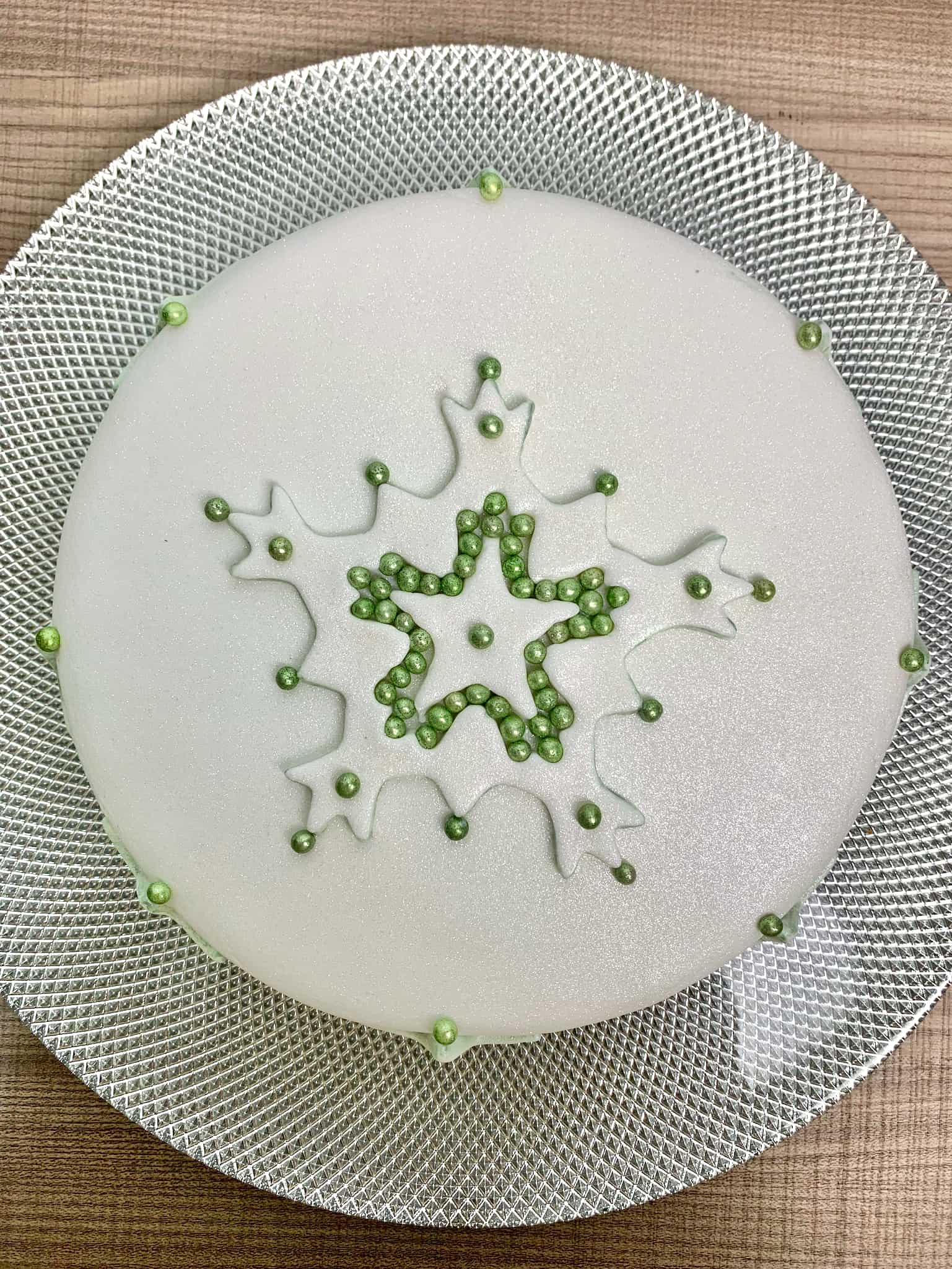 Vasilopita Cake ideas
Why not pour the cake mixture into cupcake or muffin tins and make Vasilopita cupcakes? The idea come about when I had to organise a large party and wanted to try something different that year. So, I prepared a batch of the Vasilopita cake and poured the cake mixture into cupcake trays. Baked in 20-25 minutes and Vasilopita cupcakes are ready!
I added the coin into one of the cupcakes and offered them to family and friends. The children were over the moon as I had decorated each cupcake differently! Please make sure children are supervised when eating Vasilopita cupcakes in case they come across the lucky coin. Nothing worse that a broken tooth!
Storing Vasilopita Cake
The Vasilopita cake can be stored in an airtight container for a few days. You can also freeze the cake minus the decorations. Simply defrost and decorate when needed!
Large Gatherings
Is your New Year's gathering large and you need a big Vasilopita? Simply double the dosages and bake for an extra 10-15 minutes.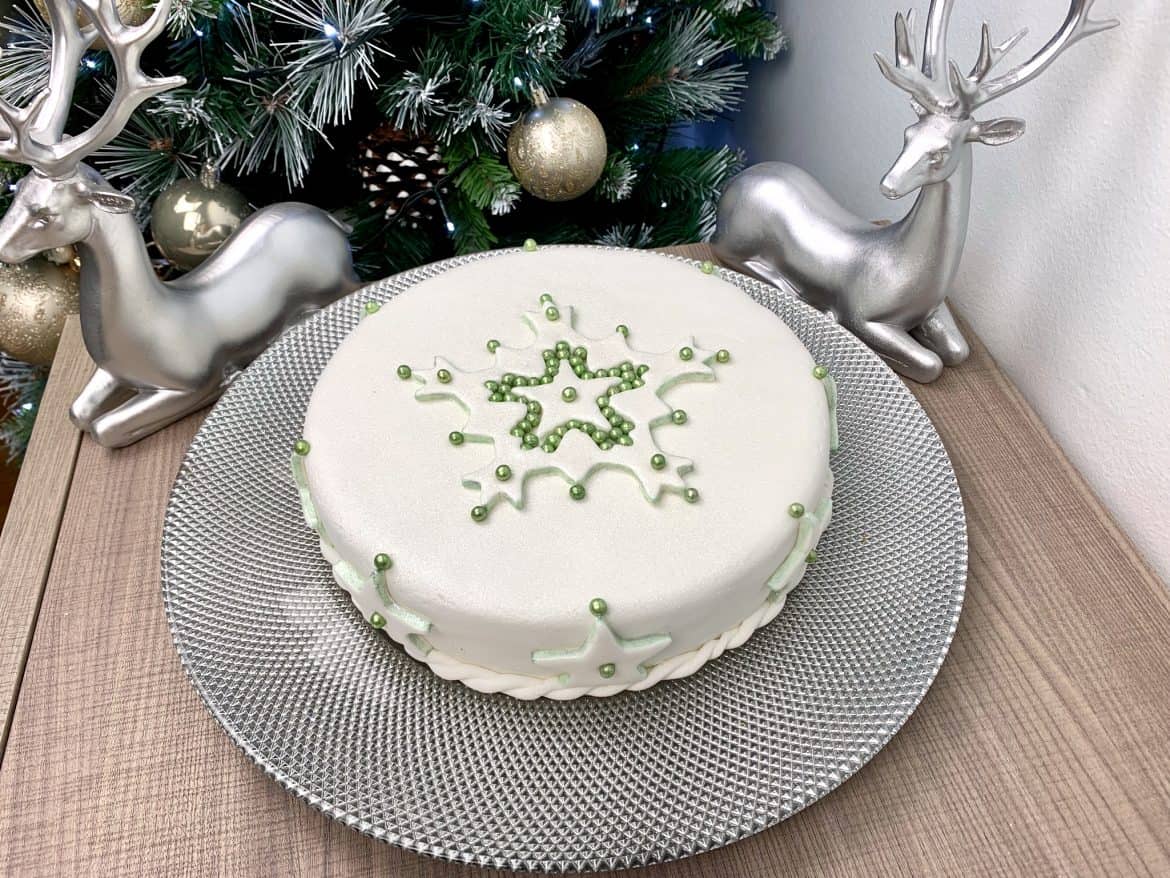 Vasilopita Cake
Ingredients
Vasilopita Cake Mix
180gr self raising flour (all purpose flour)
230gr granulated sugar
3-4 eggs (180gr eggs)
100ml  milk
60gr melted unsalted butter
1 orange zest
2-3 vanilla extract drops
Decoration:
Powdered (icing) sugar
Cacao powder
Water icing
Sugar paste
This recipe is for a  23cm or 9inches  baking tin.
Instructions
Vasilopita Cake Mix
To prepare this homemade traditional Vasilopita Cake recipe start by gathering and measuring the ingredients. This Vasilopita cake comes together very quickly so preheat the oven at this stage. Preheat the oven to 175C or 347F.
In a stand or hand electric mixer bowl add eggs, sugar and vanilla extract drops. Whisk the egg-sugar mixture until it becomes like mousse. This will take approximately 6-8 minutes.
Continue by adding the milk slowly and whisk until the milk is incorporated into the mixture.
Carry on by adding flour and with a spatula or wooden spoon fold the flour into the egg-sugar-milk mixture.  Finally, add melted unsalted butter, orange zest and stir.
Pour the mixture in a parchment lined cake tin and bake for 50 minutes at 175C or 347F. You can place the lucky aluminium wrapped coin in the cake mix and bake or add it after baking the cake.
Let the Vasilopita cake Coll down in a cooling wire rack. Use a clean coin (washed) and wrap it in aluminum foil. Make a nick into the cake and insert the lucky coin if you have not done so.
Turn the Vasilopita Cake upside down so that you have a flat surface and can start decorating. Cover the surface and the sides of the cake with a jam of your choice so that sugar paste will stick to the cake.
Decoration
 In this Vasilopita Cake I used sugar paste for decoration. Pick out a colour you like and start creating. On a clean surface roll the sugar paste into a circle of 5mm thickness. Use cookie cutters to cut out any shapes you like.
Transfer the rest of the sugar paste onto the cake and cover it evenly. Place the sugar paste designs on top as you wish.