A Greek New Year's celebration cannot be without a Vasilopita Tsoureki (Greek New Year's brioche type bread)! Vasilopita Tsoureki or Politiki Vasilopita is a sweet brioche like bread with a lucky coin inside made especially for New Year's celebrations.
Tsoureki is traditionally made as an Easter celebration sweet bread though we, Northern Greeks, influenced by 'Politiki' cuisine, make a cake like version for New Year's celebrations.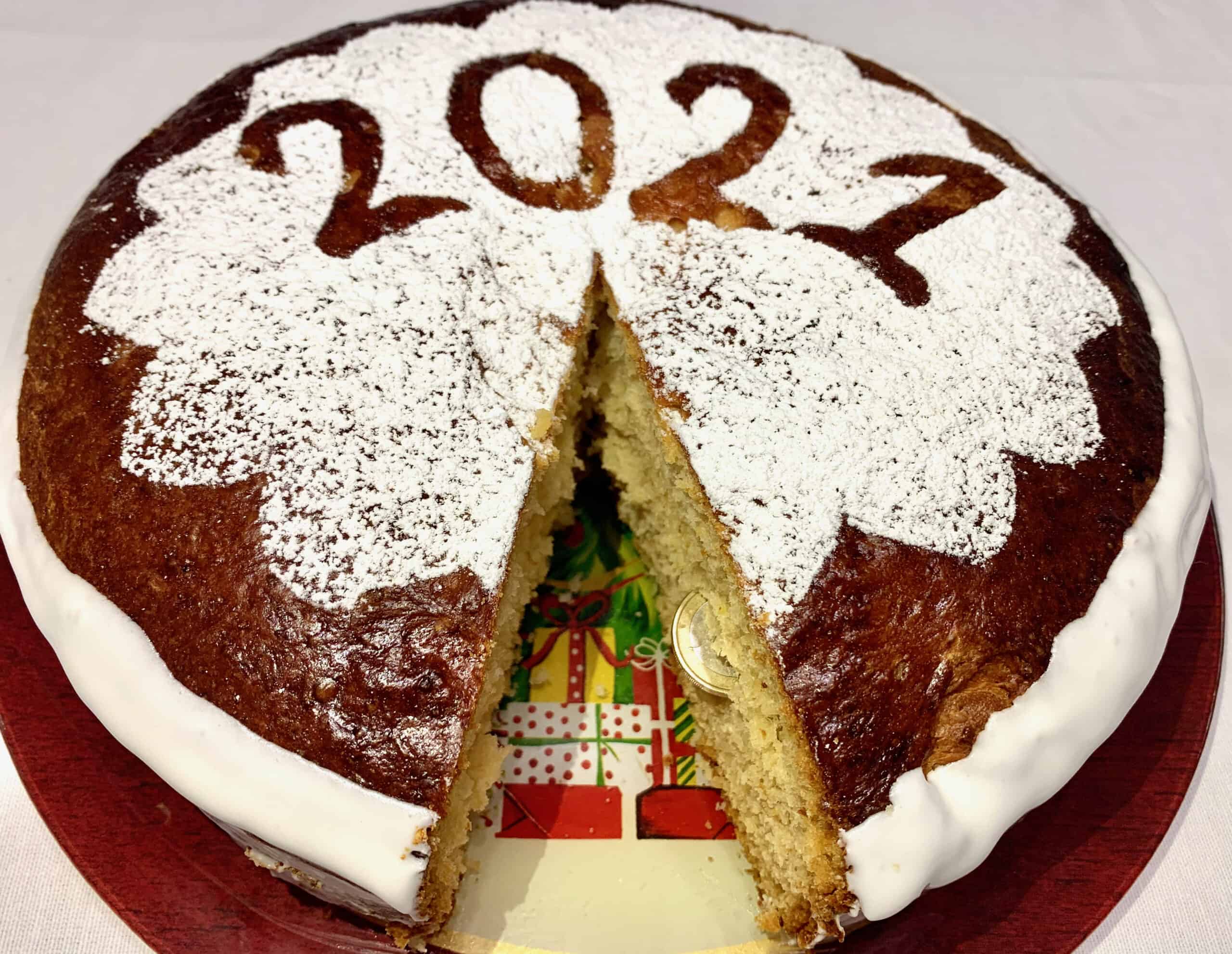 History behind Vasilopita
The Greek custom of the Vasilopita and that of the lucky coin originates from Caesarea in Cappadocia. At 330BC St Basil was born in Caesarea. He was a noble and generous man who eventually became a monk.
The story goes that a tyrant had threatened the Caesarea unless its citizens handed all their valuables. Forced with such aggression, they gathered all their valuable possessions and presented it to their spiritual leader, St Basil. St Basil caring for his city replied to the tyrant that his citizen had nothing of value to surrender which of course infuriated the tyrant. In a last attempt to save Caesarea, St Basil presented a chest full of valuables that the citizens had gathered to the tyrant. When the tyrant army opened the chest, a miracle took place; suddenly an army of Angels emerged which defeated the tyrant's army.
Having defeated the tyrant and kept the valuables, St Basil had to find a way to return the valuables to the citizens. After much deliberation, St Basil decided to give out a 'special' type bread to the citizens of Caesarea! This 'special ' type of bread included a hidden coin inside. This was Vasilopita.
St Basil's memory is celebrated on 1st January of annually with a Vasilopita. The hidden (lucky) coins brings prosperity , health and success to anyone who finds it in their slice, ie the Lucky coin recipient.
Is Vasilopita Tsoureki (Greek New Year's brioche type bread) the same as Tsoureki?
Both Vasilopita and Vasilopita Tsoureki are special type of cakes or loafs made especially for New Year's. They are both round cakes that contain a 'lucky coin'.
The type of Vasilopita prepared by Greeks on New Year's differ by region.
Vasilopita cake
This round New Year's cake  is traditionally a moist and orange flavoured one. It is immensely popular in mainland Southern Greece.
Vasilopita Tsoureki (Politiki Vasilopita)
Vasilopita Tsoureki, is a sweet brioche like bread prepared and consumed in New Year's which contains a Lucky coin.Vasilopita Tsoureki is in fact the same as the well known brioche like sweet bread traditional Easter Tsoureki with the only difference it is made into a round cake. Vasilopita Tsoureki is always round and never braided!
This recipe originates from Constantinoupoli in 'Asia Minor' and is the New Year's bread/cake of choice for Greeks in Northern Greece.
Northern Greek cuisine has many influences from 'Politiki' cuisine or else known as 'Constantinoupoli' cuisine.
Recently, more and more households throughout Southern Greece, prepare Vasilopita Tsoureki instead of Vasilopita cake.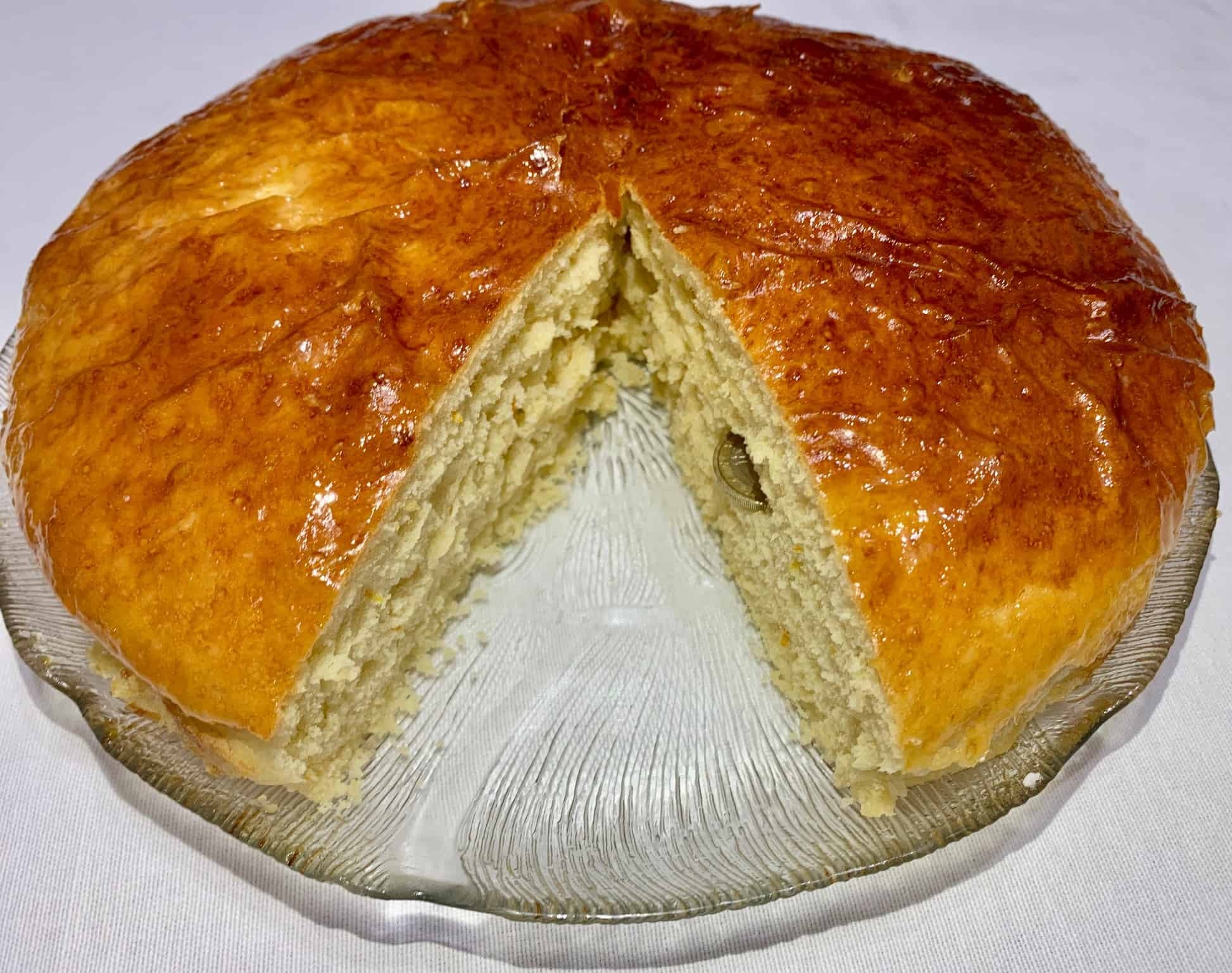 Tsoureki
The traditional Easter Tsoureki is braided as the three strands intertwined represent Holy Trinity.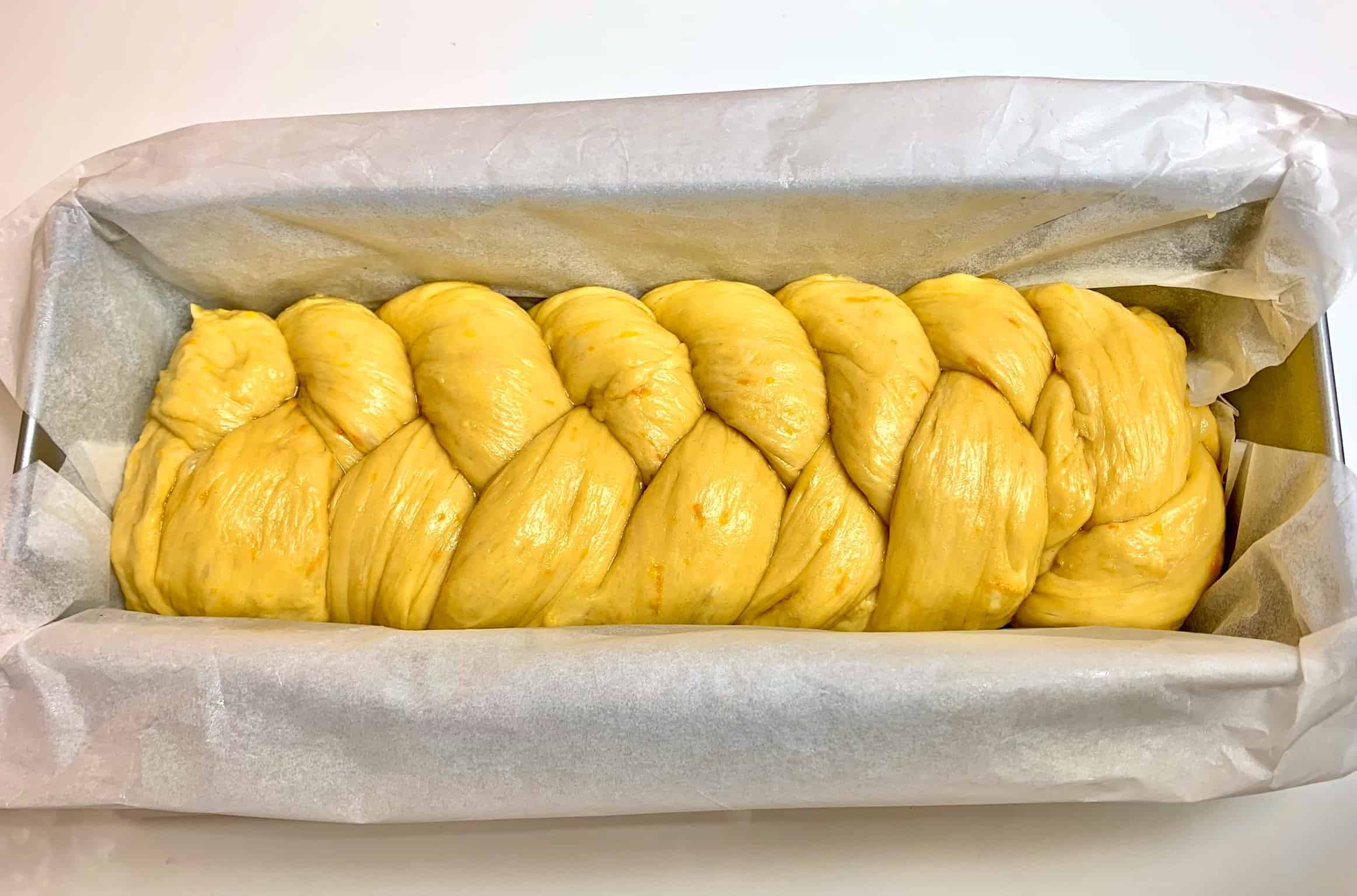 What is Vasilopita Tsoureki (Greek New Year's brioche type bread)?
Tsoureki is a spiced sweet brioche type of bread, very similar to challah bread. Both tsoureki and challah bread are brioche like breads made up of egg-yeast-oil dough rather than butter. They are fluffy types of bread with lots of fibres (stringy) when pulled apart which gives them their distinctive appearance.
Vasilipota tsoureki  is infused with orange zest (peel), mahleb and vanilla.
Mahleb is a unique spice that is solely used in tsoureki recipes. It smells and tastes like almonds, ie marzipan.
Decorating Vasilopita Tsoureki (Greek New Year's brioche type bread)
You can decorate your Vasilopita Tsoureki as you wish. The easiest way would be to duct it with icing or powdered sugar. You can though cover it with a delicious and colourful icing with or without dried fruits and nuts. You can also smother it  in melted chocolate.
How can you keep Vasilopita Tsoureki fresh?
You can keep this Vasilopita Tsoureki fresh by storing it in an airtight container for a few days, that is of course if there would be any left by then!
Storing
A simpler and easy solution to have fresh tsoureki is to make batches of it and store it in the freezer. Freeze a 'naked', ie without icing sugar decoration, Vasilopita Tsoureki and defrost when you wish to enjoy it! Prepare your icing when needed and apply.
Other Tsoureki recipes
Tsoureki is very popular all year round in Northern Greece.
To prepare the traditional Easter homemade tsoureki, then check out my homemade tsoureki recipe.
Over the years, tsoureki recipes have evolved with the addition of other mouthwatering ingredients such as chocolate. Indulge in a chocolate tsoureki with a wonderful marbled effect upon slicing. Find my recipe under Greek marble tsoureki.
Fancy a syrupy tsoureki? Yes, you heart right! chocolate tsoureki buns soaked in syrup! Absolutely delicious! Try my recipe for  cocoa tsoureki with syrup and you won't be disappointed.
For a different type of tsoureki, a mouthwatering savoury one, packed with all then greek goodness, then try this spinach and Feta tsoureki.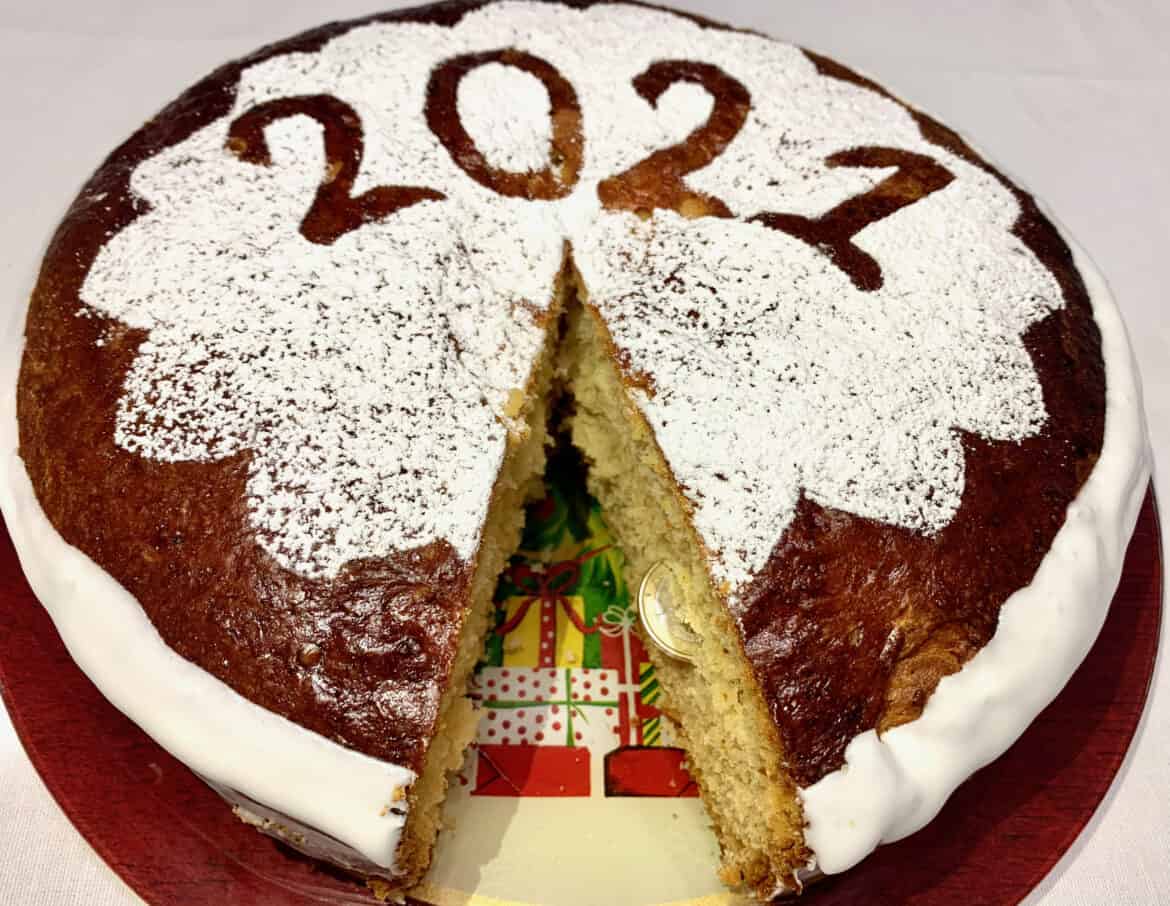 Vasilopita Tsoureki (Greek New Year's brioche type bread)
Ingredients
For yeast mixture:
60gr fresh yeast or 16g dry yeast
1 tbsp sugar
75mls lukewarm water (app 35C or 95F)
75gr strong bread flour
For Vasilopita Tsoureki dough:
750gr strong bread flour
200gr granulated sugar
180ml lukewarm milk
10ml sunflower oil
2 eggs
75ml orange juice (freshly squashed)
10gr mahlep
1 vanilla pod or 3-4 drops of vanilla extract
1 orange peel
For Vasilopita Tsoureki egg wash
1 egg ( egg yolk)
1 tsp water
Kitchen equipment you will need: a precision kitchen scale, 1 large bowl, 1 medium sized bowl, parchment paper, kitchen/aluminum foil, cling film and a 28cm cake tin.
And of course last but not least , the show stopper; The Lucky coin!
Make sure you wash and wrap the lucky coin with aluminium foil.
Instructions
I start every recipe by assembling all the ingredients for my Vasilopita on the kitchen counter. I find that in this way I do not waste time assembling the ingredients.
Take the medium bowl and add the yeast, 1 tablespoon of sugar, 75mls lukewarm water and 75gr strong bread flour. Mix the ingredients for a couple of minutes.
Wrap the bowl with cling film and cover it with a kitchen towel. Leave the dough to prove for approximately 20 minutes near a radiator. During this time the mixture will more than double in size.
Meanwhile, in another large bowl add the sugar with the eggs and whisk them for a couple of minutes. Add the lukewarm milk, orange juice, orange peel, sunflower oil and vanilla. Whisk the ingredients for a couple of minutes. At this point, start adding the flour, mahleb and the yeast (proved dough/yeast). Leave the whisk aside and start mixing the ingredients by hand. Kneed the dough for approximately 7 minutes. You can use an electric mixer if you wish.
Add 1 tablespoon of sunflower oil in the Vasilopita Tsoureki recipe dough and cover the bowl sides with oil. Wrap the entire bowl with cling film and cover it with a kitchen towel. Let it prove for approximately 30-35 minutes.
When the dough doubles in size, knead again for a couple of minutes and shape the dough into a round shape to fit into your cake tin. Do not forget your Lucky coin at this stage! Use a clean coin, wrap it in aluminum foil, and place it in the dough. I add the lucky coin from the base of the Tsoureki.
Cut enough parchment paper or cookie sheet to cover the bottom of the cake tin and a separately piece for the sidewall of the cake tin. If you do not cover the cake tin with parchment paper the Vasilopita Tsoureki will stick into the cake and you will not be able to remove it from the cake tin.
Wrap the Vasilopita Tsoureki cake tin with the dough with cling oil and let it prove for another 20 minutes.
Preheat the oven to 170C/ 340F.
When the dough has increased in size, brush the surface of the Vasilopita Tsoureki dough with a pastry brush with the beaten egg. Place Vasilopita Tsoureki  in the cake tin.
Bake Vasilopita Tsoureki for approximately 40-45 minutes. You can check whether your vasilopita tsoureki is ready with a toothpick .Simply prick the cake with the toothpick. If the toothpick still has dough residue upon retrieval, then bake for another 10 minutes.
Allow Vasilopita to cool and decorate as you wish. Dust it with icing sugar or cover it with toasted almonds for garnish.
When the decorations have set, slice Vasilopita Tsoureki with a sharp knife in slices and treat family and guests.
Enjoy your Vasilopita Tsoureki. Happy New year!