This Greek Traditional Homemade Tsoureki Recipe is easy to follow and will give you 2 large soft, fluffy and stringy braids or many smaller mini Tsoureki braids.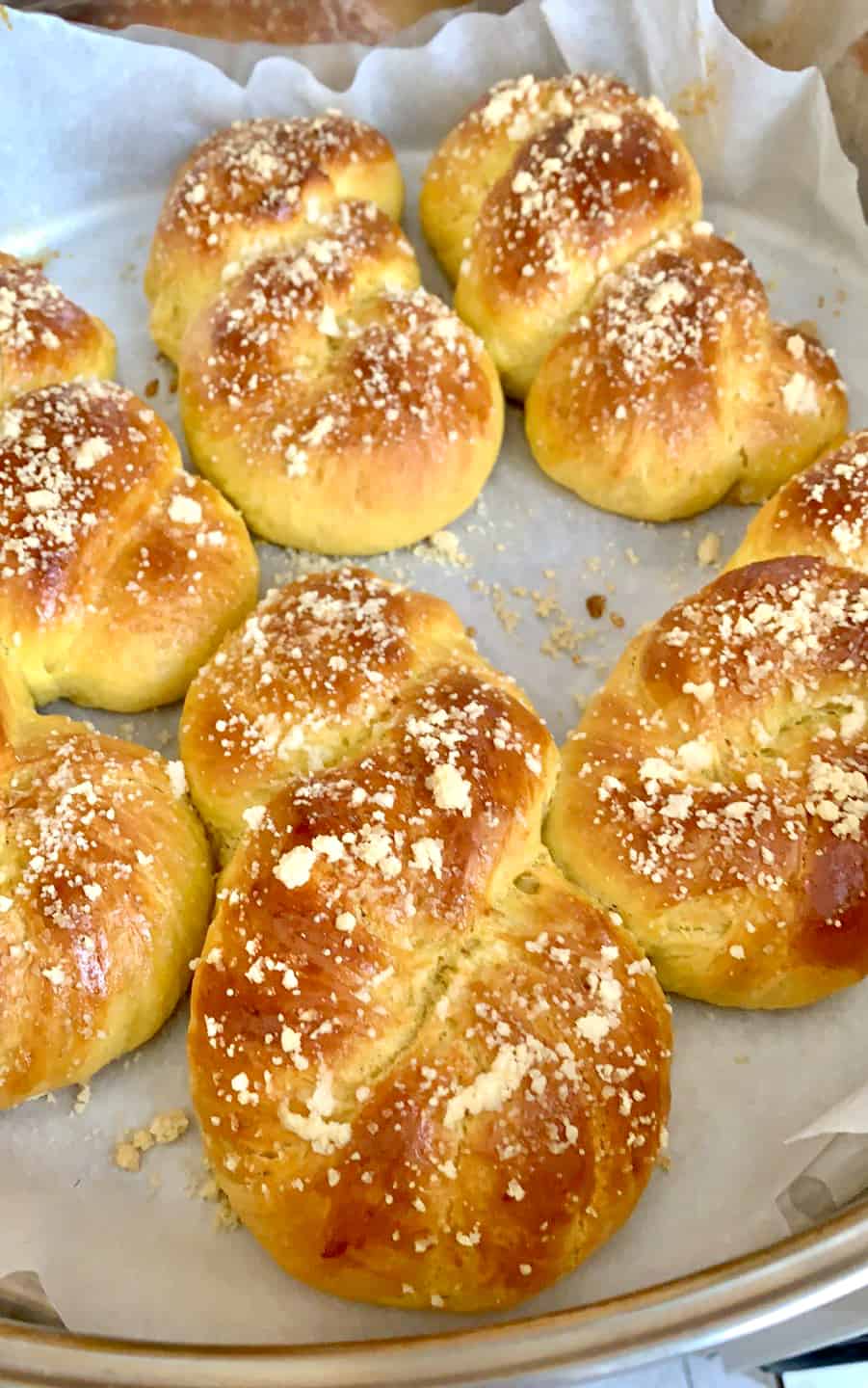 What are the spices used in this Greek Traditional Homemade Tsoureki Recipe?
The spices used for this recipe are Mahleb (also known as Mahlepi or Mahlab) powder and cardamon powder. Mahleb has a bitter cherry taste and smells absolutely amazing. It is the basic ingredient in this authentic homemade Tsoureki recipe. Cardamon is also a sweet spice that absolutely compliments Mahleb.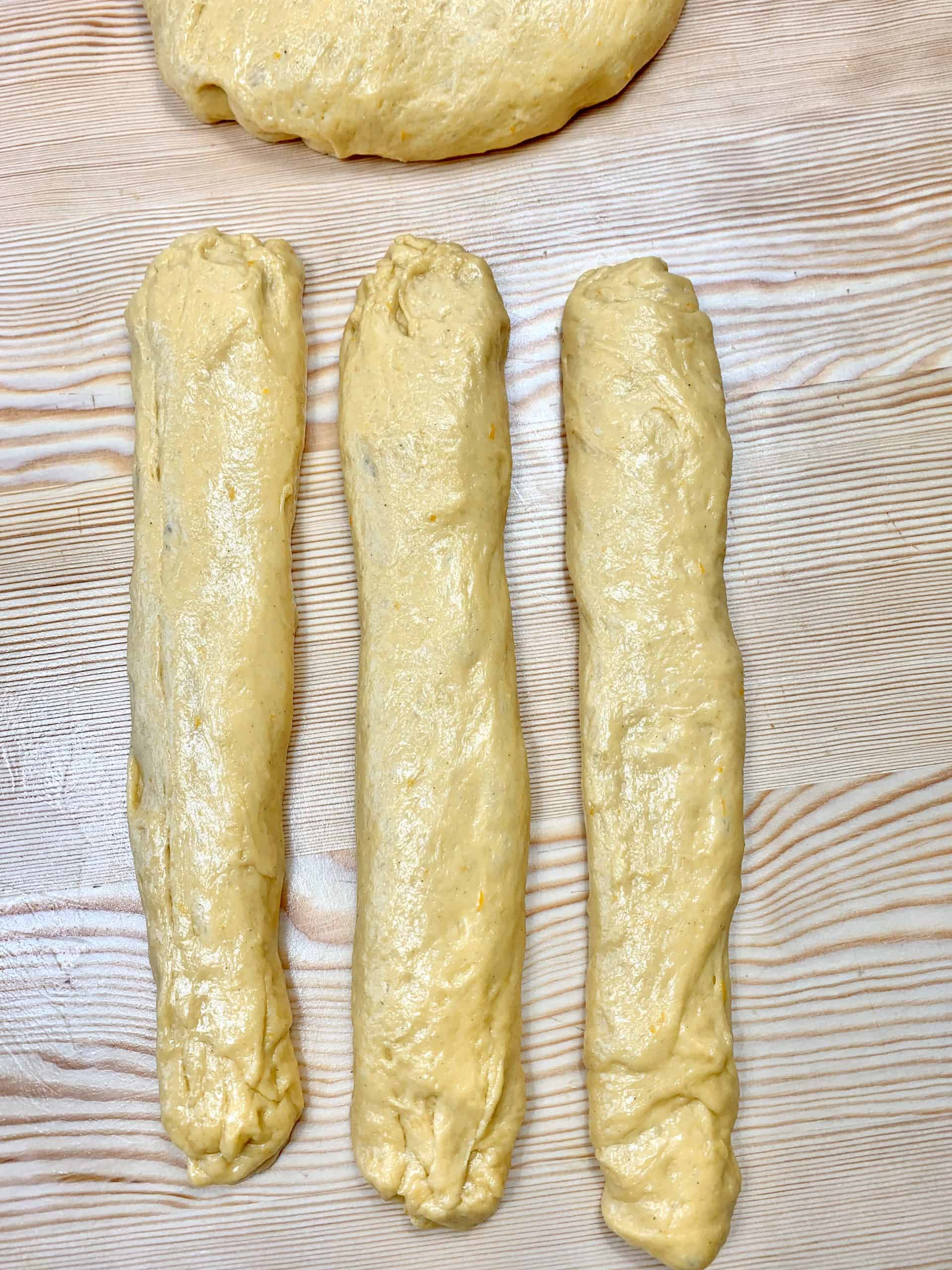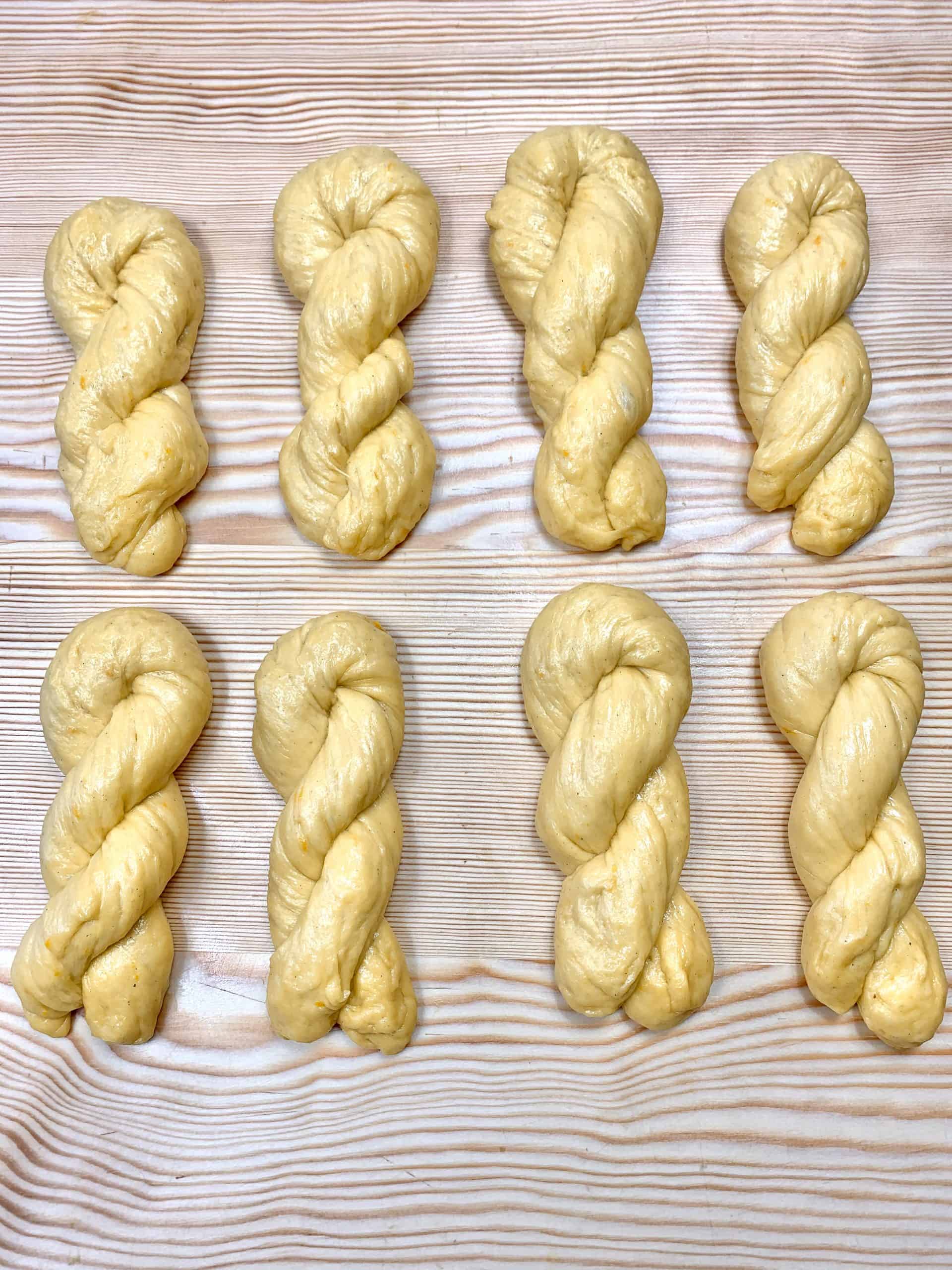 How to prove your Tsoureki dough to perfection with an Instant Pot Pressure Cooker
Instant Pot Pressure Cooker Greek Easter Bread (Tsoureki) Proofing
My daughter gifted me an Instant Pot for my birthday, and I must say I am in love with it. I got the Instant Pot-Duo-7-1 Smart cooker.
At first, I was a bit dubious with regards to its use, as I am so used to the traditional way fo cooking and baking, but I thought I will give it a try.
After looking through its numerous functions I came across, a proofing function. That was a light bulb moment!!What is if I can proof Tsoureki (Greek Easter bread) in Instant Pot?
What can go wrong? After all, the temperature is controlled and already set to 33C or 92F. The only thing remaining is to choose proofing duration.
And so my story begins…..
I prepare the Tsoureki dough as per recipe and place the aromatic dough into the Instant Pot Pressure cooker.
I have the 5.7L Instant pot pressure cooker which can accommodate the entire recipe portion. If you have a smaller version of Instant Pot inner pot, ie the 3L one, please be mindful of how much Tsoureki dough you wish to proof as it will double in size and may not potentially fit into it.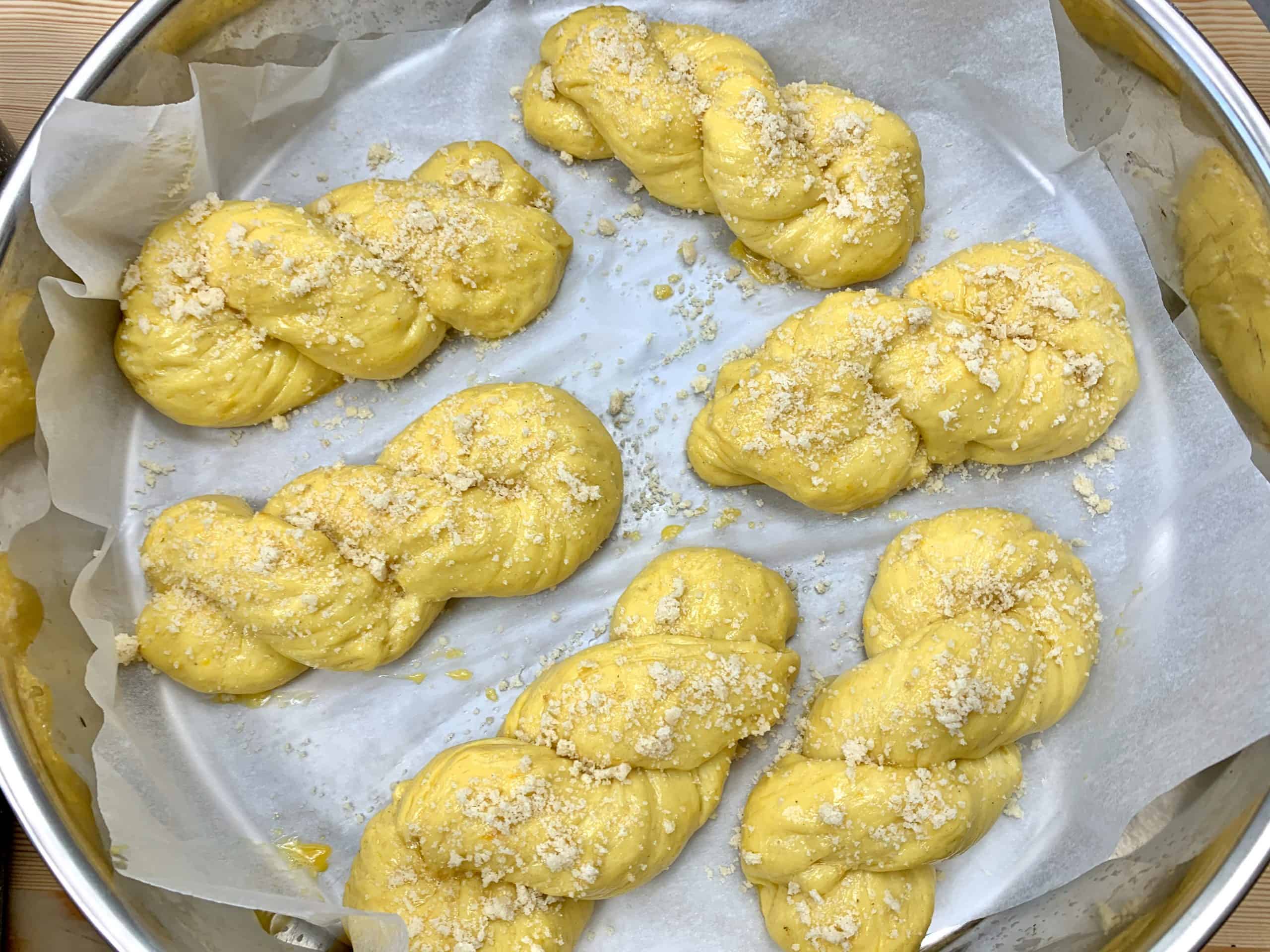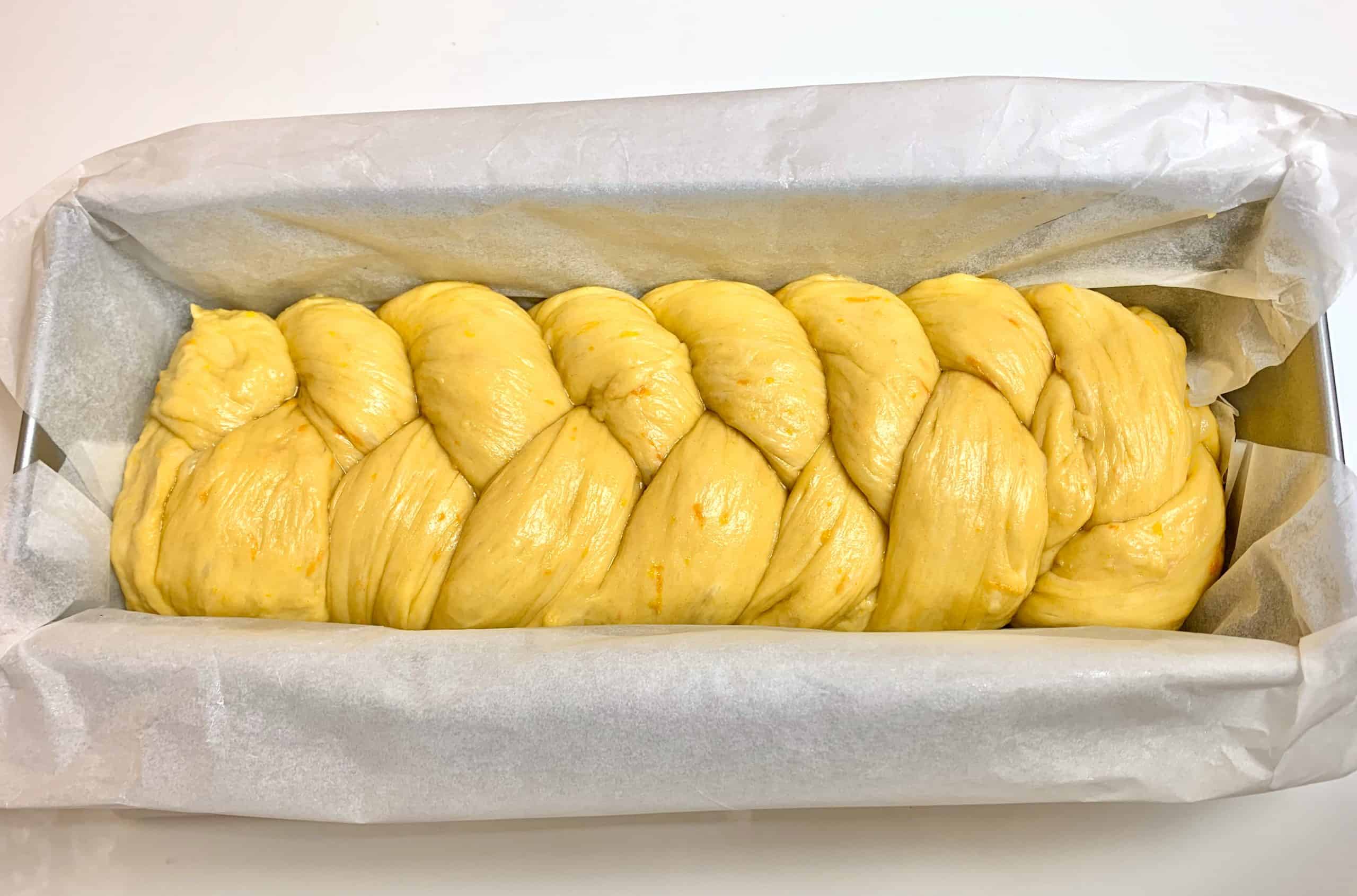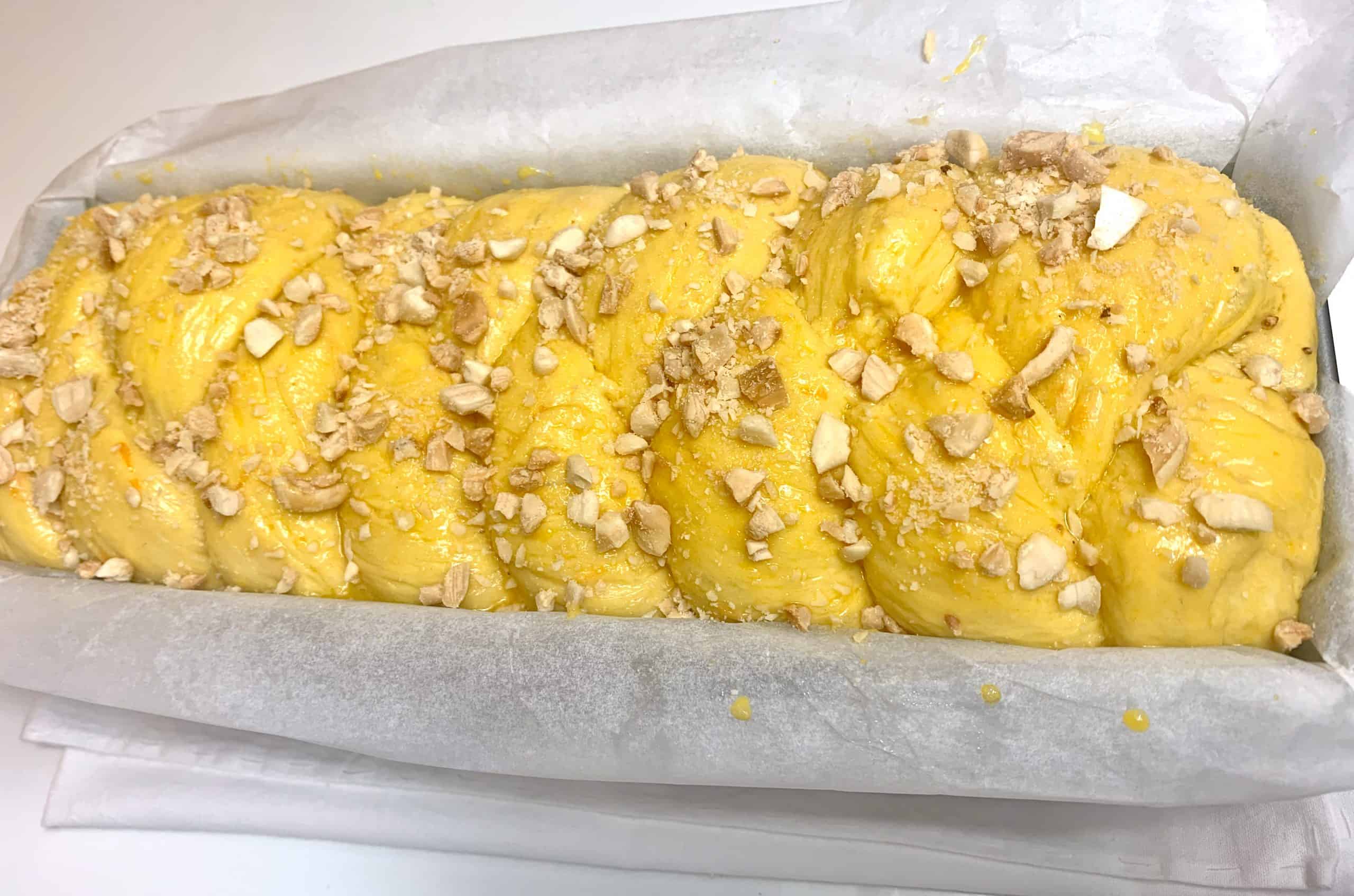 What to be mindful when proofing Tsoureki dough in Instant Pot Pressure Cooker
As its name implies a pressure cooker works by creating pressure and cooks food quick. Nevertheless, for its proofing function, the pressure cooker does not require to build up pressure.
Thus, never, ever cover the Instant Pot with its lid, but rather cover with cling film and place a large plate on top. If you secure the Instant Pot pressure cooker with its lid and place the Tsoureki dough inside, as it will rise it will stick to the pressure cooker lid and you will not be able to open it up once again.
Step by step guide to Tsoureki dough proofing in Instant Pot Pressure Cooker
First things first, plug the Instant Pot pressure cooker and select the 'BAKE' function.
Once you have selected this function, a few further selections will appear on the screen of the Instant Pot pressure cooker. One of them will be 'PROOF', select this by pressing the main knob/button.
Once you have selected 'PROOF' function, continue by setting up the temperature and duration of proofing. Proofing temperature is automatically set to 33C or 92F, which is ideal for Tsoureki dough proofing. Continue by setting up the proofing duration. I let my Tsoureki dough proof for 30 minutes.
Finish off by my pressing the 'START' button and let the Instant Pot pressure cooker work its magic!
Bread machine Tsoureki dough proofing
Another easy way to proof your Tsoureki dough is the bread machine. Every bread machine has a proofing function. Why not utilise this in the cold winter days?
Can I freeze Tsoureki?
The simple answer is Yes! Yes you can freeze this sweet brioche type bread from this Greek Traditional Homemade Recipe. I prefer to slice it prior to freezing as it defrosts a lot quicker. Slice the Tsoureki, cover with cling film and freeze. When those munchies kick in, simply remove from the freezer, let it thaw in the kitchen counter or pop it in the microwave for a few seconds!
Love Tsoureki
? Why not have a go at my other delicious Tsoureki recipes?
In love with chocolate?
Like Tsoureki stuffed?
Healthier Carob Tsoureki
Combine traditional Greek Spanakotiropita flavours with Tsoureki and create a savoury Tsoureki loaf.
New Year's Tsoureki (Politiki recipe)
Queen of Pudding with a twist
Tsoureki leftover ideas
Easter Recipes you will love:
No introduction needed. Easter show-stopper!
Perfect side dish to finger-licking lamb.
Start Sarakosti, Lent, countdown by reviving this old tradition. Fun activity with little helpers.
Sweet spiced little buns made to commemorate St Lazarus resurrection.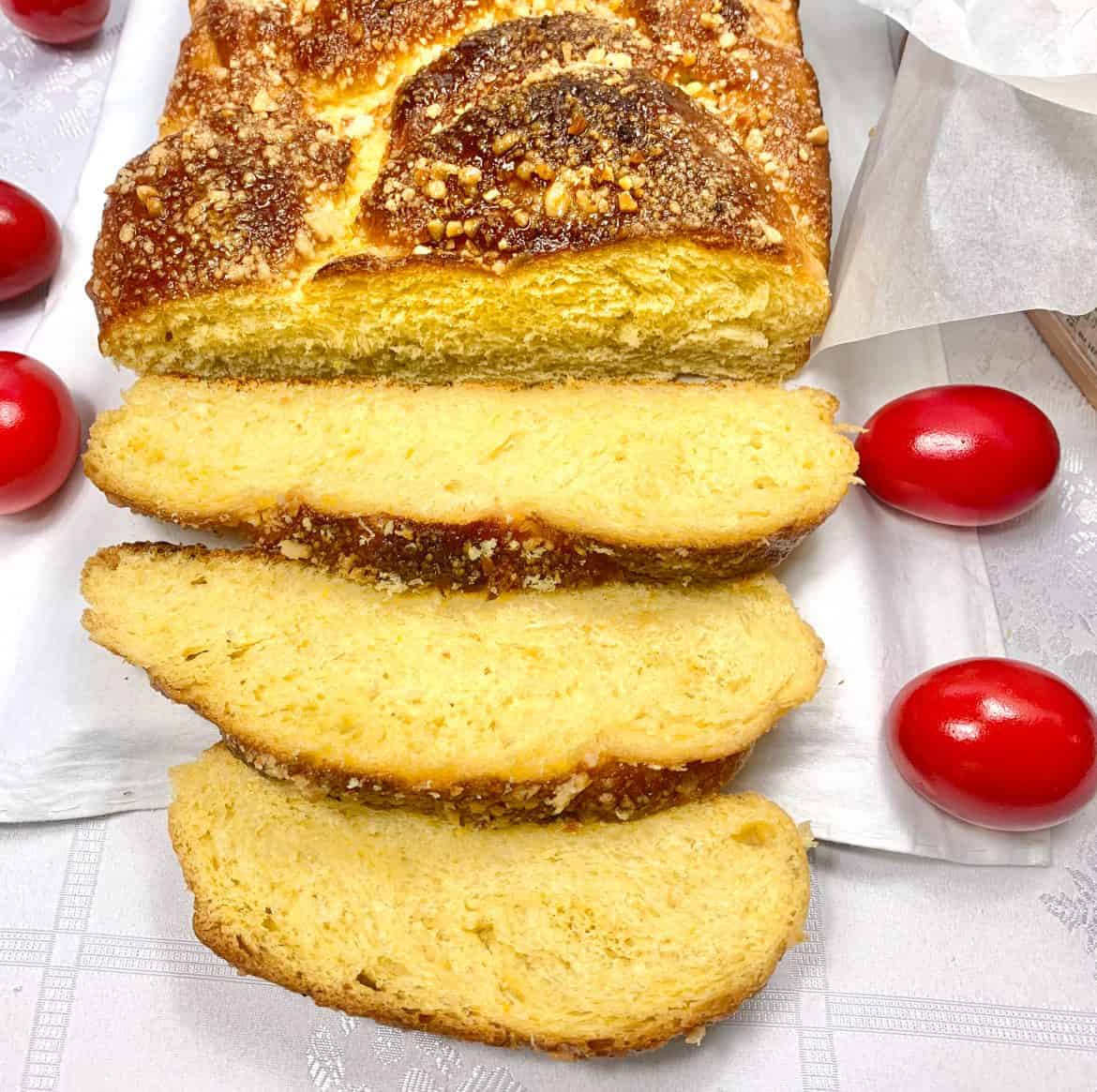 Greek Traditional Homemade Tsoureki Recipe
Ingredients
Ingredients
1200gr strong four or bread flour (12-13% protein content)
75gr fresh yeast or 23gr dry yeast
225gr water
6 eggs
370gr sugar
160gr milk
140gr sunflower oil
100gr butter (82% fat content)
10gr mahleb (mahalepi) powder
3gr cardamon powder
1 tablespoon salt
3-4 vanilla drops
1 orange zest
2-3 tablespoons oil (for work surface)
Egg wash:
Decoration:
Almond slivers (optional)
For this recipe you will need:
1 large, 1 small bowl, 1 small saucepan, hand mixer, baking tray 30x40cm and a silicone brush.
Instructions
To prepare this Greek Traditional Homemade Tsoureki recipe start by gathering the ingredients and the kitchen equipment. Weigh up the ingredients and set them aside. Sift the flour and add the salt.
To activate the yeast dissolve, it in lukewarm water (30C) and add 1 tablespoon sugar and 1 cup of flour in a bowl. Do not add extra sugar or flour, but rather use up from the sugar and flour you have for this recipe. Set the yeast aside for 15 minutes.
In a separate saucepan warm up milk to 30C. Once lukewarm, remove the saucepan from the hob. Turn off the hob. Add eggs, sunflower oil, mahlab powder, cardamon powder, orange zest, vanilla drops and the remaining sugar. Whisk for a few minutes to combine the ingredients. Place the saucepan back on the hob just long enough to warm up the mixture. You need to be careful with this step and place the saucepan with the ingredients just long enough to warm the mixture up and not more Placing the eggy-floury mixture for a longer time will result in an omelette consistency.
Continue by adding the activated yeast mixture and whisk with a hand mixer. Transfer your mixture to a larger bowl, add salt and slowly add flour in small batches. Knead for approximately 5 minutes until a soft dough is formed.
Melt the butter and add it in the dough mixture. Knead for a further 5 minutes, until the melted butter is incorporated into the Tsoureki dough.
Cover the bowl with cling film and let the Tsoureki dough proof for 30-35 minutes. I find proofing in the oven extremely easy and convenient. Preheat the oven to 50C or 122F (for10 minutes) and turn the oven as soon it reaches this temperature. In the bottom of the oven, place a baking dish within and pour boiling hot water into it. Be careful not to burn your hands at this point. Place the Tsoureki dough in an oven safe bowl in the middle shelf of the oven and let it proof until it doubles in size. If you decide to proof the Tsoureki dough in a different warm place, let it proof for 45-55 minutes.
Once the dough for this Traditional Homemade Tsoureki recipe has proved, preheat the oven to 160C or 320F. Place the proved dough on a floured work surface. Oil your hands so the Tsoureki dough does not stick to your hands.
Start kneading the dough lightly (punch the air) and just enough so that it becomes less airy, ie for approximately 2-3 minutes. If you are using a stand mixer, knead the dough with a bread hook attachment. Divide the dough into 6 equal portions and roll a strand of 50cm or 20 inches from each portion. Braid the dough strands and place them on a parchment lined baking tin.
Place the braided Tsoureki dough proof for a second time for 25-30 minutes in a warm place.
In the meantime, whisk one egg with 1 tablespoon of water (ie prepare the egg wash). Once the braided Tsoureki dough has doubled in size, brush the Tsoureki with the egg wash and decorate with almonds.
Bake this delicious, sweet bread, Tsoureki for 45 minutes at 160C or 320F.
Reduce baking time to 35 minutes if you make multiple small Tsoureki rolls or braids.