Try something different this Easter and make this homemade healthier, guilt free Tsoureki with Carob flour.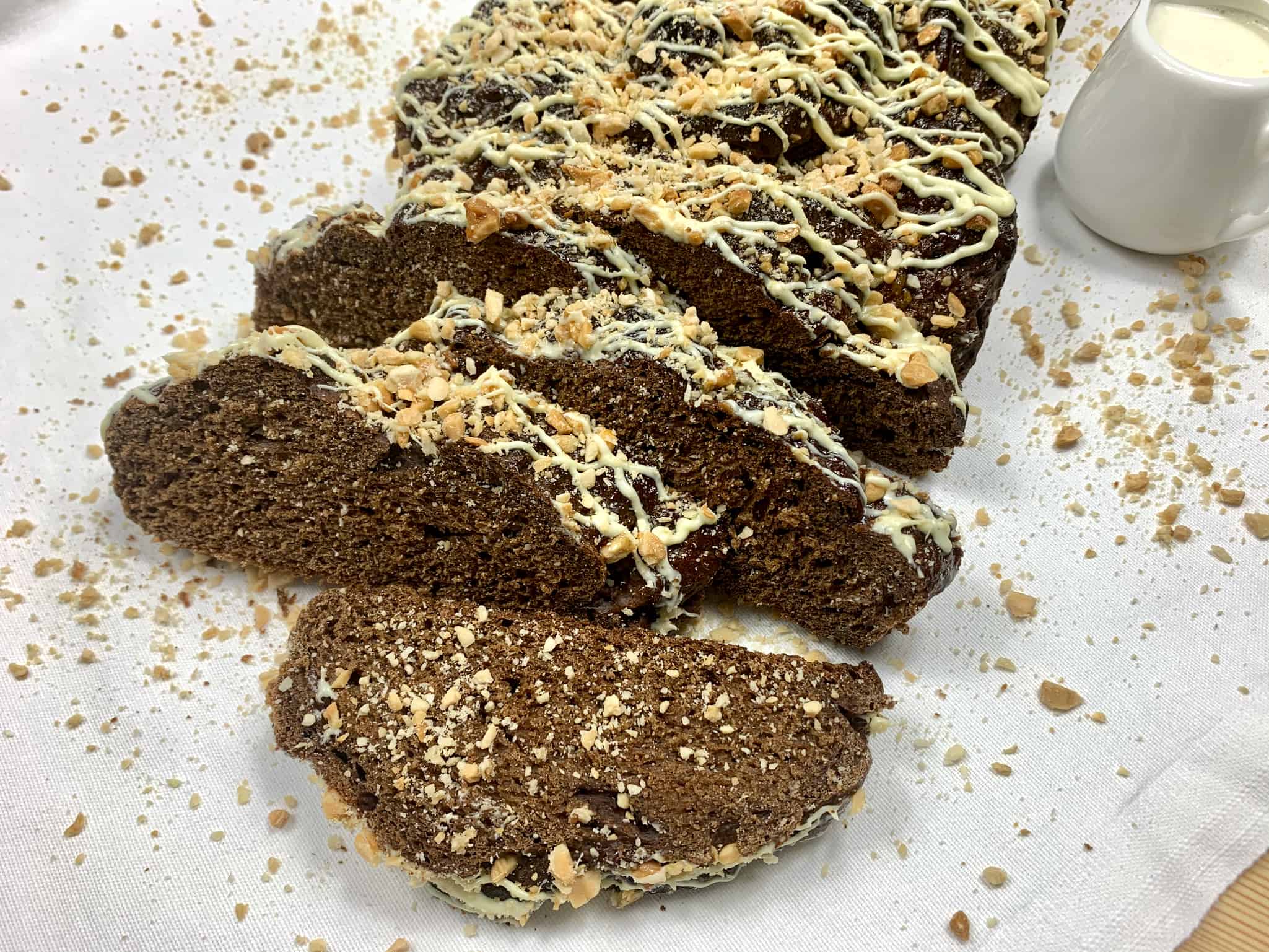 There are endless Tsoureki recipes in Greece for you to choose from. Tsoureki is a sweet brioche type bread that is popular in Greece all year round. It is extremely popular in Easter but can be enjoyed at any time. There are numerous Tsoureki recipes in Greece, adding that extra flavour to a traditional classic.
In this post I take you through my homemade Tsoureki with Carob flour. Follow my recipe step by step and make this flavoursome Tsoureki to perfection. You can buy Carob flour from any supermarket or health food store.
This recipe gives 2 Tsoureki loaves. Carob has a natural brown colour and so Tsoureki will turn in this browny chocolatey colour! It may not appeal to everyone's aesthetics but it tastes lovely!!!!!
What is Carob?
Carob is a flowering tree native to Middle East and Mediterranean. The dried pod is grinded to powder, the well known Carob powder/flour. Carob is most commonly used as a substitute for chocolate as its flavour closely resembles that of cocoa. It is extremely low no fat, high in fiber and is gluten free. Carob flour is thus used a lot in gluten free baking.
What does Carob taste like?
Carob has a nutty flavour and closely resembles that of chocolate. Carob is thus a healthier alternate to chocolate.
What is the difference between Carob and Cocoa?
Carob has a chocolate like taste and is commonly substituted for cocoa. It is low in stimulants so it does not give those caffeine effects.
How can I use Carob flour in this Tsoureki recipe?
I always sift flour prior to any baking. Measure 1050gr of strong flour. Remember that Tsoureki recipe calls for strong flour with a protein content of 13%. Flour with a lesser protein content will not yield the chewy authentic traditional Tsoureki. Measure 250gr of Carob flour and set it aside. Take a large bowl and sift both the strong and Carob flour. Mix them as if not you will end up with a lump of string flour and another one of Carob flour.
Carob flour is brown in colour so do not be alarmed by the Tsoureki's colour.
Fail-proof proofing process
A quick and easy way to proof any dough is by popping it in the oven. Switch on the oven to 30C or 86F. With an oven thermometer check the oven temperature. When it reaches the desired 30C or 86F temperature place the dough in the oven in an oven safe bowl. In addition, boil water in a kettle and pour in a baking dish. Place this baking dish in the bottom of the oven. to avoid any accidents with hot water, place the baking dish in the bottom of the oven and pour slowly boiled water. Leave the dough proof for 35-45 minutes or until it doubles in size.
Love Tsoureki?
Traditional homemade Tsoureki
If you love Tsoureki as much as I do and wish to further experiment with it, have a look at my homemade
For super indulgent chocolate Tsoureki buns dunked in syrup, then look no further than my
Wish to combine jam with Tsoureki?
Are you fasting but still wish to enjoy Tsoureki?
Ever tried savoury Tsoureki? Experiment with delicious Spanakopita flavours in Tsoureki
Delicious combination of British pudding and Tsoureki
Tsoureki leftover ideas
Tsoureki with Carob flour
Ingredients
Dough:
1150-1200g strong flour
400gr milk (full fat; 35% fat)
320gr sugar
250gr yogurt (full fat; strained yogurt)
350gr Carob flour
150gr flour (work surface)
100gr margarine
70gr fresh yeast or 24gr dry yeast
4 eggs
30gr sunflower oil
15gr mahlab spice
3-4 vanilla drops
40gr orange juice
1 orange zest
100gr almond slivers (optional)
Egg wash:
1 egg
1 tablespoon of water
White chocolate decoration:
150gr white chocolate
100gr finely chopped almond
For this recipe you will need: 1 small saucepan, 2 large bowls, 1 medium sized baking dish, hand mixer, parchment paper and aluminum foil.
Instructions
Start by gathering all your ingredients and kitchen equipment. Sift both the strong and Carob flour and place them in a bowl. Mix them until Carob flour is incorporated in the strong flour.
Gently heat 500mls of milk in a saucepan and withdraw from hob when it reaches 32C or 89.6F.Dissolve the yeast in the lukewarm milk and add 1 egg, 2 tablespoons of sugar and 3 tablespoons of flour. Remove this amount from the sugar and flour you already have. Lightly whisk them with the electric hand mixer and set aside the mixture. Wait for 15 minutes for the yeast to become bubbly, ie activated.
Meanwhile melt the butter and set it aside. Melted butter when added to dough should not exceed 30C or 86F.
In a large bowl add the sugar, yogurt, sunflower oil, orange juice, mahlab, vanilla drops, orange zest and 3 eggs. Whisk gently with the hand mixer.
In the bowl with the activated yeast gradually add the flour and knead. Knead until the dough reaches a soft, play-doh like consistency. If the dough is very sticky, add a little bit of flour.
Carry on by adding the melted butter gradually whilst kneading. Knead the dough until the butter is incorporated into the dough.
It is now time for the first proof. A quick and easy way to proof any dough in the oven is as follows: Turn the oven on at 30C or 86F and have it on for approximately 10 minutes or until the oven has reached the desired temperature of 30C or 86F. Switch off the oven and place a baking dish with boiling water in the bottom of the oven. Now place the dough in an oven safe bowl and let if proof for 35-45 minutes.
Lightly oil the work surface in preparation of dough shaping. Line the baking dish with parchment paper.
Once the dough has proved, it should have doubled in size, lay it in the work surface and divide into 6 equal portions. Shape each portion to a strand. Make sure the strands are roughly of equal width and length. This will not only help you in braiding the dough but also provide Tsoureki with a lovely, even appearance.
Place the braided Tsoureki in the baking dish and let it proof for a second time. You can repeat the same proving process in the oven. This time let Tsoureki proof for 35 minutes.
Prepare the egg wash by whisking one egg with one tablespoon on water. Once the Tsoureki has proved, brush them with the egg wash.
Preheat the oven to 160C or 320C and once the oven has reached the desired temperature pop them in.
Bake Tsoureki at 160C or for 40-45 minutes.
Should you wish to decorate your Tsoureki with Carob flour with white chocolate then melt 150gr white chocolate in Bain-Marie. Make sure the bowl never touches the simmering water. Let the melted chocolate cool for 2-3 minutes. Drizzle the Tsoureki with the melted white chocolate. I also sprinkle almonds on the Tsoureki for a delicious flavour.