This Sarakosti why not bake and revive an old Greek custom with this Kyra Sarakosti Recipe (Greek Lent Lady)?Combine tradition with a great family experience.Create this Lady Lent with your little helpers and have fun in the process!A great activity for children to get involved with!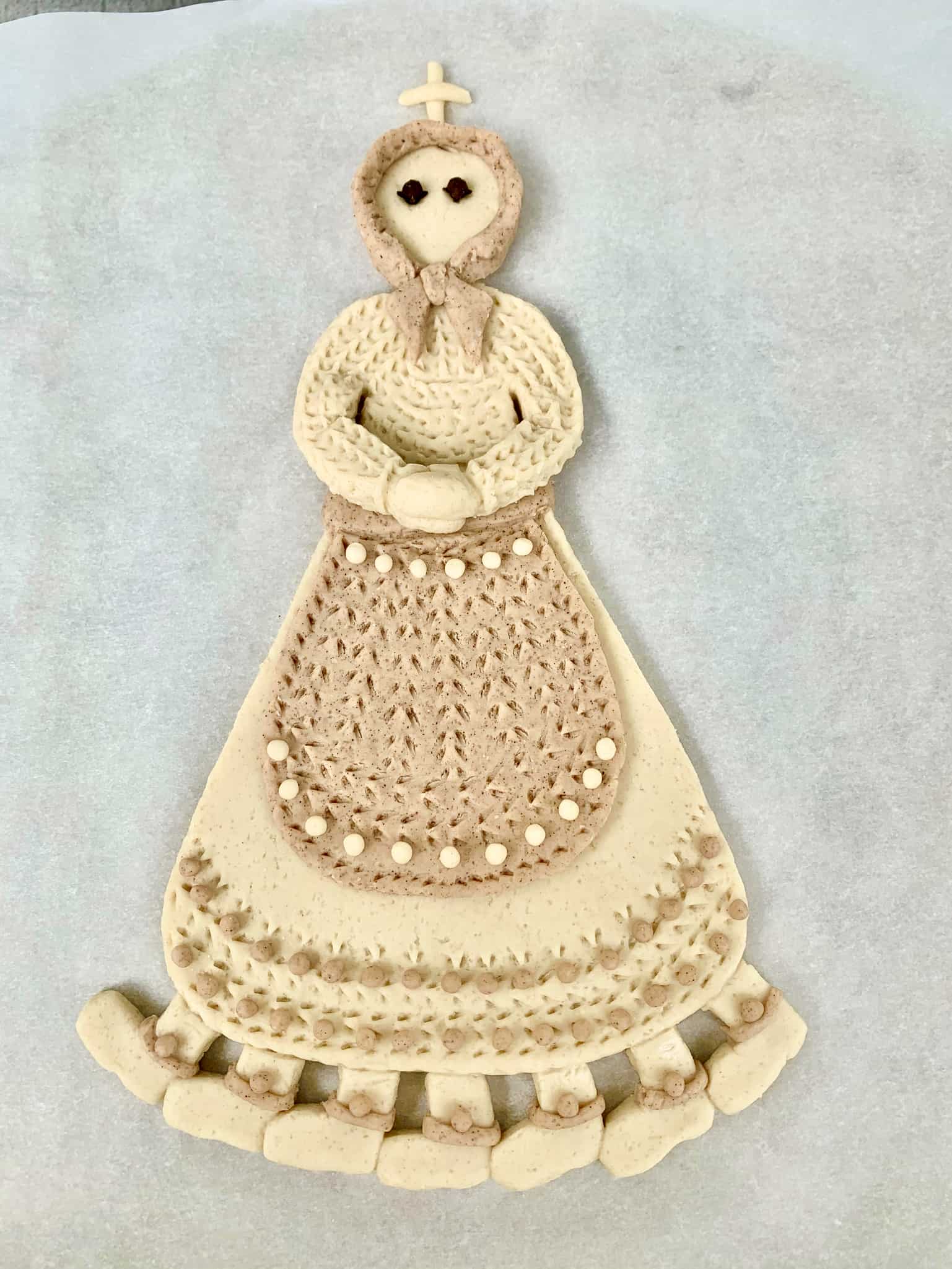 What is Kyra Sarakosti or Greek Lent Lady?
Sarakosti marks the beginning of Great Lent, 40-Day period of fasting prior to Easter or Pascha. One old custom and fun-filled family activity is that of Kyra Sarakosti or Greek Lady Lent.
Kyra Sarakosti or Greek Lent lady is still prepared at the beginning of Sarakosti and marks the 7-week period  of fasting for the Great Lent. In a way , Greek Lent Lay serves as a calendar and countdown to Easter or Pascha.
It is traditionally made of bread, though in some areas of Greece it can also be made out of fabric with seven attached feathers. The most well known bread Lady Sarakosti is either depicted as a lady dressed in folklore or as a nun.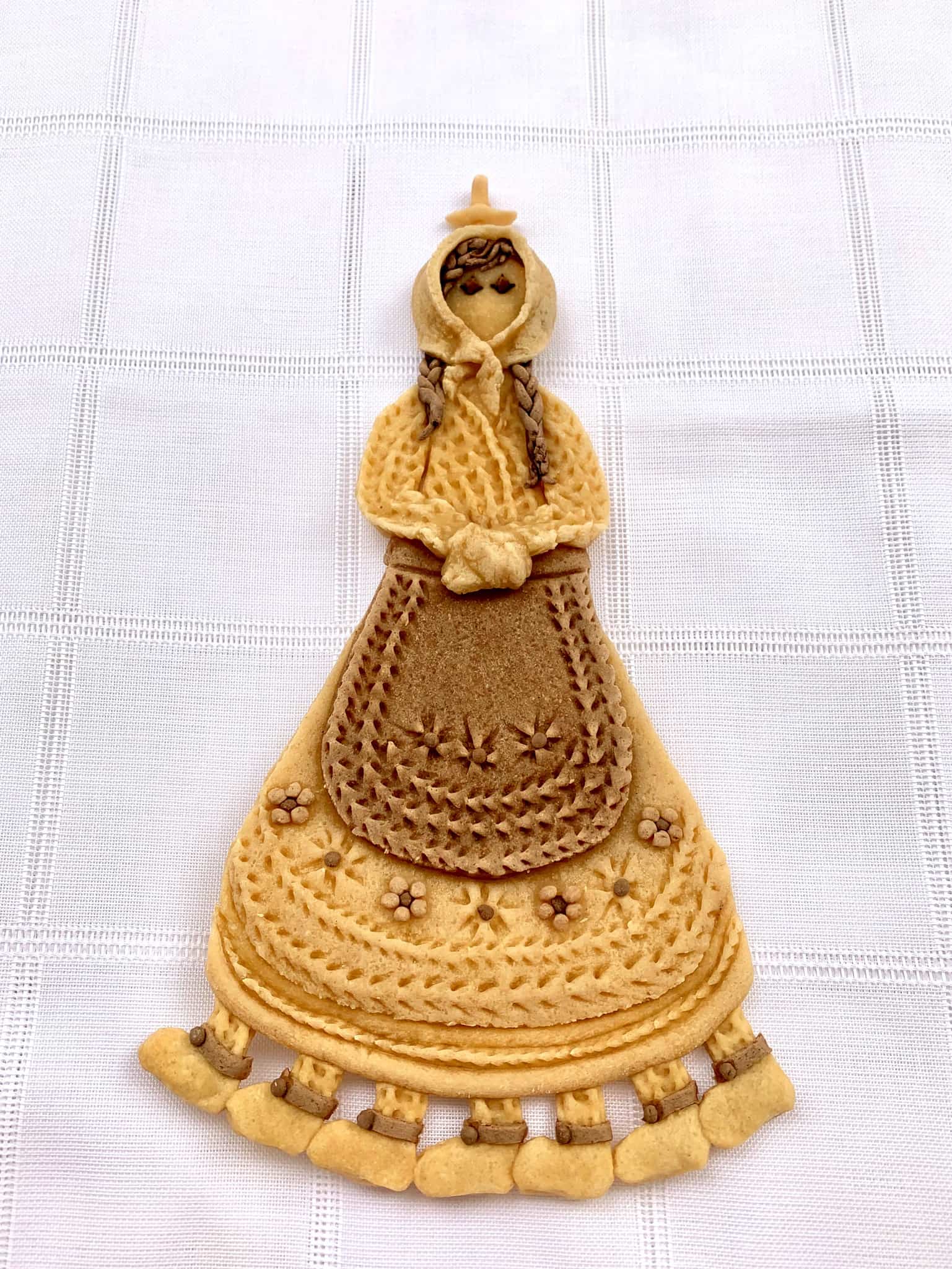 The bread version of Greek Lady of Lent is depicted as a lady with a cross on her head depicting her Christian faith. She has no mouth as she is fasting. She may have ears, but these are covered by a scarf, as she refuses to listen to gossip.Some depict her with no ears whatsoever.  Either way this represent her unwillingness to listen to any gossip. Finally, she has seven legs or feet, each one representing the seven weeks of Great Orthodox Lent.
Each week one of the legs or feet is broken off with the last one left for Easter or Pascha. The ancient custom has it that the last leg or foot is hidden into either an Easter bread or in a bowl of fruits usually figs. The bread or fruit are then offered to guests  and whoever finds Kyra Sarakosti's last leg is the lucky one.
Try my Lady Sarakosti recipe and join in the fun.
How can I make Kyra Sarakosti?
Ingredients
My Kyra Sarakosti recipe (Greek Lent Lady) is very easy to follow and requires bread, water and salt alone. Simple ingredients. Do not be alarmed by the amount of salt, it acts as a preservative. You can also add sweet spices like cinnamon and clove to decorate her. One thing to remember though, is that Kyra Sarakosti is fasting and is thus dressed in simple clothing.
Start by combing flour with salt and mix. Continue adding small quantities of lukewarm water to form a dough. Knead the dough and then let it rest for 1-2 hours until the salt gets absorbed.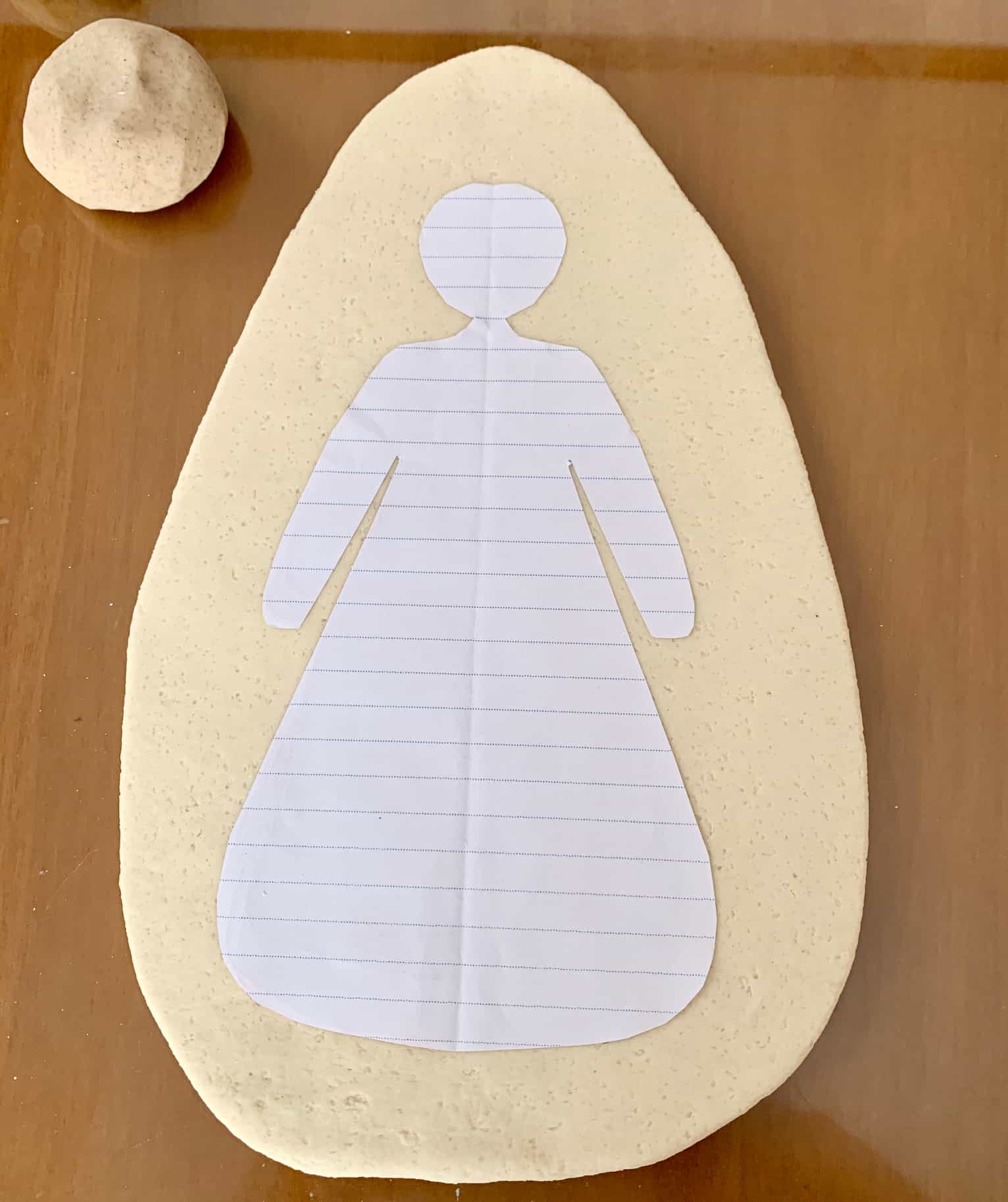 After the dough has rested, roll it out on the kitchen counter to an approximate thickness of 1cm with a rolling pin. There are many ways to cut out the figure lady. You can draw a lady figure in a sheet and follow the outline with a knife or you can be brave enough and shape it directly.  You can be as imaginative as you want with her clothing and make them in different colours. I use cinnamon, not only for its colour but also its fantastic aroma. You can also add ground cloves which will also  smell fantastic. Take the remaining portion of the dough, mix it with spices and start creating.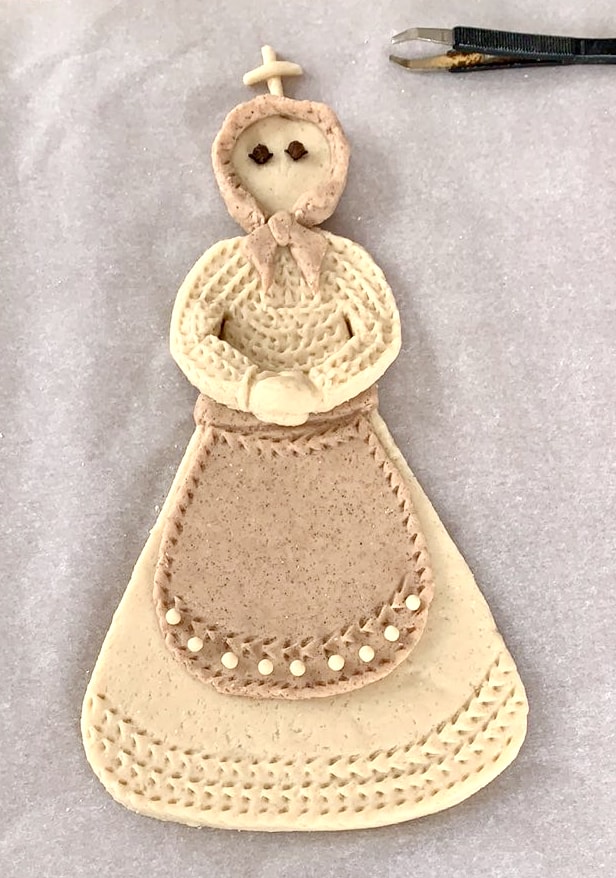 Kyra Sarakosti poem
To Kyra Sarakosti
which is an old custom
our grandmother used to make
with bread and flour
For a jewell she wears
a cross on her head
but her mouth was forgotten
as she was fasting long
And the days were counted
with her seven legs
broken off each a week
until Easter arrives
( translated from Greek)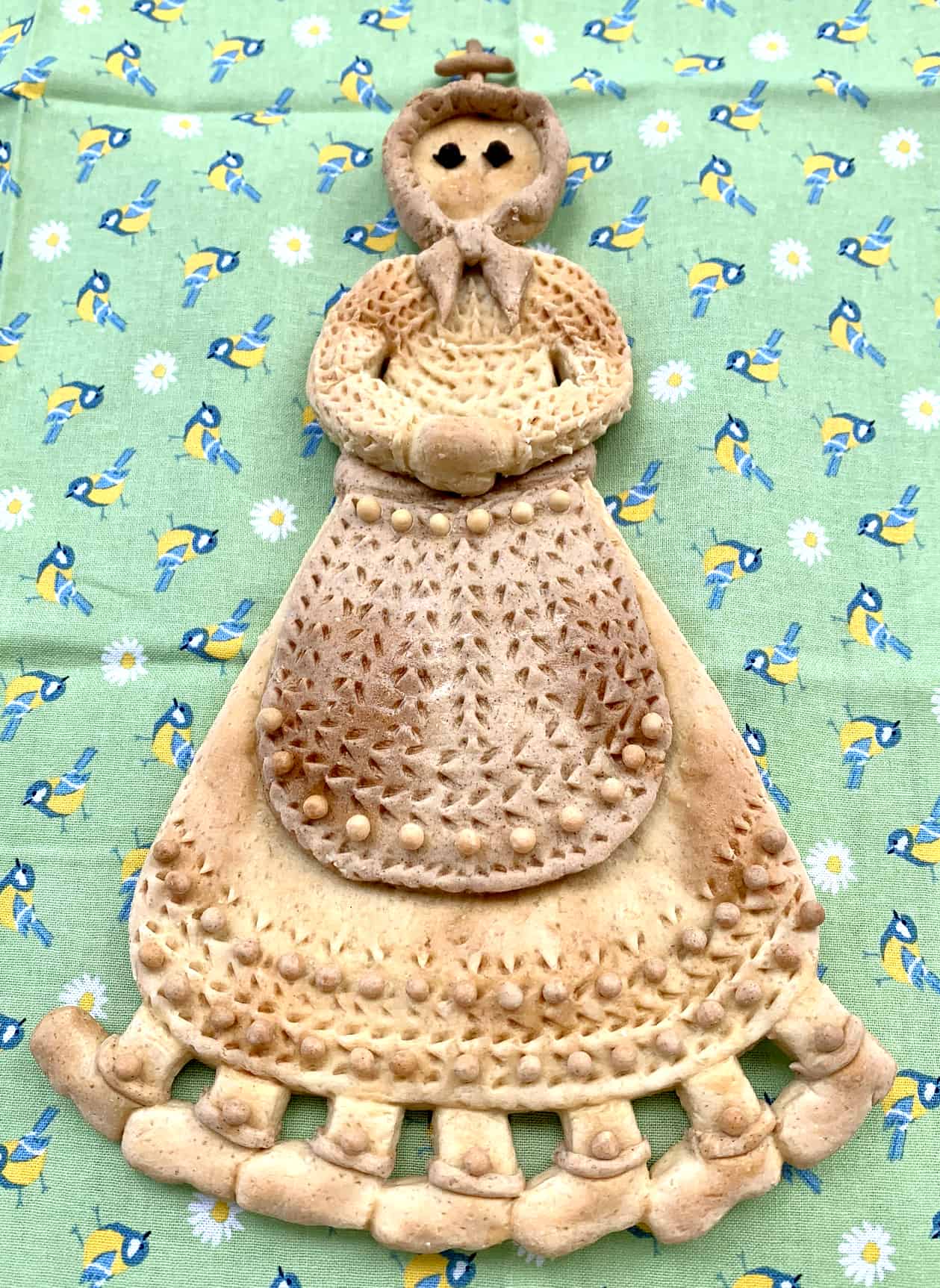 Traditional Easter recipes
Sweet spiced buns commemorating St Lazarus
Traditional homemade Tsoureki
Layers for Tsoureki and jam
Chocolate Tsoureki
Chocolate Tsoureki buns dunked in syrups
Heathy Tsoureki with Carob flour
Combination of Queen of puddings with Tsoureki
Tsoureki leftover ideas
Lenten recipes
Collection of recipes perfect for Lent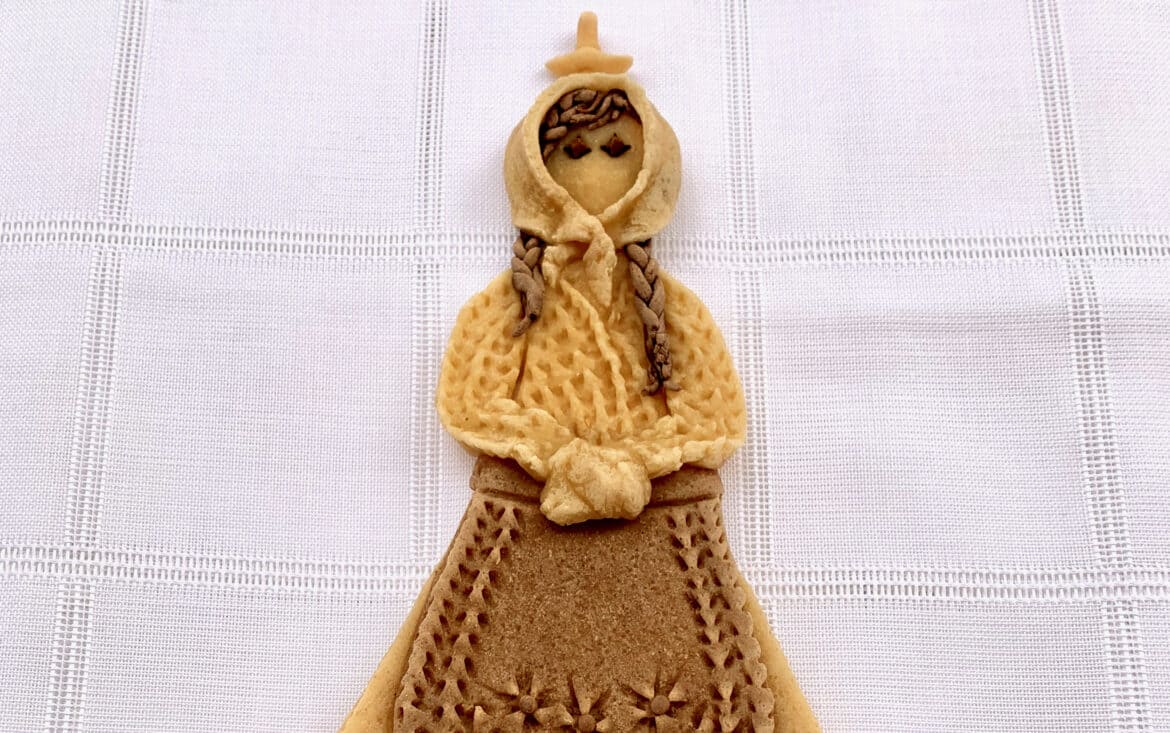 Lady Sarakosti Recipe (Greek Lent Lady)
Ingredients
500gr strong flour
220gr water
180gr salt
Instructions
Start by assembling and weighing your ingredients.
In a bowl add flour with salt and mix.
Continue by adding gradually lukewarm water and start kneading the dough.
Let is rest for 1-2 hr so that salt dissolves.
Roll out the dough in the kitchen counter to an approximate thickness of 1cm with a rolling pin.
Preheat the oven to 160C or 320F.
Let the fun begin now. You can either cut the dough into a shape of a lady by following an outline of a previous drawn lady or you can simply cut out a lady figurine.
You can decorate Kyra Sarakosti as you like.If you want to decorate her with different colours, mix the remains dough with either cinnamon or ground cloves. These give off fantastic aromas and different colours.
 If you wish to follow my design, I use cloves for the eyes and shape little round balls which I then add on her apron and dress to decorate.
Once you have completed Kyra Sarakosti, bake the dough for 30 minutes at 160C or 320F. If your dough is thicker it may require a little bit longer.