Lazarakia (Little Lazarus Sweet Bread Rolls) are small, sweet, spiced Lenten bread rolls prepared and consumed on the Saturday before Palm Sunday. They mark the beginning of the Holy week. These Lazarakia buns are Lenten and thus do not have any dairy products or egg products.
So what is the tradition behind Lazarakia and how to make them?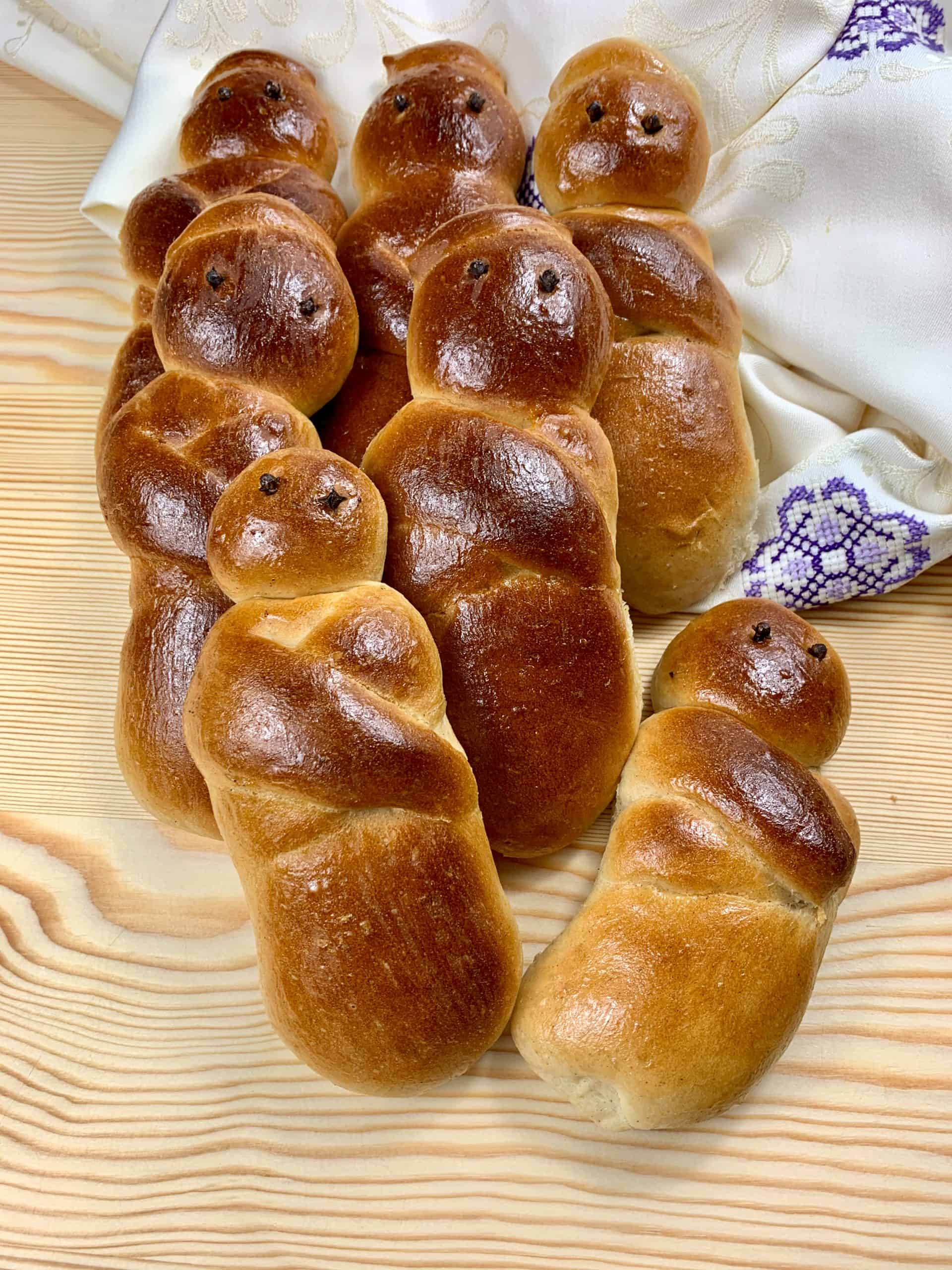 What is the tradition behind Lazarakia (Little Lazarus Lenten Sweet Bread Rolls)?
Lazarakia or Little Lazarus bread rolls are sweet, spiced Lenten bread buns baked in commemoration of the Lazarus' resurrection. Every Christian is aware of Jesus raising Lazarus and the exactly is what these buns represent. Lazarus resurrection is very prominent in Orthodox Easter as is marks the beginning of the Holy week. Lazarakia are thus very common in Greece and Cyprus., perhaps more so in Cyprus as Saint Lazarus was the Island's first Bishop.
These sweet buns were traditionally once prepared and offered to 'Lazarines', ie young girls who would sing Lazarus' Carols.
Lazarines would collect offerings on Lazarus Saturday with a flower decorated basket.Usually,  a young boy would accompany Lazarines dressed in a shroud just like Lazarus. Whilst Lazarines would sing Lazarus' Carols the boy would lay on the ground and re-enact the Lazarus resurrection. On the verse 'Rise up, Rise up Lazarus'the boy would rise. The families in return for the carols and Lazarus resurrection re-enaction would offer these little Lazarakia bread rolls to both Lazarines and the young boy.
My mother would in fact dress as a Lazarina when young. Many were the times when she would narrate to me this wonderful tradition.
How are Lazarakia buns traditionally shaped?
Lazarakia buns are traditionally shaped to resemble Lazarus's shroud. They are depicted with no mouth as Lazarus never spoke after his resurrection. The arms are folded across their chest as Lazarus did when wearing the shroud. Lazarakia can either have their feet bound or free. Those  depicted with legs represent Lazarus walking just as he did when he exited his tomb.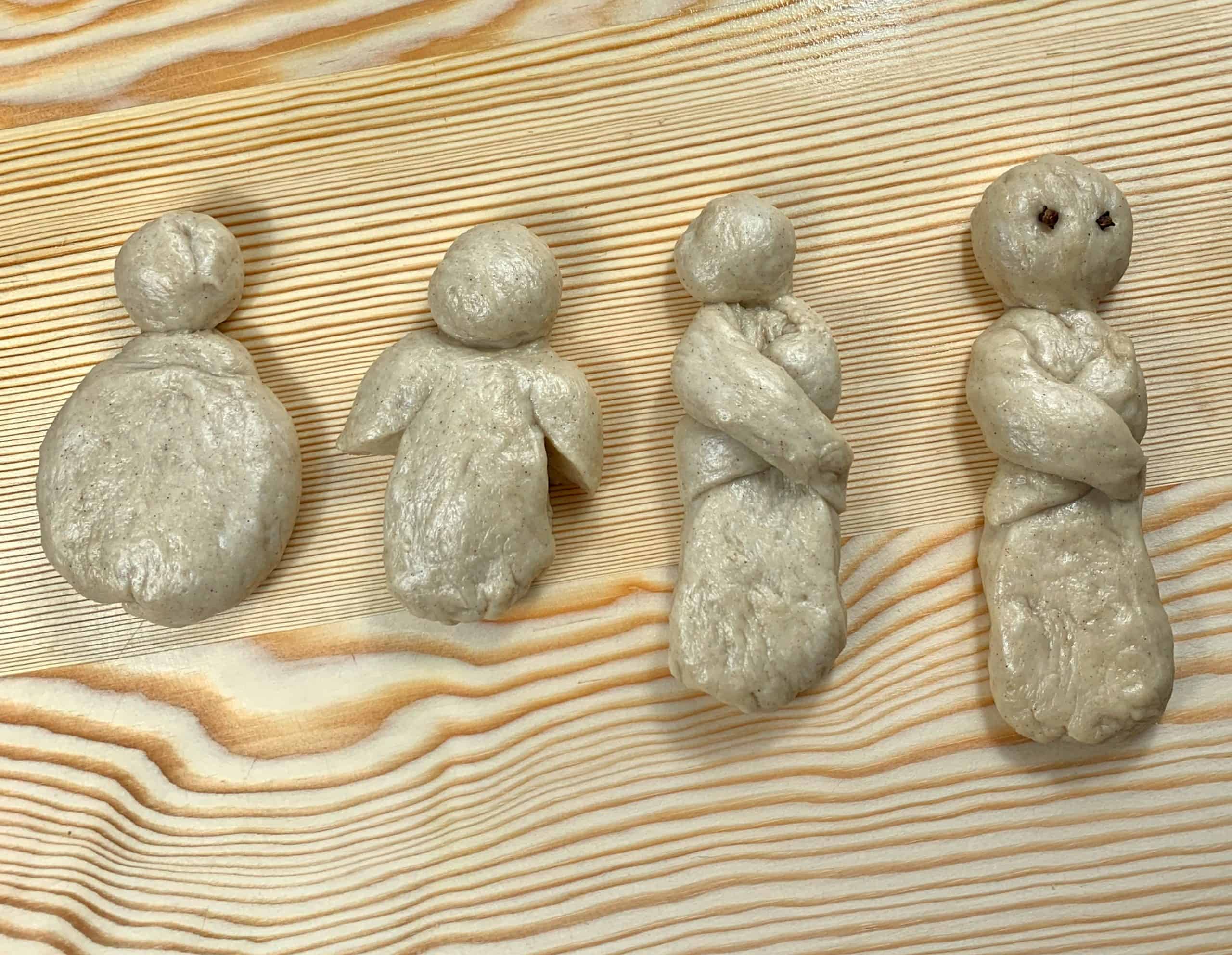 Lazarakia buns spices?
The sweet spices traditionally used to flavour Lazarakia are cinnamon, vanilla and orange zest. They give them a delicious flavour, just like cinnamon rolls!
Because Lazarakia dough has cinnamon, when baked Lazaakia will turn dark, so don't worry, you haven't burned them!
How do I shape Lazarakia?
These Lazarakia little sweet Lenten bread rolls are very easy to make. Start by shaping the body in an oblong ball. Then pinch one side of dough on either side to form the head. Alternatively, shape dough into a small ball and attach it to the main body.  To shape the arms, with a dough divider score on either side of the torso dough and cross them to the front. Finally, to shape the legs or feet , again with a dough divider simply divide the lower part of the torso dough.
Tips to make the perfect Lazarakia buns
To make these soft, airy and sweet little Lazrakia buns, let the dough rise twice. Let the dough proof once in the beginning and later once you have shaped Lazarakia. Proofing will create tiny air pockets and turn Lazarakia bread rolls soft and airy.
The recipe calls for strong flour, nevertheless, a combination of strong and plain flour will also work.
To prevent dough from sticking oil your hands and your working surface.
When shaping Lazarakia buns, especially the arms, brush the end of each arm so that they stick to one other.
For shiny Lazarakia bread rolls, gently mix 1 tablespoon apricot jam with 2-3 tablespoons of water. Brush Lazarakia buns this jam and water glaze.
Lazarakia buns serving suggestions
These soft , airy and sweet little buns can be enjoyed in their own or with a cup of coffee or tea.
Other Easter Recipes
Tsoureki cannot go amiss on any Easter table. Tsourekia ( pleural) are not Lenten and thus consumed when Lent is over. You can find my traditional homemade Tsoureki recipe here. If you love chocolate as much as I do then try my marble chocolate Tsoureki. For a nutty yet chocolatey Tsoureki then try out my Carob Tsoureki.  Longed for a Tsoureki with a twist? Try my mini cocoa Tsoureki with syrup. These little Tsoureki buns are chocolatey and then dunked into syrup.
For a totally different type of Tsoureli, a savoury one combing spinach and Feta cheese then try out this savoury Tsoureki recipe.
Fun filled activity for children
These sweet little buns are so easy to make and are the perfect fun and educational activity for your youngsters.
Try out Lady Sarakosti too, this lady shaped bread to mark the beginning of 40 days of Lent. Find the recipe here.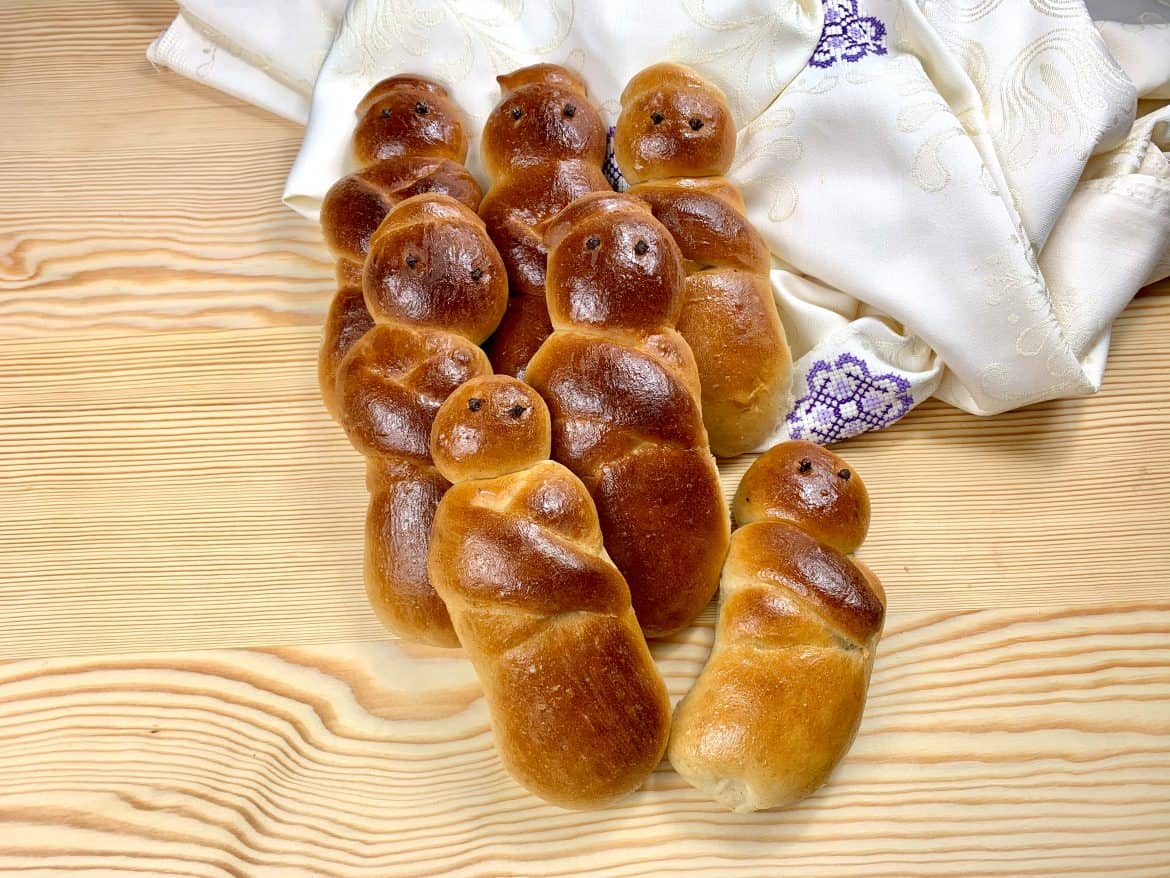 Lazarakia Buns (Little Lazarus Sweet Bread Rolls)
Ingredients
9gr dry yeast (or 25g fresh yeast)
120ml water (lukewarm at 32C) for the yeast (1/2 cup or 4.25 fl oz)
50ml sunflower oil ( 0.2 cups or 1.5 fl. oz)
400gr strong flour ( 2 + 1/2 cups or 14 oz)
200gr sugar ( 3/4  cup+3tablespoons or 7 oz)
100ml water (lukewarm at 32C) for the dough (1/4 cup+ 3 tablespoons)
3-4 vanilla drops
Zest from one orange
1 teaspoon cinnamon
whole cloves or sultanas for eyes
For this recipe you will also need 1 large bowl,1 baking tray (40x35cm), cling film and aluminium foil
Instructions
In a bowl, dissolve the yeast in the 120ml of lukewarm water (32C) along with 1 tablespoon of sugar and 2 tablespoons of flour. Set aside in a warm place for 10 minutes.
Whilst the yeast is activating, sift the flour.
Once the yeast is activated, add the remaining sugar, half of the flour, ground cinnamon, the 100ml of lukewarm water and orange zest into the yeast mixture. Mix the ingredients and knead until the dough is firm like playdoh. If the dough is still sticky, add a bit more flour.
Continue by pouring oil into the dough mixture and knead until incorporated. Cover the bowl with the dough with cling film or a kitchen towel and let it proof until it doubles in size. This will take roughly 30-35 minutes.
Divide the dough into equal parts of approximately 90-100gr. Shape each dough portion into an oblong ball, like a small bread roll to create the body.
Squeeze gently at either side of the dough a tone end with your thumb and index finger to create the head.Alternatively, shape a separate piece of dough into a small ball and attach it Ito the body.
Score and slice on either side of the dough to shape the arms with a dough divider. Cross the arms in the front of the body. Brush them with a little bit of water so that they stick to one other.
Score and slice the bottom side of the dough to shape the legs. If you want to bake Lazarakia without legs, simply skip this step.
Place two whole cloves or raisins for eyes. Lazarakia are usually depicted with cloves as eyes, but I find raisins are better if the Lazarakia are given to children as you don't have to worry about removing them prior to consumption.
Place Lazarakia buns on a parchment lined baking tray. Cover them with cling film and let the dough Lazarakia proof for 30-35 minutes.
Preheat the oven to 170C or 340F.
Bake these sweet Lenten bread rolls for 35 minutes in the middle shelf of the oven.
Don't forget to check the buns while they are baking. If they are getting too brown too quickly cover them with some aluminum foil.