Homemade Smyreika Soutzoukakia are sausage-shaped meatballs full of earthy spices cooked in a rich tomato sauce and served with rice. This traditional recipe originates from Asia Minor and became popular in Greece with the Greek refugees in 1920s. Here I will share with you my easy to follow, fail proof recipe and its cooking variations.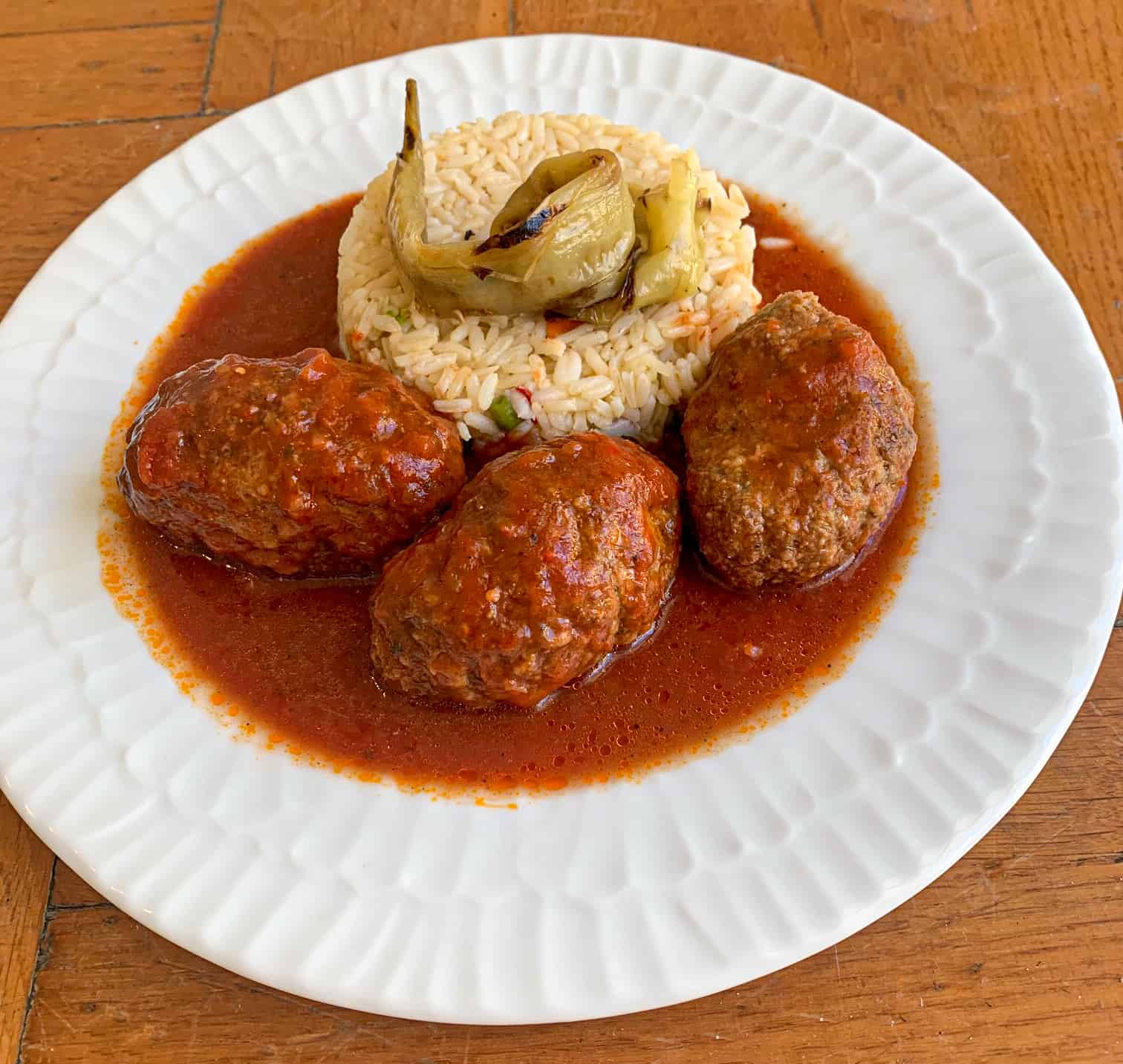 What is the secret to this Homemade Smyrneika Soutzoukakia recipe?
These mouth watering meatballs have a combination of lamb and beef mince meat. Lamb mince meat is fattier giving a fuller and richer taste to Soutzoukakia. Lamb mince meat pairs really well with beef mince.
Prepare the Soutzoukakia meatballs in the beginning of the day or hours prior to cooking and store them in the fridge. This will allow the mince meat to absorb all the lovely spices and other ingredients and taste delicious. If you happen to be a rush, let them rest for 10-15 minutes.
Another little secret lays in the spices used in these succulent meatballs. The two main spices are cumin and coriander. Coriander has an earthy, citrus flavour which pairs very well with Cumin. Cumin's slight bitter earthy flavour complements Coriander.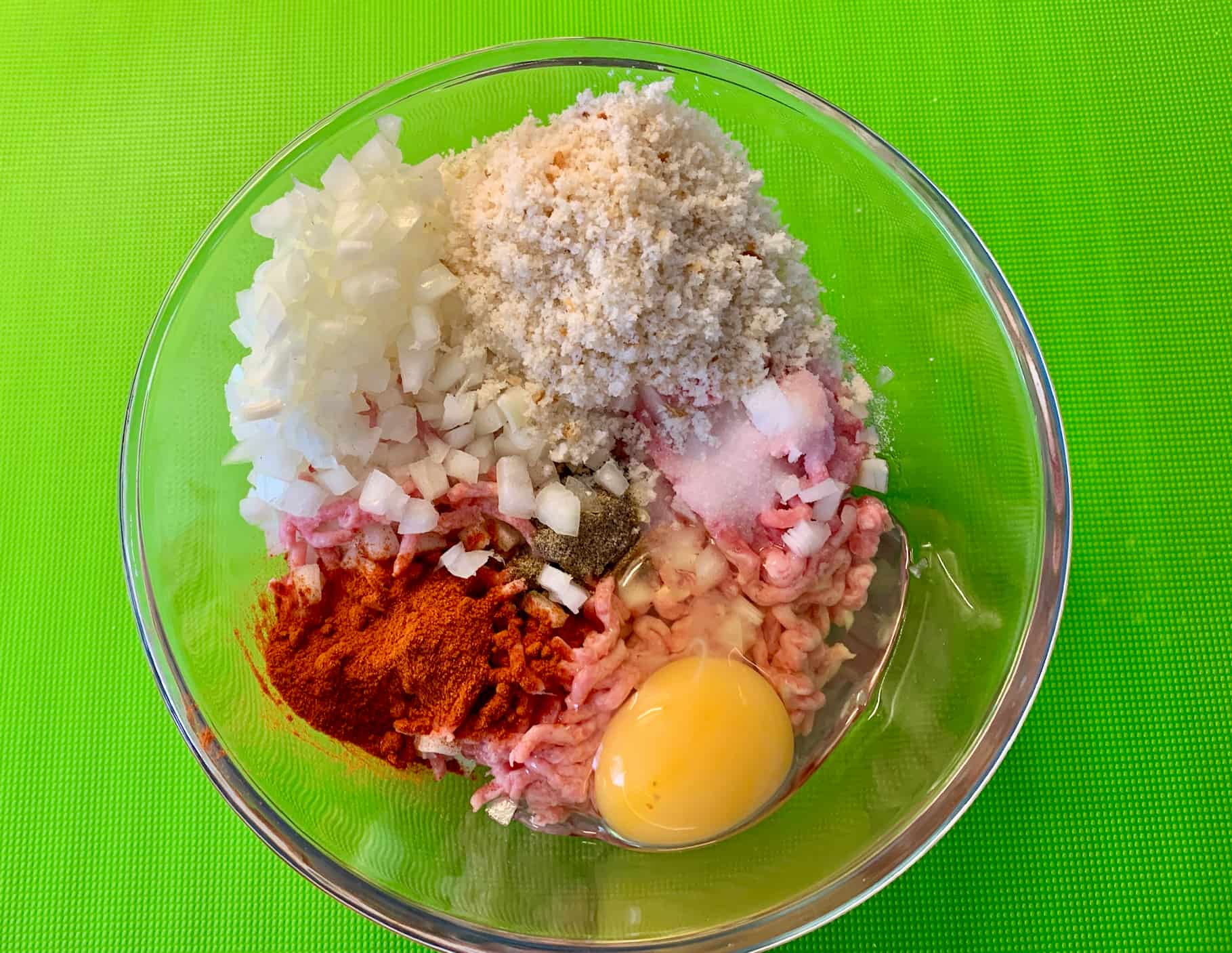 How can I cook Soutzoukakia?
The classic Homemade Smyrneika Soutzoukakia recipe calls for the meatballs to be fried and later baked in a rich tomato sauce.
Start by prepare the meatballs and frying them in a pan. Once the meatballs are fried, transfer them into an oven dish. Continue by preparing the tomato sauce, again in a frying pan. Add spices, onion and garlic in a frying pan. Sauté them and continue by adding the tomato paste and the tomatoes. The sauce will taste nicer if you add fresh tomatoes. Over low heat, let the tomato sauce thicken for approximately 15-20 minutes.
Once the sauce is ready, pour it in the oven dish with the meatballs and bake for 25 minutes.
Another way to cook Soutzoukakia , though not the traditional way, is to finish them in the pan. What do I mean by that? Start once again by preparing and frying the sausage shaped meatballs in a frying pan. Continue by preparing the tomato sauce. This time cook the tomato sauce for longer, ie for 30 minutes. At 20 minutes into cooking of the sauce, add the meatballs and let them absorb the rich tomato sauce.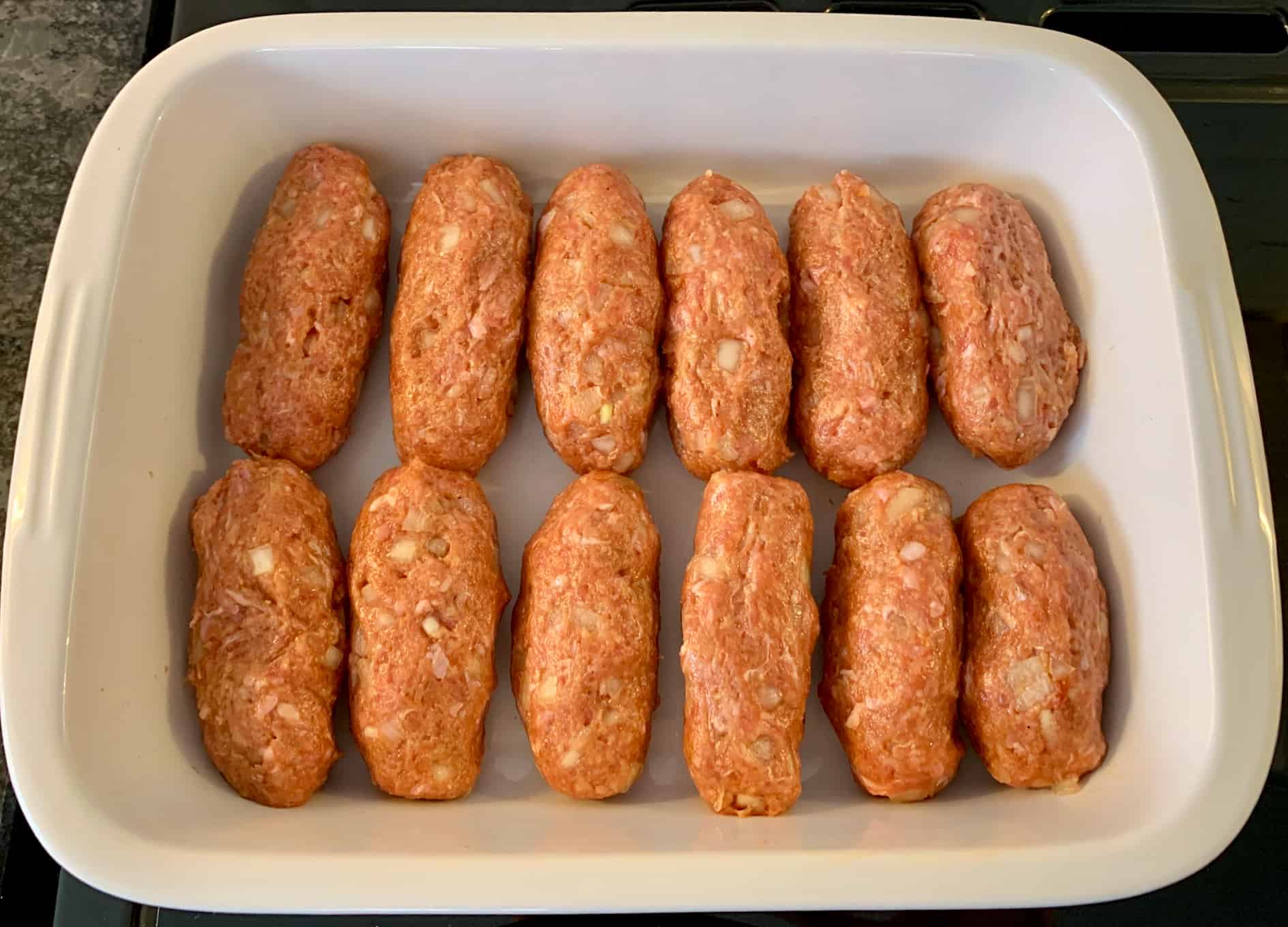 Can you freeze Homemade Smyreika Soutzoukakia?
You can prepare the cylindrical shaped meatballs and freeze them prior to cooking. Simply defrost and cook when you want to. They can ask in the freezer for a couple of months.
What can I serve Homemade Soutzoukakia with?
Traditional Homemade Smyrneika Soutzoukakia are served with rice. That is not to say that one cannot pair Soutzoukakia with mash potatoes, french fries, orzo, pasta or bulgur wheat.  Pair Soutzoukakia with a Spicy Greek Feta dip (Tirokafteri), yogurt based dip like Tzatziki or a Traditional Greek Feta Salad (Horiatiki).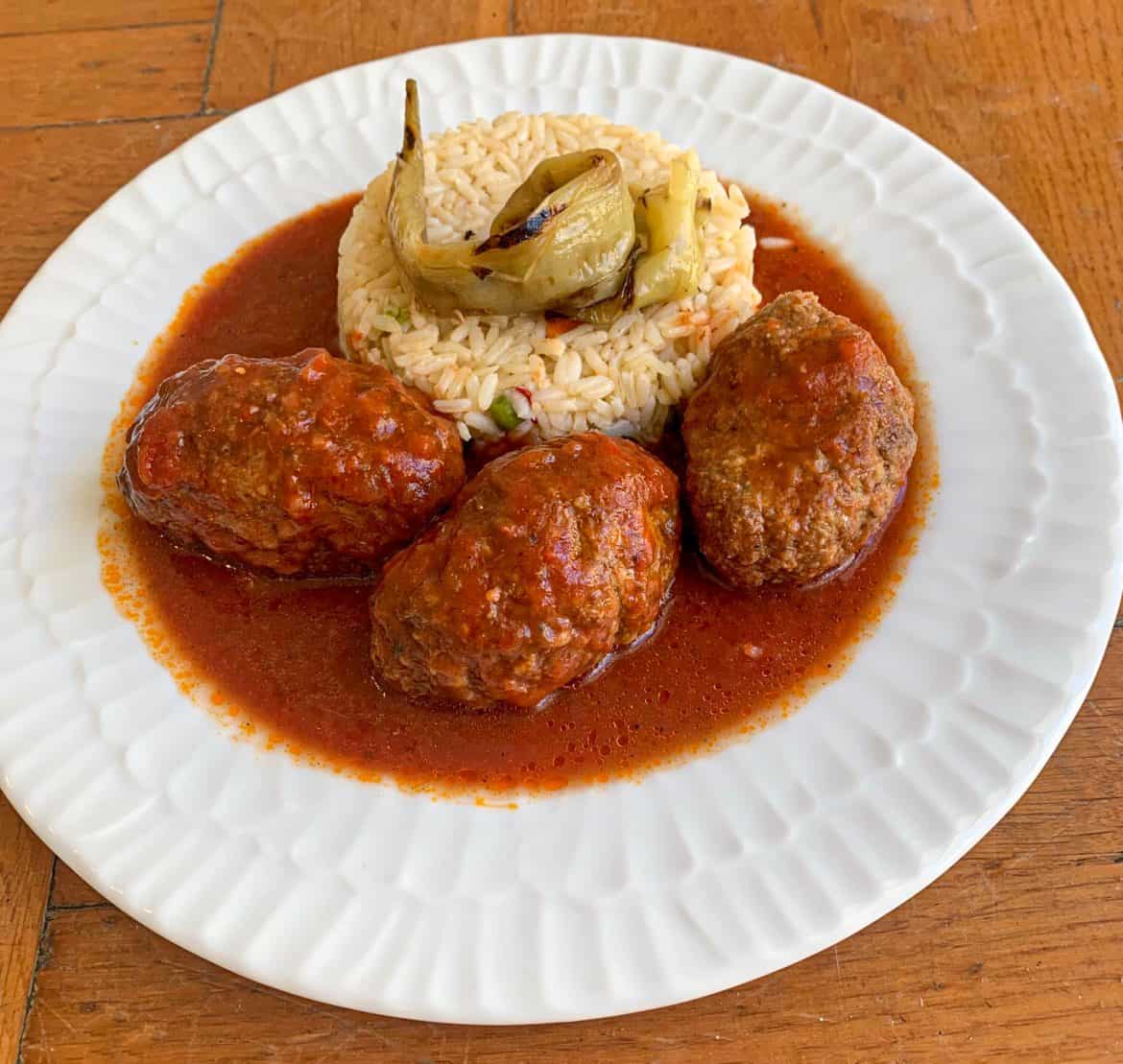 Homemade Smyrneika Soutzoukakia
Ingredients
Meatballs
400g beef mince
200g lamb or pork mince (depending on your taste)
1 large onion
1  clove of garlic
white pepper
1 teaspoon cumin
1 teaspoon salt
1/2 teaspoon ground coriander
1/2 teaspoon black pepper
1 piece of french toast
100g bread or 1 slice of  bread
1 egg
oil for frying
Sauce
1 can of chopped tomatoes or 3 large fresh tomatoes
1 onion
2 cloves of garlic
1 teaspoon tomato paste
1/2 teaspoon cumin
salt and white pepper to season
pinch of sugar
150ml water
Instructions
Meatballs
To prepare the Soutzoukakia meatballs start by chopping the onions finely.
In a food processor add the French toast and the bread and process them until a near powder consistency is reached.
In a bowl add the mince meat, egg, spices, onion, garlic along with the ground bread and French toast.
Knead the meat long enough so that all the ingredients are incorporated.
 Shape the meatballs into cylindrical shapes, ie sausage shape.
Set them aside; you can set them aside for as long as you wish. If you are in a rush you can let them rest for approximately 10 minutes. I prefer to make them early in the day and chill them in the fridge for a couple of hours. I find that the mince absorbs the rest of the ingredients better and thus tastes nicer.
Heat oil in a pan and lightly fry them. Make sure you fry them on both sides.
Do not add many meatballs in a pan as this will not allow them to fry easily.
Set them aside in an oven dish.
Tomato Sauce
Add onions, garlic and the spices in a pan.
Sautee them for approzimately 3 minutes on medium heat.
Add tomato paste and stir for approximately 1 minute.
Add the canned or fresh chopped tomato along with the pinch of sugar. Stir them for approximately 3 minutes.
Add  water, lower the heat and let the sauce simmer for 15-20 minutes until it thickens.
Baking
Preheat the oven to 180-200C or 356-392F.
Add the sauce to oven dish, the one you had placed the meatballs and bake for 25 minutes.
Alternative cooking option
You can add the pan fried meatballs straight into the sause pan. Let them simmer for 10 minutes approximately with the tomato sauce.