Cookies with Oil (Koulourakia Ladiou) is an easy and quick recipe to make.It is an especially popular recipe during Advent and Lent in Greece as they do not require butter or eggs. During both Lent and Advent Greek Orthodox parishioners practise 'fasting' ie they avoid meat, dairy and animal products. So butter and eggs are strictly prohibited during these periods.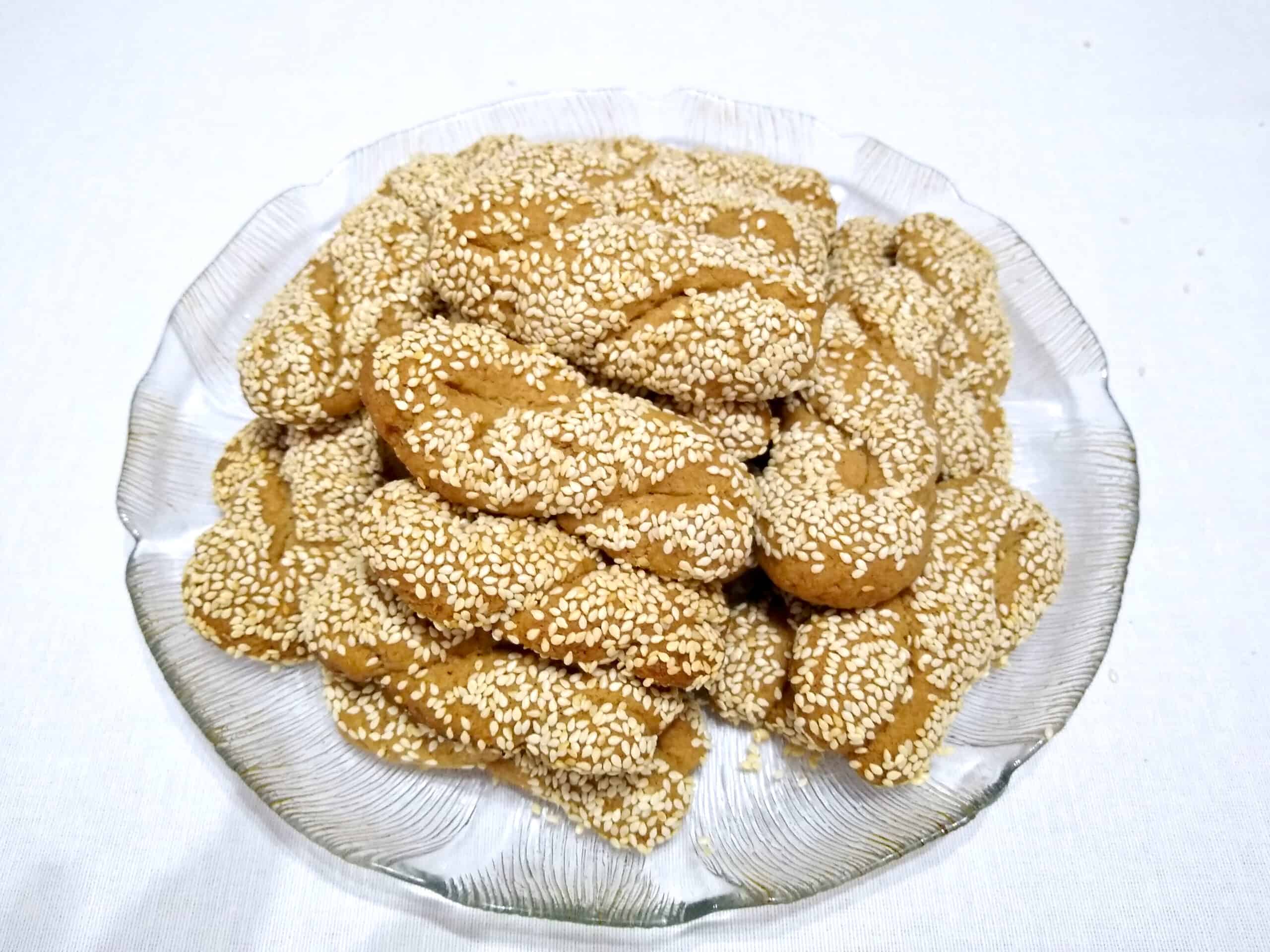 Koulourakia stands for Koulouri which is in Greece is a round, hollow in the middle , cookie. Ladi or Lathi means oil and thus Ladiou stands for made of oil. Over the years though, it has come to mean any type of cookie! So feel free to experiment with any shape that you fancy!
The recipe requires both sunflower and olive oil.  People ask me , why add olive oil? Wouldn't the cookies be oily and heavy? The answer is , no, the Koulourakia Ladiou will neither be oily nor heavy.
The secret to making these Greek Cookies with Oil (Koulourakia Ladiou) is the lack of kneading. As you will read below in my recipe, I do not use either an electric mixer or  knead them excessively.  I gently mix the ingredients until the dough reach an elastic consistency. Kneading creates gluten strands within the dough which are needed for bread. Therefore, if you do not wish your Greek Cookies with Oil (Koulourakia Ladiou) to become bread like, avoid kneading.
The kitchen appliances you will require for this recipe are as follows: a precision kitchen scale, two large bowls, a small bowl and baking trays.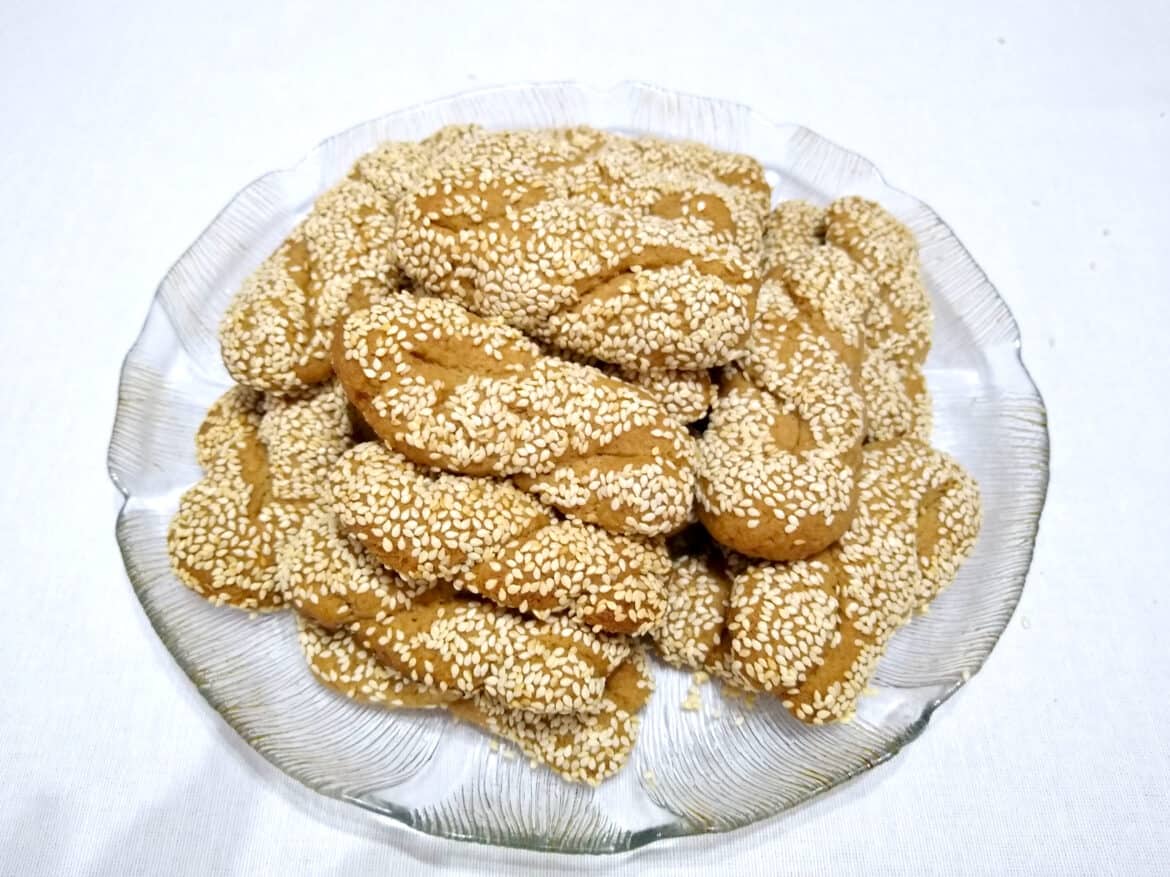 Cookies with oil (Koulourakia ladiou)
Ingredients
500gr  self raising flour
110gr sugar
150ml sunflower oil
100ml olive oil
400ml orange juice
70ml cognac
70gr sesami seeds
3 gr/ 1 tsp cinnamon
2 gr / 1/2 tsp baking soda
3-4 vanilla drops
Instructions
Start by preheating the oven to 180 C/ 356F.
Gather all your ingredients and have them ready for each step of the recipe.
In a large bowl add the 'solid' ingredients, ie flour and cinnamon and mix until combined.
In a separate large bowl add the 'wet' ingredients, ie sunflower oil, olive oil, cognac, orange juice, vanilla drops along with the  sugar. Beat until  sugar dissolves, ie for approximately  3-4 mins. Carry on by adding the soda.
Continue by adding gradually the 'solid' ingredients into the 'wet' ingredients' bowl in batches. While doing this stir with a wooden spoon. Continue until all the solid ingredients are mixed with the wet ones.
At this stage the dough will reach a soft, pliable consistent.
Make sure you mix the dough with a wooden spoon alone and do not knead it. Kneading the dough will result in the oil separating for it, so avoid vigorous kneading.
Divide the dough into approximately 30gr pieces and roll them into strings. Braid the strings.
Place each braid in the sesame bowl and make sure the cookies are evenly covered by sesame.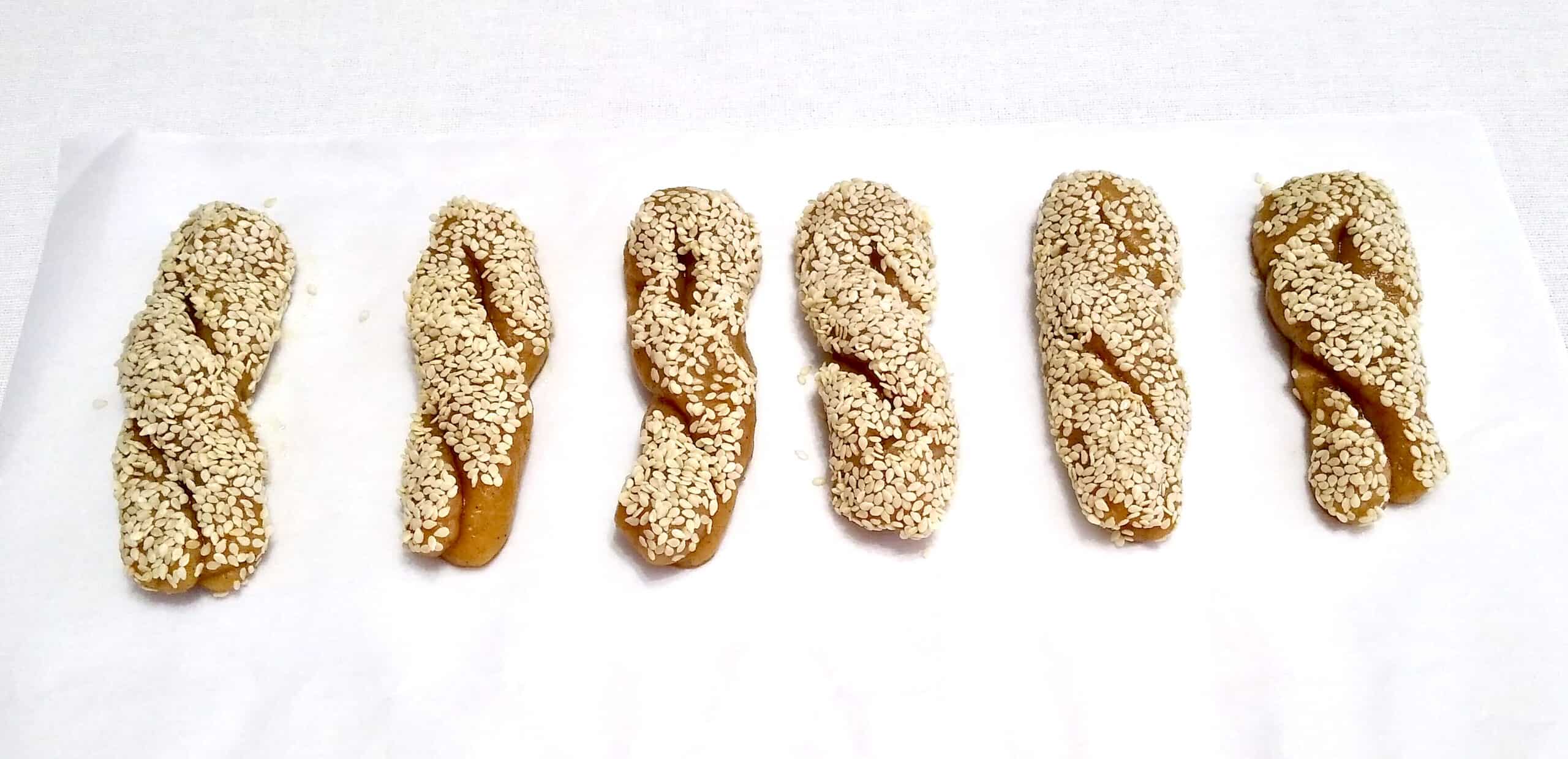 Place the dough braids on a parchment lined baking tray with an approximate 1cm distance between them. The cookie dough will expand upon baking.Make sure the oil cookies are roughly of the same size so that they bake evenly.
Bake the cookies with oil  at 180C/ 356F  for approximately 15-18 minutes.
 Bear in mind that larger cookies will require  longer baking time; approximately 20-22 minutes for 35gr cookies.
Notes
This Cookies with Oil (Koulourakia Ladiou) will make approximately 40 pieces. Go on, tuck in!
You can also freeze these Koulouekia to enjoy at a later date.