This spinach and cheese puffs are one my favourite appetizer recipes as is a no-fuss recipe that  comes quickly. It also requires only a few simple ingredients. The only ingredients required are spinach, leek, puff pastry sheets, an egg, cheese and salt for seasoning.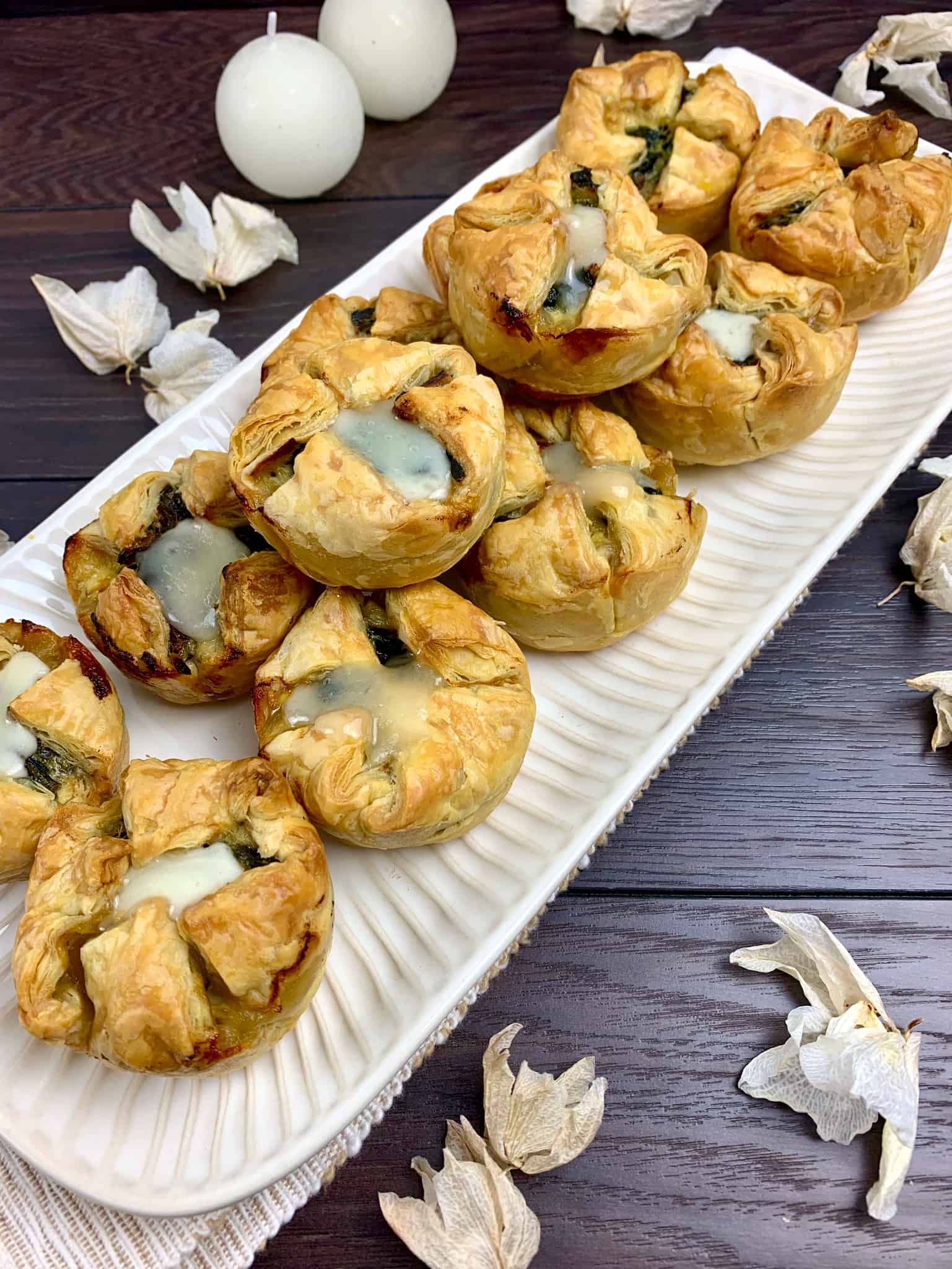 How to make spinach puffs?
I prefer fresh spinach for this recipe, though frozen spinach can be also used. Note that it will require longer to sauté the frozen spinach as there will be excess water. Sautee the leek, then add spinach and sauté until wilted.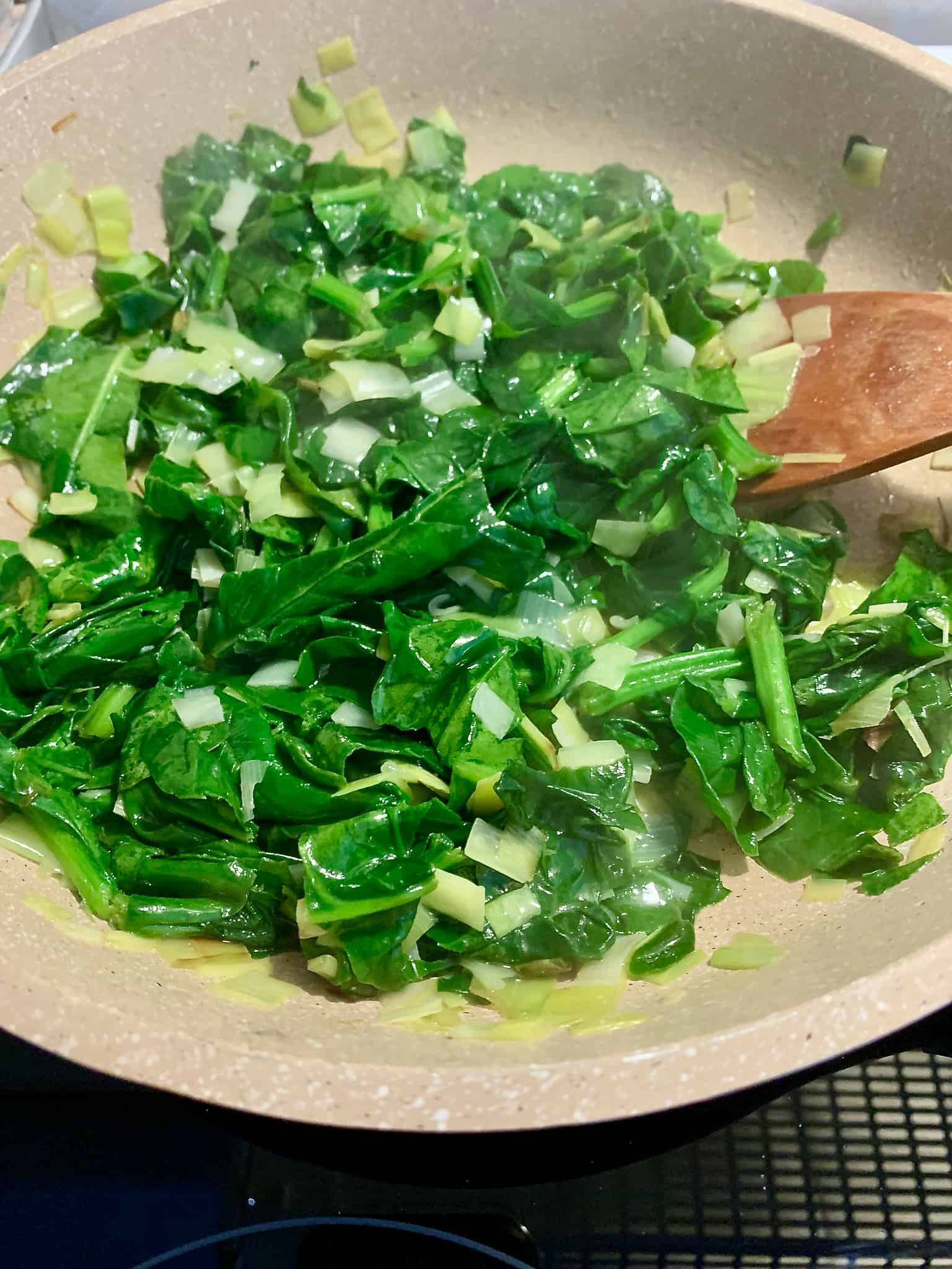 Let the cooked leek and spinach mixture rest. Season with salt. You can also season the mixture with a teaspoon of black pepper if you wish. Roll out the sheets of puff pastry and cut them into squares that you will fit in the muffin moulds.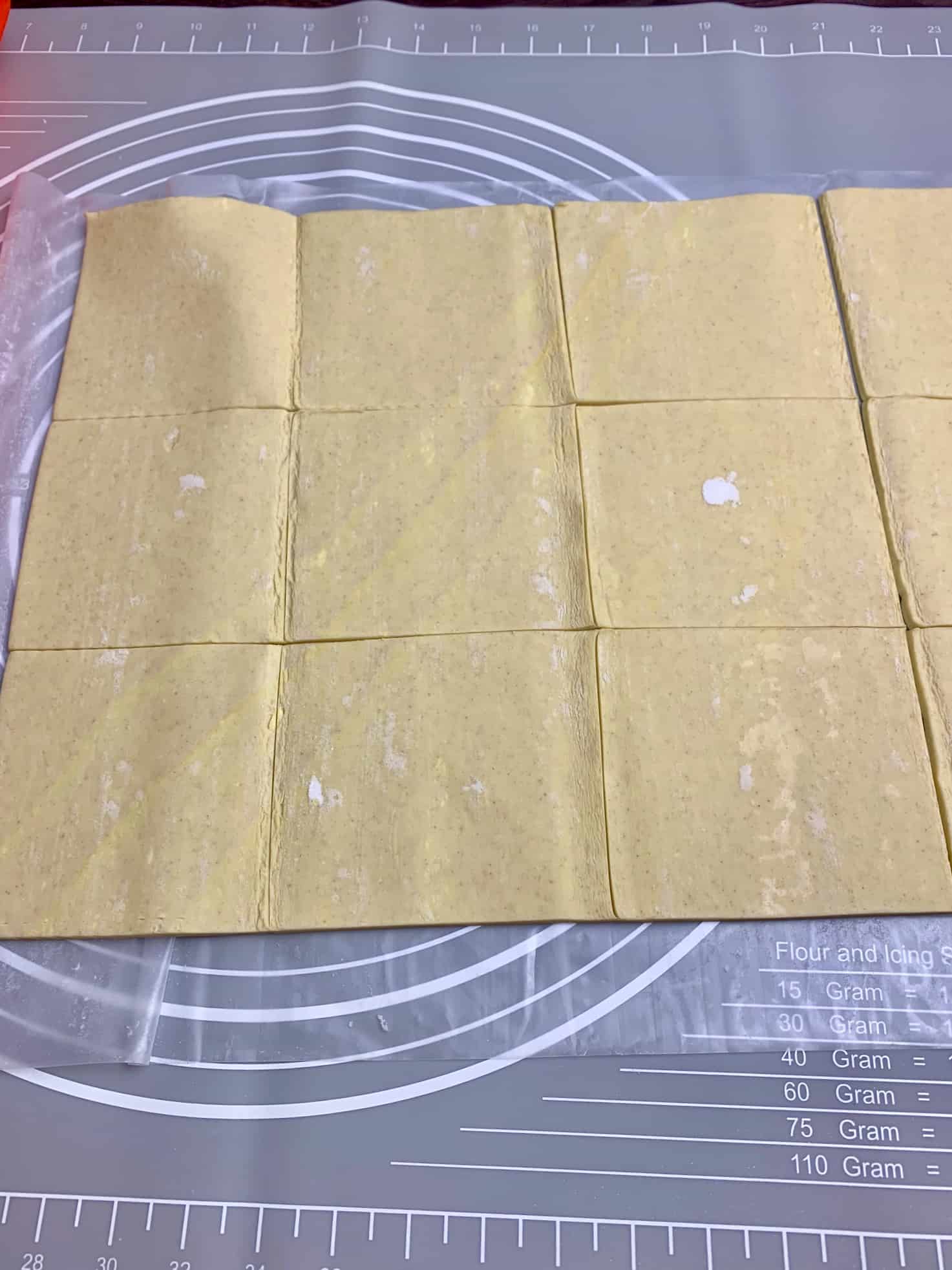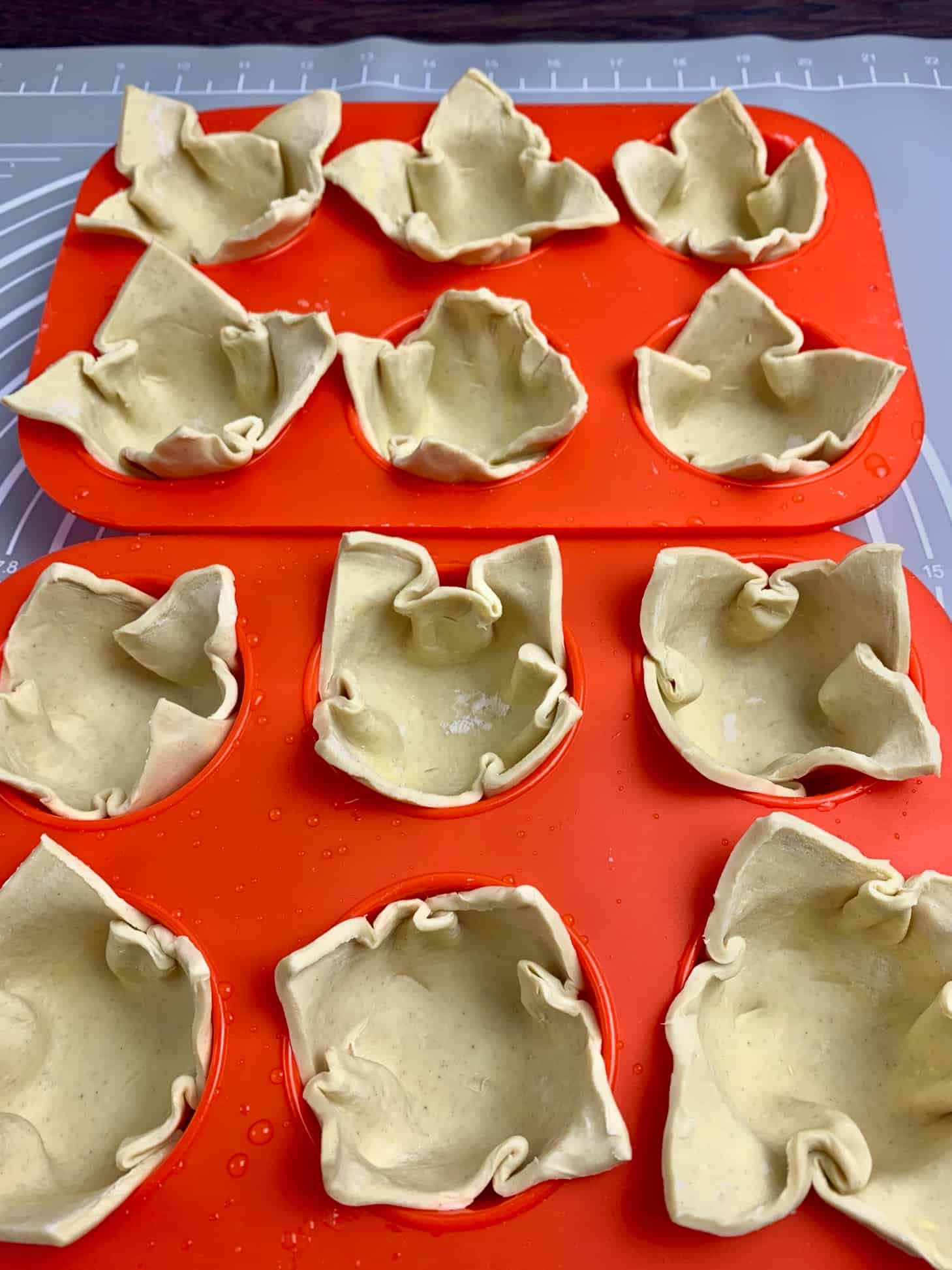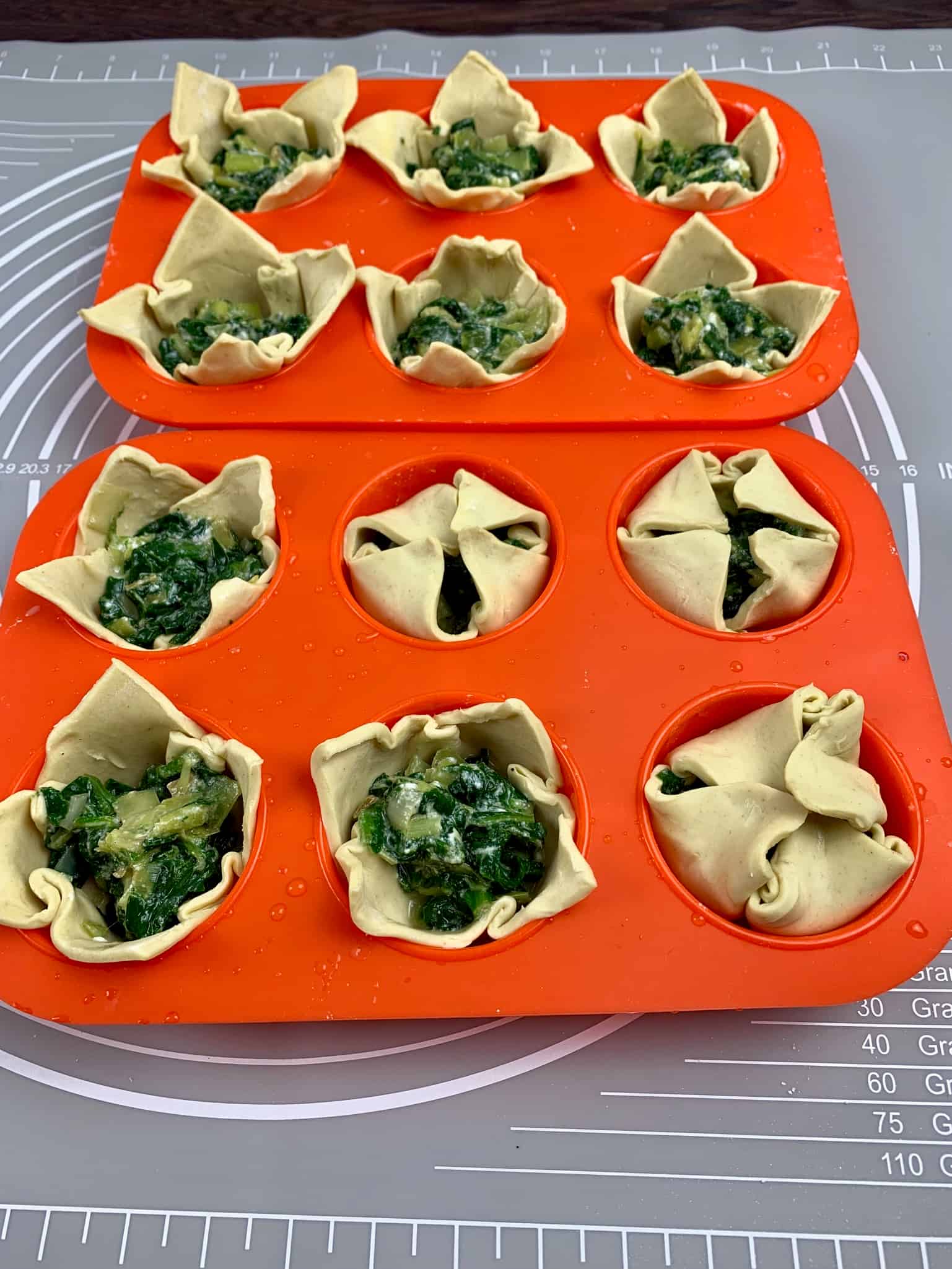 Beat an egg and add it in the leek and spinach mixture. Spoon this mixture into the pastry sheets squares and bake for 25-30 minutes at 180C or 356F. Place the spinach puffs own a wire rack while hot and add grated cheese. The cheese will melt when placed in the hot puffs. Serve hot or cold.
What kind of cheese can I use?
For this recipe I used semi-firm cheese such as cheddar, gouda, edam (Swiss cheese), Emmental. You can also use Feta cheese in this spinach and cheese puff pastry recipe. When using Feta cheese, then add Feta in the leek and spinach mixture and bake for 25-30 minutes at 180C or 356F until golden brown Have a look in my spinach pie recipe and use than filling for these puffs.
You can  also mix yellow cheese with Feta cheese in the spinach mixture to create this puffs. You can be imaginative with the cheese filling and add ricotta cheese along with yellow cheese too.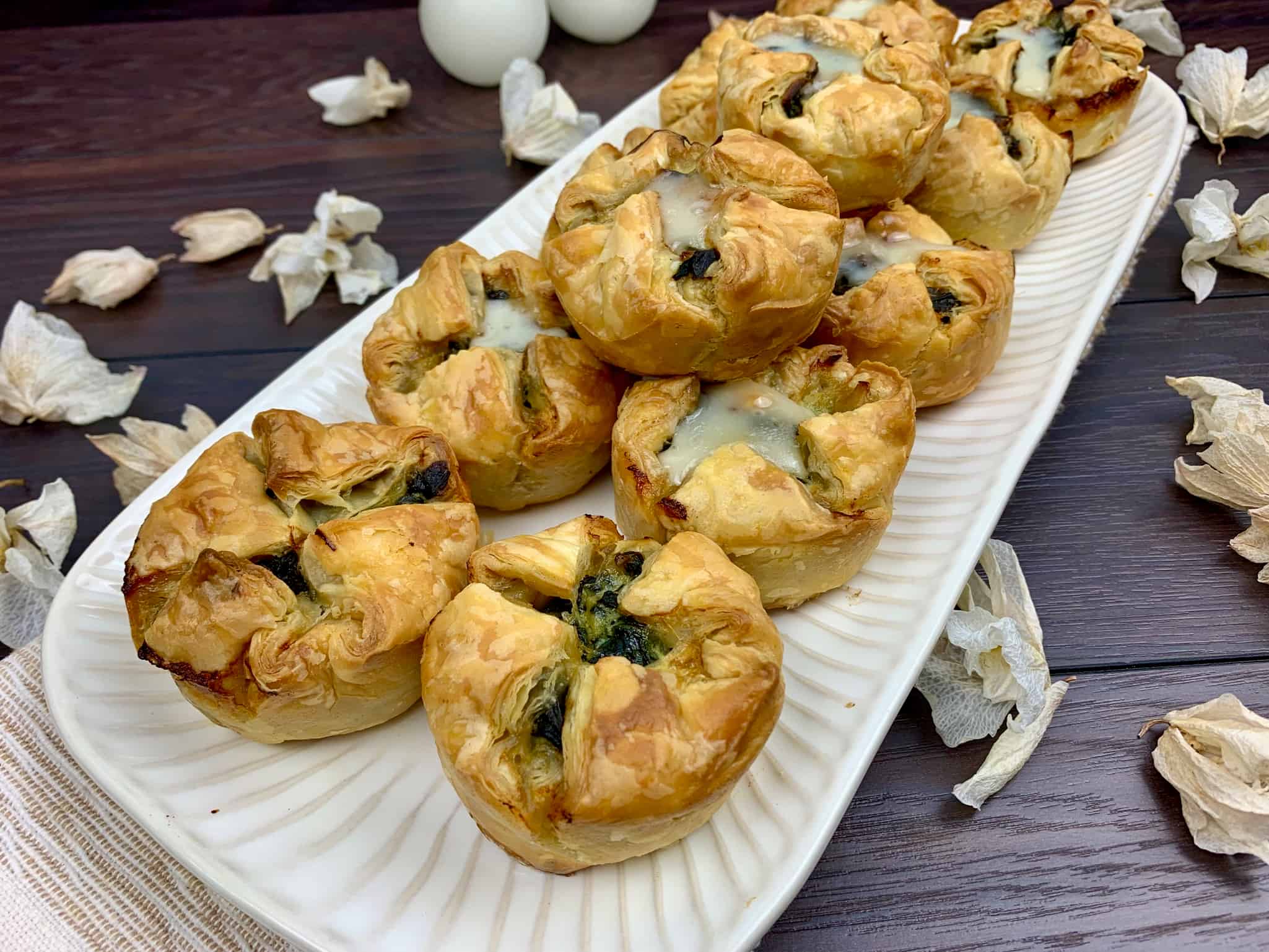 What To Serve with Spinach Puff Pastry?
You can serve this puffs as appetisers or snacks. Serve them alongside a tangy dip such as tirokafteri or a platter.
Storing
Store these spinach and cheese puff pastries in an airtight container in the fridge for a few days.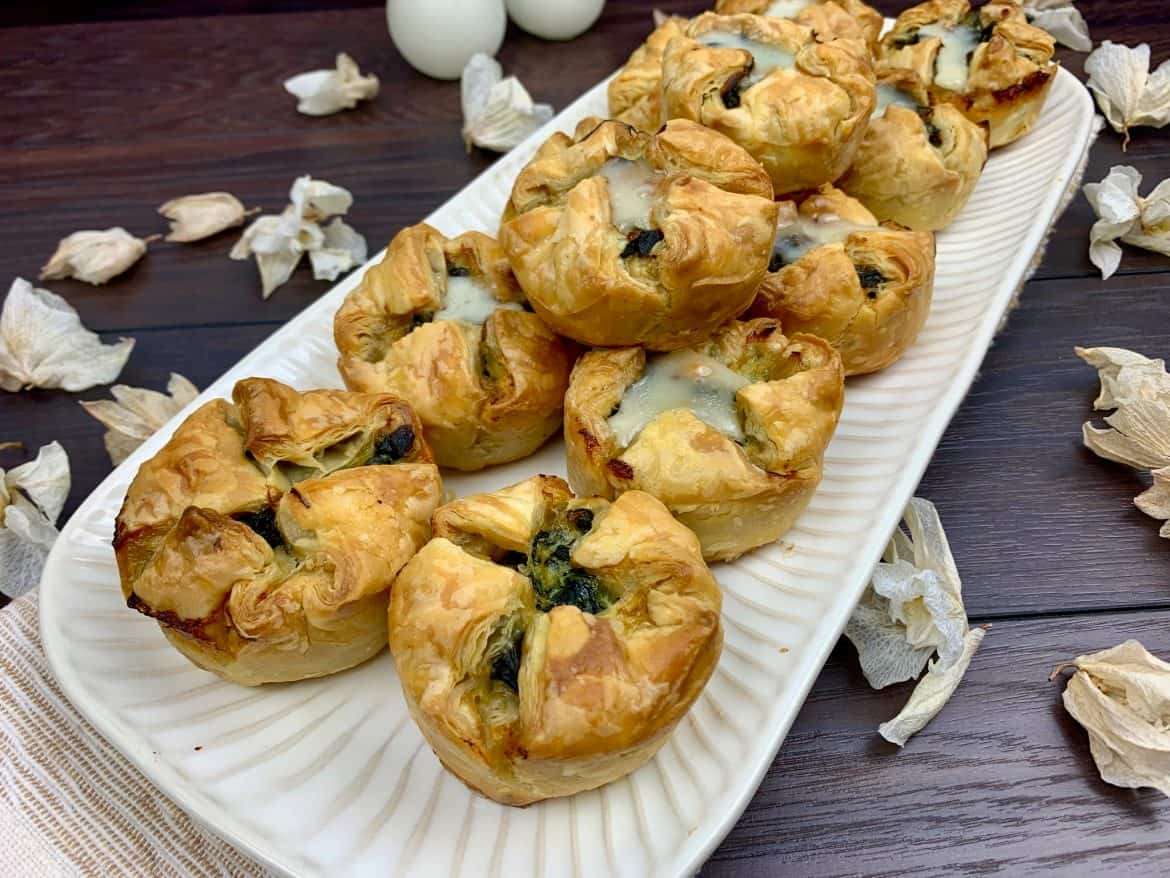 Spinach and cheese puff
Ingredients
500gr puff pastry
500gr baby spinach
1 leek
1 small egg
100gr semi-hard cheese
1/2 teaspoon salt
30ml olive oil
Instructions
To prepare this spinach and cheese puff recipe start by washing the leek and spinach. Slice the leek into thin slices.
Pour oil in a frying pan and sauté the leeks for a couple of minutes. Add the fresh spinach and sauté until the spinach is wilted. Season with kosher salt. Place the mixture in a mixing bowl and let it cool down.
Brush the muffin tins with a little bit of olive oil. Preheat the oven to 180C or 356F.
Roll out the puff pastry sheets and cut it into squares of 10cmx10cm or 4x4inches.
Beat the egg and add in the leek and spinach mixture. Line each muffin cup with the puff pastry square and spoon the mixture on top of the puff pastry.
Bake the spinach and cheese puff pastry for 25-30 minutes at 180C or 356F.
Let the spinach puffs cool on an air rack and add grated cheese on top. The cheese will melt in the hot spinach puffs.
Serve hot or cold.