Prawn Saganaki is one of the most well-known Greek Recipes! Every Greek taverna (mainland or Greek island) will have it featuring in their menu with no fail! Fresh prawns or shrimps on a bed of rich tomato sauce garnished with cheese, be it Feta cheese, halloumi cheese or any other hard cheese.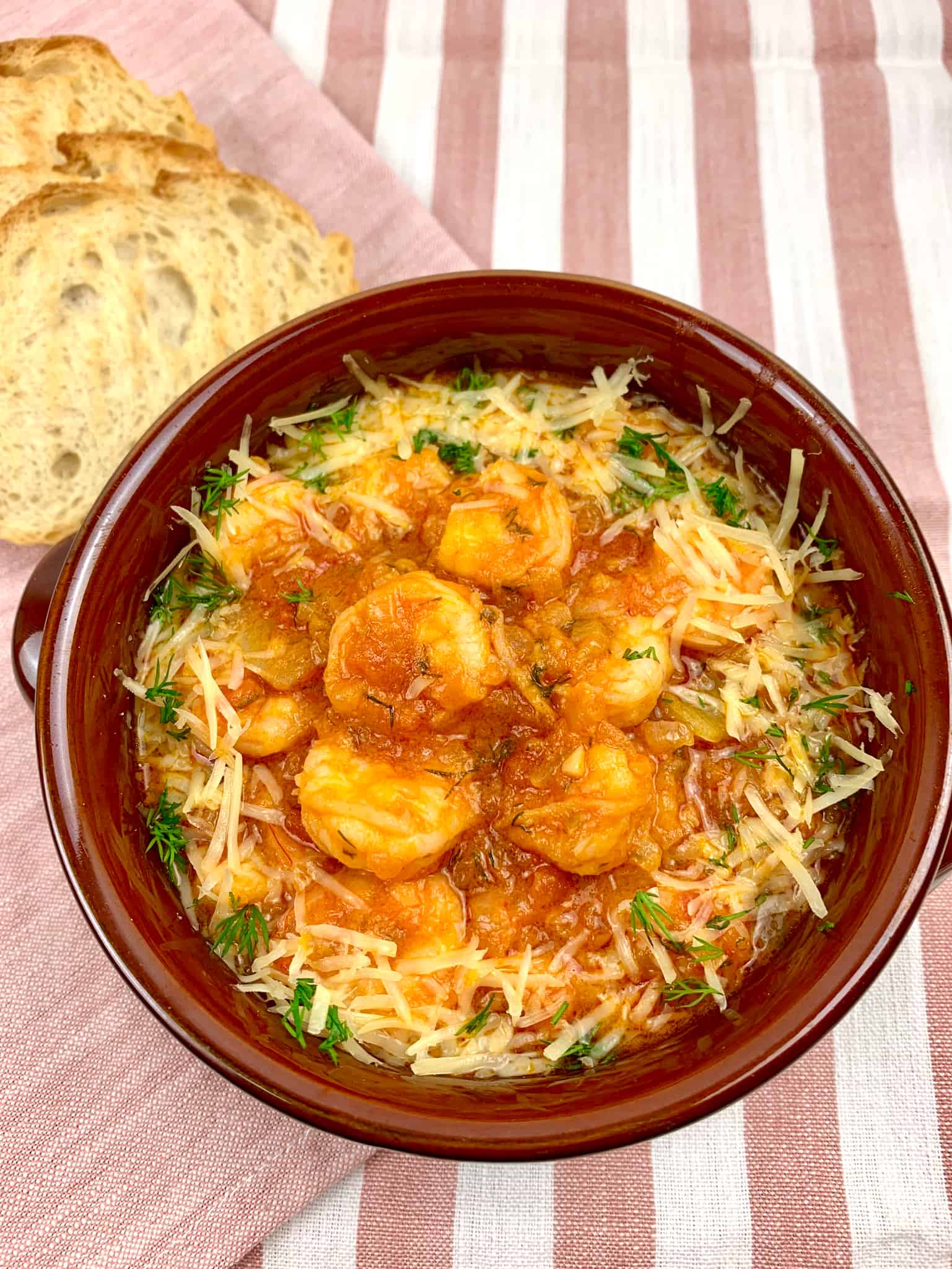 What is Saganaki?
Saganaki refers to the kind of heavy-bottomed copper pan in which this Greek dish is cooked, usually one with two handles for easy carrying. Most people are more familiar with the more common cheese saganaki , the pan-seared melting cheese prepared in the same kind of skillet.
Versions of Saganaki
Cheese Saganaki may be the most well known Saganaki recipe out there, nevertheless there are so many other variations. There is shrimp or prawn saganaki, seafood (mussels, calamari, clams, scallops) saganaki, vegetarian saganaki and even chicken saganaki.
Flaming Saganaki originated in America, in which Ouzo is added poured and lighted prior to serving. Drizzle with lemon juice to extinguish the flames.  Please leave this to professionals at restaurants and do not ry this at home.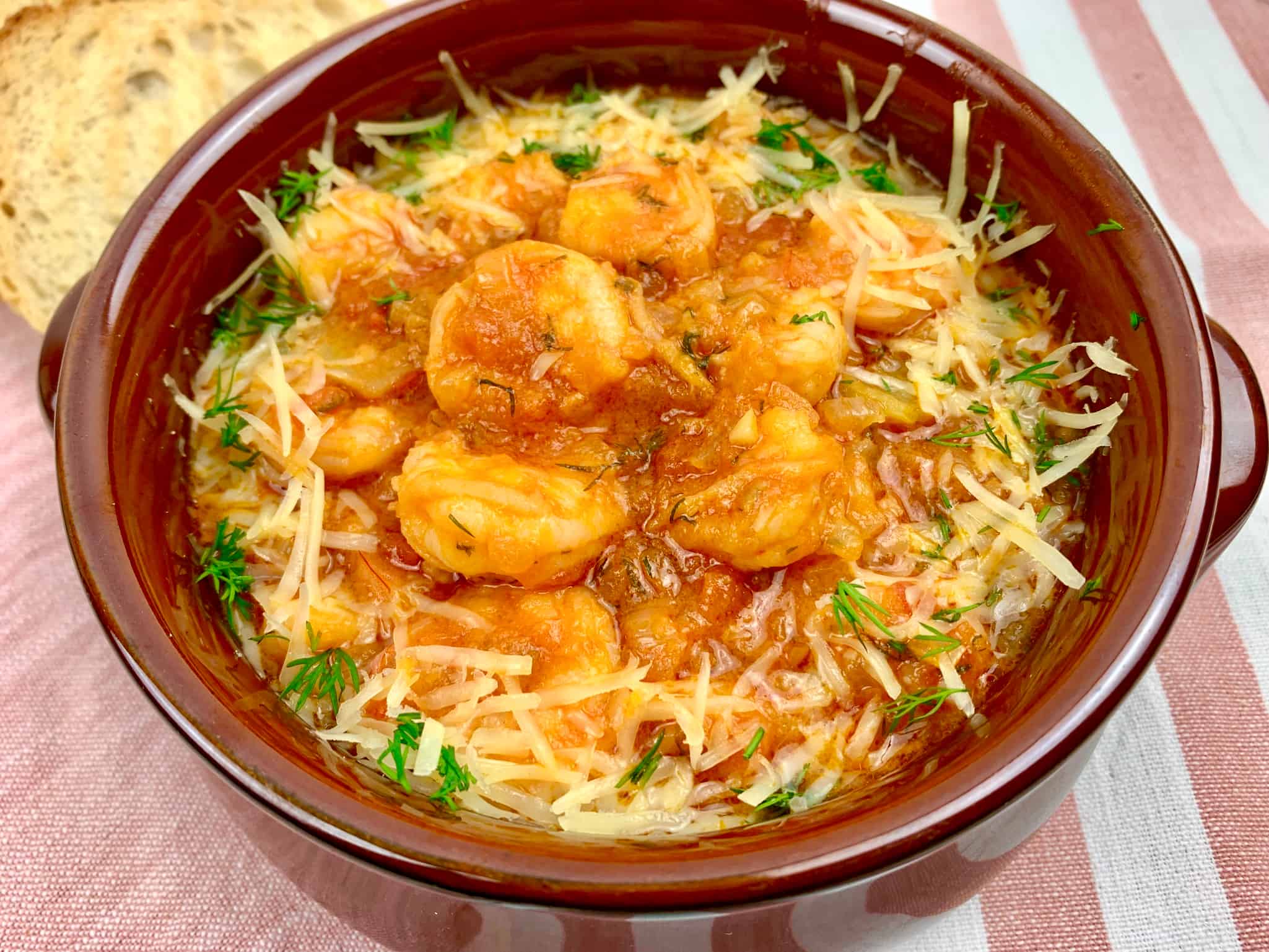 Is prawn saganaki an appetizer, Mezes or main dish? 
Prawn Saganaki (Garides Saganaki) can be served as an appetizer, part of a Meze platter or even as a main dish. It pairs perfectly with shots of Greek ouzo as an appetizer or as part of a Meze platter. Small bites of juicy shrimps in a rich tomato sauce with Feta cheese. As a main dish, shrimp Saganaki is mostly served with orzo pasta, rice or fries.
Either way, make sure you have enough crusty bread to mop up all the wonderful juices.
Ingredients for prawn saganaki recipe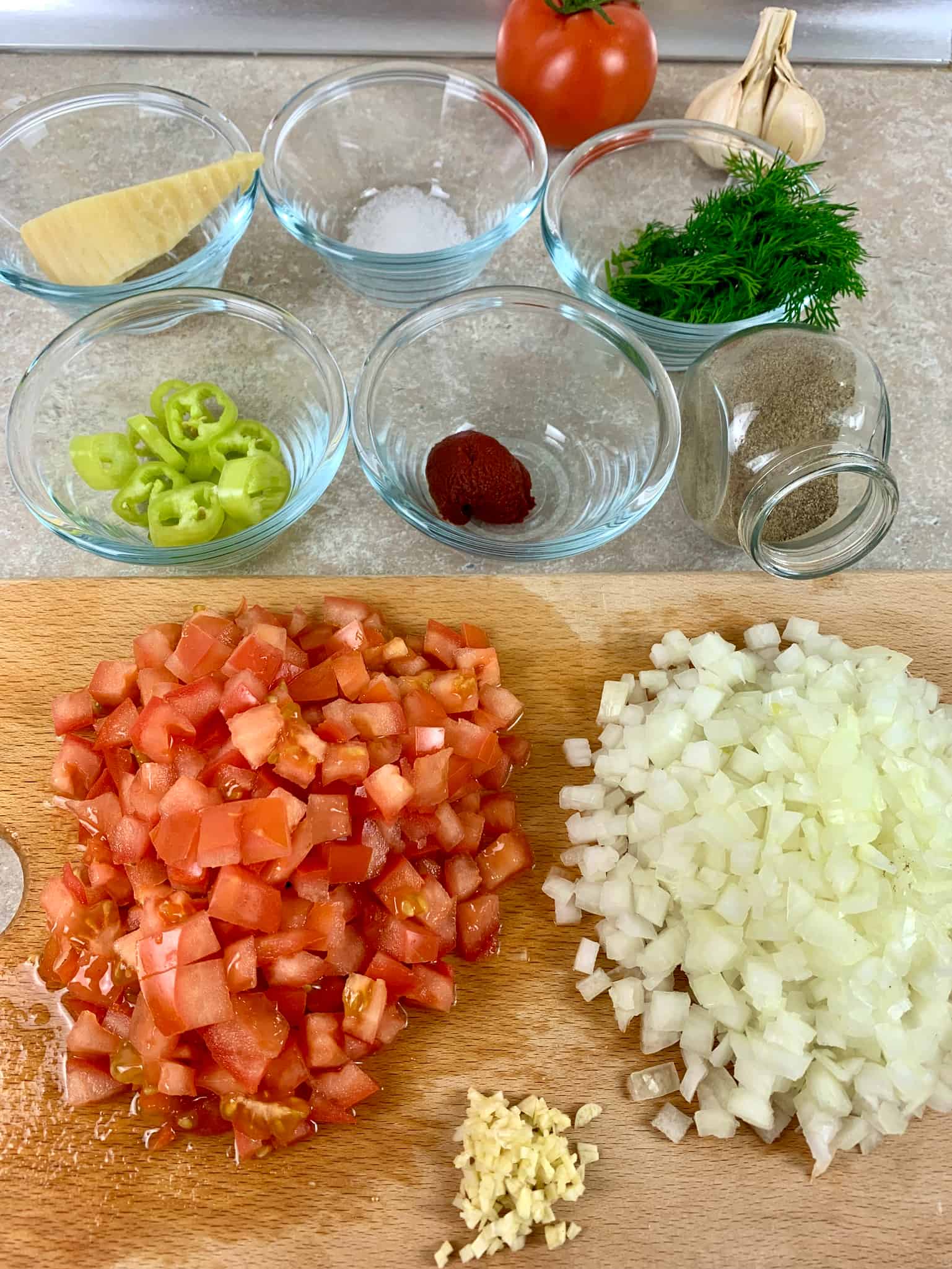 Shrimps or Prawns
This prawn saganaki is at its best when cooked with fresh prawns or shrimps. So, visit your local fishmonger and choose the freshest ones. Even though shrimps and prawns are not the same, they look very similar and thus the term is used interchangeably. This saganaki recipe can be equally prepared with shrimps should you not get your hands on prawns or vice versa from the fishmongers. To make sure you get fresh produce inspect their shell. Fresh prawns and shrimps will have an intact shell and be moist. They will also smell fresh.
Cleaning prawns and/or shrimps
Rinse the shrimps or prawns under cold water. Remove the heads and set them aside. Continue by removing their shell and legs. Score with a knife the upper pat of their body, ie the curved back. You will notice underneath a black line or vein which corresponds to their intestine. Remove this with the knife or a toothpick.I find it a lot easier to pick this 'vein' with a tooth prick. Make sure you take out the 'vein' properly and in its entirety. Rinse the shrimps or prawns one again under cold water to make you have removed this 'vein'.
Tips:
Make sure you cook the prawns  or shrimps as soon as you clean them as they go off quickly.
If you are making this prawn saganaki from frozen prawns make sure you either defrost them overnight or  in a bowl of cold water. Never defrost prawns in either warm or hot water as it will hasten the defrosting process but simply cook their outer surface and turn soggy. Similarly, do not defrost prawns in the microwave.
When de-shelling the prawns you can leave the tail on, this will make it much easier to pick up and eat.
Cheese 
There are many delicious Greek cheeses to choose from for this shrimp saganaki. The most commonly used cheeses are 'Graveria' and 'Kefalotyri'. Graveria is hard yellow cheese resembling the Swiss Gruyere. It has a mild sweet taste and is made up of goat's and sheep's milk (Cretian Graver) or cow's milk (Naxos Graviera). Graviera is the second most common cheese in Greece after Feta cheese. Should you not be able to get your hands on graveria, then substitute it for Gruyere.
Kefalotyri is another hard cheese commonly used in saganaki. It made up of either goat's or sheep's milk or a  combination of both. Kefalotyri has a strong, tangy and salty taste perfectly suited for this delicious shrimp saganaki.
A cross between Graviera and Kefalotyri is Kefalograviera. Kefalograviera is a hard cheese produced from goat's and sheep's milk.
Feta cheese is another excellent option for shrimp  or prawn saganaki. Feta cheese has a tangy, salty taste ranging from mild (goat's milk) to sharper (sheep's milk). In Cyprus, halloumi cheese is proffered for its mild, Feta-like taste.
Tomatoes
Choose the freshest aromatic ripe  and juicy tomatoes to prepare the flavoursome sauce. Fresh tomatoes will be juicy and sweet tasting. If they are not fresh, they may taste sour and bitter. You can also use good quality canned tomatoes if you want.
Cherry tomatoes or even mini pommodori tomatoes are juicy and would be also perfect for this dish.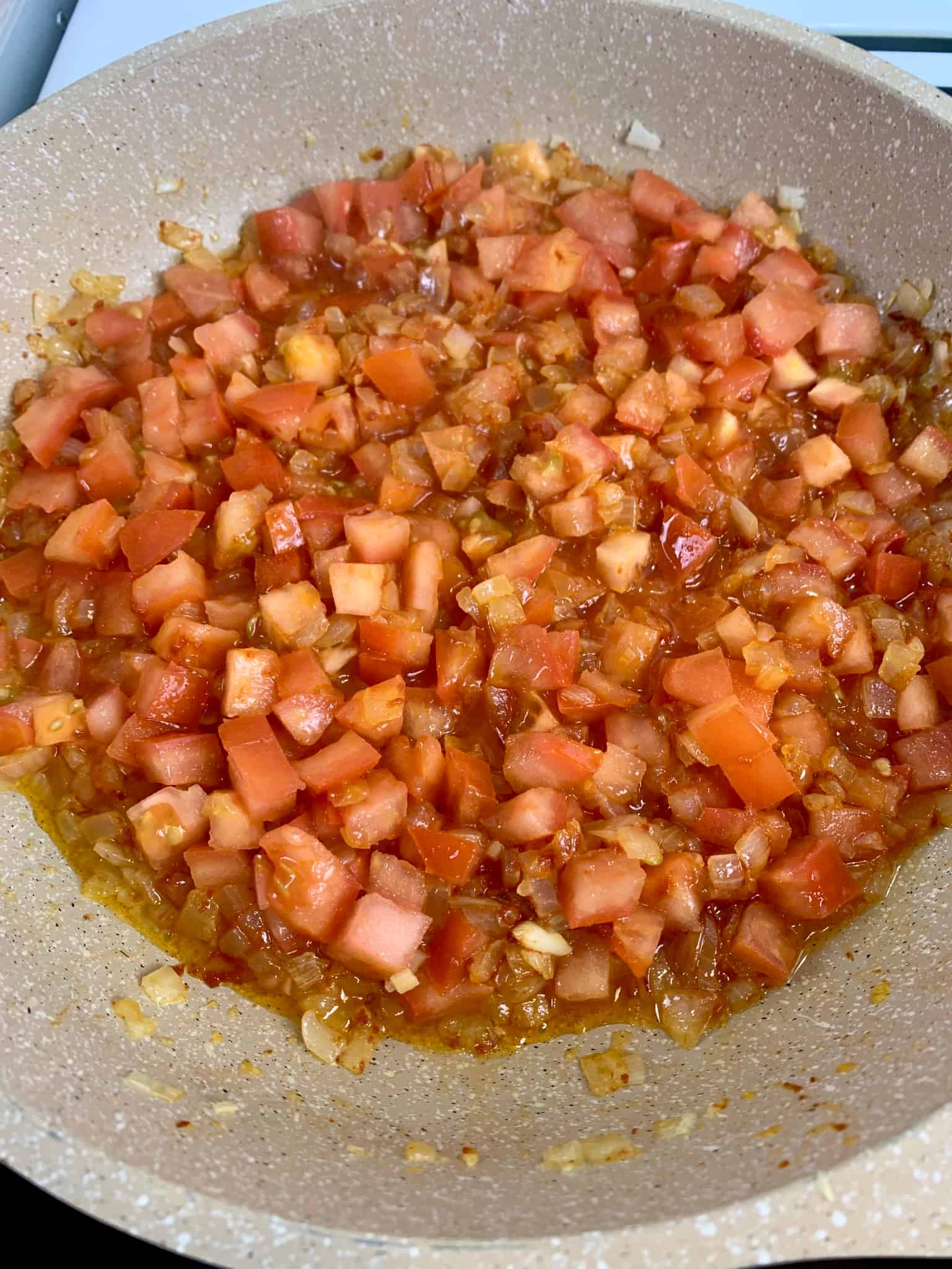 Peppers
Pointed peppers are perfect for this seafood saganaki compared to bell peppers. Pointed peppers have a thin outer skin and can cook quicker. Red sweet pointed pepper has a  sweet taste that pairs perfectly with the dish.
Banana peppers are also an excellent choice for this traditional Greek dish.
For a spicy saganaki, add Jalapeño or Serrano peppers.
Chilli flakes
For a spicy shrimp Saganaki, add half a teaspoon of chilli flakes.
Dill
Dill adds a citrusy, fresh taste to Saganaki. You can substitute dill for fresh parsley if you wish.
 Ouzo
Traditionally, shelled and de-veined shrimps are marinated in ouzo whilst the flavoursome tomato sauce is cooked. Not every household will have ouzo handy, and thus in this prawn Saganaki I have omitted it.  Saganaki will taste equally amazing without it!
For an eye catching spectacle, pour a glass of Ouzo  (or dash of Ouzo) and re-create the so-called 'flaming Saganaki'. Please be extra careful when you do recreate this, especially around children!
Helpful tips
To make this prawn saganaki dish even tastier with a distinct flavour add the cleaned prawn heads on the tomato sauce.  Prawn heads will add an extra umami-crustacean stock like flavour to this delicious dish.
Serving and accompaniments
When serving shrimp or prawn saganaki as an appetizer or part of a Meze platter, no other Greek beverage can pair better than Ouzo! Enjoy saganaki with shots of ouzo along with other delicious Greek dips and spreads like tirokafteri.
When serving it as a main dish, most traditionally it is paired with fries. Nevertheless, saganaki goes very well with orzo pasta, pasta, rice or a light leafy green salad.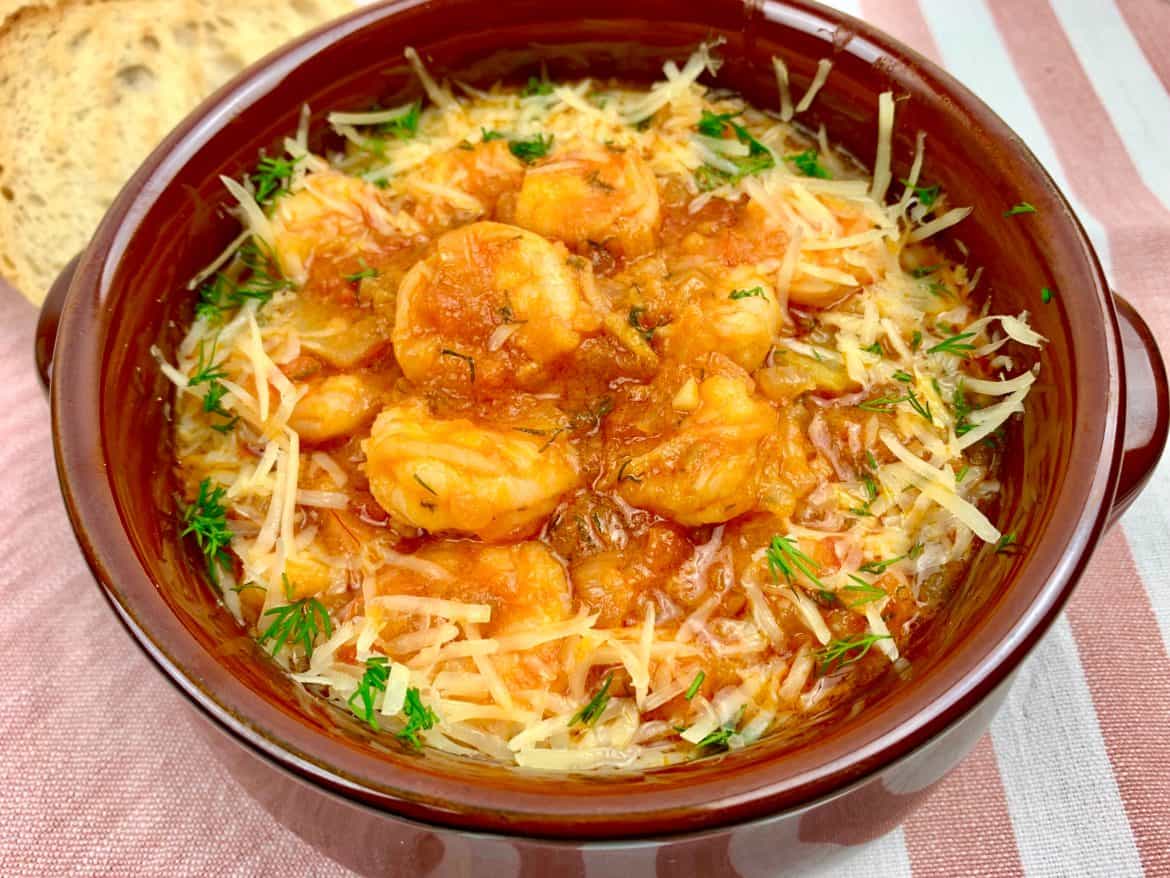 Prawn Saganaki
Ingredients
500gr shrimps or prawns
3 large onions
3 fresh tomatoes or 400gr tomato can
1 sweet or chilli  pepper
100gr Greek Feta cheese or any other hard cheese
150ml water
50ml or 3 tablespoons of extra virgin olive oil
1 garlic clove
1 and 1/2 teaspoon tomato paste
4-5 sprigs of fresh dill
1 teaspoon kosher salt
1 teaspoon black pepper
1/2 teaspoon chilli flakes (optional)
Instructions
To prepare this prawn saganaki recipe start by rinsing them under cold water. Inspect their outer shell and discard any that are not fresh. Remove the heads of the fresh prawns, the shell and their legs.  Set the cleaned prawn heads aside as you will be using them when making the tomato sauce. Believe me, the tomato-saganaki sauce will taste so much better if you include the prawn heads in it.
Chop the fresh tomatoes ( or canned tomatoes), onions, garlic, pepper and dill.
Pour extra virgin olive oil on a pan and sauté the onions until translucent for 5 minutes on medium-high heat. Add chopped garlic, stir and continue to sauté.
Continue by adding fresh tomatoes, tomato paste, stir and cook for 2-3 further minutes. Carry on by adding water and stirring.
Season the rich tomato sauce with salt and pepper (to taste) and add the prawn heads. Cook on medium heat for 20 minutes.
Remove the prawn heads, place them in a colander and drain the delicious juices. Add these delicious juices back to the saganaki sauce. Add the de-shelled and de-veined prawns, sliced pepper, dill and cook for 6-8 minutes. Cooking time will depend on the size of the prawns. Large or jumbo prawns will require longer cooking time.
Remove the pan from the stove and add the grated cheese, be it Greek Feta cheese, any hard cheese or even Halloumi.  Stir and let the cheese melt for a couple of minutes. Serve hot with fries or a light green leafy salad.