Chocolate Galaktoboureko is a delicious chocolatey twist to the traditional Greek Galaktoboureko made with creamy semolina chocolate custard sandwiched in between flaky phyllo pastry sheets and soaked in syrup. Its name originates from the combination of two words; 'Gala', meaning milk and 'boureki' meaning filled pastry.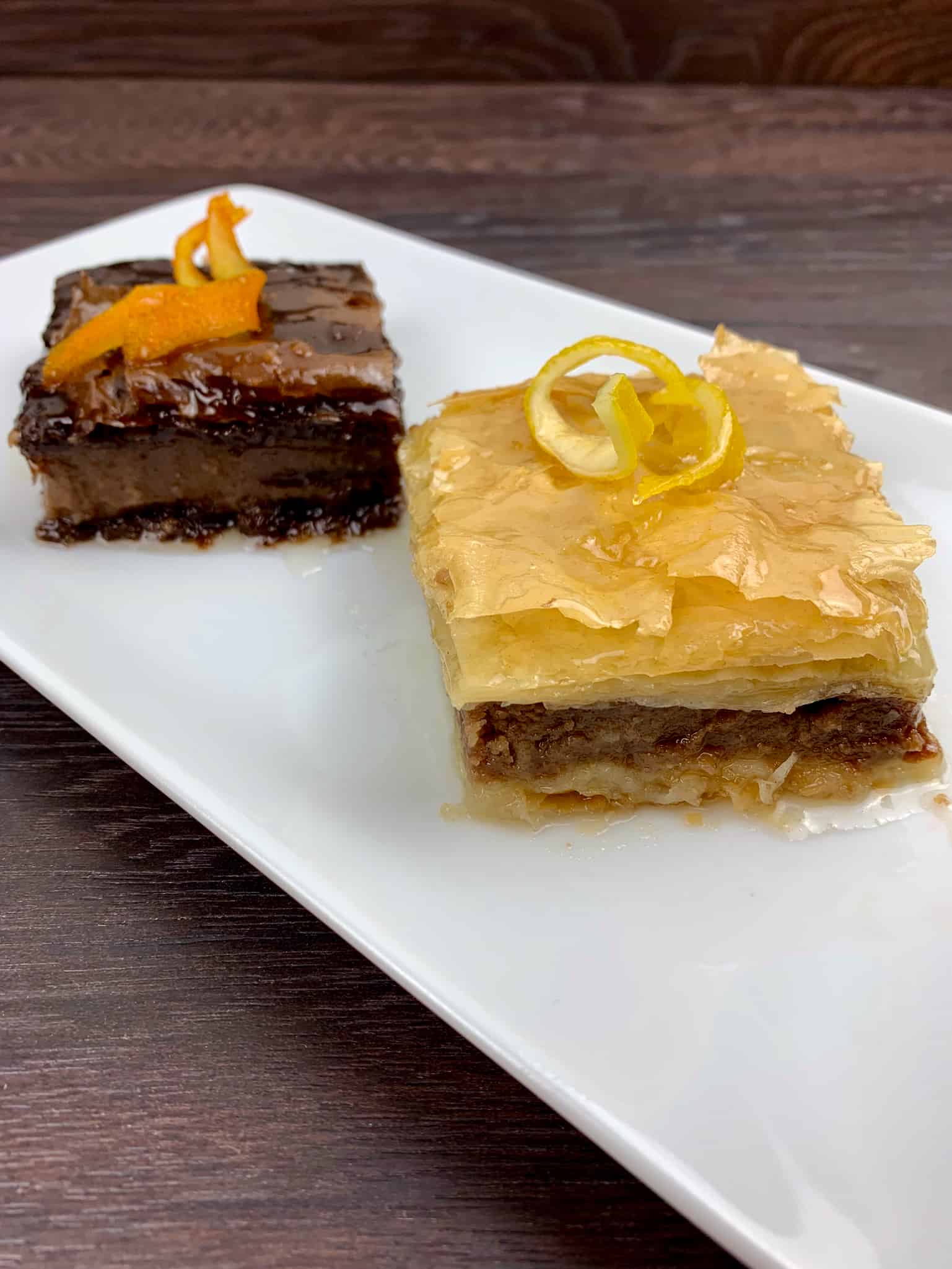 Galaktoboureko closely resembles Bougatsa (another famous Greek dessert), the Portuguese Pasteis de Nata and the French Mille-Fuille. There are though a few differences between these custard and phyllo pastry based desserts.
Bougatsa combines a creamy semolina based custard in-between phyllo sheets which are then baked. Bougatsa is not soaked in syrup but rather served hot from the oven sprinkled with powdered sugar or cinnamon.
The Portuguese Pasteis de Nata combines a creamy caramelised egg custard nested in puff pastry. Finally, the French Mille-Fuille has layers of puff pastry in between pastry cream covered in chocolate and other designs. Mille Fuille pastry cream is also an egg based flour custard rather than a semolina one like in Galaktoboureko.
Making the Galaktoboureko syrup
Just like my favourite Gianniotiko, prepare the aromatic syrup at the beginning and let it cool down. The syrup needs to be of room temperature when added to hot chocolate galaktoboureko as otherwise it will not be absorbed. Never pour hot syrup over hot Galaktoboureko. The phyllo pastry sheets will turn soggy leading to  a disaster.
Pour water and lemon juice on a pan and add sugar with lemon peel. Bring the mixture to boil over high heat. Let it boil for 5-7 minutes until it  thickens.
Making the chocolate semolina custard
Galaktoboureko is famous for its creamy semolina custard. Galaktoboureko custard is made from fine semolina, eggs, milk, and sugar. Semolina is made from crushed durum wheat and hence it has a golden colour. It has a sandy texture and can be found in fine and coarse forms. It is healthier than white flour and tastes sweet.
Preparing the chocolate semolina custard is very similar to preparing the traditional Galaktoboureko semolina custard with the addition of cacao and (dark) chocolate chips.
Preparing the galaktoboureko semolina custard is not tricky as long as you follow some simple rules. Start by pouring milk in a saucepan and add half the sugar. Bring this to a boil over high heat. Once it has boiled, lower the heat to medium. Carry on by adding the fine semolina slowly and whisking at the same time continuously. You need to constantly whisk whilst adding the semolina as the custard will turn lumpy otherwise.Let the semolina-milk-sugar mixture cool down before you proceed. Remove it from the hob and let it cool down.
Meanwhile, in a separate bowl beat the eggs with the rest of the sugar and vanilla extract until white and fluffy. When the semolina-milk-sugar mixture has cooled down enough, incorporate the beaten eggs with a spatula.
Place the saucepan again in the hob and cook for a further 1-2 minutes while whisking continuously. Withdraw the saucepan once more from the hob/stove and add cacao, chocolate chips and the melted butter. Stir to combine evenly. There is no need to melt the chocolate chips as they will melt instantly once in the hot semolina-custard.
The chocolate semolina custard cream should have the same consistency as a Greek strained yoghurt. The chocolate semolina custard should be lukewarm to cold when added to phyllo pastry sheets, as if hot the phyllo sheets will turn soggy.
So let the semolina custard cool down a bit. I usually place it in the fridge for 30 minutes or so as not only does it cool down the custard but it also allows me to better score my chocolate Galaktoboureko.
Handling the phyllo sheets
The secret to a crispy phyllo is butter! Melt the butter and place it in a bowl. Brush each phyllo sheet with butter using a pastry brush. There is no need to brush both sides of the phyllo pastry sheets, just brush one side. Make sure you brush consistently the same side and stack them into layers. Brush one side of the phyllo sheet with butter and place it in a buttered baking dish with the unbuttered side down. Place another buttered phyllo pastry sheet with the unbuttered side down, ie. touching on the buttered side of the previous phyllo sheet.
Phyllo sheets are very thin and dry out quickly. Thus, make sure you have a damp kitchen towel ready to cover the phyllo pastry sheets.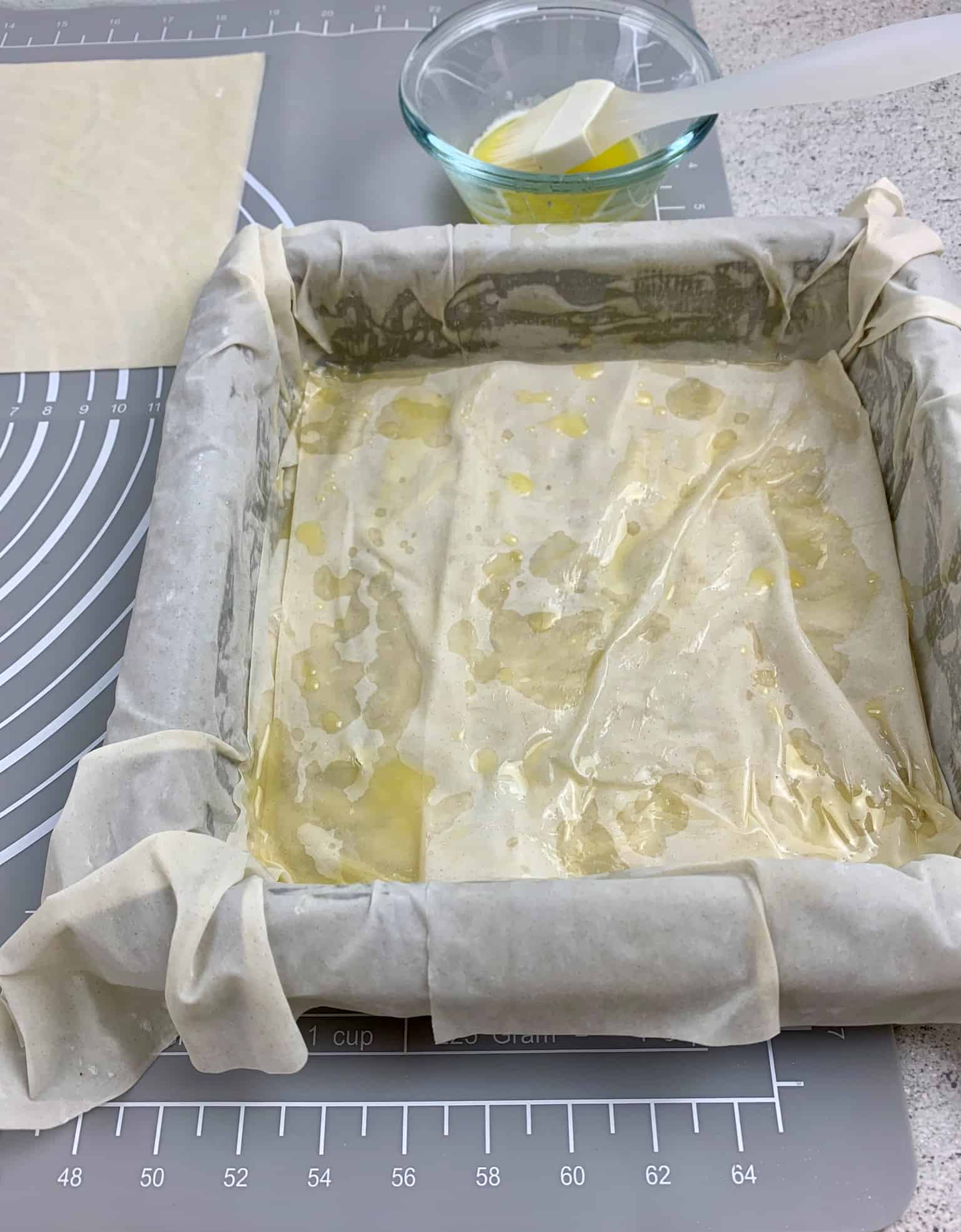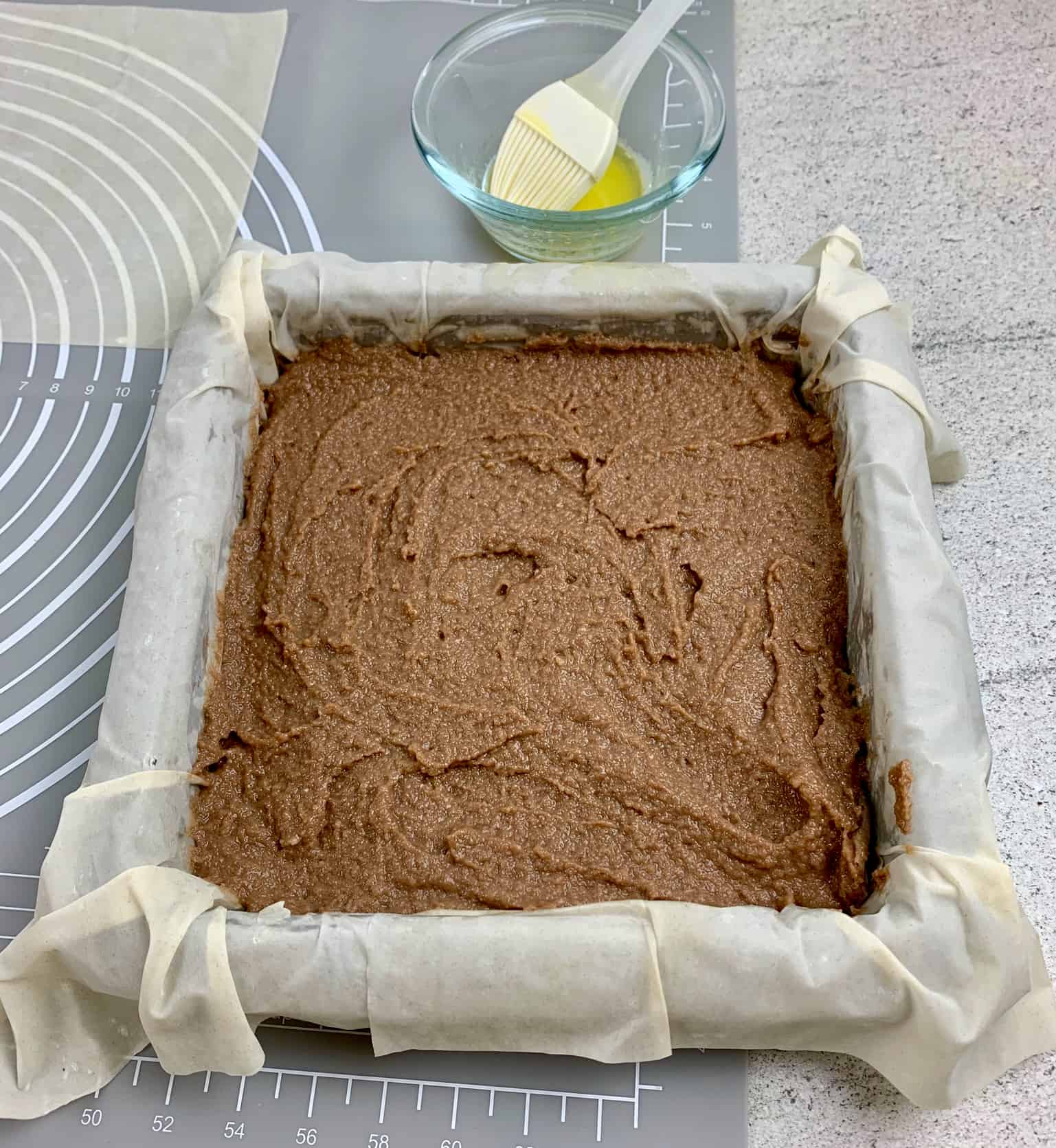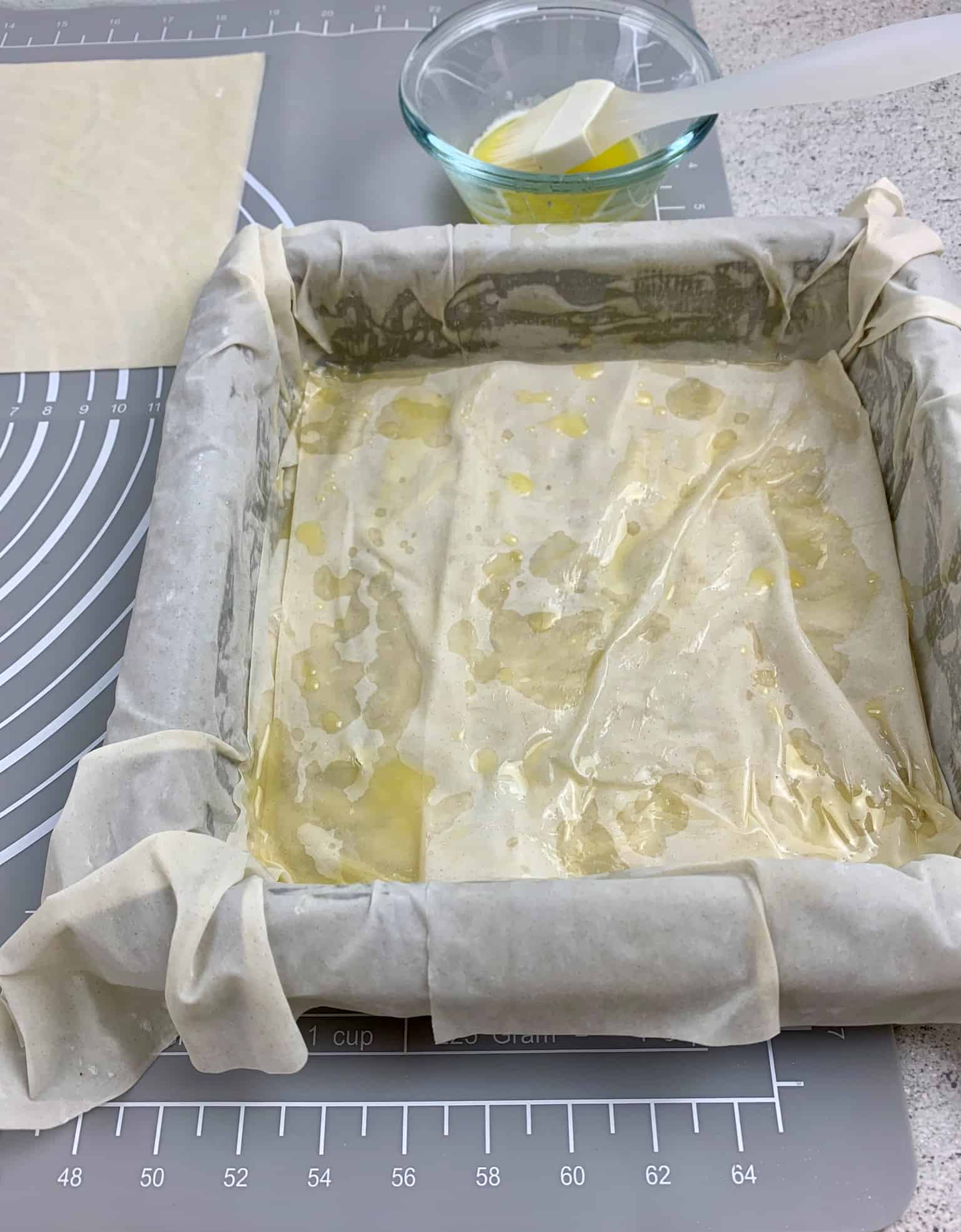 Using chocolate phyllo sheets instead!
To make this chocolate Galaktoboureko even more chocolatey prepare it with chocolate phyllo pastry. These chocolate phyllo pastry sheets are readily available in Greece and are infused with chocolate!
When preparing this chocolate Galaktoboureko with chocolate phyllo sheets bake it at a lower temperature and for a bit longer. Chocolate phyllo sheets burn more easily compared to the plain phyllo pastry sheets. So bake this double chocolate Galaktoboureko with chocolate phyllo sheets at 155C or 311F for 50-60 minutes.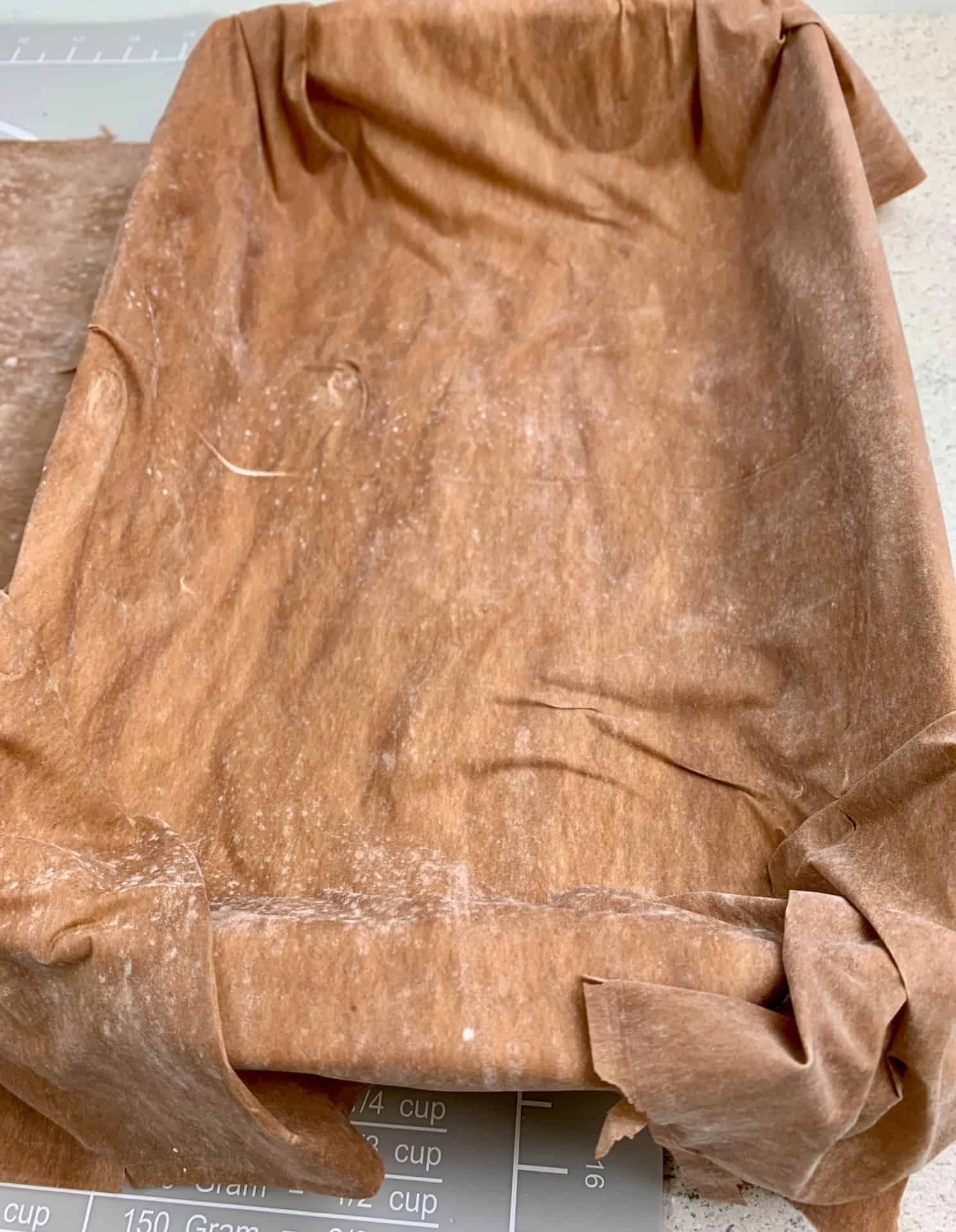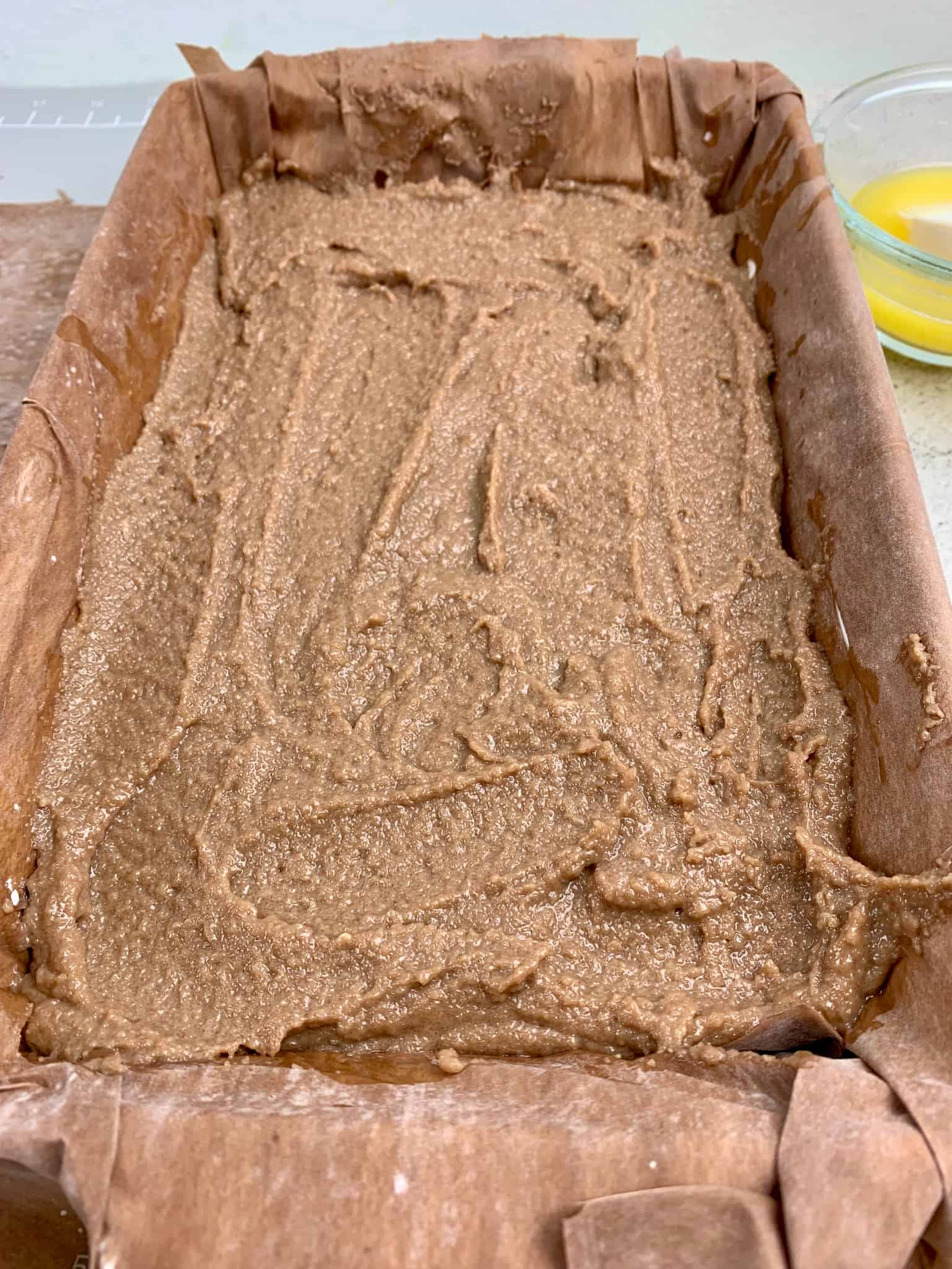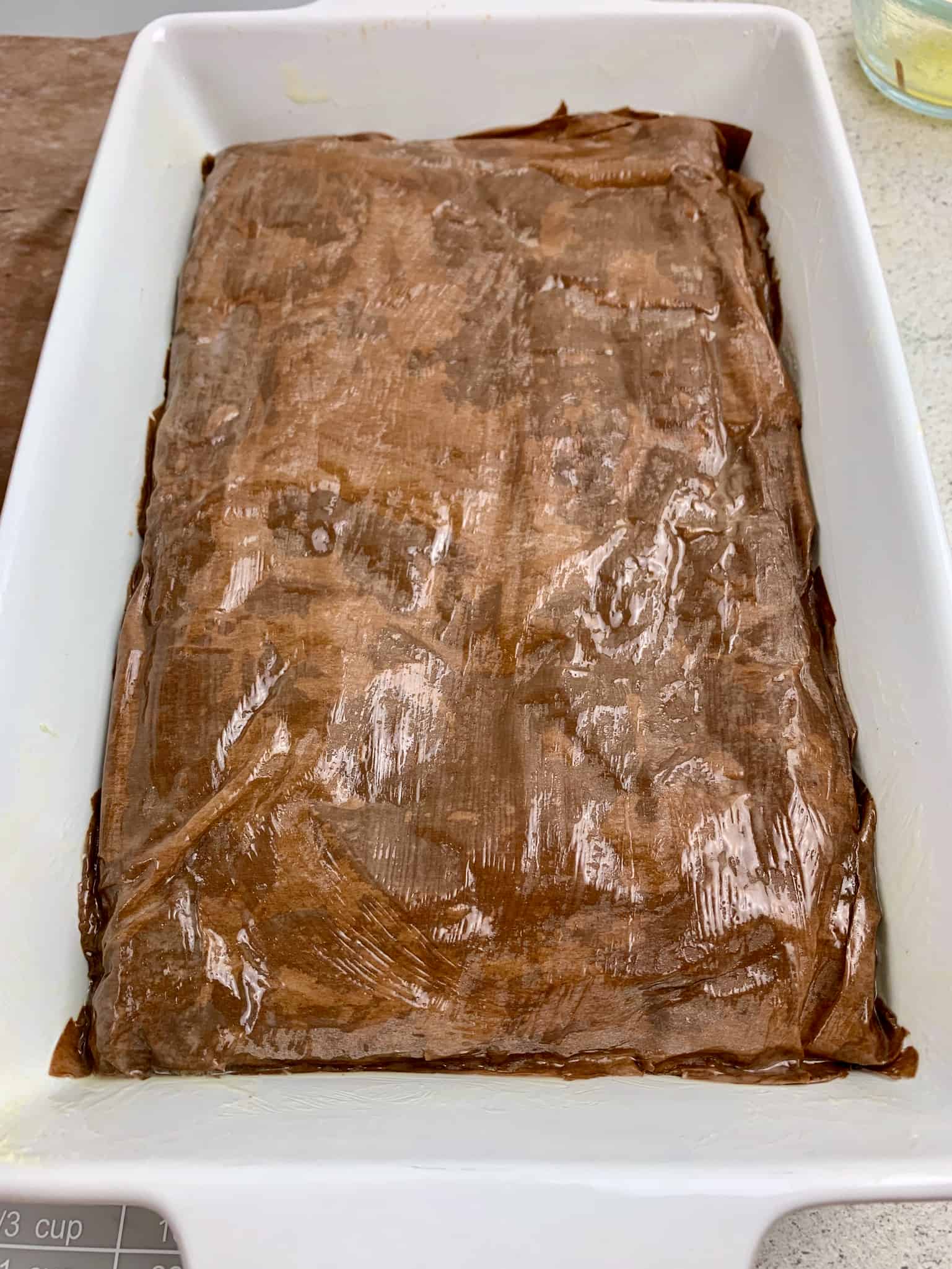 How long can you keep chocolate Galaktoboureko
You can store this chocolate Galaktoboureko in airtight container and refrigerate it for a couple of days.
How do you serve chocolate Galaktoboureko?
This chocolate Galaktoboureko is best served hot. Indulge into crispy phyllo with a creamy and chocolatey semolina custard filling. This delicious chocolate flavoured semolina custard pie is best served hot when the phyllo pastry sheets are crispy and flaky and the custard is creamy and soft. It is equally delicious when served cold too! Also you can pair a slice of chocolate Galaktoboureko with a scoop or two of ice cream!
Finally, if you'd like to try something different, turn them into Galaktoboureko rolls! Instead of the traditional format of semolina custard cream sandwiched between phyllo sheets place a phyllo sheet flat, scoop a small amount of chocolate-semolina custard and roll the phyllo sheet into cigars (Galaktoboureko rolls or cigars).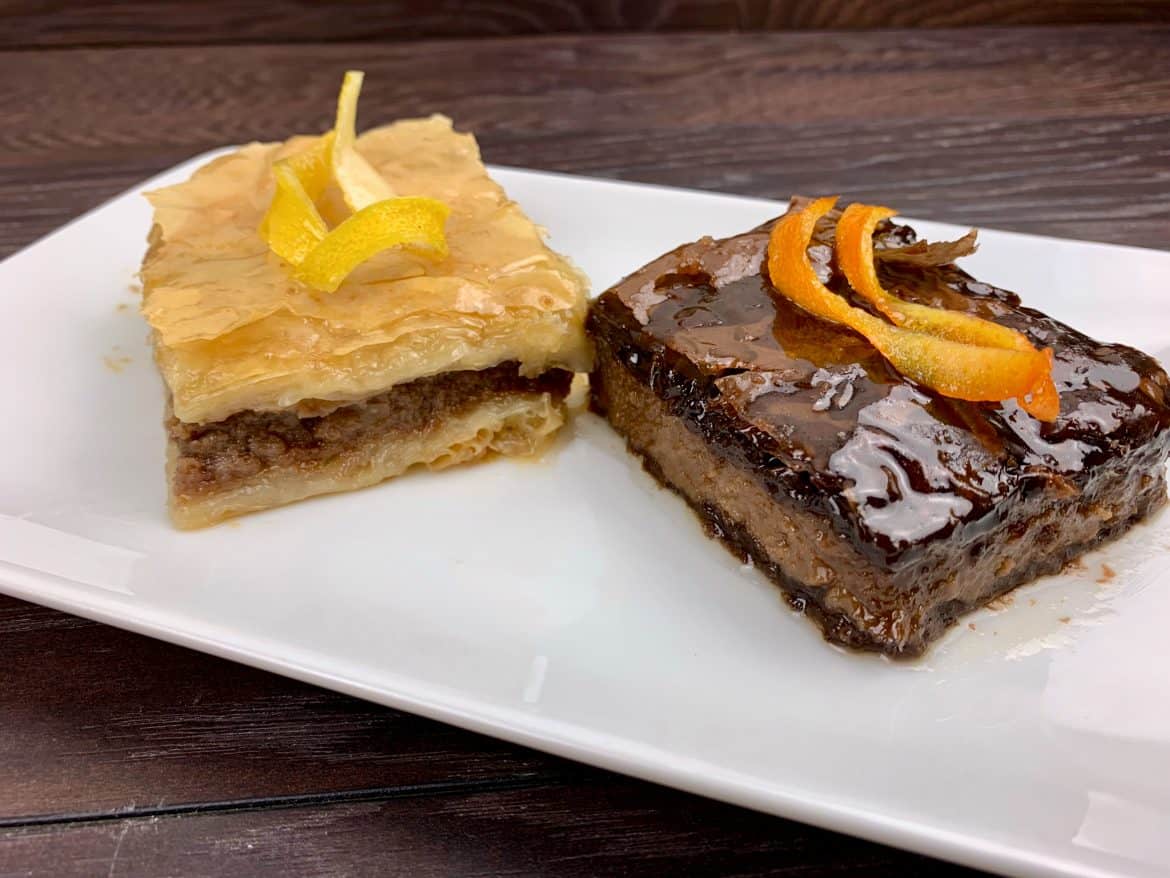 Chocolate Galaktoboureko
Ingredients
For the Syrup
550ml water ( 2 cups water +1 tablespoon)
 450gr sugar  (3/4 cup sugar + 2tablespoons)
1 tsp lemon juice
1/2 lemon peel
For the semolina custard
500ml milk ( 2 cups milk + 1tbsp)
 170gr sugar ( 3/4 cups  sugar+ 1 tbsp)
20gr melted butter
2 eggs
70gr fine semolina (1/2 cup semolina + 1 tablespoon)
1 tablespoon cacao
1 tablespoon dark chocolate chips
2-3 vanilla drops or 1 teaspoon extract
1 teaspoon lemon zest
Phyllo pastry
400gr phyllo pastry (Filo)
200gr butter (to brush phyllo pastry sheets)
Instructions
For the syrup:
Pour water, sugar, lemon peel and lemon zest in a pan and bring it to boil. Let it boil for 5-7 minutes. Remove it from the hob and let it cool down. The secret to this chocolate Galaktoboureko recipe is to pour cold syrup , ie room temperature, to hot just from the oven semolina custard pie.
For the semolina custard:
Melt butter in a pan and place it in a bowl. You will add the melted butter at the end of the semolina custard.
In a medium sized pan, pour milk and add half of the sugar. Over high heat, bring this to boil. Once it has boiled, lower the heat to medium and add slowly (fine) semolina. Make sure you whisk continuously whilst you add the semolina to prevent it from forming lumps. When the sugary semolina-milk mixture starts to set, remove the saucepan form the hob to prevent it form overcooking. You may wish to pour it into another saucepan if you wish.
Whilst the semolina-milk-sugar is cooling down, beat the eggs with the rest of the sugar and vanilla until fluffy. Incorporate the eggs-sugar-vanilla mixture to a cool semolina mixture slowly with a spatula. This will allow the custard to reach an airy-like consistency.
Place the semolina-egg custard mixture back into the hob and cook it over medium heat for 1-2 minutes. Remove the semolina custard mixture from the hob for the last time and add cacao, chocolate chips and melted butter. Stir to combine evenly to the custard. The chocolate chips will melt instantly in the hot semolina custard mixture.
Set the semolina custard aside to cool down. It should be lukewarm when added to the phyllo pastry.
Assemble:
Lay the phyllo pastry sheets on a clean working surface. 400gr of phyllo will be approximately 20 phyllo (filo) sheets. Divide the phyllo sheets in two piles. One pile will be the bottom layer and the other the top layer.
Butter a baking dish and place two buttered phyllo sheets side by side so that the entirety of the dish is covered with parts of the phyllo sheet hanging out.
Butter each phyllo sheet with a brush on one side and place another phyllo sheet on top. All  phyllo sheets should be buttered on the same side, the top side. Once you have placed the buttered bottom phyllo layers, spoon the chocolate semolina custard evenly.
Place the remaining buttered phyllo sheets one by one on top of the semolina custard. Finally fold in the overhanging bits of phyllo pastry sheet. Make sure the top phyllo sheet is evenly buttered.
Preheat the oven to 170C or 338F for the chocolate Galaktoboureko with traditional phyllo sheets and to 155C or 311F for chocolate Galaktoboureko with the chocolate phyllo pastry.
Place the chocolate galaktoboureko in the fridge to cool down a bit so that the semolina custard cream can sit and it is easier to score. Once the chocolate semolina custard has rolled down and set, it is easier to score Galaktoboureko.
Bake the chocolate galaktoboureko with traditional phyllo at 170C or 338F for 45-50 minutes. Whilst for the chocolate galaktoboureko with chocolate phyllo bake at 155C or 311F for 50-60 minutes.
Pour half of the syrup on the chocolate galaktoboureko and let it soak for 5-6 minutes. Pour the rest of the syrup and let it soak even further.
Enjoy on its own or with a scoop of ice cream!