This puff pastry cheese ring (Tirokoulouro /Tyrokoulouro) is simply delicious and ready in under 30 minutes! Plus it is super easy to make!! It is simply a breakfast, appetizer,picnic or party food must!
Tirokoulouro as it name implies, 'Tyro' cheese and 'Koulouri',is a cheese stuffed bread ring. In this recipe I use puff pastry to make these cheese delights even tastier and quicker to make!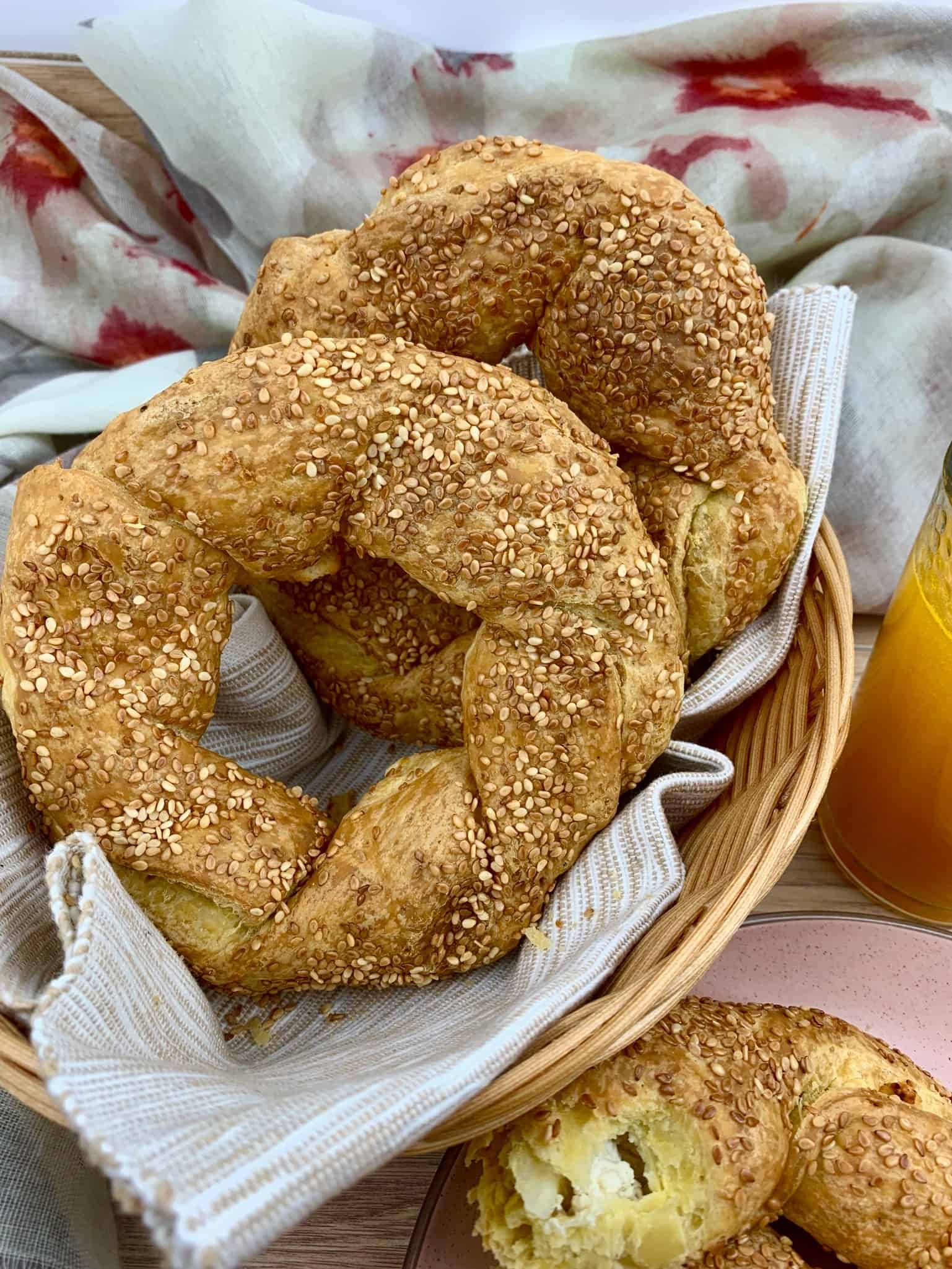 Koulouri, ie bread ring, is a Greek breakfast staple!Simply wander off in the streets of Thessaloniki and you will be sure to run into Koulouri ventors in every corner!
Puff pastry cheese ring (Tirokoulouro/Tyrokoulouro) ingredients
Puff pastry
Use a block of puff pastry for this Tirokoulouro/Tyrokoulouro recipe and you will be enjoying these cheesy ring delights in no time!
Cheese filling
The Tirokoulouro/Tyrokoulouro filling is so easy to make and simply involves combing just Anthotyro with kosher salt. In a mix add crumbled anthotyro and season.
The cheese filling has no further spices or herbs, simply to bring out the lovely Anthotyro taste.
Garnish
Garnish the puff pastry cheese ring (Tirokoulouro/Tyrokoulouro) with sugary water and sesame seeds.
Further suggestions- Spices/Herbs
I like to keep this recipe nice and simple without added spices or herbs. Should you wish to add I would recommend dill, parsley or oregano.
What type of cheese is Anthotyro?
Anthotyro is a traditional Greek cheese with a unique tangy light taste. Its name, Anthotyro derives from two words, 'Anthos' which translates to blossom or flower and 'tyro' which translates to cheese.
It is made up of goat's and sheep's milk and whey.It comes into two varieties, fresh (soft cheese ) or dry (hard cheese). Fresh Anthotyro is very popular as a breakfast cheese as it is easily spreadable.It is also very common as a Greek Feta cheese substitute in pies.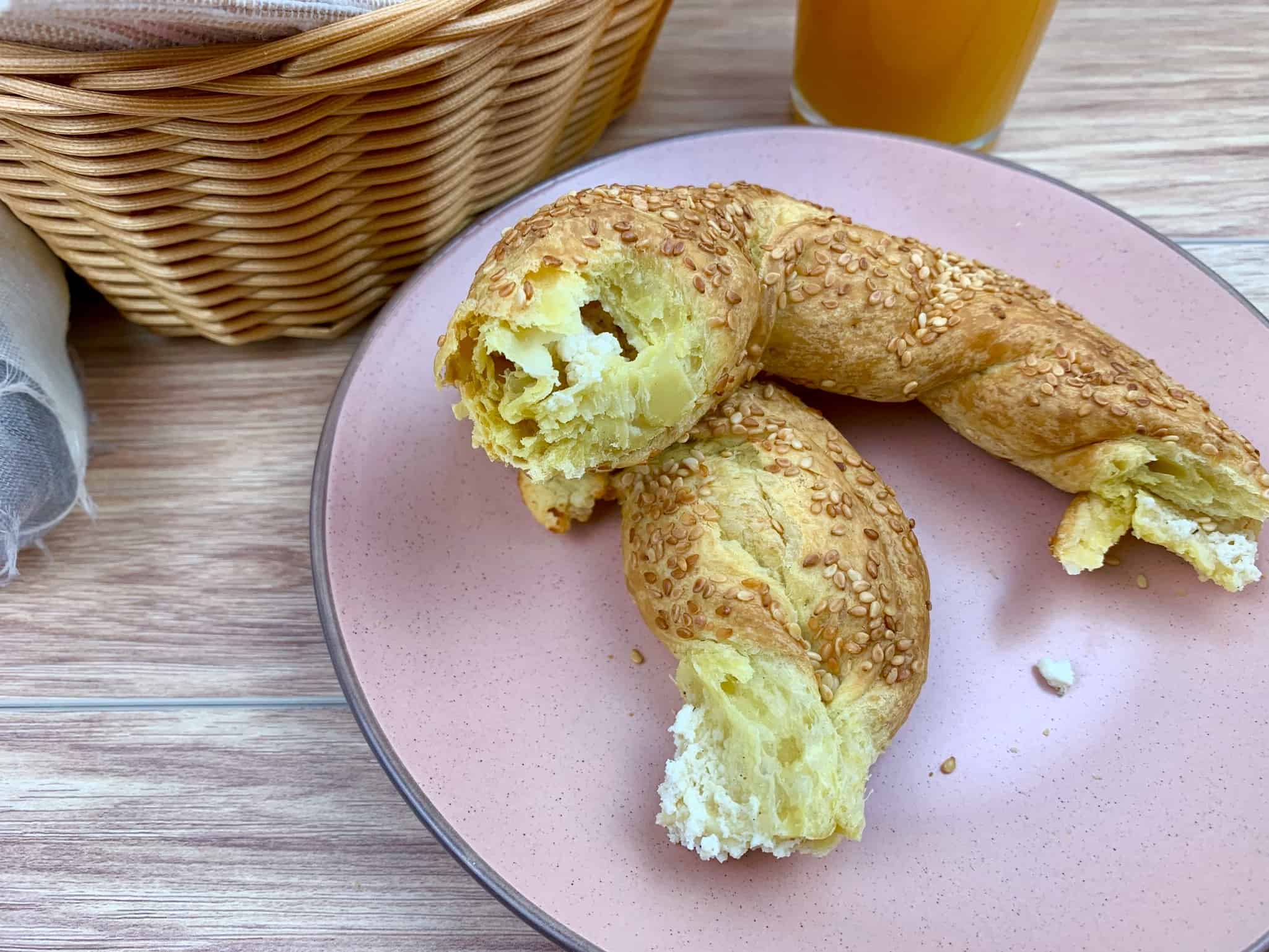 How does Anthotyro taste like?
Fresh or soft Anthotyro fresco has a mild flavour whereas dry Anthotyro (Anthotyro Xero) has a rather tangy flavour.
The soft variety is easily spreadable whereas the dry variety is graded and used mostly in pastas.
Anthotyro versus Feta cheese
Anthotyro is very popular in Greece given its light, milder taste. It is also lighter that the traditional Feta cheese and is thus preferred
What can I substitute Anthotyro with?
If you do not happen to have Anthotyro, do not despair you can substitute it for equal portions of Mizithra, Xynomizithra (sour Mizitha), Katiki, Feta cheese, any goat cheese, ricotta or cottage cheese. You can also make the cheese Tirokoulouro filling with a combination of your favourite cheeses.
Mizithra and Katiti are traditional mild soft Greek cheeses from Crete and Domokos respectively.
Puff pastry cheese ring (Tirokoulouro/Tyrokoulouro) serving suggestions
These cheese delights are ideal as breakfast with a glass of freshly squeezed orange or a cup of Greek coffee. They are also perfect evening snacks for when hunger strikes. You can either enjoy Tirokoulouro/ Tyrokoulouro on its own or pair it with Greek honey, yoghurt,  fresh fruits or ham slices.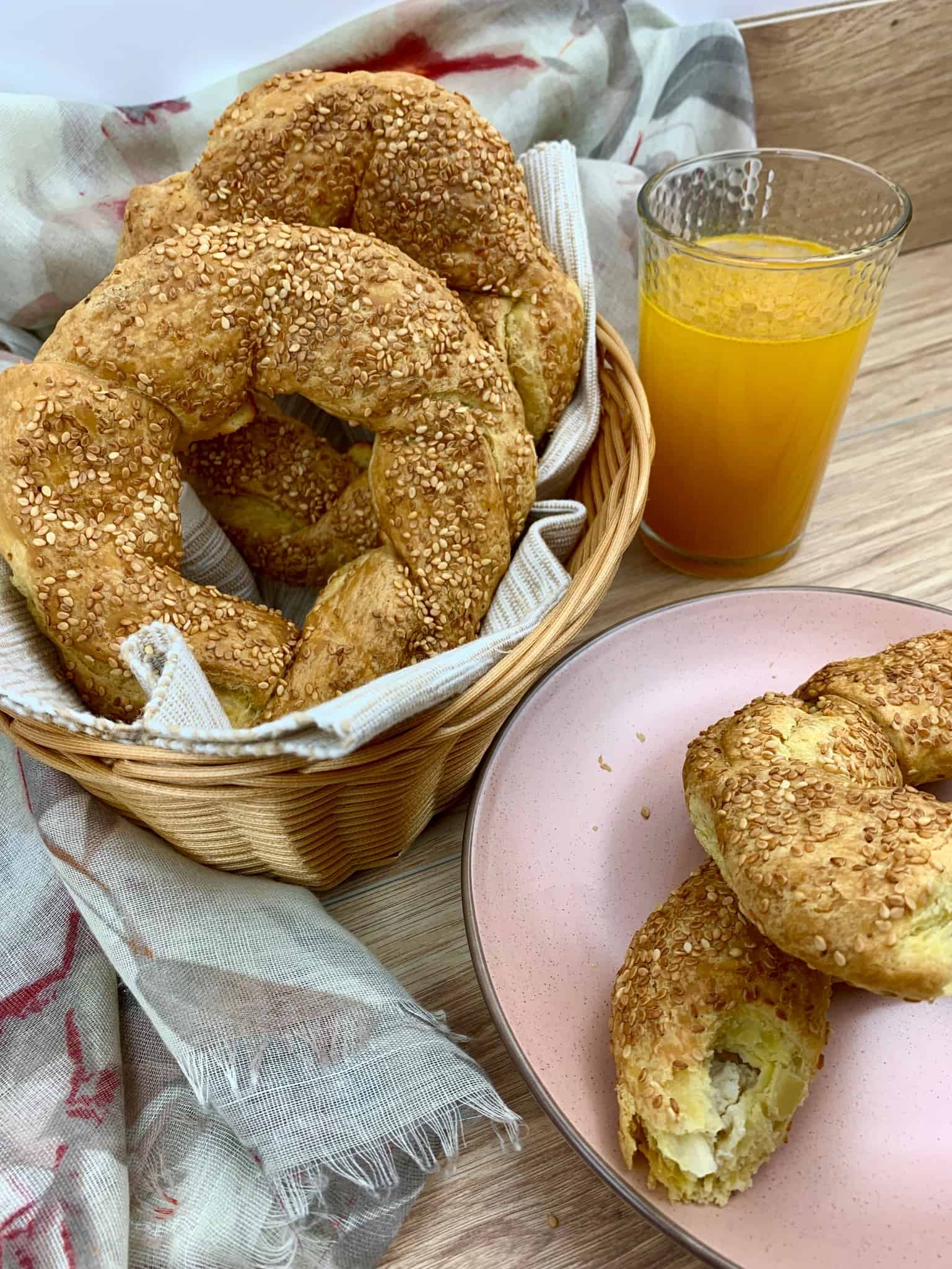 Other recipes you might like
If you love easy and quick recipes with puff pastry, then you will love my Loukanikopita (Sausage roll) recipe. Perfect for lazy breakfasts.
If you love the combination of Feta cheese and pastry, then do not miss out on Mini Tiropitakia (Greek baked Feta cheese triangles). These little triangles are super easy to make and are ready under 30 minutes!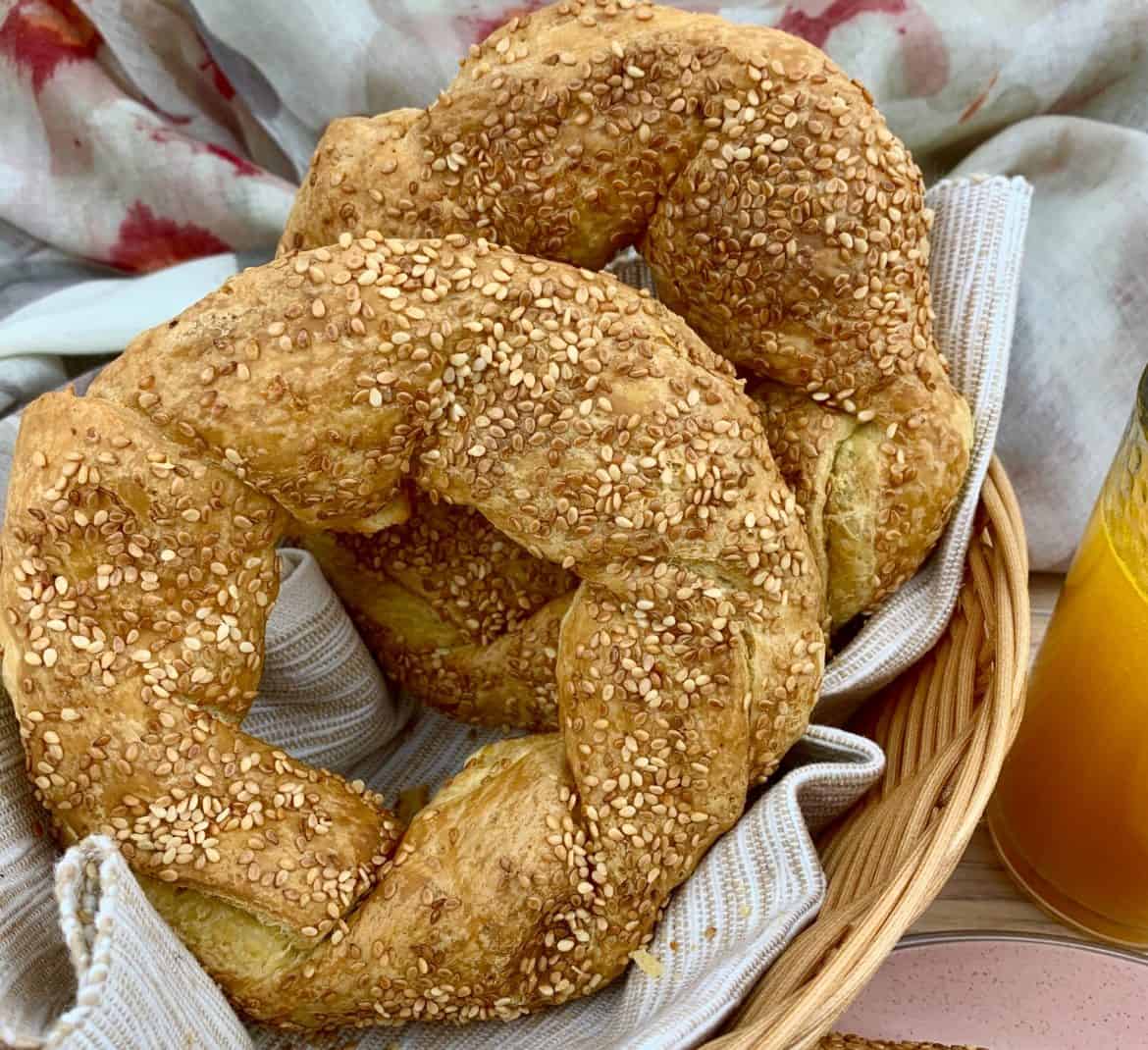 Puff pastry cheese ring (Tirokoulouro/Tyrokoulouro)
Ingredients
1 packet puff pastry, thawed
For the Tirokoulouro/ Tyrokoulouro  filling:
120-150 grams  Anthotyro (8 ounces; 1 cup), crumbled (or Feta cheese, Mizithra)
1 teaspoon kosher salt
Garnish:
1 cup water
1 tablespoon granulated sugar
1 tablespoon honey
½-1 cup sesame seeds
Instructions
To prepare this puff pastry cheese ring (Tirokoulouro/Tyrokoulouro) gather your ingredients.
This recipe is super easy and quick so make sure you preheat the oven to 400 °F or 200°C.
Roll out thawed puff pastry into a work surface and cut into 6 equal pieces lengthwise.
Spread the anthotyro cheese filling on each puff pastry piece. Make sure you spread the cheese filling in the middle leaving ample space on each side.  Moisten the sides of the  stuffed pastry pieces and seal. You will now have created puff pastry 'ropes' or 'tubes'.  Twist these stuffed puff pastry 'ropes' and join the two ends, thus making bread rings.
In a bowl pour a glass of water and add sugar along with honey. Stir until dissolved. Dip each Tirokoulouro/Tyrokoulouro in the sugary-honey water quickly. Then transfer the Tyrokoulouro into a bowl sesame seeds and cover each surface with sesame seeds.
Line a baking dish with parchment paper and place each Tirokoulouro/ Tyrokoulouro making sure you leave some distance in-between, as they will rise during baking.
Bake at 400 °F or 200°C for 20 minutes until golden brown.
Kali Orexi! Enjoy!