Gluten free Melomakarona with apple and pear (Stuffed Melomakarona) recipe is a unique recipe I have created for this Holiday season to cater for my Gluten sensitive guests. This recipe also combines the delicious flavour of traditional Melomakarona with exciting fillings.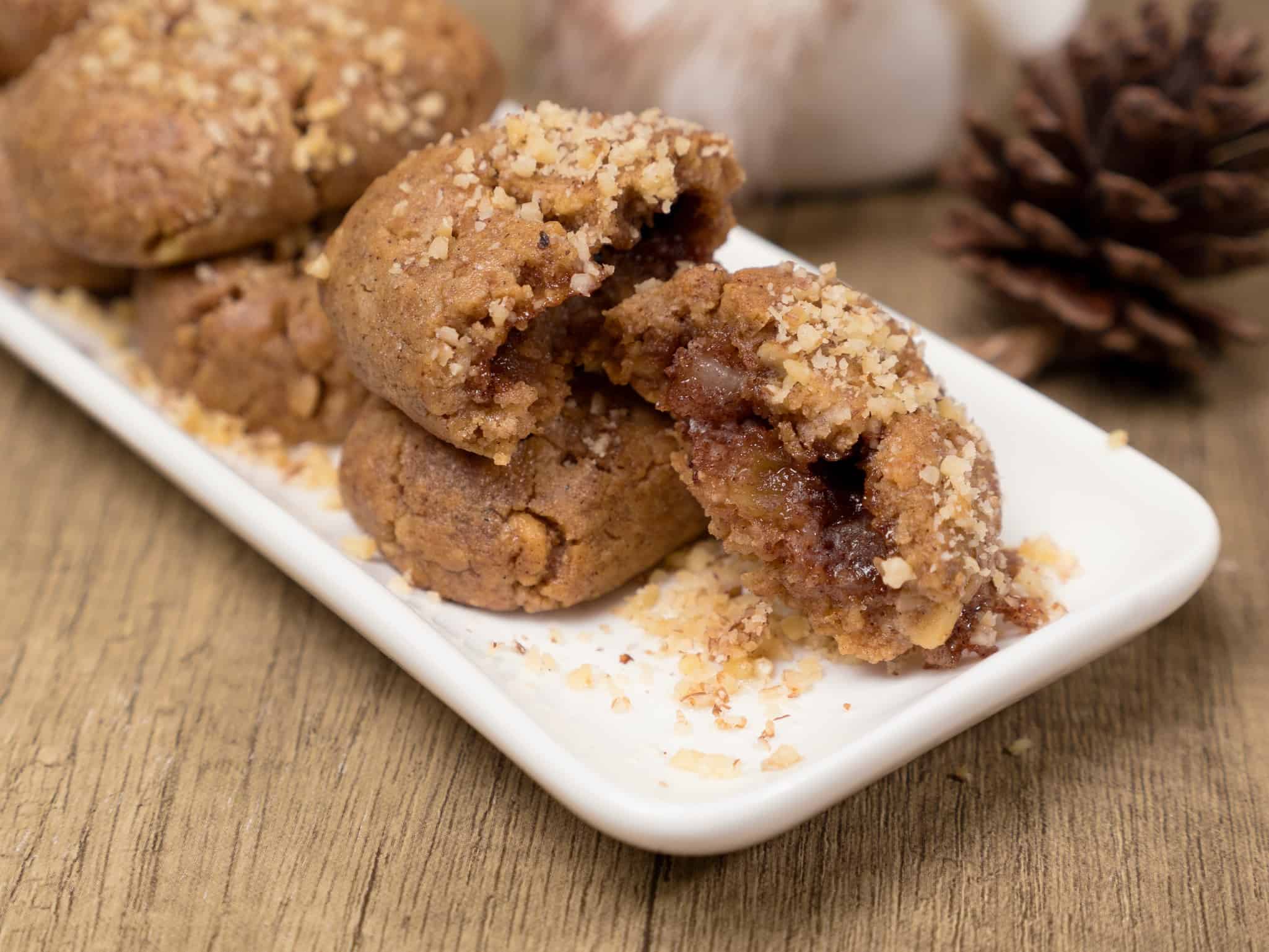 Melomakarona, honey biscuits, are the most traditional Christmas biscuits in Greece. Over the years their recipe has evolved without losing the original delicious taste! They have been covered in chocolate, dark or white and its time they are stuffed with delicious fillings!
Gluten free Melomakarona with apple and pear ingredients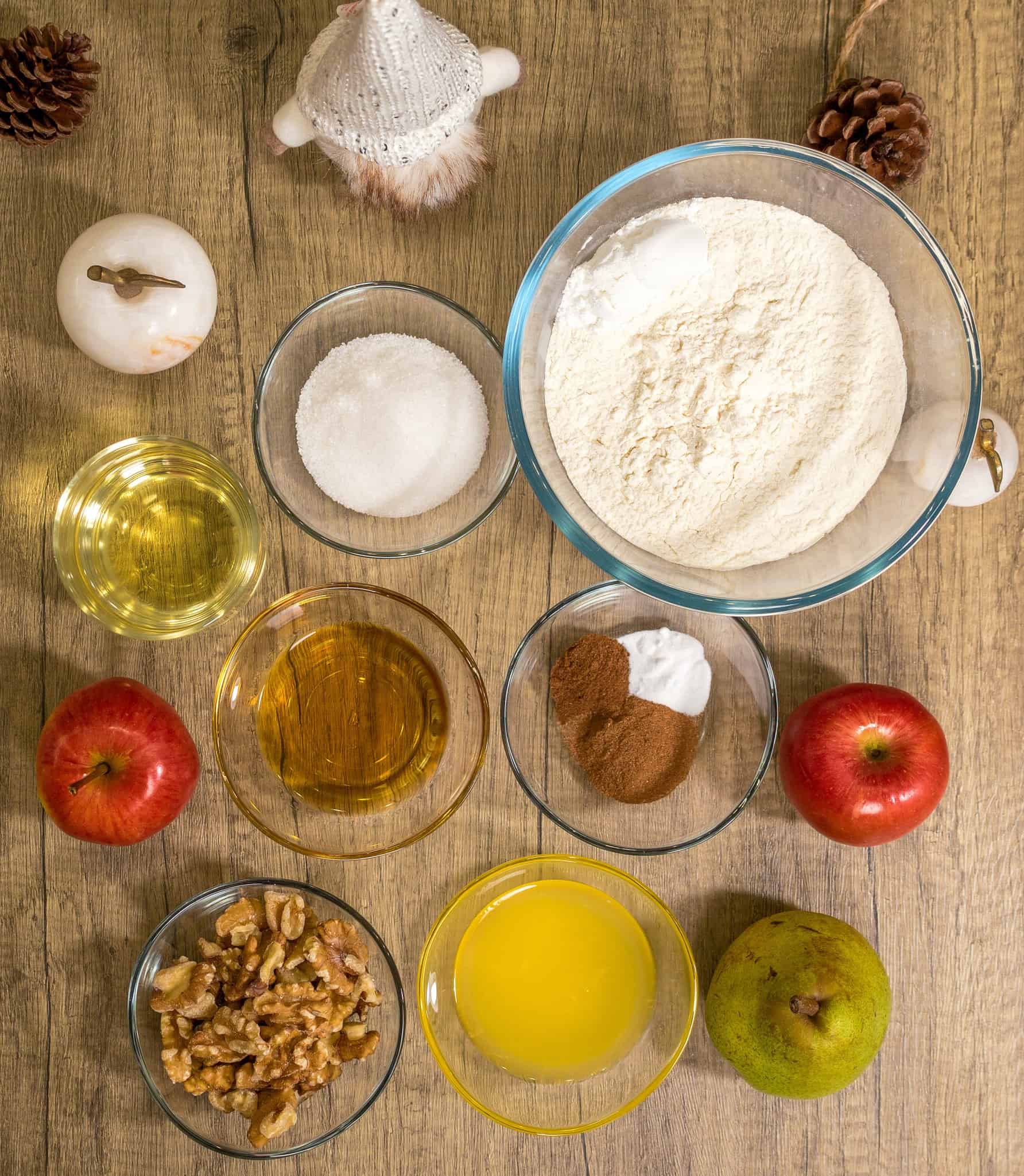 Stuffed Melomakarona fillings:
There are many filings that you can use in this stuffed melomakarona recipe. I opted for apples and pears.
Apples
One cannot go wrong with the classic combination of cinnamon, clove and apples. Believe me it works great in this Melomakarona recipe. Peel an apple and dice it into 0.5-1cm size cubes.One apple will be more than enough for a batch of 30 stuffed Melomakarona.
Pears
Peel a pear and dice it into 0.5-1cm size cubes. One pear will be more than enough for a batch of 30 stuffed Melomakarona.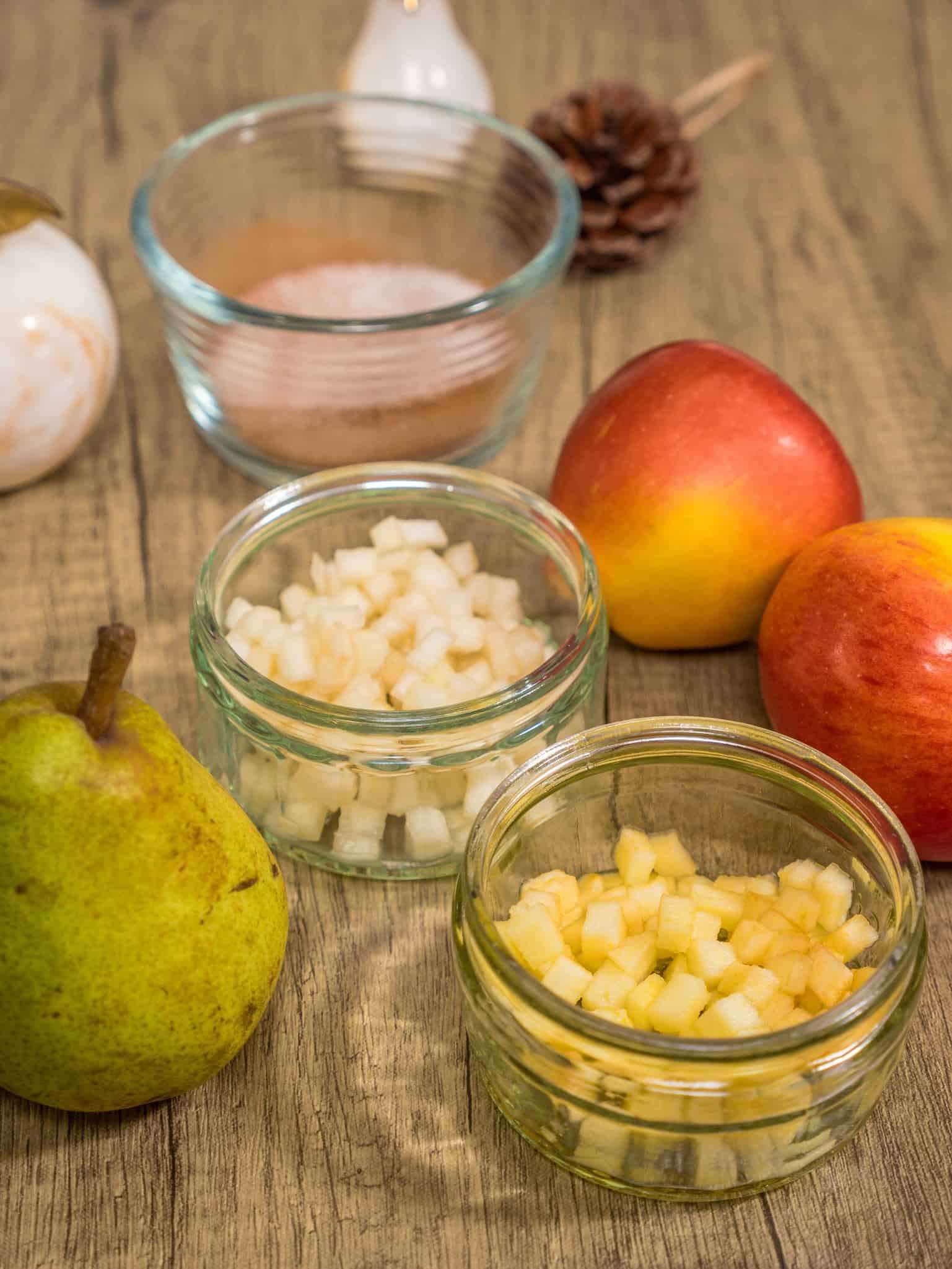 Other fillings to try
Figs: Dried figs go very well with Melomakarona spices. Chop dried figs and simply stuff these delicious honey biscuits.
Prunes: Dried prunes are juicy and they are neither too sweet nor too sour. A filling with chopped dried prunes will be juicy enough and will greatly complement the Melomakarona spices.
Bananas: Bananas pair very well with cinnamon and cloves and it yet another classic combination. For this recipe I would recommend banana chips rather than a fresh banana. Crush the banana chips and add simply fill the Melomakarona with them.
Walnuts: I add chopped walnuts into the Melomakarona dough as I love the delicious crunch it creates. However, you can use chopped walnuts as a filling. Mix them with 1-2 tablespoons honey and 1teaspoon cinnamon and you will have the perfect sweet and crunchy Melomakarona filling.
Chocolate chips: I have also tried out this stuffed Melomakarona recipe with dark, milk and white chocolate chips. Chocolate chips will make upon baking and create a gooey filling. Be mindful that white chocolate chips are very sweet and thus Melomakarona filled with white chocolate taste sweeter.
Stuffed Melomakarona tips
Making the filling
In order to have the most mouth-watering filling there are a few things to follow. Firstly, dice an apple and a pear into 0.5-1m cubes. Secondly, sprinkle the diced apple and pear pieces with a little bit of lemon juice. Lemon juice reduces oxidation and thus prevents them from turning brown.
Thirdly, for a flavoursome stuffed Melomakarona filling, dunk the fruit pieces in sugar and cinnamon. Take the apple and/or pear pieces and dunk them into the sugary-cinnamon mixture to coat them.
Stuffed Melomakarona dough portions
I make traditional Melomakarona from 30g biscuit/cookie dough balls. However, stuffed melomakarona require a bit more dough. I have found that a 35g dough ball is the perfect one. Larger dough portions such as 40g, will make them rather chunky.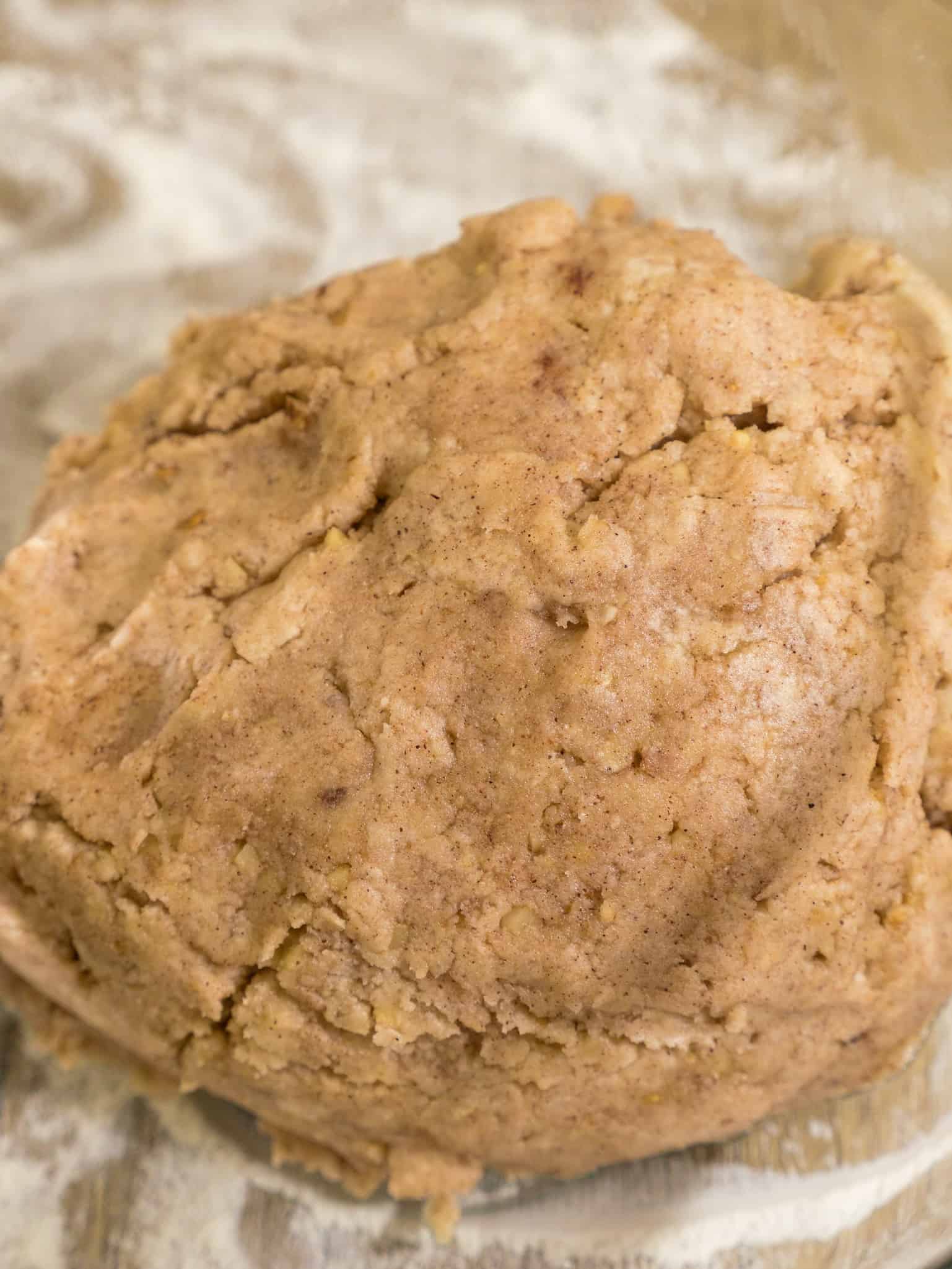 Stuffing the melomakarona
It is very easy to create the perfect stuffed Melomakarona. Just take a 35g dough piece, preferably using a kitchen scale. Flatten it out in your palm and add 1 teaspoon of filling.Seal the filling inside and in the centre of the dough and, using your hands, shape into an oval shape.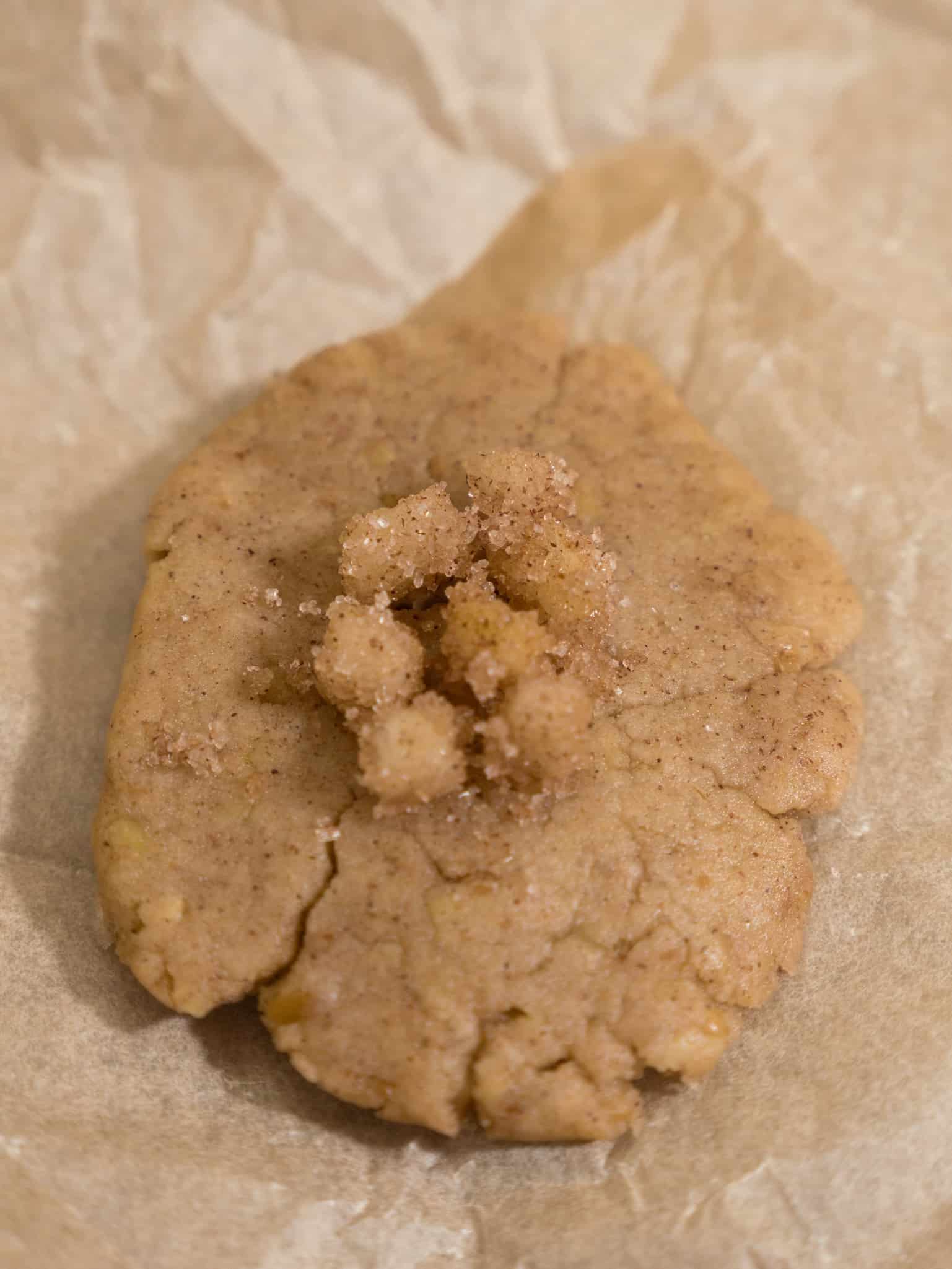 Troubleshooting the Gluten free flour
I have found that the Gluten free flour Melomakarona dough can be a little bit soft, as the flour has no gluten to hold the dough together. If you are finding the dough to be too crumbly, just add a little bit more orange juice. It will make the dough softer and more pliable and easier to shape.
Syrup
Dip these delicious gluten free stuffed Melomakarona into the honey syrup for just 5-10 seconds, as otherwise they may break apart. Remember these Melomakarona with apple and pear are stuffed and are not as solid as the traditional ones. And don't forget to use a slotted spoon to handle them during dunking.
Can I prepare these Gluten free stuffed Melomakarona with traditional flour?
Yes you can! The recipe below works great with both gluten free and regular flour. Just replace the gluten free flour with your favourite plain flour and follow the remaining recipe as is.

Chocolate covered gluten free Melomakarona
For an even more indulgent Melomakarona you can dip them into melted chocolate. Melt your cooking chocolate in a Bain-Marie with a little bit of coconut oil and dip the Melomakarona in it.
You can try both dark, milk or white chocolate, although I find that the bitterness from the dark chocolate perfectly complements the sweetness of the melomakarona. One added bonus is that the chocolate shell helps them retain their honey syrup, keeping them fresh for longer.
Storing Gluten free Melomakarona
These Gluten free fruit filled Melomakarona keep fresh for about 2 weeks, though remember to store them in an airtight container or covered tightly with some plastic wrap.
Other Christmas recipes you may also like: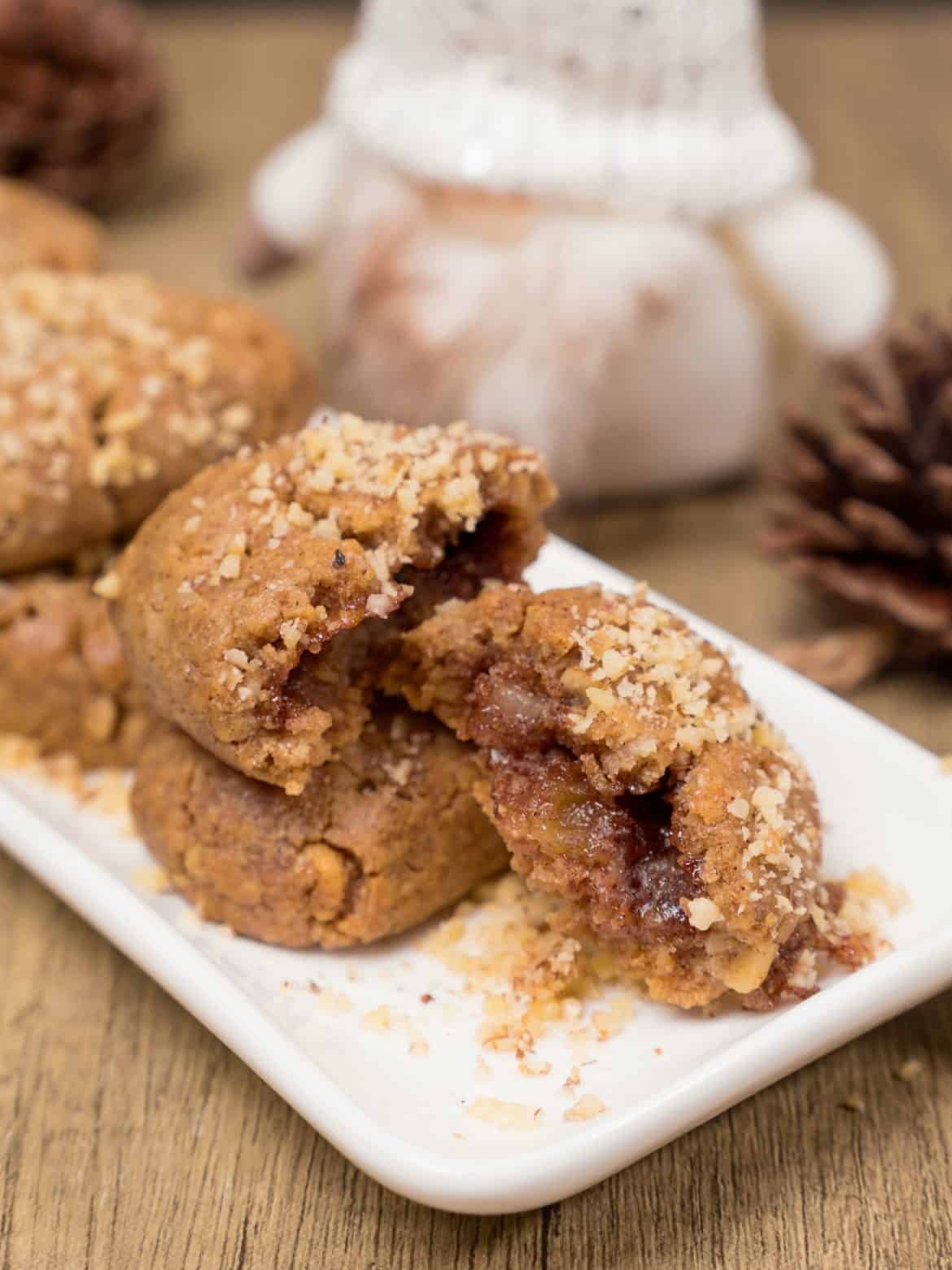 Gluten free Melomakarona with apple and pear (Gluten free stuffed Melomakarona)
Ingredients
Gluten free stuffed Melomakarona syrup
600ml water ( 20+ 1/4 oz) (2.5 cups)
600g granulated sugar ( 2 cups +3/4 cup +1 tbsp)
200g honey  (1/2 cup)
2 sticks of cinnamon
4 whole cloves
1 orange, sliced in half
1 tbsp lemon juice
 lemon peels (half a lemon)
Gluten free stuffed Melomakarona biscuit dough ingredients
600g gluten free flour ( 3 cups +3/4 cups)
300g sunflower oil (1 cup + 1/4 cup + 2tbsp)
100g granulated sugar
60ml cognac or brandy
80ml orange juice (1/4 cup + 1 tbsp)
20g baking powder
7.5g baking soda
10g  ground cinnamon
1 tsp ground cloves
Gluten free stuffed Melomakarona filling
1 apple
1 pear
50g granulated sugar
1tsp ground cinnamon
Instructions
To prepare these mouth-watering Gluten free Melomakarona with apple and pear (Gluten Free stuffed Melomakarona) start by preparing the honey syrup. This needs to be cold and thus needs to be prepared in first. In a saucepan pour water, sugar and add whole cloves, cinnamon sticks, half an orange and lemon peels. Allow the aromatic sugary mixture to boil for 5 minutes. Withdraw the syrup form heat and add honey. Let the honey syrup cool down.
Preheat the oven to 180C or 360F.
Chop the walnuts or blitz them using a food processor.
In a large bowl, pour sunflower oil ( no olive oil)  and add sugar. Whisk until the sugar has dissolved. Continue by adding the orange juice, cognac (brandy), ground cinnamon, ground cloves and finally the baking soda. Whisk for one minute.
Continue by gradually adding in the same bowl the sifted Gluten free flour and baking powder. Optionally you can add half of your chopped walnuts into your dough as well for some extra crunch.
Once you have added all of your flour, gently mix the Melomakarona dough. The key here is to mix the dough gently until it comes together and no more as it will split.
Prepare your fruit mix filling. In a small bowl add your cubed apple, pear, the sugar and the cinnamon.
Its time to shape them. Take a 35g Melomakarona dough portion and flatten in out in your palm. Add one teaspoon of the filling, seal it in and shape them using the palm of your hands.
Lay the Melomakarona onto parchment lined baking trays and lightly press them on top with a fork. Make sure you leave ample space between Melomakarona as they will rise during baking.
Bake them for 25 minutes until golden brown.
Whilst the stuffed Melomakarona are hot, dunk them in cold syrup for 10 seconds using a slotted spoon. Flip them once or twice and lay them on your plater.
 Sprinkle with the remaining chopped walnuts, drizzle them with some raw honey or dip them in chocolate.