There is nothing else that will make your home smell of Christmas than this traditional Melomakarona recipe! I remember when I was young, coming back from school and being greeted by the smell of cloves, cinnamon and orange. That is when I knew! My grandmother was at home and she was making my favourite Melomakarona!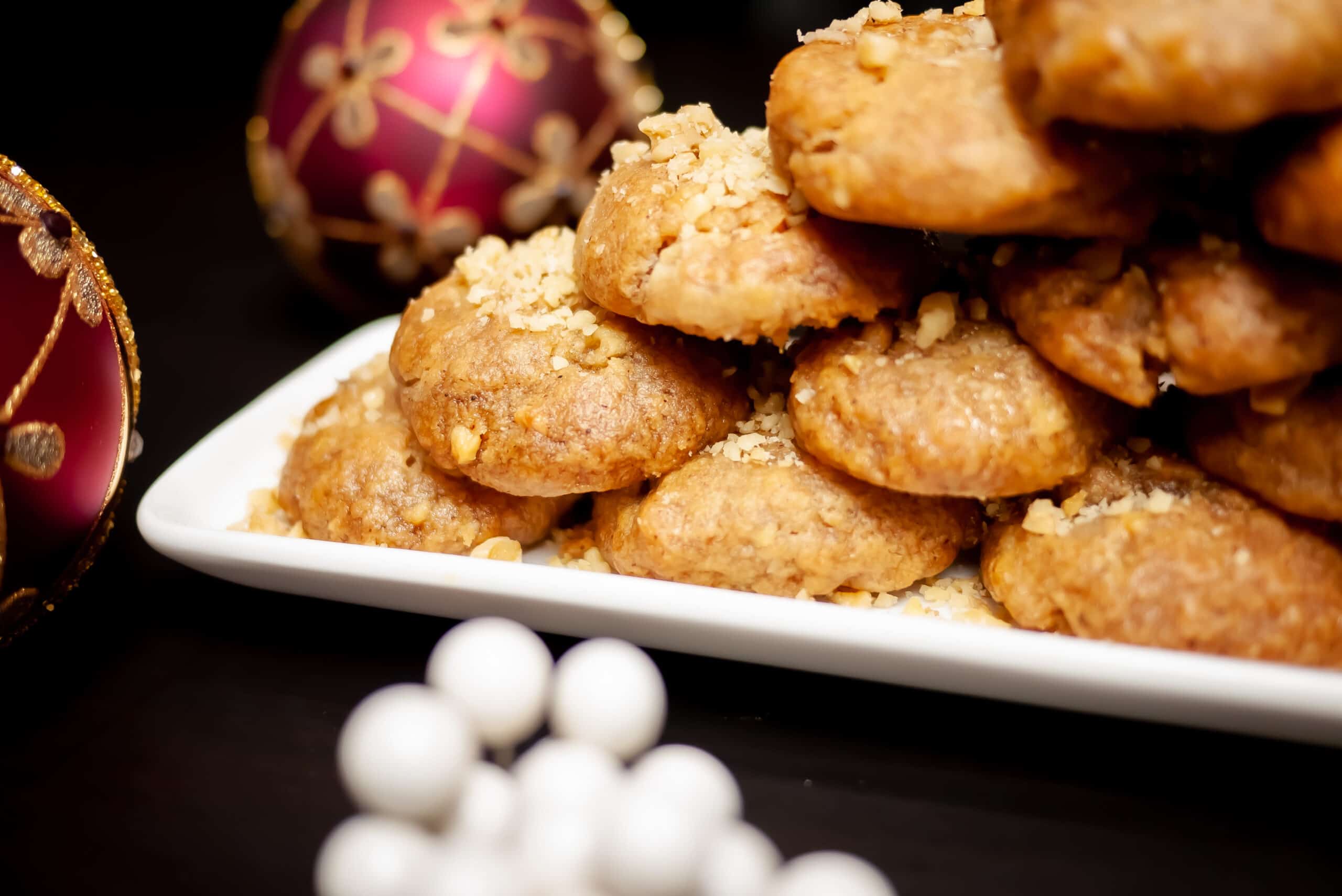 How to make traditional Greek Melomakarona
There are a couple of things that make Melomakarona so delicious. The first clue is in the name: Meli which, in Greek, stands for honey. What makes melomakarona so juicy is their honey infused syrup which is also flavoured with cloves, cinnamon and orange.
There are a couple of tricks to get the Melomakarona syrup to turn out simply amazing. Firstly make sure you add the ingredients in the right order. Cold tap water, sugar, cinnamon, cloves,  lemon juice and the orange go in first. Place the pan on the stove and turn it on its maximum setting. Use a wooden spoon to stir until the syrup starts to boil. Take it off the heat and stir it a few more times until the sugar is fully dissolved. The honey goes in next. Stir it for a minute or so until its fully dissolved. If your honey is too sticky or it has crystallised, no need to worry, just add it as it is. It will eventually dissolve.
The second trick to the perfect syrup is the orange. Like how my grandmother used to do, I always use a whole orange, cut in half. Yes, that is right! You need to add the orange sliced in half in your water-sugar-spice mix before you start boiling it. For a bit of extra flavour, what I like to do is give the orange a little squeeze before I cut it up. Also, after the syrup has boiled and before adding the honey, use your wooden spoon to squash the orange down flat – this will release its delicious juice and essence in the syrup. Yum!
Finally, always prepare your syrup first. This will allow it to cool down by the time your Melomakarona are baked as you always dip the hot Melomakarona to the cold syrup to allow it to fully penetrate and soak them while avoiding them becoming soggy. If you want to go the extra mile, split your syrup in half, put half of it in the fridge and use the other half to dunk your first batch. Then swap for the second batch and so forth. When you are dunking the hot Melomakarona to the cold syrup it will warm up. By splitting it in half and swapping the syrup will get a chance to cool down before the next batch is ready!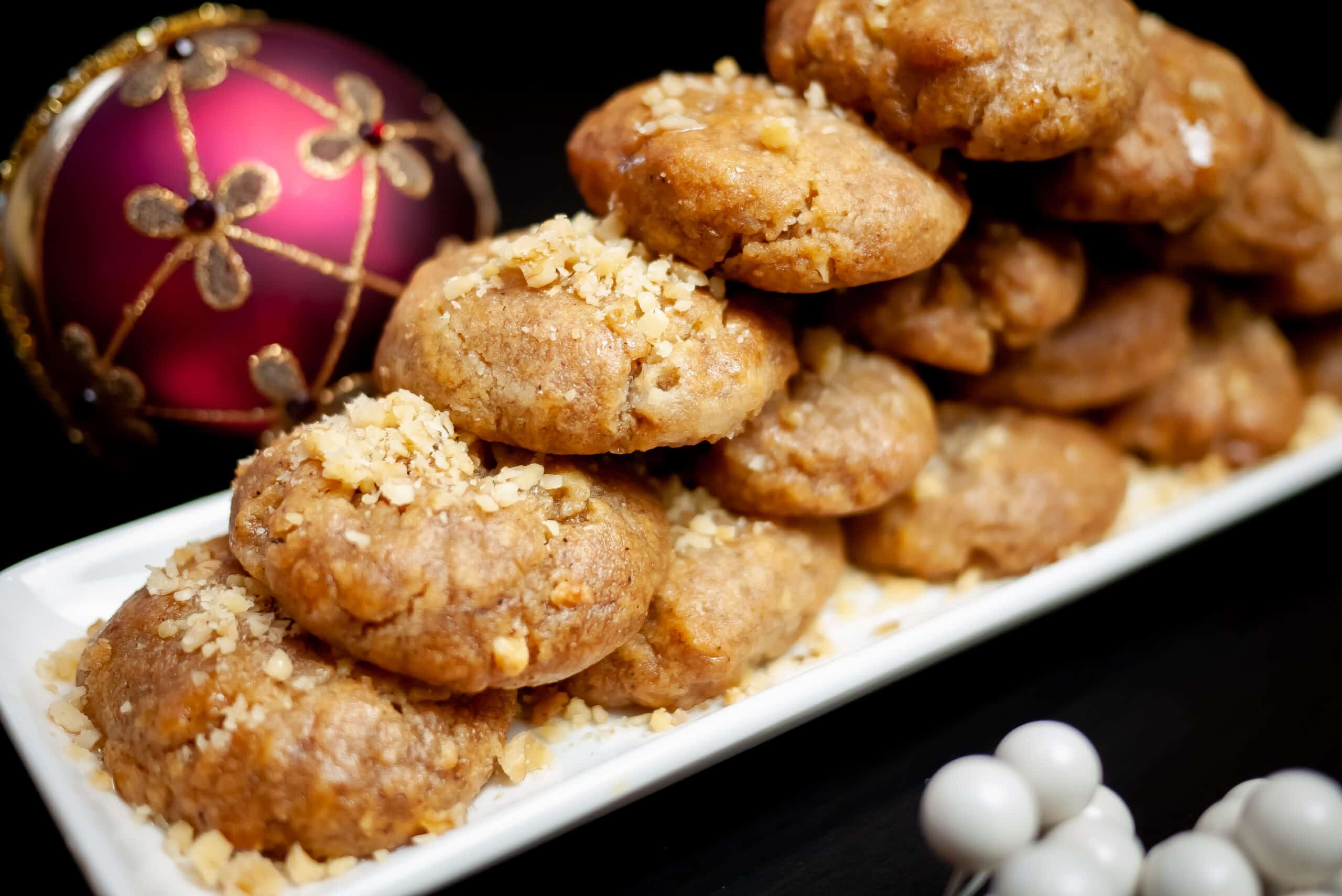 Making the perfect Melomakarona recipe dough
My grandma taught me a couple of tricks to making the perfect melomakarona recipe dough, which over the years, have never failed me.
Firstly, use just enough flour for the dough to hold together and form into a  fluffy soft ball reaching plastering consistency. You want the dough to be fluffy  and  non-stick to your fingers . If your flour is particularly weak you may need to sprinkle one tablespoon extra but not more. You don't want the dough to be firm, like a traditional biscuit. The trick to the perfect Melomakarona is to knead the dough as lightly as possible, just enough to mix the ingredients. Do not knead the dough too much as they will become too oily.
Some Melomakarona recipes call for a mix of olive oil and sunflower oil. My personal favourite is to use only sunflower oil so that the flavour of the spices is not masked by the more intense flavour of the olive oil. I also love my Melomakarona to have a bit of extra bite so I add chopped walnuts to the dough mix!
How long will Melomakarona keep? Can I make them in advance?
Melomakarona keep for about 3 weeks as long as you keep them in an air tight container. The honey is a natural antimicrobial agent and will keep them from going stale or bad. I remember my grandmother used to make them the week before Christmas and they were just as fresh on the last day of our school holidays!
What kitchen equipment do I need?
First and foremost you need a precision precision kitchen scale to weigh the ingredients.  You would also need a food processor, a whisk, 2 large bowls, baking tray, parchment paper and a pot for the syrup.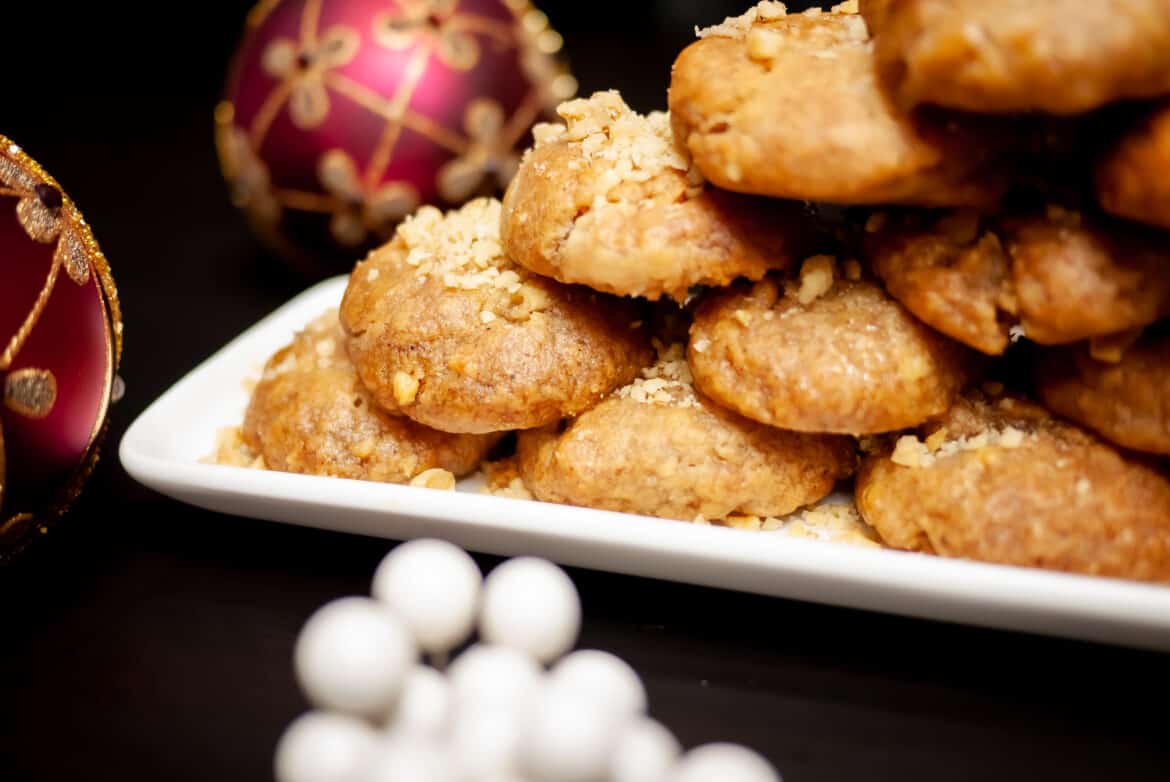 Melomakarona Recipe without semolina
Ingredients
For the dough
300gr sunflower oil (1 cup+ 1/4 cup+ 2tbsp)
100gr sugar   ( 1/4 cup + 3tbsp)
600gr plain flour ( 3 cups+3/4 cups)
60gr brandy ( 1/4 cup or 2 oz)
20gr baking powder ( 4 tsp)
10gr cinnamon (2tsp)
1 tsp ground cloves
7.5 gr baking soda (1 tsp+1/2 tsp)
125gr chopped walnuts ( 1 cup)
80gr orange juice ( 1/4 cup +1 tbsp or 2.75 oz)
For the syrup
600gr water (20 +1/4 oz)
600gr sugar ( 2 cups +3/4 cup + 1 tbsp)
200gr honey (1/2 cup or 7 oz)
2 cinnamon sticks
4 whole cloves
1 orange, cut in half
1 tablespoon lemon juice
lemon zest (from half a lemon)
To garnish
50 g of honey (optional)
150 gr roughly chopped walnuts
Instructions
To prepare this Melomakarona recipe, start with the syrup. In a large pot, pour in the sugar, the cold water, the cinnamon sticks, the whole cloves, lemon juice, lemon zest and the orange, cut in half. Put it on the stove and bring it to a boil. Once it starts boiling, count down for 5 minutes, remove from the stove and mix in the honey.
In a large bowl, pour in the oil and sugar and whisk until the sugar has dissolved. Add the orange juice, the brandy, cinnamon, the ground cloves and finally the baking soda and whisk for 1 minute.
In your large bowl add in the flour, the baking powder and the chopped walnuts and mix gently with your hands until the ingredients are fully incorporated.
Pre-heat your oven to 180C/350F. Line up your  baking trays with parchment paper. Portion out your dough to roughly 30 grams (1 oz.) and shape it into little oblong cookies about 5cm x 3cm (2inch x 1 inch) size.
Bake them for approximately 20-30 minutes until browned on the outside.
Once your first batch is ready take them out of the oven and dunk them while still hot in the cold syrup for about 20-30 seconds. Flip them once or twice for the syrup to fully and evenly soak in.
When ready, place them on a large platter and sprinkle with honey and some chopped walnuts on top!
Notes
The syrup for your Melomakarona needs to be cold before dunking the hot biscuits in it. Prepare it first and let it cool down while you're making the dough!
Be careful not to overwork the dough as you don't want them to turn out to be tough! Mix your Melomakarona gently with your hands until the ingredients are incorporated, but avoid kneading the dough.
You can bake Melomakarona in batches. Allow enough space (about 3cm/1 inch) so that they have enough room to expand when baking. While your second batch is baking you can dunk the first batch in the syrup!