There is nothing else that will make your home smell of Christmas than this traditional Melomakarona recipe! I remember when I was young, coming back from school and being greeted by the smell of cloves, cinnamon and orange. That is when I knew! My grandmother was at home and she was making my favourite Melomakarona!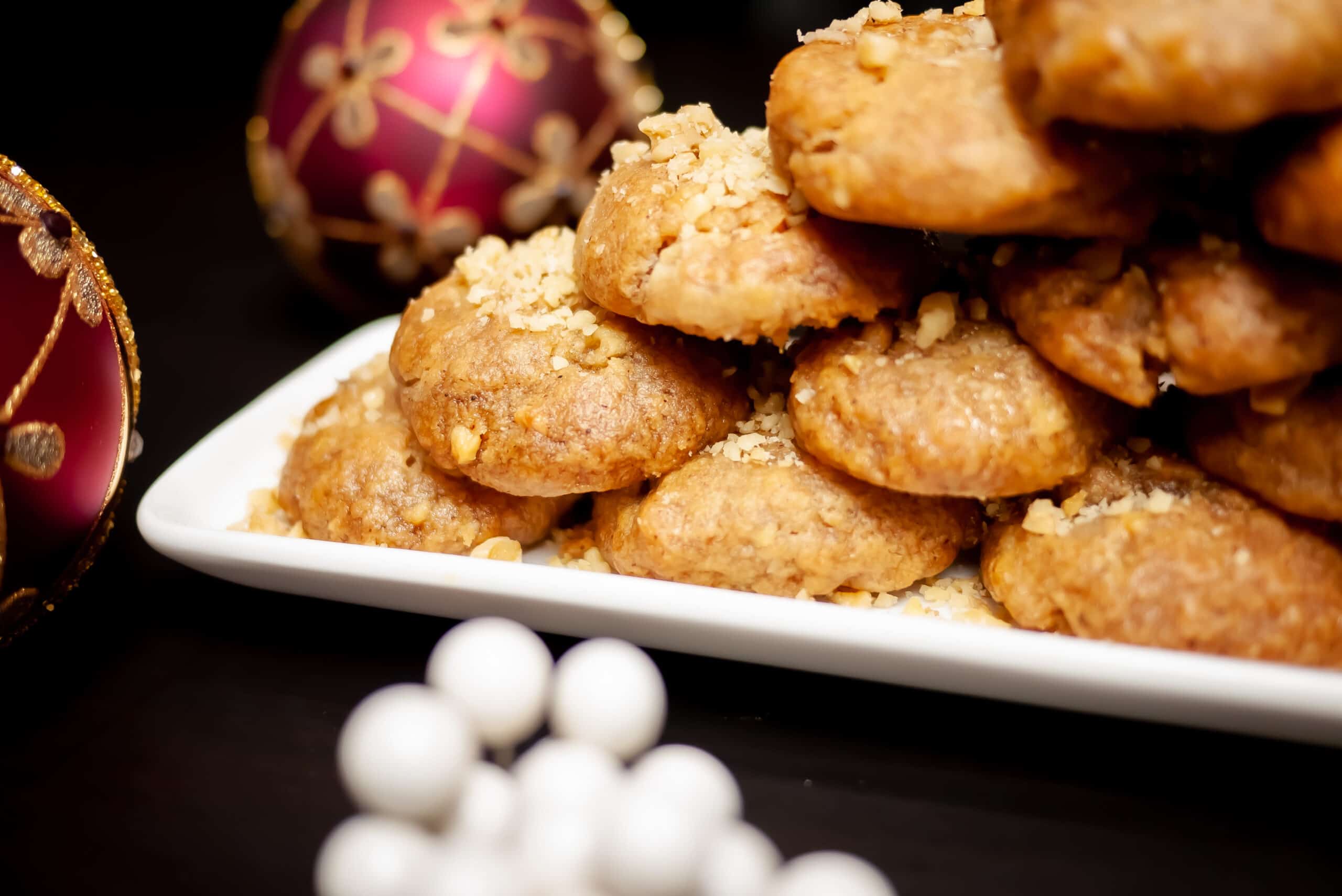 What are Melomakorona?
Melomakarona (Greek Honey Biscuits) are one of the most popular Christmas treats in Greece. Delicious biscuits soaked in aromatic syrup, drizzled with honey and topped nuts. These delicious cookies are simply perfect!
This melomakarona recipe is vegan as melomakarona are baked and consumed during Lent.
Melomakarona History
Melomakarona are mostly baked during the festive period on Christmas, though this was not the case in Ancient Greece.
This is evident when one takes into account the word melomakarona. The word is a combination of two Greek words, 'Meli' which is honey in Greek and 'Makaria' which is a type of bread that was offered during periods of mourning in funerals.
Why this Melomakarona recipe without semolina?
Flour
You will find hundreds of Melomakarona recipes in the intranet combining flour and semolina. My recipe does not contain any semolina and tastes delicious! In fact, in Northern Greece, Melomakarona are exclusively made with flour alone!Flour-only Melomakarona have crumbly consistency and taste divine.
Go on,  try out my flour only Melomakarona and discover for yourself!
Walnuts
In my Melomakarona recipe without semolina, you will notice that I have added chopped walnuts. This is a recipe handed down to me form my grandmother who made Melomakarona exactly the same. In fact, everyone in my grandmother's village in Northern Greece, Thrace, made Melomakarona that way!
It could be that they were influenced by Isli, a similar traditional Christmas biscuit, originating from Constantinoupoli or 'Poli' as otherwise known amongst Greeks( in Asia Minor). Isli is a biscuit very similar to Melomakarona which sometimes is referred to as 'stuffed Melomakarona'. Isli is a crumbly biscuit with an aromatic stuffing comprising spices and walnuts and it also dunked in syrup.
Northern Greece and Thrace cuisine has a lot of influences from Asia Minor. This may well be explained by the proximity of Northern Greece to Asia Minor but also from the settlement of Asia Minor Greeks in the Northern part of Greece.
My Melomakarona recipe without semolina has an extra delicious bite to Melomakarona, which, believe me, will amaze you.
Melomakarona recipe tips- Guide to making Melomakarona
Honey Syrup
Let's start from the all important honey syrup. There are a couple of tricks to get the Melomakarona syrup to turn out simply amazing.
Firstly, make sure you add the ingredients in the right order.Pour water, sugar,lemon juice and add lemon zest,cloves,cinnamon stick and halved orange. Heat them up on high heat. Stir until the syrup starts to boil. Once the syrup has started to boil, add honey and stir until dissolved. If yourhoney has crystallisefor is too sticky, no need to worry,just stirwhen adding.
Secondly, add a halved orange in the honey syrup. Yes you heard right! A halved orange. Halve the orange and add it in the sugar-water-spice mix before the syrup starts to boil. For a bit of extra flavour, give your orange a bit of a squeeze so that it can release al the lovely flavours when in the syrup mix. Once the syrup has boiled, and prior to adding honey lightly squeeze the orange to further release its flavours.
Finally, always prepare the honey syrup first, before you bake the biscuits. This will allow the syrup to cool by the time the melomakarona biscuits are out of the oven. Always, dip hot melomakarona biscuits on cold honey syrup and never the other way round! Cold honey syrup will soak the biscuits but will not turn them soggy.
If you want to go the extra mile, split the honey syrup in half and place half of it the fridge and use the other half to dunk your first melomakarona batch first. Then swap for the second batch and so forth. When dunking hot melomakarone biscuits into cold syrup it will inevitable warm up, so by halving it into batches you ensure you have cold syrup for the biscuits.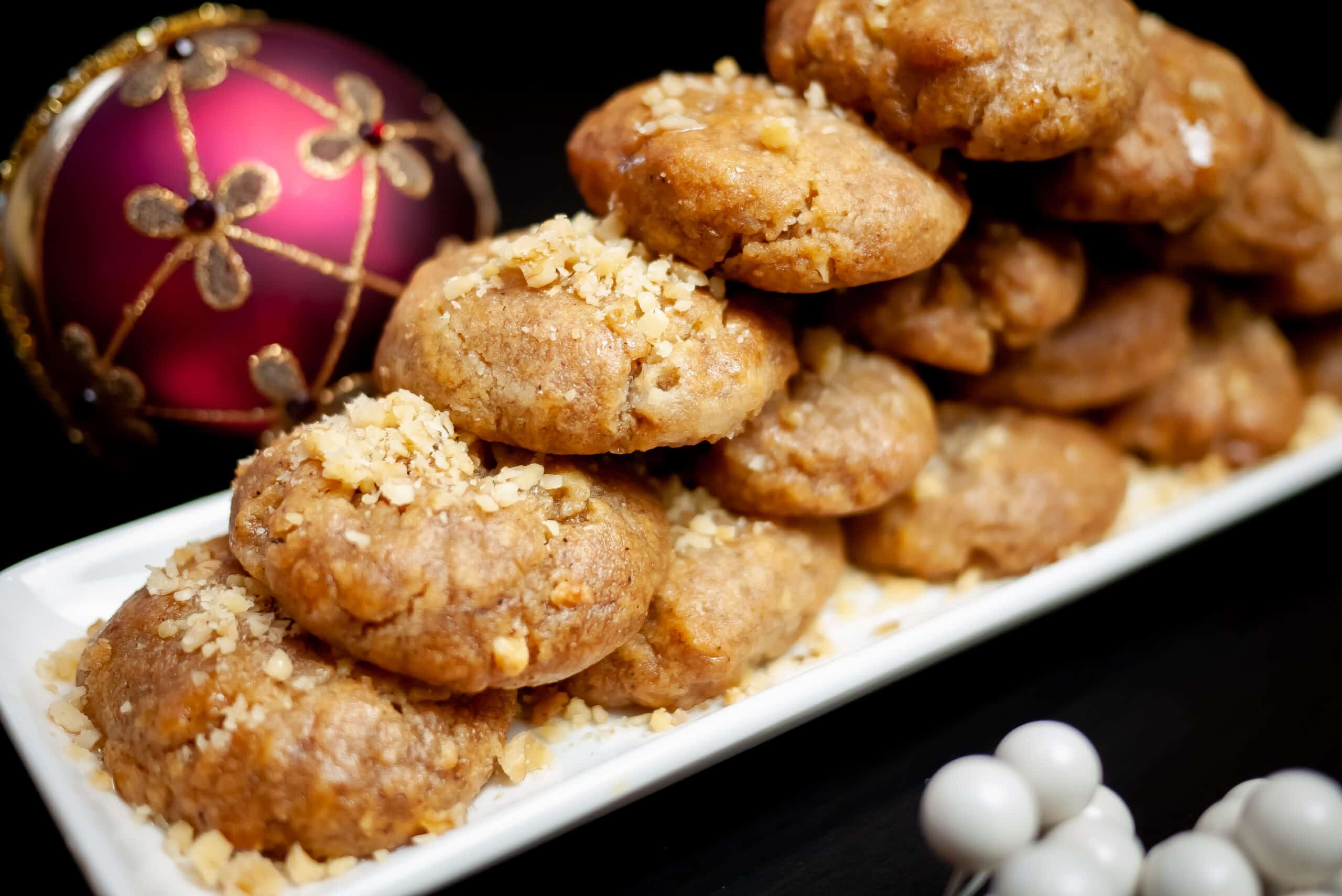 Making the perfect Melomakarona recipe dough
My grandma taught me a couple of tricks to making the perfect melomakarona recipe dough, which over the years, have never failed me.
Firstly, use just enough flour for the dough to hold together and form into a  fluffy soft ball reaching plastering consistency. You want the dough to be fluffy  and  non-stick to your fingers . If your flour is particularly weak you may need to sprinkle one tablespoon extra but not more. You don't want the dough to be firm, like a traditional biscuit. The trick to the perfect Melomakarona is to knead the dough as lightly as possible, just enough to mix the ingredients. Do not knead the dough too much as they will become too oily.
Some Melomakarona recipes call for a mix of olive oil and sunflower oil. My personal favourite is to use sunflower oil alone so that the flavour of the spices is not masked by the more intense flavour of the olive oil. I also love my Melomakarona to have a bit of extra bite so I add chopped walnuts to the dough mix!
How do I know when the Melomakarona biscuits are ready?
These Melomakarona biscuits are ready as soon as they turn lightly brown so make sure you don't overbake them.
To avoid either over-baking or under-baking these delicious Greek biscuits, Melomakarona, make sure the dough portions weigh roughly the same. I make sure I weight equal portions of Melomakarona dough with a precision kitchen scale.
What's the best way to soak them in the syrup?
Always deep hot, straight out of the oven Melomakarona biscuits into cold syrup. Dip a couple of biscuits for around 10-15 seconds, turn them over and then remove them with a slotted spoon. Repeat until you have soaked all the honey biscuits into the syrup.
Soak them in small patches for only a few seconds as if you are tempted to leave them longer, they will get very syrupy and break.
Serving suggestions
Melomakarona are mostusually presented in platters stacked one on top of the other. For more indulgent Melomakarona, dip them into chocolate!
How long will Melomakarona keep? Can I make them in advance?
Melomakarona keep for about 3 weeks as long as you keep them in an air tight container. The honey is a natural antimicrobial agent and will keep them from going stale or bad. I remember my grandmother used to make them the week before Christmas and they were just as fresh on the last day of our school holidays!
Ways to store Melomakarona biscuits
Melomakarona biscuits can last a fairly long time, that is of course if they are devoured by then.Store Melomakarona biscuits in an airtight container at room temperature.
You can freeze these Melomakarona cookies prior to dunking them into syrup. Let them cool, store in freezer and defrost during the Christmas holidays. All that is left is to prepare the honey syrup and soak!
What kitchen equipment do I need?
First and foremost you need a precision kitchen scale to weigh the ingredients. You would also need a food processor, a whisk, 2 large bowls, 1-2 baking trays, parchment paper and a saucepan for the syrup.
Other traditional Christmas biscuits
For Melomakarona with delicious fillings, try out my Gluten free stuffed Melomakarona recipe, simply substitute Gluten free flour with traditional wheat flour.
Having Gluten sensitivities  should not deter you from enjoying Melomakarona! Try my mouthwatering Gluten free Melomakarona with apple and pear. You can commit the filling, should you wish to.
Christmas cannot be complete without Kourabiedes or Kourampiedes. These snowy white almond biscuits are devoured in minutes. Find out my traditional Kourabiedes with almonds here.
For my vegan friends,I have a vegan Kourabiedes recipe that taste equally delicious as the non vegan ones!
For a chocolatey Kourabiedes version look no further than my Chocolate Kourabiedes with almonds recipe? Amaze your guests and your palate!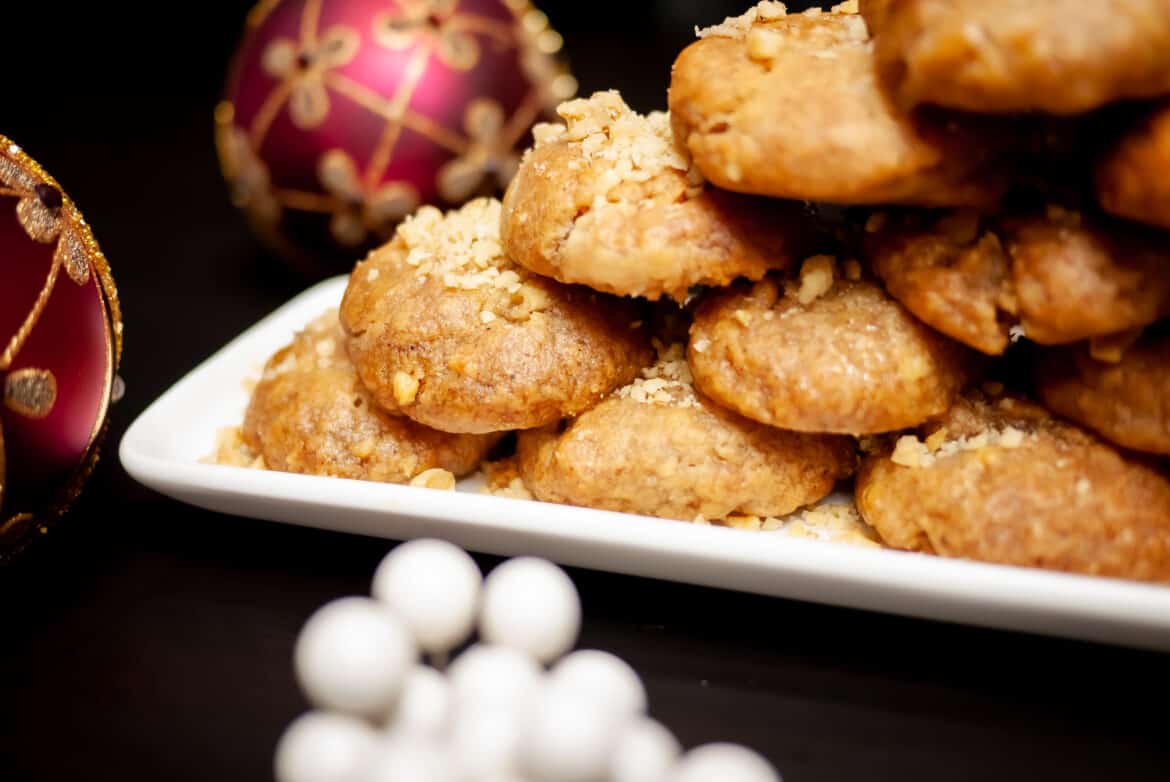 Melomakarona Recipe without semolina
Ingredients
For Melomakarona biscuit dough
300gr sunflower oil (1 cup+ 1/4 cup+ 2tbsp)
100gr granulated sugar ( 1/4 cup + 3tbsp)
600gr plain flour ( 3 cups+3/4 cups)
60gr brandy ( 1/4 cup or 2 oz)
20gr baking powder ( 4 tsp)
10gr ground cinnamon (2tsp)
1 tsp ground cloves
7.5gr baking soda (1 tsp+1/2 tsp)
125gr chopped walnuts ( 1 cup)
80gr orange juice ( 1/4 cup +1 tbsp or 2.75 oz)
For Melomakarona syrup
600gr water (20 +1/4 oz) ( 2.5 cups water)
600gr sugar ( 2 cups +3/4 cup + 1 tbsp)
200gr honey (1/2 cup or 7 oz)
2 cinnamon sticks
4 whole cloves
1 orange, cut in half
1 tablespoon lemon juice
lemon peels (from half a lemon)
To garnish Melomakarona
50gr of honey (optional)
150gr roughly chopped walnuts
Instructions
To prepare this Melomakarona recipe without semolina, start by preparing the syrup. In a large pot, pour in the sugar, the cold water, the cinnamon sticks, the whole cloves, lemon juice, lemon peels and the orange, cut in half. Put it on the stove and bring it to a boil. Once it starts boiling, count down for 5 minutes, remove from the stove and mix in the honey.
In a large bowl, whisk oil and sugar until the sugar has dissolved. Add the orange juice, the brandy, cinnamon, the ground cloves and finally the baking soda and whisk for 1 minute.
In the large bowl add in the flour, baking powder and chopped walnuts. Mix gently with your hands until the ingredients come together. Avoid over-kneading the dough.
Pre-heat your oven to 180C/360F. Line up your baking trays with parchment paper. Portion out your dough to roughly 30 grams (1 oz.) and shape it into little oblong or oval shaped cookies of about 5cm x 3cm (2inch x 1 inch) size.
Place the oval biscuits into parchment lined baking trays far apart. Allow enough space ( 3cm/1 inch) per biscuit. Bake Melomakarona biscuits for approximately 20-30 minutes until light brown.
Once your first batch is ready, take them out of the oven and dunk them while still hot in the cold syrup for about 10-15 seconds. Flip them once or twice for the syrup to fully and evenly soak in the biscuits.
When ready, place them on a large platter and sprinkle with honey and some chopped walnuts on top!
Notes
The syrup for your Melomakarona needs to be cold before dunking the hot biscuits in it. Prepare it first and let it cool down while you're making the dough!
Be careful not to overwork the dough as you don't want them to turn out to be tough! Mix your Melomakarona gently with your hands until the ingredients are incorporated, but avoid kneading the dough.
You can bake Melomakarona in batches. Allow enough space (about 3cm/1 inch) so that they have enough room to expand when baking. While your second batch is baking you can dunk the first batch in the syrup!