I absolutely love chickpeas! This traditional greek chickpea soup is full of nutrients, such as vitamin K, calcium, magnesium, zinc. Also chickpeas are an excellent sure of carbohydrates, protein, fibre and fat.  Moreover chickpeas' high protein and fibre content slows down digestion and thus makes us feel fuller for longer.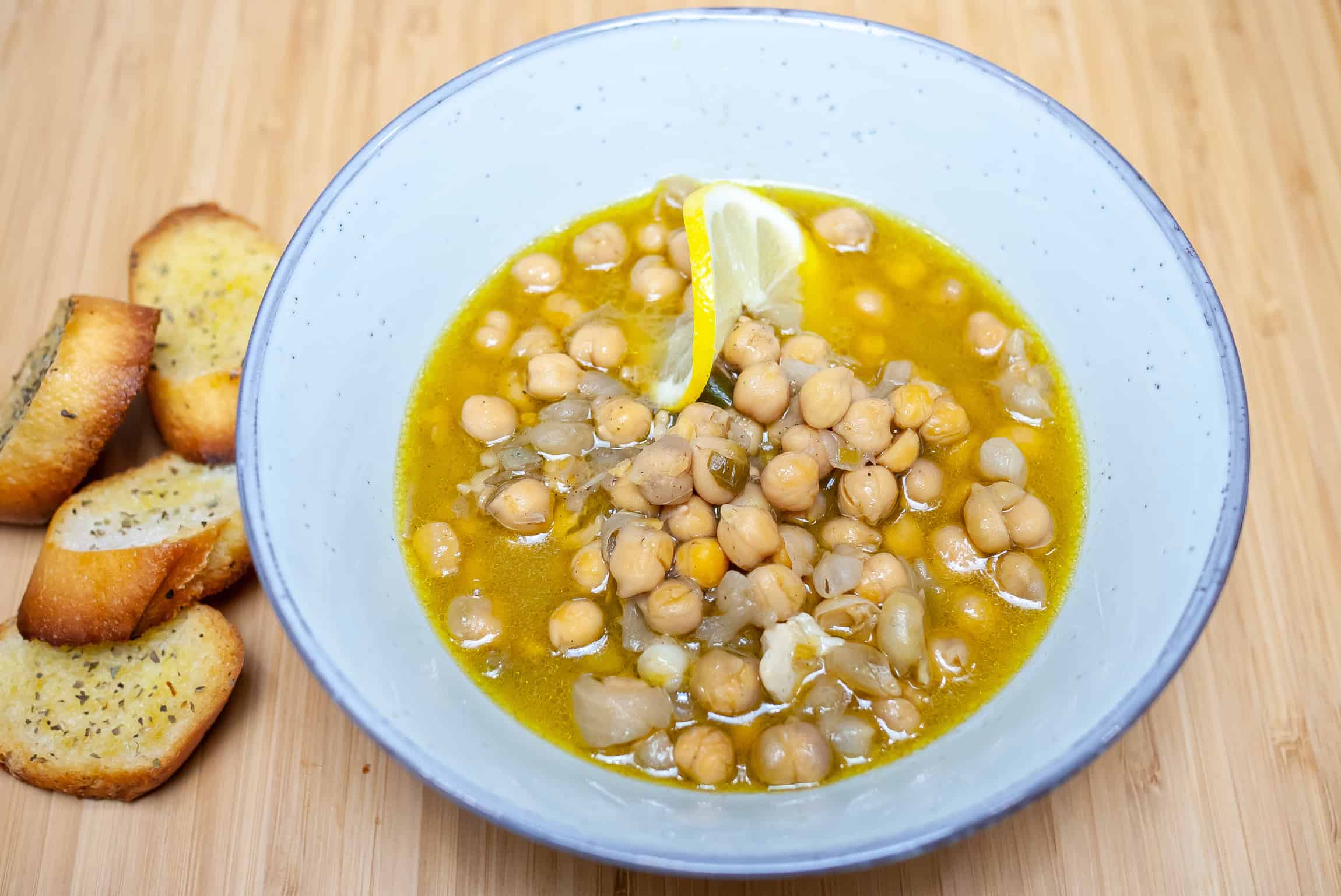 The secret for this traditional thracian Chickpea soup
The secret for a tasty traditional Greek chickpea soup lies in preparation of the chickpeas. I prefer using peeled chickpeas, though non peeled ones can also be used. Non peeled chickpeas required peeling prior to cooking.
How do I soak chickpeas?
Start by soaking the chickpeas overnight. So,  get a big enough bowl, fill it with water and add the chickpeas. Add enough water so that the chickpeas are fully covered.  Let them soak for approximately 10-12 hours; the longer you soak chickpeas, the softer they will turn. Soaking will turn chickpeas softer,  quicker to boil and easier to digest. If for any reason you cannot soak them overnight, soak them as long as you can.  4-5 hours can be enough. If you have bought non-peeled chickpeas then add 1/2-1 teaspoon baking soda in the water. The soda will help separate the chickpea skin. You can peel the skin either by rubbing them with your hands or by using a towel.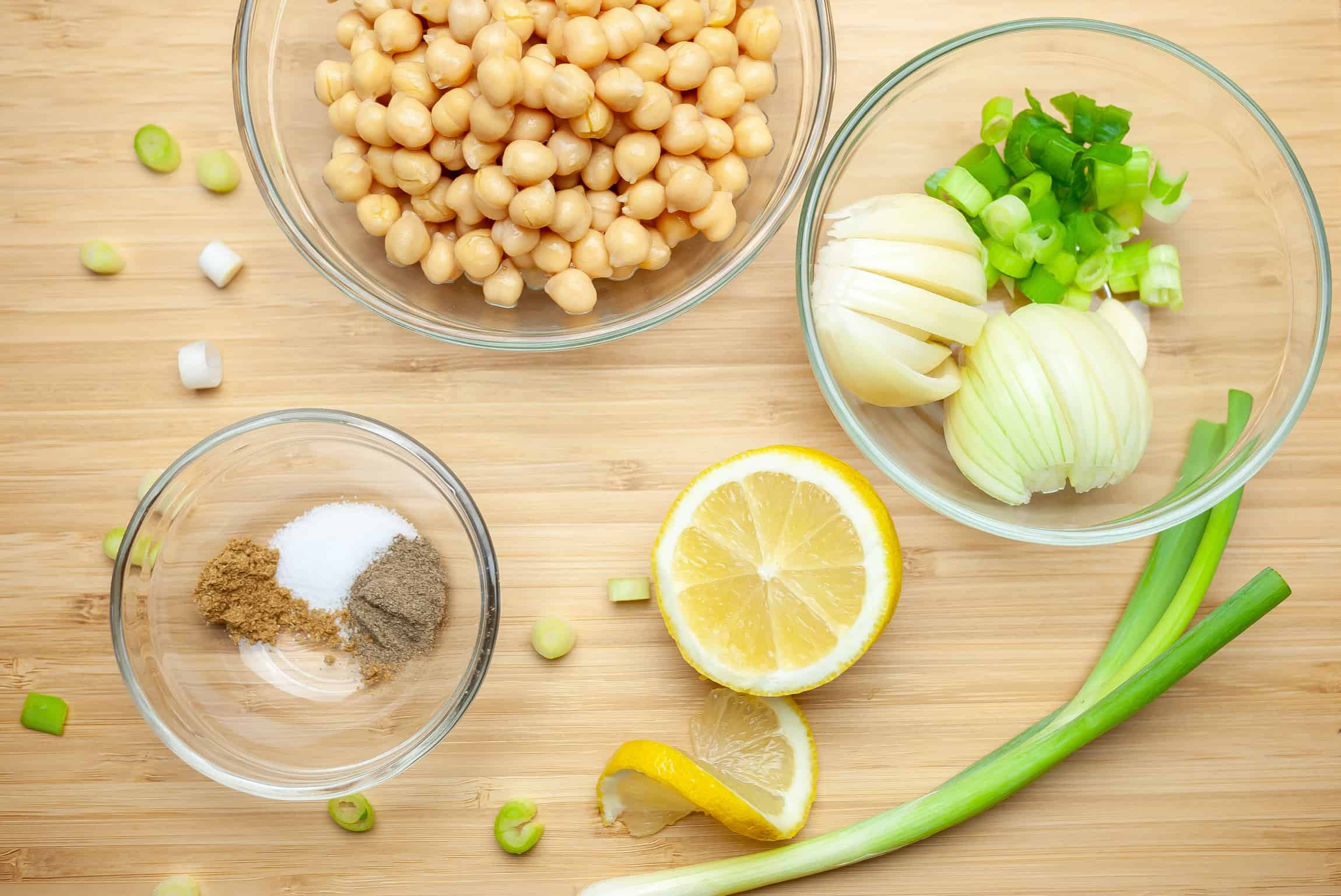 Can I use canned chickpeas in this traditional Greek Chickpea soup (Revithia)?
Canned chickpeas are ready to use as the are already boiled. Do not worry about losing all the lovely nutrients; they are  still there.  Add the canned chickpeas and boil them for 30-40 mins until they soften. There is no need to boil them for hours.
What can I serve this chickpea soup with?
As this is a very watery soup, I love serving my traditional chichpea soup with sourdough bread or croutons.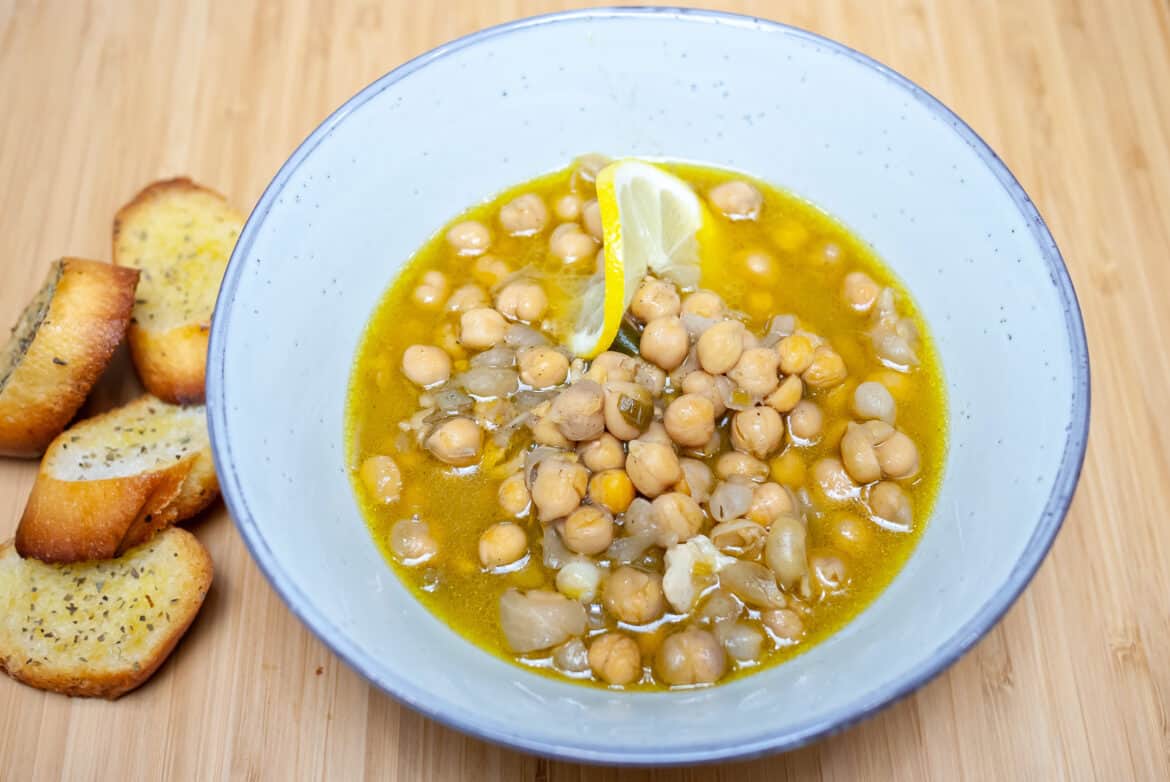 Chickpea soup
Ingredients
500g peeled chickpeas
2  onions
1 spring onion
1 clove of garlic
1L water
100mls olive oil
1/2 fresh lemon juice
1/2 teaspoon salt, black pepper, cumin
Instructions
Chickpea soup recipe (dry chickpeas)
Soak the chickpeas overnight; if not overnight then 4-5hrs prior to cooking at least.
Take a pot and  add water and chickpeas. Bring this to a boil over high heat. With the help of a spoon remove the  white froth produce upon boiling.
When halfway or at approximately 30-40mins add the chopped onions, spring onion and the seasoning.
Let them boil until soften. Boiling time will depending on the chickpea variety and their size.
Boil the chickpeas for approximately 1h 30 to nearly 2h; until they turn soft.  Check at regular intervals if the are soft enough.
Finish of the soup by adding fresh lemon juice.
Chickpea soup recipe (canned chickpeas)
Canned chickpeas are ready to use as they have already been boiled.
In a pot start by sautéing the onion, spring onion  and garlic with the spices.
 Add the canned chickpeas in the pot with enough water to cover them.
 Let the chickpeas boil for approximately 30-40 minutes; until soften.
Finish off the chickpea soup with fresh lemon juice.