My delicious Greek Chickpea soup with tomato! Tomatoes and carrots add a surprising tasty sweet flavour to this traditional Greek classic!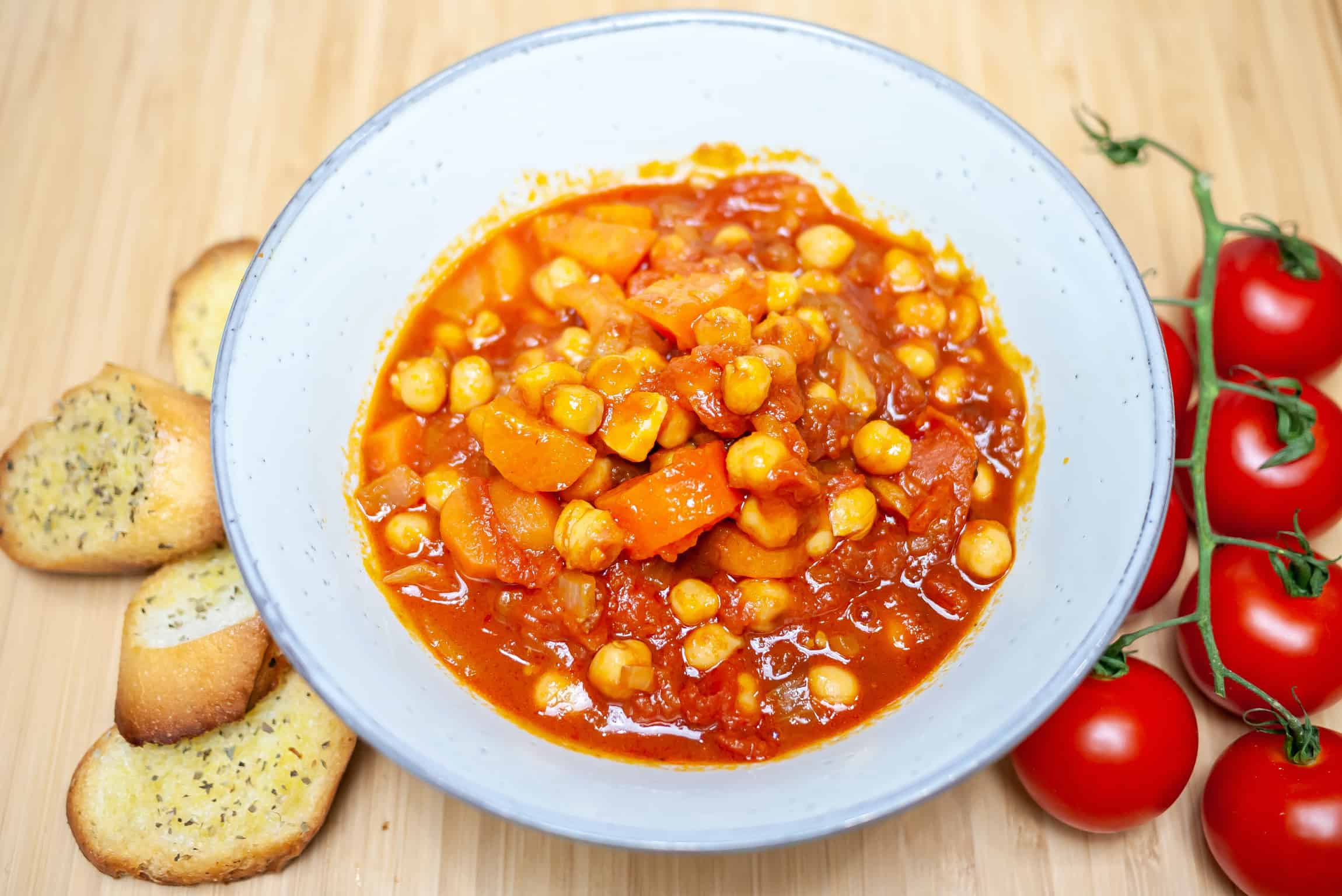 The secret to the perfect Greek Chickpea soup with tomato!
The secret for a tasty traditional Greek chickpea soup lies in preparation of the chickpeas. I prefer using peeled chickpeas, though non peeled ones can also be used. Non peeled chickpeas required peeling prior to cooking.
How do I prepare the chickpeas?
Start by soaking the chickpeas overnight. Get a big enough bowl, fill it with water and add the chickpeas. Add enough water so that the chickpeas are fully covered.  Then let them soak for approximately 10-12 hours. The longer you soak chickpeas, the softer they will become.
Soaking chickpeas makes them quicker to boil and much easier to digest. If for any reason you cannot soak them overnight, soak them as long as you can. 4-5 hours can be enough if you are in a pinch.
Chickpeas come both pealed and unpeeled. If you have bought unpeeled chickpeas then add 1/2-1 teaspoon baking soda in the water used to soak them. The soda will make the skin swell up help you separate it from the chickpea seeds. Once thoroughly soaked, you can peel the skin either by rubbing them with your hands or by using a towel.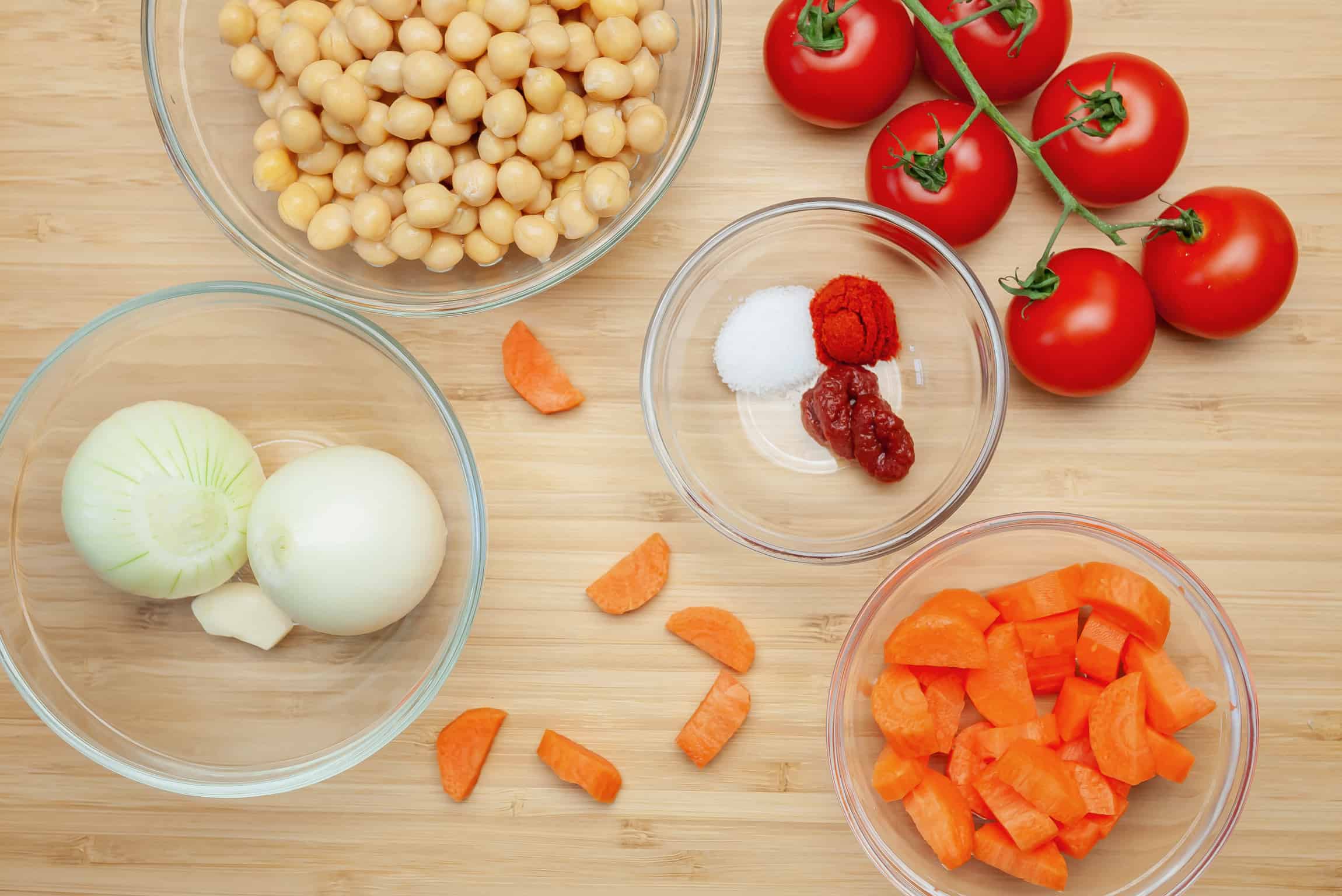 Can I use canned chickpeas in this traditional Greek Chickpea soup with tomato (Kokkina Revithia)?
Yes you can. Canned chickpeas are ready to use as they are already pre-boiled. Skip the soaking part and reduce the cooking time to 30-40 minutes until they soften.
What can I serve this chickpea soup with tomato with?
Try this traditional Greek chickpea soup with a delicious crusty sourdough bread or croutons!
Also don't forget to check out my traditional Greek chickpea soup with lemon!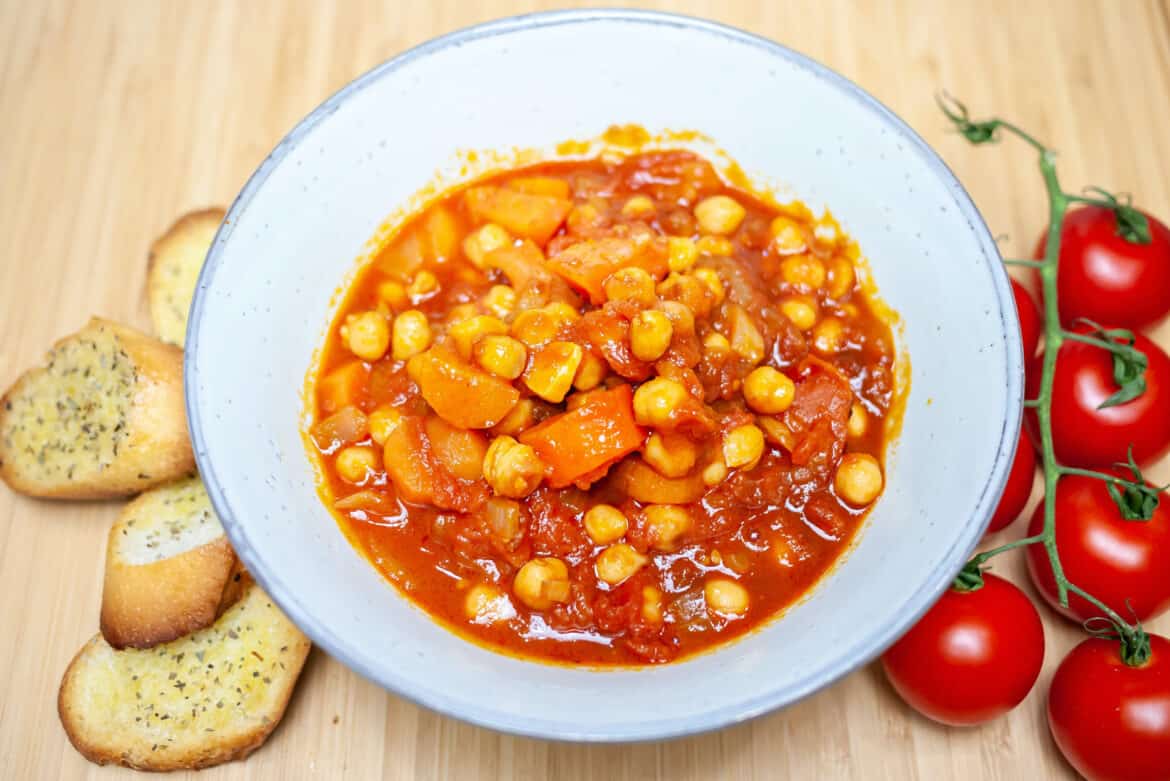 Greek Chickpea soup with tomato
Ingredients
500g peeled chickpeas, soaked overnight
1 can (250 grams) of chopped tomatoes
2 medium sized onions
1 clove of garlic
1 large carrot
1 tablespoon tomato paste
50ml olive oil
1 teaspoon salt and paprika
Instructions
Greek Chickpea soup with tomato recipe (Dry chickpeas)
Chop the onions in thick slices and the carrot into half moons (1cm thickness).
Rinse the soaked chickpeas and place them in a pot with enough water; enough that they are covered. Bring them to the boil on high heat.
Remove the white forth produced during boiling. You may need to do this a couple of times. You can also remove the water after the first boil and start again.
After around 30mins add the oil, onions, carrot and the spices.
Let the soup boil for 1-2hrs until it thickens and the chickpeas are soft
Boiling time will depend on the variety and the size of your chickpeas. If the soup becomes dry during cooking, just add half a cup of water and stir.
Greek Chickpea soup with tomato recipe (Canned chickpeas)
Chop the onions in thick slices and the carrot into half moons (1cm thickness).
Sauté the onions and garlic together with the spices.
Continue by adding the can  chopped tomatoes and tomato paste and a little bit of water; enough to cover the ingredients.
Let them boil for approximately 15 minutes. At this point add the canned chickpeas and let them boil for another 30- 40 minutes.
Boil the chickpeas until they thicken.