This is my family's traditional Kourabiedes (Greek Almond Christmas Cookies) recipe passed down by generations, exactly how my grandmother and mother used to make! A Greek Christmas table is never whole without Kourabiedes, so let's get baking.
Kourabiedes are traditionally round. But you can always try different shapes and surprise your guests! Experiment with cookie cutters and turn Kourabiedes making into a family affair!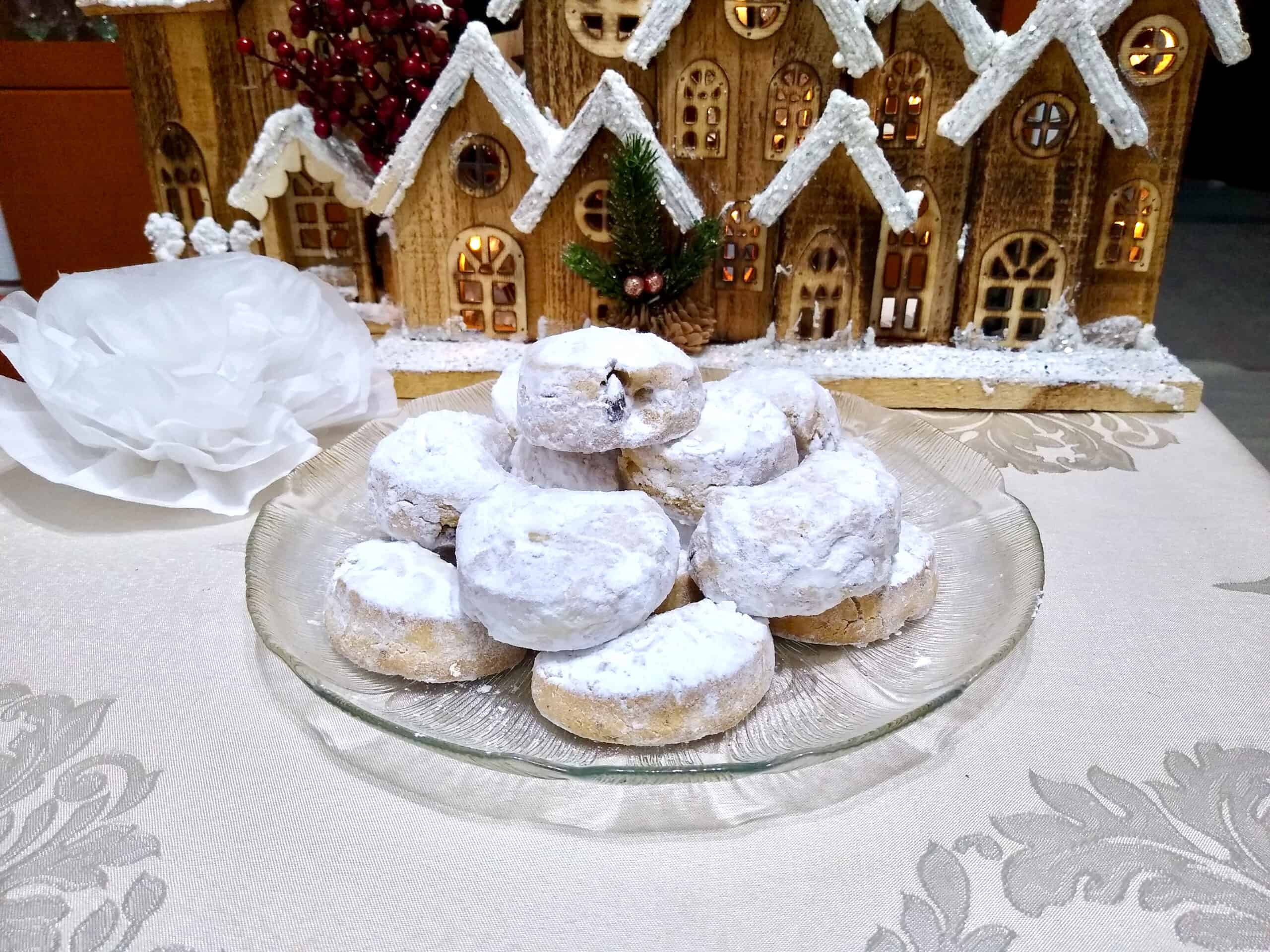 What are Kourabiedes (Greek Almond Christmas Cookies) made of?
Kourampiedes in essence are short bread cookies and thus the most important ingredient for these kourabiedes (Greek Almond Christmas Cookies) is the butter.
Butter
You want to buy the best quality unsalted butter you can get. The more fat content the butter has, the tastier you Kourabiedes will be. You will need butter with at least 82% fat and so my go to butter is Ghee! If you prefer some additional flavour, why not try them with Goat's or Sheep's butter! If you cannot find any of these in your local shop then choose the best quality and highest in fat butter you can get your hands on.
Almonds
The second most important ingredient of this recipe are the toasted almonds. Buy the best quality whole almonds you can get. There is no need to peel off the skin, it is the skin that adds extra flavour to these Christmas cookies. Roast them on a baking sheet until golden. Make sure not to burn as they will taste bitter!
Flour
I use all purpose flour for this recipe and add baking powder.
Icing (powdered) sugar
Kourabiedes call for Icing sugar, which is fine sugar that dissolves easily. Icing sugar creates this silky, melt in the mouth texture in these Greek cookies. In addition, Kourabiedes are dusted in lots of icing sugar!
Vanilla
A few drops of vanilla in the Kourabiedes dough will do wonders so make sure you add some. It is customary in Greece to also use Ouzo or Brandy, however, I stick to a few vanilla drops.
Rose water
Drizzle Kourabiedes (Greek Almond Christmas cookies) with a little bit of rose water for both floral smell and lovely sweet taste. Not only will these Greek butter cookies will taste and smell nicer, but also powdered ( or confectionary) sugar will stick to them better.
If you don't have rose water you can substitute it for orange blossom water instead.
Tips for the best Kourabiedes
Butter
Invest on good quality unsalted butter. The better quality the butter is, the tastier the cookies will be.  Choose a good quality full fat butter for the biscuits.
One of the most consuming parts of these Greek almond cookies recipe is beating the butter with sugar. Beat unsalted butter with icing sugar and a few drops of vanilla for approximately 20 minutes, until the mixture turns fluffy. I suggest you do this with either a stand mixer or a hand mixer as it may be too taxing with a hand whisk. Do this on medium to high speed.
If you wish to go the extra mile for Kourabiedes, then make your own clarified  butter and use in this recipe. The process is time consuming indeed, but believe me your palate will thank you for it.  In my  chocolate Kourabiedes recipe I have a section of how to make your own clarified butter. Check it out here.
Last but not least, butter should always be of room temperature and not cold straight out of the fridge. So plan ahead and take the butter out of the fridge in preparation for Kourabiedes.
Batches
Once you have beaten the butter with icing sugar and vanilla drops, continue by adding the rest of the ingredients in batches and not all at once.
Kourabiedes dough
Kourabiedes dough is quite delicate and does not require a lot of kneading. Simply gently mix the ingredients and shape. Kourabiedes dough is equally as delicate as those of Melomakaraona
Even Kourabiedes
When shaping Kourabiedes (Greek Almond Christmas cookies) make sure they are of equal size and weight. I use kitchen kitchen scales to achieve this. Should these almond biscuits are of different sizes and weight they will be ready at different times which is not ideal. So make sure you weigh and shape them roughly the same.
For a quick hack use cookie scoops.
Baking Kourabiedes
Once you have shaped Kourabiedes to your desired shapes, then place them in parchment lined baking trays. Allow space between Kourabiedes and bake for 15-20 minutes. The secret to baking Kourabiedes is to take them out of the oven when they turn light brown. This may confuse you as you might be expecting a darker colour, but believe me they are ready very quickly. A quick tip to recognise when Kourabiedes are ready is to try to lift them off the parchment paper. They will lift easily.
Serving Kourabiedes
Kourabiedes are usually stacked into a platter and served cool just like Melomakarona are. Store them in an air tight container.
Vegan kourabiedes
Being vegan should not mean you cannot enjoy these delicious Greek style almond shortbreads. I have a
vegan kourabiedes recipe
for you to try out this Holiday Season. You can find it here.
Love chocolate?
Also don't forget to make a platter of honey cookies, the famous Melomakarona.
Other Christmas (Holiday Season) recipes
Looking for more Greek Christmas cookies inspirations this Christmas? Try out Melomakarona, delicious, walnuts and honey biscuits dunked in aromatic syrup. You can find the recipe
here
.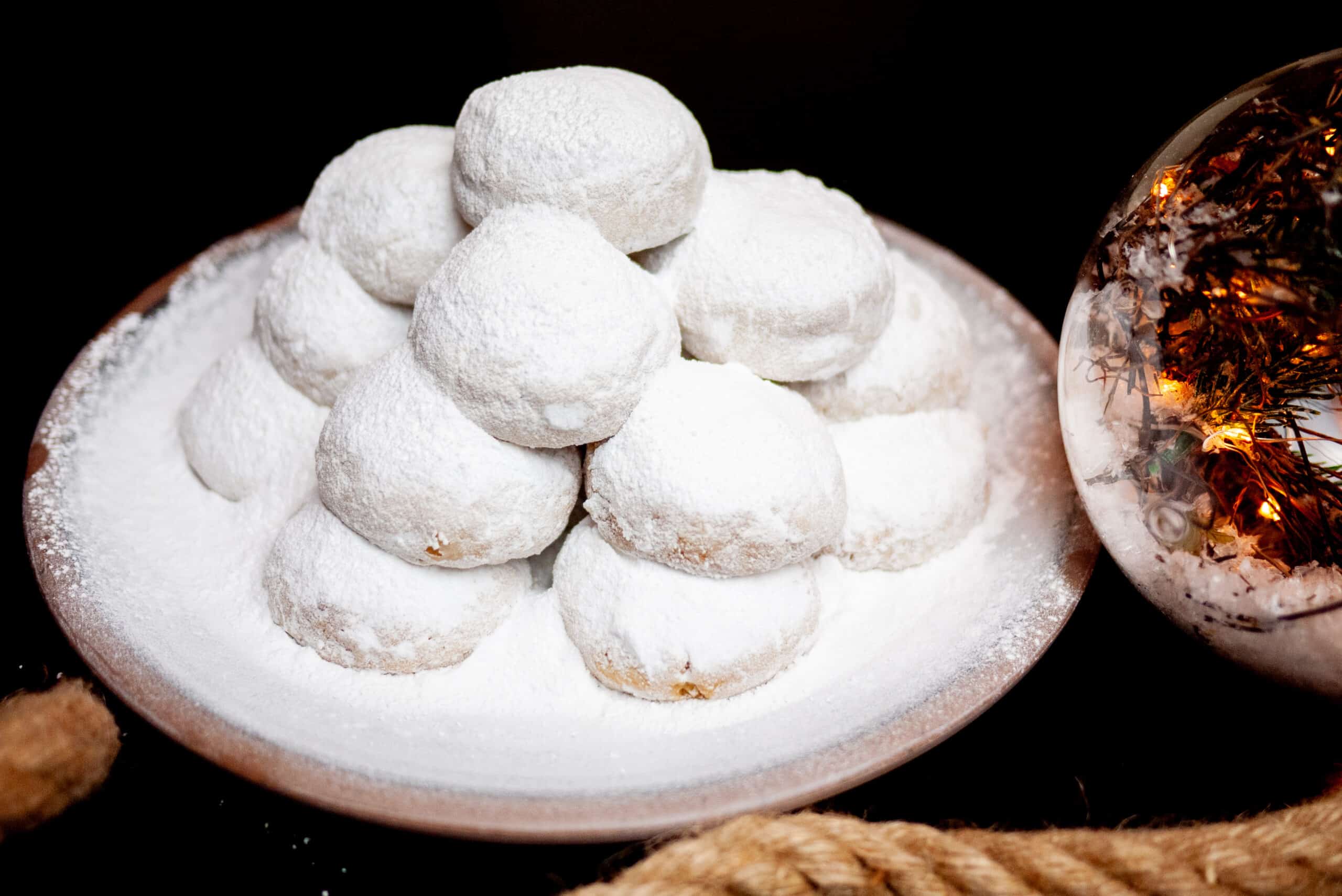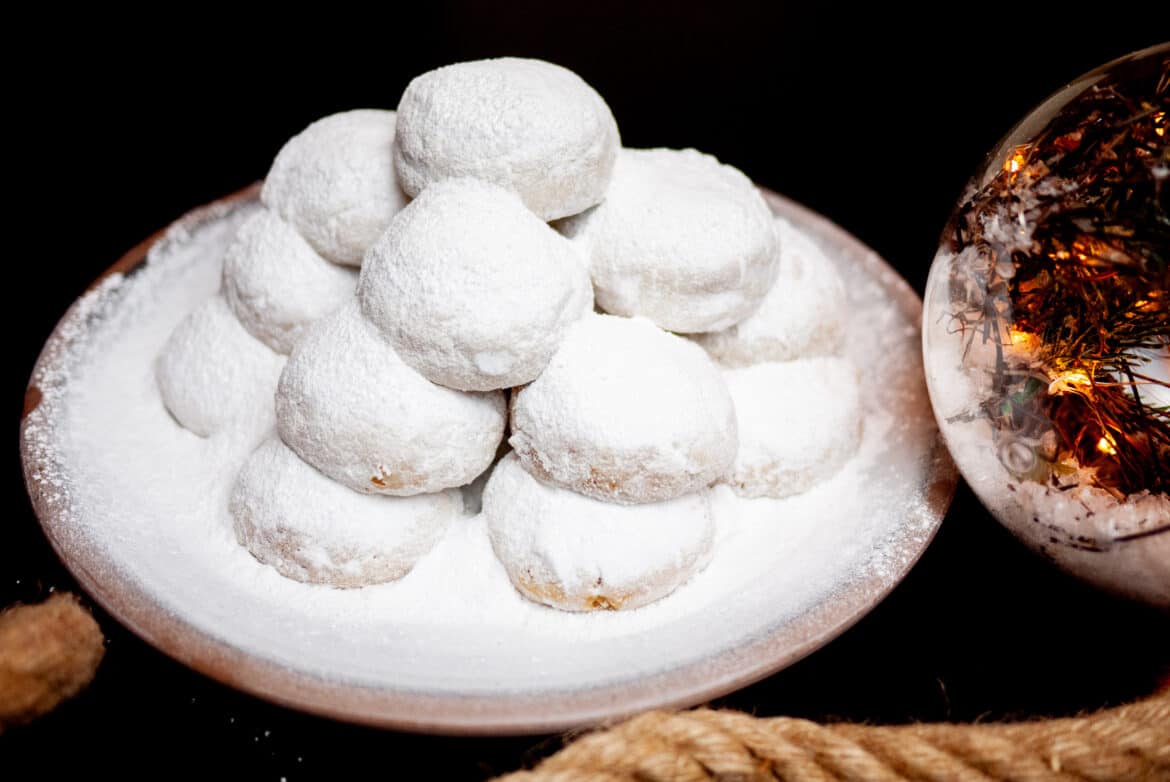 Kourabiedes ( Greek Almond Christmas Cookies)
Ingredients
Kourabiedes dough:
320gr unsalted butter (2 cups;  at least 82% fat)
400gr flour  (3 cups)
150gr  icing or confectioners sugar (1 cup)
20gr baking powder  (2 tbsp)
120gr almonds (1 cup)
rose water
3-4 drops of vanilla extract (1/2 tsp)
To dust:
200g  icing (powdered) sugar (1 cup)
Kitchen appliances you will need:
Electric mixer
Kitchen scales
Baking sheet
Parchment paper
Large bowl
Instructions
To prepare these melt- in-the-mouth kourabiedes (Greek Almond Christmas Cookies), start by assembling all the necessary equipment and ingredients. Measure the ingredients and place them in bowls. Set aside until needed in the recipe.
The secret ingredient of this recipe is the toasted almond. Place almonds on a baking sheet and bake/toast them for 10 minutes at 160C or 320F. Once they are toasted, set them aside to cool. Once they reach room temperature, chop them into large chunks or grind them finer depending on your preference. You can use a mortar and pestle or give them a quick blast in a food processor.
In a stand mixer bowl  add butter, icing sugar, vanilla and beatuntil the mixture becomes fluffy and white. This will take approximately 20 minutes.
At this point, preheat the oven to 180c or 356F.
Continue by adding the toasted almonds, baking powder and flour in small batches.  Knead lightly.Shape the dough into round balls of approximate 30g weight.
Place the cookies on a parchment paper lined baking tray with an approximate 4cm distance apart. The cookies will expand when baking.Bake the almond cookies for approximately 15-20 minutes. Make sure you  do not overbake the biscuits. You want to achieve a light golden colour rather than a brown, burnt one.
Set them aside to cool down.
Once the cookies cool and reach room temperature, drizzle them with rose water. This will give the cookies a lovely smell but also allow the icing sugar to stick. Be careful not to over do it though. There is nothing worse than wet cookies in which icing sugar cannot stick to.
Sift your icing sugar in a large bowl and dunk each cookie in the icing sugar making sure the entire biscuit is covered and has the glorious white Christmas colour!!
Your Kourabiedes are ready to serve! Enjoy!
This recipe will give you approximately 30 kourampiedes.