Indulge yourself this Christmas with my delicious vegan kourabiedes (Vegan Greek Christmas butter cookies) recipe! Being vegan should not stop you enjoying these traditional Greek snowy butter cookies! Kourabedies rely mainly on butter for their melt-in-the-mouth crumbly texture, but with my recipe you can get the same texture while keeping to a vegan diet!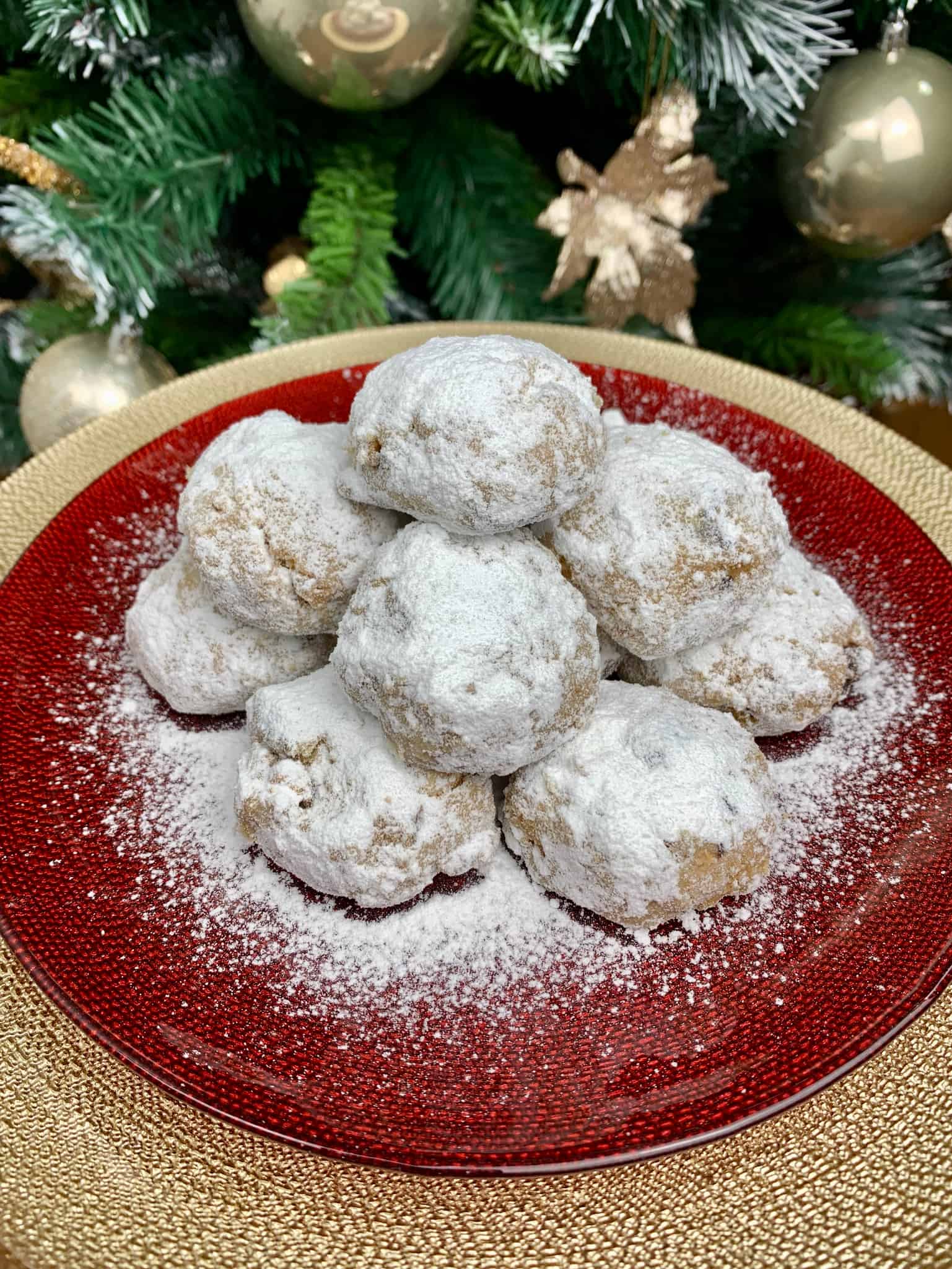 The recipe for these vegan snowy cookies is so simple and comes together very quickly! They are by far the easiest cookies to prepare. They contain the same ingredients and quantities as the non-vegan traditional recipe, Kourabiedes (Greek Almond Christmas Cookies) with the exception of butter! Substitute dairy butter for a plant based one (or even an almond one) and enjoy these delicious snowy white cookies in no time!
Dairy butter, Vegan butter and margarine
Butter is made up of butterfat of milk and water, containing around 80% fat. Margarine is a butter substitute made up of either animal fats or vegetable oils and water. Thus, not all margarines are Vegetarian or vegan friendly. Vegan butter is dairy-free- margarine.  Depending on the country, margarine has different fat contents. For example, in USA, margarine has to have a 80% fat content to be named margarine, whilst this may not be true for the rest of the world.
Butter and Kourabiedes
The traditional non-vegan Kourabiedes have a crumbly and melt-in-the-mouth texture due to butter. The higher the fat content of the butter, the crumblier Kourabiedes will be. Thus yiayia used to make them with clarified butter. To prepare these vegan Kourabiedes get your hands on good quality plant based butter you have experimented with and know its taste. There is nothing worse than experimenting with a new product and messing up the cookies.
Make sure the vegan vegan butter with a high fat content. The lower fat content equates to more water content, which will in turn lead to tougher and drier doughs.
Vegan butter, margarine block versus spread and what to look for
The most important ingredient in Kourabiedes is a good quality , high content butter. Vegan butter blocks / (vegan) margarine blocks  have a high fat content of around 80% with the remaining 20% being water. On the other had, margarine spreads have a lower fat content, of around 60% with the remaining 40% being water.  In addition, not all margarine spreads are vegan friendly as they may be made of animal fats.
Overall, the higher fat content the crumblier the cookies will be. The higher water content is, the lower the fat content will be and the tougher and drier the cookies will be.
Therefore, vegan butter and (vegan) margarine blocks are far superior to spreads in baking. When choosing margarine make sure you check it is vegan friendly and its fat content percentage.
Vanilla in vegan kourabiedes
Vanilla not only tastes nice but it also enhances the flavour of other ingredients, no wonder we use it in so many recipes. It is like salt in savoury dishes. I find vanilla works really well in these vegan kourabiedes as it balances the plant based butter flavour.
Rose water in vegan kourabiedes (Greek Christmas butter cookies)
Sprinkle room temperature kourabiedes with rose water to lightly scent them with floral aromas and help the icing sugar to stick onto the cookies. Do not be tempted to sprinkle them with lots of water and the cookies will turn soggy and the icing sugar will not be able to stick onto them.
Nut free kourabiedes?
I always add large chunks of toasted almonds in my kourabiedes to get a crumbly yet crunchy texture in every bite! However, if you have any nut allergies, you can simply omit them from the recipe.
Other Kourabiedes recipes
If you love kourabiedes as much as I do, be sure to check out my traditional homemade non-vegan kourabiedes (Greek Almond Christmas cookies) .
For all the chocolate lovers out there, why not experiment with my chocolate Kourabiedes with almonds (Greek butter cookies) recipe ?Powder them with cocoa or coat them with melted chocolate! Simpy divine!
Christmas desserts
A Greek Christmas table will not be complete with Melomakarona, wonderfully flavoured walnuts and honey biscuits dunked in aromatic syrup.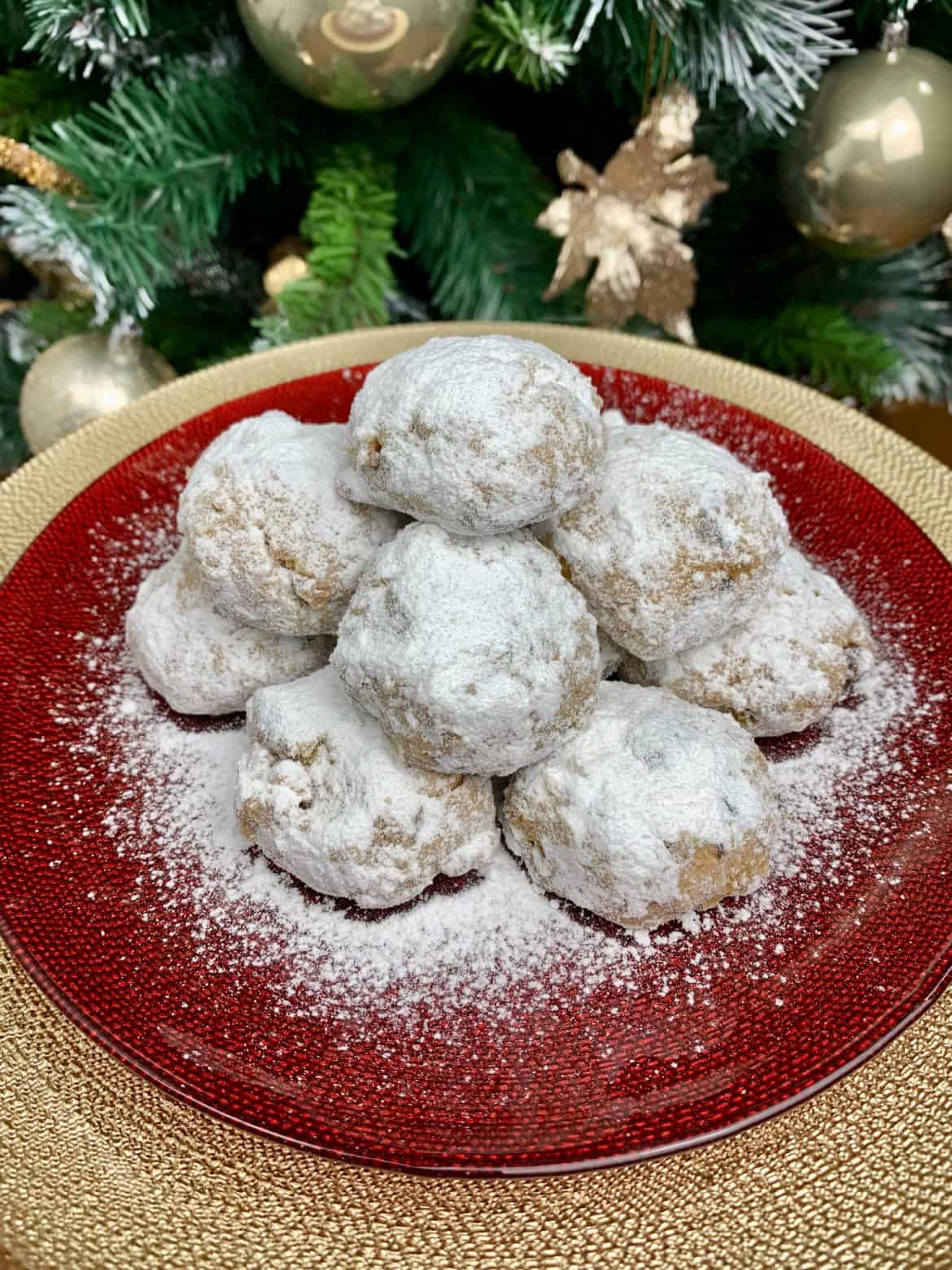 Vegan kourabiedes (Vegan Greek Christmas butter cookies)
Ingredients
400gr plant based butter (1 cup + 3/4 cups)
420gr all-prepose flour  (3 cups + 1/2 cup)
200gr icing (powdered) sugar (2 cups)
120gr  almonds (optional) (3/4 cup)
20gr  baking powder (2 tbsp)
3-4 drops vanilla
Rose water
Instructions
To prepare this crumbly vegan kourabiedes (Vegan Greek Christmas butter cookies) start by toasting the almonds for 8-10 minutes in the oven at 160C or 320F. Let the almonds cool down and once they are of room temperature chop them in large chunks. I do so that I get a substantial bit of almond in every bite.
In a stand mixer bowl, cream the butter with icing (powdered) sugar and a few vanilla drops for 20 minutes, until the butter turns fluffy.
Preheat the oven to 180C or 356F.
Continue by adding baking powder, toasted almonds and flour. Knead lightly the dough and start shaping the vegan kourabiedes. Make sure you vegan kourabiedes cookies are of the same weight (aim around 30gr) so that they all bake equally. Make sure you line the butter cookies with a 4cm distance apart as they will expand during baking.
 Place the vegan kourabiedes cookies on a parchment lined baking tray and bake at 180C or 356F for 15-20 minutes.  When the butter cookies are done, they will achieve a light brown colour.
Set the vegan kourabiedes aside to cool down on a rack.
When the kourabiedes have reached room temperature, sprinkle them with a little bit of rose water. This will infuse the Kourabiedes with a lovely aroma but it will also help the icing sugar sticking onto the cookies.
Place sifted icing sugar into a bowl and dunk each Kourabie (singular of kourabiedes) into the bowl.
Enjoy!