Gemista or Yemista is a traditional dish made of bell peppers and tomatoes that are stuffed with rice which may or may not also contain mince meat. In this gemista (stuffed vegetables) with couscous recipe I have substituted rice with pearl or giant cous cous as it is also known. These Gemista are packed with mediterranean flavours such as Feta cheese and olives!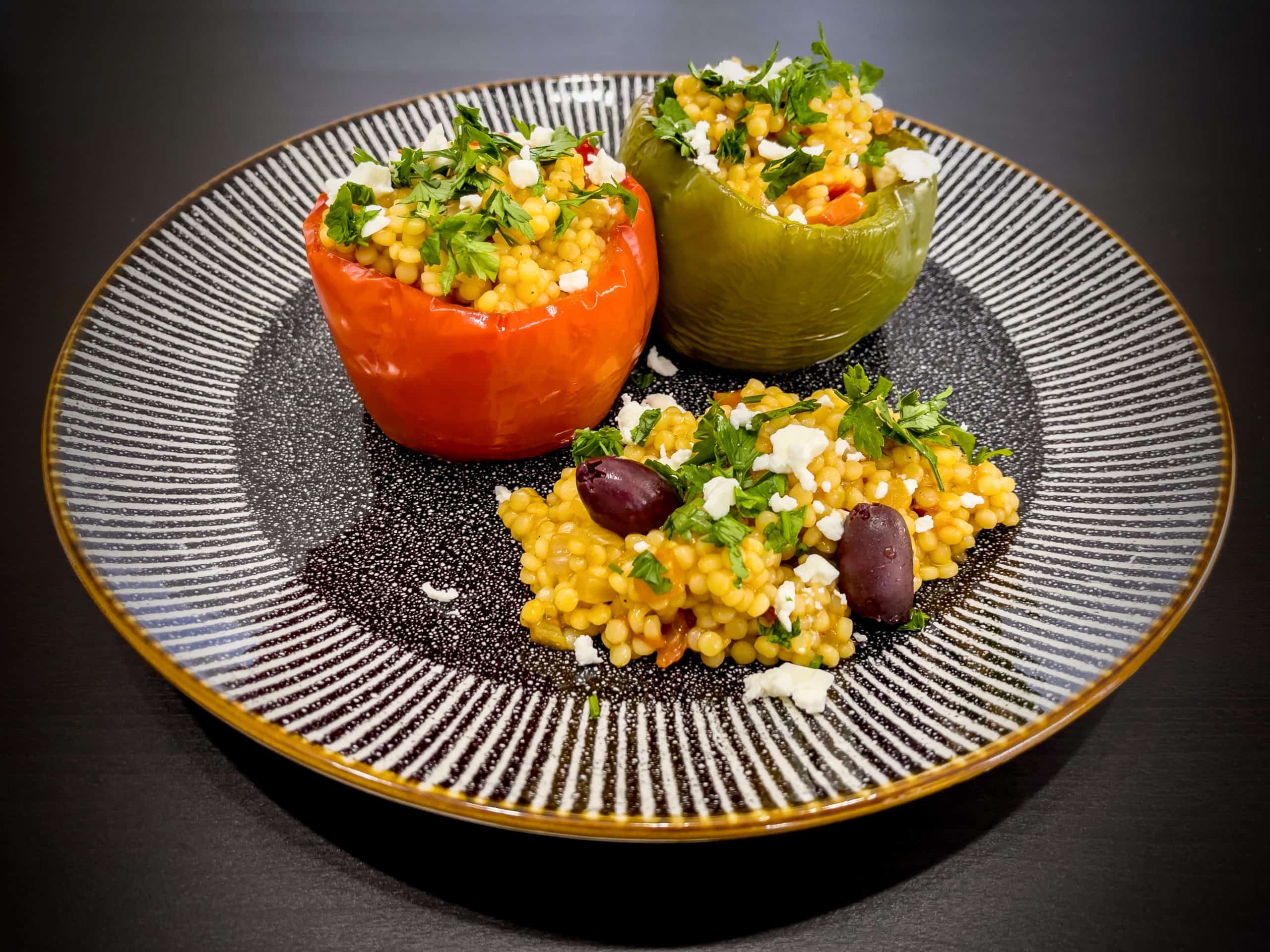 In this gemista (stuffed vegetables) with cous cous recipe I have used bell peppers, however, tomatoes, zucchinis and aubergines (eggplants) can also be used.
What is pearl cous cous?
Pearl or giant couscous are little semolina pearls that taste like pasta. They are far quicker and easier to cook than rice, thus making can enjoy this dish quicker. No need to waste time preparing the perfect risotto-type rice for the stuffed vegetables.
Pearl couscous originates from Isreal, where it was invented in the 1950's as an alternative to rice. It is toasted and then dried semolina with a nutty taste and chewy bite. It is great with sauces and it is very common in tagines.
Why giant couscous?
Giant couscous has a chewy bite and can be cooked the same way as pasta compared to normal couscous. In addition, giant couscous goes very well with sauces, just this of pasta, whereas regular couscous does not. Thus, it makes the perfect filling for stuffed vegetables or gemista.
Gemista are initially prepared in the pan and then baked in the oven in a water bath. Giant couscous can be half-prepared in the pan initially before added to the hollow vegetables and baked in the oven.
It is simply not possible to cook regular couscous in the pan and then bake it in the oven. Regular couscous comprises of tiny crushed granules that cook in minutes.
What is different in this gemista with couscous recipe?
Giant couscous cooks a lot quicker than rice and thus this recipe differs a bit form the original gemista recipe with rice. The vegetables, especially if thick skinned peppers or zucchinis, will require a substantial amount of time in the oven to be cooked. The same applies for the rice and thus the traditional gemista (stuffed vegetables) recipe requires 35-40 minutes in the oven.
Giant  couscous requires less time to cook and if overcooked will turn into a glutinous mass.
So, how can we achieve perfectly cooked vegetables and couscous?
We can have the perfect combination of cooked couscous and vegetables if we change the original recipe a bit. Start by cooking and softening the vegetables over medium heat in a skillet. You can part-roast the vegetables in the oven, though this will be more time consuming over a skillet.  By part-cooking the vegetables in the beginning of the recipe, the vegetables will require less amount of time to cook in the oven. This will be in line with the little about of time the part-cooked cous cous requires too.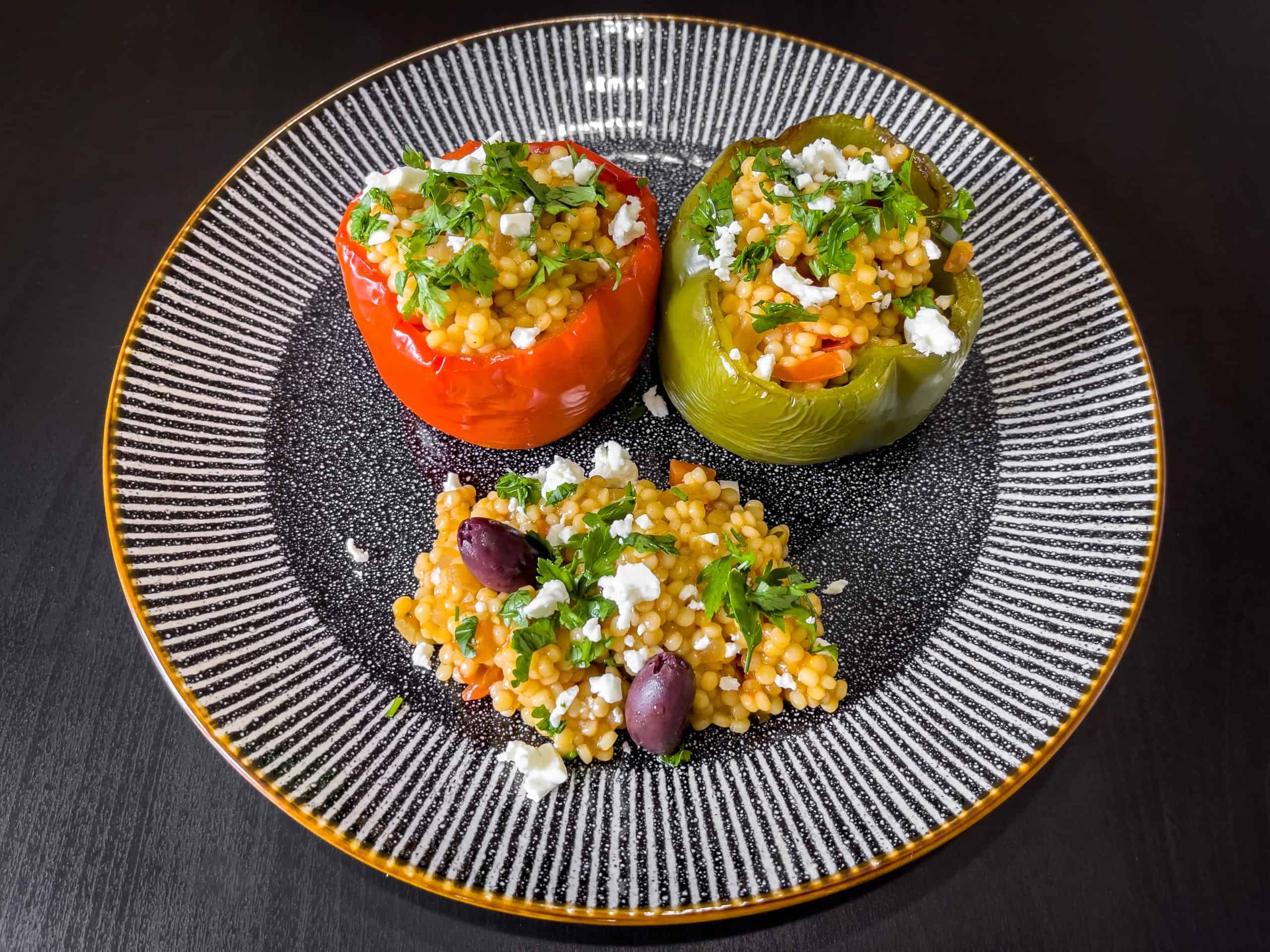 Couscous substitutes
There are numerous giant couscous substitutes such as regular couscous, quinoa, pasta, chopped vegetables, pulses and mince meat.
Remember that each substitute has a different cooking method and cooking time. For example quinoa and regular couscous cook very quick and thus the vegetables should be fully cooked prior to adding the stuffing.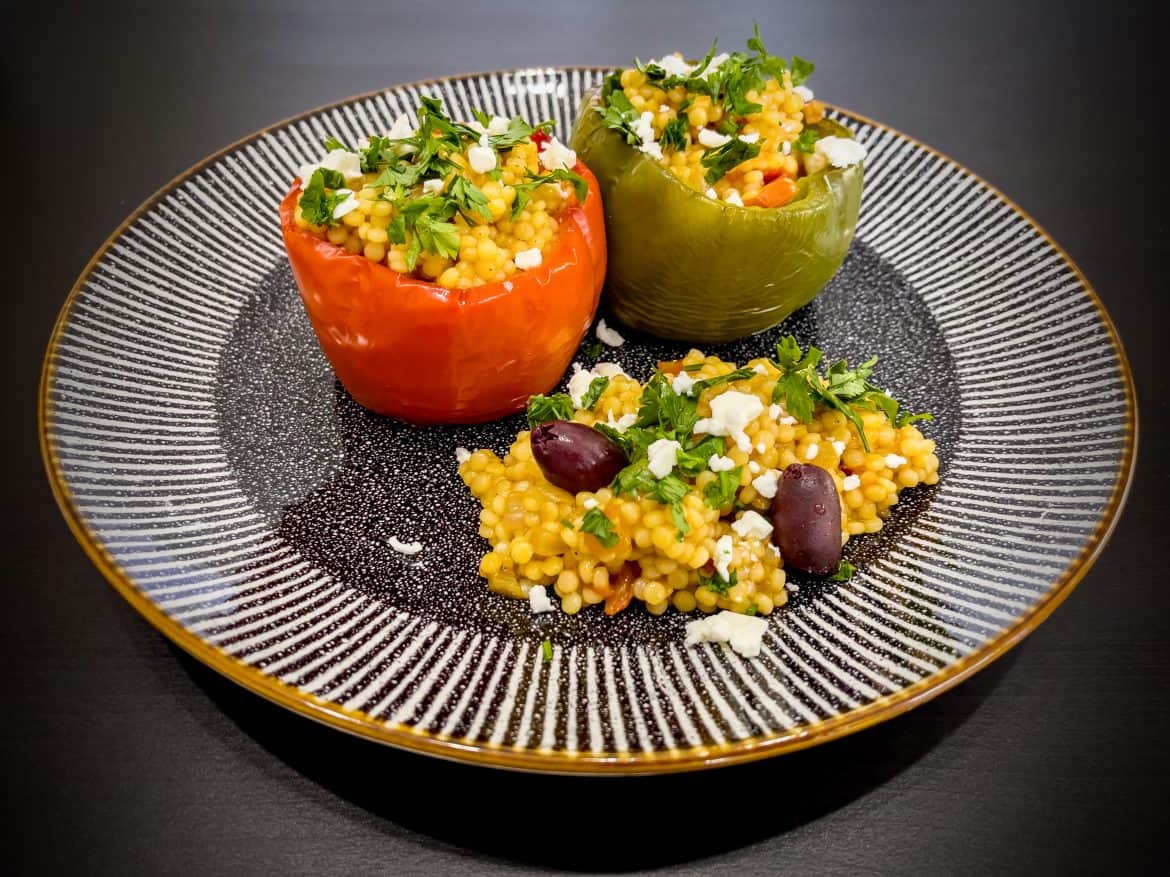 Gemista (stuffed vegetables) with cous cous
Ingredients
10 vegetables (bell peppers or tomatoes)
250gr mince meat ( or plant based mince) (optional)
250-300gr giant couscous
200gr chopped fresh tomatoes or canned chopped tomatoes
500gr water
80gr olive oil
1 large onion
1 tbsp tomato paste
1 and 1/2 tsp salt
1 and 1/2 tsp paprika
1/2 tsp black pepper
1/2 tsp coriander
1/2 tsp sugar
5-6 sprigs of parsley
1 stock cube (optional)
Instructions
To prepare these gemista (stuffed vegetables) with couscous start by washing the vegetables. Slice the tops of the peppers off and remove the seeds. Should you be using tomatoes, repeat the process but make sure you  keep aside the tomato flesh as you can use it later in the recipe.  Continue by chopping the onion and parsley finely.
Over medium heat, in a skillet, cook the vegetables for a few minutes. You can also part-cook the vegetables in the oven, though this will take a bit lot longer. Part-cooking the vegetables will turn them softer and reduce cooking time in the oven later on.
To prepare the filling, sautée the onion until it becomes translucent. Season with paprika, black pepper and coriander.
If you wish to make this gemista recipe with meat, then add mince meat and break it into smaller pieces with a fork or a spatula at this point (optional) Add fresh tomatoes (or canned), tomato paste and season with salt and sugar. Stir and cook until the mince meat is cooked. Carry on by adding water (and stock cube). Add the giant couscous and continue to cook for another 5-10 minutes.
Place the hollow vegetables on a baking tin and spoon the filling. Place the sliced off vegetable parts as 'lids'. Pour water in the baking dish to make a water bath and bake at 190C or 374F for 20 minutes.
Garnish with feta cheese, Kalamata olives and parsley.