Enjoy crispy yet juicy, tender and flavourful meatballs in no time with my easy Greek meatballs (Keftedes) recipe just like yiayia used to make them. Remember the days when yiayia's house would smell of pan fried keftedes and you eagerly awaiting at the dinner table? I know I can! We served ours with chips, I know not healthy, but ever so delicious! Keftedes  were our guilty treat once in a while.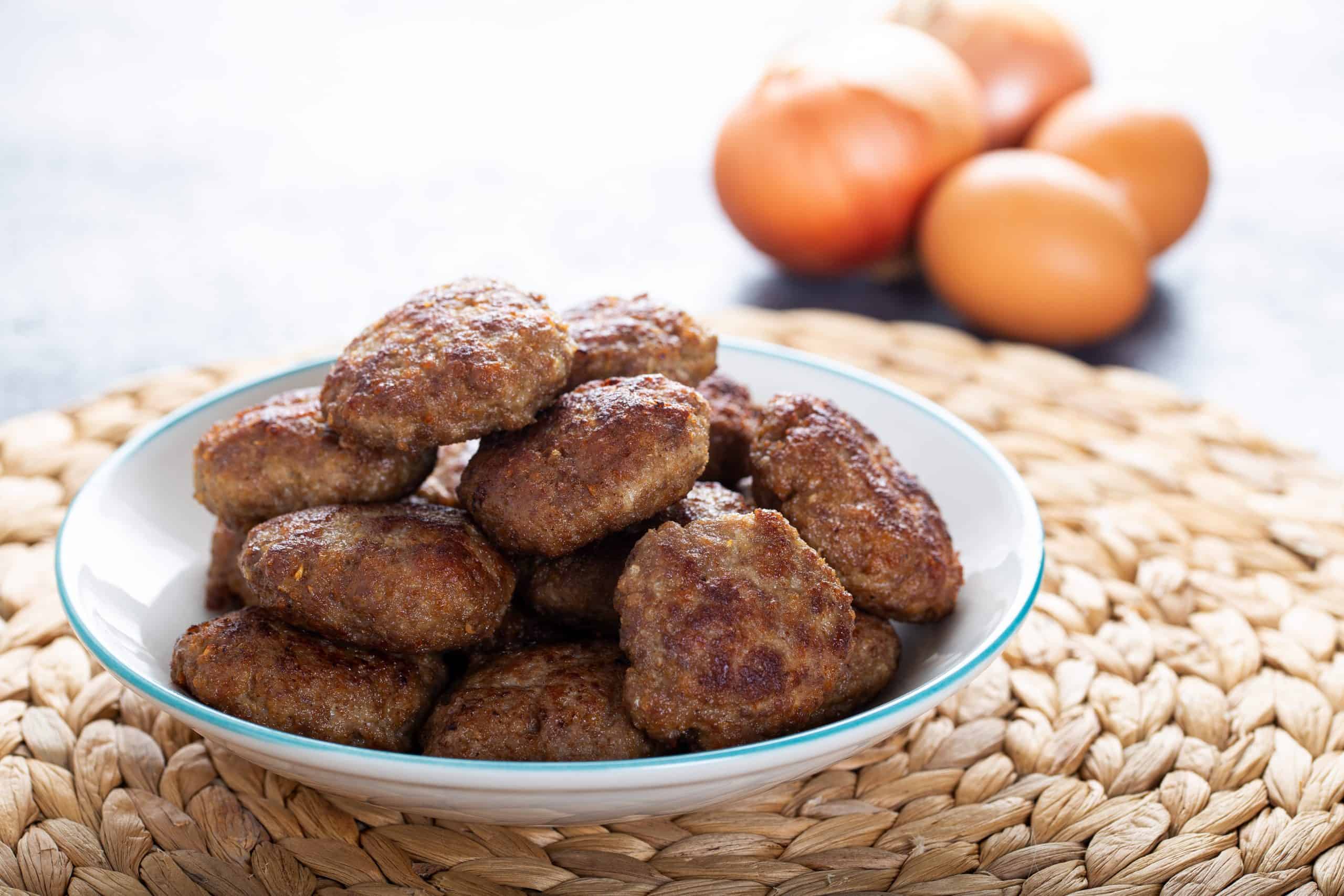 What are Greek meatballs (Keftedes)?
Keftes (singular) and keftedes or Keftethes (pleural) originate from the Persian word 'kofta' which translates to balls made of meat or vegetables. They are very popular in the Mediterranean ranging from the Italian polpette to the Middle Eastern Kofta differing in spices and type of meat.
Contrary to vast belief Greek 'keftedes' are not synonymous to meatballs as not all of them are necessarily made of meat! I am sure you have heard of all the other famous and delicious little balls such as 'kolokithokefetes' (Zucchin fritters), 'ntomatokeftedes' (tomato balls form Santorini), 'patatokeftedes' (potato balls), 'revithokeftedes' (chickpea or as widely known falafel) and so on.
Greek meatballs are not all necessarily shaped a balls. For once, in Northern Greece they have flat oblong shapes of 2cm or 0.8 inches. Flat meatballs are much easier to fry than round ones.
Greek meatballs are cousins of the Greek bifteki. Bifteki (-a pleural) is a larger, flatter meatball shaped just like a hamburger. Bifteki can be plain, ie made of good quality mince meat, though most of them are stuffed with Feta cheese, halloumi or any other cheese one might fancy.
Ingredients for these easy Greek meatballs (keftedes)
Mince or ground meat
Good quality mince  or ground meat, bet it pork, lamb, beef, turkey is the starting point of any Kefte. One can also use lamb, nevertheless, in Northern Greece, we use mostly pork and beef. Nowadays with the availability of chicken and turkey mince, I personally combine pork, beef and turkey mince for lighter flavourful keftedes. My children and especially my son in law loves them! Lamb ground meat is also great for meatballs, though lamb is not as commonly consumed in northern Greece.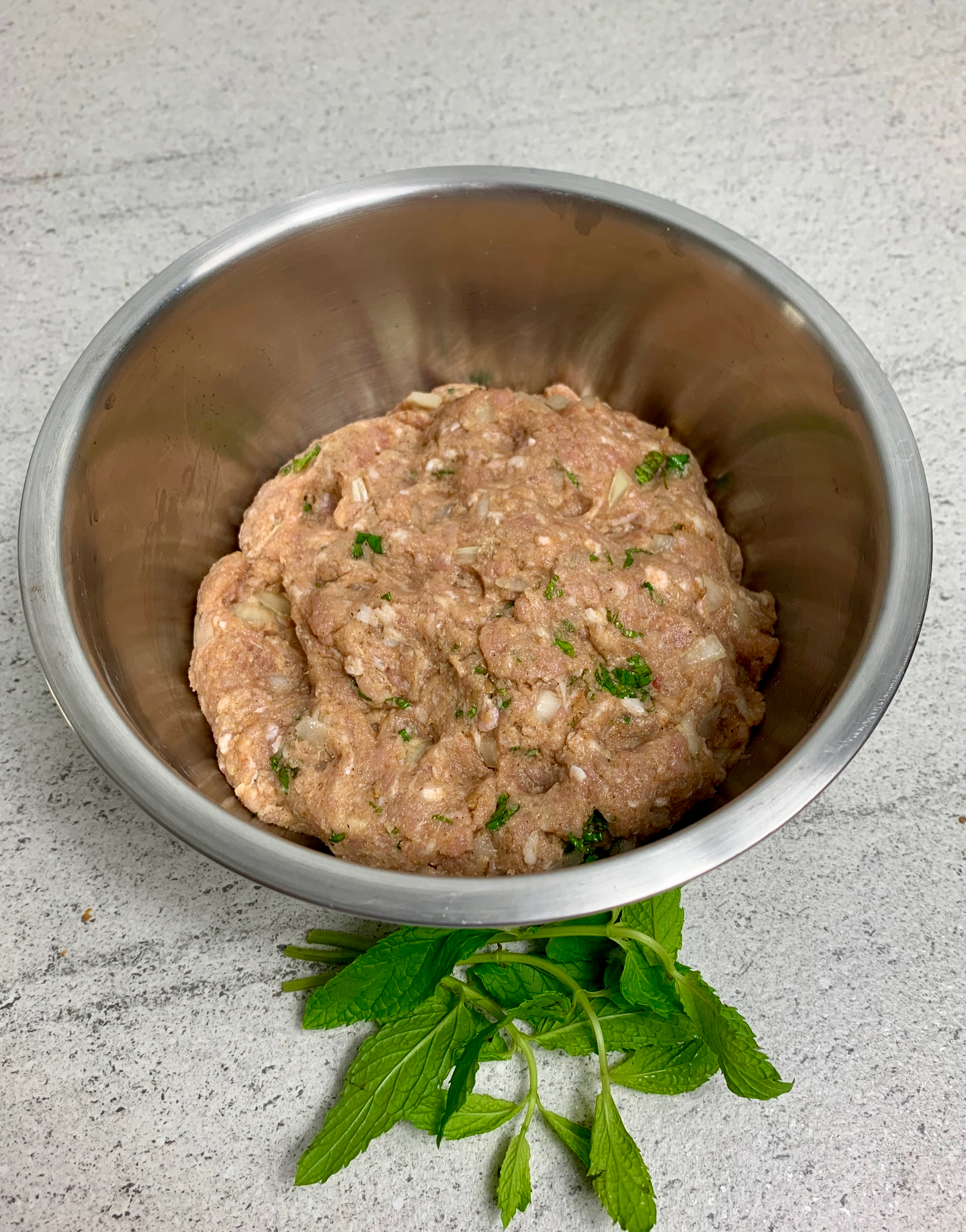 Bread
Stale bread is another must have in these Greek meatballs. Remove the crust from a slice of stale bread and blitz it in a food processor. My yiayia used to remove the crust from the stale bread and soak in in water for 5 minutes. Once the stale bread slice had absorbed enough water, she would squeeze most of the water out of it.  If you do not have stale bread, you can use breadcrumbs. I love panko breadcrumps as they are made of crustless white bread and taste just like homemade bread. Melba toast, crisp bake and Jacquet French toast can also be blitzed in a processor into breadcrumbs.
Eggs
Eggs are used as a binding agent so make sure to get good quality fresh eggs.
Onions
Onions add a slightly sweet taste to keftedes, think of caramelised onions,  and a crunchy texture when biting into juicy keftedes.
Spices
The spices for these easy meatballs are only a few  and I am sure kitchen cupboard staples. We use paprika in Northern Greece in most of our dishes and thus this would not be amiss in my yiayia's recipe. Thus, in this keftedes recipe paprika, black pepper, coriander, allspice and salt is all you need! Allspice combined with coriander bring out zesty flavours, perfect when keftedes are served with lemon potatoes. The combination of allspice and black pepper brings out pungent heat to the keftedes.
Herbs
Herbs like spearmint (dyosmos), parsley are also very common added to keftedes. Make sure you add one of the spices in your keftedes batch and not all the herbs altogether. My mother's favourite one is spearmint as is gives a fresh taste and smell to keftedes.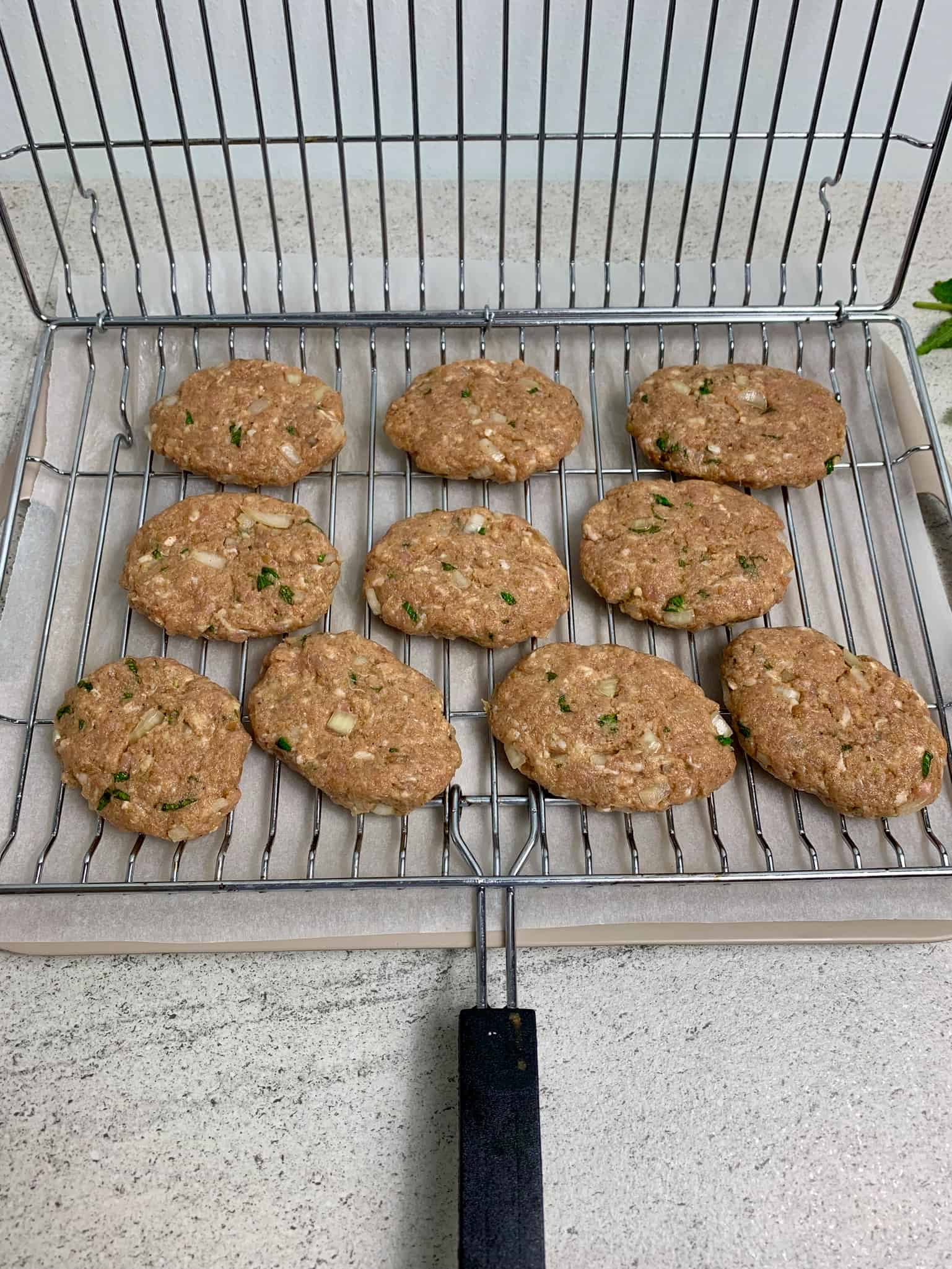 How can I add flavour to meatballs?
There are numerous spices and herbs to jewel keftedes with. The simple addition of herbs in keftedes will simply elevate their taste. For an extra kick try chilli flakes!
Secrets to perfectly flavoured keftedes
The secrets to having perfectly tasty and flavoured keftredes lays on the mixing on ingredients and letting the keftedes mixture rest.
Once you have added to the mince all the ingredients, make sure you mix them long enough so that all the ingredients are evenly incorporated. Nothing would be worse than a bite from an unseasoned bit of a kefte (singular of keftedes).
Moroever, make sure you let the keftedes mixture rest for at least 30-40 minutes prior to shaping and cooking them. For best results, prepare the keftedes mixture overnight and store them in the fridge until next day.
How can you cook keftedes?
There are many ways to cook these little versatile meatballs. If you fancy meatballs with a crispy exterior yet juicy and tender bite then either pan fry them or cook in a skillet. Oven baked meatballs will still have these tender juices but will lack that crispy exterior. They taste equally delicious though! You can also cook them in an air fryer or grill them.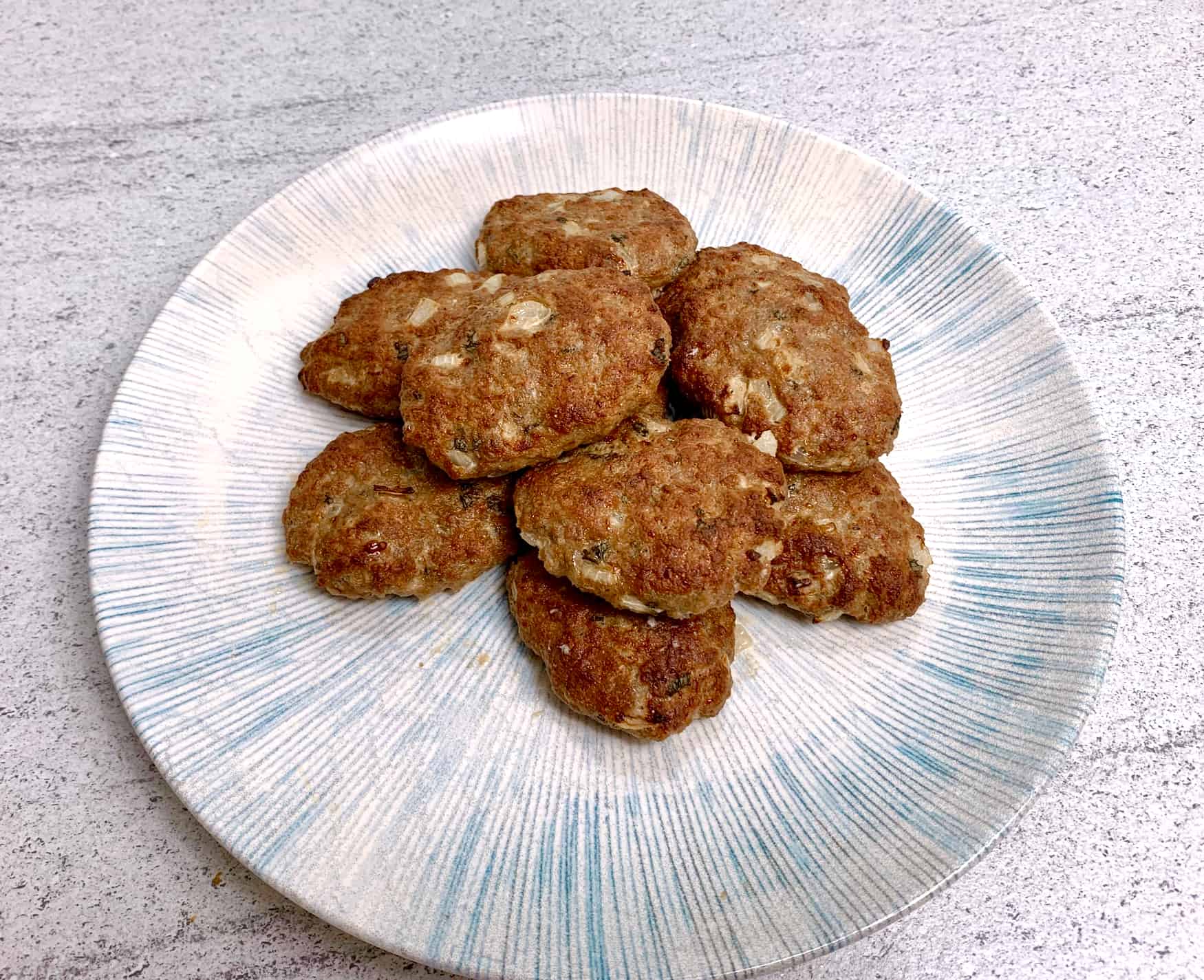 How do reheat meatballs?
If you have keftedes left over and wish to reheat them, then simply pop them in the oven for a few minutes.
Can you freeze meatballs?
The keftedes mixture can be easily frozen. When needed, simply defrost, shape and cook.
What to serve with Greek meatballs?
Greek meatballs are usually small round and are so versatile! They can be served with as appetizers alongside a dip such as tirokaferi or tzatziki, as main dish paired with potatoes, rice, orzo, pasta, chips, mash etc or even as as takeaway with pita bread or buns (keftedes souvlaki).
Stuff meatballs in pitta bread along with chips, tomatoes and tirokafteri and you have for yourself a lovely Greek takeaway!
Other famous Greek meatball recipes
Soutzoukaki are Greek keftedes paired with rich tangy tomato sauce and rice. Be sure to check out my recipe for Soutzoukakia.
Giouvarlakia are nothing more than greek meatballs in avgolemono sauce soup. Check out my recipe for giouvarlakia to prepare them just like yiayia did.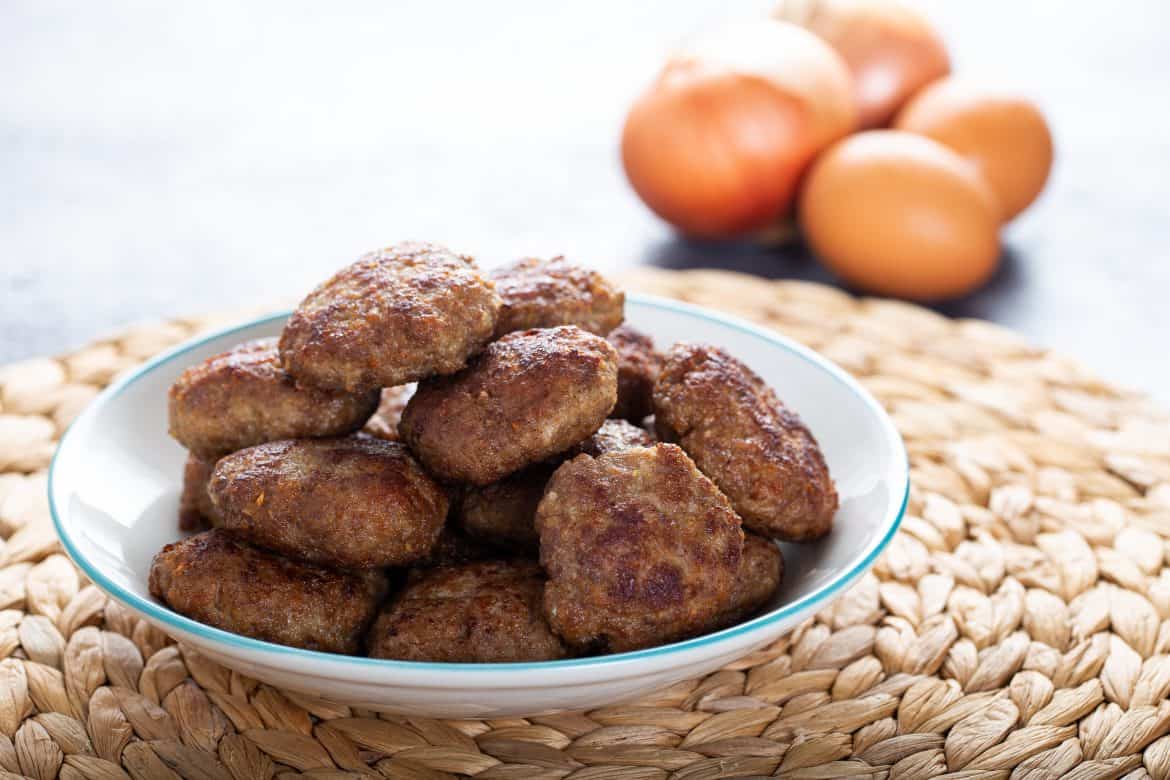 Easy Greek meatballs (Keftedes)
Ingredients
500gr mince meat (pork, beef, lamb or turkey or mixture of ground meat )
1 large onion
1 egg
1 stale bread slice ( or  200g breadcrumbs)
1 tablespoon olive oil
1 teaspoon salt
1teaspoon paprika
1/2 teaspoon black pepper
1/2 teaspoon coriander
1/4 teaspoons all spice
sunflower oil (for pan frying)
Instructions
To prepare this easy greek meatballs (Keftedes) recipe start by chopping the onion. Crumble the slice of stale bread. Alternatively in a food processor add the onion and stale bread and blitz.
In a large bowl, place the ground meat and add onion, bread, olive oil and seasoning. Knead until all the ingredients combine.
Refrigerate the ground meat mixture for at least 20 minutes prior to cooking. This will allow the meatballs to be tastier.
Shape the meatballs and cook.
Pan fry them on either side for 4-5 minutes until golden brown.