Avgofetes/ Augofetes (Greek French toast) is a simple and quick breakfast or brunch recipe that comes together in minutes. This recipe closely resembles the well known French toast but it is made of bread instead of brioche. Avgofetes are very versatile and can be enjoyed for breakfast, light lunch or dinner. They can be either sweet or savoury and thus perfect with a cup of coffee or for packed school lunch boxes.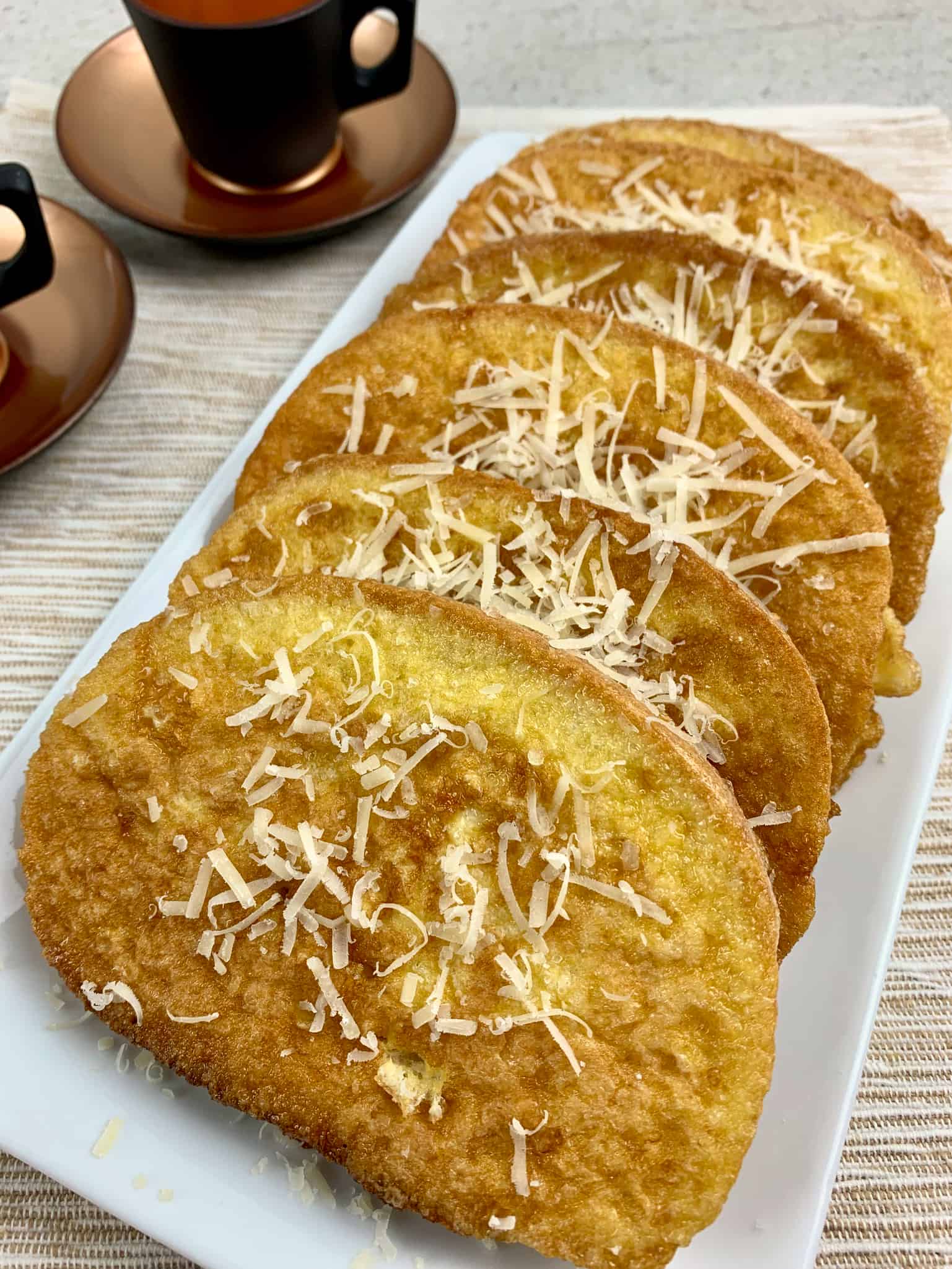 Avgofetes/ Augofetes (Greek French toast) Ingredients
There are only two store cupboard ingredients for this avgofetes/augofetes (Greek French toast) recipe! Stale bread and eggs. Whilst other recipes call for milk, this simple and easy recipe is light and dairy free (milk and butter-free).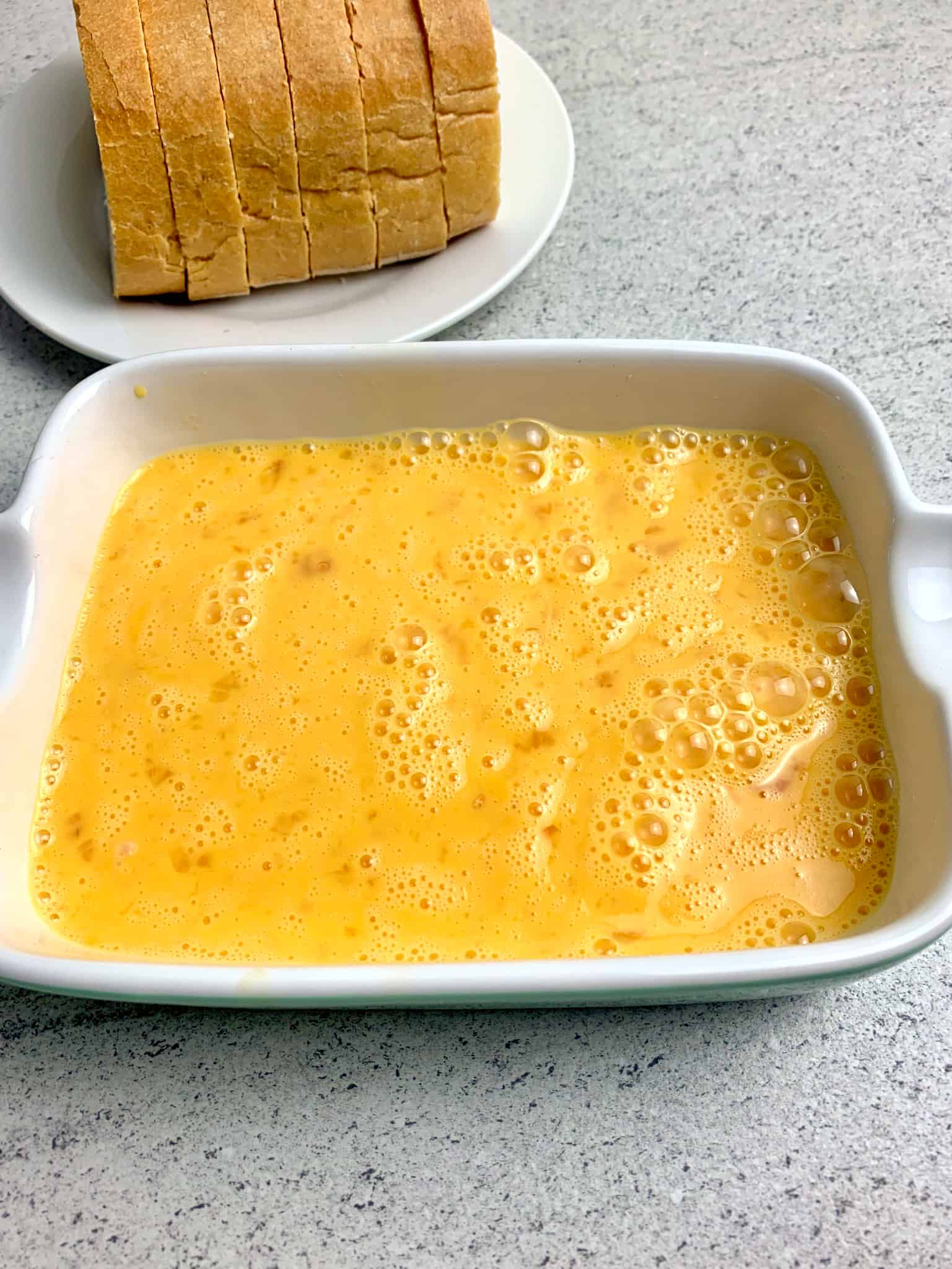 Tips for the best Avgofetes/Augofetes (Greek French toast)
Bread
The best bread to use for this Greek version of French toast is stale bread. In fact, in the old days avgofetes were a perfect way to make use of stale bread. Also stale bread can absorb more of the eggs than fresh bread. You can use any type of bread, such as white, sourdough, wheat, whole wheat, multi grain, whole grain or rye bread.
Other special types of semi-sweet bread like tsoureki or challah can also be used, with that type of bread being perfect for sweet avgofetes!
Bread Slice Thickness
Thick sliced bread absorbs and holds the eggs mixture much better compared to thin sliced bread. Beware though, not to slice bread too thick as it may not absorb the whisked eggs.
Showstopper Avgofetes
To create that restaurant effect simply cut them in fancy shapes with shape cutters and decorate them! If you are making  savoury avgoeftes, sprinkle them with grated cheese and/or add bacon slices.
If you are making sweet avgofetes, dust them with sugar and cinnamon or serve them with maple syrup, honey, whipped cream, (coconut) yoghurt, fresh fruits or nuts.
How to avoid soggy avgofetes
You can avoid soggy avgofetes by slicing your bread thick enough to absorb the egg mixture. If your bread slices are thin, they may turn soggy.
How to make Avgofetes/ augofetes (Greek French toast)
Preparing these dairy free avgofetes is very simple. Start by whisking the eggs in a bowl. Soak the stale bread slices in the eggs for 3-4 seconds on each side. Avoid soaking the bread slices any longer as they will turn soggy. Once soaked, pan fry or bake them!
Pan fried
Pour a little oil in a pan, heat it up and pan fry your avgofetes for a couple of minutes on each side. Make sure the frying pan in not overcrowded so that they fry evenly.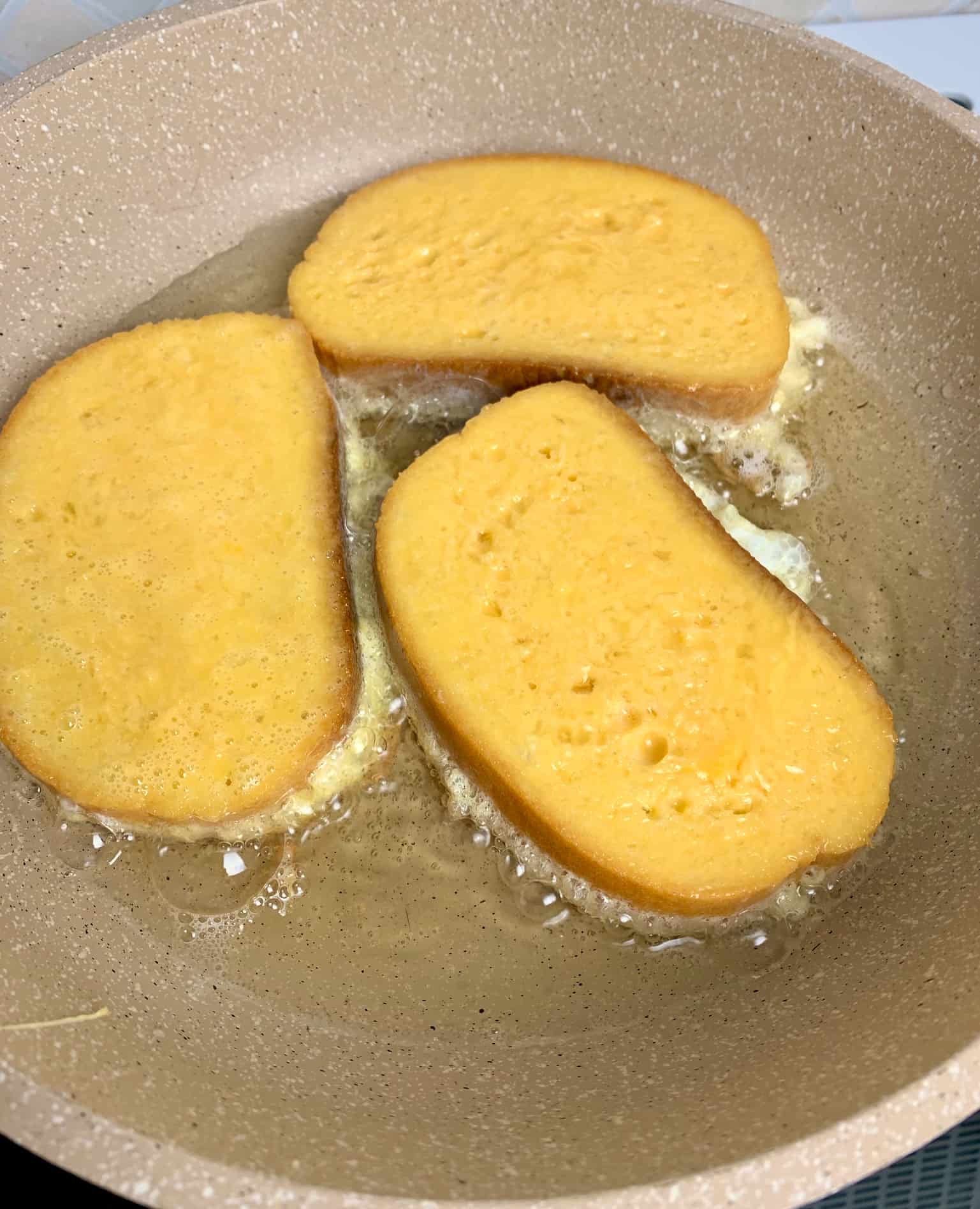 Baked 
Avgoefetes can also be baked in the oven! For fluffy avgofetes with a soufflé like consistency, simply place them in baking dish and bake on preheated oven for 10 minutes at 230C or 446F. Make sure the oven is preheated so that the egg does not run out of the bread slices.
How do I know when avgofetes/augofetes are ready?
Avgofetes or augofetes will be ready when they get a golden brown colour like the picture below.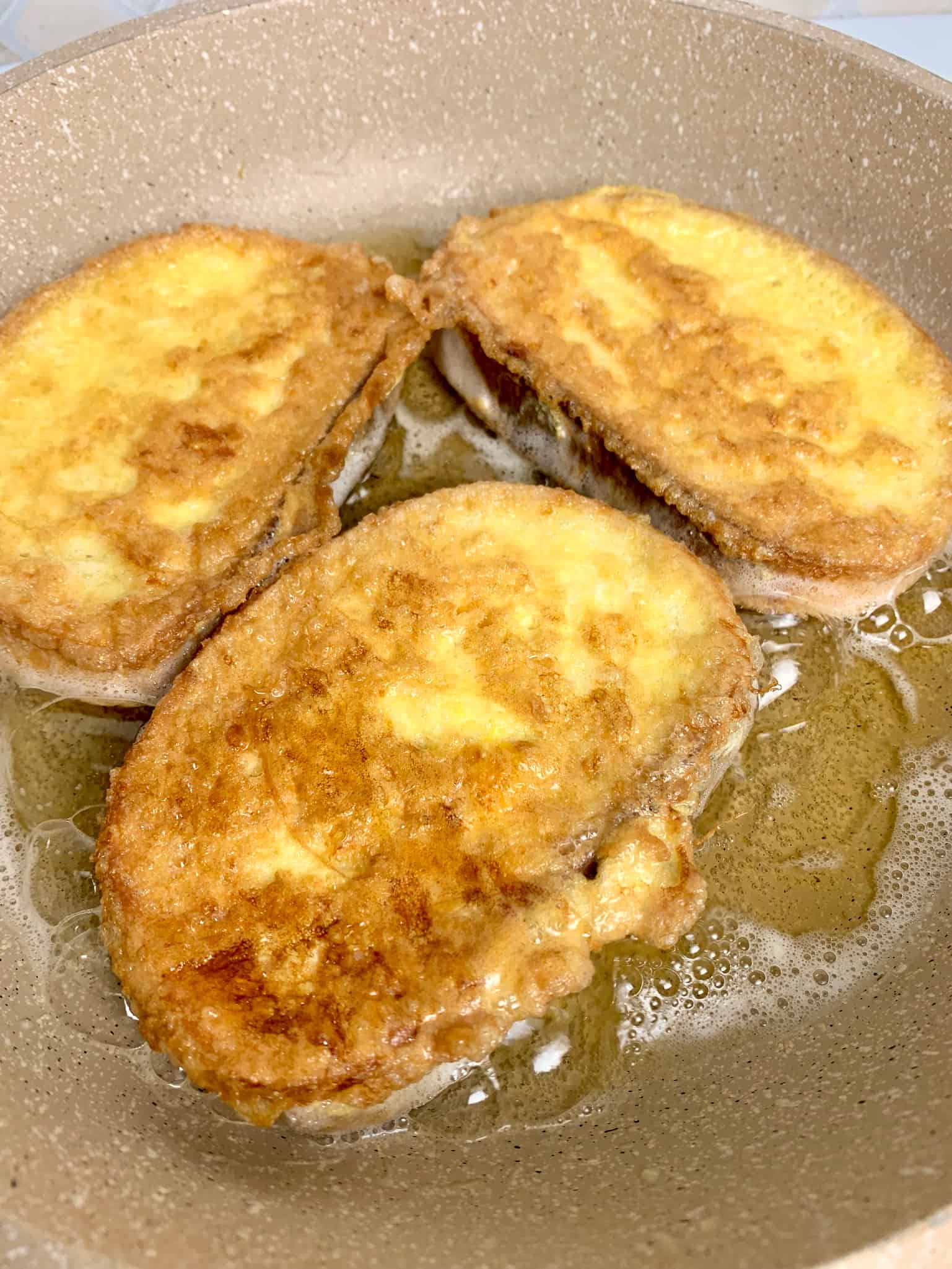 Eggless (Vegan) avgofetes
Even though that sounds like an oxymoron, these delicious avgofetes can indeed be made with egg substitutes! Substitute eggs with a good quality egg substitute such as ground flaxseed, aquafaba or your favourite egg replacement product.
Gluten-free avgofetes/ augofetes
You can turn the recipe gluten free by swapping bread for a gluten free version and follow the recipe step by step.
Avgofetes/Augofetes (Greek French toast) serving suggestions
Savoury avgofetes
There are so many savoury toppings to choose from with my favourites being bacon, ham, prosciutto, sausages, cheese and of course Feta cheese.
Sweet avgofetes
These go great with a number of sweet toppings. However the easiest one is just a little bit of sugar and cinnamon and, why not, a scoop of ice cream on the side. You can also drizzle them with honey or maple syrup and serve with fruits or spread a tablespoon of chocolate spread or your favourite jam.
Avgofetes Sandwiches
They can also make an excellent sandwich! Simply pair them with some watercress, mayo and even a slice of ham and cheese. And if you want even more egg, add some sliced boiled or scrambled eggs as well.
Greek Style bread pudding with avgofetes
You can also turn them into a Greek style bread pudding. Simply lay the avgofetes in a baking dish and pour some milk and/or cream then bake them in the oven.
Can you freeze Avgofetes?
These avgofetes or augofetes freeze very well. Simply pan fry or bake them, let them cool down, pack them into freezer bags and store in the freezer for up to 1-2 months. To defrost, simply reheat them in oven or in the toaster.
Avgofetes/ Augofetes (Greek French toast) with Tsoureki
To prepare sweet avgofetes with Tsoureki, check out my tsoureki recipes: Greek traditional homemade tsoureki, Carob tsoureki with a nutty flavour and chocolate flavoured tsoureki.
For nutritious and colourful savoury avgofetes with Tsoureki why not try making them with a few slices of the spinach and Feta tsoureki recipe.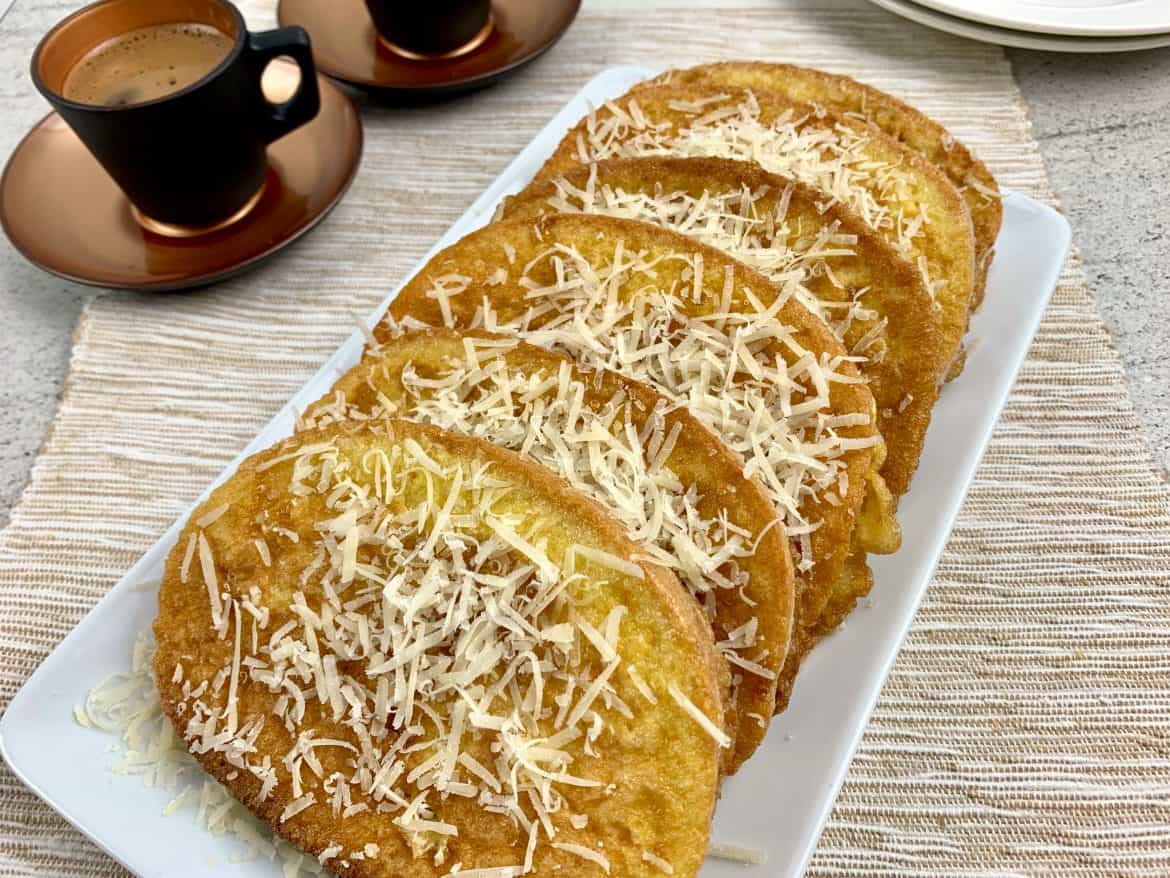 Avgofetes/ augofetes (Greek French toast)
Ingredients
6-8 bread slices (stale bread)
5 large eggs
50ml sunflower oil (if pan frying them)
salt (if you are making them savoury)
cinnamon and sugar (if you are making them sweet)
Instructions
Whisk the eggs in a bowl and dip each slice of stale bread into the egg mixture. Dip each slice one by one on both sides. Soak them for only 3-4 seconds in the egg mixture.
Add as many slices as they can fit onto the pan, makiing sure not to overcrowding the frying pan, and pan fry on both sides until golden brown.
For savoury avgofetes, season with salt and serve with your favourite toppings, like some bacon and grated cheese and herbs.
For sweet avgofetes, dust them with some sugar and cinnamon.