Greek lemon chicken soup (Kotosoupa with avgolemono sauce) is a rich fragrant and zingy soup, perfect for the winter, and is exactly what the doctor ordered when feeling sick. Yiayia would make sure you had a bowl of greek lemon chicken soup to regain your strength!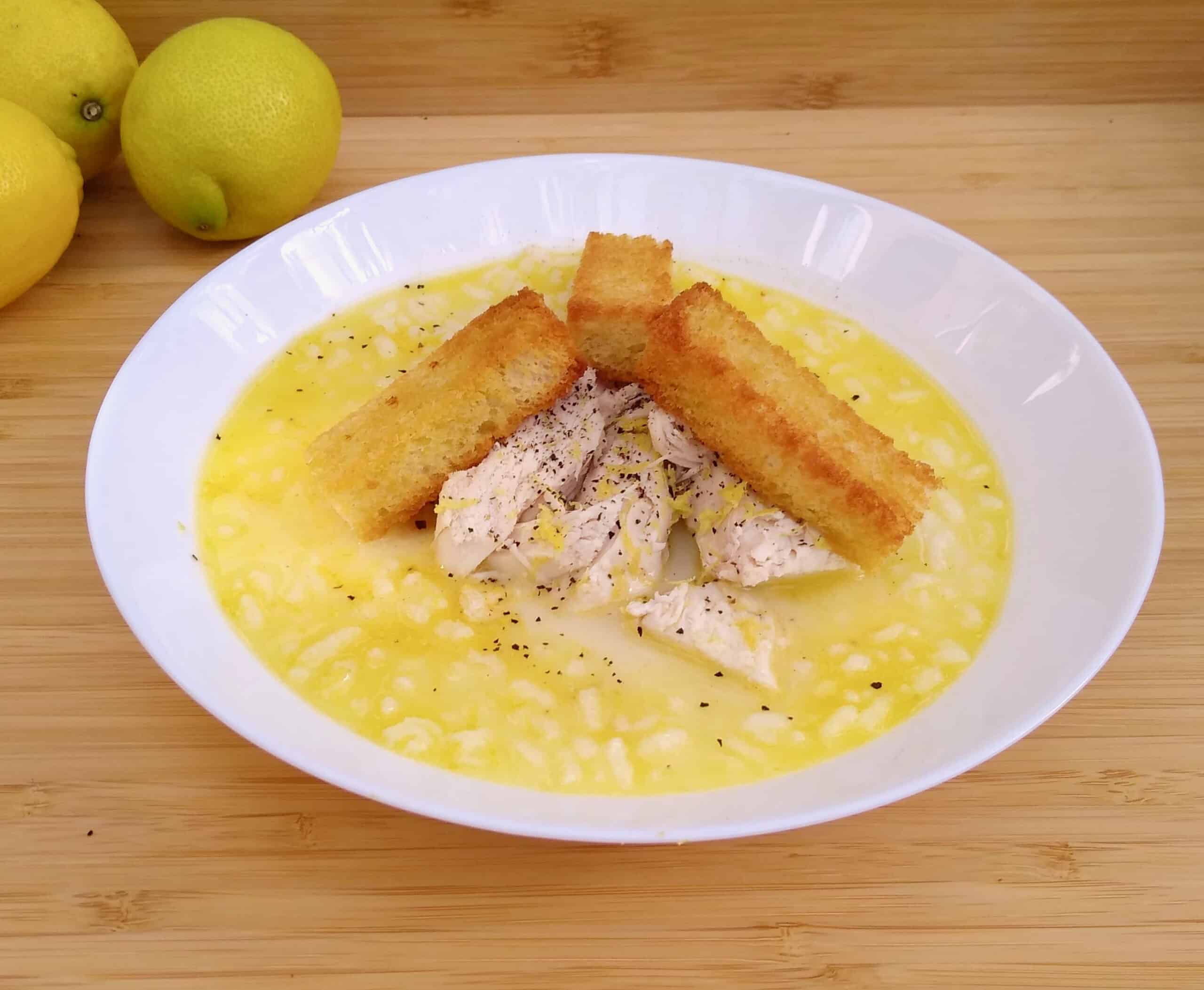 Greek lemon chicken soup (Kotosoupa with avgolemono sauce) has a unique taste compared to any other chicken soups. It has a rich, velvety texture that is elevated by zesty lemon flavours and aromas, the avgolemono sauce. The star of the soup is, of course, avgolemono, an egg-lemon sauce that forms basis for many other Greek soups.
What is avgolemono (egg-lemon sauce)
Avgolemono sauce is a simple egg-lemon sauce combining eggs, lemon and broth.  Avgolemono sauce is very popular in Greece and forms the basis for many Greek soups. Avgo means egg in Greek and Lemoni means lemon, thus egg-lemon sauce. The basic ingredients for this egg-lemon sauce is, of course, eggs, lemon juice and broth – in this case chicken broth. Make sure you use fresh, or as fresh as you can get, eggs and certainly fresh lemons.
Avgolemono sauce recipe is fairly easy to make and below I will share with you a few secrets to preparing it to perfection.
How to prepare avgolemono sauce (egg-lemon sauce)
Preparing avgolemono sauce is easy as long as you follow some very simple rules. To prepare the egg-lemon sauce, start by beating two eggs and add the lemon juice in a mixing bowl. Then add the cool chicken broth in small amounts and never all at once. Make sure you whisk the egg-lemon mixture whilst you are adding the chicken broth. This is will require some co-ordination, as you will be adding small amounts of broth with one hand whilst you are continuing to whisk with the other hand.
If you find this tricky to do, then why not get someone else to help you! They can add the small amounts of chicken broth whilst you whisk! Finally pour the avgolemono sauce (egg-lemon sauce) back to your lukewarm soup.
To make sure the avgolemono soup doesn't curdle, make sure that:
The chicken broth has cooled down to around 60C/140F. This will allow the eggs to pasteurise without them cooking and curdling. Never add boiling hot chicken broth to the egg-lemon sauce!
The soup that the egg-lemon sauce will go in has also cooled down to under 60C/140F and is not boiling hot. If you were to add avgolemono sauce into a boiling hot soup the eggs will cook and separate into the chicken soup.
Secret to this Greek chicken lemon soup ( Kotosoupa with avgolemono sauce)
The secret to this Greek lemon chicken soup (Kotosoupa with avgolemono sauce) is the freshness of the ingredients! Nothing can beat a soup prepared with fresh chicken, eggs and lemons! Getting fresh ingredients will simply elevate this chicken soup.
The rice used in this chicken soup is Carolina rice. You can find it in any Greek deli, but if you can't, you can substitute it with Arborio or Carnaroli rice.  It is a starchier type of rice which when cooked releases its starch making your soup creamier!
Avgolemono sauce based soup:
Be sure not to miss out on another very famous avgolemono based soup : Giouvarlakia (Greek meatball and vegetable soup).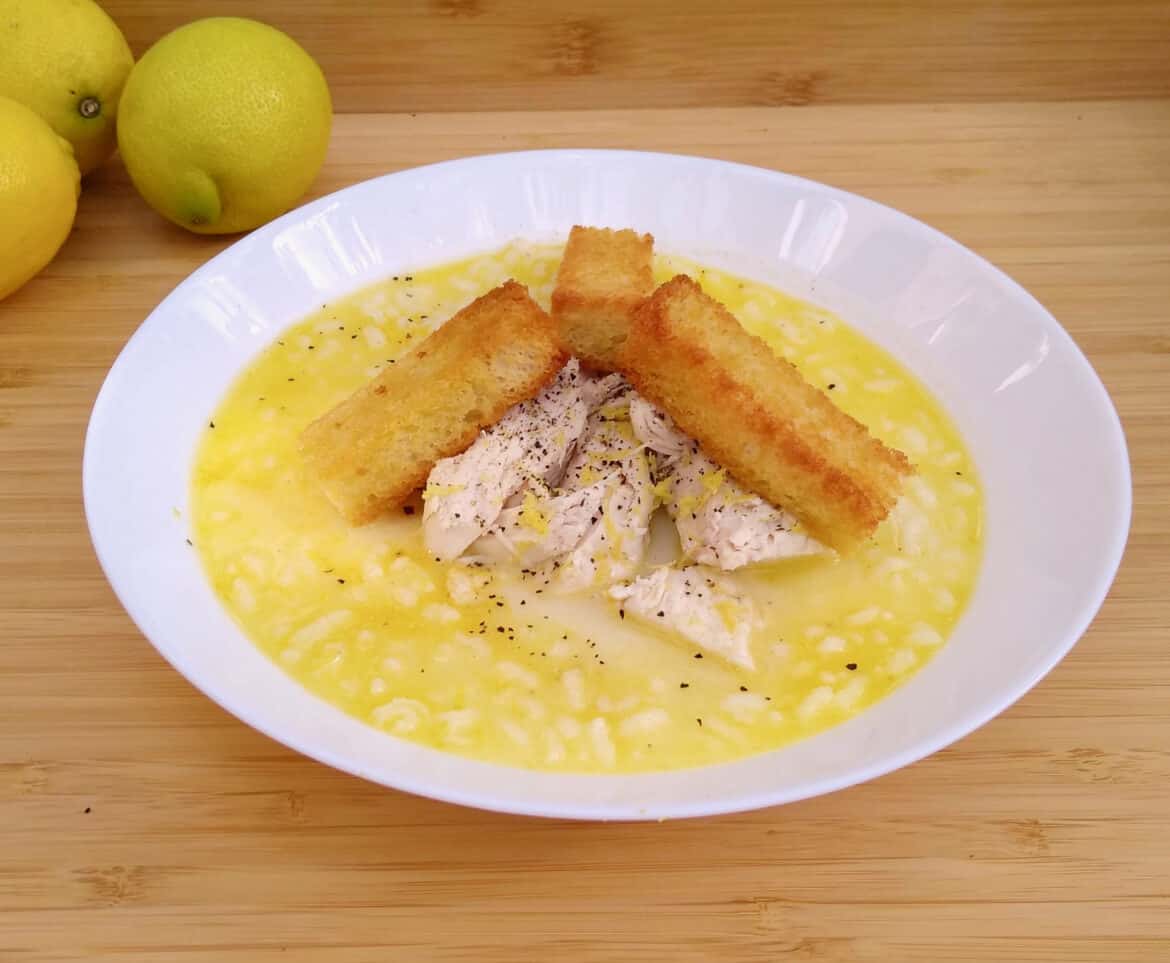 Greek lemon chicken soup (Kotosoupa with avgolemono sauce)
Ingredients
500-600gr chicken ( either half chicken or in portions)
1.2L water
230g rice (Arborio or Carnaroli rice)
2tbspoon olive oil
1 small onion (optional)
1 carrot (optional)
1 1/2 tsp salt
1/2 tsp white pepper (optional)
lemon peel
Avgolemono sauce
2 eggs
lemon juice (1-2 lemons)
For this recipe you will need 1 large pot, one small bowl, colander, ladle and lemon juicer.
Instructions
To prepare this Greek lemon chicken soup (Kotosoupa with avgolemono sauce) start by slicing the onion and the carrot in chunks. In a large pot, pour water and add the chicken, carrot, onion, lemon peel, salt and pepper and bring this to boil. Remove any foam that has formed and lower the heat to medium. Boil the chicken for approximately 50-60 minutes. Please bear in mind that boiling time depends on the size of your chicken pieces.
Once the chicken has boiled, drain it with a colander over a bowl. Keep the clear broth and throw away the vegetables.  Pour 1L of your chicken broth in a pot, add the rice along with the olive oil. Boil the rice in the chicken broth until it cooks. Once the rice has cooked, remove your soup from the hob and let it cool down. Cooling the soup is crucial as you will soon be adding the avgolemono sauce (egg-lemon sauce).  If the soup is hot when the avgolemono is added, then the eggs will scramble.
To prepare the avgolemono sauce simply beat the eggs with the lemon juice. Pour small amounts of the remaining chicken broth to the avgolemono (egg-lemon juice) mixture. Make sure that you continuously whisk the sauce whilst pouring the chicken broth. Add approximately 3-4 ladle worths of chicken broth.
Finally, add the cooked chicken back in your soup from step 2 and put in your avgolemono sauce from step 3. Again, stir continuously whilst pouring in the avgolemono sauce! Heat up the soup if cold.
Serve while still warm with some bread or croutons. To make croutons simply slice or dice bread and bake it at 180C or 356F until golden brown.
Kali Orexi!