Fanouropita (Phanouropita) cake or else known as St Phanourios cake is a delicious moist and aromatic Lenten cake. It is also widely known the cake of 'lost things'. It is named after  St Fanourios. The verb 'fanerono' in Greek  means to reveal or to present.
History of Saint Fanourios and Fanouropita (Phanouropita) cake
Around 1500AD, in the island of Rhodes (some claim Cyprus), an icon of St Fanourios was discovered. St Fanourios was unknown to Christianity up to that point in time.  He is depicted with a candle in his right hand and hence his name of 'revealing or presenting'.  Tradition has it that St Fanourios will help you find what you have lost by revealing this. That may be a physical item or spiritual guidance. In fact in the old days, unmarried women used to bake this cake so that they can 'find' their future husband.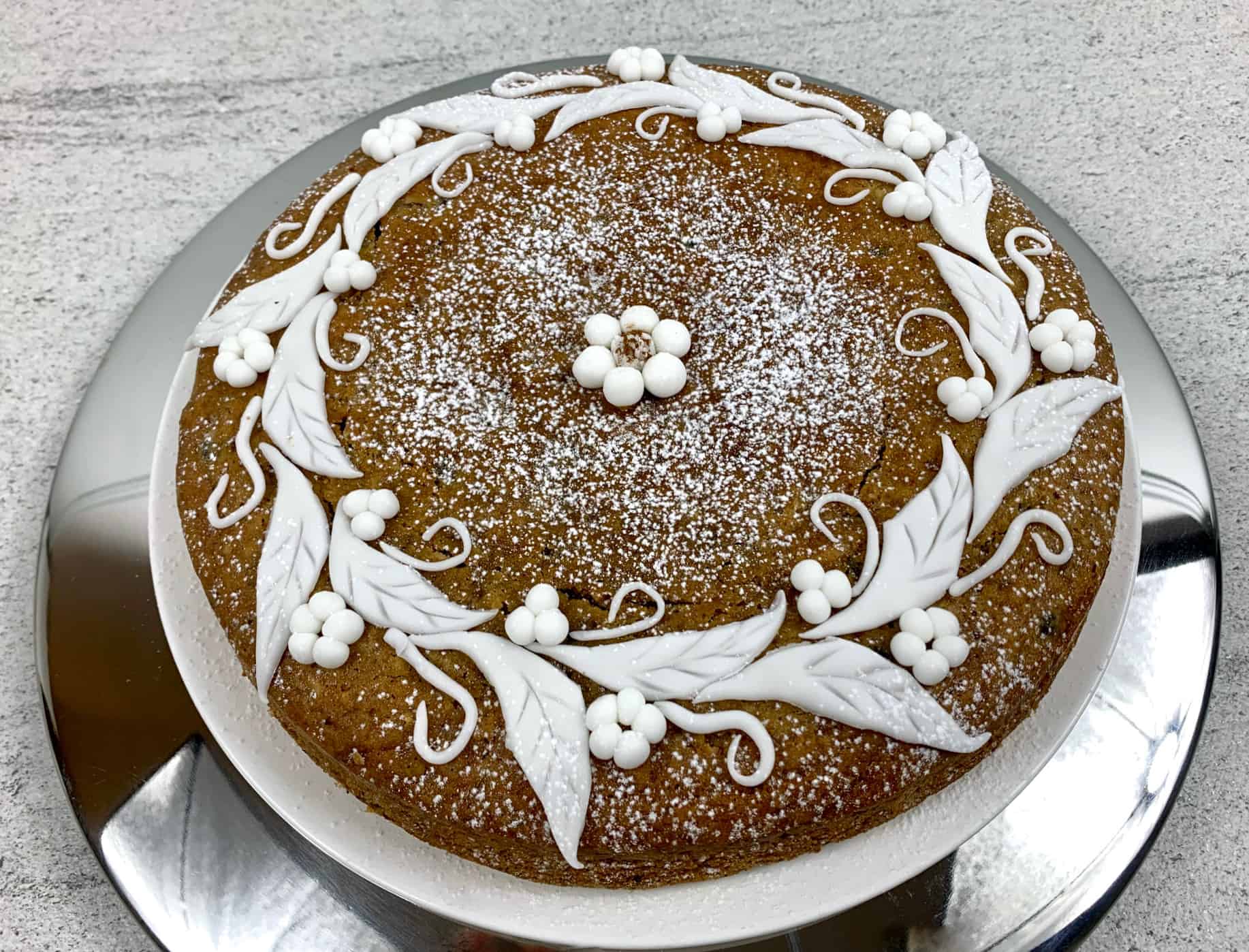 What is Fanouropita (Phanouropita) cake?
St Fanourios cake (Fanouropita)  traditionally is prepared on the even of St Fanourios day, ie on 26th of August and is taken to the church evening mass to be blessed.  St Phanourios day is celebrated on the 27th of August. According to custom,  the cake is round , approximately 25-30cm, has to be sliced into 40 pieces and be enjoyed by a least seven people.
Nowadays, Fanouripita is prepared any day and not just on the saint's Memorial Day. The cake is so easy to make and so delicious, combining aromatic spices such as cinnamon and clove with orange zest.
Customarily Phanourios cake has either seven, nine or eleven ingredients (odd numbers). The ingredients I use for this fuss free Fanouropita cake recipe are nine. These are (self-raising) flour, sunflower oil, fresh orange juice, baking soda, orange zest, sultanas, walnuts, and cinnamon. Whilst some recipes call for olive oil, I use sunflower oil as it makes  a lighter cake.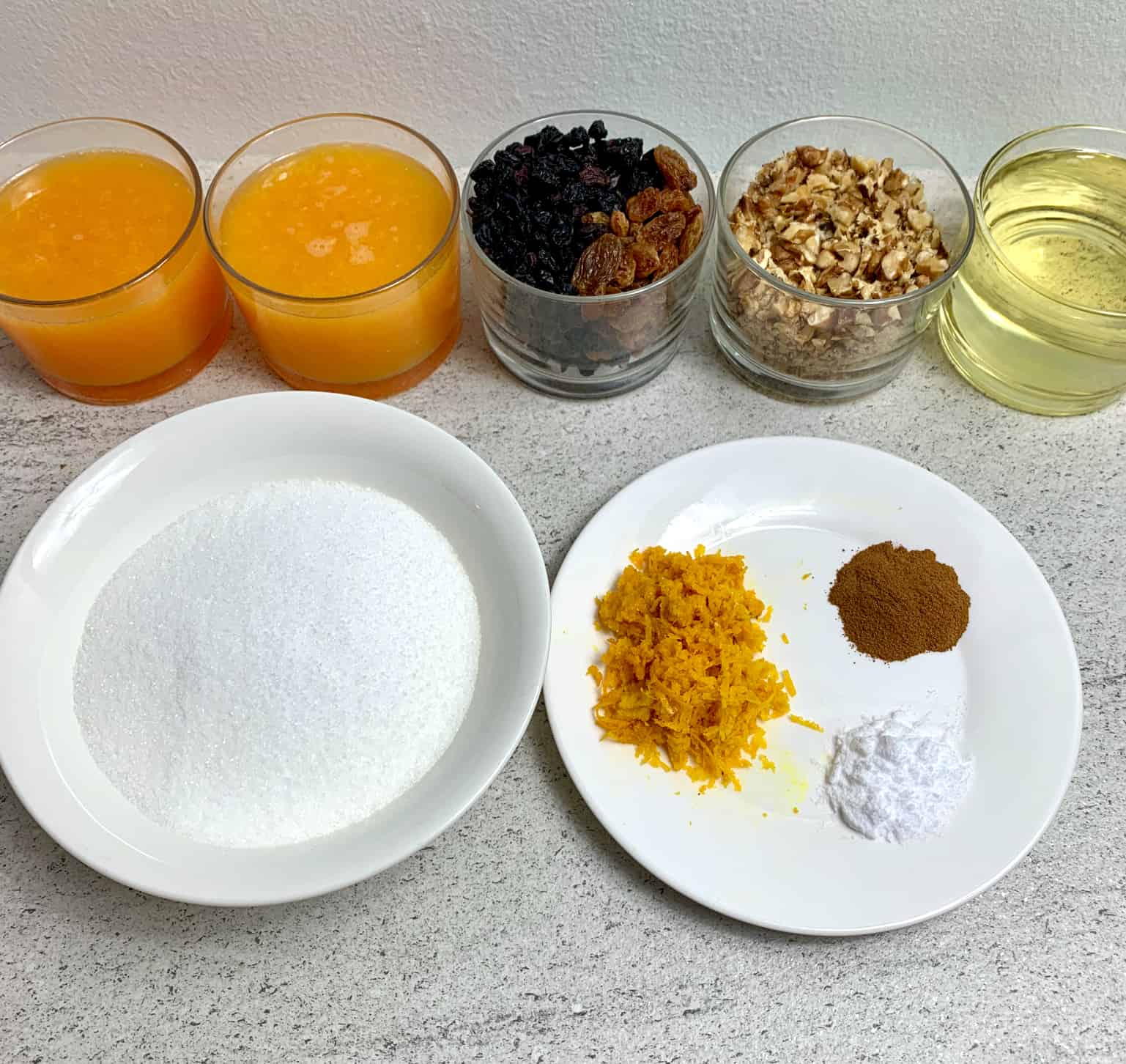 This is a super easy recipe that can be prepared in as little as 10 minutes.
Fanouropita (Phanouropita) cake preparation
Gathering ingredients
I always start by gathering all the ingredients , laying them out in the kitchen counter and then proceed with the recipe. I find it a lot easier and thus I make sure I have not missed an igredient.
As this Lenten vegan cake is so easy and quick to make, I also preheat the over at this point too.
Grate the oranges and keep the zest. Blitz the walnuts in a food processor and set aside. Squeeze 3-4 oranges and set aside the fresh orange juice.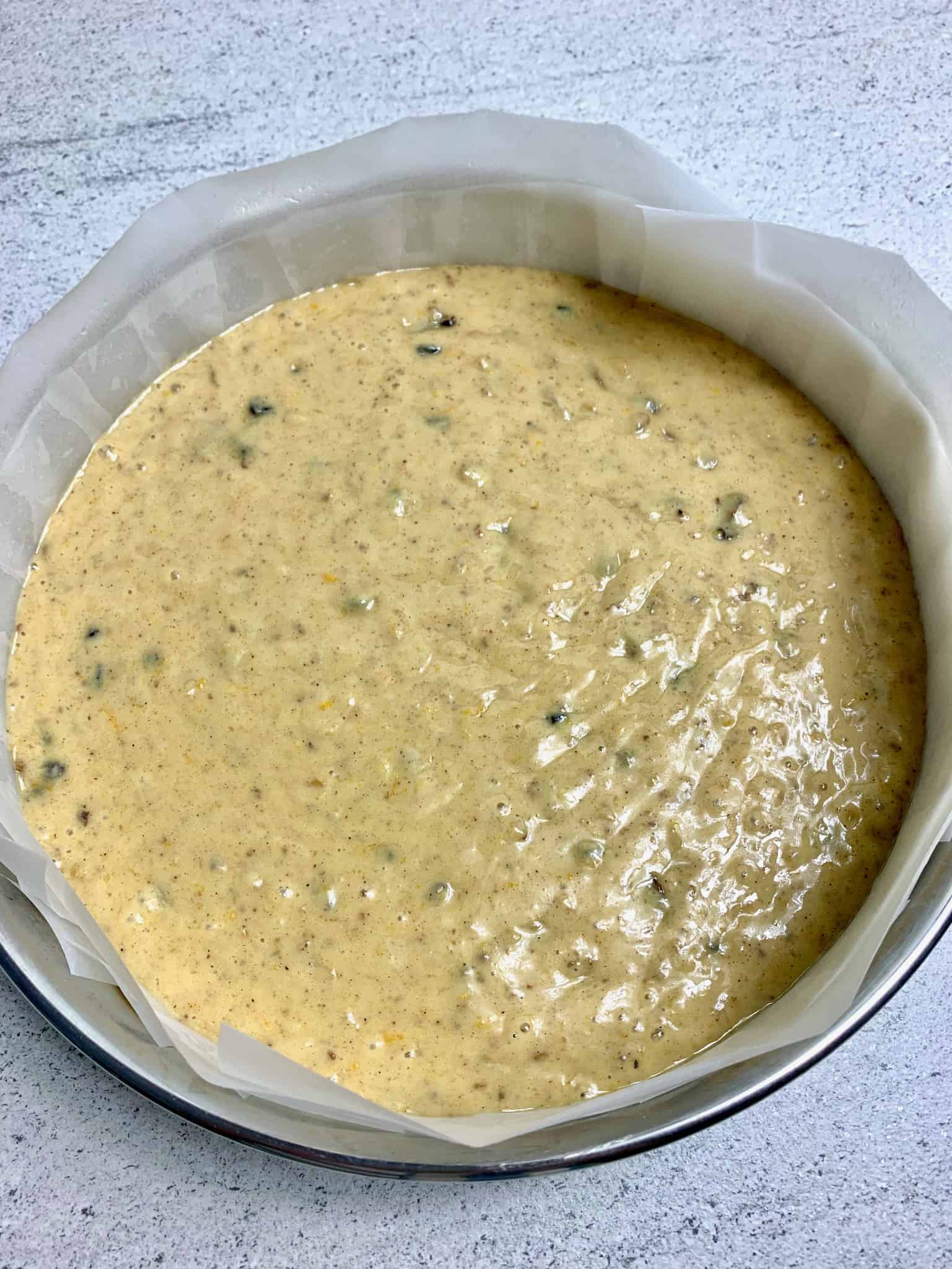 Fanouropita  Tips
For a juicer Fanouropita cake, I soak the sultanas for 30 minutes in a water and orange juice. Place sultanas in a bowl and pour water and orange juice.
For a tastier Fanouropita (Phanouropita) cake, soak the sultanas in a mixture of cognac and water or Rum and water. Alcohol evaporates whilst baking so you will be left with those lovely flavours.
Alternatively , soak sultanas in a water and cinnamon tea.
To avoid having sultanas at the bottom of the cake, add the sultanas in flour, ie coating them and then proceed to incorporate them in the cake batter.
Similar recipes
Walnut based cakes
If you love walnut based cakes and like a little bit os syrup, then try my Walnut cake recipe (Karidopita) and Karidopita with breadcrumbs (Walnut cake with breadcrumbs). 
Syrupy walnut and phyllo delights
If you like a crunchy crispy syrupy desserts then Gianniotiko/Giannotiko- Syrupy rolled Phylo and Kataifi pastry with walnuts, is the one for you! Crunchy phyllo and Kataifi, the perfect marriage of baclava  (baklava) and Kataifi!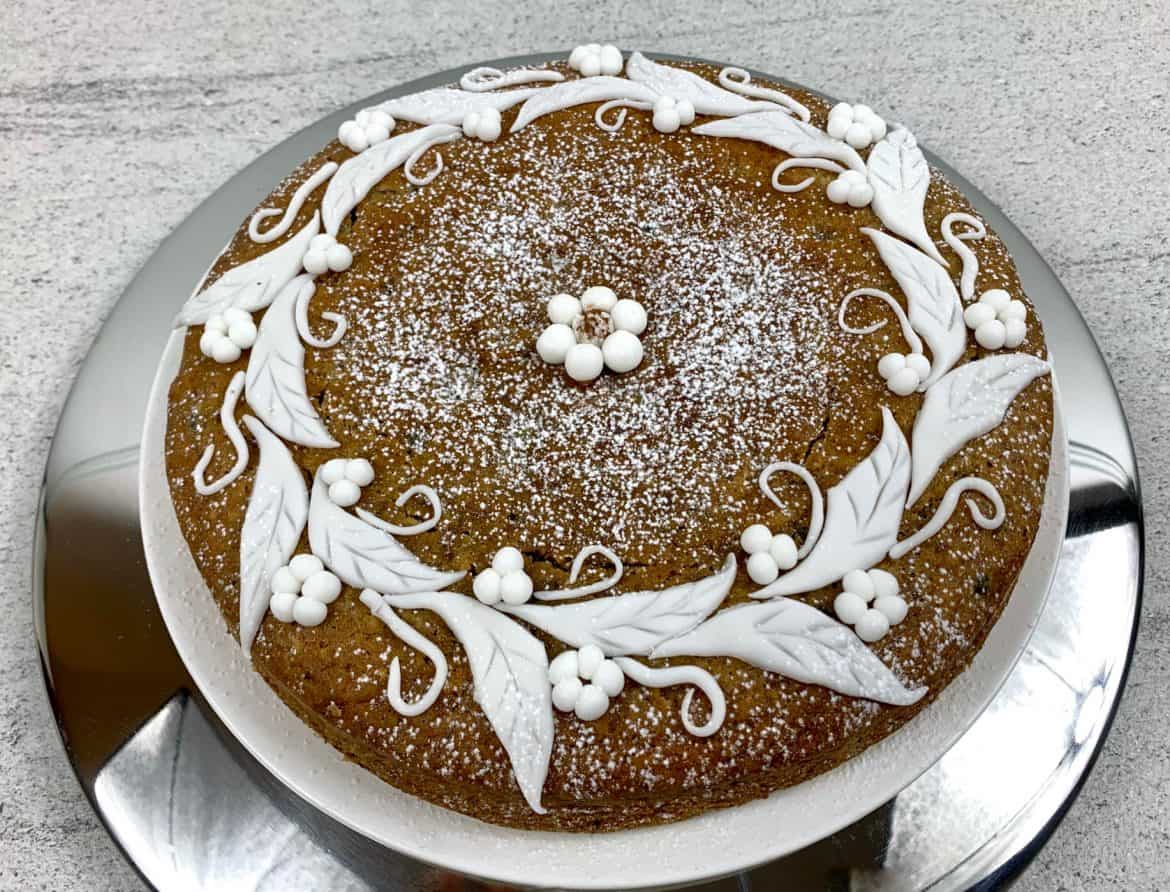 Fanouropita (Phanouropita) cake
Ingredients
500gr self raising flour
200gr sugar
100gr sultanas or raisins
50gr walnuts
150ml sunflower oil
300ml orange juice
orange zest ( 2 oranges)
1/2 teaspoon soda
1 teaspoon cinnamon
For this recipe you will need an electric hand mixer, a food processor, 2 medium bowls, one small bowl, a grater, parchment paper and a 23cm baking tin.
Should you wish to make this Lenten Fanouropita with eleven ingredients, simply soak the sultanas in cognac and water.
Instructions
Start preparing this Fanouropita cake by assembling your ingredients and kitchen equipment.
With a microplane grater, grate the oranges and keep the zest. Blitz the walnuts in a food processor and set aside.
Preheat the oven to 175C or 347F.
In a bowl, pour the sunflower oil and add the sugar. Mix the ingredients well with an electric mixer. Mix the sugar with the sunflower oil for approximately 4-5 minutes; until the mixture reaches a cream like consistency.
In another bowl dissolve the baking soda in orange juice. Have a large bowl as the addition of baking soda to orange juice will create bubbles.
In the first bowl, with the sugar- oil mixture, add 2/3 of the self raising flour, the orange juice, orange zest and cinnamon. Mix until the ingredients are combined.
In another bowl, combine sultanas, walnuts with the rest of the flour. Flour will coat sultanas and walnuts, thus not allowing them to sink into the cake.
Carry on by combing all the ingredients together, ie the baking soda-orange juice mixture and flour-sultanas-walnuts mixture to the original mixture. Mix with a wooden spoon until all ingredients are combined.
Line a round baking tin, sides and bottom, with parchment paper and pour the mixture into the tin.
Bake Fanouropita (Phanouropita) pie for 40-45 minutes at 175C or 347F.
Let Fanouropita (Phanouropita) cake cool and decorate as desired. You can simply sprinkle with icing sugar or cinnamon or you can be more creative like me with sugar paste.