Who said that Greek cuisine is based solely on meat and fish? There are many delicious vegeterian dishes to chose from. One of my favourites one is this Greek Peas with Potatoes Stew.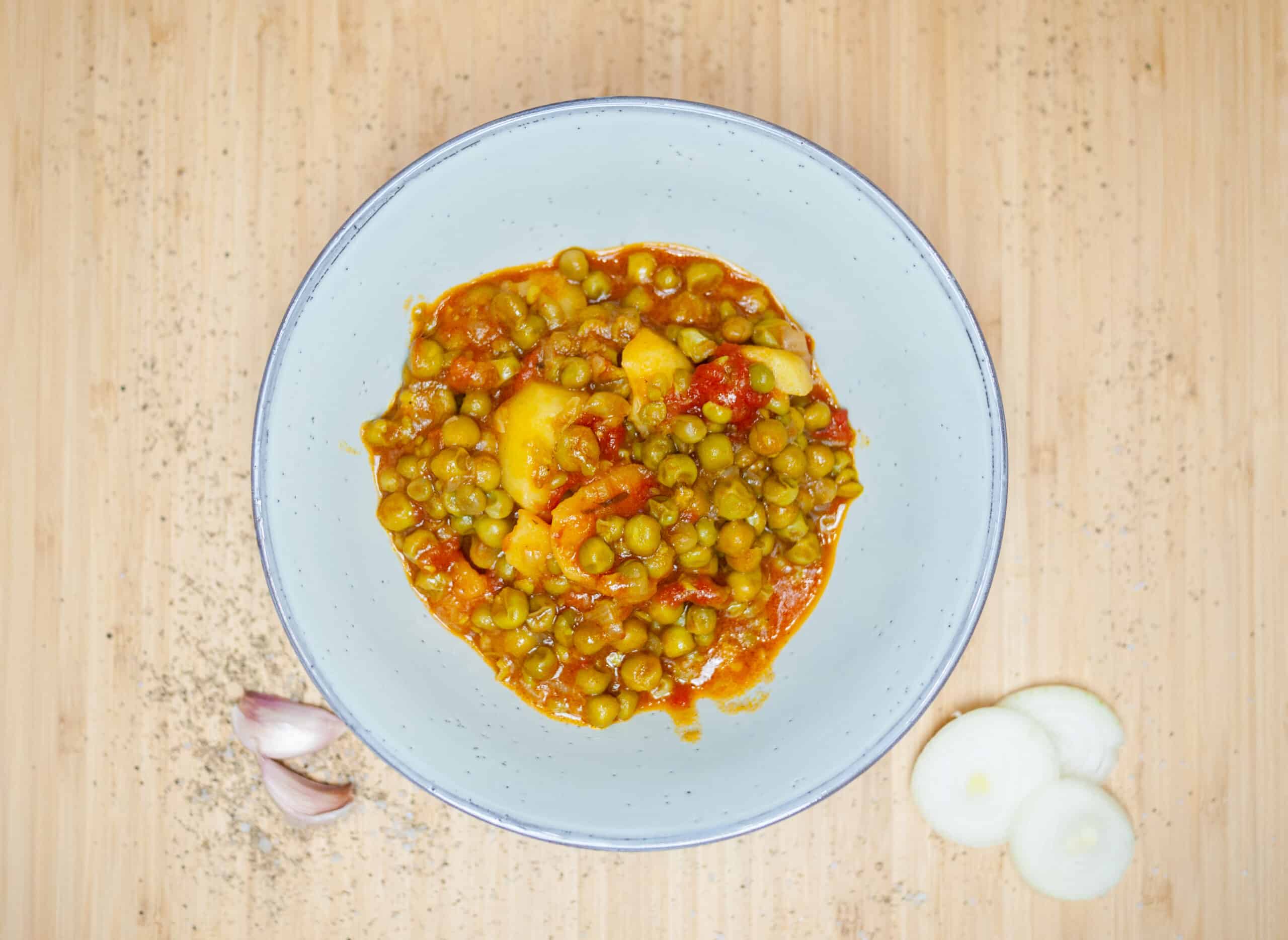 Are peas healthy?
Peas are rich in Vitamin A, B6, C and K and are  low in cholesterol and fat. Vitamin A or Retinol or else called helps maintain skin, bones, teeth and promotes wound healing. Vitamin B6  or pyridoxine is essential to the rapidly diving cells such those of skin, gut and bone marrow. Vitamin C  or ascorbic acid  is an important anti-oxidant and promotees absorption of iron. Vitamin K is vital to cardiovascular and bone health. So yes they are super healthy!!
Can I use frozen peas in this Greek Peas with Potatoes stew?
This Peas with Potatoes stew recipe is extremely versatile and as you can either use fresh or frozen peas. I almost always have a bag of frozen vegetables in the freezer. Most often I store bags peas and green peas so that I can either make delicious vegetarian dishes or add vegetables in a dish. I use frozen peas mostly for this peas with potatoes stew recipe for the convenient reason that I have the peas. The most important thing to keep in mind is that you would need to add less water in the recipe as the frozen peas will add water when defrosting during cooking.
Are frozen peas healthy?
Peas , just as any other frozen vegetables, are blanched before frozen. Blanching is a cooking technique where the food is quickly immersed into hot water for a short amount of time. The food is then immersed into cold water and flash frozen. Frozen peas may not have that delicious sweet flavour fresh peas have but they certainly do not lack with regards to ingredients.
What can I serve this Greek peas with potatoes stew recipe with ?
What better than a loaf of sourdough bread to dunk in? I also pair this peas with potatoes stew recipe with a slice of traditional Feta cheese drizzled with a little of oil .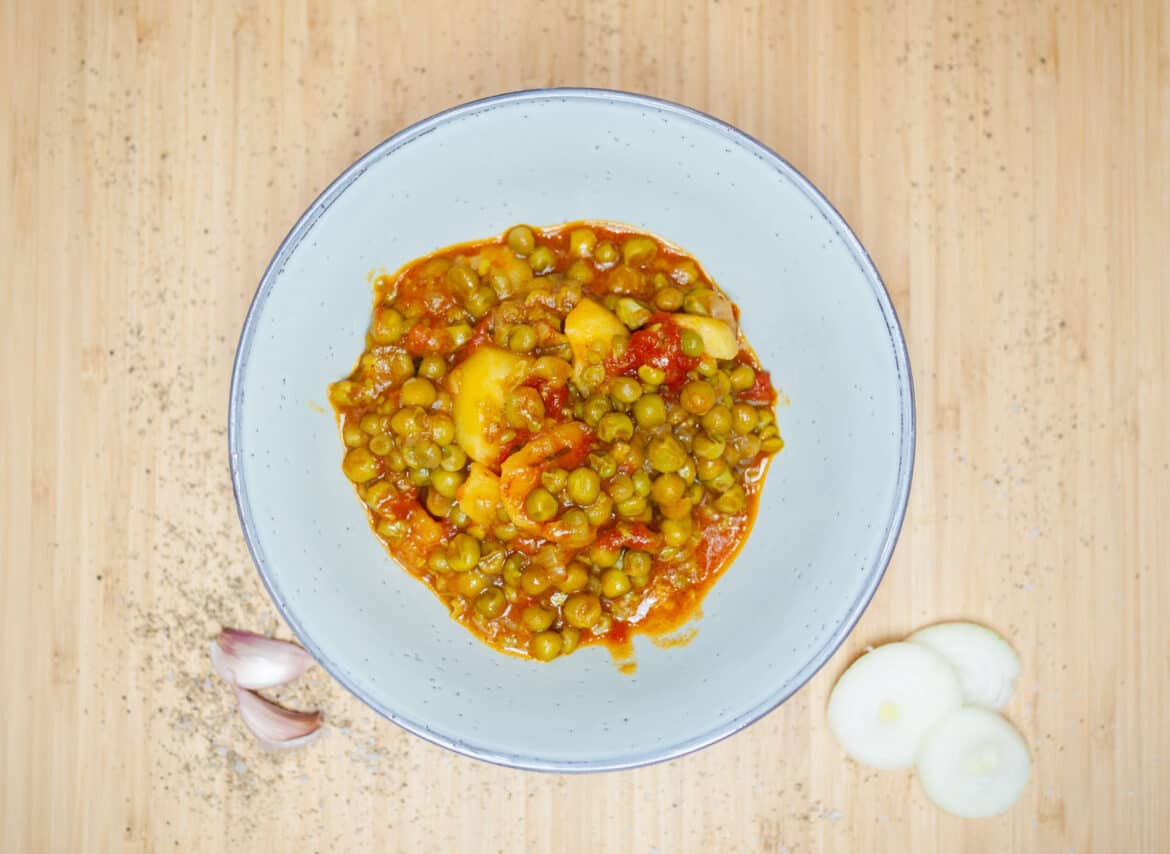 Peas with Potatoes Stew
Ingredients
900g peas  (fresh or frozen )
2-3 large potatoes
1 large onion
1 clove of garlic
50g olive oil
1 can of chopped tomatoes
70-150mls water (depending on which peas you use)
salt, black pepper and paprika
optional: vegetarian stock cube
Instructions
Start this Peas with Potatoes Stew by gathering all the relevant ingredients for two basic reasons. First and foremost to make sure  you have all the necessary ingredients and secondly so that you do not forget to add them.
Start by finely chopping the onion and the garlic. Peel the potatoes and cut them into equally sized pieces or cubes. I cut the potatoes into roughly equally sized pieces so that the potatoes can boil evenly.
A great and quick tip not to get watery eyes when chopping onions is to run the onions under cold water straight  after peeling its skin.
Sauté the onion and garlic with the spices (black pepper and paprika). Sauté them for approximately 2-3 minutes or until the onions turn golden yellow.
At this stage add the can of chopped tomatoes and stir for a couple of minutes. This will allow the chopped tomoto to gain  a lovely taste from the  sautéed onions.
Add the peas and stir. If you are using froxen peas, use a wooden spoon and break them apart. Be mindful that frozen peas will be defrosting upon cooking and thus you will end up with in the pot. Stir for a couple of minutes before adding the potatoes and water.
Add the potatoes and water +/- a vegetable stock cube ; optional. Add enough water just to cover the peas and the potatoes.
Season with salt to taste, cover the pot with the lid  and let them boil for approximately 35minutes.
Cooking time will depend on the pea variety  and whether you are cooking frozen or fresh peas. Larger peas will require a longer cooking time. Frozen peas will also require a longer cooking time as they are first defrosting and then cooked.