Greek Beef Stew with Onions (Stifado) is a traditional rustic dish full of Mediterranean Flavours. An all time favourite dish for the family.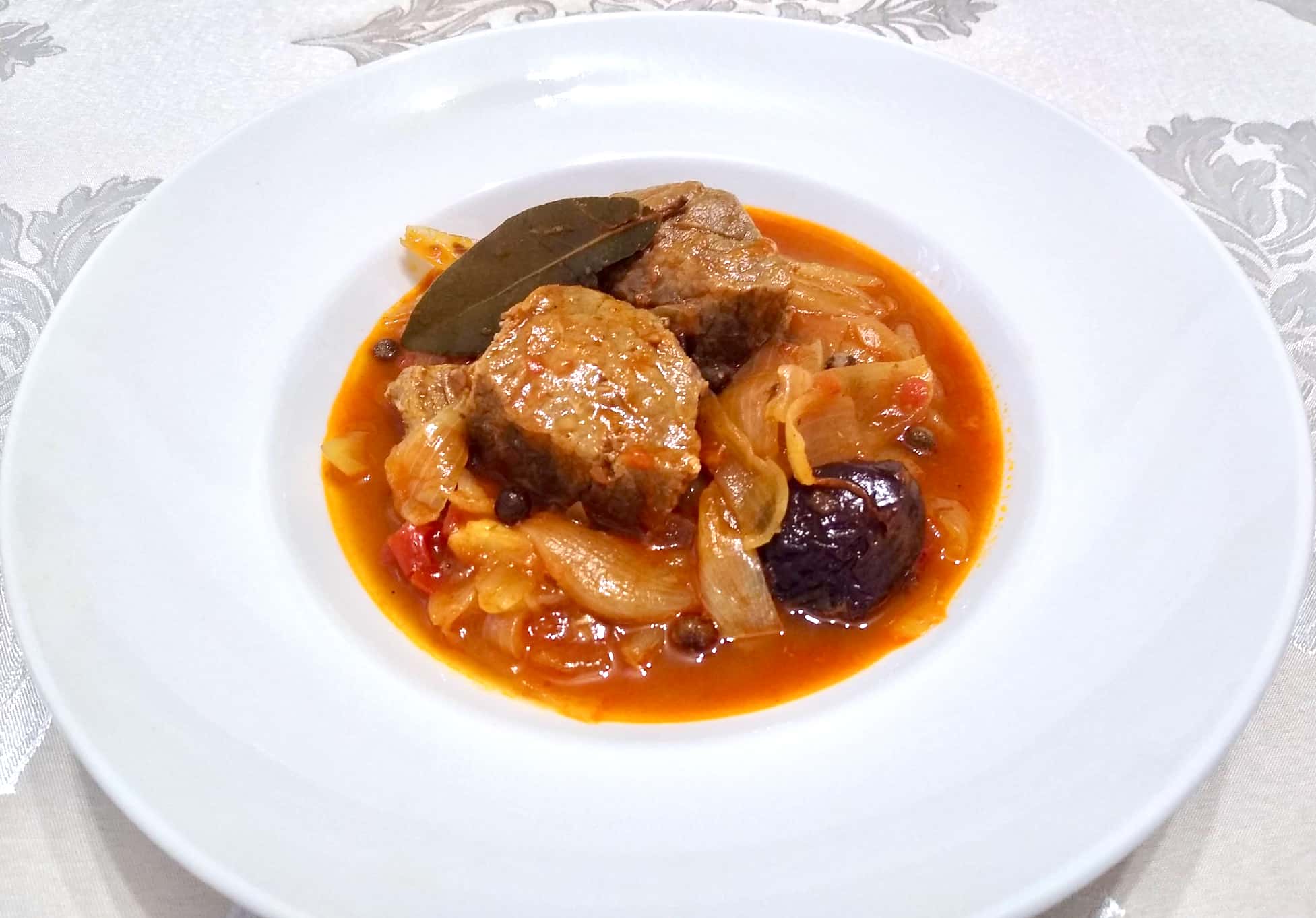 Can I substitute onions for shallots this Stew?
This Greek meat stew works very well with shallots too. Shallots are sweeter and have a subtler taste than onions. Shallots are thus great for this dish. A little secret when using shallots in this dish is that you do not need to dice them, simply remove the skin, wash them and use them as they all.
What other type of meat can I use in this Greek Meat Stew with Onions?
Stifado is a traditional Meat Stew prepared with either onions or shallots. It is traditionally made with either beef or rabbit, nevertheless, one can also use veal, duck, fish and even octopus.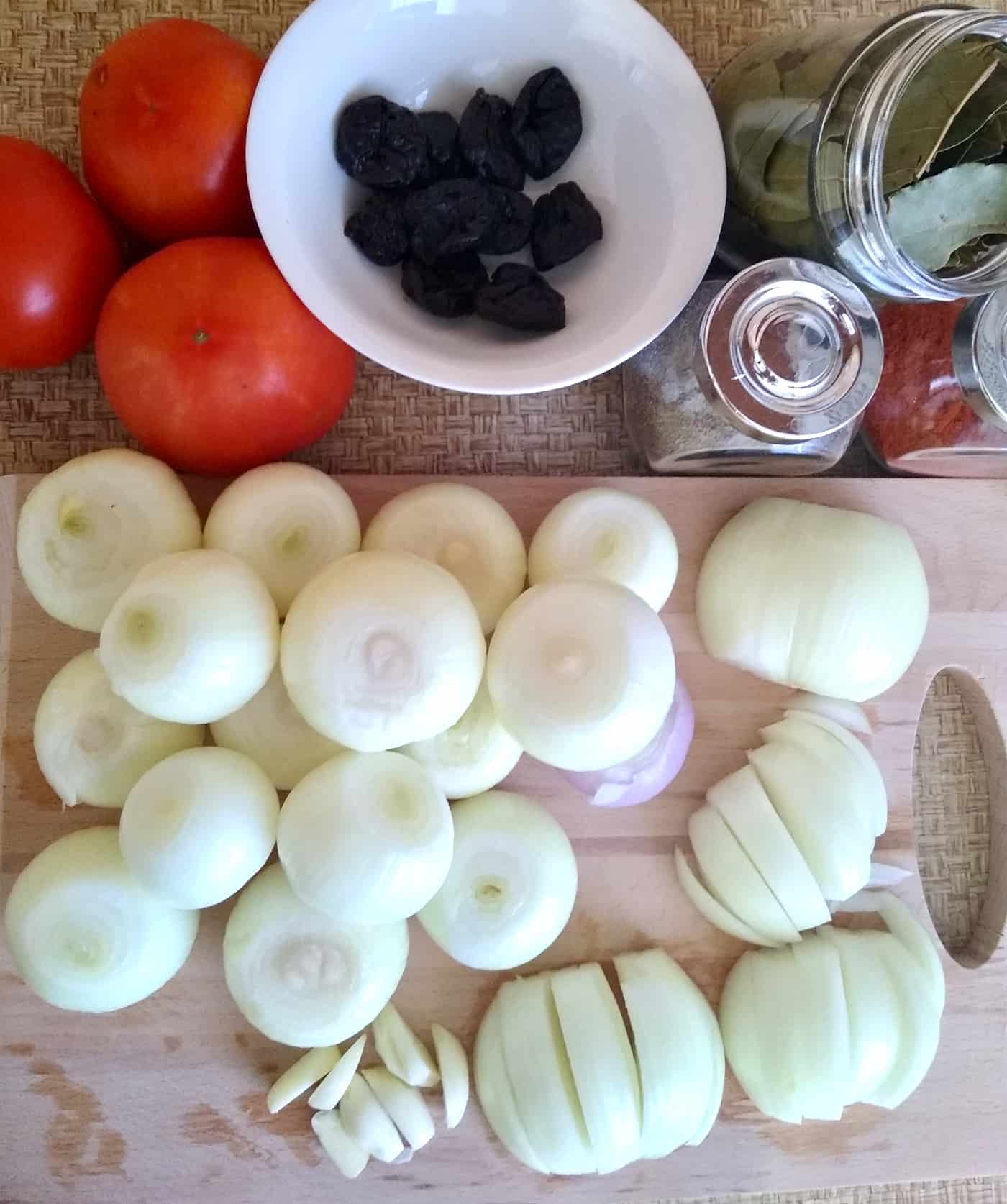 What is different in this Greek Beef Stew with Onions (Stifado)?
While more recipes call for cooking the meat in oil, in my recipe you do not need to do this. You can still achieve the same tender, melt in the mouth texture without this additional step.  There is no need to cook the meat in oil before hand as it will render the meat heavier and unhealthy.
What can I serve this Greek Beef Stew with Onions with?
This Greek meat stew goes very well with sourdough and a Greek Feta Salad (Horiatiki) or any Green leafy salad.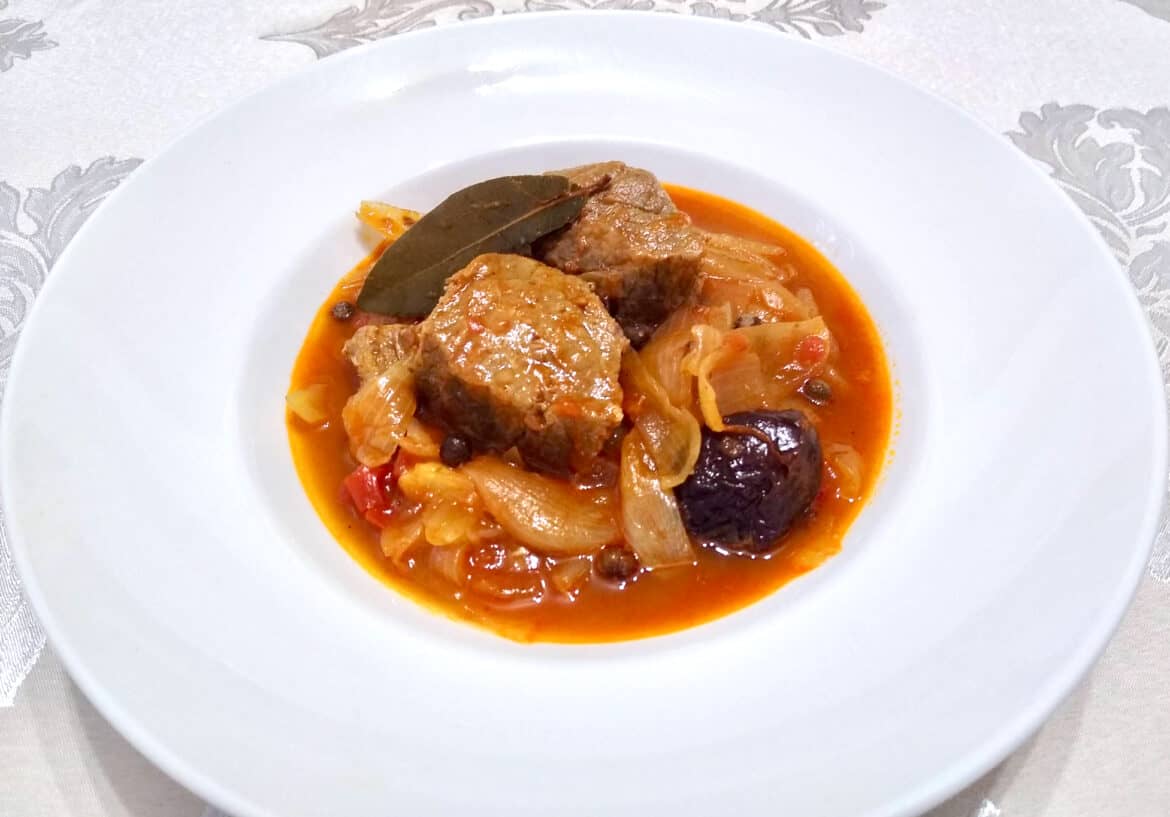 Greek Beef Stew with Onions (Stifado)
Ingredients
1Kg beef
1L water
1Kg onions or shallots
3 tomatoes or 250mls chopped tomato can
3-4 cloves of garlic
40ml olive oil
50ml red wine
1 tablespoon red wine vinegar
1 teaspoon tomatopaste
3-4 bay leaves
5-6 dried prunes (optional)
1 1/2 teaspoon of salt
1 teaspoon paprika
1/2 teaspoon black pepper
6-7 allspice seeds
pinch of sugar
For this recipe you will need two large pots.
Instructions
Start by washing the beef under running water. Pat the meat dry and dice it into even chunks of approximately 150gr weight.
In a large pot add 1L water,  the diced meat and 1/2 teaspoon of salt. Let them boil over medium heat for approximately 50-60 minutes. This long boiling process will render the meat soft which will melt in your mouth.
When the meat starts to boil , a white froth will appear in the water in the first 10-15 minutes. Be sure to remove this and continue to allow the meat to boil.
Meanwhile, start preparing the onions or shallots. This recipe calls for a lot of onions so be ready for this part.  Remove the skin of the onions and wash them under a running tap. Pat them dry with a paper towel. Washing the onions will mellow their flavour.
Chop the ends of the onions which harbour the most sulphuric compounds that can tear your eyes. Continue by halving the onions and then chopping them rather thick into 1.5cm chunks. The onions need to be chopped rather thick as they will be cooked for a rather long time. Thinly sliced onion will simply disintegrate in the pot.
In another pot, pour olive oil over medium to high heat. As soon as the oil is ready, add a small to medium amount of onions, approximately 3-4 onions and the garlic cloves. Add paprika and sugar and sauté the onions for a couple of minutes.
Continue by adding onions very 3-4 minutes into the pot until you had added all the  onions. Stir continuously throughout these steps. These whole process will last for approximately 15-20 minutes.
It is now time to add  tomato paste, tomatoes, red wine, bay leaves, 1 teaspoon salt and allspice.
By this time the meat will have boiled sufficiently. Strain the meat and keep the water in which the meat boiled. This would now be your meat stock to add in the stew.
Pour the meat stock in the pot with your onions until all your onions are covered by it.
Let the onions boil with the beef stock for 15 minutes.
Continue by adding the meat. If you feel that there is not enough water/stock in your pot, please add enough to cover the meat.
Add red wine vinegar and boil the stew over medium heat for 25-30 minutes.
After 10 minutes or so you can add the dried prunes.
Taste the stew for seasoning and add if necessary.