This easy and quick Chicken with Orzo Recipe (Manestra) combines delicious orzo in a rich tomato sauce with succulent chicken pieces. Follow my step by step guide to making this light dish to perfection.
What is orzo?
Orzo is a staple widely used in Greek cuisine. Orzo is grain or rice shaped pasta made of semolina flour. Italians call it 'barley' due to its shape. Orzo is cooked similar to pasta and thus can create easy and quick dishes.
What is the difference between Giouvetsi and Manestra?
You may have heard these two terms and wonder what do they actually mean? Giouvetsi and Manestra are basically the same recipes varying only in their cooking methods. Both are orzo based dishes and both are widely known in Greece. Whilst Giouvetsi is orzo baked in the oven, Manestra is orzo cooked in a saucepan.
Can I use any other meat in this Chicken with Orzo Recipe (Manestra)?
You can use any meat you like in this orzo recipe. You can substitute chicken for beef, pork or veal. The trick to having a quick dish is to have small pieces of meat so that they cook faster. So, whatever meat I incorporate in my dish I make sure I have diced into small pieces.
What can I serve this Chicken with Orzo Recipe (Manestra)?
This Manestra recipe pairs up really well with any sour dip and Feta cheese.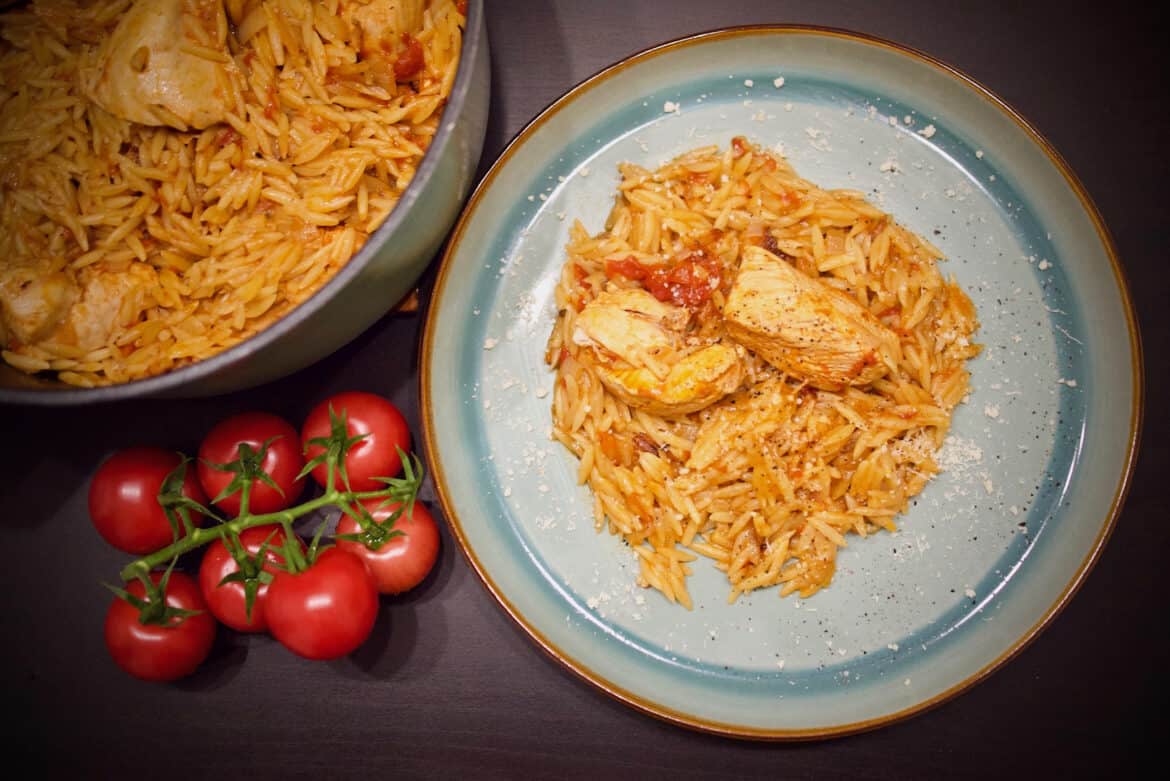 Chicken with Orzo Recipe (Manestra)
Ingredients
800g chicken (thighs, drumsticks or even breast fillets sliced)
500g orzo
1 large onion
1 clove of garlic
1 can of chopped tomatoes
1 chicken stock cube
1 tbsp paprika
salt and black pepper
optional: 1 tsp coriander
Instructions
Start by assembling all of your ingredients for this deliciously light chicken Manestra recipe.
Finely chop the onion and garlic, heat up a glug of oil in a pot and sauté until golden brown. Season with paprika, black pepper. I also add coriander for a tastier touch.
Add the can of chopped tomatoes to your  saucepan and sauté them for a couple of minutes.
It is time to add the chicken. I love using chicken thighs in this dish, though you can also use drumsticks and breast fillets, sliced in thin strips.
Remember NOT to wash your chicken. Make sure you wash your hands thoroughly and keep all your surfaces clean after handling chicken.
Sauté the chicken for your light Manestra recipe until they become light brown. It is at this stage that you add approximately 1L of water with the chicken stock cube. Season with salt. Let your chicken cook for 30mins.
Finally add the orzo pasta to your Manestra whilst stirring with a spatula. This will prevent the orzo from sticking to the bottom of the pot.
Boil for an extra 15 minutes or so until the orzo is tender and cooked through. Give it a taste, if it is crunchy it needs a little bit more time in the pot.
Season with salt and pepper to taste.
I love eating this dish with a traditional Greek Feta Salad and some thick sliced bread to mop up all the juices from the tomato sauce! Enjoy!!