Get a taste of Greek summer with this eggplant dolmades (stuffed aubergine rolls). You may be surprised to hear that these dolmades are not with wine leaves but with eggplants or aubergines instead.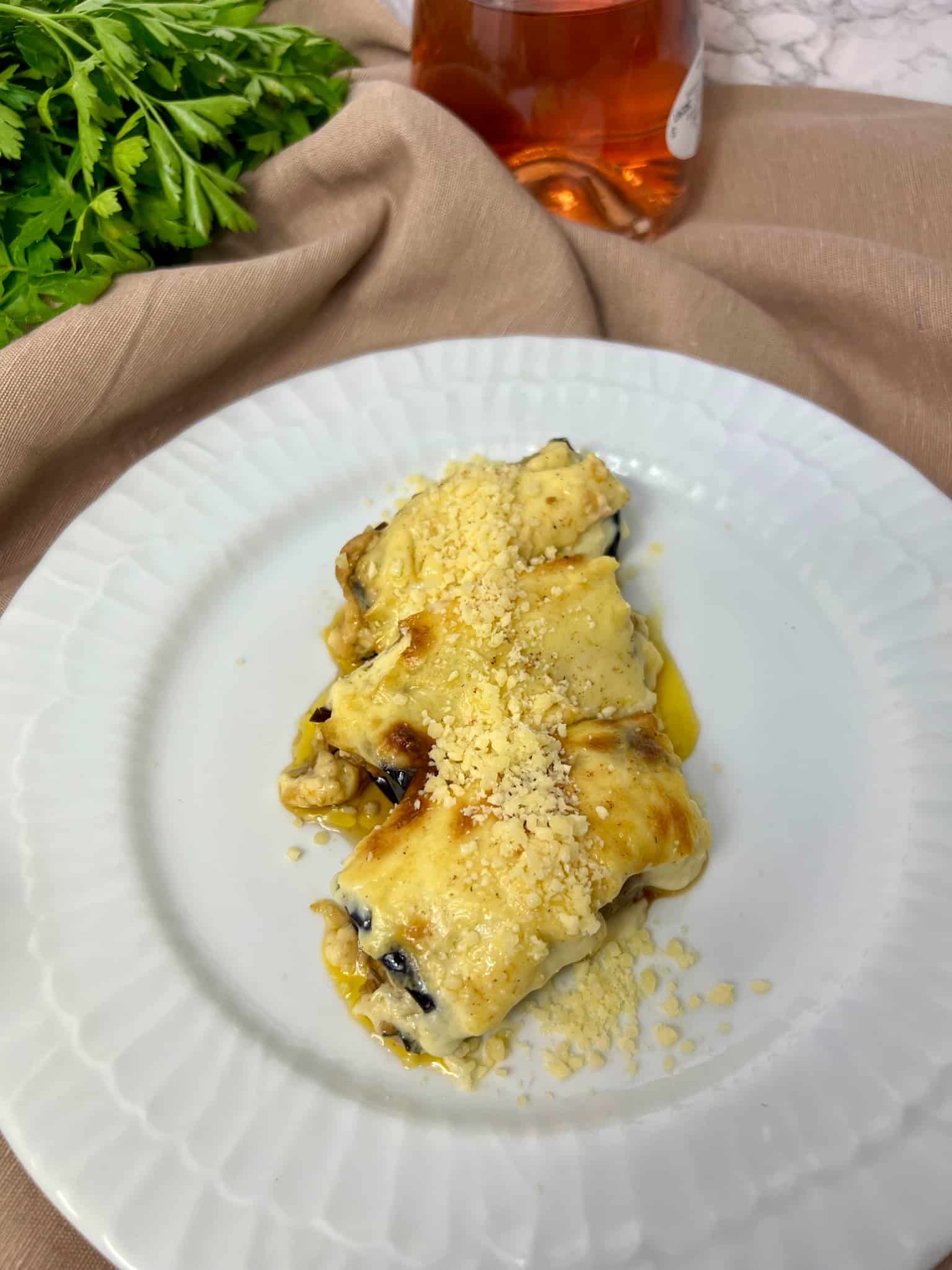 The word dolma (singular) or dolmades (pleural) simply means ' stuffed' so it can apply to any delicious vegetable you can apply.
Which more flavoursome vegetable to fill than juicy aubergines? Simply delicious summery juicy vegetables which can be found any Greek garden or 'Kipo'. I still remember the days when my sister and I would raide out mothers vegetable garden and hand to out mother fresh vegetables.
Eggplant dolmades or stuffed eggplants roll can also be viewed as a lighter version of the famous Moussaka. Both have layers of fried aubergines in a béchamel sauce. The only difference if the potato slices which you can find in Moussaka.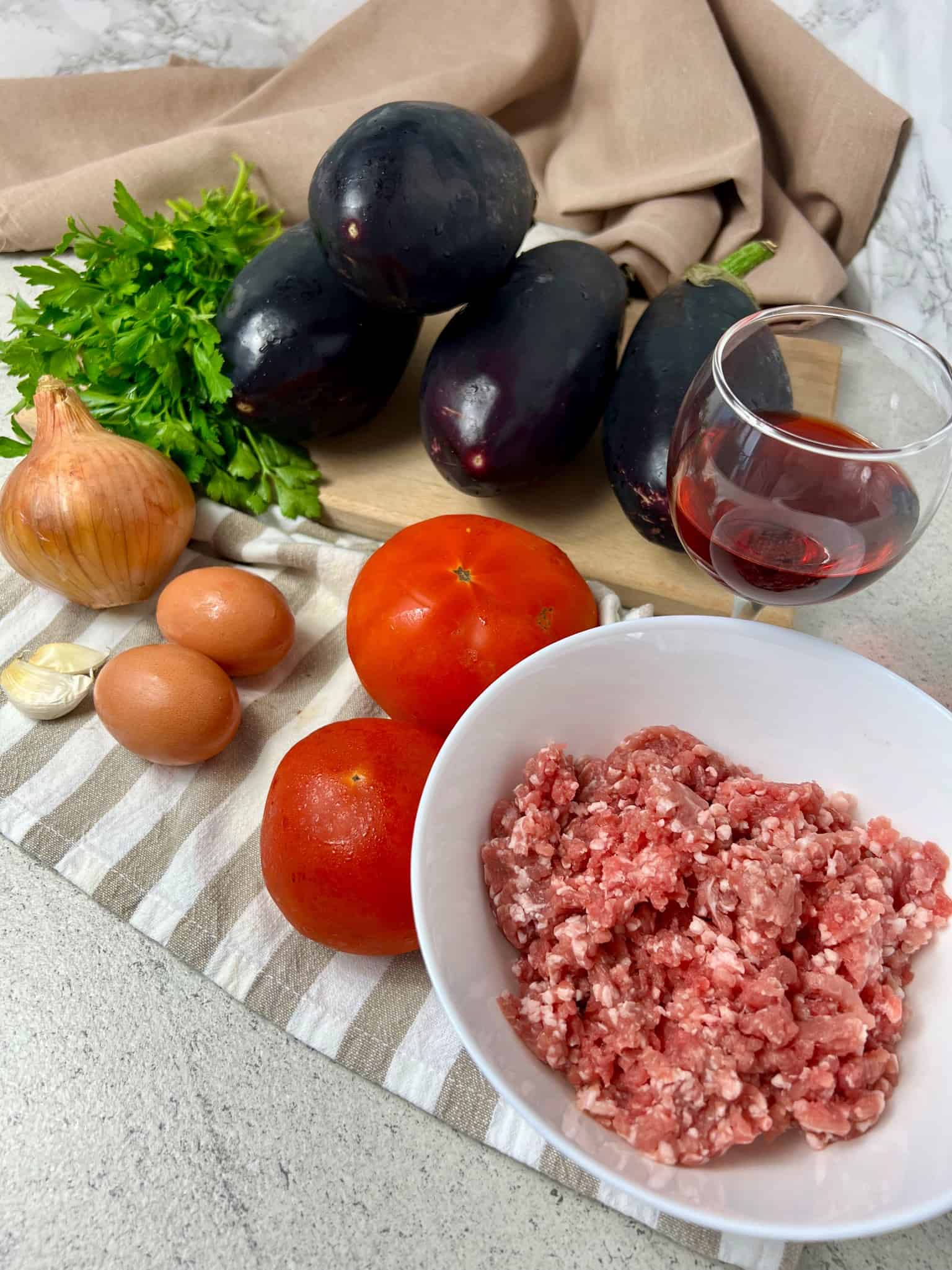 Main ingredients
Eggplants/Aubergines
Make sure you get fresh aubergines, so play close attention to the vegetable firmness and shiny colour.
Moreover, buy straight and elongated aubergines so that when you slice them along the aubergine slice will be long enough to make a roll.
Mince meat
I usually prepare the recipe with beef mince meat to make the dish more meaty, though if you with to have a lighter dish you can use pork or turkey mince meat or even a combination of all.
Again, make sure you purchase good quality mince meat as it will make a great difference in this delicious Greek Taverna dish.
Yoghurt
It goes without saying that the yoghurt sauce to accompany eggplant rolls is strained Greek yogurt. If you cannot get hold of any, you can substitute with a strained Greek style yogurt.
Step by step preparation and tips
Eggplants/Aubergines
For this eggplant dolmades ( stuffed aubergine rolls) you will require large straight and elongated aubergines that you will slice along the long axis. Short and stumpy aubergines will not give you the length required to roll the delicious meat filling.
Slice them  evenly , around 1-1.5cm in thickness for even rolls. For your ease, use a mandolin.
Tips
Season the aubergines and place them in a colander. Allow aubergines to rest for 30 minutes so that excess water is drawn out.
I would also recommend buying an extra or two aubergines, for the perfect rolls.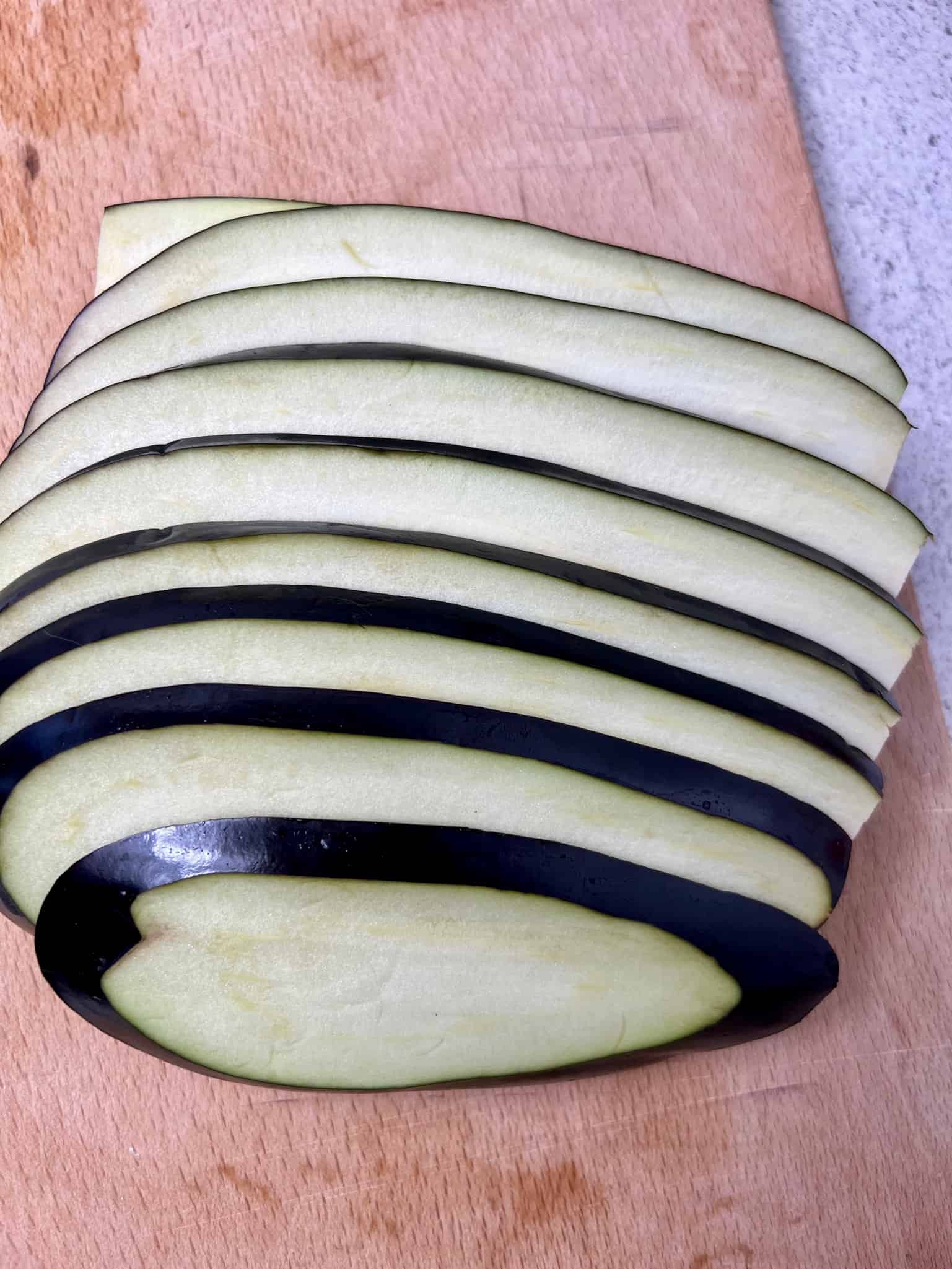 Mince meat/Ground meat filling
While the eggplants/ aubergines are resting, I prepare the meaty mixture. I go for pure beef ground meat but as it can be a heavy I switch it up at times and use a combination of pork and beef. I am sure lamb mince meat will also go great with this dish.
Pan fry aubergines
The secret to these succulent eggplant dish is pan part-frying.
Remember, after frying them to place them in a kitchen towel lined plate to draw the excess oil.
Assemble Eggplant rolls ( stuffed aubergine rolles)
Place a tablespoon of meaty filling in the aubergine slices and roll.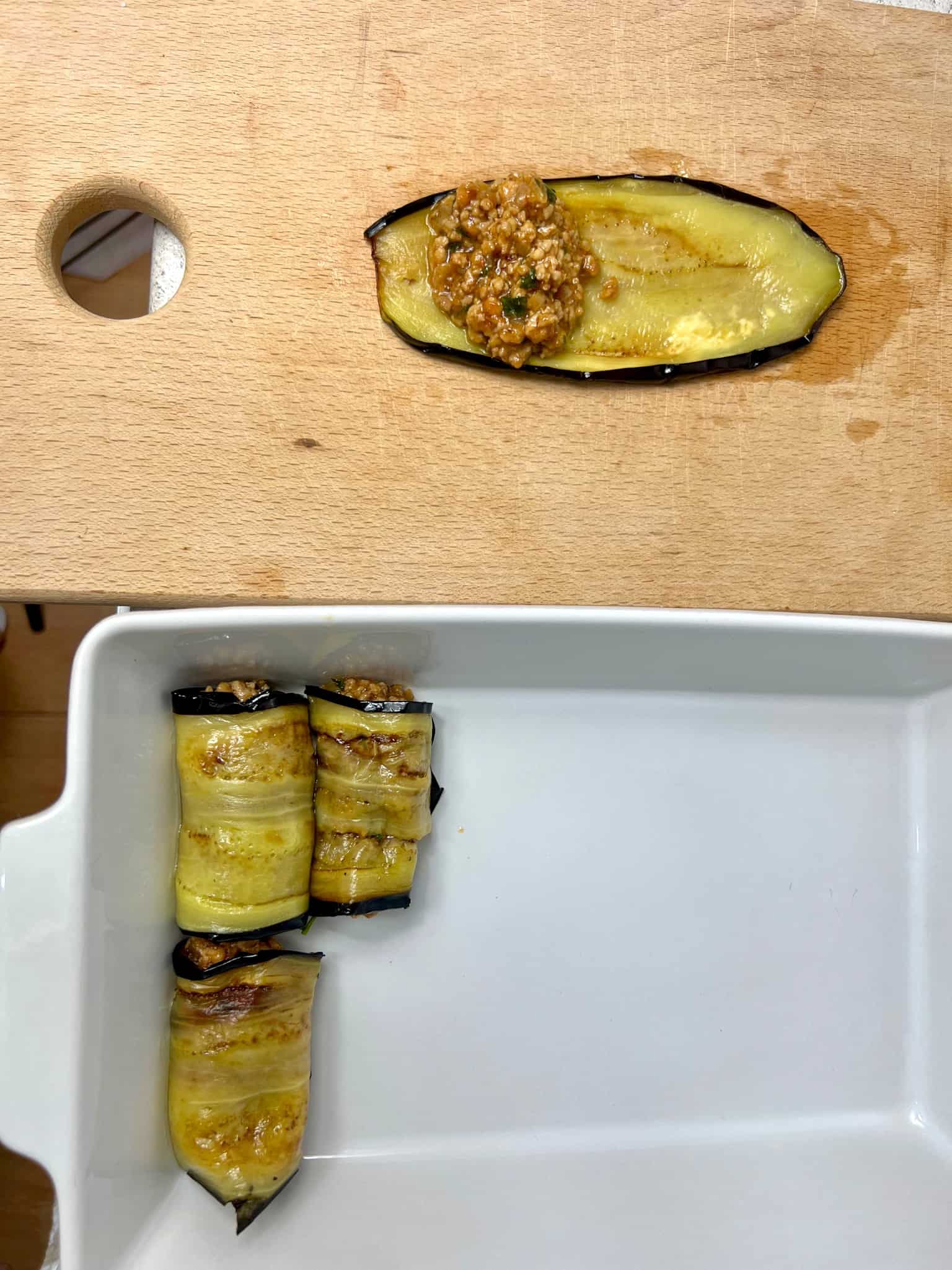 Place them in a baking dish in a single rows.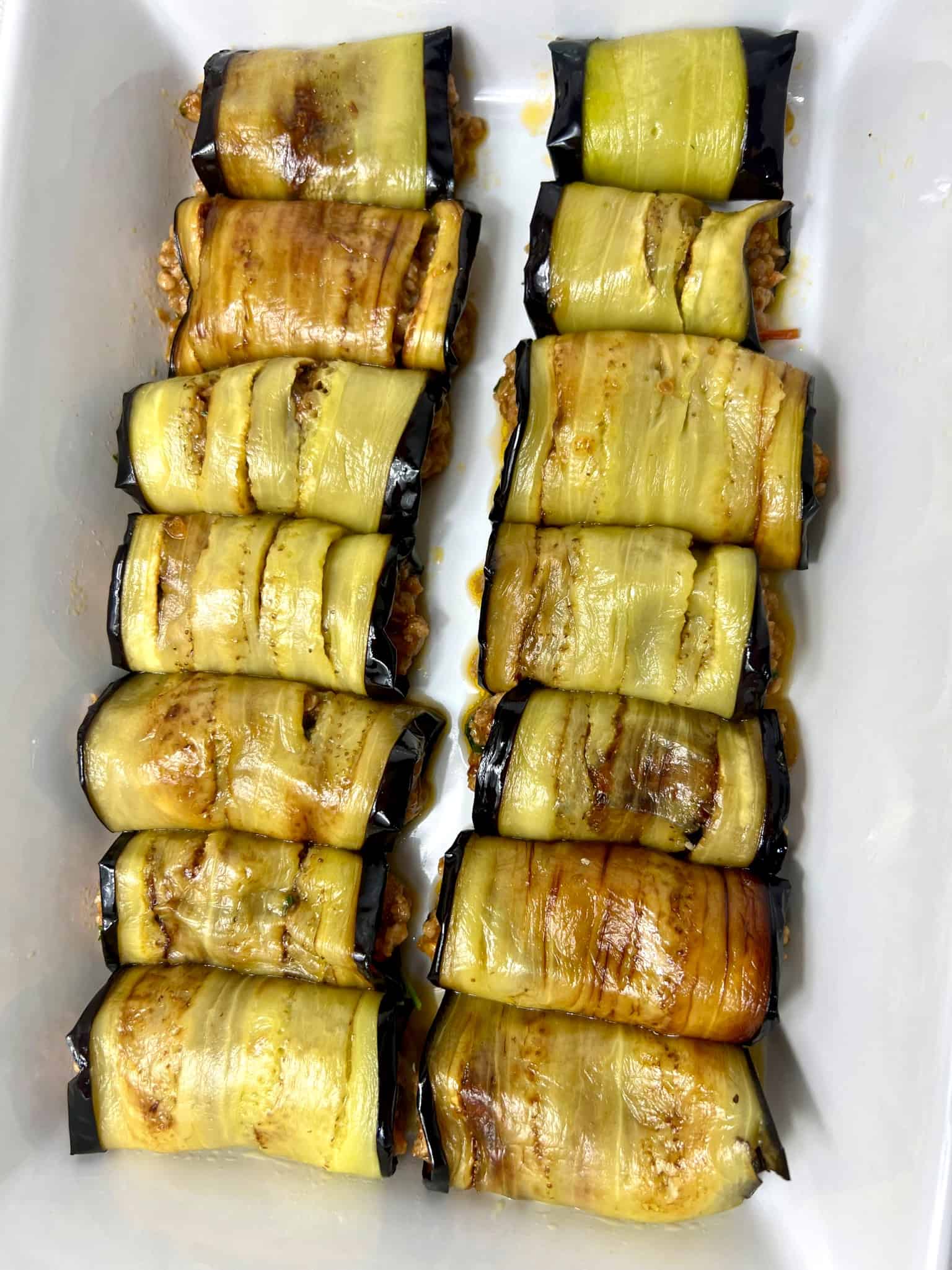 Bechamel sauce versus Yoghurt sauce
The dish is traditionally topped with béchamel sauce , though for a  healthier  version you  can top them with a light yoghurt sauce.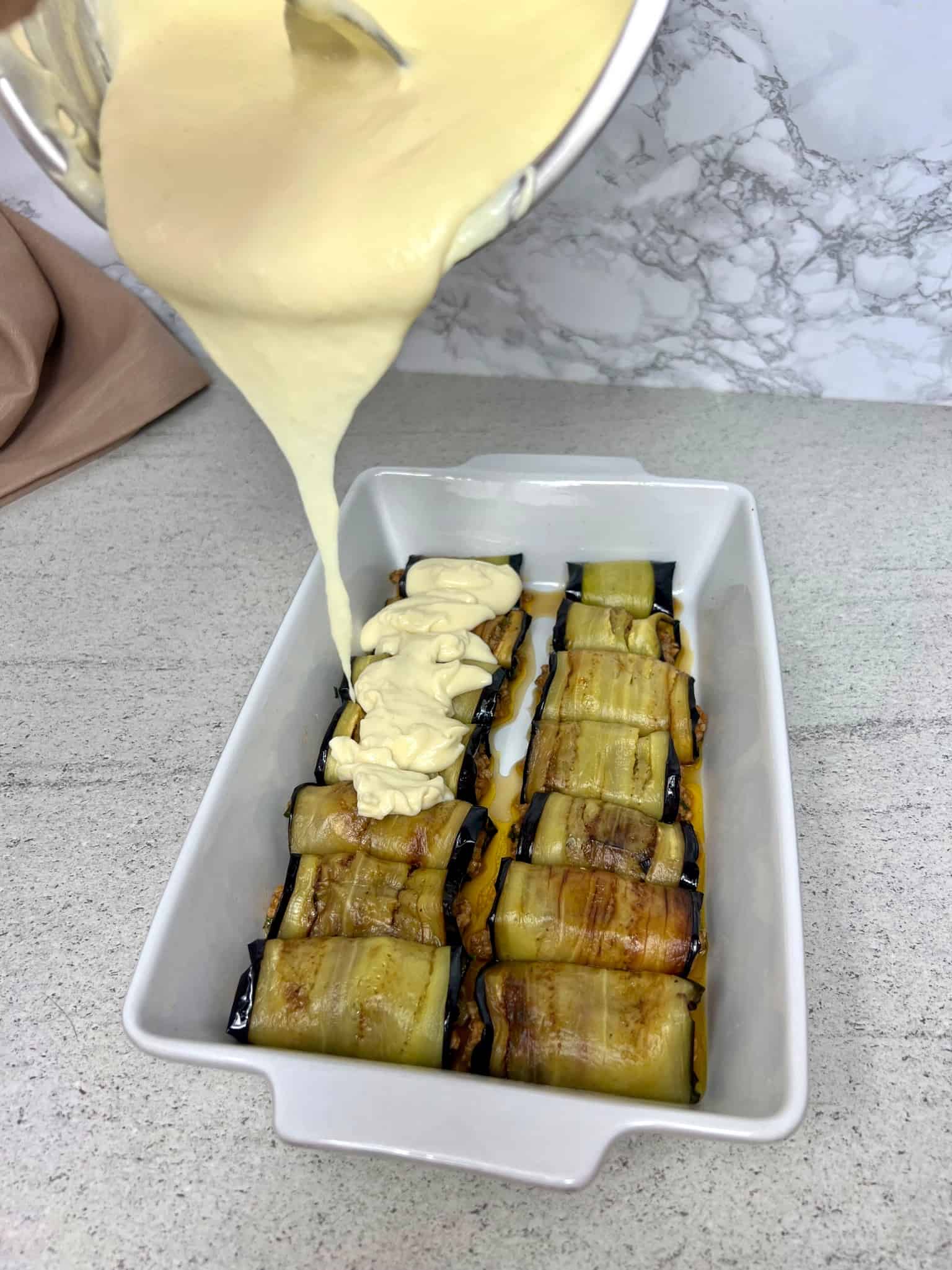 Baking /Roasting
Pour the béchamel or yogurt sauce on tope of the stuffed eggplant slices and bake for 15-20 minutes at 180C or 360F.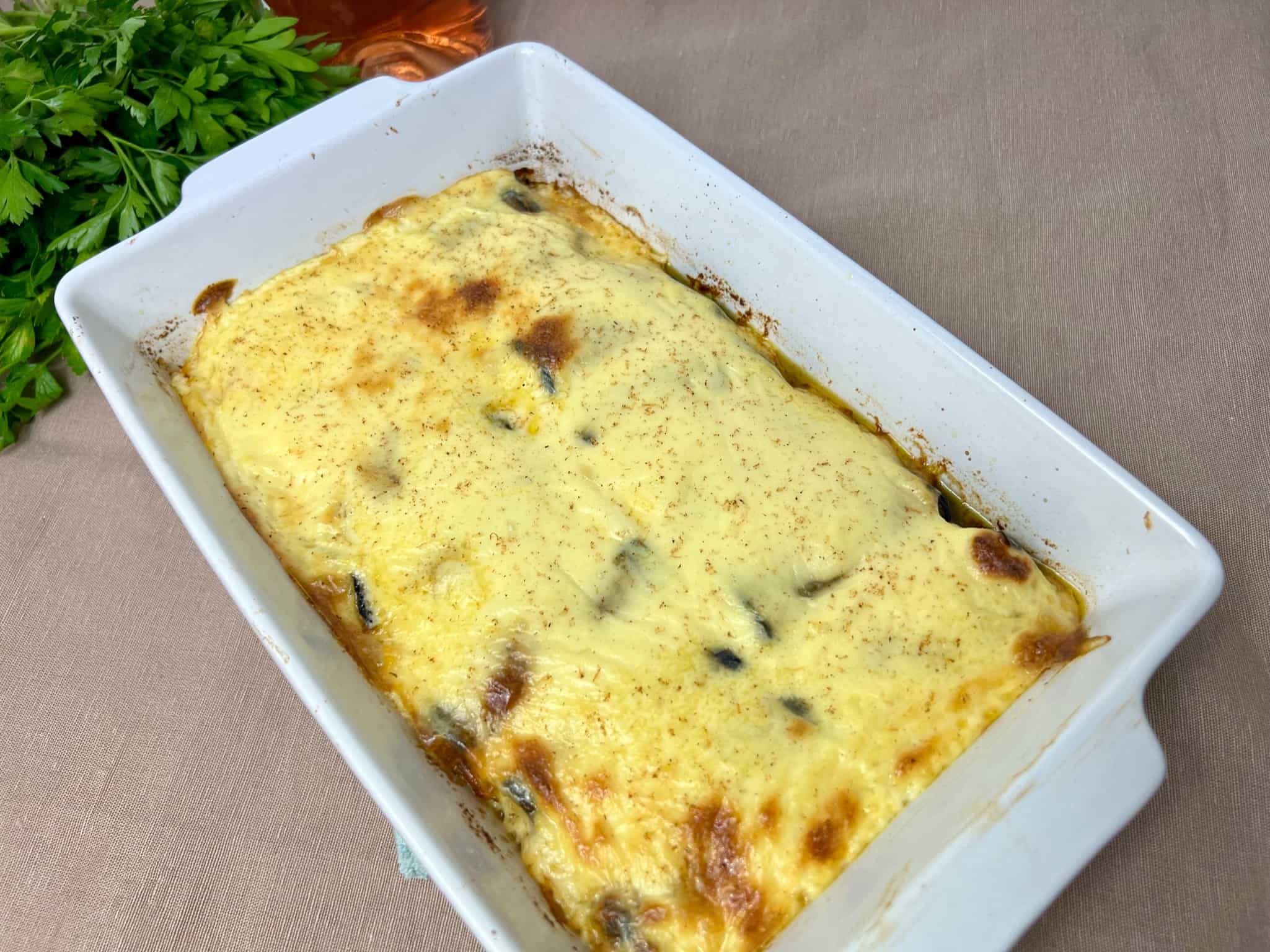 Lighter/ Healthier version of eggplant rolls ( stuffed aubergine rolls)
There are a few way you can prepare this delicious summery dish in a lighter way whilst preserving its flavours.
Roasting or part baking eggplants
For a lighter version of this delicious dish, roast rather than pan fry the aubergines.
Slice them as per usual, place them in a baking dish, drizzle with a little bit of oil and roast. Roast for 7-9 minutes.
If you find béchamel sauce too taxing sand heavy , especially in the summer months, top the rolls with a light yoghurt sauce.
Vegan/ Vegetarian eggplant dolmades ( stuffed eggplant rolls)
To prepare a vegetarian version of these eggplant dolmades simply substitute ground meat with plant based one.
For a vegan version, replace béchamel sauce with a strained yogurt dollops.
What to serve this eggplant dolmades (stuffed aubergine rolls) dish with
This eggplant dolmades dish is very filling itself, though I always pair it with a Greek Horiatiki salad.
However, if you are having family or guests over serve with chips with Greek pilau.
Can you freeze this eggplant dolmades (stuffed  aubergine rolls) dish?
Whilst a lot of people will tell you that is safe to do so, I avoid freezing juicy vegetables covered in any milk or yogurt sauce.
I personally freeze the meaty filling so that I have it handy when making this dish.
More stuffed vegetables recipe you will love
Other Taverna recipes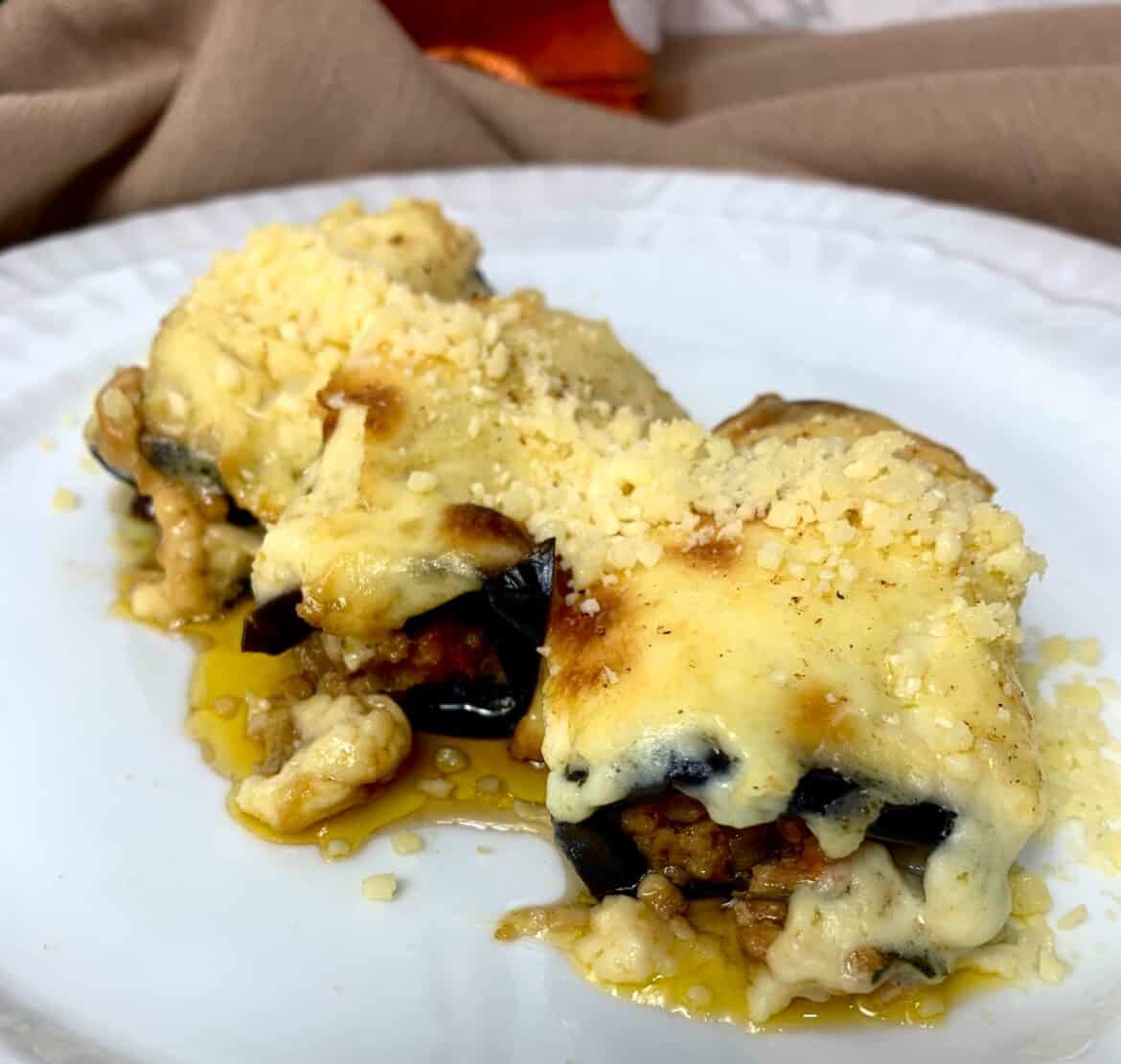 Eggplant dolmades (stuffed aubergine rolls)
Ingredients
Eggplant / Aubergine rolls:
3 large aubergines ( long aubergines)
Eggplant / Aubergine meaty filling:
 500gr or 1 pound ground meat/ mince meat (ground pork, beef,  lamb or a mixture of )
 1 large yellow onion
 2 large fresh tomatoes or a can of chopped tomatoes
 1 small glass of red wine (optional)
 1/2 cup diluted stock
 1-2 cloves garlic
 parsley
 kosher salt
 ground black pepper
Bechamel sauce
 1Litre of milk
  1 cup all purpose flour
 1 egg
 1 tablespoon butter
grated nutmeg
1/2 grated hard cheese (optional)
Yoghurt sauce
300gr Greek strained yogurt
 2 egg yolks
2 tablespoons red vinegar
Instructions
To prepare this delicious eggplant dolmades (stuffed eggplant rolls) recipe start by gathering all the ingredients.
 Wash the aubergines and pat them dry with kitchen paper. Slice of the ends of the eggplant. Continue by slicing evenly (1-1.5cm thickness) the aubergine along its length.
 Place carefully the aubergine slices in a colander and sprinkle with salt. Allow the eggplant slices to rest for 30 minutes as the salt will draw out moisture.
 Slice the onion, dice the fresh tomatoes and crush the garlic cloves. Put these aside.
 While the eggplant slices are resting,  prepare the meaty eggplant roll filling. On a frying pan, sauté onion for a couple of minutes. Continue by adding the diced fresh tomatoes (or canned tomatoes). If using tomato cans, then add a pinch of sugar. Add the crushed garlic cloves and season with salt and ground black pepper.
 Add the mince meat or ground meat and stir. Allow the mince meat to cook.
 Continue by adding stock juice and a glass of red wine (optional). Lower the heat and cook for 15-20 minutes further.
 Add chopped parsley toward the end of cooking as it retains its flavour.
Place the eggplant roll filling aside.
 When 30 minutes have gone and the eggplant slices have lost their moisture, pat them dry with kitchen paper.
 Pour oil in a frying pan and fry the aubergines on both sides. Place kitchen paper on a plate and rest the slices on top to absorb excess oil. Do so in layers.
  Meanwhile, preheat the oven to 180C or 360F.
 Place each fried aubergine slice on a kitchen board and place 1 tablespoon of meaty filling in the aubergine slice. Roll the eggplant slice and place in a single row in a baking dish.
 Continue by preparing the béchamel sauce. In a saucepan warm up milk and add flour in increments. Make sure to whisk vigorously to avoid any lump forming. Once the milk-flour sauce is smooth, remove from the heat.
 Allow the milk-flour sauce to cool down and continue by adding the eggs. Again make sure the sauce is not hot enough and whisk vigorously to avoid any lumps.
 Finish off with grated nutmeg and / or grated cheese.
To prepare the yoghurt sauce simply combine Greek yogurt with 2 egg yolks and red wine vinegar.
 Pour béchamel or yogurt sauce on top of the stuffed eggplant dolmades and bake for 15-20 minutes at 180C or 360F.
Allow the dish to cool down a bit and enjoy! Pair it with a refreshing Greek Horiatiki, aka Feta cheese and tomato salad and enjoy!