Why you'll love them these Milinoudia (Greek mini pan fried Feta cheese pies) you ask? The answer is very simple! They are super easy to make, require only a few basic ingredients (pantry essentials) and are ready in under 30 minutes!
In Greece it is all about that pie!!!! There are so many pies to choose from, each one with a different filling. Fillings range from dairy, such as Feta cheese, to greens, such as spinach, 'Horta' , to vegetables ,such as zucchini to meat.
Milinoudia are pan fried pies originating from North Greece, and in particular from my province Evros. One cannot find them elsewhere except that Northern part of Greece.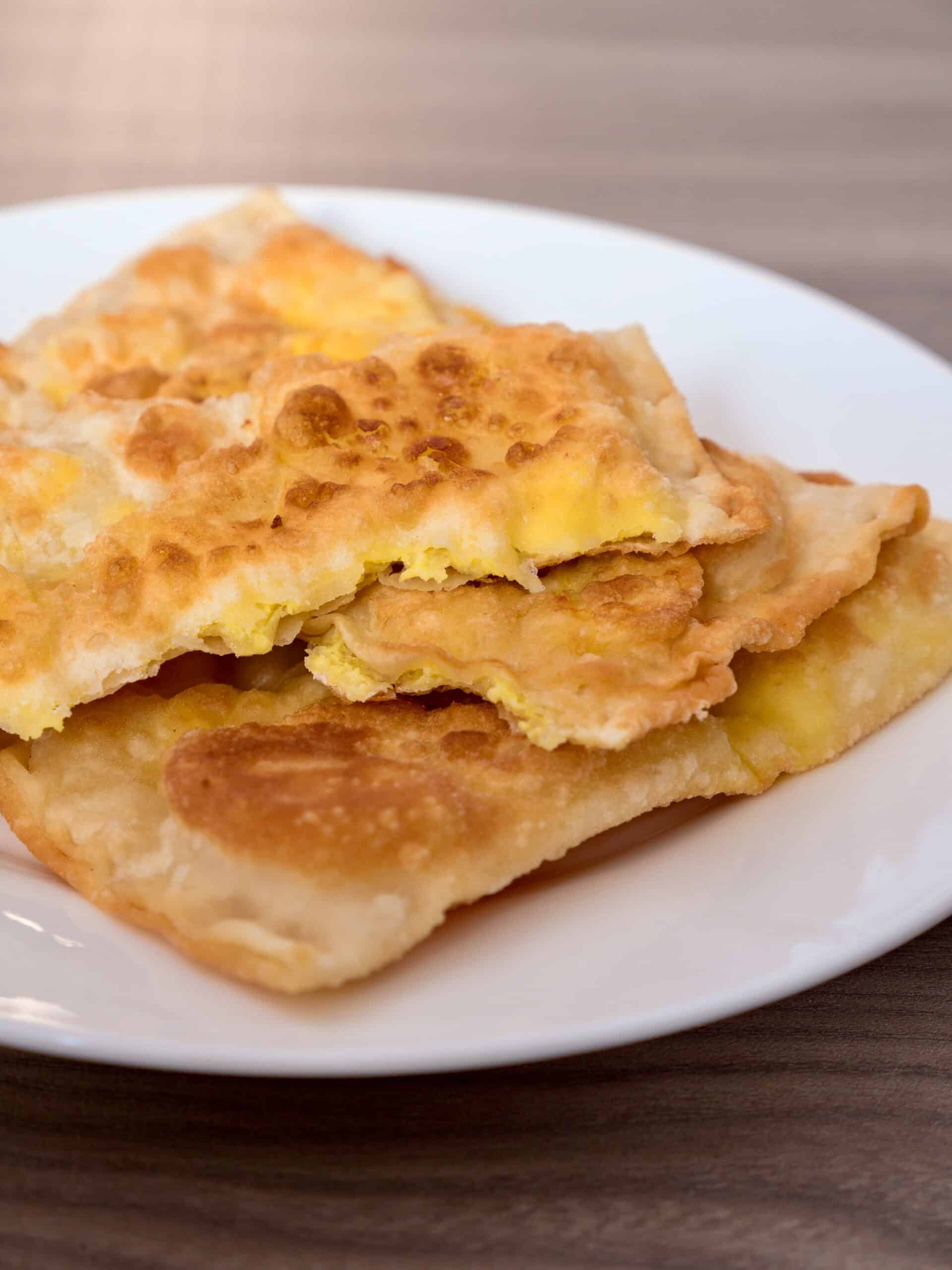 Why Milinoudia?
Greek oven baked pies can take a considerable amount of time to assemble and bake, however with this super easy recipe you will have delicious homemade Feta cheese pies in no time!!!
In fact, Milinoudia are my daughters favourite type of Greek pie and would request it quite often! Milinoudia would be that filling little breakfast pie accompanying Greek coffee as well the centre piece in our family Sunday lunches.
What are Milinidia (Greek mini pan fried Feta cheese pies)?
These Milinoudia (Greek mini pan fried Feta cheese pies) are essentially stuffed flatbreads. They differ from pitta bread and Tiganopsomo as the Milinoudia dough is unleavened.  The recipe does not call for any yeast or any other raising agent.
Milinoudia (Greek mini pan fried Feta cheese pies) versus Tiropsomo
Milinoudia are made up of homemade phyllo/filo with a Feta cheese, filling. They are basically a pan fried phyllo stuffed with Feta cheese. They differ from pan fried Tiropsomo. Tiropsomo as it name implies is a bread with Feta filling and not phyllo.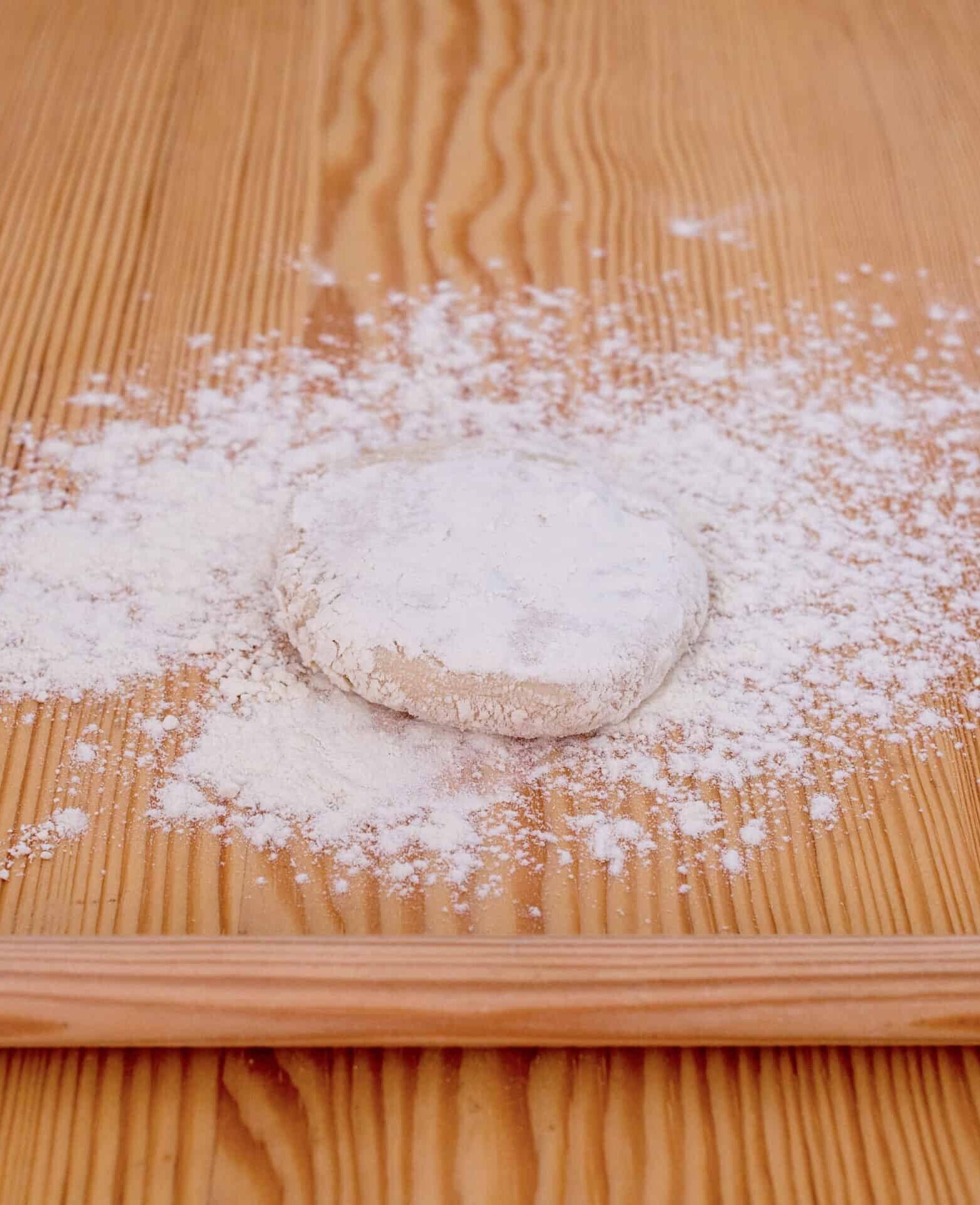 Milinoudia Ingredients
Milinoudia dough:
Strong bread flour: The recipe calls for strong bread flour, ie a flour with a high protein content. Strong bread flour is ideal for homemade phyllo.
Water: One cup of water is enough for this recipe.
Salt: One flat teaspoon of salt is all you need.
Sunflower oil:I use sunflower oil in this recipe as sunflower oil is much lighter that olive oil.
Vinegar:I add vinegar one teaspoon of white vinegar in the dough to make it crispier. My family's favourite vinegar for this recipe is apple vinegar.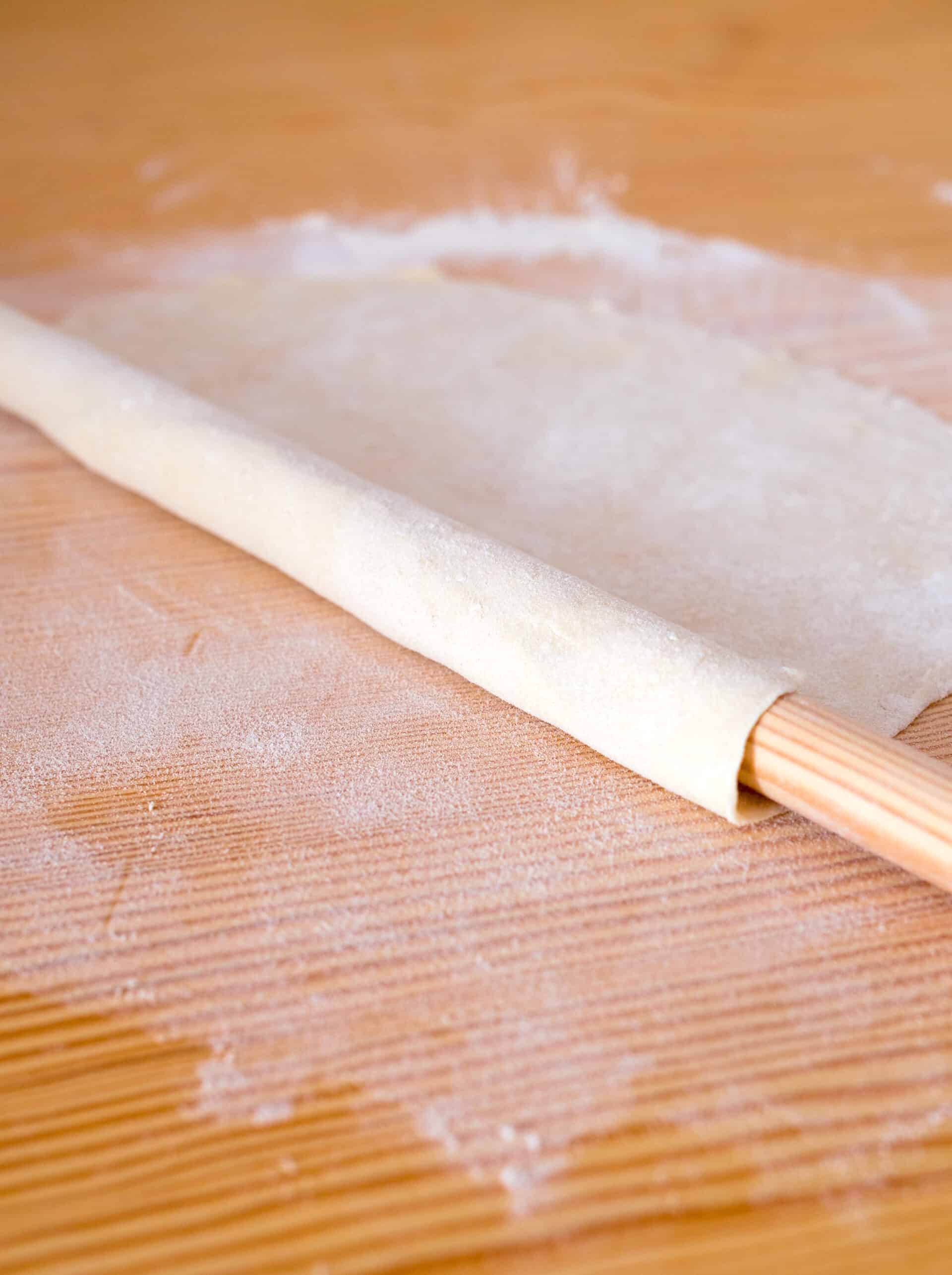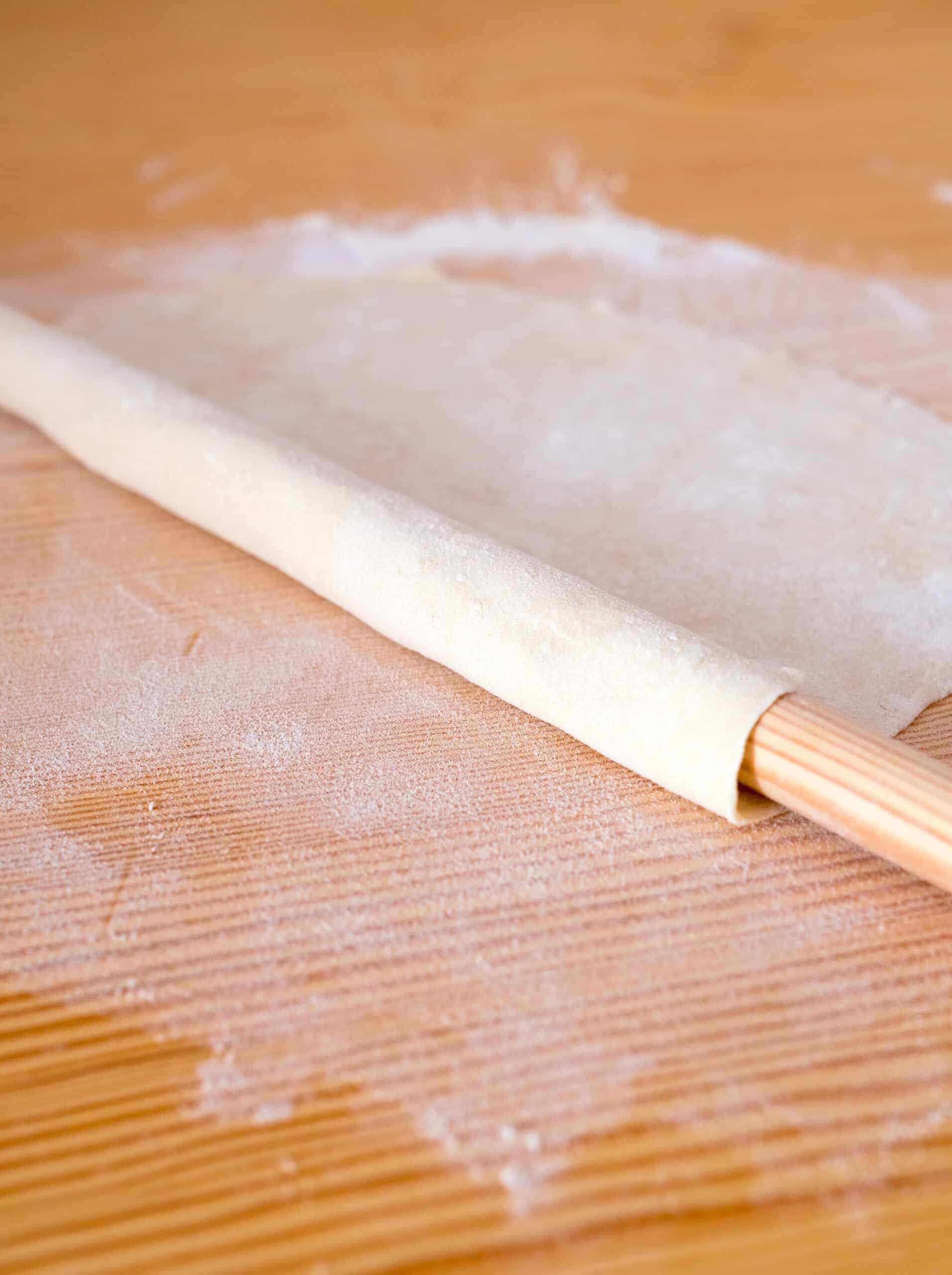 Milinoudia filling:
Feta cheese: Choose a good quality Greek Feta cheese ideally made of a combination of sheep's and goat's milk.If you are looking for alternatives, I'd recommend ricotta cheese.
Eggs:This recipe calls for either 2 small eggs or a large one. They act as a binding agent and give the mini pie that extra taste.
Salt:The Milinoudia filling does not require a lot of additional salt as the Feta cheese  is already salty enough.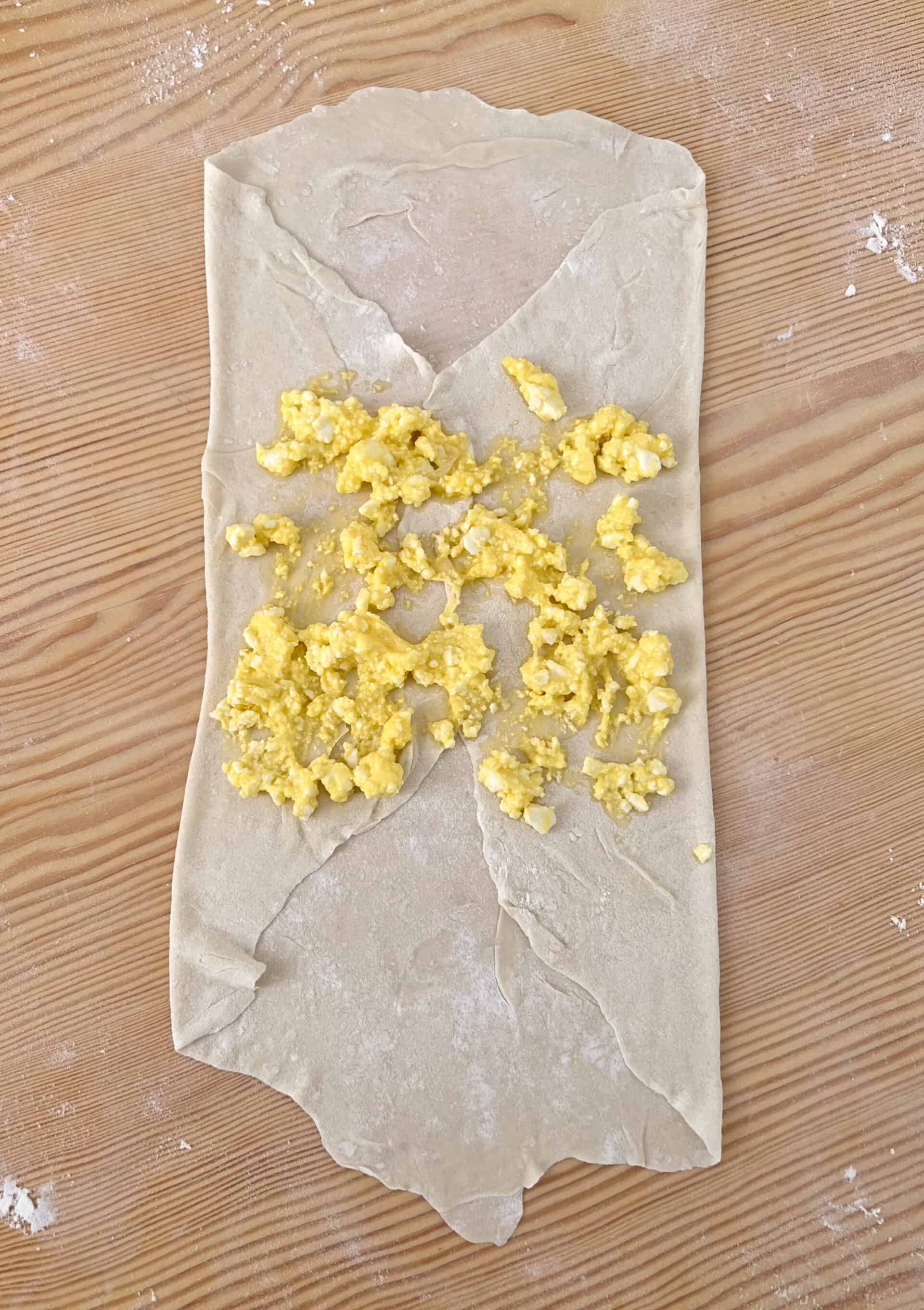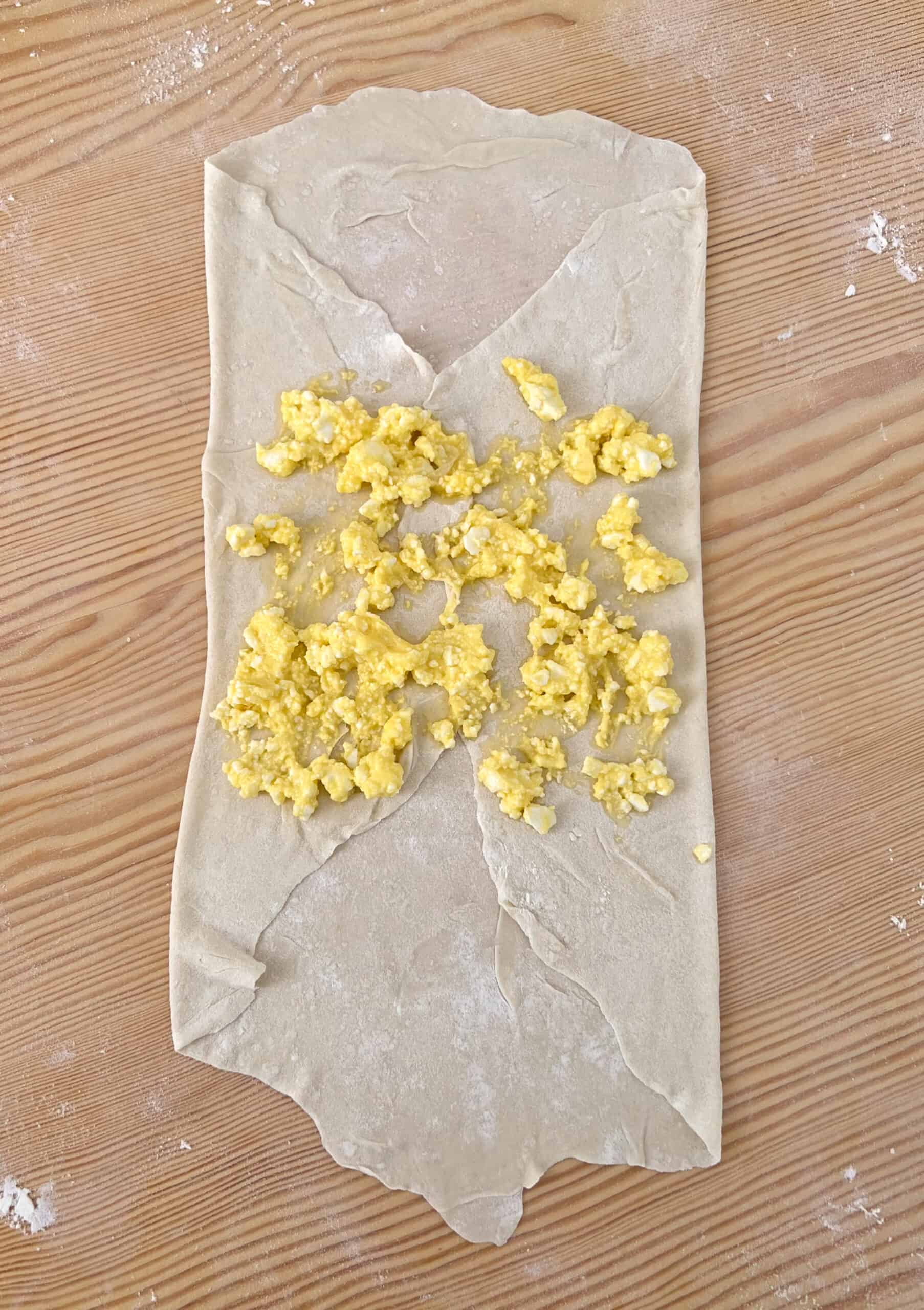 Vicki's top tips for the perfect Milinoudia
First of all, use good quality bread flour and Feta cheese. Secondly, let the dough rest for approximately 15 minutes. Resting allows the dough the loosen and become more airy. If you skip this resting step, the dough will be firm and cake like. You will be unable to roll out a phyllo sheet otherwise.
Thirdly,  roll out a round sheet of homemade phyllo as per usual.Bring in the edgiest make a rectangular shape. Spread the savoury filling in the centre of the phyllo sheet and bring the top and bottom parts of phyllo, thus making a mini square pie.
Fourthly, assemble each Milinoudi at a time; ie roll out the homemade phyllo, add the add the savoury filling and then pan fry. Avoid rolling out all the phyllo sheets at once as they will dry out.
Finally, rest Milinoudia mini pies let them rest on a plate lined with kitchen paper to absorb any excess oil.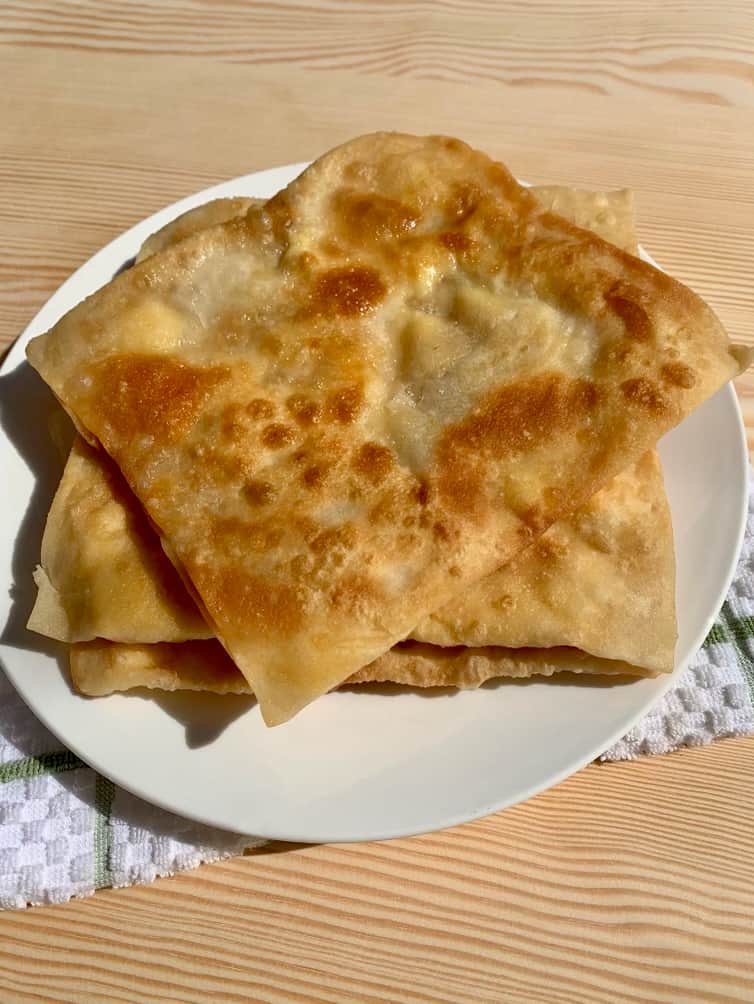 Serving suggestions for  Milinoudia (Greek mini pan fried Feta cheese pies) 
These delicious mini Feta cheese pies are perfect for breakfast, midday snack or  side dish. They also make perfect packed lunches. Milinoudia also go very well with a seasonal Greek salad, ie Horiatiki salad, as well as dips.
Other pie recipes you will love: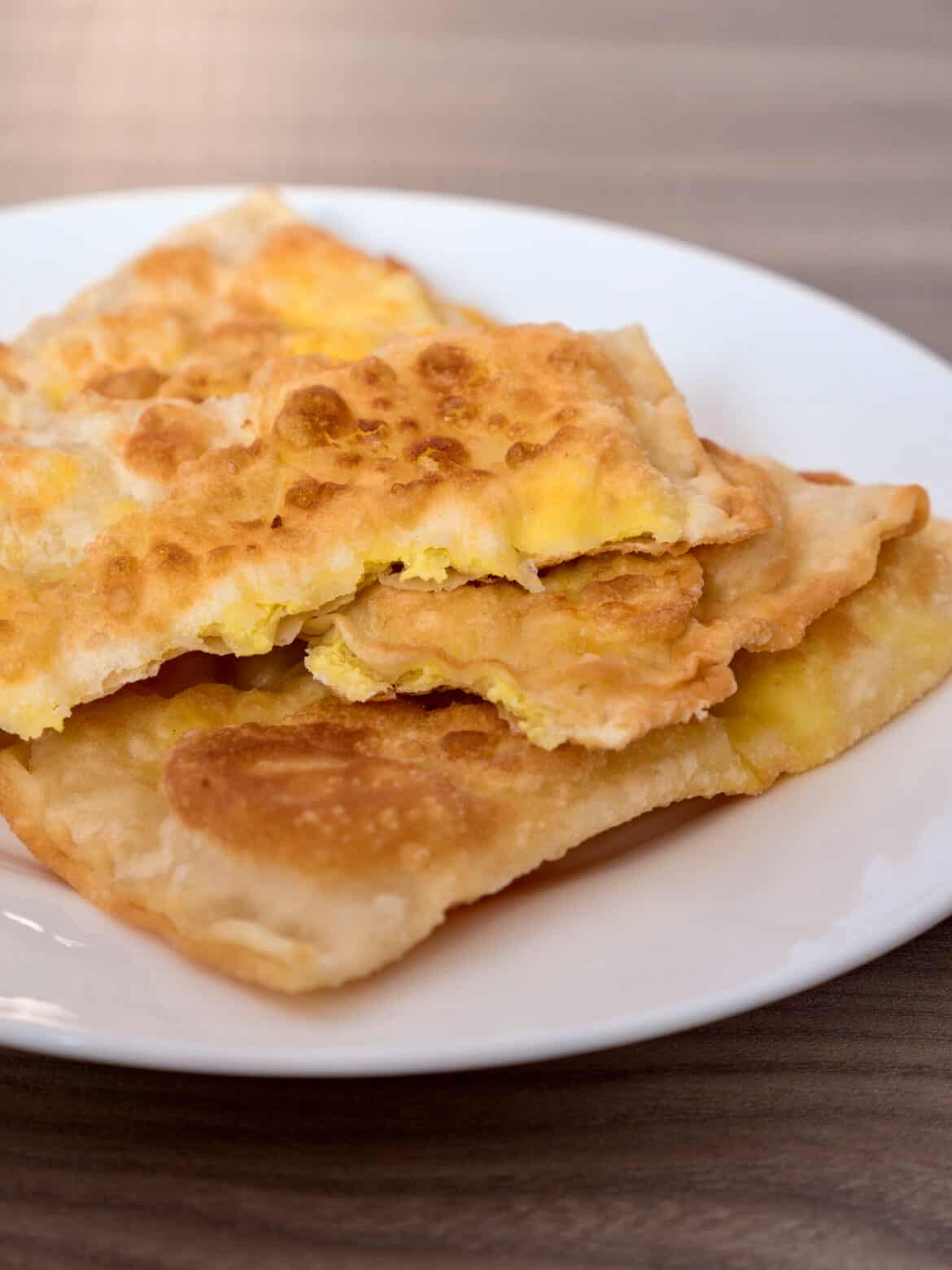 Milinoudia (Greek mini pan fried Feta cheese pies)
Ingredients
Milinoudia dough
500gr strong bread flour
1 cup water
1 tablespoon sunflower oil
1 teaspoon vinegar
1 teaspoon kosher salt
Milinoudia filling
300gr Feta cheese (or any other hard cheese)
2 small eggs
1/2 teaspoon kosher salt
Instructions
For the dough
Add strong bread flour in a large mixing bowl and add water, vinegar, sunflower oil and salt.Knead until a firm dough is formed.
Divide the dough for your Milanoudia into 6 equal balls or pieces of dough (can use kitchen scales for this step).
Allow the dough to rest for 15 minutes.
Flour a clean work surface and roll each dough portion into a round phyllo sheet. Make sure the homemade phyllo sheet is not too thin as it will break apart upon frying.
For the filling
In another mixing bowl, combine crumbled Feta cheese with eggs and season with kosher salt.
Assembling 
Bring in the sides of the homemade phyllo to create a rectangular shape.
Spread a few tablespoons of the Milinoudia savoury filling in the centre on rolled phyllo sheet and continue by wrapping the top and bottom parts the phyllo sheet, thus creating a square mini pie.
Heat oil in pan and pan fry until golden crispy on both sides.
Rest your Milinoudia in a kitchen paper lined plate to absorb excess oil.
Serve hot or cold and enjoy! Kali orexi!