This is an exciting take on the classic summer oven roasted classic Briam (Roasted mixed vegetables) and it is by far my daughter's favourite dish. I always make big patches of it and freeze it so that we can enjoy it in autumn and winter.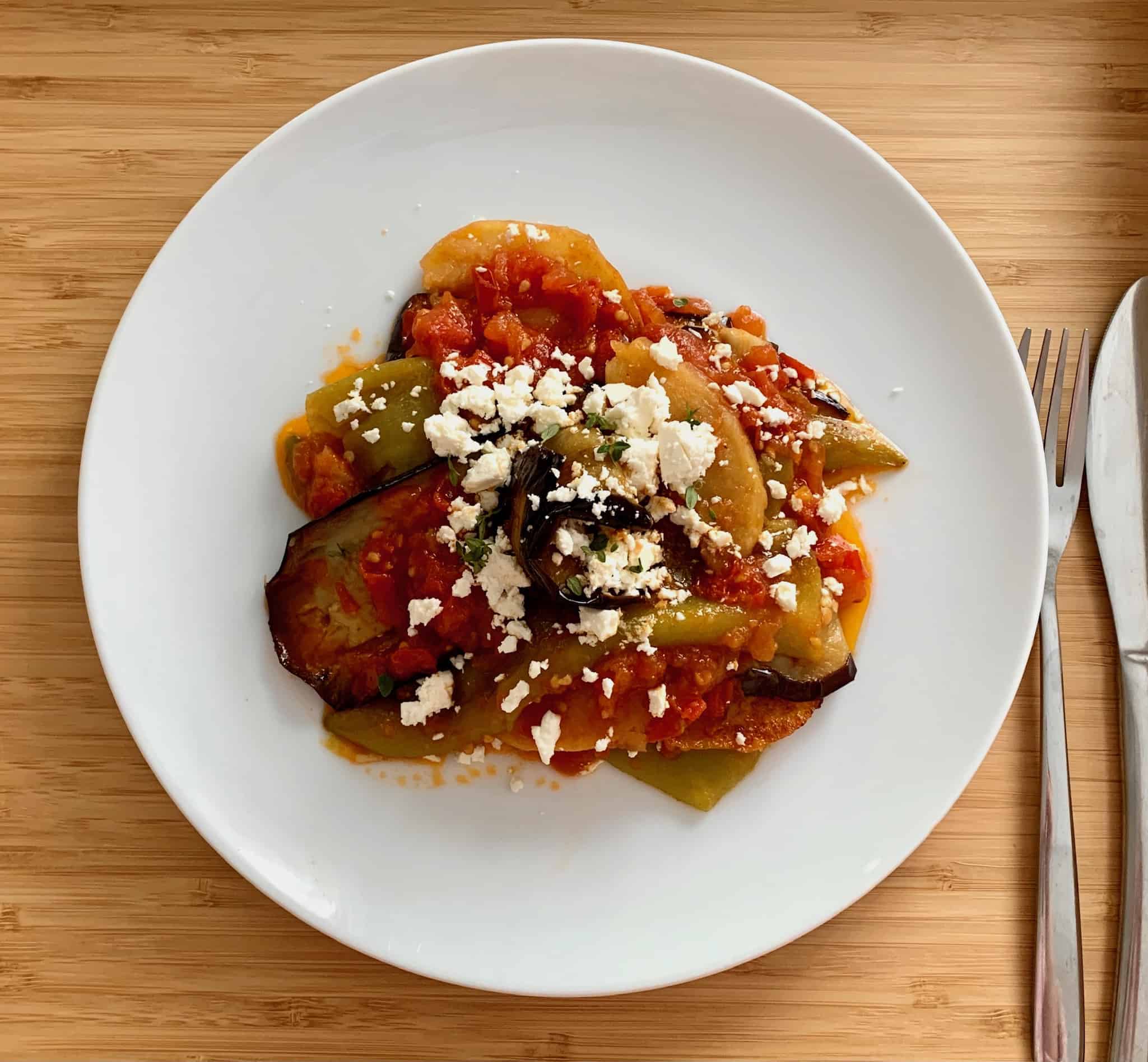 What is the secret to this Thracian Fried Briam recipe?
The secret to this braim recipe is the freshness of ingredients. I cannot stress enough the importance of getting the best fresh seasonal vegetables. I tend to get my vegetables in season and almost always from local vegetable farm markets where you can see and smell the freshness of the vegetables. When not in season, I opt for organic vegetables.
How does this recipe differ from the classic Briam recipe?
The clue is in the title of this Thracian Fried Briam. Whilst the classic Briam is prepared in the oven, this Thracian Fried Briam is fried. This is not as heavy as a dish as it may sound like.  Once the vegetables are lightly fried, I rest them on paper towels to soak the excess oil.
What can I serve this recipe with?
You can serve this Briam recipe with a traditional Greek salad (Horiatiki), Spicy Greek Feta Dip (Tirokafteri) or plain Feta cheese.
Can you freeze this dish?
I absolutely love this dish and I make lots of it over the summer months. I freeze it and enjoy it in autumn and winter.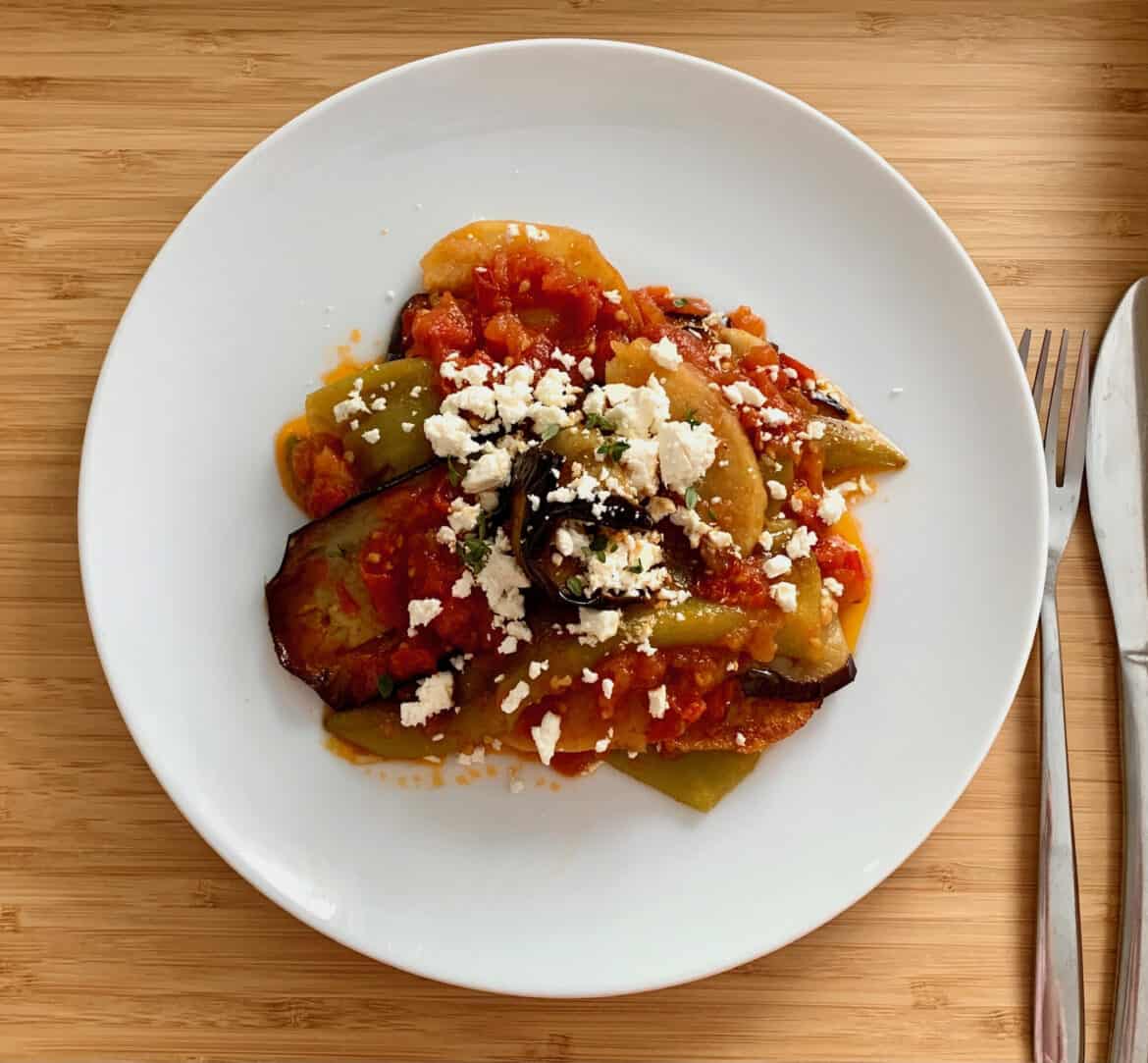 Thracian Fried Briam
Ingredients
2 medium aubergines
2 large potatoes
3 Green Bull's horn peppers (pointed tip)
4 large fresh tomatoes (500-600g)
300ml sunflower oil
50ml olive oil
salt to taste
Instructions
Assemble all the ingredients and kitchen appliances.
Wash the vegetables under running water and pat them dry with paper towel. Make sure you have dried them thoroughly for the oil not to splash.
Slice the aubergines and potatoes into 0.5cm slices and set them aside.
Heat a pan with sunflower oil and start by frying the potatoes until they become soft. Do not fry them completely as you will lightly fry them again later with the tomatoes.
Place them in a plate with paper towel underneath. The paper towel will absorb all the excess oil and make the dish lighter.
Continue by frying the aubergines until they also become soft. Again, do not fry these completely as you will fry them later with the tomatoes.
Place the aubergines on a plate with paper towel underneath as you have done for the potatoes.
Continue by frying the green Bull's horn pepper until they too soften.
Season the vegetables and place them in a plate. Cover with tin foil.
Place the tin foil packed peppers in an air tight bag for a couple of minutes. Moisture will develop in the bag and this moisture will allow you to peel the pepper easier. Cut off the stem of the peppers and peel them. Set them aside.
Dice the fresh tomato and lightly fry it for approximately 5 minutes. Add the potatoes, aubergines and peppers in the pan, season with salt to taste and lightly fry them for 5-8 minutes until done.
Kali Orexi!