Try this delicious Greek smoked aubergine side dish! Are you having a BBQ? Why not prepare this easy and quick summery side dish?
Follow my recipe and make it to perfection!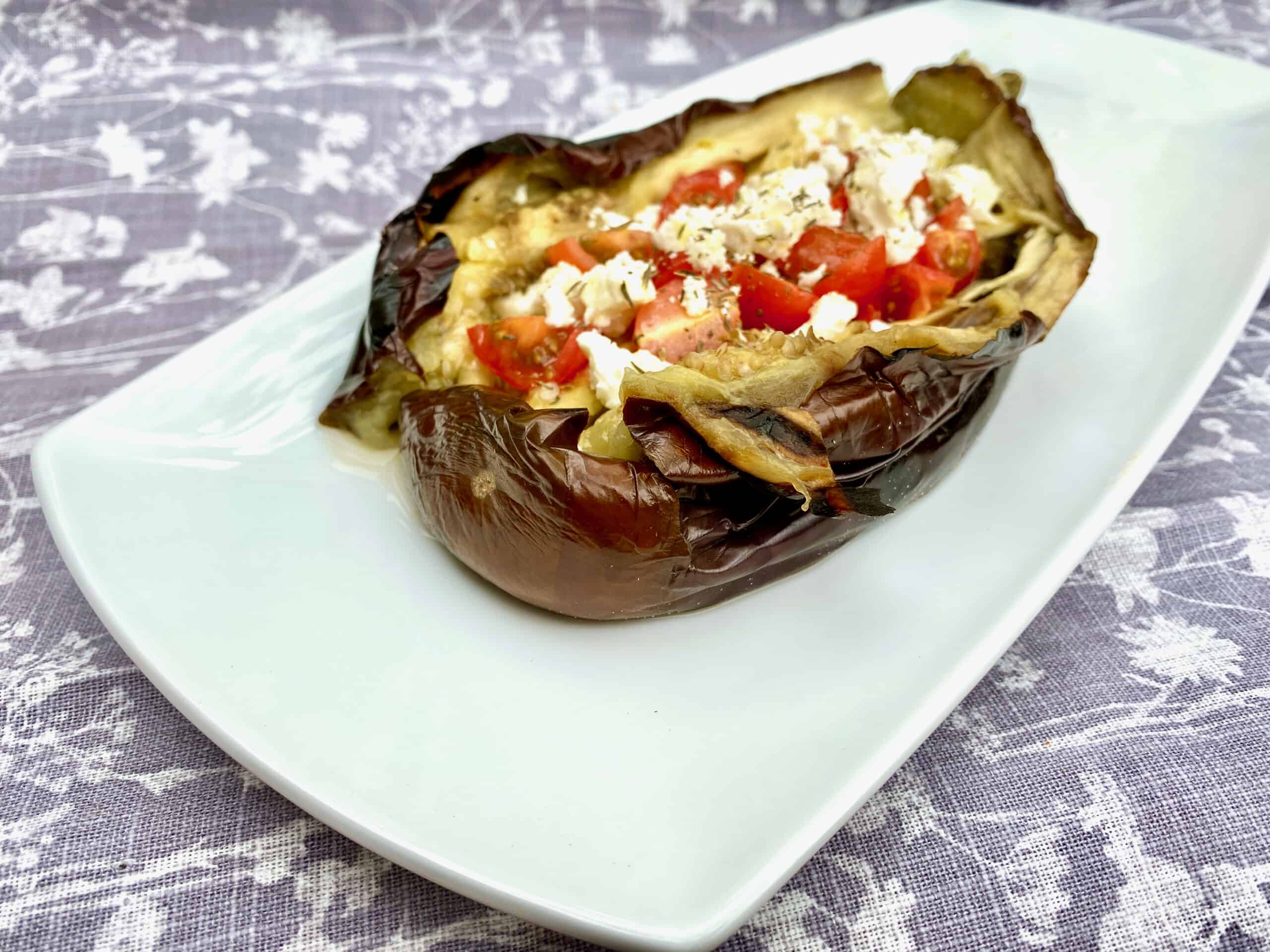 Do you leave skin in aubergine (eggplant) when cooking?
The quick answer is Yes! you do leave the skin on. The skin protects the aubergine flesh when cooking . Cooking will create all those tasty juices which are trapped within. You can peel the aubergine after cooking it, but I for one keep the skin on! Fresh aubergines will have a tasty skin you can enjoy.
Did you know that the aubergine skin has anti-oxidants? Yes, and its called  Nasunin.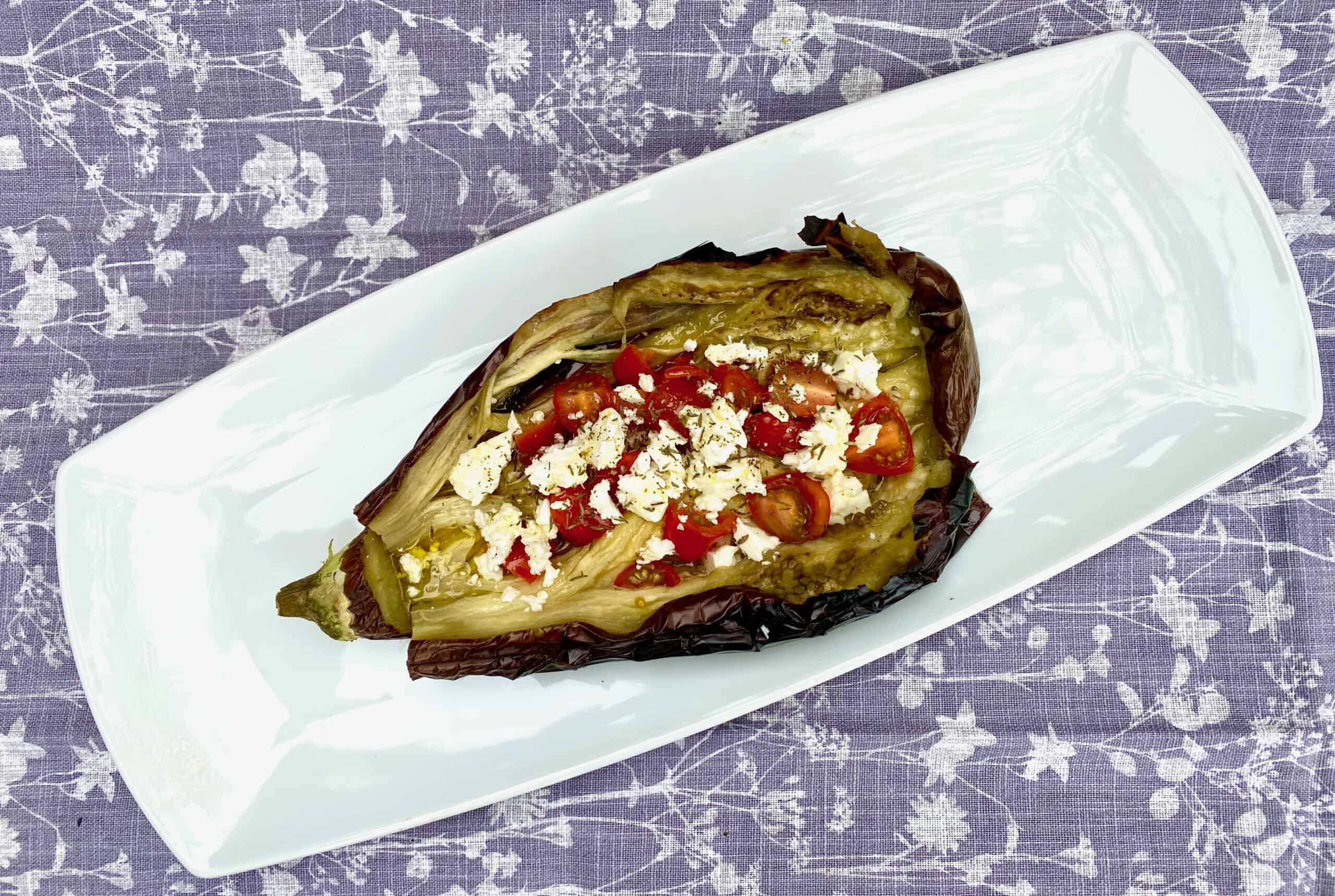 How do I know when the aubergine (eggplant) is ready?
You can easily find out when the aubergine is ready by simply its stem. If the stem is hard/firm then you need to cook it a  little bit longer. When the stem is soft and doughy, then the aubergine is ready to be enjoyed.
What can I pair this Greek smoked aubergine (eggplant) (Melitzanosalata) side dish wish?
I love pairing this Greek smoked aubergine (eggplant) (Melitzanosalata) with any grilled meat.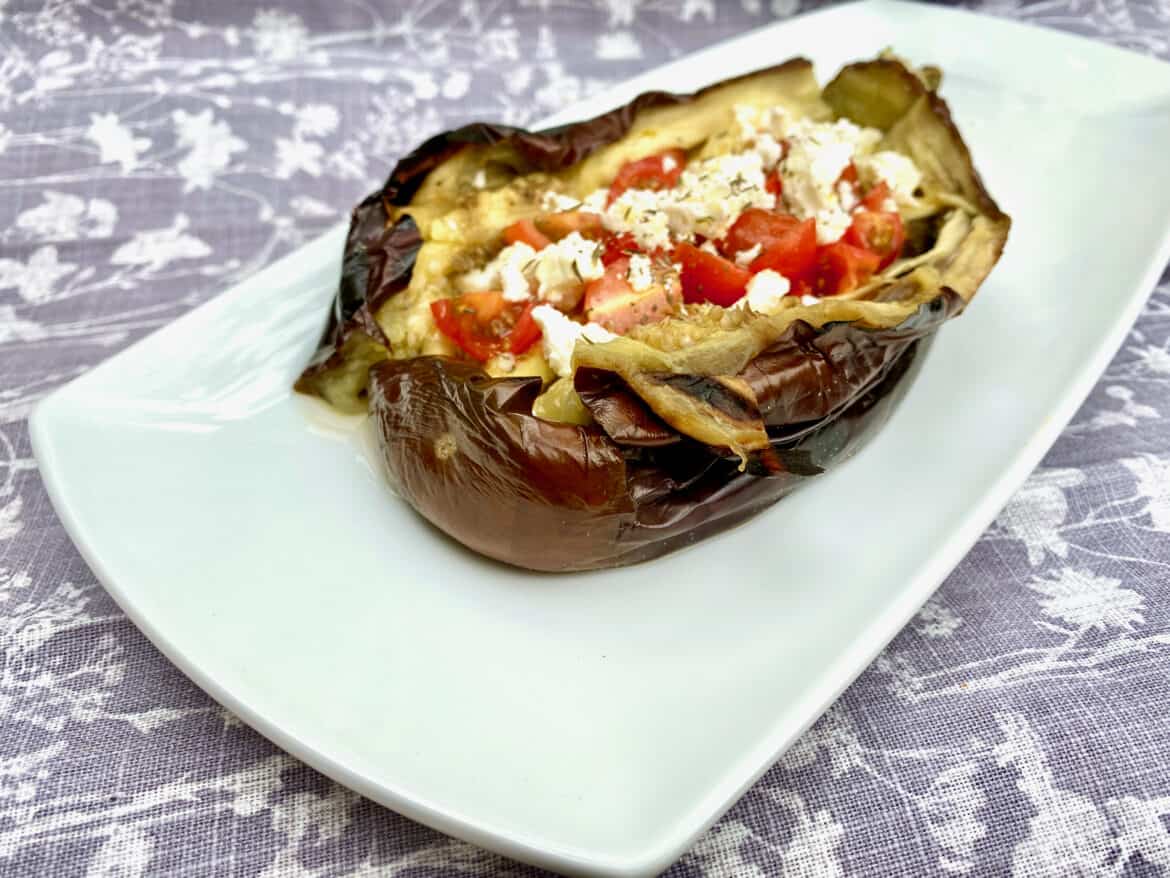 Greek smoked aubergine dip recipe (Melitzanosalata)
Ingredients
1 large aubergine or eggplant
1 medium sized fresh tomato
100g Feta cheese
1 clove of garlic
1 tbsp olive oil
1/2 tsp thyme
4-5 drops of vinegar
salt to season
Instructions
Preheat the oven to 200C or 392F
Wash the aubergine ( eggplant) under running water and dry it with a towel. Pierce the aubergine a few times with a toothpick once dry.
Place the aubergine (eggplant) on a baking tray and roast it at  180C-200C or 356-392F for  30-40 minutes.  Check at regular intervals if the aubergine is ready. Note that cooking time will depend on the size of the aubergine.
When the aubergine is ready, remove it from the oven. Slice it along the long axis so that the flesh is  visible. The flesh will be soft and juicy.
Dice the tomato and chop the garlic finely.
Crumble the Feta cheese and sprinkle it along with tomato, garlic and thyme on the aubergine.
Finally drizzle with olive oil and vinegar.