To say that the Greeks like aubergines is an understatement.  Aubergines are the all time favourite summer vegetable. It can be served as a main dish such as Threcan Briam , part of a dish such a this delicious Beef with aubergine puree or even as a side dish Melitzanosalata.
There are many varieties of aubergines all of which can be used for this dish. My all time favourite is the fairy tale variety followed by the Italian aubergine.Both have soft tender flesh and are very good for grilling and baking. Other varieties such as the Graffiti/Sicilian  and Chinese aubergines can also be used.
In this dish aubergines are cooked  in a more versatile way;  a puree.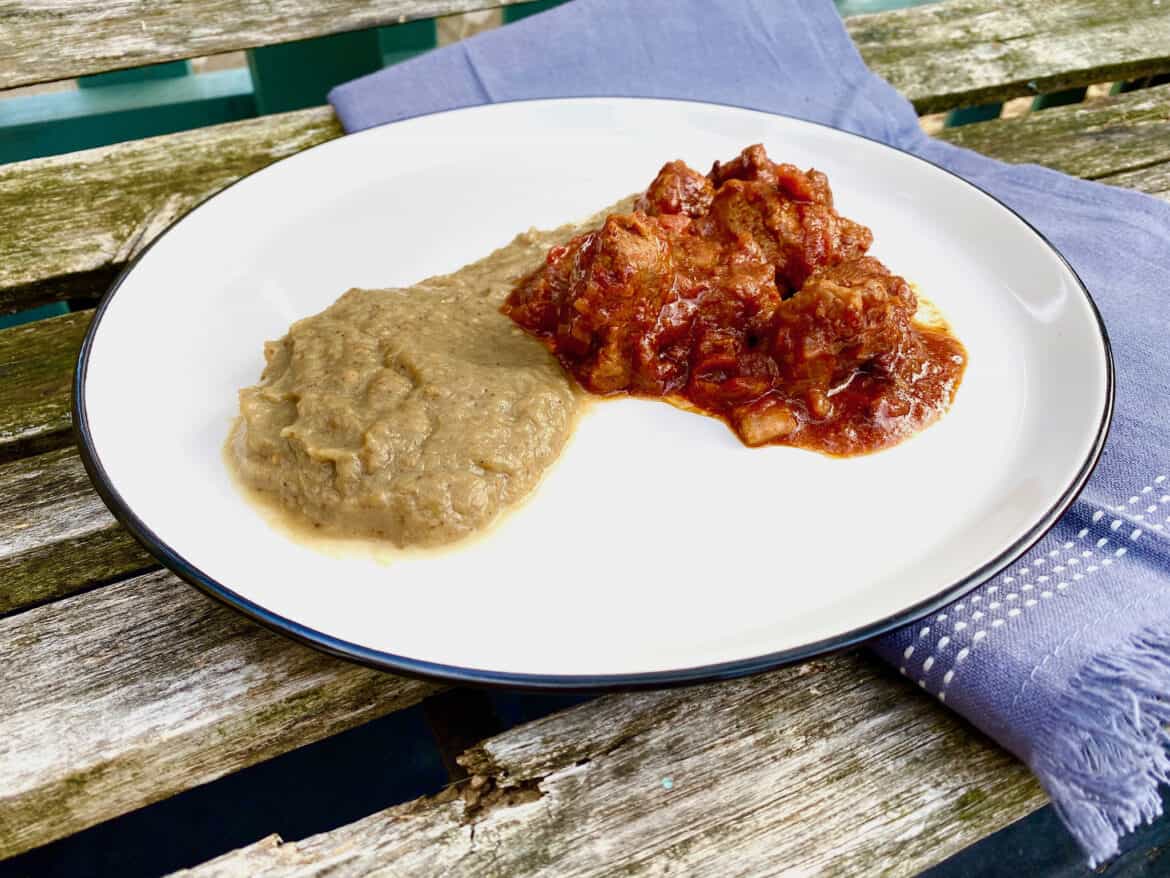 Beef with aubergine puree
Ingredients
1Kg beef (diced)
1 large onion
1Kg aubergines
1 can of chopped tomatoes or fresh tomatoes
tomato puree
beef stock
salt and black pepper to season
pinch of salt
olive oil
Instructions
Beef:
Wash the beef and aubergines under running water.
Chop the onion finely.
Add olive oil in a pot and add the beef.
Sautee the beef until they turn golden brown.
Add the onions and sauté the onions.
Add the chopped tomatoes, tomato puree and beef stock. Simmer for a couple of minutes.
Add enough waster to cover the meat and let it boil on medium heat for approximately 45min-1hr.
Cooking time depends on the meat; check regularly with a fork.
Aubergine puree:
Wash the aubergines under running water.
Preheat the oven to 200C.
Place grease film on a baking tray and place the aubergines.
Bake the aubergines until they soften.
Peel the skin from the aubergines and place them on a plate.
On a separate pan add olive oil and add the aubergine flesh.
Season with salt, black pepper and a pinch of salt.
Stir well and/or use the hand blender to create a smooth texture.