You don't even need to be a master baker to create this delicious stuffed Tsoureki with strawberry jam!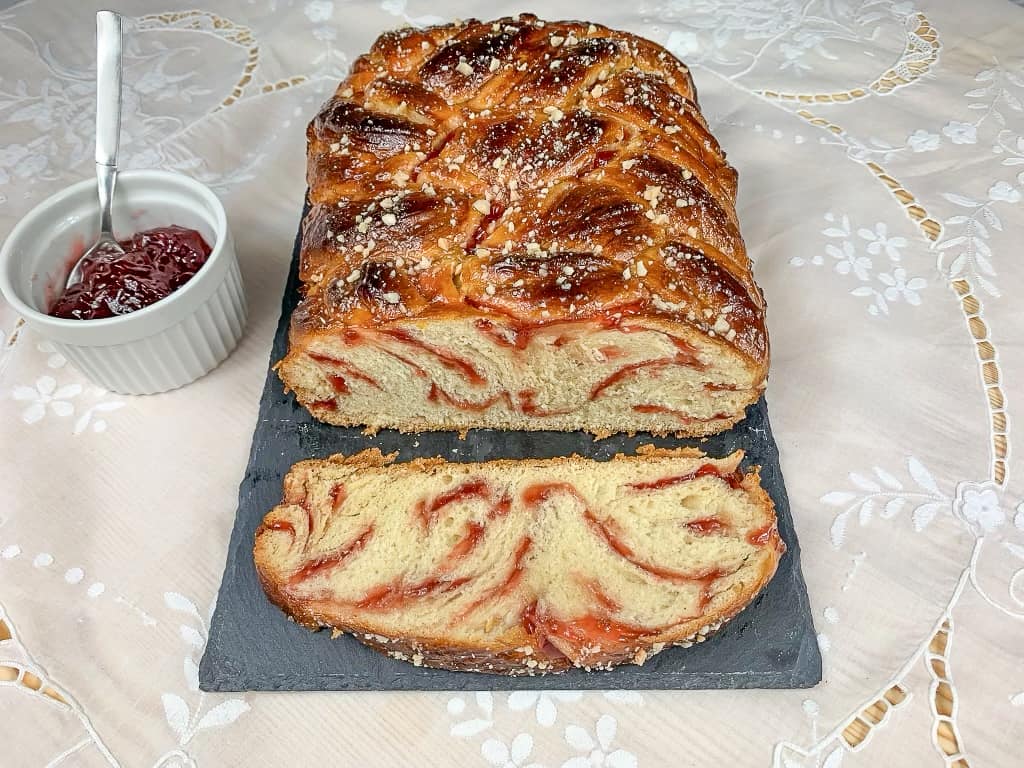 What is Tsoureki?
Tsoureki, pronounced tsou-rhe-khi, is a Greek brioche type bread traditionally made in Easter. It closely resembles babka and Italian Panettone. Tsoureki is so popular tin Greece that we make and consume throughout the year.
How to make this stuffed Tsoureki with strawberry jam
Making this delicious Stuffed Tsoureki with strawberry jam is so simple. Simply follow my traditional Tsoureki recipe and simply stuff the Tsoureki dough with your choice of filling.This recipe gives you two tsoureki loaves.
Tsoureki Fillings
Just follow my easy recipe for a traditional homemade Tsoureki and use your imagination to create different flavours, from jams, chocolate spread, chocolate chips to tahini or nuts.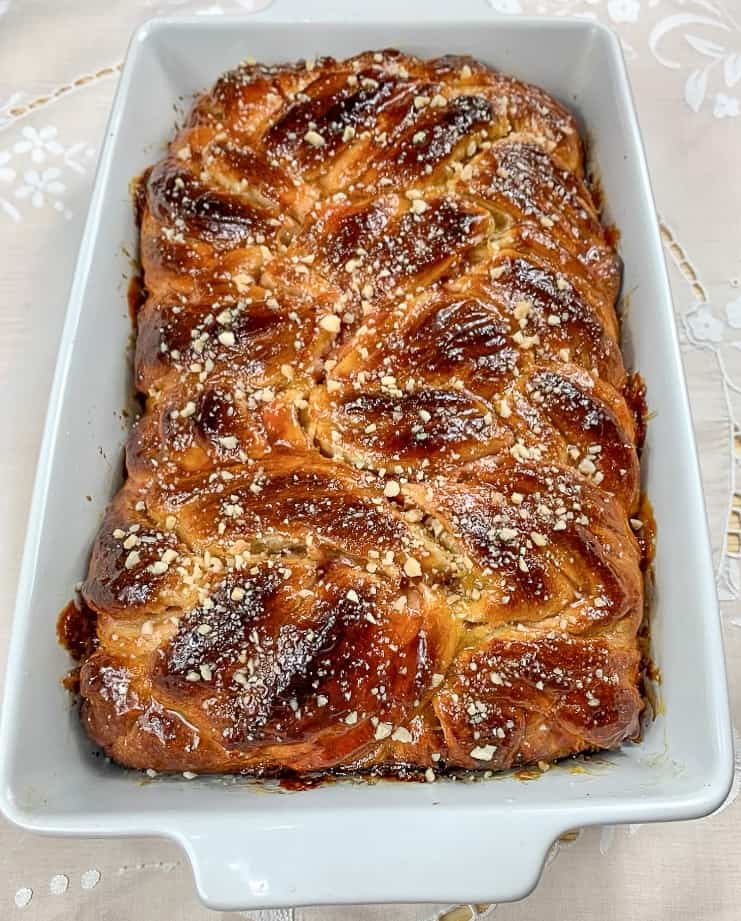 Other Tsoureki recipes:
For a traditional plain Tsoureki look no further than my go to Tsoureki recipe
Chocolate lovers look no further than my
Chocolatey Tsoureki dunked in syrup
For a healthier Tsoureki try out my
Fasting but still want to enjoy Tsoureki?
Feeling adventurous? Why not combine delicious Spanakotiropita flavours and prepare this savoury Tsoureki loaf
Did you know that in Politiki cuisine Vasilopita is Tsoureki and not a cake? Have a look at my authentic
Combine an English pudding with Tsoureki and create this delicious
Creative ideas for  Tsoureki leftovers
Easter recipes you will love:
Start Sarakosti, Lent, countdown with Kyra Sarakosti/Lent Lady. An old traditional custom that is super fun with kinds. Prepare Kyra Sarakosti/Lent lady with your little helpers and revive old traditions this Easter.
Have you heard of St Lazarus tradition and Lazarakia, sweet spiced bread rolls, made to commemorate him?
Looking for a finger linking juicy lamb for your Easter table? Then look no further than my roasted lamb leg recipe above.
Perfect side dish to any finger licking main.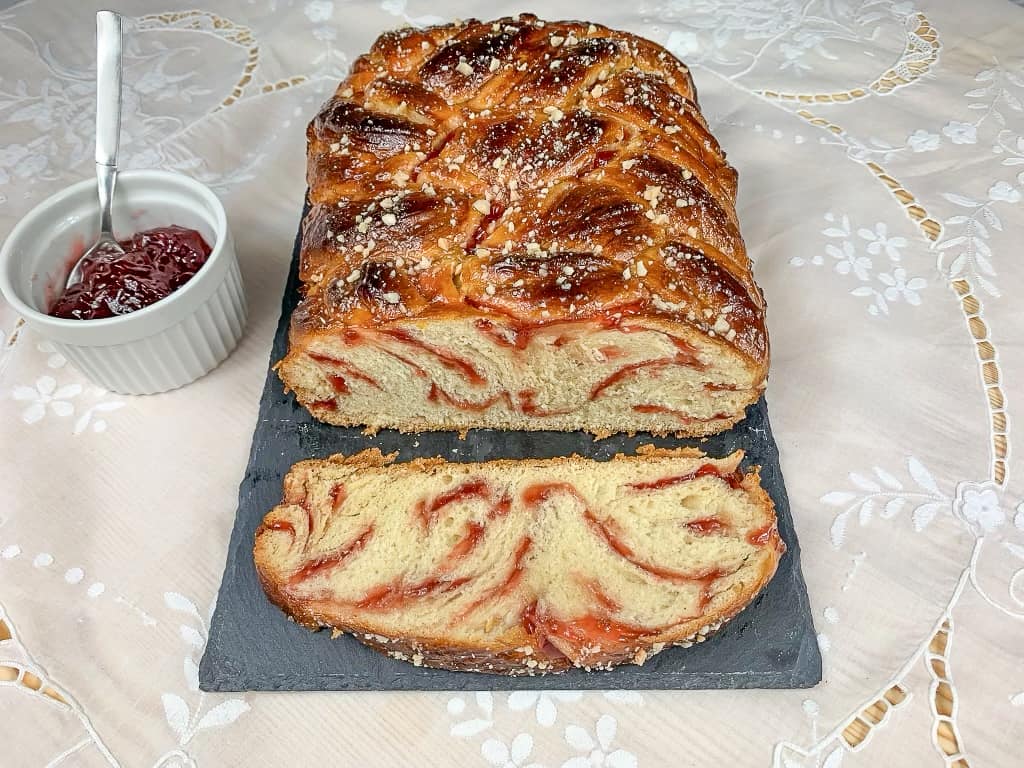 Stuffed tsoureki with strawberry jam
Ingredients
Tsoureki dough:
75gr fresh yeast or 23gr dry yeast
1200gr strong flour
225gr water
6 eggs
370gr sugar
160gr full fat milk
140gr sunflower oil
100gr unsalted butter (82% fat content)
10gr mahleb powder (Mahalepi)
3gr cardamon powder (ground cardamon)
1 tablespoon sea salt
3-4 vanilla drops
zest from an orange
2-3 tablespoons oil ( for work surface)
Egg wash:
Decoration:
almond slivers (optional)
Instructions
To prepare this Stuffed Tsoureki with strawberry jam start by activating the yeast. In a medium sized bowl add lukewarm water, yeast, 1 tablespoon sugar and 1 cup of flour (from Tsoureki dough). Let the yeast-sugar-flour mixture rest for 15 minutes until the mixture turns foamy.
Continue by  gently heating milk until lukewarm. In a separate large bowl, add sugar, eggs, sunflower oil , orange zest, vanilla drops and the spices (mahleb and ground cardamon). Mix until combined.
Continue by adding the yeast mixture to the above sugar-spice mixture. Combine flour with salt and slowly add it in the mixture. Mix to combine all ingredients until a dough like consistency is reached. Knead the dough for 5 minutes.
 In a small saucepan, melt butter and add it in the dough. Knead for 5 further minutes, until the melted butter is incorporated in the dough.
Cover the bowl with cling film or a towel and left the dough proof until double in size , ie around 30 to 35 minutes.
Once the tsoureki dough has doubled in size, place it in a floured work surface and knock back the air. Knead only for a few minutes.
Divide the dough in 6 equal portions. With a rolling pin roll each one in a long rectangle. Spread the strawberry jam filling in the middle of the tsoureki rectangles. Seal the edges of the dough with your fingers. To create the Tsoureki, simply braid the three strands.
Place the stuffed Tsoureki with strawberry jam loaves into a parchment lined baking dish. Let the Tsoureki braids proof for a second time until it doubles in size.
Preheat the oven to 160C or 320F.
Once the suffered Tsoureki loaves doubled in size, brush them with the egg wash and bake the tsoureki loaves for 45 minutes at 160C or 320F.