Peinirli  is a small  oval, 'Gondola' shaped Greek pizza with endless toppings.  With my easy small Greek pizza (Peinirli) recipe you will be enjoying these healthy little treats at home!
Peynirli is an open-top 'Gondola' shaped Greek pizza perfect for every occasion! From luxurious breakfast to packed lunches to evening snacks.
My delicious cheesy open top pies (Peinirli), packed with your favourite toppings, have an extra stuffed cheesy crust! and it's  all in the way you roll it! Check out how to achieve this in my step by step recipe below.
Peinirli also known as Peynirli originates form Turkey and it was brought to Greece over 100 years ago. Its name originates from the Turkish word 'peynirli' ie filled with cheese.
Peinirli home made dough- Versatile soft dough
The peinirli dough (or peynirli zimi) is a fairly simple and extremely versatile soft dough. This homemade dough is very  similar to a pizza one with the addition of milk. When milk is added in a dough, the dough becomes softer and more voluminous. Moreover, dough with milk will also have a darker crust with a tender crumb. Thus, this versatile homemade dough with milk can be used in everyday cooking from peinirlis to bread buns to pizzas.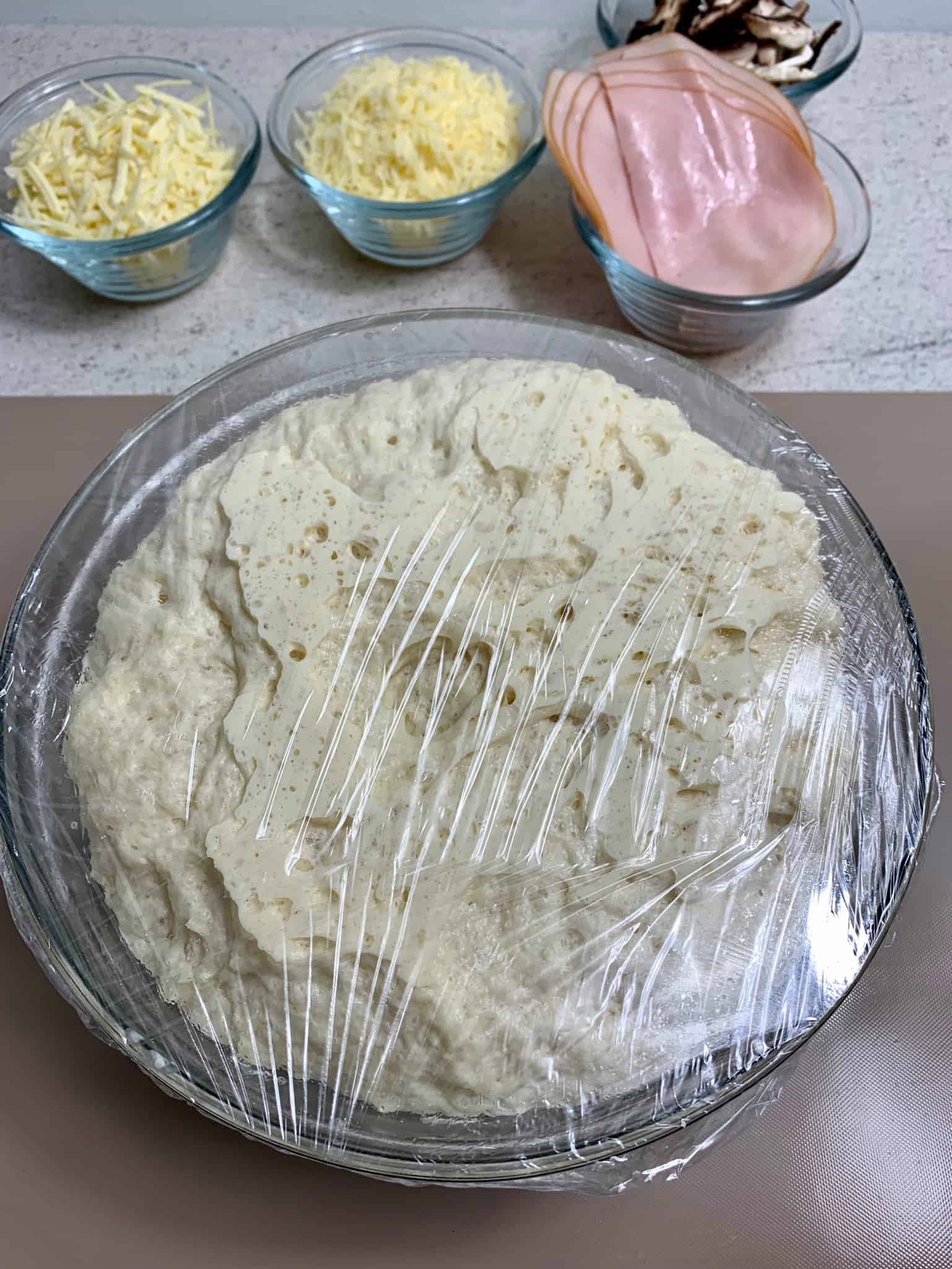 To prepare the dough start first by warming up the milk to 30C or 86F (lukewarm). In a bowl add lukewarm milk, yeast, sugar, salt and half of the flour.  Allow the yeast to become activated , this will take approximately 5 minutes. Once the yeast has become activated, beat the mixture for 5 minutes on medium speed with a dough hook. You can also knead the dough by hand. Continue by adding the rest of the flour along with butter and sunflower oil. Beat for a further 10 minutes until a soft dough is achieved.
Pour 1 tablespoon of sunflower oil on the dough, wrap it with cling film and let it proof for 30-35 minutes. Remember, proving time depends one the temperature of the room. So make sure your room is nice and cosy. For proofing ideas, check out my Greek Marble Tsoureki (Chocolate Easter bread) recipe where I describe various smart ways to proof any dough!
Once the homemade peinirli pizza dough has risen, knead it with your hands for a few minutes (3-5 minutes) and divide it into equal portions.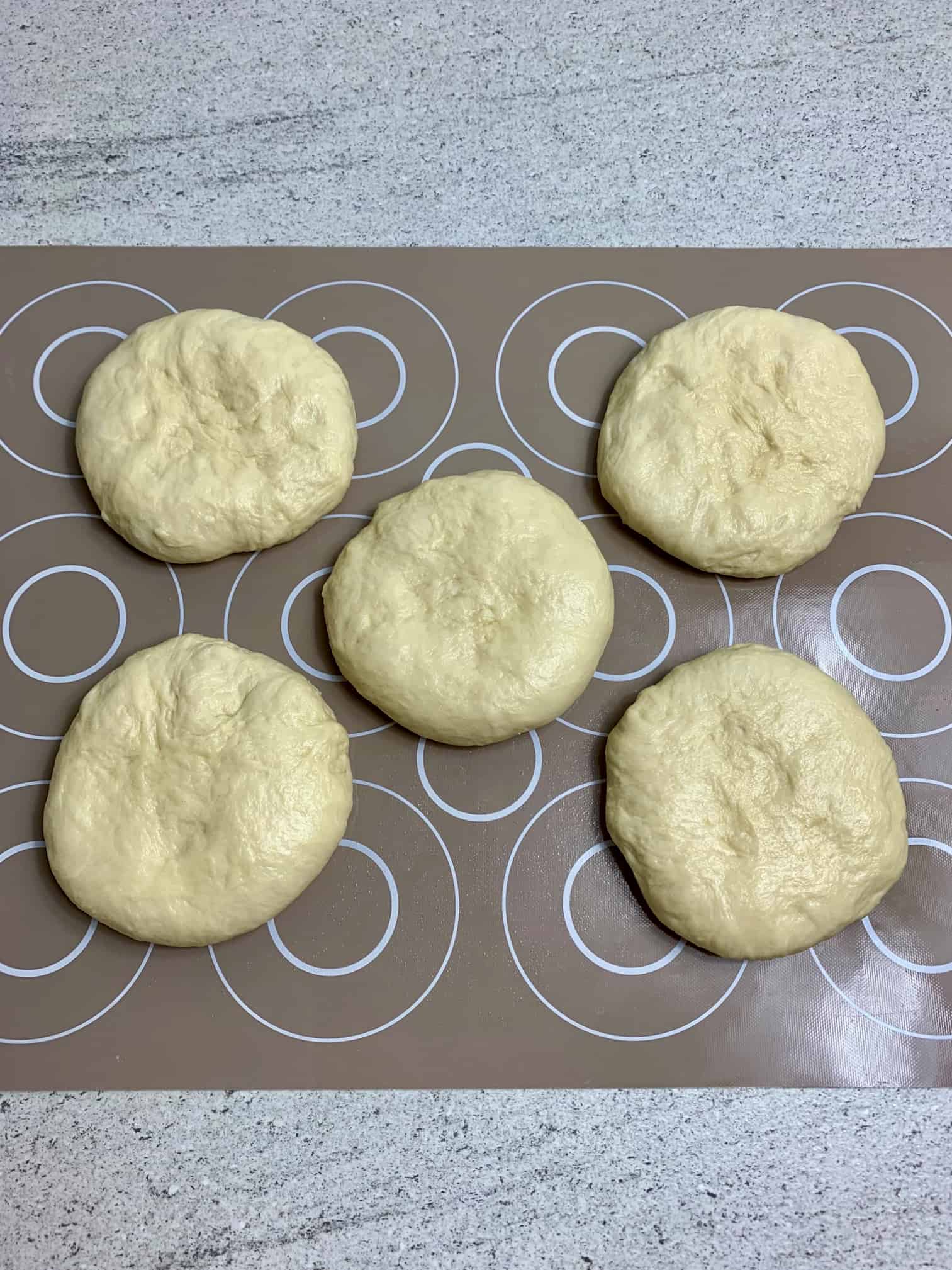 In a hurry?
Are you in a hurry? Simply prepare the homemade dough and store it in the fridge overnight. The will proof in the fridge and the only thing you will have to worry is choose your toppings!
Alternatively, prepare the peinirli dough in the morning and enjoy these mouth-watering easy small Greek Pizza (Peinirli|0 in the evening!
Gondola shaped Greek pizza with a cheesy crust
I love cheese and thus in my Peynirli recipe I made sure I enjoy a cheesy crust.  Preparing these little treats with a cheese crust is super easy! It simple lays on the way you roll the dough! I lay a cheese layer on the dough and then start rolling each side.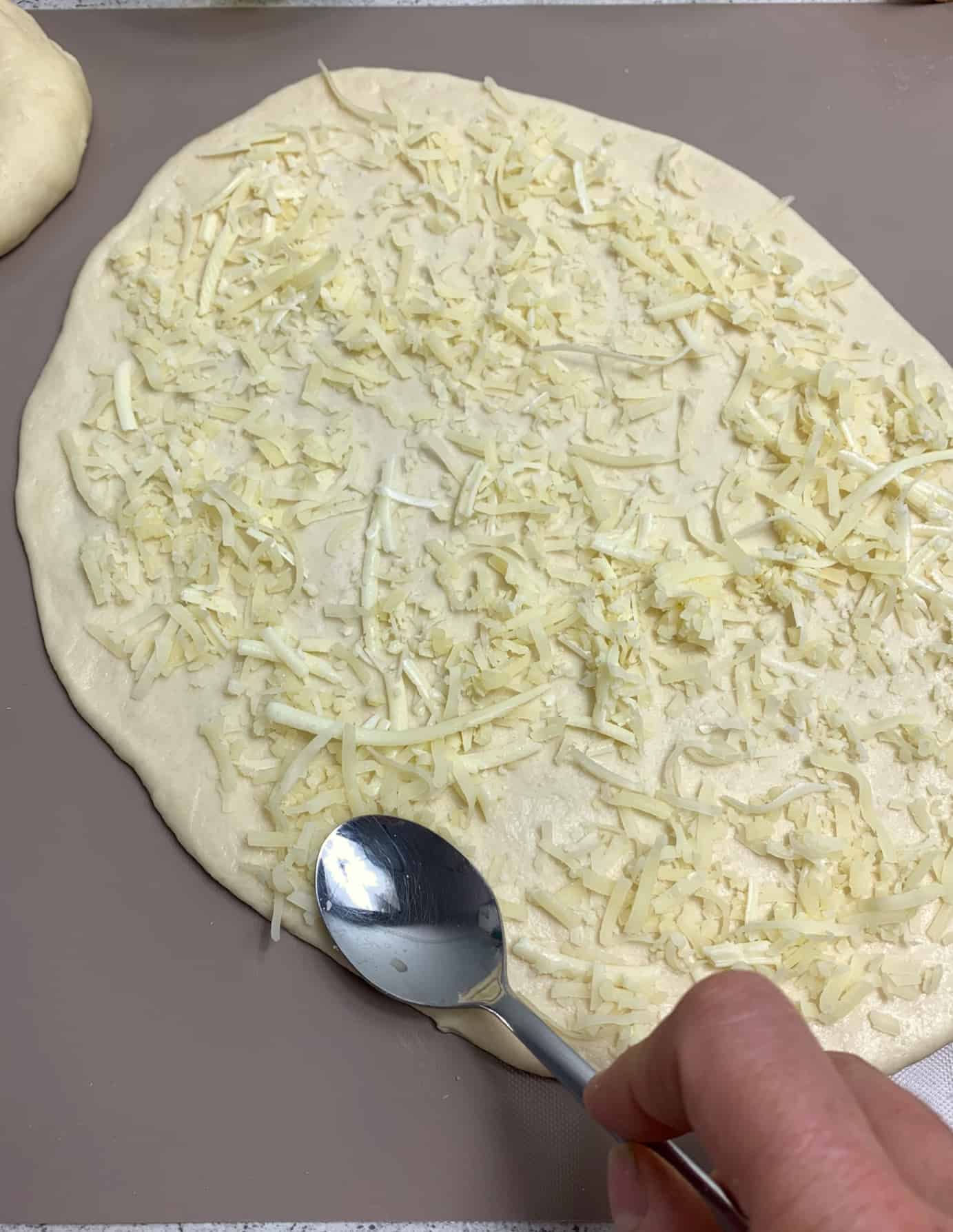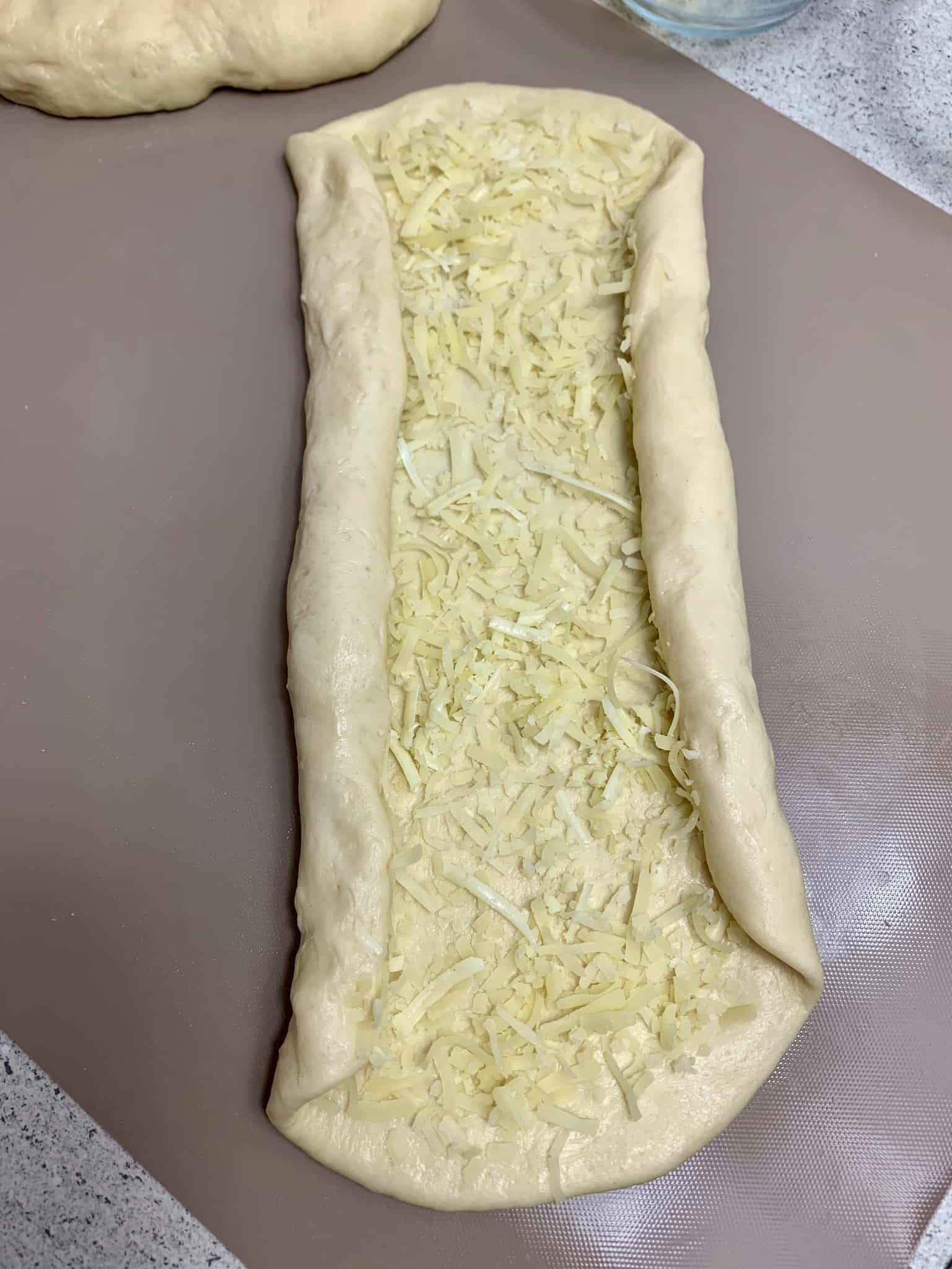 At the end I pinch the edges with a little bit of water to form  the famous 'boat' or 'Gondola' shape.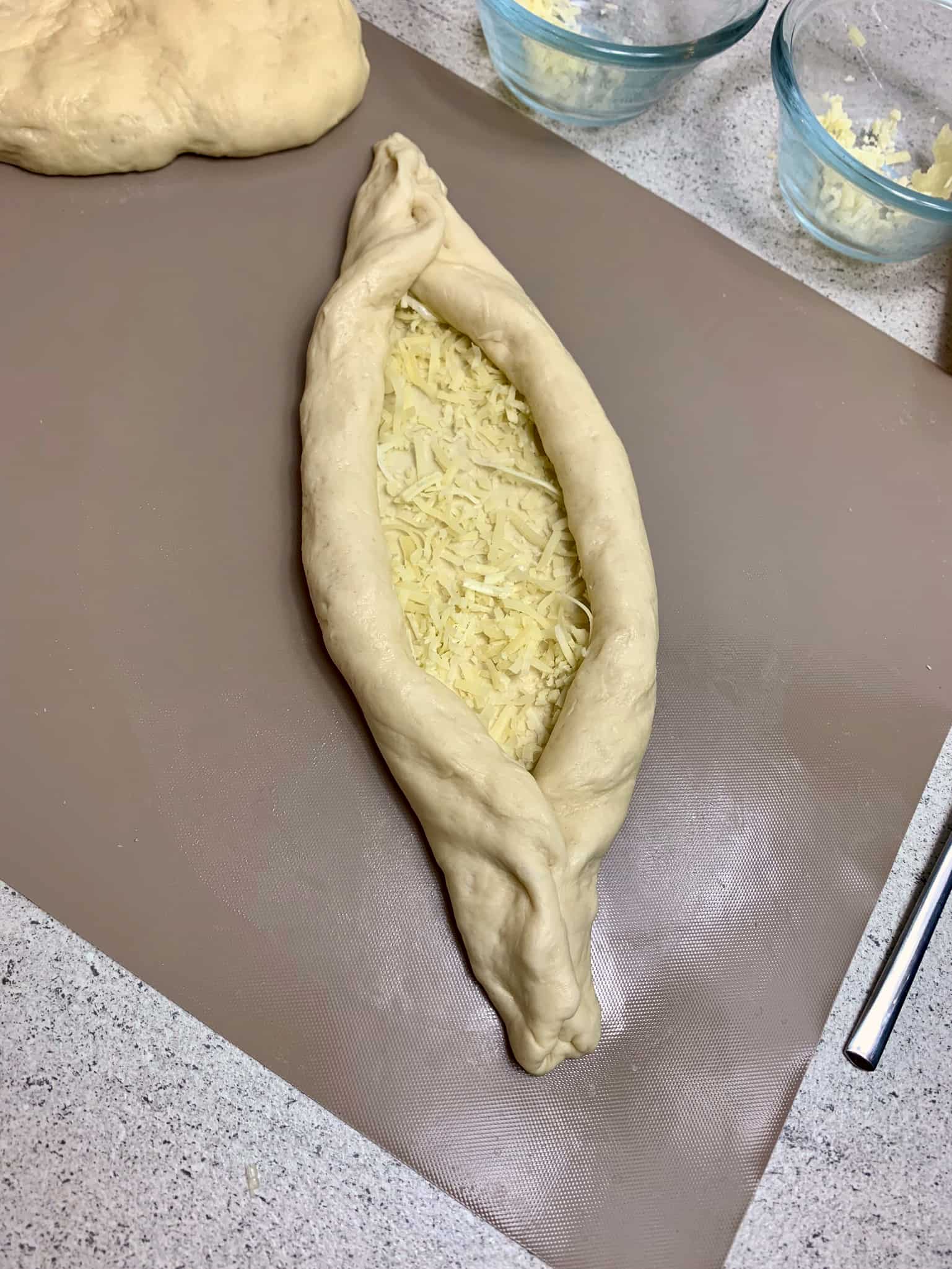 Easy small Greek pizza (Peinirli) toppings
The traditional Peynirli has to have cheese, but the rest is up to you!  Let your imagination and palate run wild! There are endless delicious toppings to choose from! Personally, I believe nothing can also beat a plain Feta cheese and tomato topping! Perhaps top with a few onions for a caramelised finish or a few olives? Simple yet delicious!
Plenty of choices and palates to please, so its time to get creative. From mouthwatering vegetarians to extra meaty ones! So many choices, from fresh vegetables, caramelised onions to meaty classics.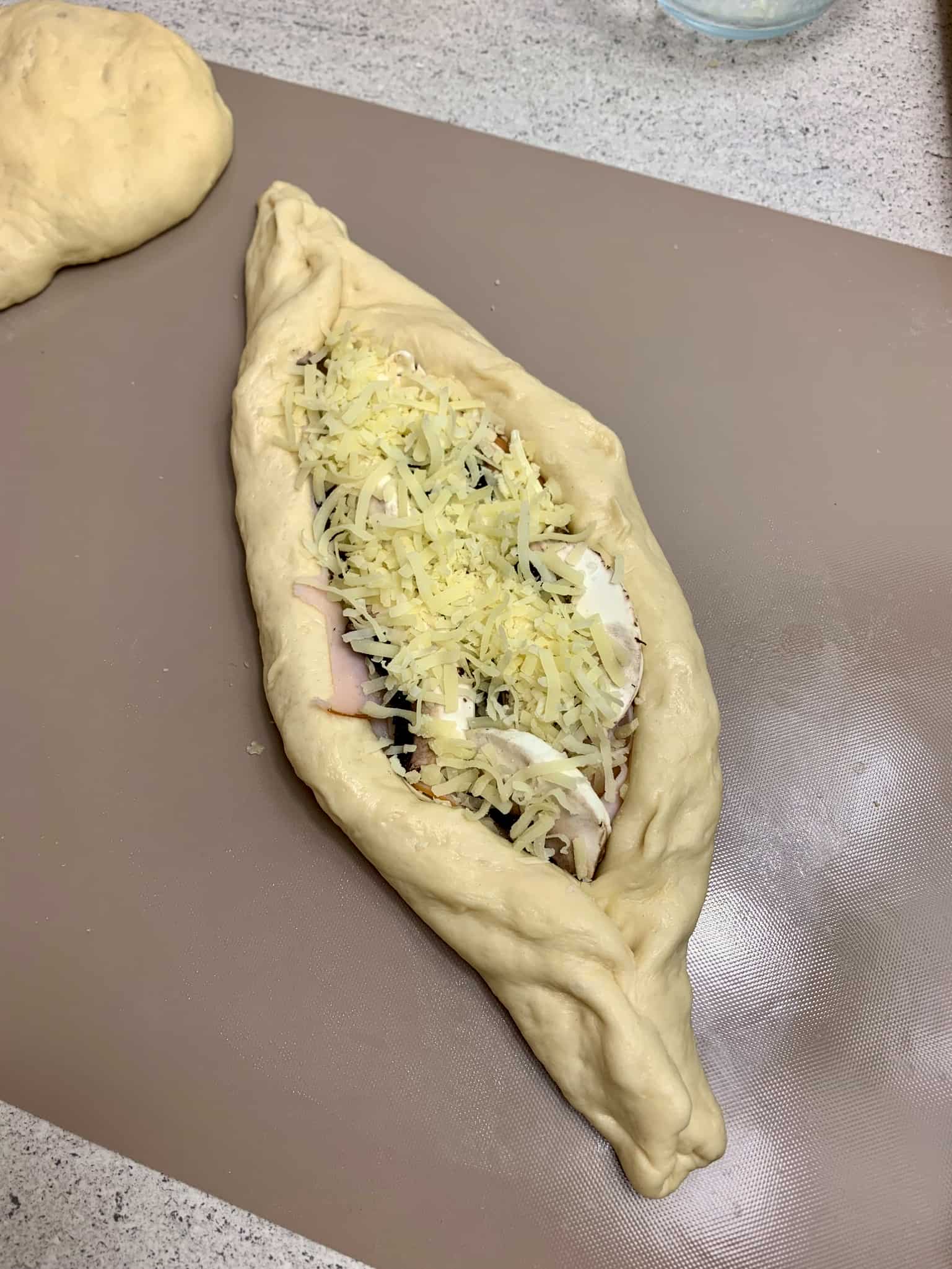 As far as herbs go, add as you like! My personal favourite being oregano.
Fancy a little bit of kick in your Peynirli? Drizzle with some chilly oil!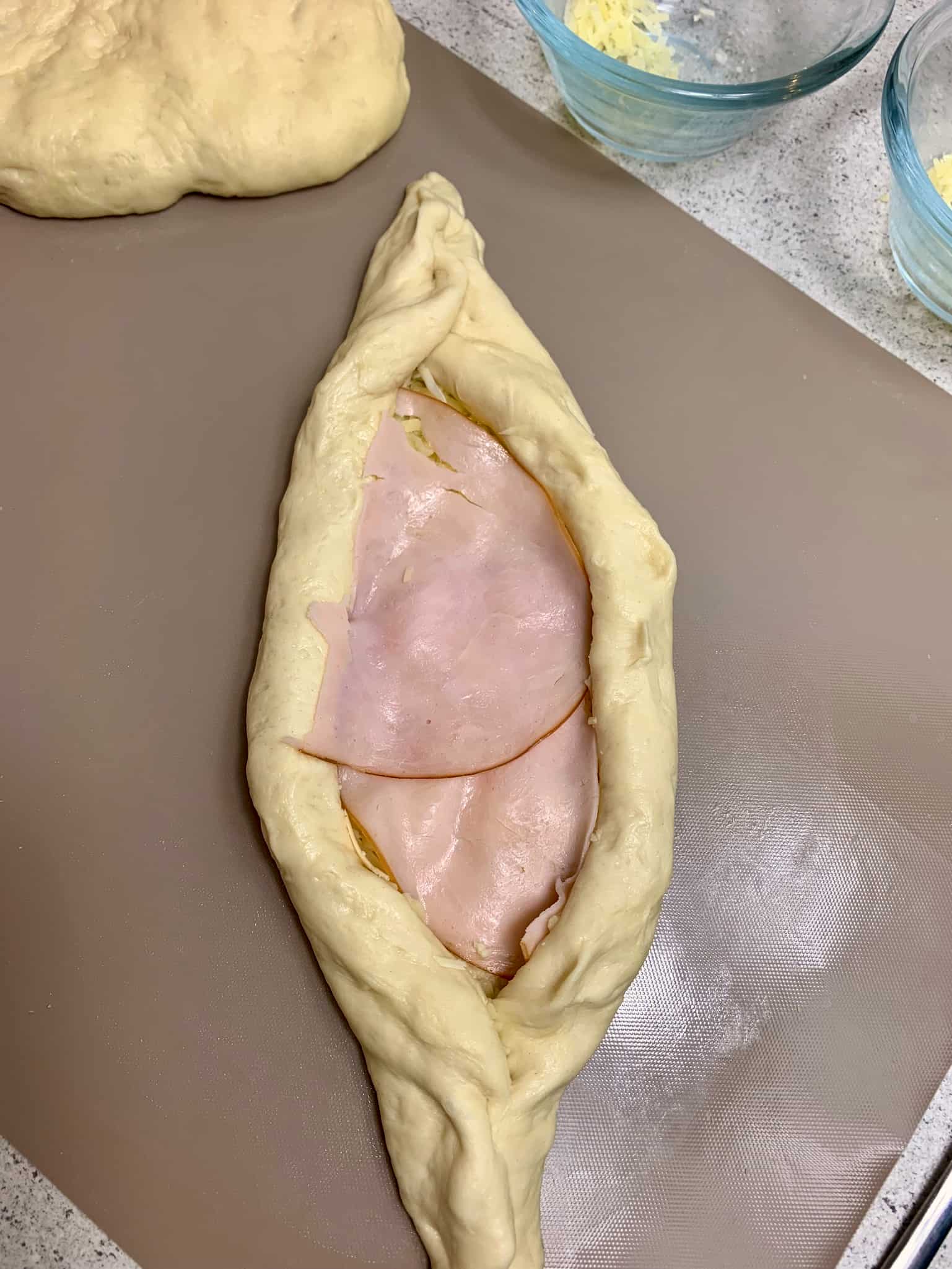 Free from Peinirli (Gluten free)
Gluten sensitivities? Not to worry, I have you covered! You can still enjoy this simple small Greek pizza (Peinirli) even if you have gluten sensitivities. Simply substitute the flour for a gluten free one. It is so simple.
Vegetarian or Vegan peinirli recipe (Lactose free)
Vegan or vegetarian? No need to despair! To prepare this simple small Greek pizza (Peinirli or Penirli) simply replace regular cow's milk for soy, oat or rice milk. I find oat milk a little but runny, so I add a little bit of extra flour to achieve a soft dough.
What about cheese you may ask? There are plenty of plant based cheeses out there to choose from.
Freezer friendly easy small Greek Pizza (Peinirli)
These homemade treats are freezer friendly. Prepare them in advance, bake and then freeze. Simply defrost when your heart desires!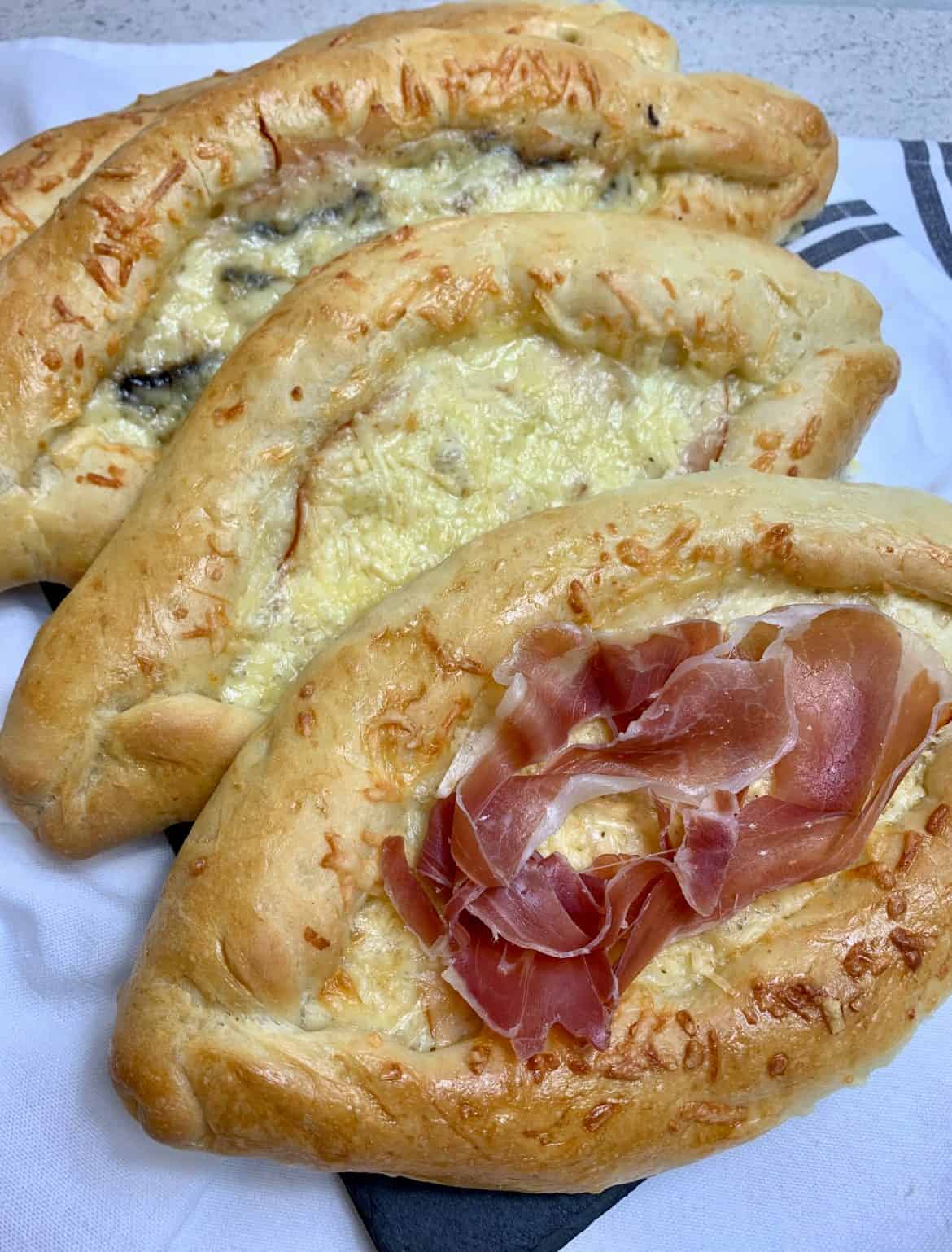 Easy small greek pizza (Peinirli or Penirli)
Ingredients
Peinirli or Penirli dough
400gr strong flour, plus extra for dusting
300ml milk
8gr yeast
40gr sunflower oil
50gr butter
1tsp salt
1tsp sugar
2tbsp sunflower oil
Peinirli or Penirli topping
400gr semi-hard yellow cheese
3 mushrooms
meat (turkey, prosciutto, steak, chicken etc)
Instructions
To prepare this delicious easy small Greek pizza (Peinirli) start by making the homemade dough.  Warm up milk to 30C or 86F. In a mixer bowl add lukewarm milk, yeast, half of the flour, salt and sugar. Let the mixture sit for 5 minutes, allowing the yeast  to become activated. Beat with a dough hook for 5 minutes or knead by hand . Carry on by adding the rest of the flour, sunflower oil and butter. Beat the dough for a further 10 minutes until a soft dough is formed.
Oil the surface of the dough ( 1 tablespoon oil) and let it proof for 30 minutes (1st proof). Once the dough has doubled in size, knead it by hand for a few minutes and divide into equally shaped portions. Let the dough portions proof for a second time, around 20 minutes.
Meanwhile, preheat the oven to 190C or 374F.
Once the peynirli dough has proved for the second time, flour your work surface and roll them into an oval shape. Add cheese evenly on the dough and start rolling the sides. Pinch the edges with a little bit of water to form the famous 'boat' or 'Gondola' shapes.
It is time to add your toppings. Add sliced mushrooms, little bit of butter(1 small cube) and bake for 30 minutes at 190C or 374F.
When adding thin slices of ham or proscuitto in this easy small Greek pizza (peinirli) recipe, make sure to add them at around 20 minutes. Thinly sliced ham will burn in the oven for 30 minutes.
For a softer crust, spread a little butter once penirli is out of the oven.
Kali Orexi! Enjoy!