Looking for a new way to enjoy lamb or simply want to explore the rich flavours of Greek cuisine?If so, then look no further than this melt-in-the-mouth authentic Greek leg of lamb with yogurt (Giaourtlou) recipe.
This authentic Giaourtlou recipe features succulent lamb paired creamy Greek strained yogurt and aromatic herbs. Perfect as a celebratory meal (Easter or Christmas)  or simply a Sunday roast!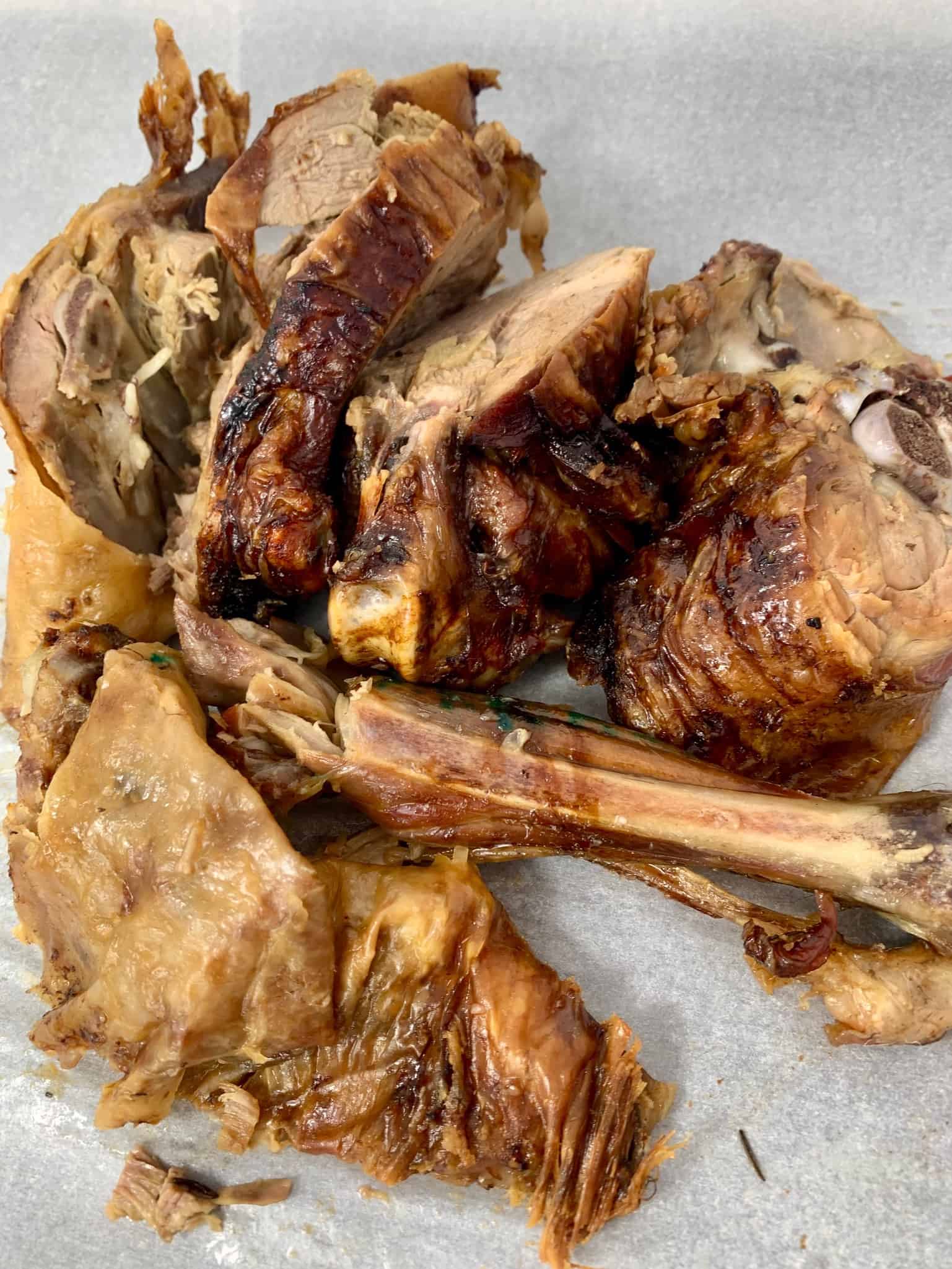 Ingredients for Greek Leg of lamb with yogurt (Giaourtlou)
Ingredients and tricks to elevate the dish
Greek Yogurt
Greek yogurt is a type of stained yogurt with a thicker consistency and a sour taste compared to other regular yogurts. It is the perfect yogurt of choice for this Giaourtlou sauce. As it is not a runny yogurt it will stick to the lamb meat and not run in the bottom of the baking dish.
For a flavoursome lamb dish, opt for full fat yogurt! Less than full fat yogurt will not do justice to this authentic dish.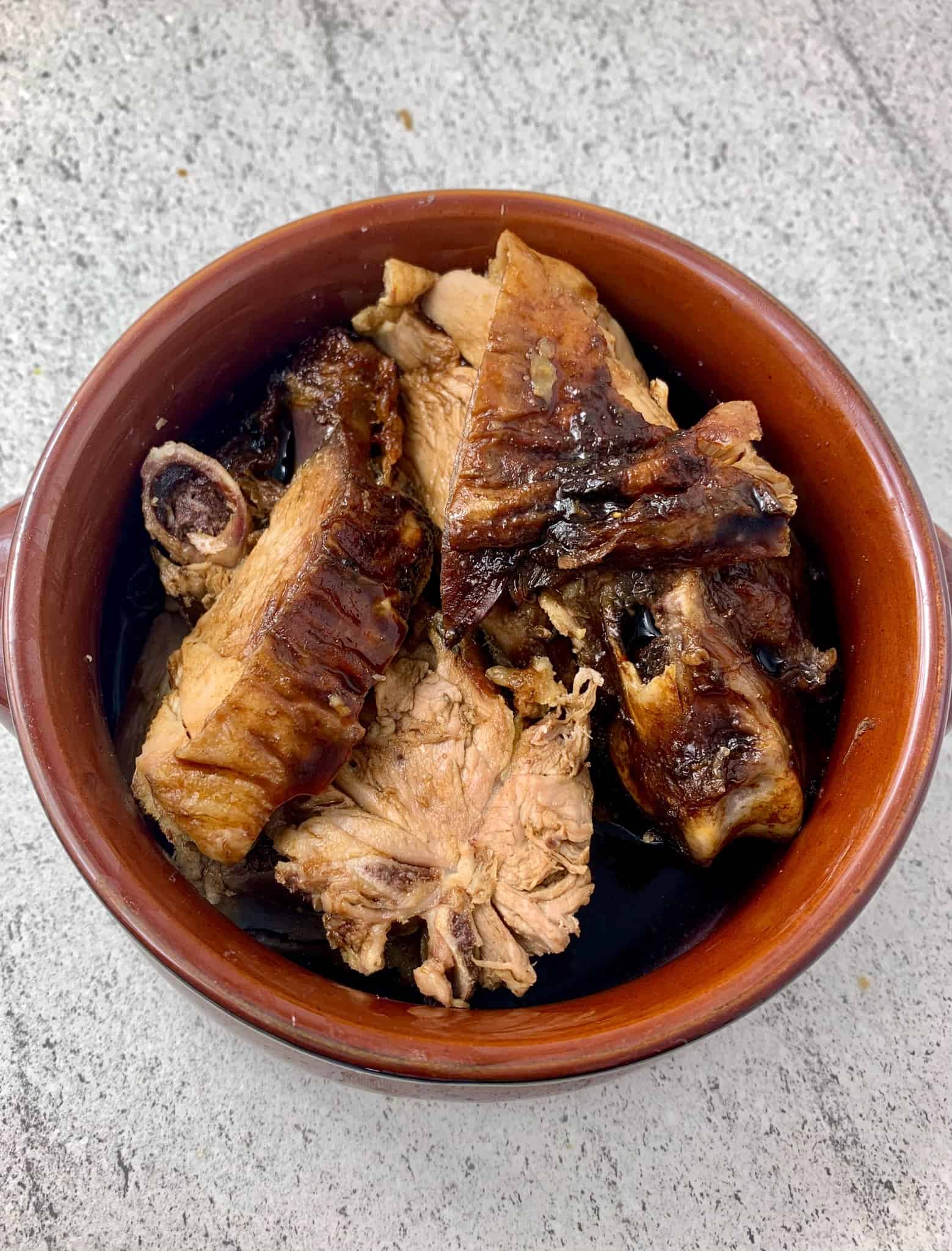 Lamb broth
My secret ingredient for this Greek leg of lamb with yogurt (Giaourtlou) recipe is the delicious lamb juices! or lamb broth if you prefer.
Lamb juices have a distinctive flavour that elevates the dish. I prepare the yogurt sauce when I prepare this dish as I take full advantage of these delicious juices from roasted lamb.
What is Giaourtlou (Greek yogurt sauce)?
This flavoursome sauce is made up of Greek stained yogurt, lemon zest, egg yolks and a little bit of seasoning. There is no need to over-season this yogurt sauce as the Greek yogurt is the star of the show!
Lemon zest adds a little touch of acidity in the sauce.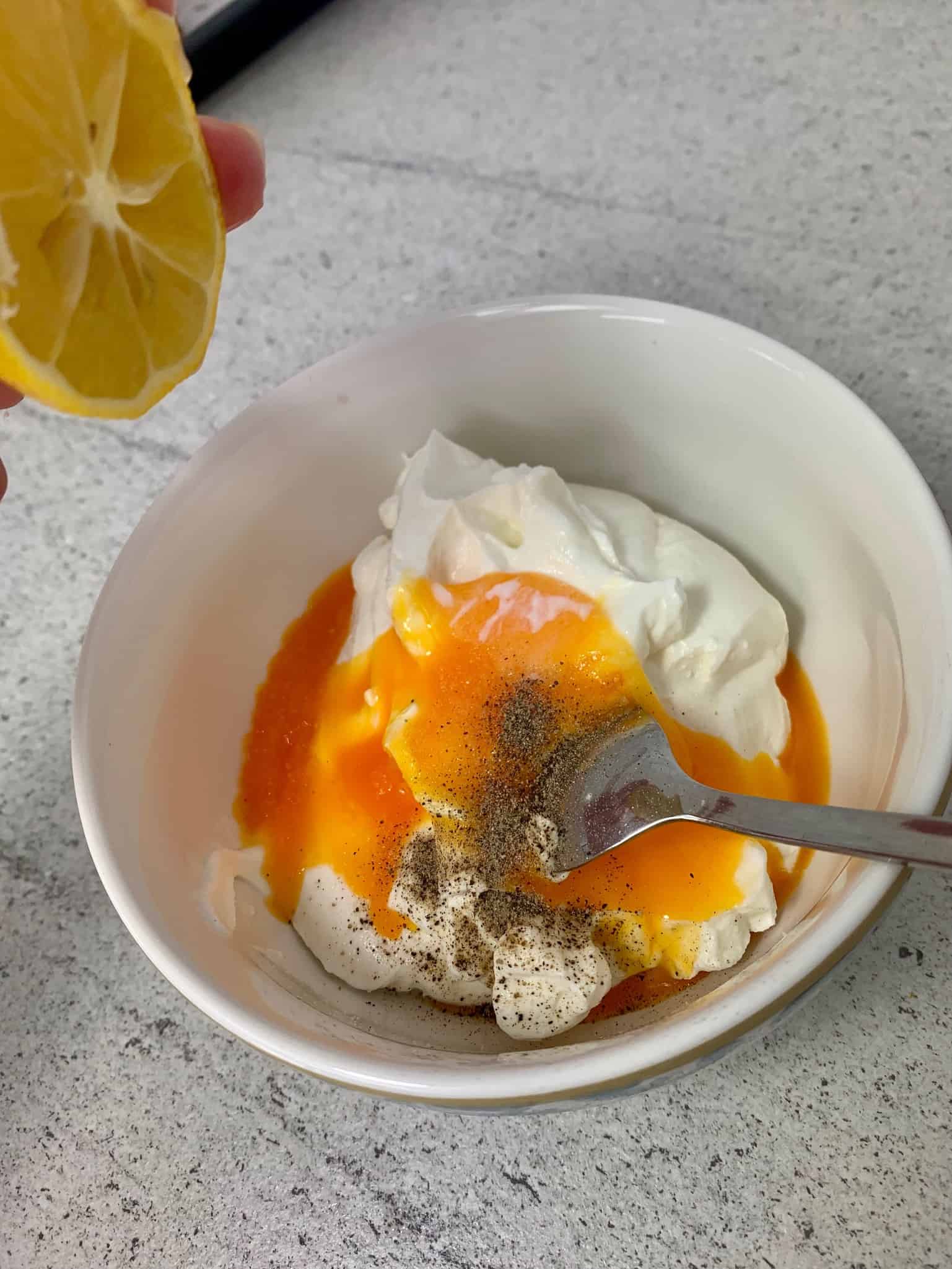 Making Giaourtlou sauce in advance
Giaourtlou sauce can indeed be made in advance, just make sure you store it in the fridge up until you add it in the dish.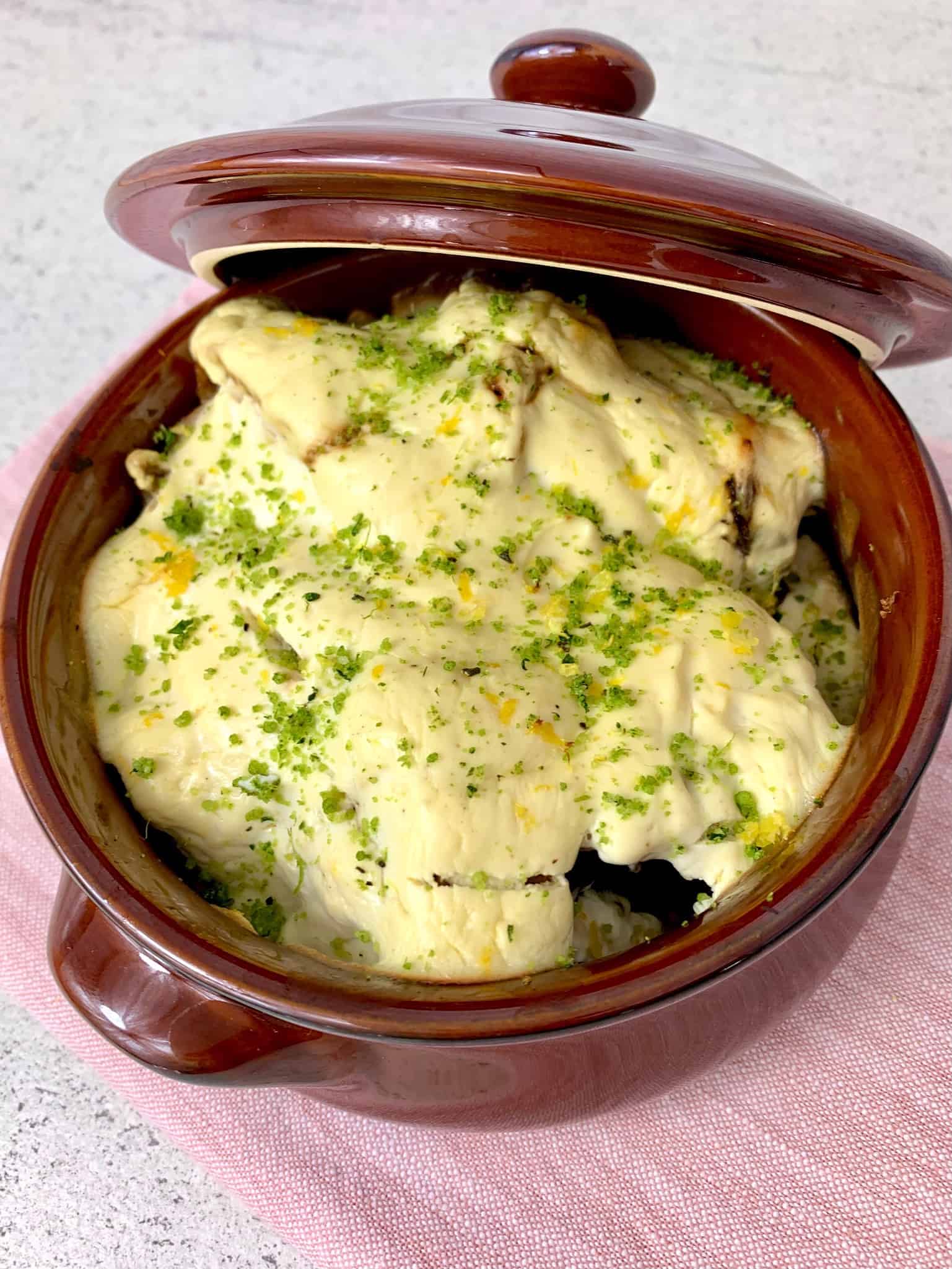 Serving suggestions for this Greek leg of lamb with greek yogurt (Giaourtlou)
This juicy melt in the mouth leg of lamb with yogurt sauce pairs very well with roasted vegetables. IT also pairs really well with pureed vegetables. Nothing tastier than a smooth potato or carrot purree.
If you are looking for a non vegetable side dish, then why not pair this juicy Greek leg of lamb with yogurt with a bowl of pilau / pilaf rice or a couscous salad?
It goes without saying that a Horiatiki Greek Salad with lots of Greek Feta cheese and Kalamata olives or a Politiki /Cabbage salad should not go amiss in such a juicy Greek feast!!
I serve this Greek dish with grilled homemade bread or pita bread slices to mop up those flavoursome juices.
Similar recipes you might like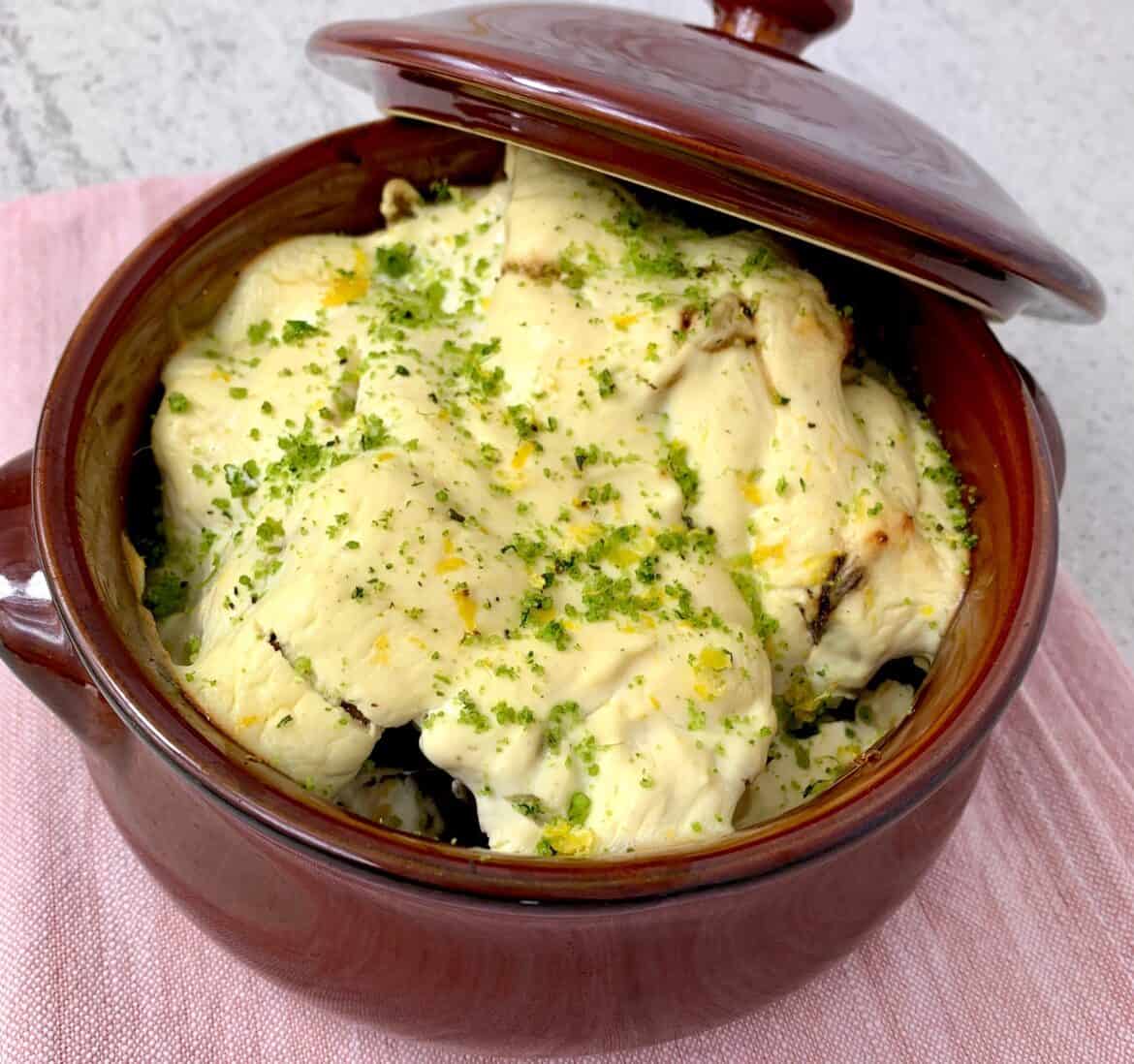 Greek leg of lamb with yogurt (Giaourtlou)
Ingredients
Leg of lamb
1 leg of lamb (2-2.5Kg)
 200mls water
 3 lemons
 80mls sumflower oil
  4 cloves of garlic
 4-5 sprigs rosemary
 4-5 sprigs thyme
 1 1/2 teaspoons kosher salt
 1 teaspoon ground black pepper
Greek yogurt sauce or Giaourtlou sauce
500g full fat strained Greek yogurt
 3 eggs yolks
2-3 teaspoons of lamb broth
 lemon zest ( 1 lemon)
1/2 teaspoon kosher salt
1/2 teaspoon ground black pepper
Instructions
To prepare this Greek leg of lamb with yogurt (Giaourtlou) recipe start by washing carefully the leg of lamb and removing any hair from the skin.
Preheat the oven to 200C or 390F.
Wipe the leg of lamb meat dry with kitchen paper towel and season it with salt and pepper. Drizzle the juice from one lemon on the lam, both sides.Pierce the leg lamb meat at places evenly with a knife and create little pockets (2-3cm depth).
Slice each garlic clove into two pieces and stuff each of these pockets with the garlic cloves.
In a mixing bowl, pour sunflower oil and add the chopped herbs, ie thyme and rosemary. Keep the stem aside as you will add it later in the baking dish.
Line a baking dish with parchment paper and lay on the bottom of the dish the remaining 2 lemons in slices along with  the rosemary and thymes stems. Pour water in the baking dish.
Place the leg of lamb on the baking dish on top of the lemons and aromatic herbs and roast at 200C or 390F for 1hour 30 minutes.
Check for softness of the lamb at around 1 hour of roasting.
Make the  yoghurt sauce/ spread or Giaourtlou by mixing strained Greek yogurt, egg yolks, lemon zest,salt and ground pepper. Add 2-3 tablespoons of lamb broth and mix to combine.
When the lamb meat has softened enough, remove it from the oven and smother it with this yogurt sauce or Giaourtlou and place it back in the oven.
Alternatively, remove the juicy lamb meat from the bone, place it in small individual baking dishes and pour the yogurt sauce on top.
Continue roasting the lamb meat for further 10-15 minutes, just until it turns to a lovely golden colour.